1st August 2021
World's most powerful tidal turbine begins operations
This week, the world's most powerful tidal turbine device – Orbital O2 – began generating electricity off the coast of Scotland.
The Orbital O2 consists of a floating platform supporting two submersed nacelles, rated at 1 megawatt (MW) each. The turbines are bi-directional, producing on both a rising and falling tide.
The 680-tonne device is anchored in the Fall of Warness, part of the Orkney Islands, where a subsea cable connects it to the local onshore grid. With a combined 2MW output, the turbines can generate zero-carbon electricity for 2,000 homes per year, offsetting 2,200 tonnes of CO2 emissions. The device will also provide power to an onshore electrolyser to generate green hydrogen. It is expected to operate for at least the next 15 years.
"This is a major milestone for the O2 and I would like to commend the whole team at Orbital and our supply chain for delivering this pioneering renewable energy project safely and successfully," said Andrew Scott, CEO of Orbital Marine Power Ltd. "Our vision is that this project is the trigger to the harnessing of tidal stream resources around the world to play a role in tackling climate change whilst creating a new, low-carbon industrial sector."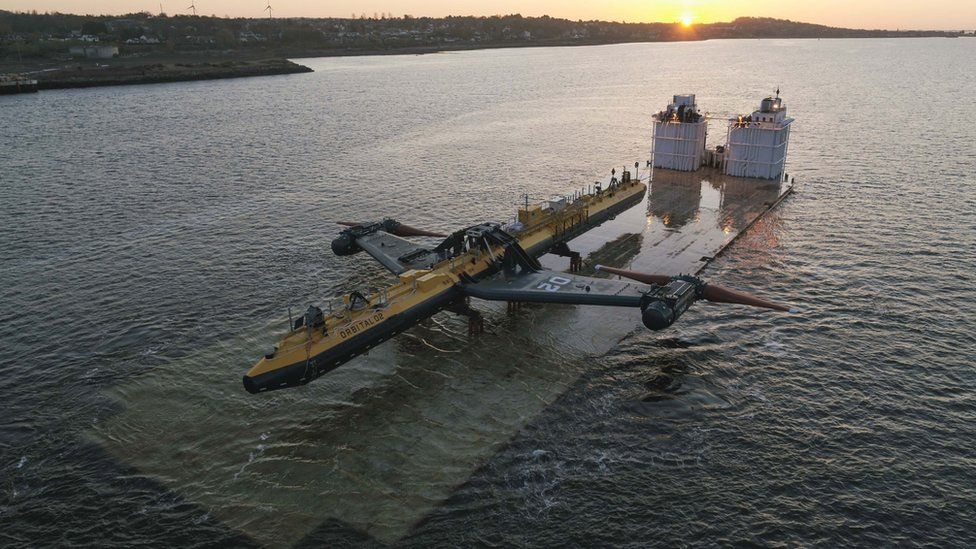 Credit: Orbital Marine Power
This week's launch is the culmination of more than 15 years of research and development in the UK. Public lenders enabled the project's construction through Abundance Investment, an ethical investment platform. It has also been supported by the Scottish Government through the Saltire Tidal Energy Challenge Fund. It also received funding from the European Union's Horizon 2020 research and innovation programme and the European Regional Development Fund.
Orbital Marine Power is now setting its sights on commercialising its technology through the deployment of multi-megawatt arrays. Costs are projected to fall steeply from roll-out of the technology, as the industry becomes more mature. This could bring substantial benefits beyond helping the clean energy transition, with long term job opportunities for coastal communities. The building of the O2 has supported more than 80 jobs within the UK and its deployment marks the first vessel launch from Dundee since shipbuilding ended over 40 years ago.
The UK has abundant tidal energy around its coastline, with potential to generate 10GW of power from this resource by 2050, if tidal power capacity follows a similar growth trend to solar and wind.
---
• Follow us on Twitter
• Follow us on Facebook
• Subscribe to us on YouTube
Comments »