4th August 2021
Emperor penguins could be quasi-extinct by 2100
New research finds that if global average temperatures continue to increase rapidly, the melting of sea ice in Antarctica could nearly wipe out Emperor penguin populations by the end of this century.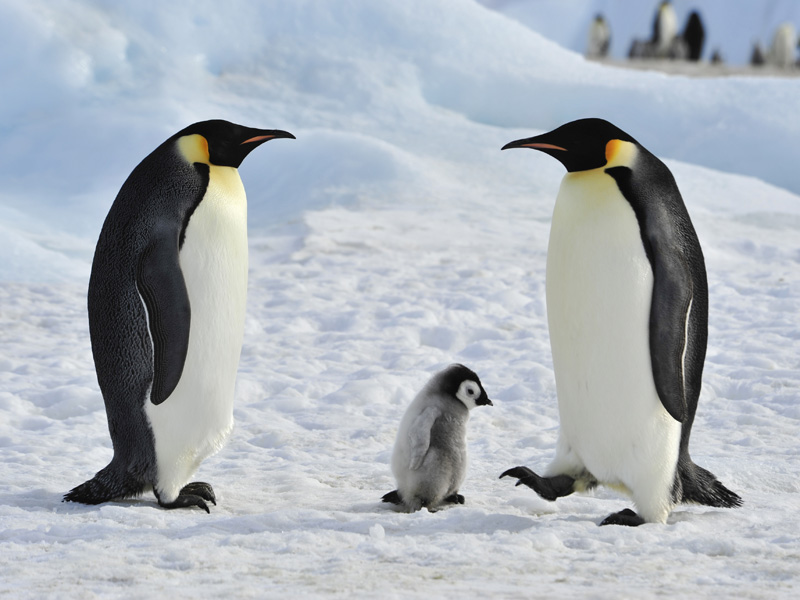 A study published this week in Global Change Biology provides valuable new data that highlights how species extinction risk in Antarctica is accelerating due to rapid climate change and an increase in extreme climate events, such as glacial calving and sea ice loss.
The study, co-authored by an international team of scientists, policy experts, ecologists, and climate scientists, provides pivotal research and future projections tailored for use by the U.S. Fish and Wildlife Service (USFWS). They propose that emperor penguins be listed as threatened under the Endangered Species Act and this week, the USFWS submitted that listing request.
"Scientists have a responsibility to make people aware of the need for change through objective evidence," said Stephanie Jenouvrier, PhD, associate scientist and seabird ecologist at Woods Hole Oceanographic Institution, who led the study. "With the help of a dedicated team, we put together this paper for the USFWS to provide additional analyses of future projections and help inform policy and protection for the species."
The study presents future population estimates of all known emperor penguin colonies, using a climate-dependent meta-population model that includes – for the first time – the effects of extreme climate events based on satellite observations of the birds.
"The high-resolution satellite images provided critical remote access to places we'd never be able to see otherwise," explained Michelle LaRue from the Department of Earth and Environmental Sciences, University of Minnesota.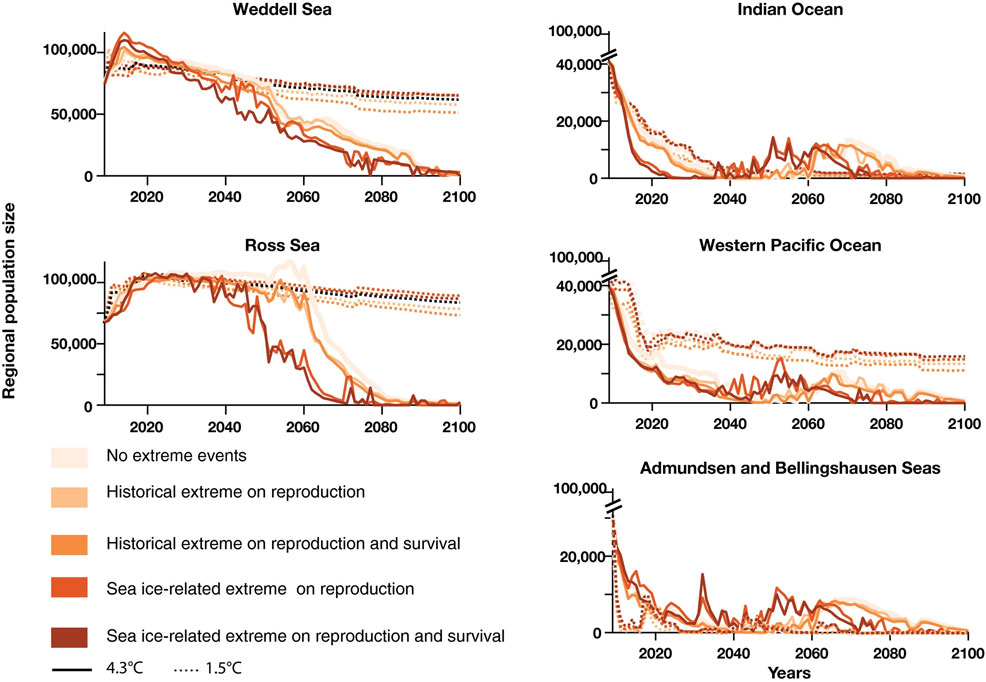 Emperor penguins live in the icy coastal regions surrounding Antarctica, but current climate models project significant declines in Antarctic sea ice to which the animals' life cycle is closely tied. The study reinforces the need for legal recognition and enhanced precautionary management, given the continued increase in greenhouse gas emissions.
"Protection of species through legal frameworks should facilitate conservation actions that in turn help mitigate climate change impacts," said study co-author Shaye Wolf, Climate Science Director at the Center for Biological Diversity.
"The study is framed in the context of the U.S. Endangered Species Act – one of the most progressive pieces of legislation in relation to species protection," said co-author Judy Che-Castaldo of the Lincoln Park Zoo.
The study demonstrates how extreme events impact the "3Rs" (resiliency, redundancy, and representation) of emperor penguins. It shows that if sea ice declines at the rate projected by climate models under current energy system trends and policies, all 3Rs would be dramatically reduced. These birds – the largest penguins in the world – currently number about 650,000 individuals, or 280,000 breeding pairs. However, about 70% could be threatened by 2050, and the species could be quasi-extinct with almost all colonies (98%) lost by 2100.
One recent example of an extreme event is the collapse of Halley Bay, the second largest colony in Antarctica. More than 10,000 chicks died in 2016 when sea ice broke up early. The colony has not yet recovered.
"Emperor penguins live in a delicate balance with their environment. There is a sea ice 'Goldilocks' zone," said Jenouvrier. "If there is too little sea ice, chicks can drown when sea ice breaks up early; if there is too much sea ice, foraging trips become too long and more arduous, and the chicks may starve."
"Given the species' reliance upon sea ice for breeding, moulting, and feeding, the most important threat for emperor penguins is climate change, which would lead to Antarctic sea ice losses over this century," explained Marika Holland, a climate scientist with the National Center for Atmospheric Research. "Trends in warming and consequential sea ice losses through the end of the century are clear and unidirectional under all projections from all climate models."
Greenhouse gas emission targets under the Paris Agreement are intended to limit the global temperature increase to below 2°C. However, the latest pledges fall well short of this goal. One estimate, by Climate Action Tracker, projects that countries' current policy pathways have a greater than 97% probability of exceeding 2°C (3.6°F).
During winter, the birds can endure temperatures of –60°C (–76°F) and wind speeds approaching 160 km/h (100 mph) by huddling together in groups of several thousand birds. In summer, however, their survival is threatened by melting ice, a trend that is worsening each decade.
"This study provides the best available science for projecting emperor penguin populations in the context of future climate change and informs policy makers about whether the emperor penguin warrants listing under the ESA," concluded Jenouvrier. "The future of this iconic species depends on immediate actions to decarbonise society and increased protections for species endangered by climate change."
---
• Follow us on Twitter
• Follow us on Facebook
• Subscribe to us on YouTube
Comments »