4th March 2022
Australia to build tallest vertical garden
A new mixed-use skyscraper will become the tallest in Australia at 366 metres (1,201 ft), while also featuring the world's tallest vertical garden.
Southbank by Beulah is a twin skyscraper development proposed for Melbourne, Australia. The project is being led by award-winning property developer, Beulah, and designed by architectural firms UNStudio and Cox Architecture. Beulah recently announced that Four Seasons Hotels and Resorts has been chosen to manage the hotel within this AUD 2.7 billion development.
The project (stylised as "STH BNK By Beulah") will include 210 hotel rooms crowning the western tower and will see guests arrive via a Sky Lobby situated on the 63rd floor – boasting panoramic views over Melbourne's city skyline, beachfront, and Royal Botanical Gardens. The hotel will also provide a world-class integrated health and wellness experience, a sprawling rooftop restaurant and bar and multiple event spaces.
The most notable feature, however, is the vertical gardens. These are a growing trend in architecture and are likely to become even more common in the future as designers seek to incorporate the natural environment into buildings. In the case of STH BNK By Beulah, they will reach to the very top of the tallest tower – some 366 metres (1,201 ft), which is nearly twice the height of Clearpoint Residencies in Sri Lanka, a similar project we reported on in 2014. The gardens will reach a combined length in both towers of 5.5 km (3.4 miles).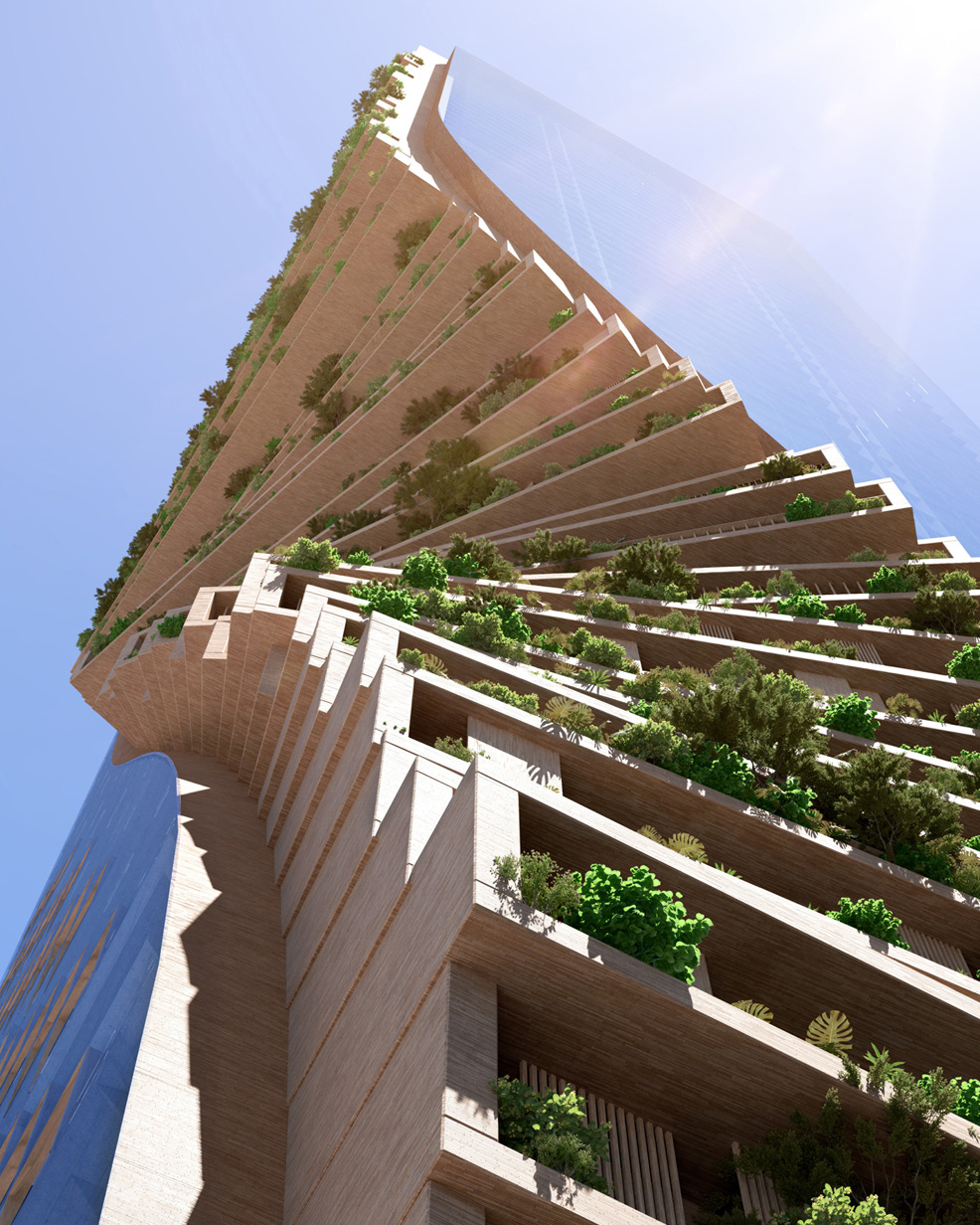 Envisioned as a "vertical mini-metropolis", STH BNK By Beulah will comprise four distinct collections of private residences, public and green spaces including a rooftop sky garden, 3,000 seat auditorium, commercial office space, childcare centre, a health and wellness precinct, arts and culture spaces and programs, alongside world-class experiential retail, all within two twisting terraced forms.
Philip Rowe, the Design Director at Cox Architecture, believes that architecture is "evolving from the late 20th and 21st century, in that we're becoming more aware of the environment – at a sustainable level, but also at a human level."
"A connection to landscape and greenery is a fundamental human 'want'," he told CNN in an interview. He added that a "move away from reflective glass towers – toward something more human and more connected to the environment – may well be a trend that's happening."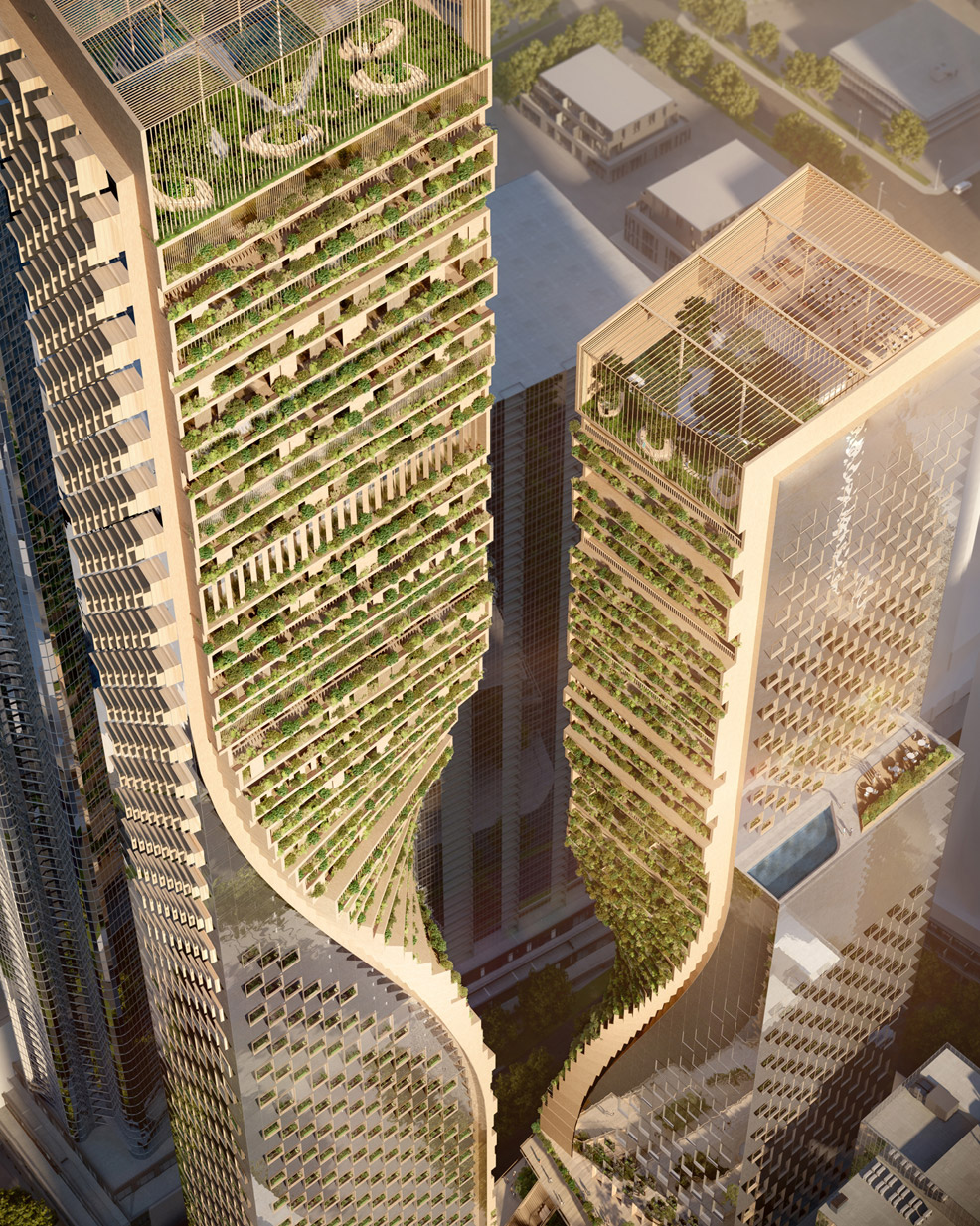 Melbourne is well known for its changeable weather conditions, so an international team of landscape architects performed wind testing, sunlight analysis and other studies to determine the best plant species for the building's exterior. To ensure they are properly maintained, an autonomous irrigation system with soil monitoring capabilities will connect to every garden bed, delivering water and nutrients when needed. The many thousands of trees, shrubs, and other plants distributed across the façade will collectively improve the towers' thermal regulation, local air quality, noise absorption, and visual appearance.
Four Seasons Hotel Melbourne will be the second Four Seasons in Australia, joining the existing Four Seasons Hotel Sydney. Construction is expected to begin during late 2022 and is scheduled for completion in 2027.
Comments »
---
If you enjoyed this article, please consider sharing it: