17th May 2022
Google Maps to add "immersive view"
Google Maps, the world's most-downloaded travel app, will soon become more immersive and intuitive thanks to a major upgrade.
The online tool is used by over 1 billion people every month. It already includes satellite imagery, aerial photography, street maps, 360° interactive panoramic views of streets, real-time traffic conditions, and route planning. At its annual I/O developer conference held in California, Google announced key features being added to further enhance its appearance and functionality.
A new "immersive view" will generate far more detailed graphics than are available currently. This will provide sweeping views of cities in full 3D, complete with simulated cars, real-time weather, realistic day/night cycles, shadow effects, water reflections, and even animations like birds flying through the sky.
In addition, users will have a better impression of interiors – such as the vibe of a restaurant, bar, theatre, or other popular venue – making it "feel like you're right there before you ever set foot inside," according to Google.
These improvements are possible thanks to advances in computer vision and AI that allow billions of aerial, street view, and other images to combine and create a rich, seamless, digital model of the world.
You may think immersive view requires a decent graphics processor, but Google claims it should work on even medium and low-end devices. It starts rolling out in London, Los Angeles, New York, San Francisco, and Tokyo later this year, with more cities to be added after that.
In addition to more immersion, the updated Google Maps will include eco-friendly routing, showing the most fuel-efficient journey for a vehicle. This has already been launched in North America and will soon be expanded to Europe and other regions too. As well as helping drivers to save money, it can improve air quality and cut greenhouse gas emissions. Google says this feature has prevented half a million metric tons of carbon emissions in the U.S. and Canada to date and expects to double this amount in the future.
The company also announced an update for Live View. First launched in 2019, this provides augmented reality (AR) walking routes in the form of arrows, directions, and distance markers. AI-based technology called global localisation can generate the optimal path in a matter of seconds, which is especially helpful when navigating tricky indoor areas like airports, malls, and train stations. To expand this feature, Google is now making the technology available to developers at no cost, with a new ARCore Geospatial API.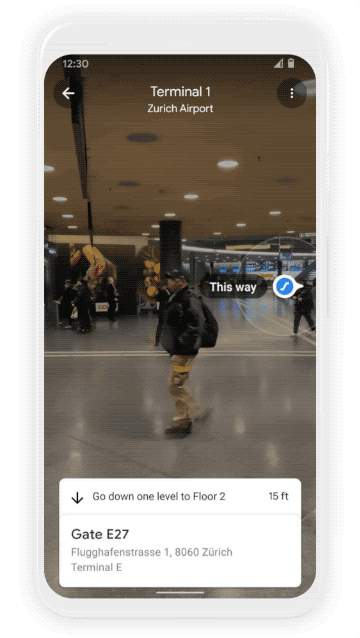 Comments »
---
If you enjoyed this article, please consider sharing it: