22nd May 2022
U.S. pledges $3.5 billion for direct air capture
This week, the U.S. Department of Energy (DOE) announced a multibillion-dollar program to develop carbon dioxide removal technologies.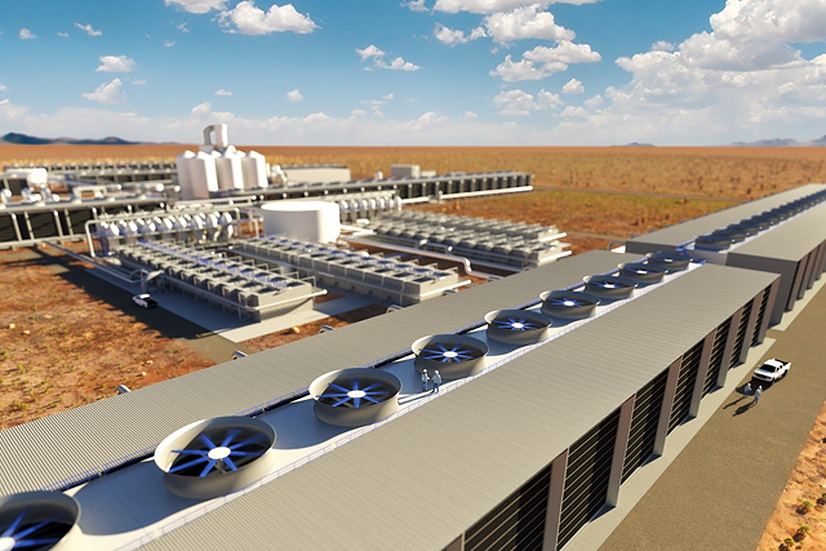 Credit: Carbon Engineering
The DOE released a Notice of Intent (NOI) on Thursday for developers to build four direct air capture (DAC) plants – each capable of removing at least a million tons of CO2 per year – using $3.5 billion in funds from the Bipartisan Infrastructure Bill.
The Regional Direct Air Capture Hubs program will support four large-scale, regional DAC hubs, comprising a network of carbon dioxide removal (CDR) projects to help address the impacts of climate change.
Although progress is being made with decarbonising the economy through clean energy, efficiency, and industrial innovation, the sheer scale and urgency of the change needed means that additional methods such as DAC and related infrastructure will play a crucial role.
"The UN's latest climate report made clear that removing legacy carbon pollution from the air through direct air capture and safely storing it is an essential weapon in our fight against the climate crisis," said Jennifer M. Granholm, U.S. Secretary of Energy. "President Biden's Bipartisan Infrastructure Law is funding new technologies that will not only make our carbon-free future a reality but will help position the U.S. as a net-zero leader while creating good-paying jobs for a transitioning clean energy workforce."
Direct air capture is a process that separates CO2 from ambient air. The separated CO2 is then either permanently stored deep underground or converted for use in long-life products like concrete that prevent its release back into the atmosphere. This differs from carbon capture systems at industrial facilities and power plants that prevent additional emissions from being released into the air in the first place.
According to a schedule published by the Department of Energy in its Notice of Intent, the four DAC plants could begin operations towards the end of this decade if successfully developed: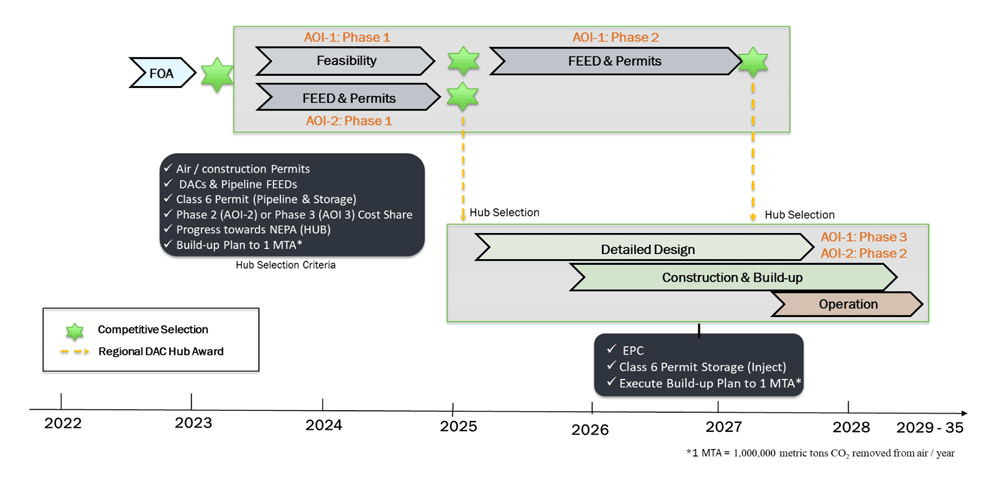 By mid-century, these technologies will need scaling up to the gigaton scale, three orders of magnitude greater. To put this in perspective, one gigaton of sequestered CO2 is equivalent to the annual emissions from the entire U.S. light-duty vehicle fleet – approximately 250 million vehicles driven in one year. Currently, the U.S. emits a total of 4.5 gigatons from all sources, down from a peak of 6 gigatons in 2007. This excludes other greenhouse gases such as methane and nitrous oxide.
Each of the projects selected for the Regional Direct Air Capture Hubs program will demonstrate the delivery, storage, or end use of removed atmospheric carbon. The hubs will have the capacity to capture and then permanently store at least one million metric tons of CO2 from the atmosphere each year – either from a single unit or from multiple interconnected units.
Throughout their development and deployment, the DOE says it will also emphasise environmental justice, community engagement, consent-based siting, equity and workforce development, and domestic supply chains and manufacturing.
Comments »
---
If you enjoyed this article, please consider sharing it: