31st May 2022
Walmart expands drone delivery service
U.S. retail giant Walmart is bringing the convenience of drone delivery to four million households, in partnership with DroneUp.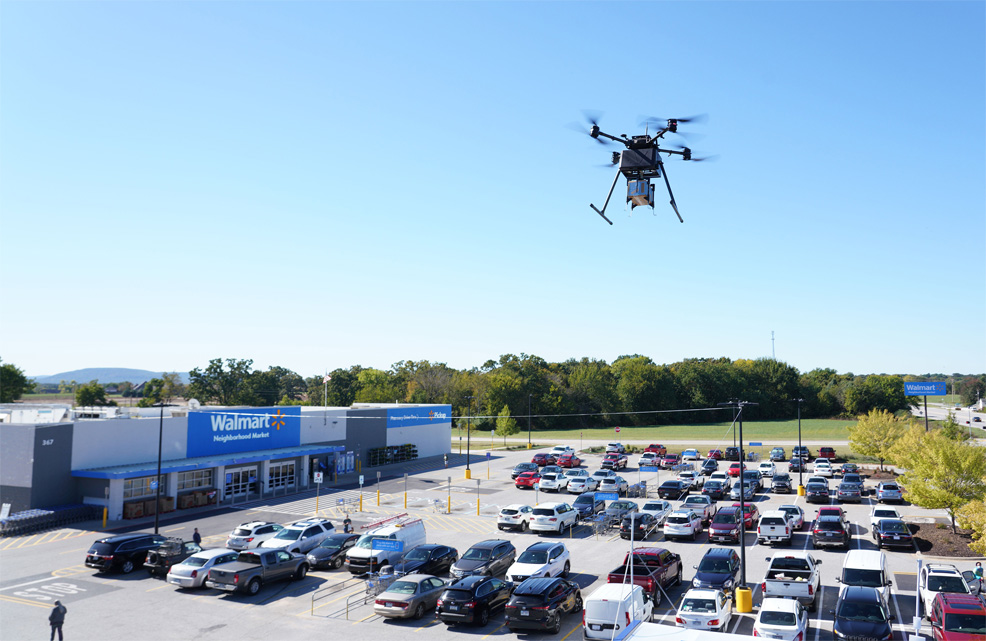 In November 2021, Walmart launched a drone delivery program, able to carry packages directly to customers' homes. Only a single town in Arkansas could take advantage of this service, however, and the idea still feels like something from science fiction.
That could be about to change, however, with drones becoming a more common sight in many towns and cities across the U.S. Since last year, Walmart has been developing a new system that could help millions more customers get the items they need, when they need them. It now plans to expand its delivery network to 34 sites by the end of 2022, providing the potential to reach four million U.S. households across six states – Arizona, Arkansas, Florida, Texas, Utah, and Virginia. This will enable an estimated 1 million packages to be delivered by drone in a year.
Between the hours of 8:00 and 20:00, customers will be able to order from tens of thousands of eligible items, for delivery by air in as little as 30 minutes. For a delivery fee of $3.99, customers can order items totalling up to 10 lbs (4.5 kg).
Walmart says that initially, it believed customers would use drones for "emergency items" – but after hundreds of deliveries in the last six months, it has found that people use the service for its sheer convenience, like a quick fix for a weeknight meal. The relatively small number of customers who use the existing service have given positive feedback, according to the company.
Stores participating in the expanded network will house a DroneUp delivery hub that includes a team of certified pilots, operating within FAA guidelines to manage all aspects of flight. Once a customer places an order, their item is fulfilled from the store, packaged, loaded into the drone, and then delivered right to their yard using a cable that gently lowers down.
"The customer has always been at the centre of our focus at Walmart, and we look for partners that are as laser-focused on customer experience as we are," Walmart said in a company statement. "DroneUp has been a reliable partner as we've tested this solution and their capabilities will enable our business to scale with speed, while maintaining a high calibre of safety and quality."
Comments »
---
If you enjoyed this article, please consider sharing it: