11th November 2022
New antibiotic achieves success in clinical trial
QPX9003, a new antibiotic for Gram-negative bacteria, has achieved success in a Phase I clinical trial.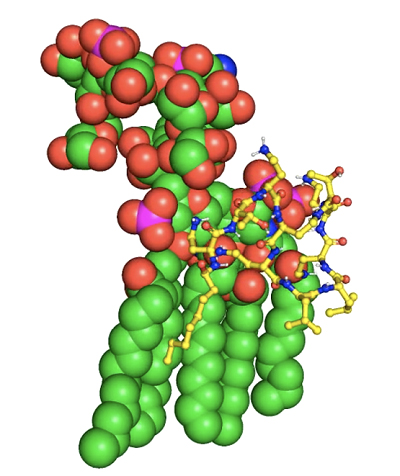 A novel antibiotic targeting antibiotic-resistant 'superbugs' has achieved an important milestone in its clinical development, with initial studies of the drug showing excellent safety and tolerability results.
The potential new treatment – called QPX9003 – is being developed by researchers at Monash University in Melbourne, Victoria, Australia. They presented their early data at IDWeek 2022 in Washington, D.C., which included results from the Phase 1 placebo-controlled randomised single ascending doses (SAD) and multiple ascending doses (MAD) in healthy adults.
The drug appears to be well tolerated in single dose escalation up to 400 mg and multiple doses up to 600 mg per day for 14 days. No significant adverse events have been observed and, importantly, no subjects discontinued the trial. Based on its current profile, QPX9003 can be safely dosed at levels that would be sufficient to achieve clinical efficacy, which means it will now proceed to the next trial phase.
This could represent a critical step towards addressing a global health crisis caused by superbugs. Unless a solution is found, drug-resistant infections are expected to claim 10 million lives a year by 2050 – more than the official death toll of COVID-19, and even more than cancer – with an economic impact estimated at $8 trillion/year.
Gram-negative bacteria can cause a range of serious and life-threatening illnesses, such as pneumonia, peritonitis, and meningitis, as well as bloodstream and urinary tract infections. No new lipopeptide antibiotics have been approved against Gram-negative pathogens since polymyxin B and colistin became available in the late 1950s.
It has taken a decade of work, and multiple sources of funding, to get QPX9003 to this point. A U.S. biopharmaceutical firm, Qpex Biopharma, licenced the drug from Monash and began the Phase I clinical trial in June 2021. Then, earlier this year, a paper on the Monash team's work appeared in Nature, highlighting the mechanism of action and decreased toxicity of QPX9003 at a molecular level, using cutting-edge transcriptomics and mass spectrometry.
If QPX9003 makes it through Phase II and III clinical trials and onto the market, it will be the first new lipopeptide antibiotic that targets Gram-negative bacteria in over 60 years. This will mean effective treatments against Acinetobacter and Pseudomonas.
"These particular Gram-negative bacteria which our drug targets have been highlighted by the World Health Organization as being the top priority for the development of new antibiotic drugs," explained Kade Roberts, from Monash's Biomedicine Discovery Institute. "We re-engineered polymyxins to come up with a new drug that's more effective at targeting infections in the lungs, and also prevents the toxicity issues associated with this particular drug class."
"These Phase 1 results are very inspiring, as the currently used treatments – polymyxin B and colistin – display significant toxicity issues in the clinic that have severely limited their use," said Jian Li, Professor of Microbiology. "These results showing the safety and tolerability for QPX9003 at clinically relevant doses are critical and demonstrate that QPX9003 has the potential to be administered at significantly higher doses than polymyxin B and colistin without adverse effects."
"It is exciting to see the progress of QPX9003 advancing as part of our portfolio of clinical stage investigational antibiotic programs," said Michael Dudley, President and CEO of Qpex Biopharma. "QPX9003 has the potential to provide a new treatment option for patients with drug-resistant infections for which there are limited treatment options. We look forward to discussions with regulators on the next steps toward studies in patients."
---
• Follow us on Twitter
• Follow us on Facebook
• Subscribe to us on YouTube
Comments »