4th November 2022
€3.5 billion "green steel" project to go ahead
A Swedish company has secured funding to build the first large-scale hydrogen-based steel plant, which could remove 95% of CO2 emissions from the reduction process.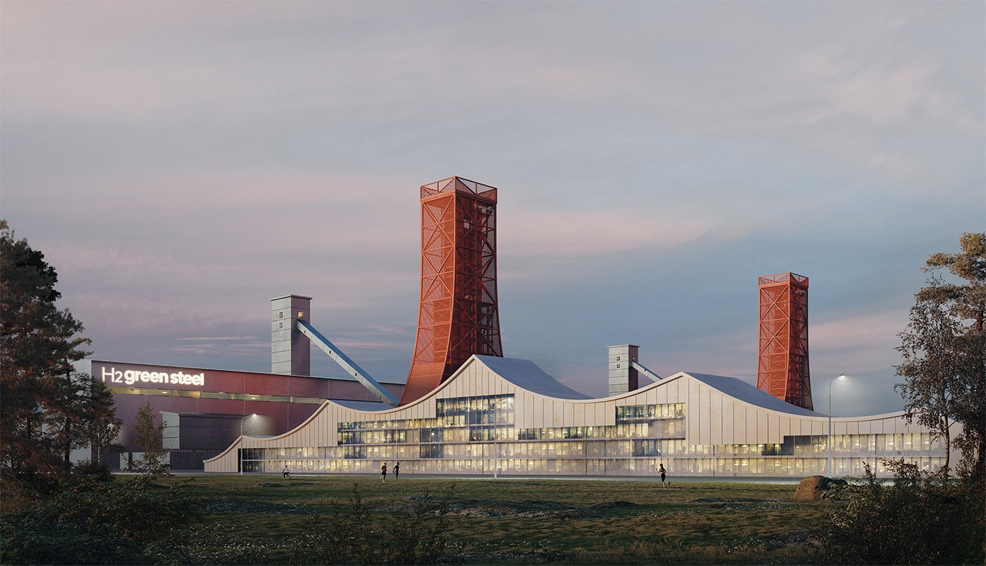 Computer rendering of the first large-scale, hydrogen-based green steel plant, expected to be operational in 2025. Credit: H2 Green Steel
Steel production is carbon intensive. Iron ore must be heated and melted at very high temperatures in furnaces, which requires large amounts of energy. One ton of crude steel results in 1.83 tons of CO2, while the industry accounts for an estimated 7% to 9% of global CO2 emissions.
H2 Green Steel, founded in 2020, is hoping to change that. Its ambition is to accelerate the decarbonisation of the steel industry, using a new process based on green hydrogen.
In traditional steel making, reduction of iron ore is achieved by heating it together with coal, using a chemical reaction that separates oxygen from the iron, forming and releasing CO2. The new method will involve green hydrogen reacting with iron ore similarly to carbon, resulting in the extraction of oxygen. However, instead of creating CO2, the main by-product will now be H2O.
The green hydrogen is produced by decomposing water into hydrogen and oxygen in a process known as electrolysis. H2 Green Steel is developing what it describes as "giga-scale electrolysis", powered by fossil-free electricity, as an integrated part of its production site.
The subsequent steps include an electric arc furnace (again using fossil-free electricity), to create a homogenous melt of liquid steel. This is followed by "continuous casting and rolling" to keep the steel warm on its way to finished product, reducing energy consumption by 70% and replacing natural gas often used in the traditional process.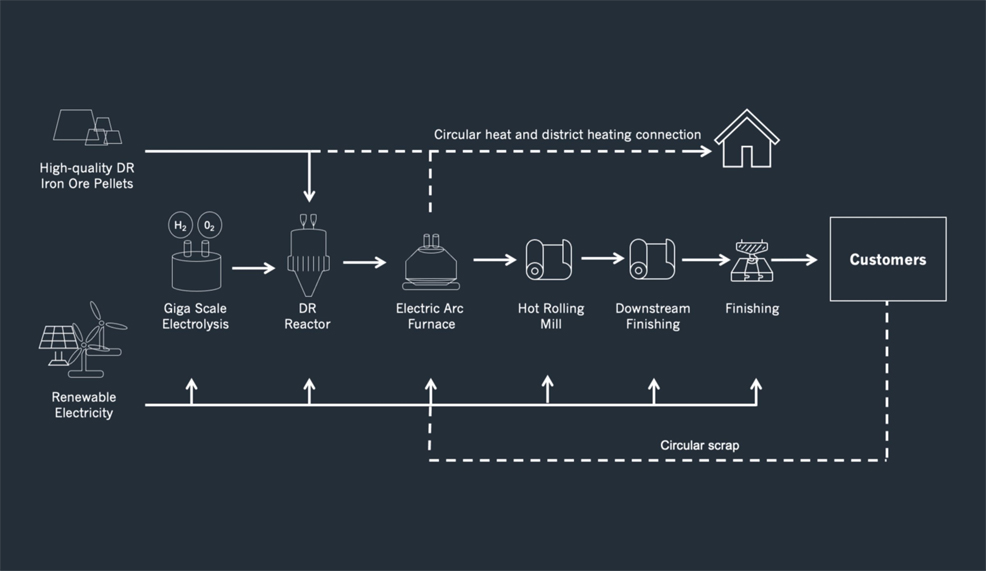 As illustrated above, green steel plants will also maximise circularity. Wasted heat, for example, will be sent to the district heating channels of Luleå-Boden, recycled scrap from customers will be charged into the electric arc furnace, and slag will be processed into products to be used in other industries.
Last week, the company announced support from leading European financial institutions – including the commercial banks BNP Paribas, ING, Societe Generale, and UniCredit, as well as the European Investment Bank, and the Swedish National Debt Office – for the €3.5 billion (US$3.5 billion) it needs. Through a combination of debt and credit guarantees, funding will be provided for construction of the world's first large-scale, hydrogen-based green steel plant, to be located in Boden, Northern Sweden.
"These strong commitments to our debt financing show how far we have come on our journey, in a very short time," said Henrik Henriksson, CEO. "We are impressed by the collaborative approach of these institutions and the leadership they are displaying in financing the transition. The support from the European Investment Bank, Swedish National Debt Office and some of the world's leading export credit agencies and banks, not only underlines our business case and debt carrying capacity, but also highlights the willingness to support initiatives that will help fulfil the target of the Paris Agreement."
The site is scheduled to start production in late 2025. The company has already pre-sold about 60% of its initial volumes to a range of European customers in a broad range of sectors. Following a gradual ramp up, H2 Green Steel expects to bring 5 million tonnes of high-quality steel to the market by 2030.
---
• Follow us on Twitter
• Follow us on Facebook
• Subscribe to us on YouTube
Comments »