13th March 2023
Huge new oil project approved in Alaska
In a major setback for the environment, U.S. President Joe Biden has today given the green light to the controversial Willow Project. This has the potential to erase all of his planned emission reductions from renewables between now and 2030.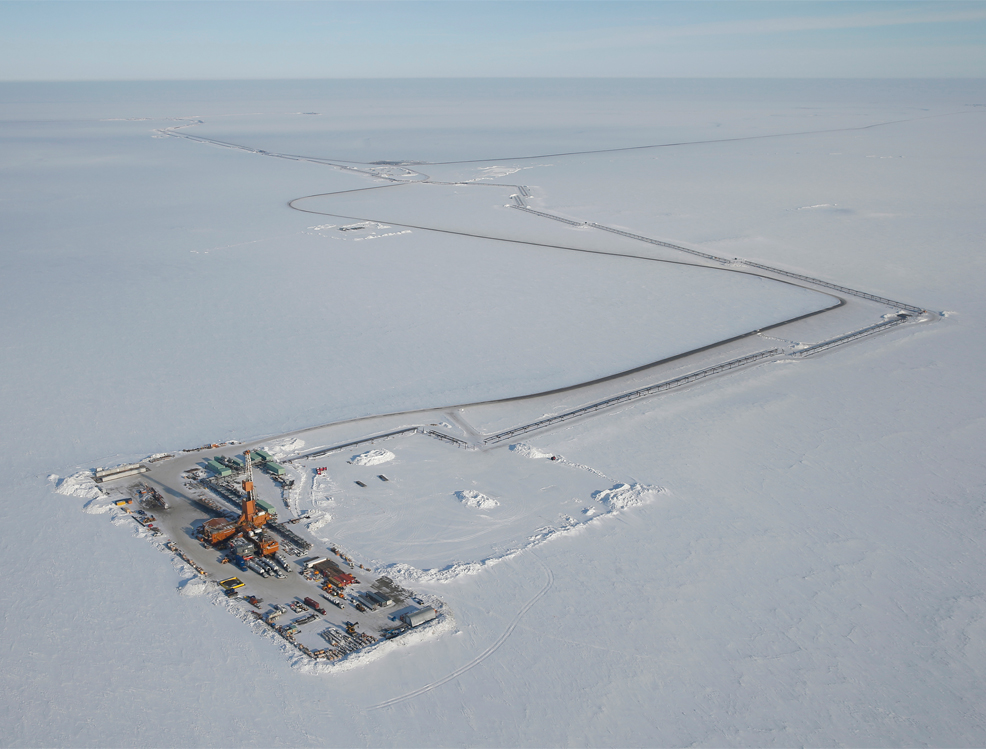 North Slope, Alaska. Credit: ConocoPhillips Company
The Biden administration has today officially approved the master drilling plan for ConocoPhillips' Willow Project on the North Slope of Alaska. This allows drilling for vast quantities of oil in a remote part of the Arctic.
In April 2021, Biden pledged to cut greenhouse gas emissions in half by 2030 compared to 2005 levels – the most ambitious climate goal ever announced by a U.S. president. This included a massive expansion of renewables, both on land and at sea.
But now, a single new oil lease could erase 100% of the progress expected from Biden's clean energy plan. In fact, it may go even further than that. It had been forecast that 129 million metric tons (MMT) of carbon dioxide (CO2) could be offset from deploying more solar, wind, and other renewable energy between now and 2030. According to the U.S. Bureau of Land Management, however, the Willow Project is likely to produce nearly 260 MMT – or more than twice that amount – during its 30-year lifetime. Put another way, the total CO2 output will be equivalent to creating about 70 new coal-fired power plants.
An estimated 576m barrels of oil will have been extracted by the 2050s, with a peak of 180,000 barrels of crude a day. Somewhat ironically, the operations may involve "refreezing" the rapidly thawing Arctic permafrost to stabilise drilling equipment, according to ConocoPhillips.
In addition to its massive carbon footprint, the Willow Project will adversely impact Arctic wildlife and Native American communities. Among the species whose habitats may be harmed are caribou, polar bears, and migratory birds. Local residents have already voiced concerns about the region's existing oil developments, which cause oil flares at night, fumes, and pollution contributing to respiratory illness and other sickness.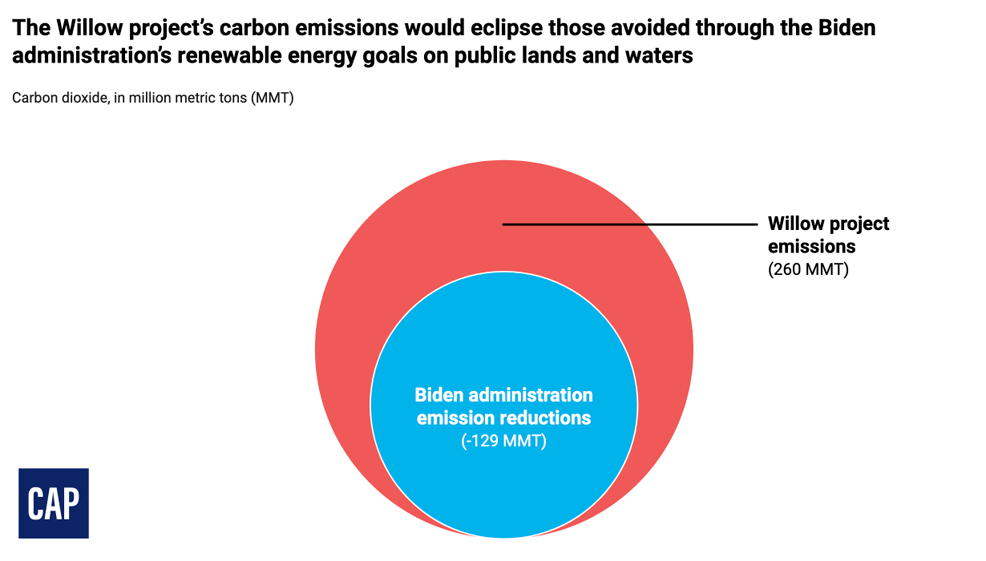 "Approving the Willow Project is an unacceptable departure from President Biden's promises to the American people on climate and environmental justice," said Lena Moffitt, director of campaign group Evergreen Action. "After all that this administration has done to advance climate action and environmental justice, it is heartbreaking to see a decision that we know will poison Arctic communities and lock in decades of climate pollution we simply cannot afford."
"The President is wrong," said Ed Markey, Massachusetts Senator and Chair of the House Global Warming Committee. "The approval of a massive oil development project on federal lands is a mistake we will regret for generations. The Willow project's devastating consequences will be suffered by all of us. We must move forward not backward.
"These federal lands are precious parts of our environment that must be preserved, not destroyed. This decision not only reverses the President's campaign promise but betrays the native people who have called for the protection of their homelands and culture—not its destruction. In 2023, we need bold executive action that centres climate justice, not digs us deeper into the fossil-fuelled ways of our past. We can build a liveable future – but it will take all of us."
Biden's approval of this controversial project may cost him support in the 2024 election, especially from younger voters, for whom climate change now consistently ranks as one of the most important issues. More than a million letters opposing the plan have been sent to the White House, while a Change.org petition attracted more than 3 million signatories, and a #stopwillow campaign went viral on TikTok as well as other social media. The project is now almost certain to face legal challenges.
---
• Follow us on Facebook
• Follow us on Instagram
• Join us on Reddit
• Follow us on Twitter
• Subscribe to us on YouTube
Comments »