2024-2064
The next generation of London Tube trains
A new generation of London Underground trains enters service during 2024,* remaining in operation for 40 years.* The aging Tube network had been underinvested for decades – resulting in ever-worsening delays, overcrowding and safety issues. In the early 21st century, however, a massive programme of upgrades and modernisation was initiated. This included a £16bn ($26bn) project announced by Transport for London in October 2014, intended to fundamentally overhaul its rolling stock.
These futuristic new carriages were designed to accommodate the city's rapidly increasing population (forecast to grow by 37% to 11 million by 2050),* address safety concerns, improve usability for the disabled and offer a more pleasant overall experience for travellers. Step-free trains and wider doors would enable those in wheelchairs to have seamless access from platform to carriage, while door barriers placed on the edge (already introduced on the Jubilee Line) could prevent suicides or accidents.
With trains designed to be more spacious and easier to board – in combination with modern signalling and control systems – a faster, more frequent and more reliable service could be provided. The Piccadilly line, for example, serving many of London's top tourist attractions, would have its capacity boosted by 60%, equivalent to an extra 19,000 customers per hour.*
In the past, summer temperatures and humidity on some lines were known to reach levels unsuitable for cattle transport, let alone humans. All of these new carriages now feature air conditioning, for vastly improved comfort. In addition, hi-tech electronic displays provide real-time information, while better lighting creates more of a "living room" feel.
The New Tube is first introduced on the Piccadilly line in 2024, followed by the Bakerloo, Central and Waterloo & City lines. Self-driving trains are deployed from the early 2030s.* These had already been present on some parts of the network, such as the Docklands Light Railway (DLR) in the Canary Wharf financial district. As they become widespread on the main Tube lines as well, these automated systems bring to an end the notorious union strikes that had caused severe disruption in earlier decades. However, there is criticism over the costs and safety aspects.*
Another development in 2024 is access to 4G, which is now available in all stations and tunnels. The final installations are completed this year, with plans now underway for upgrading the network to 5G.
2024
Bulgaria adopts the euro
On 1st January 2024, Bulgaria adopts the euro as its official currency, becoming the 21st member state of the European Union (EU) to do so.* Bulgaria had joined the EU in 2007. As part of its ascension treaty, it committed to switching its currency, the lev, to the euro. This transition would occur once the country met all the euro convergence criteria.
The Maastricht Treaty, which entered into force on 1st November 1993, outlined the five convergence criteria required for EU member states to comply with to adopt the euro currency. The purpose of setting the criteria was to achieve price stability within the eurozone and ensure negative impacts would be avoided when new member states acceded. For example, it placed limits on inflation, government budget deficits, debt-to-GDP ratios, and interest rates.
By 2021, Bulgaria had met four of the five criteria, the exception being its membership for at least two years of the EU's exchange rate mechanism (ERM II), which it joined in July 2021. That same year, Bulgarian government and central bank officials adopted a draft national plan for euro adoption, stating their intention to formerly adopt the currency on 1st January 2024. As part of this transition, Bulgarians would be able to continue paying in the national lev currency a month after the adoption of the single currency.
By adopting the euro, the burden of currency exchange fees is removed, improving business with other eurozone countries – Germany, for example, is Bulgaria's largest trading partner. Tourism, a major part of Bulgaria's GDP, is also boosted, since tourists no longer have to waste money exchanging currency. In addition, being a eurozone member allows for cheaper borrowing. Since loans are backed by the whole eurozone, investors are more willing to lend money at lower rates to smaller countries. While this had been problematic for Greece, some years earlier, it can be a huge plus for an economy if managed properly. Bulgaria's fiscal conservatism and very low debt-to-GDP ratio makes this less of an issue in any case.
Bulgaria follows Croatia in joining the euro, the latter having acceded in 2023, which had been the first enlargement of the monetary union since Lithuania's entry in 2015. The eurozone's total size is now almost US$14 trillion. Future expansion remains possible, with Romania aiming to join by 2029.*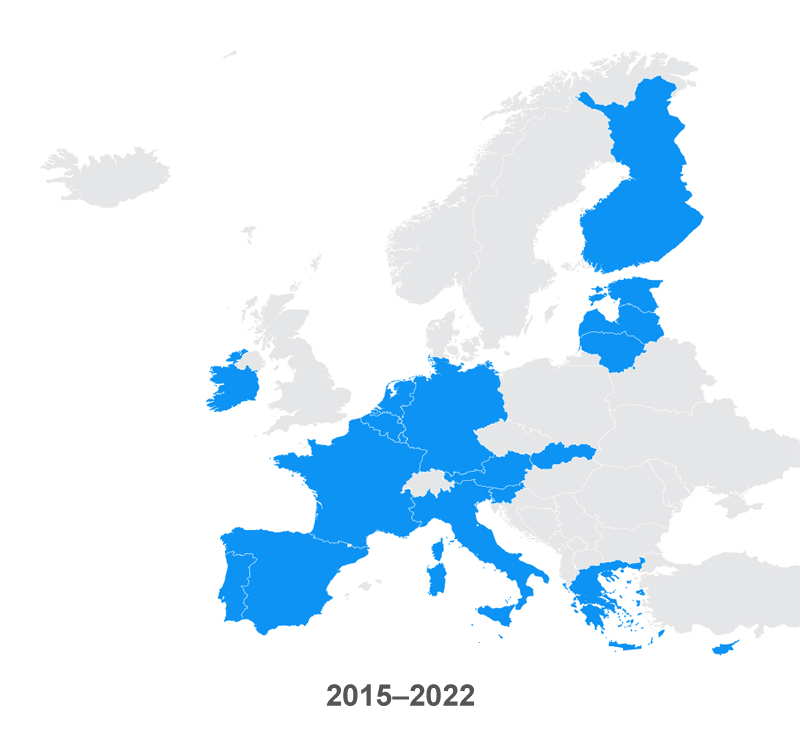 The Thirty Metre Telescope is fully operational
The Thirty Metre Telescope (TMT) is a huge new observatory built on the summit of Mauna Kea in Hawaii, USA.* It is funded through an international collaboration between governments and scientific institutions in Canada, China, India, Japan and the United States.
The TMT operates in the near-ultraviolet to mid-infrared (0.31 to 28 μm wavelengths) part of the spectrum* and is designed as a general-purpose observatory for investigating a broad range of astronomical phenomena. The centrepiece of the building is a Ritchey-Chrétien telescope with a 30-metre (98 feet) diameter primary mirror, which is segmented and consists of 492 smaller (1.4 m) hexagonal mirrors. The shape of each segment– as well as its position relative to neighbouring segments – can be controlled actively. The mirror is housed in a dome with a diameter of 66 metres (217 feet) and height of 55 metres (180 feet), comparable to an 18-storey building.
Among the existing and planned telescopes of 20 metres or larger, the TMT is located at the highest altitude, sitting 4,050 metres (13,290 feet) above sea level, which provides exceptional clarity of night sky objects. Even greater sharpness is achieved by its adaptive optics system, which helps correct image blur caused by the Earth's atmosphere.* Extremely high contrast exoplanet imaging is therefore possible. It can detect Earthlike planets around distant stars and take spectroscopy of those worlds to analyse the potential for life in greater detail than ever before.
The TMT's other capabilities include revealing the structure of hidden dark matter, which is believed to account for 27% of the total mass-energy content of the known universe. The nature of "first-light" objects can also be determined by peering far back into the young universe. The early formation and evolution of the large-scale structures that dominate the present day universe can also be observed. In addition, supermassive black holes can be analysed at very high resolution. This allows scientists to measure the general relativistic effects and to spatially resolve the accretion disks for active black holes in the centres of galaxies to the distance of the Virgo cluster, around 55 million light years away.*
The TMT mirror has a collecting area nine times greater than the neighbouring Keck Telescope, with a spatial resolution over 12 times sharper than the Hubble Space Telescope.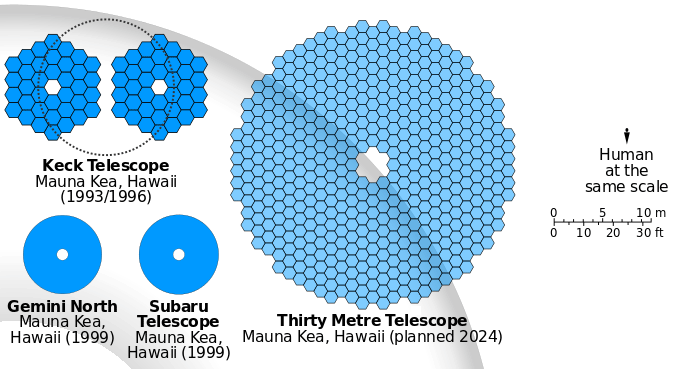 By Cmglee [CC BY-SA 3.0], via Wikimedia Commons
A global agreement on plastic pollution
In 2024, the most important international environmental deal since the Paris Climate Accord is signed. This follows an earlier meeting of UN Member States in March 2022, during which Heads of State, Ministers of environment and other representatives endorsed a landmark agreement to address the ever-growing problem of plastic waste.
In 1950, the world produced around 2 million tonnes of plastic each year. By the early 21st century, this amount had increased more than 100-fold and by 2020, the mass of plastic produced globally exceeded the biomass of all land and marine animals combined. About 10 million tonnes of this now ended up in the oceans – affecting the food chain, marine life, and human health. Plastics had been shown to affect fertility, hormonal, metabolic and neurological activity, while the open burning of plastics contributed to air pollution. Projections indicated that if trends continued, the amount of plastic waste entering the oceans each year would triple by 2040, while the cumulative total in the oceans would exceed the mass of all fish by 2050.
A new, landmark resolution – endorsed by 175 nations – aimed to address the full life cycle of plastic, from its design to production and disposal. Based on three initial draft resolutions from various nations, it established an Intergovernmental Negotiating Committee (INC) which began work in 2022. A draft legally binding agreement is now emerging in 2024.*
This, in turn, will soon create a legally binding instrument, reflecting diverse alternatives to conventional plastics. The proliferation of reusable, recyclable and biodegradable products is accelerated, while international collaborations are enhanced to facilitate access to such technology. Other measures are stepped up to improve waste management and leakage, such as the Ocean Cleanup initiative pioneered by Boyan Slat, to intercept and remove plastics and microplastics from rivers, lakes, and oceans. This allows plastic waste production to slow and reach a peak, before entering a long-term decline.
Although a turning point is now in sight, this transition requires unprecedented levels of action and cooperation. Much like climate change, the legacy impacts of plastic pollution continue to be a serious and ongoing issue for generations to come. Some waste products remain until at least 2600.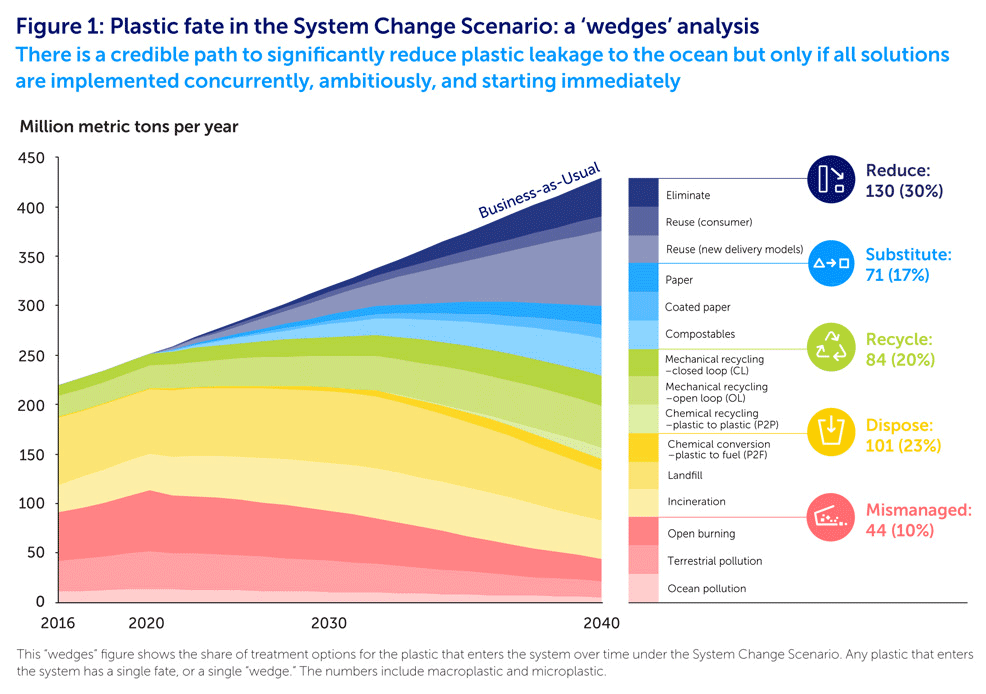 Indonesia gets a new capital city
In 2024, a new capital city is established for Indonesia – its fourth in the last 80 years. Following World War II, Jakarta had become the de facto capital of the Republic of Indonesia. During occupation by the Netherlands Indies Civil Administration (NICA), the capital was moved to Yogyakarta in 1946 and then later Bukittinggi in 1948. It reverted back to Yogyakarta in 1949. Once independence was secured, Jakarta again became the capital in 1950, a position it would hold for the next 74 years.
In 2019, President Joko Widodo officially announced a relocation of Indonesia's capital to East Kalimantan on the island of Borneo. The as-yet-unnamed city – costing tens of billions of dollars to plan and build – was needed due to major subsidence in Jakarta. Due to the combined effects of its location on swampy land, and over-extraction of groundwater, Jakarta had been sinking at an incredible rate: up to 25cm (10in) each year in some of the worst affected parts, and almost half now sat below sea level. Jakarta also suffered from dire pollution, overcrowding and traffic problems.
The new capital, on a plot of 40,000 hectares (400 sq km), would be surrounded by greenery in a sparsely populated area, yet at the same time positioned in a more central and geographically unifying part of the country. One fifth of the approximately $34 billion needed would be financed by the state, with international investors contributing the remainder. The government pledged $40 billion to modernise and prevent the sinking of Jakarta, insisting that it was "not abandoning" the city. Without this action, 95% of Jakarta faced inundation by 2050.*
Indonesia's Ministry of Public Works and Public Housing organised a design contest, with Nagara Rimba Nusa ('Forest Archipelago') by URBAN+ announced as the winner in December 2019.* The masterplan featured strong environmental credentials and the latest in "smart city" technology. It would be developed in phases with construction starting in 2021, official inauguration taking place in 2024 and the last remaining government departments in Jakarta being transferred across by the end of the decade.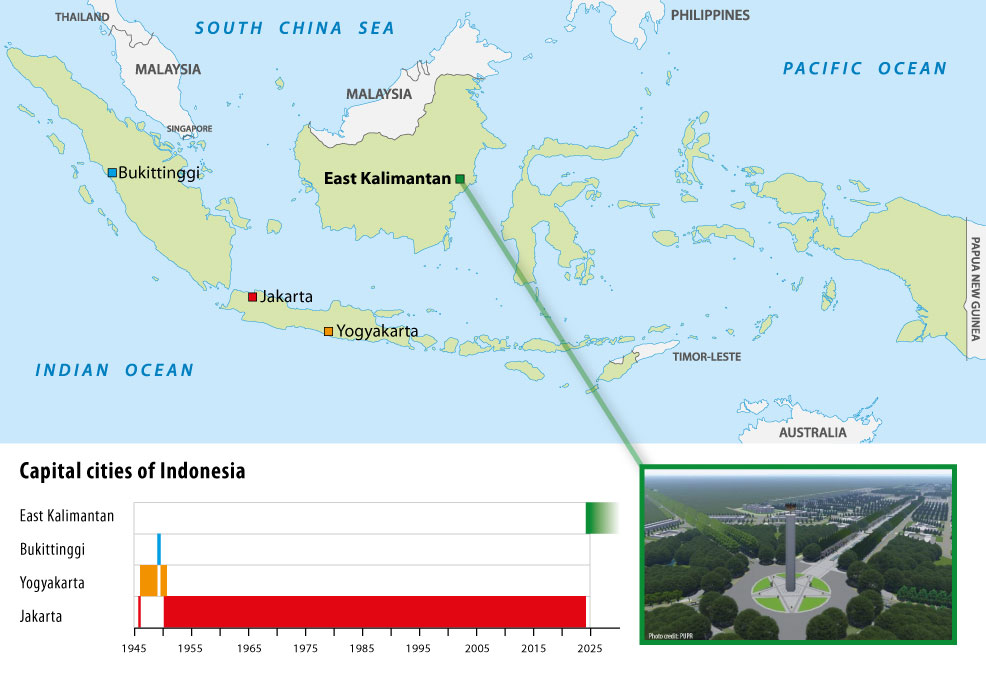 Total solar eclipse across North America
A total solar eclipse occurs on 8th April 2024, visible across North America.* For observers on the continent, totality begins at the Pacific coast, moving in a northeasterly direction through Mexico, the USA, and Canada, before ending in the Atlantic Ocean. Its longest duration is four minutes and 28 seconds near the small town of Nazas, Durango, Mexico, and the nearby city of Torreón, Coahuila. This is the first total solar eclipse to be visible from Canada since 1979, the first in Mexico since 1991 and the first in the USA since 2017. It is the only total solar eclipse in the 21st century where totality is visible in all three countries.
The path of this eclipse crosses the path of the prior total solar eclipse of 21st August 2017, with the intersection of the two paths being in southern Illinois, in Makanda, just south of Carbondale. The cities of Benton, Carbondale, Chester, Harrisburg, Marion, and Metropolis in Illinois; Cape Girardeau, Farmington, and Perryville in Missouri, as well as Paducah, Kentucky, are within a 9,000 square mile intersection of the paths of totality of both the 2017 and 2024 eclipses – therefore earning the rare distinction of being witness to two total solar eclipses within a span of seven years.
First crewed flight of NASA's Orion spacecraft
In May 2024,* NASA conducts a first human flight of the Orion Multi-Purpose Crew Vehicle (MPCV). This test, Artemis 2, follows the uncrewed Artemis 1 in 2022 and the Earth-orbiting prototype in 2014. These missions form part of the agency's longer-term plan for sending humans to Mars.
Artemis 2 is placed in high Earth orbit by a new super heavy-lift rocket, the Space Launch System (SLS), for a period of two days. During this time, its crew perform checkouts of the spacecraft's life support systems, as well as an in-space rendezvous demonstration using the spent Interim Cryogenic Propulsion Stage (ICPS) as a target.
It then fires its main engine to begin a translunar injection manoeuvre, sending it on a lunar free return trajectory. The spacecraft performs a lunar flyby with a mission duration of 10 days – passing within 7,400 km (4,600 mi) of the Moon's surface – before returning to Earth. This mission is the first crewed spacecraft to travel beyond Earth orbit since Apollo 17 in 1972. The four-person crew includes a Canadian Space Agency (CSA) astronaut, the first Canadian to travel beyond low Earth orbit.
Artemis 2 is followed by Artemis 3 in the second half of the decade, which delivers a human crew to the Moon's south polar region. Two astronauts, including the first woman on the lunar surface, spend roughly a week there before returning to Earth.
NASA's proposed timeline includes a total of 11 Artemis missions – running until at least 2033 – with potential for Orion to be used on Mars missions beyond that in combination with a Deep Space Habitat module for additional space and supplies.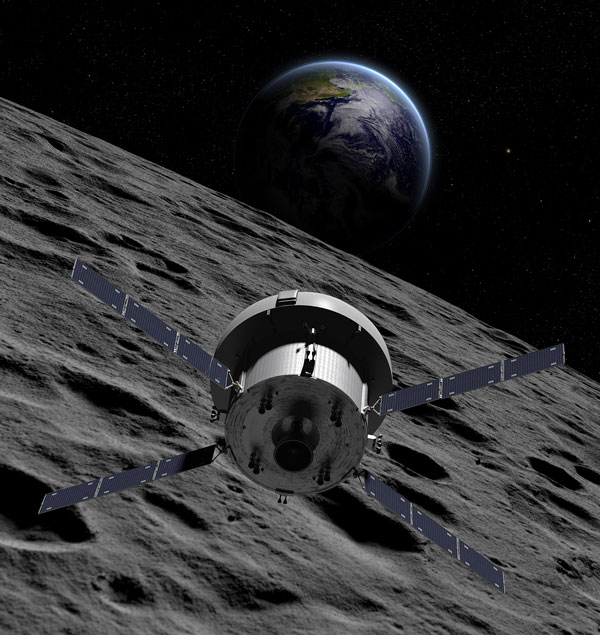 Artemis 2 in 2024. Credit: NASA
Canada's first supertall skyscraper
This year sees completion of a major high-rise project in Toronto, the most populous city in Canada and fourth most populous in North America. The new building is a mixed-use tower named The One and becomes the first skyscraper in Canada to exceed 300 m (984 ft) in height, which is defined as "supertall" by the Council on Tall Buildings and Urban Habitat (the CN Tower, although taller, is technically considered an observation tower).
The One is part of a construction boom now underway in Toronto, which has more cranes than any other city in North America. Its completion follows the 2018 approval of TOcore – a 25-year plan for the city. This recognised the need for improved infrastructure – particularly residential buildings – to cope with rapidly increasing demand. As 130,000 people are welcomed to the region every year, the Greater Toronto Area is on track to see its population swell from 7 million to over 10 million by 2045.*
The One contains a mix of residential, retail and hotel properties. At 309 m (1,014 ft) and with 85 floors, it makes a significant mark on the skyline of Toronto and surpasses First Canadian Place, which had been Canada's tallest building since 1976. The building has cutaways in mechanical floors to disrupt the flow of wind and prevent it blowing down to pedestrians at ground level, which had been a problem with tall buildings in the past. Another design feature is the use of giant exterior columns and diagonal beams, to transfer its weight and maximise the internal space.
The One is followed by an even taller building – the Pinnacle One Yonge, another mixed-use development that includes a 95-storey, 312 m (1,025 ft) tower and is also completed in 2024. Many more skyscrapers are constructed in subsequent years and decades, as Toronto continues to attract an influx of new residents and begins to resemble Canada's version of Manhattan.*
Click to enlarge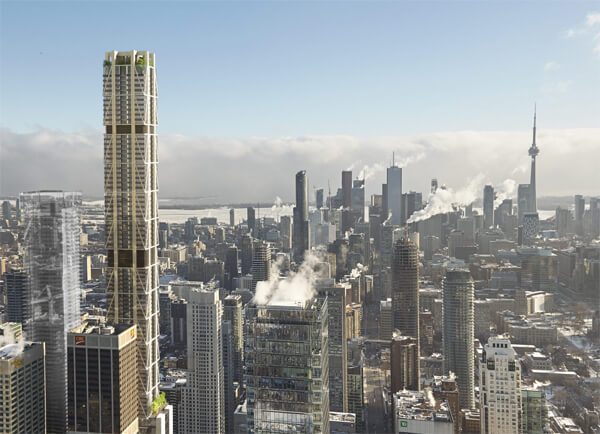 The One, Toronto. Credit: Mizrahi Developments
Euro 2024 is hosted by Germany
Euro 2024 is the 17th edition of the European Championship, a quadrennial tournament organised by UEFA. It is hosted by Germany – the first time it has performed this role as a unified country (West Germany had hosted the games in 1988). 51 matches are played over a period of 32 days in June and July with 24 teams competing in the tournament.
During the bid process, only two countries had put themselves forward as candidates. Alongside Germany was Turkey. However, the latter's poor record in the area of human rights, its limited hotel capacity in many cities and the scale of infrastructure required were all of concern. Germany was announced as the winner by 12 votes to 4, with one abstention, on 27th September 2018.*
As hosts, the German team qualifies automatically. This provides a boost to German football after a disastrous 2018 World Cup, when the country failed to qualify for the last 16.
A plethora of stadia were available to satisfy UEFA's minimum capacity requirement of 40,000 seats. A total of 18 cities and stadia had submitted proposals, including the 12 hosts of the 2006 FIFA World Cup, but only ten cities and stadiums are used for the competition, the largest being the 75,000-capacity Olympiastadion in Berlin.
Paris hosts the Summer Olympic Games
From 2nd to 18th August 2024, the French capital hosts the 33rd Summer Olympics. Paris becomes the second city after London (1908, 1948 and 2012) to host the Olympic Games on three occasions. 2024 also marks the centennial of the 1924 Summer Olympics, which were held in the same city, and was the last time Paris held the Olympic Games.
Bidding to host the Games started in 2015 with five candidate cities, but Hamburg, Rome and Budapest withdrew, leaving Paris and Los Angeles as the only remaining candidates. A proposal to elect the 2024 and 2028 Olympic host cities at the same time was approved by an Extraordinary IOC Session in July 2017, in Switzerland. The IOC made a deal with Los Angeles to host the 2028 Games, which made Paris the host of the 2024 Games. The formal announcement of the hosts for both Olympiads took place at the 131st IOC Session in Lima, Peru, on 13th September 2017.*
Lunar Mission One drills into the Moon's south pole
Lunar Mission One is a British-led, unmanned Moon probe launched in 2024.* It attempts to land on the lunar south pole – a region largely unexplored until now – before drilling down at least 20m (65 ft) and trying to reach as deep as 100m (328 ft). This provides fresh new insights into the Moon's composition and geologic history, revealing new clues about the early Solar System. The mission gains crowdfunding through Kickstarter.* Backers are able to contribute photos, text and even their DNA in a time capsule, leaving a digital record of civilisation. Detailed analysis of the surface environment helps to gauge the suitability of the lunar south pole as a location for a permanent human base in future decades.*
Launch of the SPHEREx mission
Spectro-Photometer for the History of the Universe, Epoch of Reionization and Ices Explorer (SPHEREx) is a NASA observatory that performs an all-sky survey of more than 300 million galaxies, along with 100 million individual stars in our own Milky Way galaxy. It is designed to improve the understanding of both how our universe evolved and how common are the ingredients for life in our galaxy's planetary systems.
Among the specific objectives are:
• Constraining the physics of inflation, by measuring its imprints on the three-dimensional large-scale distribution of matter;
• Tracing the history of galactic light production through a deep multi-band measurement of large-scale clustering;
• Investigating the abundance and composition of water and biogenic ices in the early phases of star and planetary disk formation.
SPHEREx uses a spectrophotometer to observe in the near-infrared, mapping the entire sky four times during its nominal 25-month mission. It classifies galaxies according to redshift accuracy, fitting measured spectra to a library of galaxy templates. Specifically, it probes the signals from "intra-halo light" (rogue stars torn from their host galaxies) and signals from the epoch of reionisation (arguably the least understood period in the lifetime of the Universe, marking the point when the first stars ignited and ended the "Dark Ages"). It studies what drove the early universe inflation, explores the origin and history of galaxies, and determines the origin of water in planetary systems.
SPHEREx complements the Euclid observatory, but its lower redshift survey allows its measurement of inflationary parameters to be mostly independent to provide a new line of evidence. The mission creates a map of the entire sky in 96 different colour bands, far exceeding the colour resolution of previous all-sky maps. It also identifies targets for more detailed study by NASA's James Webb Space Telescope.
SPHEREx is launched in mid-2024.*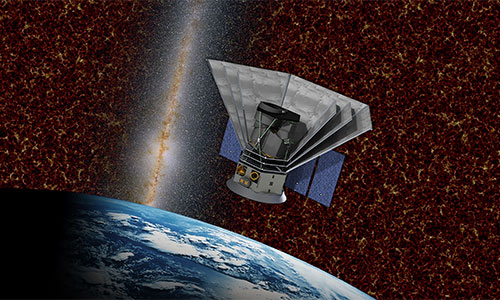 Credit: Caltech
Bio-electronics for treating arthritis are in common use
Arthritis is a form of joint disorder caused by trauma or infection of a joint, or old age. As of the 2010s, it was the single most common type of disability in the United States, predominantly affecting the elderly and resulting in over 20 million individuals having severe limitations in function on a daily basis. Total costs of arthritis cases were close to $100 billion annually, a figure expected to increase dramatically in the future with an aging population. Treatments for arthritis usually involved a combination of medication, exercise and lifestyle modification, but a cure remained elusive.
In 2014, a breakthrough involving the use of bio-electronics was unveiled by researchers. This took the form of a pacemaker-style device embedded in the necks of patients, firing bursts of electrical impulses to stimulate the vagus nerve – a crucial link between the brain and major organs. The impulses were shown to reduce activity in the spleen, in turn producing fewer chemicals and immune cells that would normally cause inflammation in the joints of patients with rheumatoid arthritis. Over half of people saw a dramatic improvement, even for severe symptoms, with up to 30% achieving remission.
After successful clinical trials, another decade of progress led to next-generation implants miniaturised to the size of rice grains, as well as improvements in cost and efficacy. By 2024, it is a routine form of treatment in many countries.* Bio-electronics are showing promise in other areas too. For example, they can prevent the airway spasms of asthma, control appetite in obesity, and help restore normal insulin production in diabetes.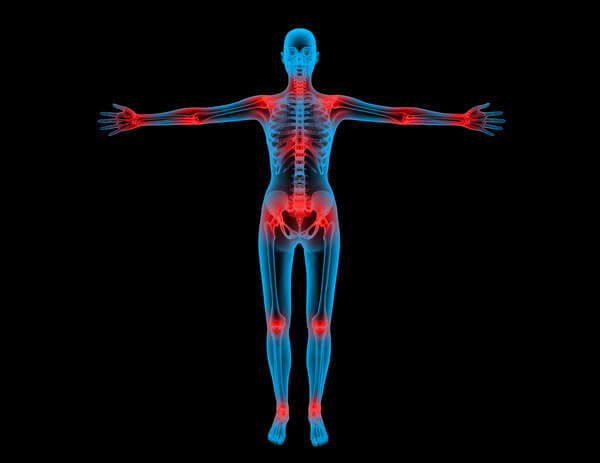 Carsharing has exploded in popularity
Carsharing is a model of car rental where people rent cars for short periods of time, often by the hour. It is attractive to customers who make only occasional use of a vehicle, as well as others who need access to a vehicle of a different type than they use day-to-day. While some firms had experimented with the concept in the late 20th century, it only became well established in the early 21st. From the 2000s onwards, a growing trend of flexible, multi-modal, on-demand mobility led to rapid expansion of carsharing services. By 2015, carshare programs were available on five continents, over 30 countries and in hundreds of cities worldwide. Rising urbanisation, increasing problems of congestion and pollution, and the social and personal costs of private car ownership continued to drive demand for alternatives such as carsharing.
New innovations included one-way carsharing services for shorter, spur-of-the-moment trips; automakers partnering with garage chains to give users free parking in city centres;* ride-hailing mobile apps; the adoption of plug-in electric vehicles; and a small but growing number of self-driving vehicles. While the industry continued to expand in Europe and North America, most of the new growth was occurring in the Asia Pacific region, particularly China. In 2014, membership of carsharing programs stood at 2.4 million. By 2024, this has increased nearly ten-fold to reach 23.4 million while global revenue has risen six-fold, increasing from $1.1 billion to $6.5 billion.*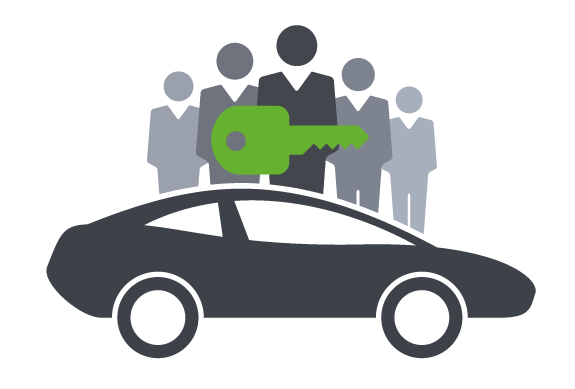 Wind turbine drone inspection is a multi-billion dollar industry
As the world shifts towards clean energy, the number of wind turbines is growing exponentially. With so many installations, there is now enormous demand for inspection and maintenance of these structures. This is occurring alongside rapid uptake of drones and other unmanned aerial vehicles (UAV), which can provide a faster and cheaper alternative to traditional inspections. Until now, most of these jobs involved either simple ground-based visual assessments, or complicated and risky rope or platform access (sometimes at heights of 600 feet). By contrast, drones are essentially risk-free, extremely quick in their operations and offer much higher resolution than human eyes, while automating much of the image processing, data analysis and other tasks. By 2024, global revenue for wind turbine UAV sales and inspection services has reached almost $6 billion.**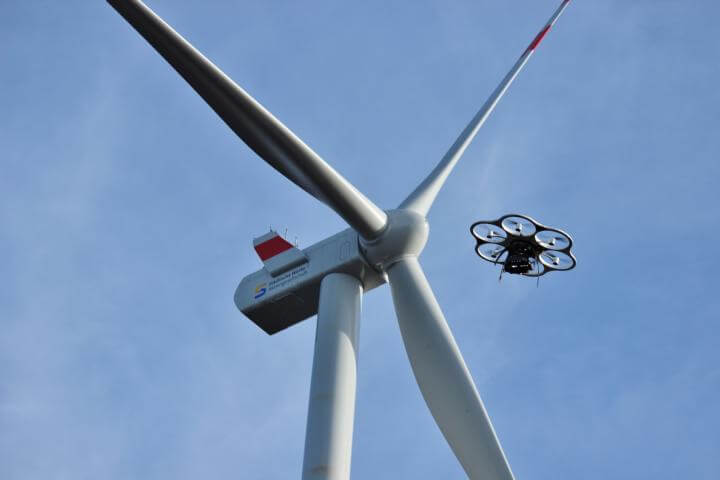 The Aibotix drone. Credit: Aibotix/YouTube
Open-source, 3D printed clothes at near-zero cost
3D printing is now so cheap, fast and easy to use that it can produce items of clothing for just a few cents.* A milestone was passed in 2014 when 3D printing became faster than injection moulding.* The speed of printing continued to increase, doubling every two years in a trend similar to Moore's Law. By 2024, it is over 30 times faster, so an item which took four hours to print in 2014 now takes just seven and a half minutes.* Millions of open-source designs are available to download. Sweatshops in the developing world are declining as a result, with low-paid factory jobs made increasingly obsolete.

Starlink reaches full capacity
Starlink is a new worldwide satellite broadband network created by SpaceX. It consists of more than 4,400 cross-linked satellites in the "smallsat" class (weighing just a hundred or so kilograms each), orbiting at an altitude of 1,100 km (680 mi). This is quadruple the number of active satellites that were operational a decade earlier, which is made possible because they are mass-produced at much lower cost per unit of capability than existing satellites.
The SpaceX CEO, Elon Musk, initiated the project after noting a significant unmet demand for low-cost global broadband capabilities. Smaller satellites were seen as crucial to lowering the cost of space-based Internet and communications. The Starlink network provides gigabit speeds at latencies of around 25ms; about as low as cable Internet service. Normally this would not be possible with satellites, but Starlink would use low-Earth orbits.
Flight testing began in 2017 with two prototype satellites – MicroSat-1a and MicroSat-1b. After communicating with ground stations, these experiments were followed by the network of 4,400 satellites, which began launching in 2019. This network reaches full capacity by 2024.*
Along with projects from rival companies such as OneWeb and Google, the Starlink network helps to further expand the reach of the Internet, as well as increasing the average user's connection speed. Some years later, an even larger network of 7,500 satellites at lower altitude is developed by SpaceX to boost capacity and reduce latency in densely populated areas. Further into the future, a similar network is placed in orbit around Mars.*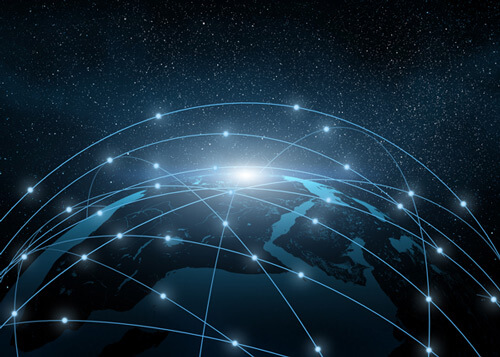 VIPER mission to the lunar south pole
VIPER (Volatiles Investigating Polar Exploration Rover) is a NASA rover delivered to the surface of the Moon in late 2024.* It prospects for resources in permanently shadowed areas in the lunar south pole region, which includes mapping the distribution and concentration of water ice.
The vehicle – about the size of a golf cart – is equipped with a drill and three analysers. The Neutron Spectrometer System (NSS) can detect sub-surface water from a distance. VIPER then stops at that location and deploys a 1 m (3 ft 3 in) drill called TRIDENT to obtain samples, for more detailed analysis by a pair of onboard spectrometers.
The mission takes place over several kilometres, with data collected on different kinds of soil environments affected by light and temperature – those in complete darkness, occasional light, and in constant sunlight. Once it enters a permanently shadowed location, VIPER operates on battery power alone and is unable to recharge until it drives to a sunlit area. Its total operation time is approximately 100 Earth days.
The overall goal of VIPER is to identify the best locations for extracting water from the lunar south pole, in preparation for human missions. An extremely valuable resource in space, water has a number of vital uses – in life support systems, for example, and conversion into rocket propellant, when broken down into its constituent elements (hydrogen and oxygen).
First flight of the New Glenn reusable rocket
New Glenn (named after the late U.S. astronaut, John Glenn) is a heavy-lift orbital launch vehicle developed by Blue Origin, the aerospace company founded by Amazon boss Jeff Bezos. The booster stage is designed to be reusable, cutting launch costs and making it a competitor to SpaceX.
Previously, Blue Origin had developed the New Shepard – a vertical-takeoff, vertical-landing (VTVL), crew-capable rocket. Prototype testing in 2006, followed by full-scale engine development in the early 2010s, led to a first flight in 2015. Reaching an altitude of 93 km (58 miles), this uncrewed demonstration was deemed partially successful, as the onboard capsule was recovered via parachute landing, while the booster stage crashed, and was not recovered. By 2019, a further 11 test flights had taken place, all successfully landing and recovering the booster stage.
The New Shepard, with a height of 18 m (59 ft) and only a tiny payload,* fell into the sub-orbital class of rockets. By contrast, its successor would be more than five times as tall on the launch platform. New Glenn, standing 95 m (313 ft), dwarfed the earlier New Shepard and was designed to carry 45,000 kg (99,000 lb) to low-Earth orbit (LEO) and 13,000 kg (29,000 lb) to geosynchronous transfer orbit (GTO).
Blue Origin began working on the New Glenn in 2012, and publicly revealed its design and specifications in 2016. The vehicle, described as a two-stage rocket with a diameter of 7 m (23 ft), would be powered by seven BE-4 engines (equivalent to 21 Boeing 747s). Bezos now reportedly sold $1 billion worth of Amazon.com stock annually – a figure that doubled by the end of the decade – in order to fund Blue Origin.
By 2019, Blue Origin had gained five customers for New Glenn flights, including a multi-launch contract with Telesat for its broadband constellation. All of these launches would feature a reusable first stage, meaning the booster would return to Earth and land vertically,* just like the New Shepard sub-orbital launch vehicle that preceded it.
New Glenn faced a number of delays, however, with its launch repeatedly postponed. Following much speculation over the eventual launch date, a first test flight occurs in 2024,* from a reconstructed and improved Launch Complex 36 (LC-36) in Florida. Following stage separation, the first stage flies back to Earth and lands nearly 1,000 km downrange on a moving ship. The second stage engines ignite and the 7-metre fairing separates. The mission is complete when the payload is delivered safely to orbit.
Alongside the New Glenn, Jeff Bezos had even greater ambitions. In 2019, he unveiled Blue Origin's longer-term vision for space, which included a lunar lander known as Blue Moon. This could deliver up to 4,500 kg (9,900 lb) to the Moon's surface and potentially astronauts too, using a New Glenn as the launch vehicle – in combination with ascent and transfer stages developed by other companies.**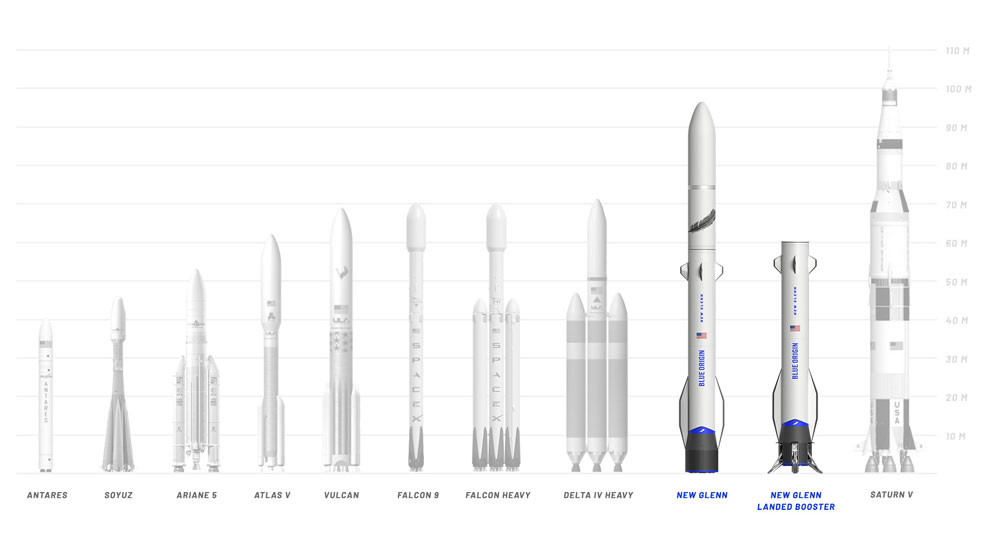 India's first crewed space flight
In 2024, India becomes only the fourth nation – after Russia, the US and China – to independently launch humans into space. The rocket used is a variant of the Geosynchronous Satellite Launch Vehicle, operated by the Indian Space Research Organisation (ISRO). This carries a largely autonomous 3.7-ton capsule with a three-person crew on board. They remain in orbit around the Earth at 248 miles (400 km) altitude for seven days, before splashing down in the Bay of Bengal. The total cost of the project is about 124 billion rupees ($2.67 billion). Originally planned for 2016, the mission faced delays, but is eventually launched in 2024.* Subsequent versions of the craft enable longer missions, including rendezvous and docking capabilities with space stations and other orbital platforms.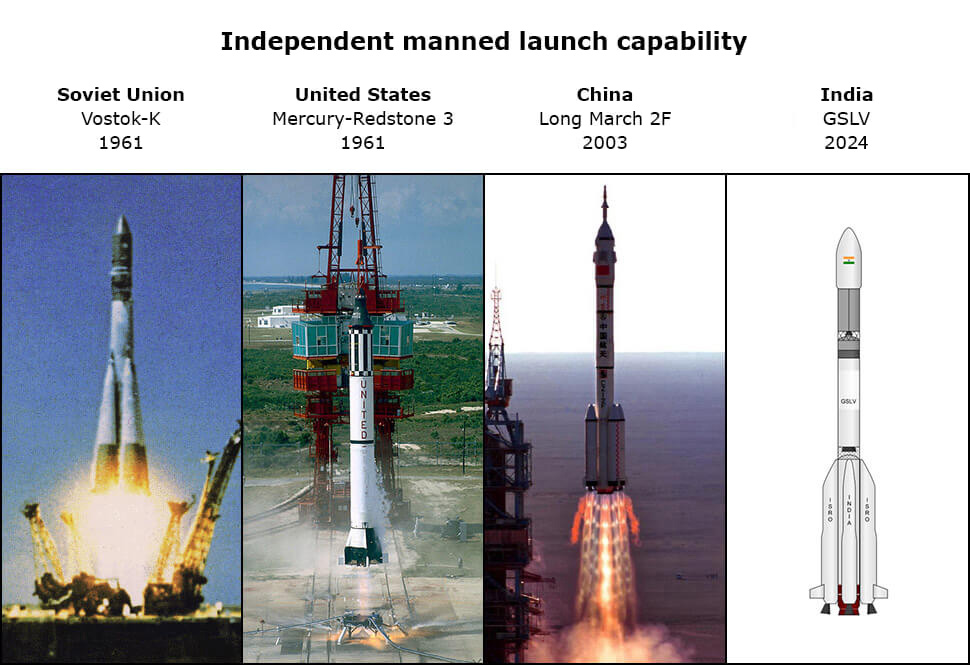 India GSLV image credit: WDGraham
The first probe to fly into the Sun's outer atmosphere
Parker Solar Probe (formerly known as Solar Probe Plus) is a historic mission flying into the Sun's outer atmosphere (corona) for the first time. The probe travels to within 5.9 million km (3.6 million miles) of the Sun's surface – just four times the length of its diameter.
At such close range, an extremely strong shield is needed at the front of the spacecraft. This is made of reinforced carbon-carbon composite, able to withstand temperatures of 2000°C. At closest approach, the Parker Solar Probe hurtles around the Sun at approximately 450,000 miles per hour; fast enough to get from Philadelphia to Washington in one second.
The mission's primary scientific goals are:
• To determine the structure and dynamics of the magnetic fields at the sources of solar wind.
• To trace the flow of energy that heats the corona and accelerates the solar wind.
• To determine what mechanisms accelerate and transport energetic particles.
• To explore dusty plasma near the sun and its influence on solar wind and energetic particle formation.
Coming closer to the Sun than any previous craft, the Parker Solar Probe uses a combination of in situ measurements and 3D imaging to revolutionise our knowledge of the physics, origin and evolution of the solar wind. Its closest approach is in December 2024.*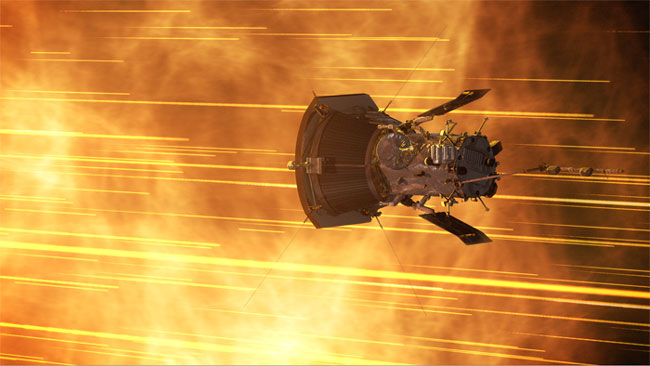 Credit: NASA's Goddard Space Flight Center
COVID-19 vaccines are available to 90% of the world
COVID-19, caused by the SARS-CoV-2 virus, first came to the world's attention in December 2019 when an outbreak occurred in Wuhan, China. It soon spread to countries around the world, with WHO declaring a pandemic in March 2020. A highly contagious and airborne disease, with a mortality rate much greater than regular influenza, it became the most serious health crisis to face the world since the Spanish flu of 1918 – causing severe social disruption, mass cancellations and postponements of events, worldwide lockdowns, and the largest economic recession since the Great Depression.
Previous work to develop vaccines against related diseases, SARS (2002) and MERS (2012), led to knowledge about the structure and function of coronaviruses – which accelerated development during early 2020 of varied technology platforms for a COVID-19 vaccine.
Russian President Vladimir Putin announced that he had approved the world's first COVID-19 vaccine, named Sputnik-V, in August 2020. However, experts raised concerns about the speed of Russia's work, suggesting that researchers might be cutting corners. The WHO urged Russia to follow international guidelines and did not include the purported vaccine on its list of candidates for phase III clinical trials, which involve more widespread testing in humans.
At least 321 candidate vaccines had officially begun development by October 2020, a 2.5-fold increase since April. Of these, 33 were in phase I–II trials and nine in phase II–III trials. North America led these efforts, being home to about 40% of the world's COVID-19 vaccine research projects, compared with 30% in Asia and Australia, 26% in Europe, and a few projects in South America and Africa. Amid growing concerns over "vaccine nationalism", a coalition of 165 countries agreed a landmark deal – known as Covax – to enable the rapid and equitable distribution of any new coronavirus vaccines. This would ensure that each participating country would receive a guaranteed share of doses to vaccinate the most vulnerable 20% of its people by the end of 2021.
The United States rejected the Covax agreement, choosing instead to focus on its own public–private partnership known as "Operation Warp Speed" with nearly $10 billion allocated by Congress to develop, manufacture, and distribute hundreds of millions of vaccine doses by the end of 2020. As with Russia's Sputnik-V, many medical professionals viewed the timeline for Operation Warp Speed as unrealistic. Nevertheless, a number of promising breakthroughs in research and development occurred in late 2020 and early 2021, with several candidates completing late-stage testing.
China, meanwhile – having initially been absent from Covax – joined this global initiative in October 2020. This made it the single largest economy to participate in the alliance and helped to improve the country's image, given that it had been the epicentre of the initial outbreak in 2019, and came under heavy criticism for delays in its early response to the virus. By late 2020, China claimed to have several vaccines in advanced stages of R&D.
In India, the Serum Institute – the world's largest vaccine producer by volume – partnered with organisations including the Bill & Melinda Gates Foundation and pledged to deliver 200 million doses for low and middle-income countries at a cost of $3 per dose.
Europe had been among the regions hardest hit by the pandemic in terms of deaths per million people, with governments taking major steps to prepare for the introduction of vaccines. The UK, for example, signed deals with pharmaceutical companies to secure 340 million potential doses.
Worldwide, the initial roll out of COVID-19 vaccines would generally be limited to healthcare workers and the most vulnerable in society (the elderly, immunocompromised and so on), with a focus on cities or regions experiencing the worst infection rates. Potential "super-spreaders" such as public transport workers and retail/supermarket employees would also be given a high priority as distribution continued.
Progress with manufacturing and distribution of vaccines led to a substantial increase in availability from the second half of 2021 onwards. This continued alongside general improvements in the ability to track outbreaks. However, producing enough doses to cover the entirety of the human race would take years rather than months, with a bottleneck in terms of production, and many candidate vaccines remaining at the trial stage. Billions more people gained vaccines in 2022 and 2023 but the process required more time to be fully implemented globally. By 2024, COVID-19 vaccines have finally been scaled up sufficiently that the vast majority (90%) of the world's 8 billion people have access to a treatment.*
Although the worst of COVID-19 has now passed, the pandemic has not ended. Many infections continue to be reported daily, while some recovered patients are left with lingering health issues, known by the umbrella term of Long Covid. A significant minority of people also remain reluctant to be vaccinated. While more manageable and less deadly now, COVID-19 remains present in the global population for decades to come.*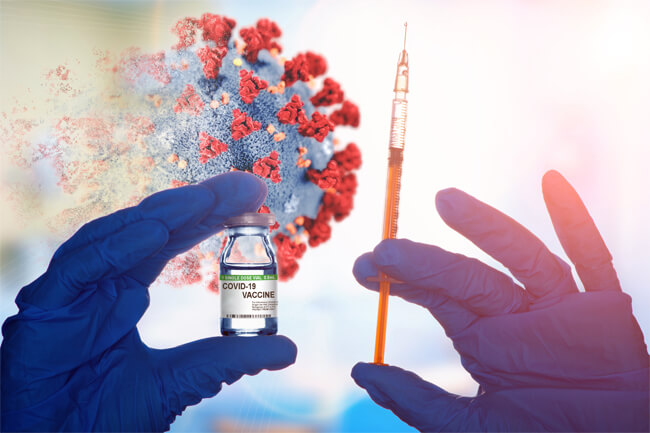 ---
If you enjoy our content, please consider sharing it: