2032-2037
A transition from ICE to battery-electric shipping
During this period, battery-electric propulsion becomes affordable for the majority of containership routes around the world. The industry is now shifting rapidly away from traditional internal combustion engine (ICE) powered systems, with even some of the larger vessels undergoing full electrification, both newly built and retrofitted older ships.
Until recently, ship owners often held outdated assumptions on battery costs, energy density values, and available on-board space.* While car, truck, and other road vehicle brands attracted much attention for going electric and hybrid, emerging opportunities in cargo ship transport appeared less obvious. Batteries had long been perceived as heavy, expensive, impractical devices for bulk and container shipping. In reality, however, sea freight lagged only a few years behind land-based vehicles in terms of disruptive trends and would soon be undergoing a major transformation of its own.
Low-tech, short-term measures had initially been introduced to cut ship emissions – such as route optimisation, slow steaming, and hull fouling management. Alternative fuels had also been mandated by the International Maritime Organisation (IMO) to lower the sulphur content of fuel for all ocean-going vessels from 3.5% to 0.5%, which came into force on 1st January 2020.*
Some long-haul routes began to use hybrid-electric systems, combining existing generator engines with hydrogen fuel cells and/or energy storage,* but a fully electric configuration remained limited to ferries and small shuttles.
A cargo ship with 100% battery power had been demonstrated in 2021. Yara Birkeland, jointly developed by Norwegian chemical firm Yara International and maritime technology company Kongsberg Group, sailed 35 nautical miles (65 km) around the coast of Norway using 7 MWh batteries. Although relatively modest in scale, with a cargo capacity of 120 TEU ("twenty-foot equivalent unit") and length of only 79 m (260 ft), Yara Birkeland proved the feasibility of zero-emission cargo shipping and included fully autonomous capability too.*
That same year, a coalition of major companies including Amazon and Ikea announced a new initiative, Cargo Owners for Zero Emission Vessels (coZEV) with a goal of moving to zero-carbon shipping by 2040.*
In 2022, shipping group Maersk announced plans to install hundreds of offshore charging stations around the world, allowing vessels to power themselves with electricity instead of fossil fuels while idling outside ports.*
Another company, Fleetzero, began converting diesel ships to battery-electric in 2025* and designed a new electric ship, the MVE7, for long-distance cargo. Fleetzero also developed a battery-swapping solution that enabled smaller ports to effectively function as charging stations and exchange points.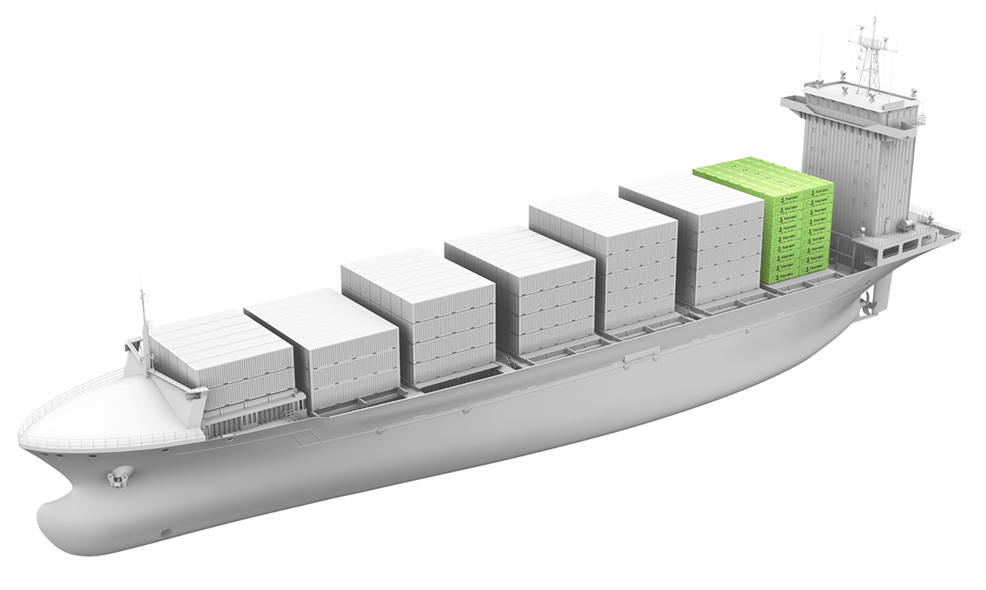 Credit: Fleetzero
New environmental regulations, alongside further improvements in cost and energy density, led to booming demand and rapid innovation in battery-electric propulsion systems during the second half of the decade.* Between 2022 and 2029, the economic viability and range of electrified cargo ships roughly doubled, with routes as long as 6,000 km becoming feasible for some size classes.*
These advances continued into the 2030s. An additional economic advantage came from considering the environmental and health impacts incurred during a ship's life cycle, which studies had shown to be 12 times higher for heavy oil and diesel-powered vessels. Governments and international organisations appeared increasingly keen to incorporate these air pollution damages and social costs into their regulatory regimes.
The disparity between traditional and fully electric container vessels only widened, with even greater energy densities and lower costs achieved. In 2029, 40% of the world's cargo shipping routes had become technically and economically viable for battery-electric propulsion.* With a tipping point now reached, the majority (>50%) of routes have either been electrified or are being considered for electrification during the 2032-2037 period. While many older vessels will remain in service for years to come, the global fleet now appears on track to be nearly carbon neutral by mid-century. In 2020, international freight accounted for between 2-3% of global energy-related CO2 emissions. Without decarbonisation, this figure had been projected to reach 17% by 2050.*
Widespread automation is accompanying the increased sustainability of shipping, both in terms of navigation and the loading/unloading process, as well as recharging and battery swapping at ports. In addition, cargo capacities are becoming larger than ever. Some vessels will reach 50,000 TEU by the 2060s.
Larger battery-electric ships can function as emergency back-up power plants during increasingly common extreme events leading to power supply disruptions. Energy storage capacities of 5–10 GWh, achieved during the 2030s, can provide enough generation to mitigate blackouts affecting 1 million or more people.*
2032
End of support date for Windows 10
Microsoft released Windows 10, the direct successor to its Windows 8.1 operating system, in July 2015. It received positive reviews, surpassing Windows 7 as the most popular version of Windows worldwide by 2018. More than a billion devices were running Windows 10 by 2020, leading to a peak market share of 82% of all Windows PCs in early 2022 and 58% of all PCs (the rest being other Windows editions and other operating systems such as macOS and Linux). This share began to decline as Windows 11, launched in October 2021, became increasingly popular.
Microsoft announced 14th October 2025 as the retirement date for Windows 10 Home and Pro, a little over 10 years after their initial release, which had become the standard lifecycle length for major Windows versions. However, extended support would be offered for enterprise/IoT versions until 13th January 2032 as part of the Long-Term Servicing Channel (LTSC).*
After this date, no new security updates, non-security updates, free or paid assisted support options or online technical content updates are offered. This means that computers without a newer version are now vulnerable to hackers or malware. By 2032, a 14th generation of Windows has become available, as the family of operating systems enters its 47th year.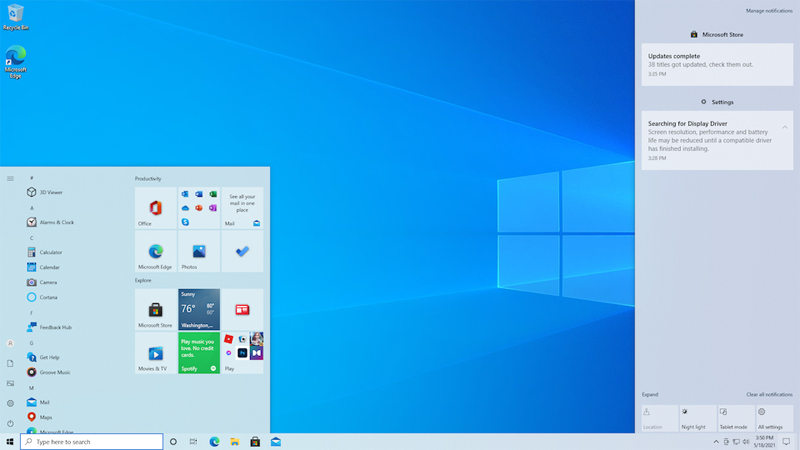 Windows 10. Used with permission from Microsoft.
Brisbane hosts the Summer Olympic Games
In July and August 2032, Australia hosts the summer Olympic Games for the third time in its history. The previous two venues had been Melbourne in 1956 and Sydney in 2000. This time, Brisbane is the chosen location, on the country's east coast. This also marks only the second occasion that the Summer Games have been held in a Southern Hemisphere winter, after the 2016 Olympics in Rio de Janeiro.
In addition to Brisbane itself, events are held at the nearby Gold Coast (to the south) and Sunshine Coast (to the north), using venues from the 2018 Commonwealth Games. A fourth "Regional Zone" is established for games of football at more distant locations. Several new sports centres and stadiums are constructed in time for 2032. Transport connections between the three main regions are also improved. The total cost of both the Olympic and Paralympic Games – initially put at $5 billion – subsequently overruns. However, it is far lower than the $26 billion budget for Tokyo 2020, the most expensive Games in history.
A giant artificial island project opens in Hong Kong
Lantau Tomorrow Vision is a HK$500 billion (US$64 billion) megaproject in Hong Kong, developed in response to overcrowding and sky-high property prices. Located on reclaimed land covering an area of 1,700 hectares, it creates a third core business district – plus residential units for 1.1 million people, of which 70% is public housing. In total, this generates 340,000 new jobs.*
A series of giant artificial islands are constructed between Lantau (in the west) and Hong Kong Island (in the east). The project is the largest of its kind ever attempted in Hong Kong and there is great controversy surrounding its cost.* However, the initial outlay is eventually recouped, with land revenue ultimately reaching almost HK$1 trillion (US$128 billion). Approximately half of the development costs go into transport and infrastructure. The project also benefits from close proximity to the world's longest sea bridge, completed in 2018, which connects Hong Kong with Macau further to the west. This allows it to serve as a gateway between the two autonomous regions.*
The new islands are protected against climate change. They are elevated as high as the nearby Hong Kong International Airport – which opened in 1998 and also sits on reclaimed land – six metres (19 feet) above sea level and able to withstand super typhoons.
Construction begins in 2025, with the first residents moving in by 2032.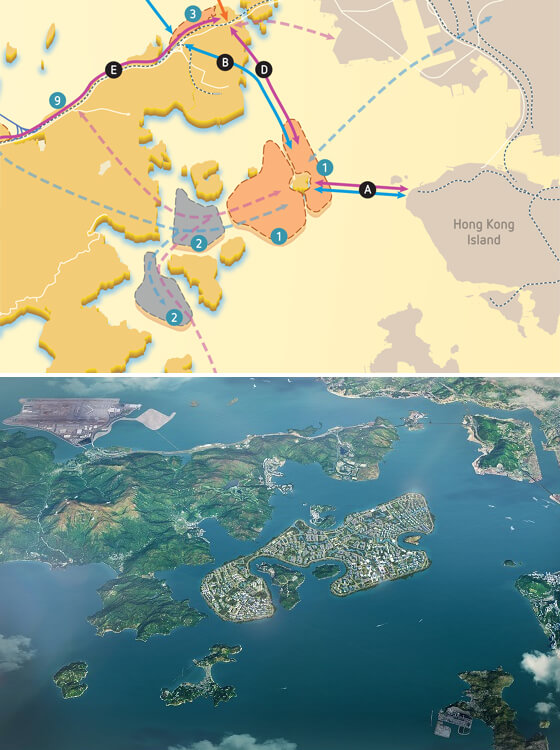 The majority of UK homes are rented
By 2032, house prices in the UK have become so unaffordable that the majority of people are forced to take rented accommodation.* This trend first began to emerge during the Blair years of the late 90s and early 2000s. It could be argued, however, that the problem originated as far back as 1980,* when the Conservative government led by Margaret Thatcher passed the Housing Act. This led to a fall in socially rented housing – as council tenants were given the legal right to buy, at a large discount, the home they were living in – while councils were prevented from reinvesting most of the proceeds from these sales into building new homes.* Many tenants who had purchased these council flats later profited from them as buy-to-let landlords* – effectively subsidised by taxpayers – or sold them to speculators, investors and property firms. About 1.5 million council homes were sold by 2003 and this figure had reached 2 million by 2015.
A failure to construct enough new homes,** combined with rapid population growth,* resulted in a serious lack of supply during the early 21st century. Other factors included changes in the employment landscape, a rise in the number of students, later marriage and rising separation rates. Having been relatively stable for most of the 20th century, the average cost of a UK home rose from £50K in 1995 to £184K by 2007.* During this same period, mortgage payments as a percentage of income soared from 18% to more than 50%.* The problem was compounded by stagnant wage growth (below inflation), a decline in the level of household savings (from 16% in the early 90s, to just 6% within two decades) and tighter lending requirements in the aftermath of the Great Recession.*
Subsequent attempts to rectify the situation included policies such as the "Help to Buy" scheme, but these only exacerbated the problem by creating artificially inflated demand.* The fundamental issue was lack of supply – but government funding and policies came nowhere near close enough to addressing this point with only a tinkering around the edges to boost housing stock. Because of these failures, less than half – 49% – of UK households are homeowners by 2032 – the first time since the early 70s that a majority of people are renting. One-third of households are now renting privately, twice as many as in 2015. London and the southeast of England have been particularly affected, due to a massive influx of foreign billionaires pouring money into the region and pushing up land values. The gap between rich and poor – and between the younger and older generations* – has now grown to be wider than ever, creating an ever more polarised and unequal society.*
Britain's ash trees have been wiped out by a fungal disease
Ash dieback, caused by the fungus Chalara fraxinea,* killed huge numbers of trees from the mid-1990s onwards, particularly in eastern and northern Europe. Up to 90% of ash trees were affected in Denmark. The fungus was first scientifically described in 2006.
It was discovered in the UK during 2012, initially only on imported nursery stock, but in October of that year it was found on trees at two sites of established woodland in the East Anglia region. This occurred despite clear warnings from ecologists and foresters that imports of seedlings from the continent should be banned in case of infection.*
Despite efforts to contain the disease, it was impossible to stop.* Within a few weeks, Chalara fraxinea was confirmed in dozens of other locations. Over the next two decades, it spread throughout the country, wiping out most of the 90 million ash trees in Britain.*
Many plant species, birds and other animals dependent upon the trees for survival were also lost,* at a time when their numbers were already in sharp decline.** With ash trees forming a significant proportion of the UK's woodland, an eerie silence is descending on many areas of countryside, with birdsongs and other wildlife becoming ever rarer.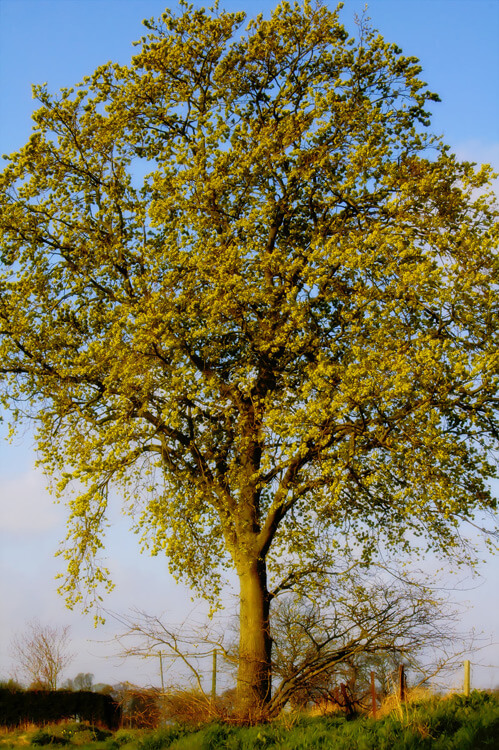 Leatherback sea turtles are on the verge of extinction
Growing up to seven feet (two metres) long and exceeding 2,000 pounds (900 kilograms), leatherbacks are the largest turtles on Earth. They can dive to depths of nearly 4,000 feet and make trans-Pacific migrations from Indonesia to the U.S. Pacific coast and back again. These ancient reptiles are the only remaining members of a family of turtles with evolutionary roots going back 100 million years.
After mating at sea, females come ashore during the breeding season to nest. At night, they excavate a hole in the sand, depositing around 80 eggs. This is filled with sand, making detection by predators difficult, before the mother turtle returns to the sea.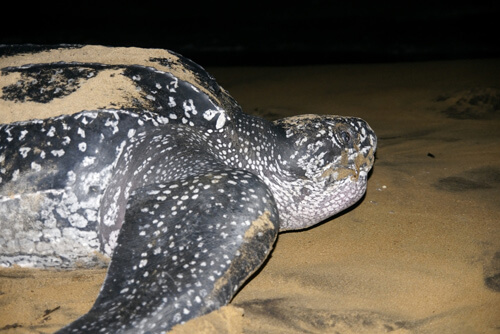 Once common throughout the world, their population declined rapidly during the 20th century and into the 21st. At the Jamursba Medi Beach in Papua Barat, Indonesia – accounting for 75 percent of total sightings in the western Pacific – nest numbers plummeted from a peak of 14,455 in 1984 to a low of 1,532 in 2011.
Several major problems faced leatherback turtles: nesting beach predators, such as pigs and dogs that were introduced to the islands, eating the turtle eggs; rising sand temperatures that killed the eggs or prevented the production of male hatchlings; the danger of being caught by fisheries during migrations; and harvesting of adults and eggs for food by islanders.* Plastic debris, mistaken for their favourite food (jellyfish) was another problem. Some individuals were found to have ingested almost 11 pounds (5 kilograms) of plastic into their stomachs.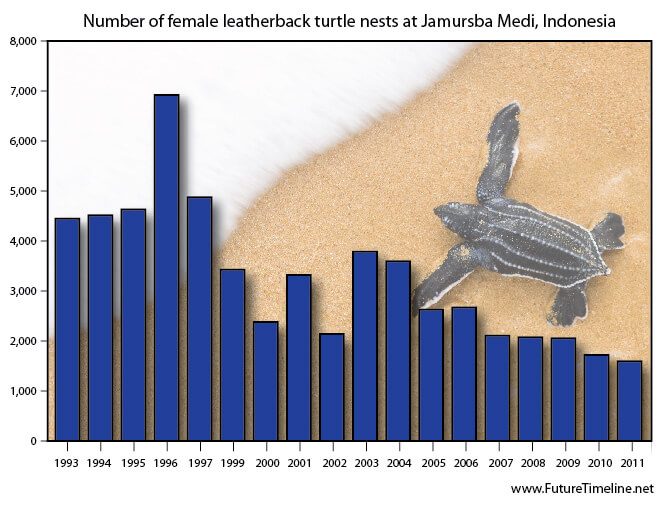 China's space station is deorbited
China's first space station has reached the end of its 10-year lifespan.* After a decade of onboard research, it is abandoned and sent into a decaying orbit. A new, larger and more advanced space station is now in the process of being constructed.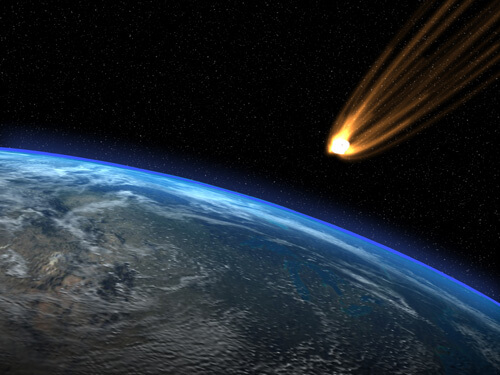 One-third of Saudi Arabia's electricity comes from solar
In 2012, the Kingdom of Saudi Arabia had only 0.003 gigawatts (GW) of installed solar energy capacity. More than half of its electricity was created from burning oil. By 2032, however, it has 41 GW of installed solar energy, accounting for a third of the nation's 121 GW total energy demand.* About 25 GW is produced by solar thermal plants, which use mirrors to focus energy from the sun on heating fluids, which in turn run turbines. The other 16 GW is provided by massive photovoltaic farms. This has been a result of considerable foreign investment, as well as the wealth produced by fossil fuels, totalling over $100 billion. Though several other nations have more extensive solar infrastructure, this has been one of the most ambitious projects, especially considering Saudi Arabia's old position as the world's largest exporter of crude oil.
The enormous expanses of desert, as well as measurably more intense sunlight in the equatorial regions, gives the country a huge amount of room to expand further. Even larger projects are now planned. Construction is also underway on high voltage cables connecting Saudi Arabia to neighbouring countries and some in Southern Europe. Eventually, this will be expanded to include all of Europe and Northern Africa.* Alongside solar, another 21 GW is generated by a combination of nuclear, wind, and geothermal power.* Through nuclear cooperation agreements with China, France, South Korea and Argentina, Saudi Arabia has now constructed 16 new nuclear reactors.* Longer term, the country has further ambitions to be powered entirely by renewables. Much of the oil industry in Saudi Arabia is now transitioning away from energy production to the manufacture of plastics and polymers.*
These developments, coupled with the fact that it remains one of the wealthiest countries in the region, are helping Saudi Arabia transition to a more sustainable long-term future. Additionally, its strong military, ties to the West, and extensive desalination infrastructure have allowed Saudi Arabia to remain relatively stable compared to some of its neighbours.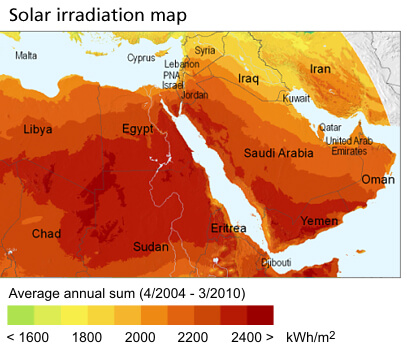 SolarGIS © 2012 GeoModel Solar s.r.o.
Britain upgrades its nuclear-armed submarine fleet
Britain was the third country (after the U.S. and the Soviet Union) to test an independently developed nuclear weapon, in 1952. From 1969 onwards the country always had at least one ballistic-missile submarine on patrol, creating a nuclear deterrent that the Defence Council described in 1980 as "effectively invulnerable to pre-emptive attack".
Until the 1990s, Britain had deployed a variety of nuclear weapons on Royal Navy carriers, V bombers and other aircraft around the world. However, these were gradually withdrawn. The retirement of the WE.177, in both air-dropped free-fall and depth charge versions, was the final stage of this decommissioning process, in 1998. This left a group of four Vanguard submarines (armed with Trident II D5s) as Britain's only nuclear weapons platform. Britain retained a stockpile of about 215 thermonuclear warheads, with 120 operational as of 2016.
A decision to renew the Trident-armed submarines was made in 2006, with Prime Minister Tony Blair warning that it would be "unwise and dangerous" for Britain to give up its nuclear weapons. Although the Cold War had ended, the UK still needed nuclear weapons, said Blair, as no-one could be sure another nuclear threat would not emerge in the future. He outlined plans to spend up to £20bn on a new generation of submarines for Trident missiles.
However, the Trident programme was to prove highly controversial, with costs escalating considerably. This was an especially divisive topic in the wake of the 2008 financial crash and the subsequent years of austerity and cuts to public services. By 2016, the Ministry of Defence had revised the cost of building, testing and commissioning the replacement vessels to £31 billion (plus a contingency fund of £10 billion) over 35 years, about 6 per cent of defence spending every year. Nevertheless, MPs voted to back the renewal in a vote of 472 to 117. Alongside this programme, the government reiterated its commitment to multilateral nuclear disarmament, promising to reduce Britain's stockpile of nuclear warheads to 180 by the mid-2020s.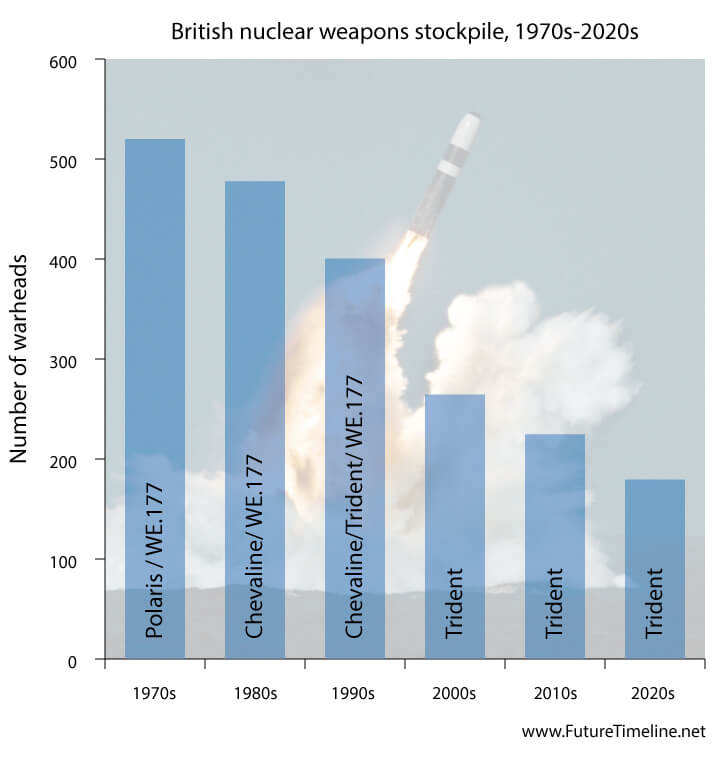 Trident was based on the idea of Mutually Assured Destruction – it aimed to deter a nuclear attack on Britain by guaranteeing a retaliatory strike against any potential aggressor. After succeeding David Cameron as Prime Minister, one of Theresa May's first jobs was to write a "letter of last resort" authorising the use of Trident missiles in the event of such a nightmare scenario. Each of the Vanguard submarines contained a safe with one of these sealed letters, which of course it was hoped would never have to be used. David Cameron's previous letters were destroyed.
Previously named Successor class, it was announced in October 2016 that the new submarines would be renamed as the Dreadnought class. After the parliamentary vote on the upgrade programme, construction began soon afterwards.* The first new submarine would begin operation by 2028 and the existing fleet of Vanguard submarines is phased out by 2032,* after more than 40 years of service. Each missile is 13 m (44 ft) long, weighing 58.5 tons (130,000 lb), with a range of 11,300 kilometres (7,000 mi), a top speed of 18,030 mph (29,020 km/h) (Mach 24) and target accuracy to within a few feet.
Despite its diminishing power in the world, Britain retains a nuclear deterrent for long into the future and plays a key role in maintaining global security. Dreadnought-class submarines remain in service until the 2060s,* by which time they are replaced by automated and crewless vessels.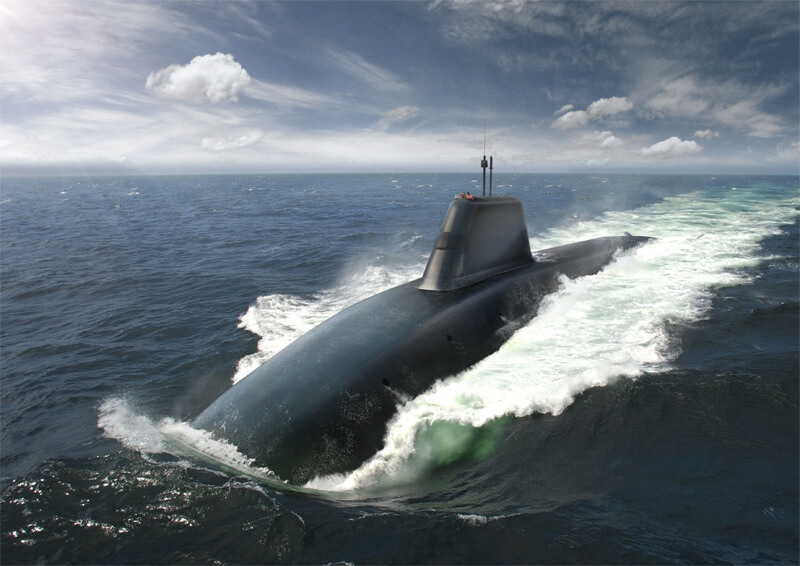 Dreadnought-class submarine, 2030s.
Transit of Mercury
A transit of Mercury takes place when the planet Mercury passes directly (transits) between the Sun and a superior planet, becoming visible against (and hence obscuring a small portion of) the solar disk. During a transit, Mercury appears as a tiny black dot moving across the disk of the Sun.
A transit of Mercury occurs on 13th November 2032.* The last time this happened was 11th November 2019. After 2032, the next occasion is in 2039, with a further eight transits during the remainder of the 21st century. Each transit typically lasts for several hours.
Transits of Venus with respect to Earth can also occur – although these are rarer, since Venus is further from the Sun and orbits more slowly. Rarer still are simultaneous transits of both Mercury and Venus. Such an event last occurred in 373,173 BC and the next occurs on 26th July 69,163.
References
1 Rapid battery cost declines accelerate the prospects of all-electric interregional container shipping, Nature Energy:
https://www.nature.com/articles/s41560-022-01065-y
Accessed 8th September 2022.
2 New pollution limits for shipping by 2020, Future Timeline Blog:
https://www.futuretimeline.net/blog/2016/11/1.htm
Accessed 8th September 2022.
3 Trend analysis of domestic and international regulations for electric propulsion system, Taylor & Francis Online:
https://www.tandfonline.com/doi/full/10.1080/25725084.2020.1809949
Accessed 8th September 2022.
4 World's first autonomous, all-electric container ship, Future Timeline Blog:
https://www.futuretimeline.net/blog/2021/11/26-worlds-first-autonomous-all-electric-container-ship.htm
Accessed 8th September 2022.
5 Cargo Owners for Zero Emission Vessels (coZEV), Official website:
https://www.cozev.org/
Accessed 8th September 2022.
6 Maersk Supply Service launches new venture company, Stillstrom, to deliver offshore vessel charging, Maersk Supply Service:
https://www.maersksupplyservice.com/2022/01/25/maersk-supply-service-launches-venture-company-stillstrom/
Accessed 8th September 2022.
7 Fleetzero develops battery-swapping for ships, electrive:
https://www.electrive.com/2022/03/17/fleetzero-develops-battery-swapping-for-ships/
Accessed 8th September 2022.
8 Electric Ship Market worth $16.2 Billion by 2030, Markets and Markets:
https://www.marketsandmarkets.com/PressReleases/electric-ships.asp
Accessed 8th September 2022.
9 Rapid battery cost declines accelerate the prospects of all-electric interregional container shipping, Nature Energy:
https://www.nature.com/articles/s41560-022-01065-y
Accessed 8th September 2022.
10 EV shipping is set to blow internal combustion engines out of the water, pv magazine:
https://pv-magazine-usa.com/2022/08/22/ev-shipping-is-set-to-blow-internal-combustion-engines-out-of-the-water/
Accessed 8th September 2022.
11 Making waves: Electric ships are sailing ahead, resilience:
https://www.resilience.org/stories/2022-07-28/making-waves-electric-ships-are-sailing-ahead/
Accessed 8th September 2022.
12 Rapid battery cost declines accelerate the prospects of all-electric interregional container shipping, Nature Energy:
https://www.nature.com/articles/s41560-022-01065-y
Accessed 8th September 2022.
13 Windows 10 IoT Enterprise LTSC 2021, Microsoft:
https://docs.microsoft.com/en-us/lifecycle/products/windows-10-iot-enterprise-ltsc-2021?branch=live
Accessed 3rd September 2022.
14 'Lantau Tomorrow Vision' - home to 1.1m, China Daily:
http://www.chinadaily.com.cn/hkedition/2018-10/11/content_37049616.htm
Accessed 5th April 2019.
15 Hong Kong Has a $64 Billion Plan to Build Islands for New Homes, Bloomberg:
https://www.bloomberg.com/news/features/2019-01-02/hong-kong-s-lantau-tomorrow-vision-to-fix-its-expensive-housing
Accessed 5th April 2019.
16 HK plans artificial islands to ease housing woes, create jobs, Straits Times:
https://www.straitstimes.com/asia/east-asia/hk-plans-artificial-islands-to-ease-housing-woes-create-jobs
Accessed 5th April 2019.
17 Over half of UK homes to be rented by 2032, Intermediary Mortgage Lenders Association:
http://www.imla.org.uk/news/post.php?s=2014-05-15-over-half-of-uk-homes-to-be-rented-by-2032
Accessed 6th April 2015.
18 Right to Buy is making the housing crisis worse. Here's how to reform it, New Statesman:
http://www.newstatesman.com/politics/2014/01/right-buy-making-housing-crisis-worse-heres-how-reform-it
Accessed 6th April 2015.
19 "Under the rules, councils were prevented from reinvesting most of the proceeds of council house sales in new homes. After 1990, most local authorities were only allowed to spend 25% of such receipts on building houses."
Right-to-buy: Margaret Thatcher's controversial gift, BBC:
http://www.bbc.co.uk/news/business-22077190
Accessed 6th April 2015.
20 Great council house sell-off scandal: Right-to-buy council houses leave nowhere for poor to live, The Independent:
http://www.independent.co.uk/news/uk/home-news/great-council-house-selloff-scandal-righttobuy-council-houses-leave-nowhere-for-poor-to-live-9832339.html
Accessed 6th April 2015.
21 Image: Historic housing supply, Shelter:
http://blog.shelter.org.uk/2014/05/building-the-homes-we-need/mega-graph/
Accessed 6th April 2015.
22 Live tables on house building, Gov.uk:
https://www.gov.uk/government/statistical-data-sets/live-tables-on-house-building
Accessed 6th April 2015.
23 Timelines Explorer, Data Commons:
https://datacommons.org/tools/timeline#&place=country/GBR&statsVar=Count_Person
Accessed 2nd April 2022.
24 House Price Index, Nationwide:
http://www.nationwide.co.uk/about/house-price-index/download-data
Accessed 6th April 2015.
25 House prices and interest rates, Economics Help:
http://www.economicshelp.org/blog/10942/housing/house-prices-and-interest-rates/
Accessed 6th April 2015.
26 A Century of Home Ownership and Renting in England and Wales, Office for National Statistics:
http://www.ons.gov.uk/ons/rel/census/2011-census-analysis/a-century-of-home-ownership-and-renting-in-england-and-wales/short-story-on-housing.html
Accessed 6th April 2015.
27 Help to Buy branded an 'utter travesty' by major campaign group PricedOut, Money Expert:
http://www.moneyexpert.com/news/help-buy-branded-utter-travesty-major-campaign-group-pricedout/800582645
Accessed 6th April 2015.
28 "Homeownership is already lowest among younger generations and this effect will gradually move up the age brackets, as more people struggle to buy in their 30s and beyond."
See Over half of UK homes to be rented by 2032, say IMLA, Estate Agent Today:
http://www.estateagenttoday.co.uk/809-over-half-of-uk-homes-to-be-rented-by-2032-say-imla
Accessed 6th April 2015.
29 UK home ownership will become preserve of old within a generation, report warns, This is Money:
http://www.thisismoney.co.uk/money/mortgageshome/article-2628719/2032-year-half-home-Report-warns-home-ownership-preserve-old-generation.html
Accessed 6th April 2015.
30 Ash dieback disease – symptoms guide, The Forestry Commission:
http://www.forestry.gov.uk/pdf/Symptoms_guide_Chalara_dieback_of_ash_2012.pdf
Accessed 20th November 2012.
31 Let's rename the ash dieback 'Cameron's contagion', The Guardian:
http://www.guardian.co.uk/environment/georgemonbiot/2012/oct/25/ash-dieback-cameron
Accessed 20th November 2012.
32 Ash dieback 'beyond containment', BBC:
http://news.bbc.co.uk/today/hi/today/newsid_9767000/9767452.stm
Accessed 20th November 2012.
33 "Stephen Woodward says the ash tree will be virtually eliminated within 20 years."
See The ash is history — oak could be next, The Sunday Times:
http://www.thesundaytimes.co.uk/sto/news/uk_news/Environment/article1159039.ece
Accessed 20th November 2012.
34 Ash dieback: Spotter's guide and maps, BBC:
http://www.bbc.co.uk/news/science-environment-20171524
Accessed 20th November 2012.
35 Shocking decline in UK birdlife, Future Timeline Blog:
https://www.futuretimeline.net/blog/2012/11/19-2.htm
Accessed 20th November 2012.
36 See 2025-2030.
37 UAB research says 2,000 pound turtle could be extinct within 20 years, University of Alabama at Birmingham:
http://www.uab.edu/news/latest/item/3216-uab-research-says-2000-pound-turtle-could-be-extinct-within-20-years
Accessed 6th March 2013.
38 See 2022.
39 Saudi Arabia targets 41 GW of solar by 2032, PV Magazine:
http://www.pv-magazine.com/news/details/beitrag/saudi-arabia-targets-41-gw-of-solar-by-2032_100006719/#axzz1uSl2b03a
Accessed 20th November 2012.
40 See 2050.
41 Saudi Arabia Plans $109 Billion Boost for Solar Power, Business Week:
http://www.businessweek.com/news/2012-05-10/saudi-arabia-plans-109-billion-boost-for-solar-power
Accessed 20th November 2012.
42 Saudi plans 16 reactors by 2030, World Nuclear News:
http://www.world-nuclear-news.org/IT-Saudi_plans_16_reactors_by_2030-0206115.html
Accessed 20th November 2012.
43 Saudi Arabia reveals plans to be powered entirely by renewable energy, The Guardian:
http://www.guardian.co.uk/environment/2012/oct/19/saudi-arabia-renewable-energy-oil?intcmp=122
Accessed 20th November 2012.
44 BAE Systems to begin building new British nuclear submarines, Reuters:
http://www.reuters.com/article/us-britain-defence-idUSKCN121391
Accessed 27th October 2016.
45 Everything you need to know about Trident - Britain's nuclear deterrent, ITV:
http://www.itv.com/news/2016-07-18/everything-you-need-to-know-about-trident-britains-nuclear-deterrent/
Accessed 27th October 2016.
46 "If the decision is taken to renew Trident, the replacement programme would be operational until the 2060s."
See Theresa May warns threat of nuclear attack has increased ahead of Trident vote, Independent:
http://www.independent.co.uk/news/theresa-may-trident-renewal-nuclear-attack-threat-labour-free-vote-a7141826.html
Accessed 27th October 2016.
47 Catalog of Transits of Mercury, NASA:
https://eclipses.gsfc.nasa.gov/transit/catalog/MercuryCatalog.html
Accessed 12th November 2019.