2037
Total solar eclipse in Australia and New Zealand
A total solar eclipse occurs on 13th July 2037.* It passes through the centre of Australia at 2:40 UTC (12:40 local time) with maximum eclipse occurring near the intersection of three states – Queensland, the Northern Territory and South Australia – before moving across the North Island of New Zealand. Totality has a duration of three minutes and 58 seconds.*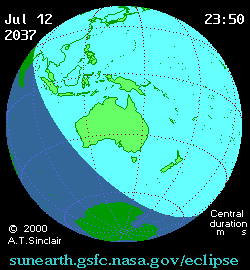 The U.S. Air Force introduces a new stealth bomber
By 2037, the number of bombers in the US Air Force has dropped below the minimum requirement of 170.* This is due to a combination of attrition, changes in operating procedures and decommissioning of older aircraft.
The B-52 has now been in service for 85 years – an unprecedented length of time for a military vehicle. The last of these planes will finally be retired soon. A next generation bomber, intended to serve as a stop-gap until more advanced designs were available, was introduced from 2018.* This is now being replaced by a new military aircraft known by the codename of "2037 Bomber".*
The new bomber is the most advanced aircraft to ever fly. It has unparalleled stealth capabilities, a range that enables it to strike targets almost anywhere in the world, and a payload which includes nuclear capability.
It is "manned optional", with most missions being remote-controlled, or even entirely automated. It is used in a number of resource wars during this time – giving the US an impressive tactical edge on the battlefield.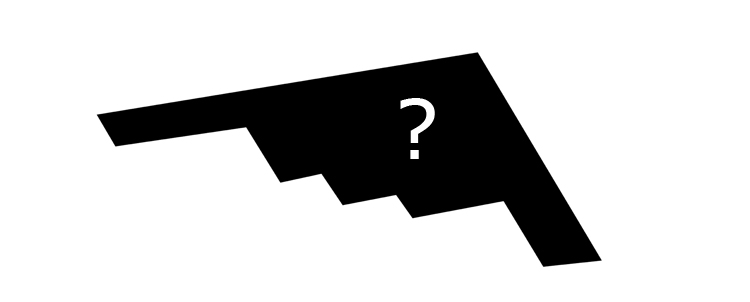 America's sixth-generation fighter jet enters service
By 2037, deliveries of the F-35 Lightning II for the U.S. military have ceased.* Although the aircraft is scheduled to remain in service until 2070,* it is succeeded around this time by a sixth generation of planes that begins to be rolled out. The U.S. Navy's existing fleet of F/A-18 Super Hornets is also being retired now, necessitating a replacement. The new fighter jets are procured for both the U.S. Navy (a program known as F/A-XX) and Air Force (known as F-X). In terms of technology they are a major leap over the F-35 and also designed to outclass China's Chengdu J-20 and Shenyang J-31.
The sixth-generation jets feature increased autonomy (with the option of being unmanned), orders of magnitude improvements in computer processing and algorithmic power, faster manoeuvring and sensing of the battlespace, hypersonic weapons, laser guns, advanced electronic warfare capabilities, better stealth technology and so-called "smart skins" where sensors are built into the side of the aircraft itself to reduce drag.* They incorporate a supersonic tailless design for the first time ever, made possible through advanced computer modelling and new materials.*
References
1 13 July 2037 — Total Solar Eclipse, Time and Date:
https://www.timeanddate.com/eclipse/solar/2037-july-13
Accessed 2nd February 2017.
2 Solar eclipse of July 13, 2037, Wikipedia:
https://en.wikipedia.org/wiki/Solar_eclipse_of_July_13,_2037
Accessed 2nd February 2017.
3 B-3 Long Range Strike Platform, GlobalSecurity.org:
http://www.globalsecurity.org/military/systems/aircraft/b-3.htm
Accessed 2nd February 2012.
4 Next-Generation Bomber, Wikipedia:
http://en.wikipedia.org/wiki/Next-Generation_Bomber
Accessed 2nd February 2012.
5 2037 Bomber, Wikipedia:
http://en.wikipedia.org/wiki/2037_Bomber
Accessed 2nd February 2012.
6 Lockheed Martin F-35 Lightning II, Wikipedia:
https://en.wikipedia.org/wiki/Lockheed_Martin_F-35_Lightning_II
Accessed 15th February 2017.
7 Lockheed F-35 service life extended to 2070, Flight Global:
https://www.flightglobal.com/news/articles/lockheed-f-35-service-life-extended-to-2070-423536/
Accessed 15th February 2017.
8 Why America's 6th-Generation Fighter (What Comes After the F-35) Could Be a Game Changer, The National Interest:
http://nationalinterest.org/blog/the-buzz/why-americas-6th-generation-fighter-what-comes-after-the-f-18066
Accessed 15th February 2017.
9 Northrop Developing 6th Gen Fighter Plans, Defense News:
http://www.defensenews.com/story/defense/air-space/strike/2015/01/21/northrop-6th-gen-fighter/22089857/
Accessed 15th February 2017.