2037
Global population reaches 9 billion
For the vast majority of human history, the world's population stayed below 100 million. Life was often brutal and short. But the modern era led to unprecedented improvements in health, personal incomes, and general living standards. In just over a century, between 1805 and 1925, the number of humans on the planet doubled from one to two billion. It took only 35 years to reach the next billion and a mere 14 years to reach the billion after that. Population growth hit its maximum rate in 1963, peaking at 2.2% per annum.
These huge increases continued until the end of the 20th century and into the early 21st. Major environmental impacts now began to emerge as humanity exceeded planetary boundaries. The United Nations (UN) reported 15th November 2022 as the likely date when the global population reached 8 billion.*
The next milestone of 9 billion is reached in 2037.* This is sooner than a previous forecast by the UN, which had suggested 2042. It does, however, continue to indicate a slowing growth rate, since the 15 years after the last milestone is longer than the 12 years between the 7 and 8 billion milestones. The next milestone of 10 billion is predicted to be 21 years hence, in 2058.*
Countries growing at the fastest annual rate in 2037 include Niger (3.4%), the Democratic Republic of Congo (2.8%), and Mali (2.7%).* The most rapidly falling populations are the British overseas territory of Saint Helena (-1.2%), the U.S. territory of American Samoa (-1.1%), and Bulgaria (-1%). Larger and more prominent countries with declining populations include Ukraine (-0.7%), Japan (-0.7%), and Poland (-0.5%).
The density of humans on the planet has increased from 54/km² (2022) to 61/km² (2037), when measured by land surface area. More people than ever before are living in urban regions, up from 57% in 2022 to 63% in 2037.*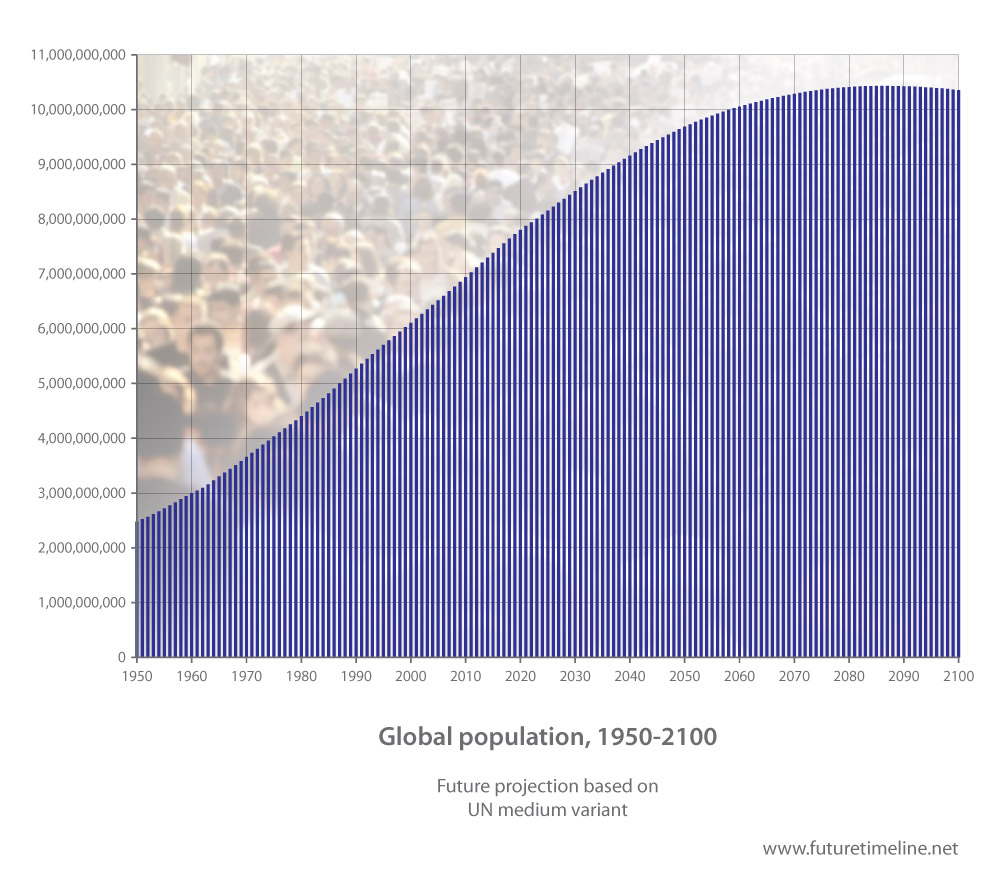 Total solar eclipse in Australia and New Zealand
A total solar eclipse occurs on 13th July 2037.* It passes through the centre of Australia at 2:40 UTC (12:40 local time) with maximum eclipse occurring near the intersection of three states – Queensland, the Northern Territory and South Australia – before moving across the North Island of New Zealand. Totality has a duration of three minutes and 58 seconds.*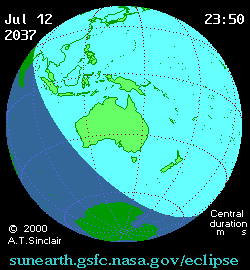 The U.S. Air Force introduces a new stealth bomber
By 2037, the number of bombers in the US Air Force has dropped below the minimum requirement of 170.* This is due to a combination of attrition, changes in operating procedures and decommissioning of older aircraft.
The B-52 has now been in service for 85 years – an unprecedented length of time for a military vehicle. The last of these planes will finally be retired soon. A next generation bomber, intended to serve as a stop-gap until more advanced designs were available, was introduced from 2018.* This is now being replaced by a new military aircraft known by the codename of "2037 Bomber".*
The new bomber is the most advanced aircraft to ever fly. It has unparalleled stealth capabilities, a range that enables it to strike targets almost anywhere in the world, and a payload which includes nuclear capability.
It is "manned optional", with most missions being remote-controlled, or even entirely automated. It is used in a number of resource wars during this time – giving the US an impressive tactical edge on the battlefield.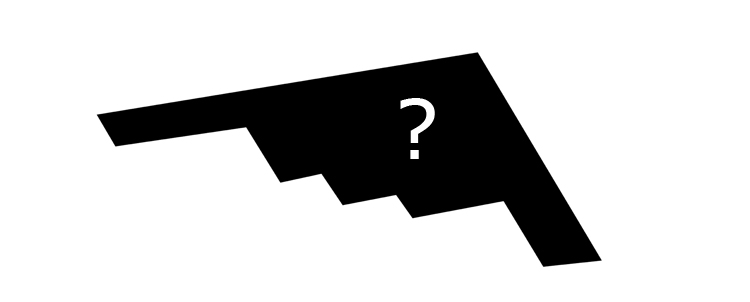 America's sixth-generation fighter jet enters service
By 2037, deliveries of the F-35 Lightning II for the U.S. military have ceased.* Although the aircraft is scheduled to remain in service until 2070,* it is succeeded around this time by a sixth generation of planes that begins to be rolled out. The U.S. Navy's existing fleet of F/A-18 Super Hornets is also being retired now, necessitating a replacement. The new fighter jets are procured for both the U.S. Navy (a program known as F/A-XX) and Air Force (known as F-X). In terms of technology they are a major leap over the F-35 and also designed to outclass China's Chengdu J-20 and Shenyang J-31.
The sixth-generation jets feature increased autonomy (with the option of being unmanned), orders of magnitude improvements in computer processing and algorithmic power, faster manoeuvring and sensing of the battlespace, hypersonic weapons, laser guns, advanced electronic warfare capabilities, better stealth technology and so-called "smart skins" where sensors are built into the side of the aircraft itself to reduce drag.* They incorporate a supersonic tailless design for the first time ever, made possible through advanced computer modelling and new materials.*
The Oxford English Dictionary 3rd edition is published
Work on the original version of The Oxford English Dictionary began in 1857, when a small group of intellectuals in London (unconnected to Oxford University) became dissatisfied with the existing English dictionaries. They formed an "Unregistered Words Committee" to search for words unlisted or poorly defined in current dictionaries. The gradual realisation of the project's immense scale – far greater than any previous effort – led to the idea of a new, truly comprehensive dictionary organised in a series of volumes.
It took until 1888 for the first of these to be published, covering words beginning with the letters A and B. Another 40 years would pass before the final entries in the V to Z range, marking the 10th and final volume, completed in 1928.
As the English language evolved through the 20th century, the first edition became outdated. The need to accommodate many new words and phrases resulted in additional supplements and, eventually, a complete second edition. Published in 1989, this took advantage of recent advances in computerisation to improve the editing and production process. The second edition increased the number of word definitions from 400,000 to 600,000 and the number of volumes from 10 to 20. Author Anthony Burgess declared it "the greatest publishing event of the century", while TIME magazine dubbed the book "a scholarly Everest" and The Guardian called it "one of the wonders of the world".
Following the launch of an online version in 2000, the dictionary's editors began a major revision project to create a completely new third edition, at a projected cost of £34 million. Apart from general updates to include information on new words and other changes in the English language, the third edition brings many other improvements – including changes in formatting and stylistic conventions for easier reading and computerised searching, more etymological information, and a general change of focus away from individual words towards more general coverage of the language as a whole. While the original text drew its quotations mainly from literary sources such as novels, plays, and poetry, with additional material from newspapers and academic journals, the new edition references more kinds of material that were unavailable to editors of earlier editions, such as wills, inventories, account books, diaries, journals, letters, blogs, and Twitter posts. This third edition, roughly double the overall length of the second,* is finally completed in 2037.*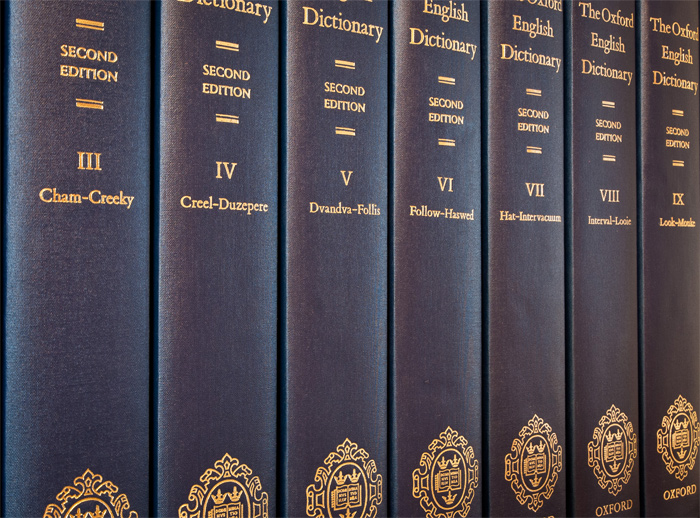 Seven of the 20 volumes of the printed 2nd edition of The Oxford English Dictionary (1989)
Credit: Dan (mrpolyonymous on Flickr), CC BY 2.0, via Wikimedia Commons
References
1 Global population reaches 8 billion, Future Timeline Blog:
https://www.futuretimeline.net/blog/2022/11/15-global-population-future-timeline.htm
Accessed 20th November 2022.
2 Day of 8 Billion, UN:
https://www.un.org/en/dayof8billion
Accessed 20th November 2022.
3 2022 Revision of World Population Prospects, United Nations:
https://population.un.org/wpp/
Accessed 20th November 2022.
4 Population & Demography Data Explorer, Our World In Data:
https://ourworldindata.org/explorers/population-and-demography
Accessed 20th November 2022.
5 Urban population, 1950-2100, Future Timeline Data & Trends:
https://www.futuretimeline.net/data-trends/12.htm
Accessed 20th November 2022.
6 13 July 2037 — Total Solar Eclipse, Time and Date:
https://www.timeanddate.com/eclipse/solar/2037-july-13
Accessed 2nd February 2017.
7 Solar eclipse of July 13, 2037, Wikipedia:
https://en.wikipedia.org/wiki/Solar_eclipse_of_July_13,_2037
Accessed 2nd February 2017.
8 B-3 Long Range Strike Platform, GlobalSecurity.org:
http://www.globalsecurity.org/military/systems/aircraft/b-3.htm
Accessed 2nd February 2012.
9 Next-Generation Bomber, Wikipedia:
http://en.wikipedia.org/wiki/Next-Generation_Bomber
Accessed 2nd February 2012.
10 2037 Bomber, Wikipedia:
http://en.wikipedia.org/wiki/2037_Bomber
Accessed 2nd February 2012.
11 Lockheed Martin F-35 Lightning II, Wikipedia:
https://en.wikipedia.org/wiki/Lockheed_Martin_F-35_Lightning_II
Accessed 15th February 2017.
12 Lockheed F-35 service life extended to 2070, Flight Global:
https://www.flightglobal.com/news/articles/lockheed-f-35-service-life-extended-to-2070-423536/
Accessed 15th February 2017.
13 Why America's 6th-Generation Fighter (What Comes After the F-35) Could Be a Game Changer, The National Interest:
http://nationalinterest.org/blog/the-buzz/why-americas-6th-generation-fighter-what-comes-after-the-f-18066
Accessed 15th February 2017.
14 Northrop Developing 6th Gen Fighter Plans, Defense News:
http://www.defensenews.com/story/defense/air-space/strike/2015/01/21/northrop-6th-gen-fighter/22089857/
Accessed 15th February 2017.
15 The evolving role of the Oxford English Dictionary, Financial Times:
https://www.ft.com/content/dfdfba02-4c70-11e3-958f-00144feabdc0
Accessed 27th October 2022.
16 Deadline 2037: the making of the next Oxford English Dictionary, The Irish Times:
https://www.irishtimes.com/culture/deadline-2037-the-making-of-the-next-oxford-english-dictionary-1.1667328
Accessed 27th October 2022.