22nd March 2013
World's largest concentrated solar power plant opens in Abu Dhabi
After three years of construction, a major milestone has been achieved for renewable energy in the Middle East, with the opening of a 100 megawatt (MW) solar power plant.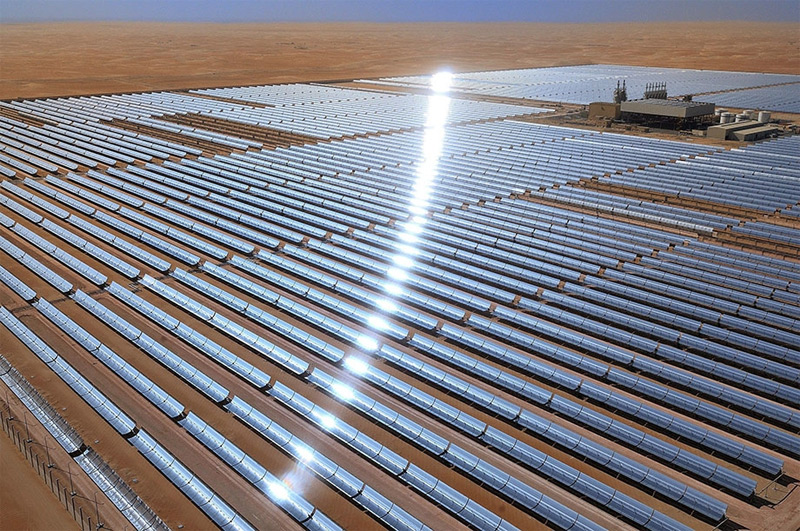 The Shams solar power station is located near Abu Dhabi, United Arab Emirates. With 258,000 parabolic trough mirrors, covering 2.5 sq km (0.97 sq mi), it generates up to 100 megawatts (MW) of power, making it the largest station of its kind in the world. It will offset 175,000 tons of CO2 per year – the equivalent of planting 1.5 million trees or taking 15,000 cars off the road – and its electrical output will be enough to power 20,000 homes.
The project is a collaboration between Abu Dhabi Future Energy Company (Masdar), Spain's Abengoa Solar and France's Total S.A. Masdar has a 60% stake, while Abengoa Solar and Total S.A. each have 20%. This newly completed first part, Shams 1, will be followed by two additional stations, Shams 2 and Shams 3, similar in size to the original.
The President of the UAE, Sheikh Khalifa bin Zayed Al Nahyan, expressed his pride in the inauguration of Shams 1: "Expanding our leadership into renewable sources of power demonstrates the United Arab Emirates' commitment to maintaining its position as a major provider of energy. The inauguration of Shams 1 is a major milestone in our country's economic diversification and a step toward long-term energy security."
Abu Dhabi, the nation's capital, has a goal of generating 7% of its power from renewables by 2020. This ambitious target will require 15 plants like Shams 1. Other countries in the region are undertaking similar plans. Saudi Arabia, for example, intends to install 41 gigawatts of solar energy by 2032. It is hoped that much of this energy, along with future additions, will be integrated into a continent-wide "super grid" by 2050.
Santiago Seage, the CEO of Abengoa Solar: "The Middle East holds nearly half of the world's renewable energy potential. The abundance of solar energy is an opportunity to integrate sustainable, clean sources of power that address energy security and climate change. The region needs more projects like Shams 1, and we look forward to pushing the boundaries of future energy."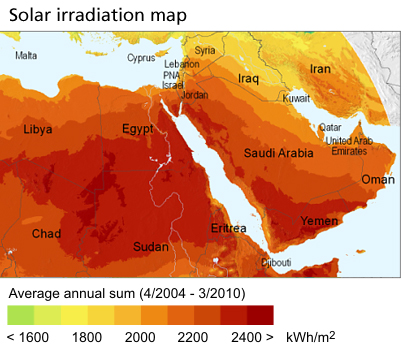 SolarGIS © 2012 GeoModel Solar s.r.o.
Comments »