9th March 2013
3D printing helps replace injured patient's skull
In a world first, researchers have successfully replaced 75 per cent of an injured patient's skull with a precision 3D-printed polymer version. In the near future, any type of damaged bone could routinely be replaced with custom-manufactured implants.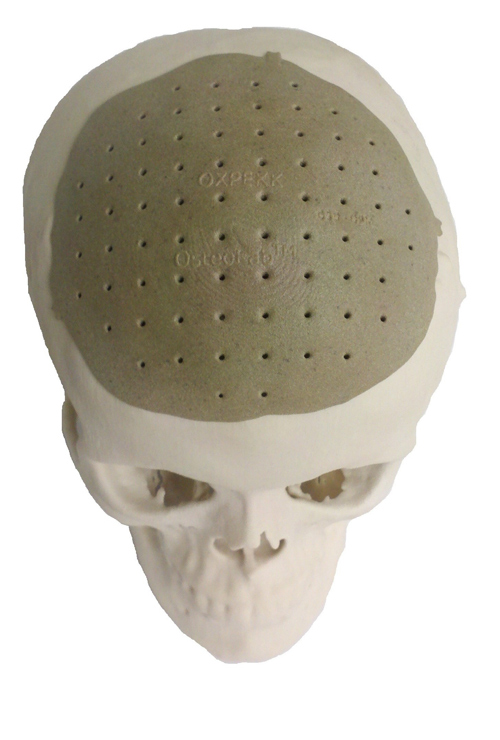 Connecticut-based Oxford Performance Materials (OPM) was founded in 2000 with a simple purpose: to exploit a highly advanced molecule known as Polyether ether ketone (PEEK). PEEK is an ultra-high performance thermoplastic with a range of applications. Its advantages include high strength and toughness, chemical resistance and low toxicity.
After years of development, OPM has now gained FDA approval for its OsteoFab Patient Specific Cranial Device (OPSCD). This is the company's brand name for 3D-printed medical implants created from the PEEK polymer. These implants are "grown" layer by layer – directly from a digital CAD file, CT scan or MRI file – without the aid of tooling and with few practical limits on what can be produced. As such, OsteoFab is ideal for unique, one-off implants that are specifically shaped to an individual patient's anatomy.
One very desirable use of patient-specific implants is the replacement of bony voids in the skull. This was demonstrated by OPM's researchers on 4th March, when they scanned the head of an unnamed patient and replaced 75% of his skull with polymer components.

Scott DeFelice, President and CEO of OPM: "It is our firm belief that the combination of PEEK and Additive Manufacturing is a highly transformative and disruptive technology platform that will substantially impact all sectors of the orthopaedic industry. We have sought our first approval within cranial implants because the need was most compelling; however, this is just the beginning. We will now move systematically throughout the body, in an effort to deliver improved outcomes at lower overall cost to the patient and healthcare provider."
Up to 500 U.S. patients could use skull bone replacements every month, according to DeFelice. Possible patients include those with cancerous bone, as well as car accident victims, and military members suffering from head trauma.
FDA clearance for OPM marks the first approval of an additively manufactured polymer implant in the USA. The company now intends to seek well-qualified partners to bring this revolutionary process to market.
Last year, a similar procedure was undertaken in the Netherlands, when surgeons used 3D printing to replace the entire lower jawbone of an 83-year old woman.
Comments »