23rd May 2013
World's largest wave farm gets go-ahead
Plans have been approved for the world's biggest wave farm, with 40MW of power, to be constructed off the coast of north-west Scotland.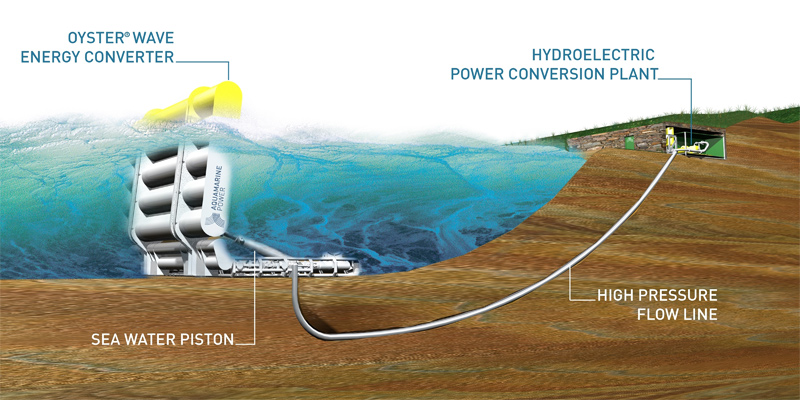 Credit: AlphaGalileo Foundation
The company behind the plans, Aquamarine Power, says it will deploy its technology along the coast of Lewis, in the Western Isles, one of the best wave energy locations in Europe. This would begin around 2017 – once grid infrastructure has been put in place, including an interconnector to reach customers on the mainland. If successful, up to 50 devices would be installed, with enough capacity to supply 38,000 homes.
The "Oyster" (pictured below) is a buoyant, hinged flap attached to the seabed at depths of 10-15m, half a kilometre from the shore. It captures energy in nearshore waves and converts it to clean sustainable electricity. Essentially, the Oyster is a wave-powered pump which pushes high pressure water to drive an onshore hydro-electric turbine.
Environmental risks associated with the device are minimised by using only water as its hydraulic fluid, rather than oil, and there are no toxic substances involved. It is also silent in operation. Based on figures from the Carbon Trust, each Oyster's annual carbon saving could be as much as 500 tonnes.
In the future, as the industry develops, it is hoped that huge networks of these devices could be connected, each farm generating hundreds of megawatts – perhaps even gigawatts – of clean energy. Scotland is currently aiming to produce 100 percent of its electricity from renewables by 2020.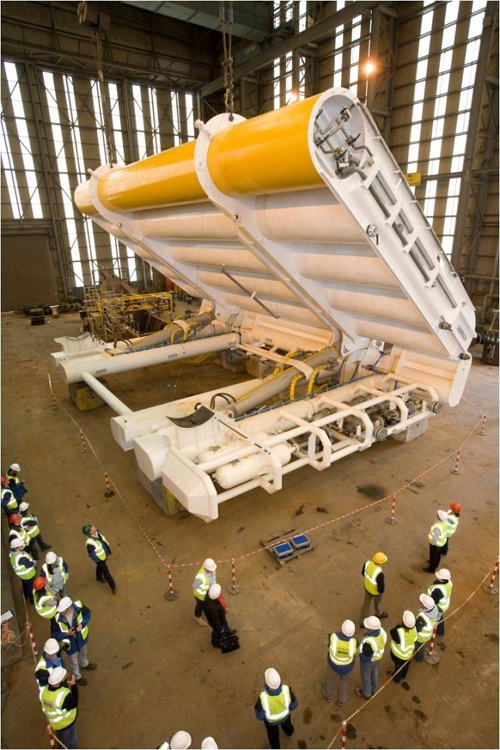 Aquamarine Power's "Oyster" device. Credit: AlphaGalileo Foundation
Aquamarine Power CEO Martin McAdam: "This is a significant milestone for our company. The goal of our industry is to become commercial, and to do this we need two things – reliable technologies and a route to market. Our engineers are currently working hard on getting the technology right and we now have a site where we can install our first small farm, with a larger-scale commercial build out in the years ahead."
Lang Banks, Director of WWF Scotland: "This announcement is a fantastic boost for Scotland's marine renewables sector and will put Lewis firmly on the world map when it comes to wave energy. Alongside energy saving measures, wave power and other renewables have a critical role to play in helping Scotland reduce climate emissions, create jobs and generate export opportunities. With careful planning we can harness the waves and tides while safeguarding the nation's tremendous marine environment."
Although still at an early stage of development, wave energy has massive potential. The World Energy Council estimates that it could supply around 2,000 terawatt hours of electricity a year, or enough to meet 10 percent of the world's current energy needs. Last year, another company called Ocean Power Technologies was granted a 35-year license for the first wave power station in the United States. In addition to Scotland and the USA, similar projects are being developed in England, Italy, Portugal and Australia. The industry is young, but there is huge room for growth. It will be interesting to see if wave energy follows the same exponential trend of solar and wind.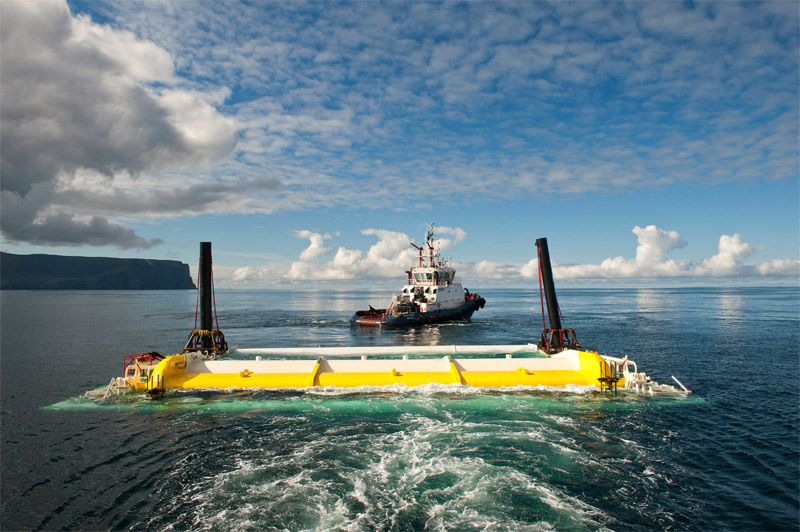 Credit: Aquamarine Power
Comments »