1st June 2013
The world's first crowdfunded space telescope
Planetary Resources, the asteroid mining company, has launched a campaign for the world's first crowdfunded space telescope. This will provide unprecedented public access to space and place the most advanced exploration technology into the hands of students, scientists and a new generation of citizen explorers.
Planetary Resources' technical team, who worked on every recent U.S. Mars lander and rover, will provide direct access to an ARKYD space telescope making space widely available for inspiration, exploration and research. "I've operated rovers and landers on Mars, and now I can share that incredible experience with everyone," said Chris Lewicki, President and Chief Engineer of Planetary Resources. "People of any age and background will be able to point the telescope outward to investigate our Solar System, deep space, or join us in our study of near-Earth asteroids."
Using Kickstarter, a platform for supporting innovative projects, the company has set a campaign goal of US$1 million. They will use the proceeds to launch the telescope, fund the creation of a public interface, cover the fulfilment costs for all of the products and services listed in the pledge levels, and fund the immersive educational curriculum for students. Proceeds raised beyond this goal will allow for more access to classrooms, museums and science centres, and additional use by individual Kickstarter backers.
Peter Diamandis, Co-Founder and Co-Chairman: "When we launched Planetary Resources last year, we had an extraordinary response from the public. Tens of thousands of people contacted us and wanted to be involved. We are using this Kickstarter campaign as a mechanism to engage the community in a productive way. In the last 50 years, space exploration has been led by national governmental agencies with their own set of priorities; and now we're changing the nature of exploration. We're developing the most advanced space technology ever made available to the public. Let's explore the cosmos together!"
Eric Anderson, Co-Founder and Co-Chairman: "Since the public announcement of Planetary Resources last April, the company has doubled in size, brought on key strategic partners, was awarded numerous contracts and is on track for its primary mission of identifying and prospecting asteroids within this decade."
Pledge Level Highlights:
Your Face in Space – For $25, the team will upload an image of yourself to display on the ARKYD, snap a photo of it with the Earth in the background, and transmit it back to you. This "photo booth" allows anyone to take (or gift) a unique Space Selfie image that connects a personal moment with the cosmos in an unprecedented, yet tangible way.


Support Education – Pledgers can offer a school, science centre, university, or any interested group of their choice access to the ARKYD for use in interactive educational programming.


Earn a Place in History – Have a newly discovered asteroid named after you.
The full pledge list and ARKYD technical specifications can be found here.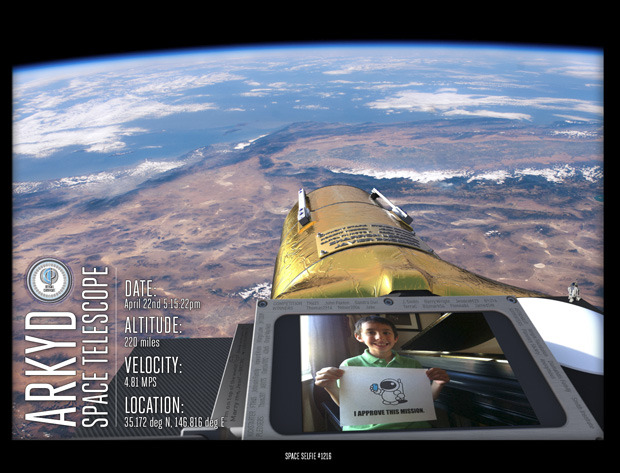 Comments »