26th October 2013
A clear majority of Americans want marijuana to be legal
A new poll by Gallup has revealed that 58% of Americans now support the legalisation of marijuana. Only 39% are now against.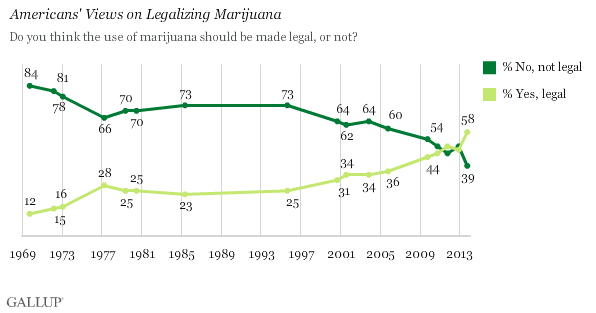 When Gallup first asked the question back in 1969, only 12% favoured legalisation of the drug. This figure had more than doubled by 1980. It then levelled off during the next two decades, before rising steadily again. In 2011, support reached a majority for the first time with 50% in favour and 46% against. The gap has now widened further – by a dramatic amount, in fact – as shown by the graph above.
Support for legalisation has risen across the political spectrum, but remains weakest among Republican voters, with only 35% in favour. For Democrats, the figure is 65%, up from 61% in 2012. The largest increase, by far, has occurred with independent voters, whose support has increased by a massive 12% – from 50% in 2012, to 62% now.

Perhaps unsurprisingly, age makes a difference too, with younger people more likely to be in favour. Among those aged between 18 and 29, over two-thirds believe marijuana should be legal. This decreases to 45% for those 65 and older.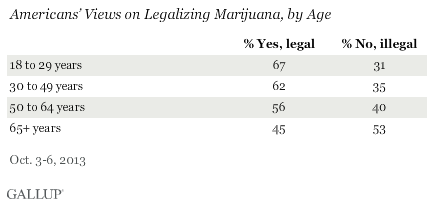 In the last year, recreational use of pot became legal in two states – Colorado and Washington. Over 20 states allow marijuana use for medical purposes. A sizable percentage of Americans (38%) this year admitted to having tried the drug, which may be a contributing factor to its greater acceptance.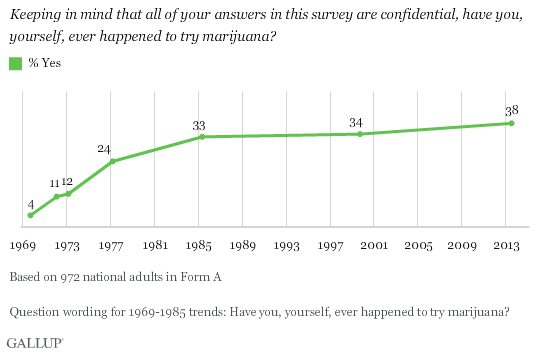 If these trends continue, and with Generation X playing a greater role in politics, there may come a tipping point in the not-too-distant future when marijuana is legal across many more states and – eventually – the entire nation. Taxing and regulating the drug could be financially beneficial, while freeing up police time, allowing officers to concentrate on more serious crimes.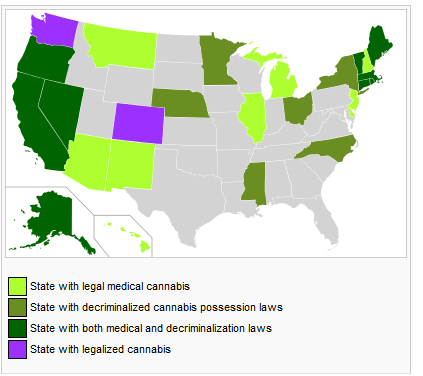 Credit: Lokal_Profil (CC BY-SA 2.5)
Comments »