5th October 2013
World's most fuel-efficient car makes U.S. debut
The Volkswagen XL1 – the most aerodynamic and fuel-efficient car ever built – made its U.S. debut this week at the 23rd Annual Society of Environmental Journalists (SEJ) Conference held in Chattanooga, Tennessee.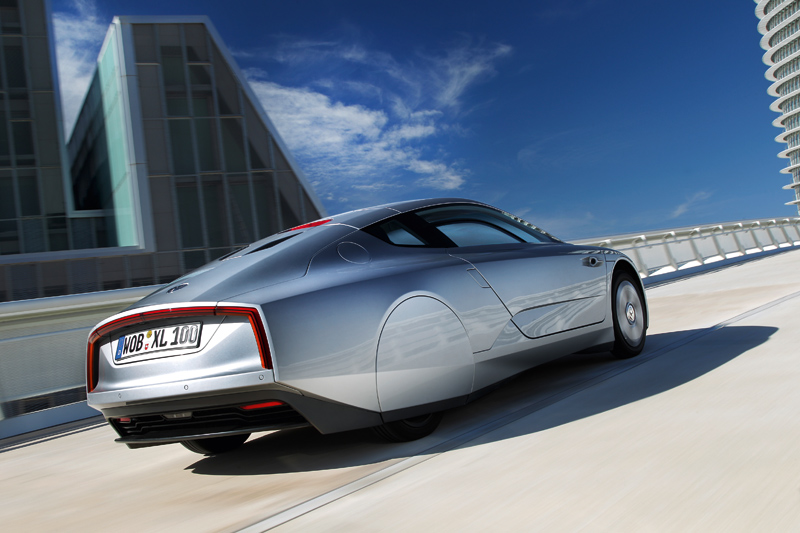 The XL1 offers a European combined fuel consumption rating of 261 miles per gallon (more than 200 mpg estimated in the U.S. cycle). By way of comparison, the U.S. average for new passenger vehicles is currently around 32 mpg and forecast to reach 54 mpg by 2025. The XL1 goes 32 miles in all-electric mode as a zero-emissions car, with top speed of 99 mph, accelerating from 0 to 62 mph in 12.7 seconds.
"The XL1 offers a glimpse into Volkswagen's present and future eco-mobility capabilities, and highlights the ultimate successes of 'Thinking Blue'," said Oliver Schmidt, General Manager of the Engineering and Environmental Office (EEO), Volkswagen Group of America. "Volkswagen is proud to debut this ultra-fuel-efficient vehicle before the Society of Environmental Journalists, a group that shares in our commitment to environmental stewardship."
The XL1 follows pure sports-car design principles: light weight (1753 pounds), exceptional aerodynamics (Cd 0.19), and a low centre of gravity. This super-efficient vehicle has the ability to cruise down the road at a constant 62 mph while using just 8.4 PS (6.2kW) horsepower. In all-electric mode, it requires less than 0.1 kWh to cover more than a kilometre.

The car emits just 21 g/km of CO2, thanks to its high-tech lightweight design, aerodynamic efficiency, and plug-in hybrid system consisting of a 48 PS (35kW) two-cylinder TDI engine, 27-hp electric motor, seven-speed DSG dual-clutch automatic transmission, and lithium-ion battery.
Click to enlarge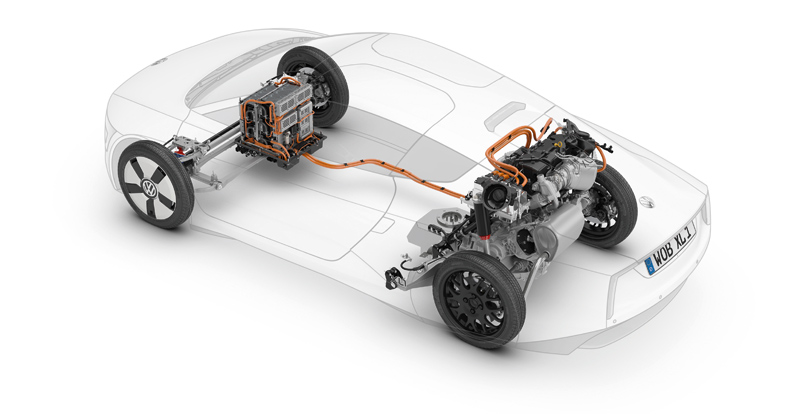 Conceptually, the XL1 is the third evolutionary stage of Volkswagen's 1-litre car strategy. When the new millennium was ushered in, Professor Ferdinand Piëch – now Chairman of the Supervisory Board of Volkswagen – formulated the visionary goal of putting into production a practical car with combined fuel consumption of one litre per 100 km (235 mpg). In the two-seat XL1, this vision has become a reality.
Despite the tremendous efficiency of the car, its engineers and designers successfully came up with a body design which delivers more everyday utility than the two previous prototypes. In the L1, shown in 2002 and 2009, driver and passenger sat in a "tandem" arrangement for optimal aerodynamics; in the XL1, the two occupants sit slightly offset, side by side, almost like a conventional vehicle.
The XL1 is 153.1 inches long, 65.6 inches wide, and just 45.4 inches tall. By comparison, a Volkswagen Polo is slightly longer (156.3 in) and wider (66.2 in), but is significantly taller (57.6 in). Even a purebred sports car like today's Porsche Boxster is 5.1 inches taller. The XL1 will look spectacular going down the highway – a car of the future, built for today.
This technology comes at a price, of course. The XL1 will be sold at $146,000 with only 250 being produced.
Click to enlarge
Comments »