28th July 2014
Hottest June on record
Globally, June 2014 was the hottest June since records began in 1880. Experts predict that 2014 will be an El Niño year.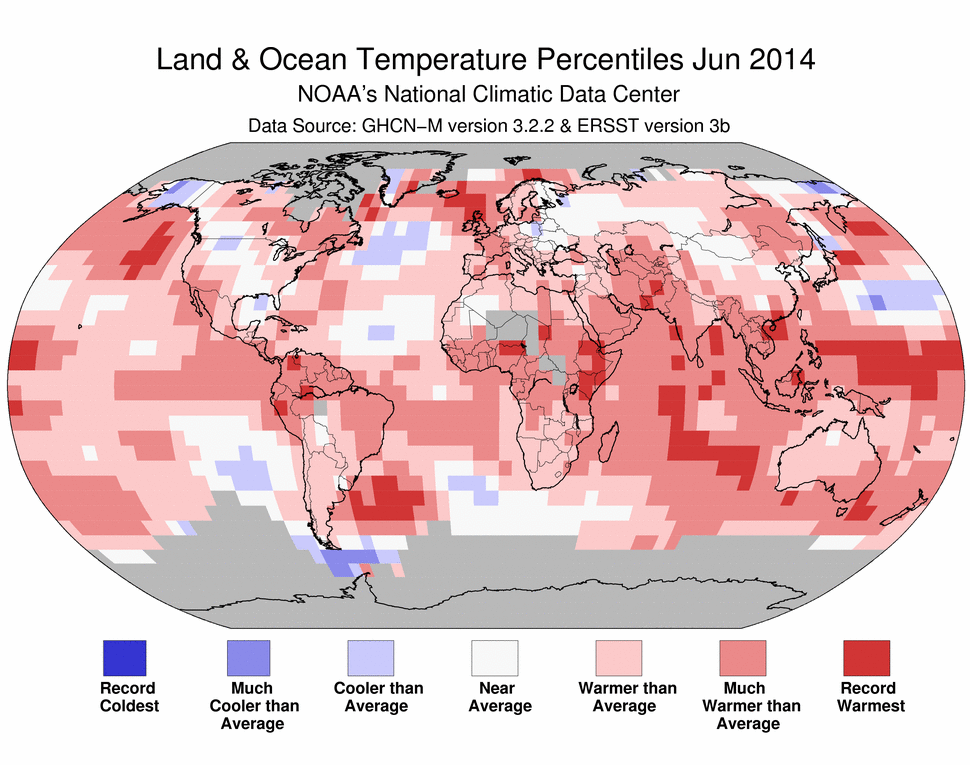 According to NOAA scientists, the globally averaged temperature over land and ocean surfaces for June 2014 was the highest for June since records began in 1880. This follows the hottest May on record the previous month. It also marked the 38th consecutive June and 352nd consecutive month with a global temperature above the 20th century average. The last below-average global temperature for June was in 1976 and the last below-average global temperature for any month was February 1985.
Most of the world experienced warmer-than-average monthly temperatures, with record warmth across part of southeastern Greenland, parts of northern South America, areas in eastern and central Africa, and sections of southern and southeastern Asia. Drought conditions in the southwest U.S. continued to worsen, with Lake Mead dropping to its lowest levels ever – triggering fears of major water shortages within the next several years. Australia saw nationally-averaged rainfall 32 percent below average and in Western Australia precipitation was 72 percent below average.
Ocean surface temperatures for June were 0.64°C (1.15°F) above the 20th century average of 16.4°C (61.5°F), the highest for June on record and the highest departure from average for any month. Notably, large parts of the western equatorial and northeast Pacific Ocean and most of the Indian Ocean were record warm or much warmer than average for the month. Although neither El Niño nor La Niña conditions were present across the central and eastern equatorial Pacific Ocean during June 2014, ocean waters in that region continued to trend above average. NOAA's Climate Prediction Centre estimates there is about a 70 percent chance that El Niño conditions will develop during Northern Hemisphere summer 2014 and 80 percent chance it will develop during the fall and winter.
Comments »