3rd September 2014
NASA to go ahead with its huge new rocket
NASA has completed a review of the Space Launch System (SLS). The rocket will have its first test launch "no later than November 2018" with a possibility of manned flights to Mars in the 2030s.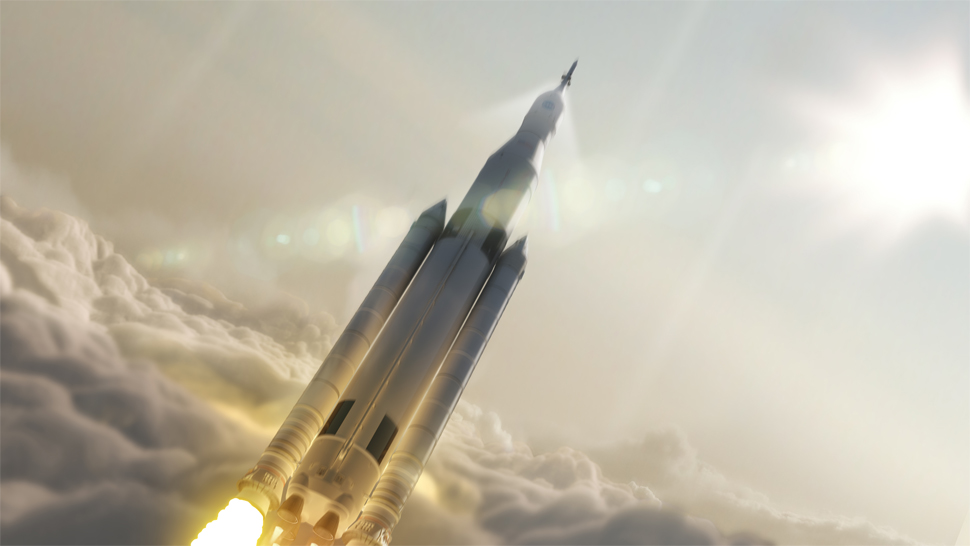 NASA has completed a rigorous review of the Space Launch System (SLS) – a next generation rocket designed to carry humans beyond Earth orbit and eventually to Mars. The project has received the go-ahead to proceed from the formulation stage to development, something no other exploration class launch vehicle has achieved since the agency built the Space Shuttle.
"We are on a journey of scientific and human exploration that leads to Mars," said NASA Administrator Charles Bolden. "And we're firmly committed to building the launch vehicle and other supporting systems that will take us on that journey."
For its first test flight, the SLS will be configured for a 70-metric-ton (77-ton) lift capacity and carry an uncrewed Orion spacecraft beyond low-Earth orbit. In its most powerful configuration, it will provide an unprecedented lift capability of 130 metric tons (143 tons), enabling missions even farther into our Solar System, including such destinations as an asteroid and Mars.
"Our nation is embarked on an ambitious space exploration program, and we owe it to the American taxpayers to get it right," said Associate Administrator Robert Lightfoot, who oversaw the review process. "After rigorous review, we're committing today to a funding level and readiness date that will keep us on track to sending humans to Mars in the 2030s – and we're going to stand behind that commitment."
"The Space Launch System Program has done exemplary work during the past three years to get us to this point," said William Gerstenmaier, associate administrator for the Human Explorations and Operations Mission Directorate, at the NASA Headquarters in Washington. "We will keep the teams working toward a more ambitious readiness date, but will be ready no later than November 2018."
"Engineers have made significant technical progress on the rocket and have produced hardware for all elements of the SLS program," said SLS program manager Todd May. "The team members deserve an enormous amount of credit for their dedication to building this national asset."
In April, the program delivered the first piece of flight hardware for Orion's maiden flight, targeted for December 2014. This features the same design that will be used on the SLS rocket's first flight, Exploration Mission-1.
The SLS will be the largest, most capable rocket ever built. In addition to opening new frontiers for human explorers, it will enable a new generation of science missions in the outer Solar System – with heavier payloads and more complex robotic landers, for example.
Comments »