22nd October 2017
First 5G mobile connection
Qualcomm has announced the first 5G mobile connection, with a data transfer speed of more than 1 Gbps.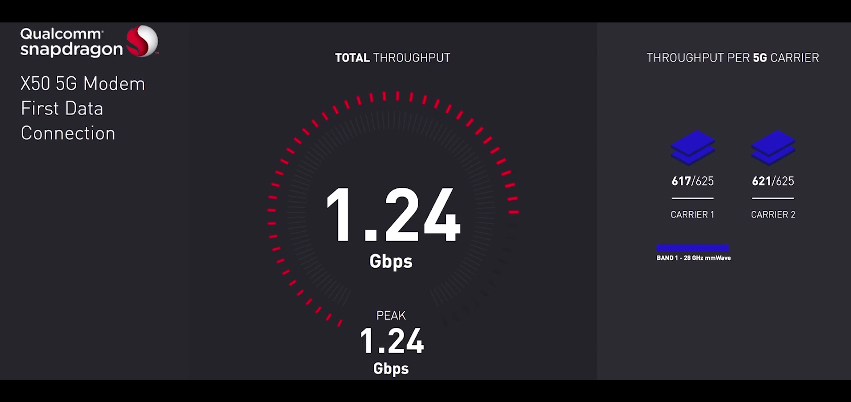 Qualcomm Technologies Inc. has successfully achieved a 5G data connection on a 5G modem chipset for mobile devices. The Qualcomm Snapdragon X50 5G modem chipset delivered gigabit speeds and a data connection in the 28GHz mmWave radio frequency band, demonstrating the next generation of cellular technology for business and consumers. Additionally, Qualcomm previewed its first 5G smartphone reference design for the testing and optimisation of 5G within the power and form-factor constraints of a handheld phone.
"Achieving the world's first announced 5G data connection is truly a testament to Qualcomm's leadership and extensive expertise in mobile connectivity," said Cristiano Amon, executive vice president of Qualcomm Technologies, Inc. "This major milestone and our 5G smartphone reference design showcase how Qualcomm Technologies is driving 5G NR in mobile devices to enhance mobile broadband experiences for consumers around the world."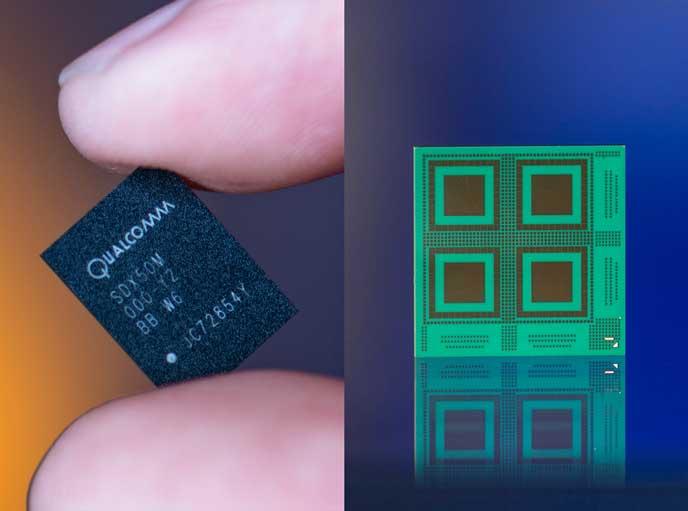 Snapdragon X50 5G modem chip (left); 28GHz mmWave antenna module (right)
The 5G demonstration took place in Qualcomm Technologies' laboratories in San Diego. 5G NR mmWave is a new frontier for mobile, now made possible through the 5G NR standard, and is expected to usher in the next generation of user experiences and to significantly increase network capacity. It will support the emerging "Internet of Things" (IoT), providing widespread automation and connectivity of devices, systems and services.
Qualcomm has been instrumental in accelerating the commercialisation of 5G NR, through many key contributions – including foundational research and inventions, standards-setting in 3GPP, designing sub-6 GHz and mmWave 5G NR prototype systems, interoperability and over-the-air trials with major global operators and infrastructure vendors, and developing integrated circuit products for mobile devices. The Snapdragon X50 5G NR modem family is expected to support commercial launches of 5G smartphones and networks in the first half of 2019.
---
• Follow us on Twitter
• Follow us on Facebook
• Subscribe to us on YouTube
Comments »