10th April 2020
NASA selects early-stage technology concepts
The latest NASA Innovative Advanced Concepts (NIAC) have been revealed. Many futuristic technologies are presented – including a way of directly viewing exoplanets in detail, which has now progressed to Phase III.
The NIAC program – first operated between 1998 and 2007, then reestablished from 2011 – funds the development of far-reaching, long term concepts based on sound scientific principles and feasible within a 10 to 40-year time frame.
New project selections are made each year. The latest of these have just been announced, with funding for 23 studies to assess early-stage technologies that could transform space exploration and observational astronomy in the coming decades.
Among the more interesting Phase I concepts this time around is Lunar Crater Radio Telescope (LCRT). This huge observatory would be constructed within the concave depression of a crater on the far side of the Moon, using wall-climbing robots to drag a wire mesh that forms a spherical cap reflector. Shielded from Earth's ionosphere, radio noise and other interference, it could measure ultra-long-wavelengths (10–50m) and frequencies below 30MHz that are unexplored by current ground-based radio telescopes, potentially revealing major new insights into the early universe.
The idea of a radio telescope on the Moon has been discussed for many years. In 2008, former NASA Administrator Michael D. Griffin – as part of the agency's 50th anniversary commemorations – was asked to predict the next 50 years of astronomy and space travel. He stated that such a project may become a reality by the late 2050s; and indeed, this prediction is featured on our timeline at 2058. The fact that it now appears in the NIAC program shows that NASA is beginning to take the idea more seriously.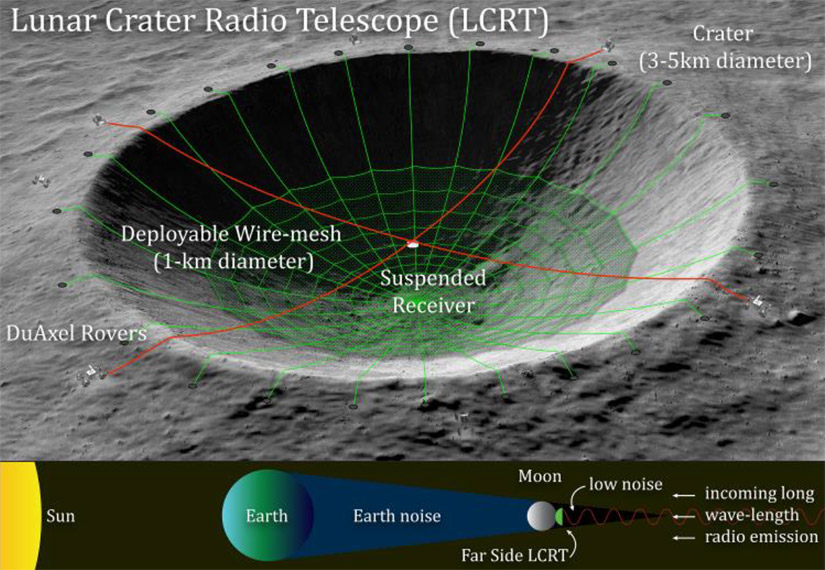 Credit: Saptarshi Bandyopadhyay
"NIAC is an innovative program that encourages researchers – and the agency – to think outside of the box for solutions that could overcome challenges facing future science and exploration missions," said Walt Engelund, deputy associate administrator for programs within NASA's Space Technology Mission Directorate. "We're excited about the new concepts and to see how additional time and resources advances the research selected for follow-on Phase II and III studies."
A single Phase III study – Direct Multipixel Imaging and Spectroscopy of an Exoplanet with a Solar Gravitational Lens Mission – appears in the current list. Previously featured in April 2018 (as a Phase II concept), it has since progressed further. A study published on the arXiv server in February 2020 provides some new details and images, including a simulated view of how Earth might look from tens of parsecs away, if viewed by the solar gravitational lens (SGL) and using deconvolution to remove noise.
"This is only the third study selected for Phase III funding in the history of the program," said Jason Derleth, NIAC Program Executive. "We're excited by its potential to bring us closer to imaging an exoplanet in detail, at a resolution comparable to the well-known Apollo 8 Earthrise photo."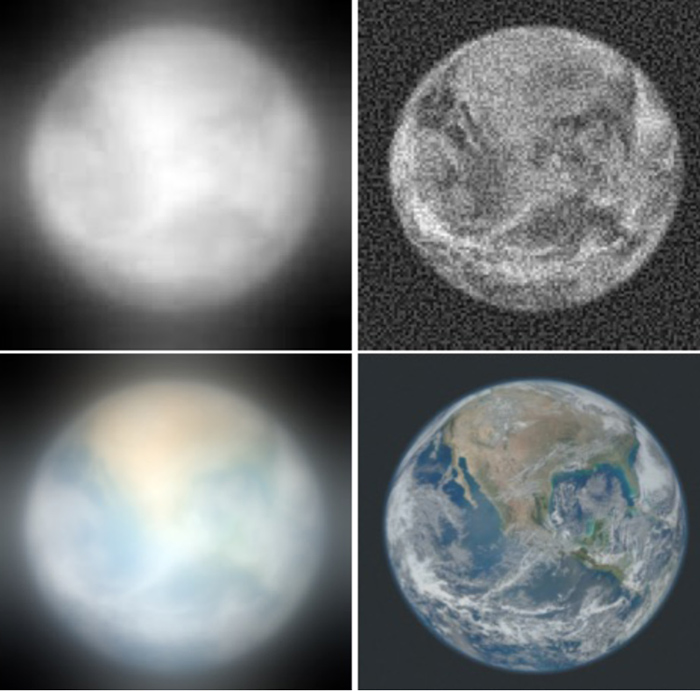 The researchers believe that "missions to 500–1,000 AU over the next 40 years" would enable components for the telescope to be delivered to the far reaches of our Solar System. Multiple small spacecraft could be propelled to distances of 100 billion km or more, using solar sail technology and operating autonomously for long periods.
The extreme distances involved in establishing the SGL and the resulting improvements in light amplification, angular resolution and other optical properties would allow an exoplanet at 100 light years (30 parsecs) to be viewed with 10 km resolution on its surface – sufficient to observe seasonal changes, oceans, continents and surface topography. As with the earlier mentioned LCRT mission, this long-term concept appears on our timeline for the 2050s.
"We reached and exceeded all objectives set for our study," the team writes. "We developed a new wave-optical approach to study the imaging of exoplanets while treating them as extended, resolved, faint sources at large but finite distances. We properly accounted for the solar corona brightness. We developed deconvolution algorithms and demonstrated the feasibility of high-quality image reconstruction under realistic conditions. We have proven that multipixel imaging and spectroscopy of exoplanets with the SGL are feasible."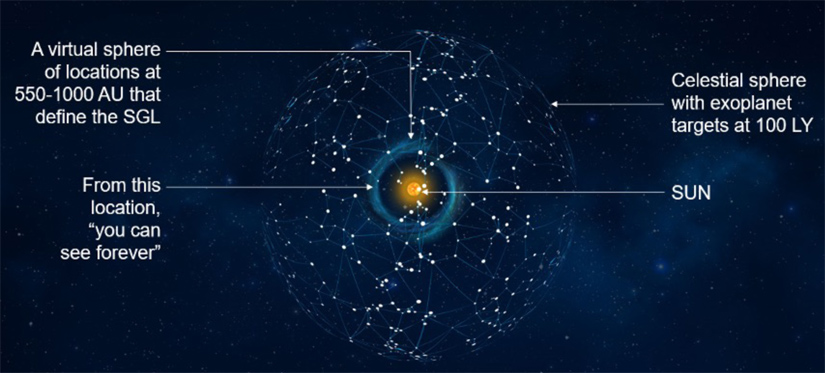 In addition to the LCRT and SGL, other research areas include "hopping" probes to map asteroids and other small bodies, on-demand pharmaceuticals in space, new propulsion systems for faster travel to Mars and beyond, and the extraction of water on the Moon. These newly selected Phase I and II studies will explore the overall viability of each technology and develop them into mission concepts.
Some of these concepts may inform capabilities relevant to NASA's Artemis program, which aims to land the first woman and next man on the Moon in 2024 and establish a sustainable presence on and around the Moon by 2028.
A full list of the 2020 Phase I, II and III selections can be found here.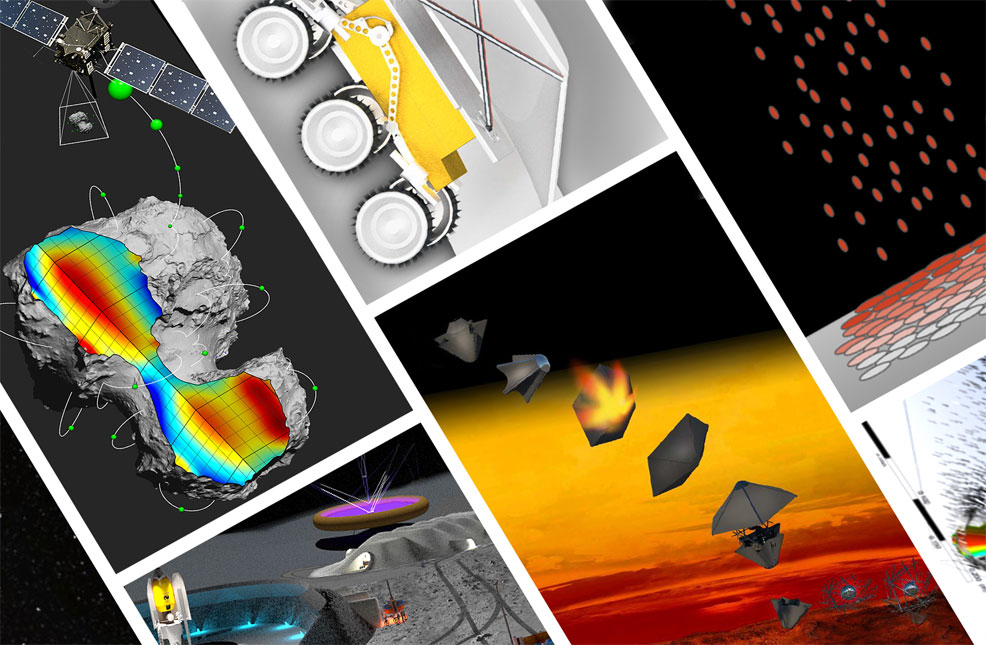 Comments »