4th June 2020
World's first study of potential COVID-19 antibody treatment in humans
The first patients have been dosed in a Phase 1 study of LY-CoV555, the lead antibody from Lilly's collaboration with AbCellera.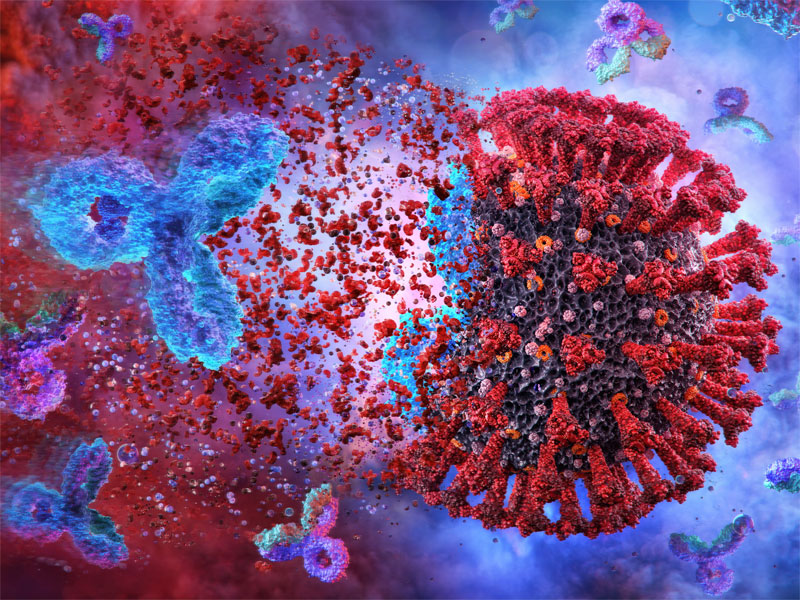 American pharmaceutical company, Eli Lilly and Company, has begun dosing human patients in the world's first trial of a potential antibody treatment designed to fight COVID-19. This new investigational medicine, referred to as LY-CoV555, is being developed in collaboration with a Vancouver-based biotech firm, AbCellera.
Scientists developed the antibody in just three months after AbCellera and the Vaccine Research Center at the National Institute of Allergy and Infectious Diseases (NIAID) identified it from a blood sample taken from one of the first US patients to recover from COVID-19. AbCellera screened over five million immune cells, looking for ones that produced functional antibodies that helped the patient neutralise the virus and recover from the disease. The company then identified over 500 unique fully human antibody sequences – which it says is the largest panel of antiSARS-CoV-2 antibodies ever reported – before screening those antibodies to find the ones most effective in neutralising the virus.
"At AbCellera, we work every day to make a difference in the lives of patients. Over the past three months, our scientists, software developers, engineers, and supporting teams have all worked tirelessly to make what seemed impossible a reality," said Ester Falconer, PhD, Head of Research and Development. "We feel privileged to be of service in the global fight against COVID-19."
LY-CoV555 – the candidate they produced – is a highly potent, neutralising IgG1 monoclonal antibody that targets the spike protein of SARS-CoV-2, the novel coronavirus that causes COVID-19. Its mechanism of action is designed to block viral attachment and entry into human cells.
"Lilly has moved with incredible speed and agility, and we are proud to work alongside them as they advance the first potential antibody treatment against COVID-19 into human trials," said Carl Hansen, PhD, CEO of AbCellera.
The first patients in this trial were dosed at Grossman School of Medicine, New York University, and Cedars-Sinai Hospital in Los Angeles. The randomised, placebo-controlled, double-blind Phase 1 trial aims to investigate the safety, tolerability and overall effects of LY-CoV555 following a single dose administered to participants hospitalised for COVID-19. If these Phase 1 results show the antibody can be safely administered, Lilly will initiate a Phase 2 proof of concept study to assess efficacy in non-hospitalised COVID-19 patients. The company also plans to study the drug in a preventative setting, focusing on vulnerable patients who historically are not optimal candidates for vaccines.
"Antibody therapies such as LY-CoV555 may have potential for both prevention and treatment of COVID-19, and may be particularly important for groups hardest hit by the disease – such as the elderly and those with compromised immune systems," explained Daniel Skovronsky, PhD, Lilly's Chief Scientific Officer and the President of Lilly Research Laboratories.
Lilly is already beginning large-scale manufacturing of the therapy, he added: "If LY-CoV555 becomes part of the near-term solution for COVID-19, we want to be ready to deliver it to patients as quickly as possible, with the goal of having several hundred thousand doses available by the end of the year."
Lilly is a company with a long history, going back to its founding in 1876. Its notable achievements include being the first company to mass-produce the polio vaccine developed by Jonas Salk; being among the first manufacturers of commercial penicillin; and one of the first pharmaceutical companies to produce human insulin using recombinant DNA. The first antibody treatment for COVID-19 might soon be added to that list, if these trials prove successful.
Comments »