8th July 2021
Sails boost cargo ship fuel efficiency by 20%
French tyre manufacturing giant Michelin, in collaboration with two Swiss inventors, has presented an innovative solution to help decarbonise maritime shipping.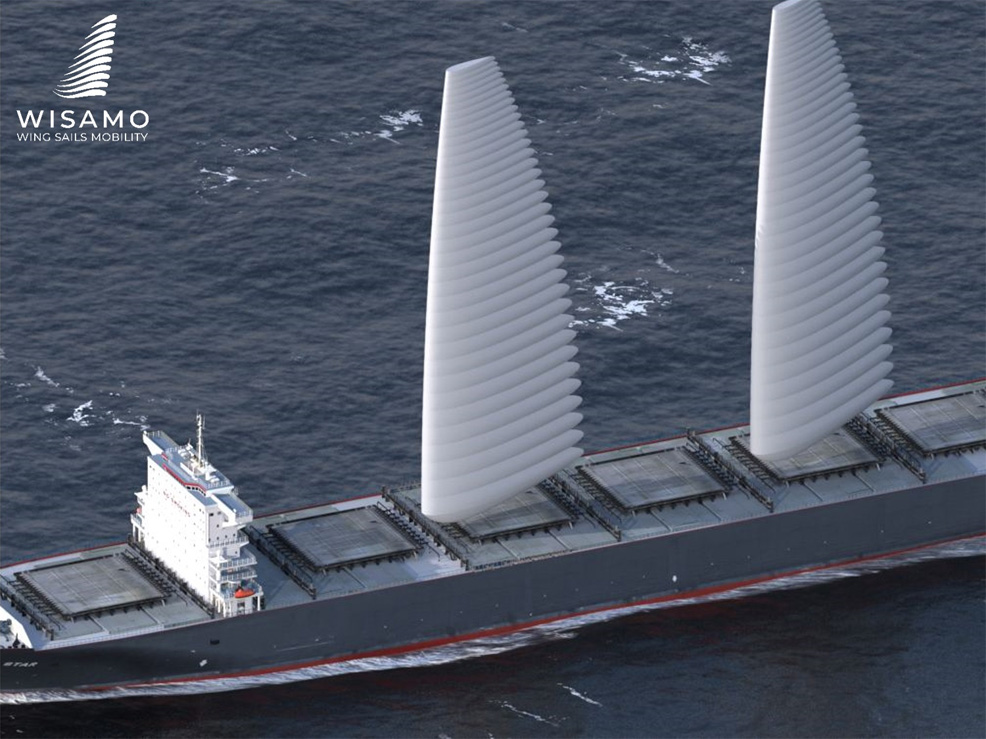 Michelin presented Wing Sail Mobility (WISAMO), illustrated in these renderings, at the recent Movin'On Summit on Sustainable Mobility. This concept involves an automated, telescopic, inflatable sail system for both merchant ships and pleasure craft. It can be fitted as original equipment on newbuild ships or retrofitted on in-service vessels.
The inflatable wing sail harnesses the wind, a free and inexhaustible source of propulsion. Its revolutionary design could allow ships to cut their fuel consumption by as much as 20% and thereby lower CO2 and other greenhouse gas emissions. According to the WISAMO project team, the system is particularly suitable for roll-on/roll-off (ro-ro) ships, oil and gas tankers, and bulk carriers.
The range of use is one of the market's broadest, with proven effectiveness on many points of sail, and especially when close-hauled (windward). It can be used on every maritime shipping route. The telescopic mast is retractable, making it easy for a large ship to enter harbours and pass under bridges.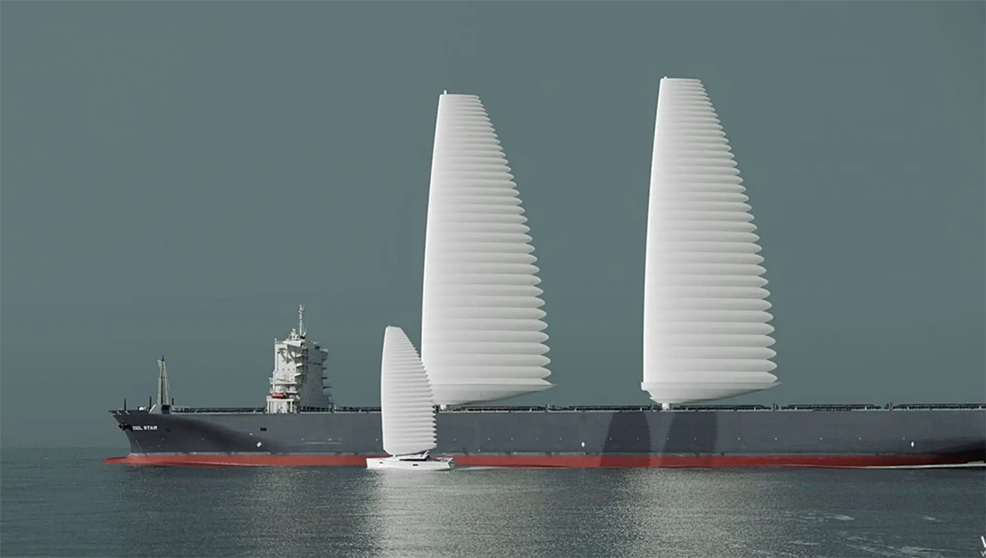 As of today, maritime transport emits 940 million tonnes of CO2 annually – quadruple the natural emissions from global volcanic activity – and is responsible for 2.5% of all human-caused greenhouse gas emissions. In a business-as-usual scenario, that figure may increase by as much as 250% by 2050, undermining the objectives of the Paris Agreement. New technical solutions such as WISAMO could help to reduce the demand for fossil fuels.
Michelin is collaborating with Michel Desjoyeaux, a world-renowned skipper and ambassador for the project. His input and technical knowledge of sailing will enable it to be tested in actual maritime shipping conditions. The WISAMO system will be trialled on a merchant ship in 2022, after which Michelin expects it to go into commercial production.
"The advantage of wind propulsion is that wind energy is clean, free, universal and totally non-controversial," said Desjoyeaux. "It offers a very promising avenue to improving the environmental impact of merchant ships."
As well as researching greener, more sustainable maritime transport, Michelin is taking action to reduce the environmental impact of its own supply chain and the tyres for which it is so famous. Earlier this year, the company announced a goal of boosting the percentage of sustainable components in its tyres from 28% to 100% by 2050. In related news, Michelin also unveiled a new motor racing tyre at the Movin'On summit, containing 46% sustainable materials and fitted to a GreenGT Mission H24 prototype. This hydrogen-powered endurance race car is expected to feature at the 24-hour Le Mans event in 2024.
"We share a core value with Movin'On and its partners, namely the deep belief that mobility, and movement in the broadest sense of the term, are inherent to life and a source of progress," said Florent Menegaux, Managing Chairman of Michelin. "The innovative solutions we are presenting at this year's global sustainable mobility summit offer tangible, real-world proof of our determination to make mobility increasingly sustainable."
There are currently 60,000 cargo ships operating around the world, of which 15 sail using wind-assisted propulsion devices. Five more are expected by the end of this year. By late 2022, the total number could double to around 40 vessels, according to the International Windship Association. Could we be seeing the start of yet another exponential trend in technology? If the growth rate continues, with more and more large vessels using the wind systems developed by Michelin and other companies, the shipping industry could be revolutionised in the 2030s.
---
• Follow us on Twitter
• Follow us on Facebook
• Subscribe to us on YouTube
Comments »