8th June 2015
New mobile app could revolutionise human rights justice
The International Bar Association (IBA) today launched the eyeWitness app – a new tool for documenting and reporting human rights atrocities in a secure and verifiable way, so the information can be used as evidence in a court of law.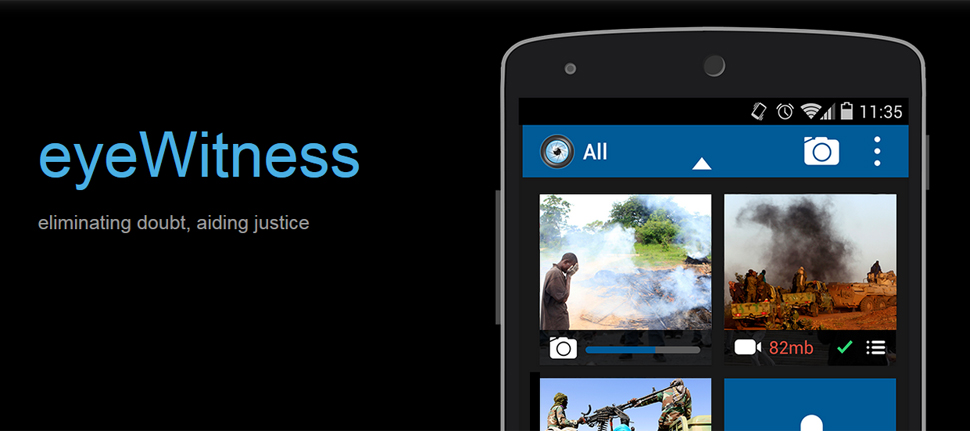 With social media increasingly the forum for communicating human rights, many online images have raised awareness of atrocities around the world but typically lack the attribution or information necessary to be used as evidence in a court of law. Now anyone with an Android-enabled smart phone – including human right defenders, journalists, and investigators – can download the eyeWitness to Atrocities app and help hold accountable the perpetrators of atrocity crimes, such as genocide, crimes against humanity, torture and war crimes.
"The eyeWitness to Atrocities app will be a transformational tool in the fight for human rights, providing a solution to the evidentiary challenges surrounding mobile phone footage," said IBA Executive Director Mark Ellis. "Until now, it has been extremely difficult to verify the authenticity of these images and to protect the safety of those brave enough to record them. As an advocate for the voiceless, the International Bar Association is dedicated to empowering activists on the ground who are witnessing these atrocities with the ability to bring criminals to justice."
The app design is based on extensive research on the rules of evidence in international, regional and national courts and tribunals. It includes several features to guarantee authenticity, facilitate verification and protect confidentiality by allowing the user to decide whether or not to be anonymous.
"Putting information and technology in the hands of citizens worldwide has a powerful role to play in advancing the rule of law," said Ian McDougall, EVP and General Counsel of LexisNexis Legal & Professional, which partnered with the IBA. "LexisNexis Legal & Professional's world class data hosting capabilities will provide the eyeWitness programme with the same technology that we use to safeguard sensitive and confidential material for our clients every day. It's all part of our company's broader commitment to advancing the rule of law around the world, as we believe every business has a role to play in building a safer, more just global society."
How the App Works
When a user records an atrocity, the app automatically collects and embeds into the video file GPS coordinates, date and time, device sensor data and surrounding objects, such as Bluetooth and Wi-Fi networks. The user has the option of adding any additional identifying information about the image. This metadata will provide information integral to verifying and contextualising the footage. The images and accompanying data are encrypted and securely stored within the app. The app also embeds a chain of custody record to verify that the footage has not been edited or digitally manipulated. The user then submits this information directly from the app to a database maintained by the eyeWitness organisation.
Once the video is transmitted, it is stored in a secure repository that functions as a virtual evidence locker safeguarding the original, encrypted footage for future investigations and legal proceedings. The submitted footage is only accessible by a group of legal experts at eyeWitness who will analyse the footage and identify the appropriate authorities, including international, regional or national courts, to pursue relevant cases.
"The IBA is proud to be spearheading the project and allocating $1 million of IBA reserves as part of its efforts to promote, protect and enforce human rights under a just rule of law," said David Rivkin, IBA President. The IBA is working in partnership with LexisNexis Legal & Professional, a part of RELX Group, which is hosting the secure repository, database and backup system to store and analyse data collected via the app. The IBA is also partnering with human rights organisations to put the app in the hands of those working in some of the world's most severe conflict zones.
"The eyeWitness app promises to revolutionise the effectiveness of ground-level human rights reporting," said Deirdre Collings, Executive Director of the SecDev Foundation, a Canadian research organisation. "We also see the app's usefulness for media activists in conflict and authoritarian environments who undertake vital but high-risk reporting. We're proud to include eyeWitness in our training programme for our partners in Syria and will be rolling it out across our projects in the CIS region and Vietnam."
Established in 1947 and headquartered in London, the IBA is the world's leading organisation of international legal practitioners, bar associations and law societies. Through its global membership of individual lawyers, law firms, bar associations and law societies, it influences the development of international law reform and shapes the future of the legal profession throughout the world.
30th May 2015
Cheetah robot can jump over obstacles
Engineers at the Massachusetts Institute of Technology (MIT) have developed a new version of the Cheetah robot, which is able to leap over obstacles while running at high speed. The eerily lifelike machine uses a laser distance sensor and real-time algorithms to perceive its environment. In this demonstration video, it is shown hurdling objects up to 40cm (16") in height, and performing multiple jumps without a safety harness.
"A running jump is a truly dynamic behaviour," says Sangbae Kim, assistant professor of mechanical engineering, in a press release. "You have to manage balance and energy, and be able to handle impact after landing. Our robot is specifically designed for those highly dynamic behaviours."
In the future, this robot – and others like it – may serve important functions in the military. They could scout ahead of soldiers to provide real-time information on the battlefield, for example, or relieve troops of the burden of carrying ammunition, food, medical supplies, batteries and other equipment. These machines could also be useful in search and rescue operations, able to access difficult or remote terrain that would defeat other types of vehicle.
1st February 2015
U.S. Navy announces progress with railgun technology
The Electromagnetic Railgun – a weapon that will play a major role in the future of the U.S. Navy – will be shown to the public for the first time on 4th-5th February at a technology expo in Washington DC, the Office of Naval Research (ONR) has announced.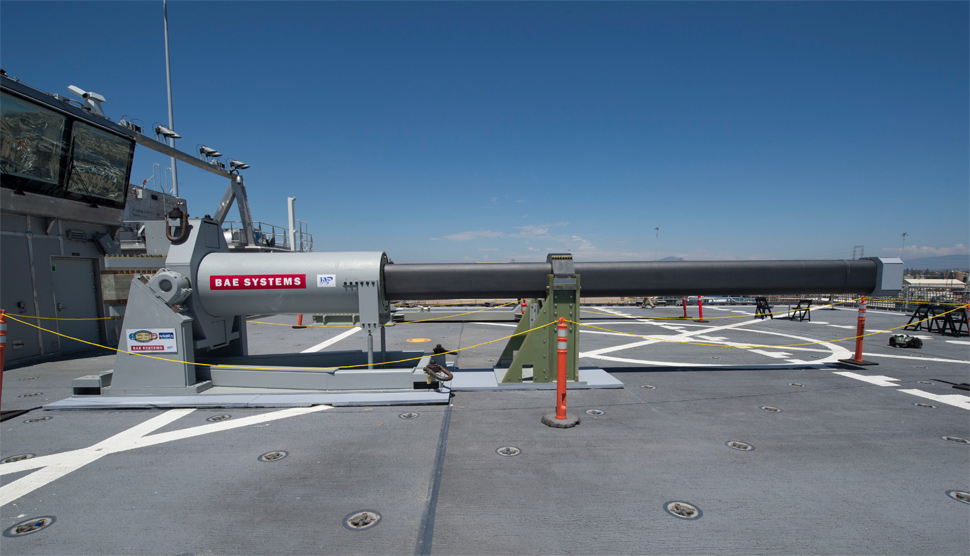 The EM Railgun is a long-range weapon that fires projectiles using electricity instead of chemical propellants. Magnetic fields created by high electrical currents accelerate a sliding metal conductor, or armature, between two rails to launch projectiles at 4,500 mph – nearly six times the speed of sound. Unlike traditional artillery that destroy targets using explosive materials, the railgun inflicts damage by the extreme speed of impact. The kinetic energy of the warhead also eliminates the hazards of storing high explosives in the ship and leaving unexploded ordnance on the battlefield. Its pinpoint accuracy and phenomenal range (over 100 miles) will be a "game-changing and disruptive technology" according to the U.S. Navy. Each 18-inch projectile will cost about $25,000, compared to $500,000 to $1.5 million for conventional missiles.
A prototype program was started in 2005 and demonstrated proof-of-concept at 32 megajoules of energy. Phase II, which began in 2012, has been focussed on rep-rate fire capability and thermal management techniques required for sustained use. This program continues to make progress and is now scheduled for at-sea testing aboard a Joint High Speed Vessel – USNS Millinocket – in 2016. When perfected, it is hoped that the final version of the railgun will achieve 64 megajoules of energy, with an even longer range.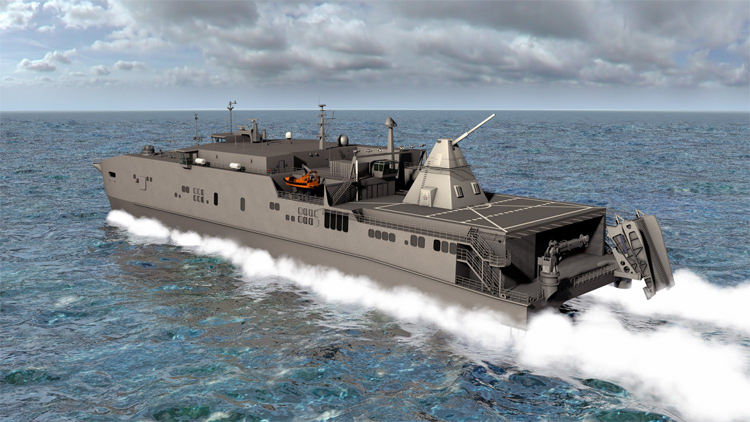 Experts from the ONR, Naval Sea Systems Command and BAE Systems will showcase the railgun to the public, for the first time, on 4th-5th February at the Naval Future Force S&T EXPO, the Navy's premier event to share information, discuss research opportunities and build science and technology partnerships between the Navy and Marine Corps, industry and academia.
"This year's Expo will showcase the naval portfolio of innovative breakthrough technologies that are shaping our warfighting tactics today and changing the way our Sailors and Marines will operate in the future," says Rear Admiral, Mat Winter. "The Electromagnetic Railgun is among several disruptive capabilities that the Naval Research Enterprise is championing to ensure a dominant, capable and relevant naval force for the future."
"The Electromagnetic Railgun brings significant technological advances to our Sailors and Marines," says Roger Ellis, program manager at ONR. "As the system moves forward along its planned schedule from the laboratory launcher, we've achieved breakthroughs in compact power and gun design, and will test the next phase of prototype at both sea- and land-based sites in 2016 and 2017."
The video below is of some earlier testing conducted in 2012. Further advances in reducing the mass, size and cost of the required power supplies could lead to railguns becoming practical and used routinely on U.S. Navy ships by 2025.