12th November 2016
Graphic cigarette warnings could prevent 652,000 deaths over next 50 years
A study published in the journal Tobacco Control finds that graphic warnings on cigarette packs could prevent 652,000 deaths in the U.S. over the next 50 years.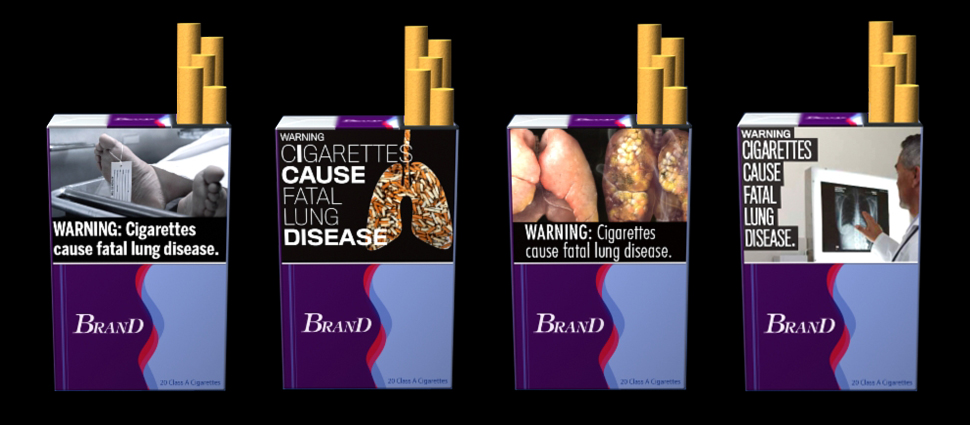 Using prominent, graphic images on cigarette packs warning against the dangers of smoking could avert more than 652,000 deaths, up to 92,000 low birth weight infants, up to 145,000 preterm births, and about 1,000 cases of sudden infant deaths in the U.S. over the next 50 years, say researchers from Georgetown Lombardi Comprehensive Cancer Center.
Their study, published online in the journal Tobacco Control, is the first to estimate the effects of pictorial warnings on cigarette packs on the health of both adults and infants in the U.S.
Although more than 70 nations have adopted or are considering adopting the World Health Organisation's Framework Convention for Tobacco Control to use such front and back of-the-pack warnings, they have not been implemented in the U.S. These pictorial warnings have been required by law, but an industry lawsuit has stalled implementation. Currently, a text-only warning appears on the side of cigarette packs in the U.S.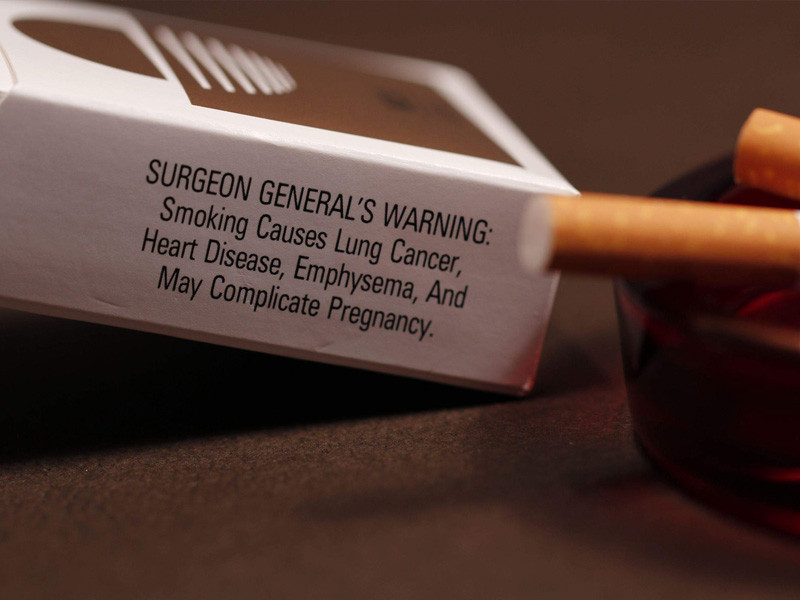 The study used a tobacco control policy model, known as "SimSmoke", developed by Georgetown Lombardi's David T. Levy, PhD, which looks at the effects of past smoking policies, as well as future policies. SimSmoke is peer-reviewed, and has been used and validated in more than 20 countries.
In this study, Levy and his colleagues looked at changes in smoking rates in Australia, Canada and the UK, which have already implemented prominent pictorial warning labels (PWLs). Eight years after PWLs were implemented in Canada, there was an estimated 12 to 20 percent relative reduction in smoking prevalence. After PWLs began to be used in Australia in 2006, adult smoking prevalence fell from 21.3 percent in 2007 to 19 percent in 2008. After implementation in the UK during 2008, smoking prevalence fell 10 percent in the following year.
The researchers used these and other studies and, employing the SimSmoke model, estimated that implementing PWLs in the U.S. would directly reduce smoking prevalence in relative terms by 5 percent in the near term, increasing to 10 percent over the long-term. If implemented in 2016, PWLs are estimated to reduce the number of smoking attributable deaths (heart disease, lung cancer and COPD) by an estimated 652,800 by 2065.
"The bottom line is that requiring large pictorial warnings would help protect the public health of people in the United States," says Prof. Levy. "There is a direct association between these warnings and increased smoking cessation and reduced smoking initiation and prevalence. That would lead to significant reduction of death and morbidity, as well as medical cost."
As of today, 40 percent of cancers diagnosed in the U.S. may have a link to tobacco use, according to the Centres for Disease Control and Prevention (CDC). It is the leading preventable cause of cancer and cancer deaths. Tobacco causes more than just lung cancer – based on current evidence, it can cause cancers of the mouth and throat, voice box, oesophagus, stomach, kidney, pancreas, liver, bladder, cervix, colon, rectum and a type of leukaemia. At least 70 chemicals found in tobacco smoke are known to cause cancer, with exposure to second-hand smoke (aka passive smoking) also causing it. Cigarette smoking is estimated to result in $289 billion a year in medical costs and productivity loss. About 70% of all smokers want to quit – and if they do so before the age of 40, they can gain almost all of the 10 years of life expectancy they would otherwise have lost.
"There are more than 36 million smokers in the U.S.," says Tom Frieden, CDC Director. "Sadly, nearly half could die prematurely from tobacco-related illnesses, including 6 million from cancer, unless we implement the programs that will help smokers quit."
New data released from the National Health Interview Survey shows that cigarette smoking among U.S. adults declined from 20.9 percent (45.1 million) in 2005 to 15.1 percent (36.5 million) in 2015. During 2014-2015 alone, there was a 1.7 percentage point decline, resulting in the lowest prevalence of adult cigarette smoking since the CDC's NHIS began collecting such data in 1965.
"When states invest in comprehensive cancer control programs – including tobacco control – we see greater benefits for everyone, and fewer deaths from tobacco-related cancers," said Lisa Richardson, director of CDC's Division of Cancer Prevention and Control. "We have made progress, but our work is not done."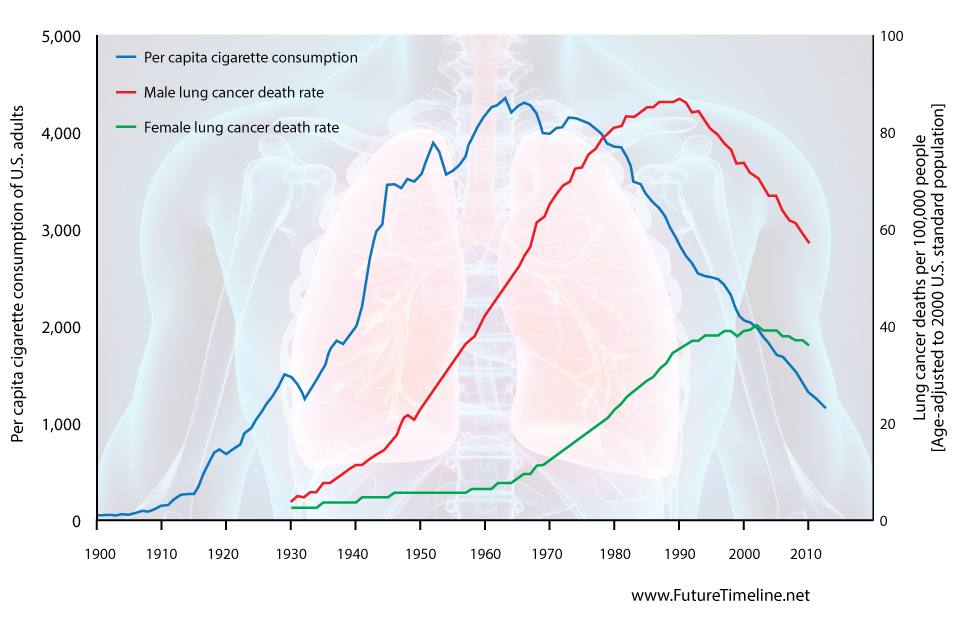 ---
• Follow us on Twitter
• Follow us on Facebook
19th October 2016
1 in 4 millennials would prefer a giant meteor strike to 2016 U.S. presidential candidates
Nearly a quarter of Americans aged 18 to 35 would rather see a giant meteor strike the Earth than see either Hillary Clinton or Donald Trump in the White House, according to the University of Massachusetts Lowell/Odyssey Millennials poll released yesterday.
The poll asked millennials to choose their preference between Hillary Clinton as president, Donald Trump as president, a random lottery to choose the president from all U.S. citizens, Barack Obama appointing himself to a life term as president, or a giant meteor striking the Earth and extinguishing all human life. Over a Clinton or Trump presidency, 39% of those surveyed said they preferred Obama serve a life term; 26% prefer a random lottery to choose the next president and 23% (nearly 1 in 4) prefer a giant meteor strike.
The national poll – conducted from 10th-13th October – asked millennials (1247 American adults aged 18-35; 966 registered voters; 680 likely voters) about their attitudes and opinions on the upcoming election, from irreverent options to the candidates to serious issues such as race relations, immigration and the legalisation of marijuana.
"We do not take our respondents at their word that they are earnestly interested in seeing the world end, but we do take their willingness to rank two constitutional crises and a giant meteor ahead of these two candidates with startling frequency as a sign of displeasure and disaffection with the candidates and the 2016 election," said Prof. Joshua Dyck, co-director of UMass Lowell's Center for Public Opinion, who wrote and analysed the independent, nonpartisan poll.
By a 3-to-1 margin, millennials who are "likely" voters prefer Democrat Hillary Clinton to Republican Donald Trump in a head-to-head race for president, 66% to 22%, with 12% undecided. When third-party candidates are included, Clinton gets 61% of likely voters' support, Trump stays at 22%, Libertarian Gary Johnson gets 9%, Jill Stein of the Green Party gets 5% and only 3% are undecided.

Hillary Clinton

Democratic Party

61%

Donald Trump

Republican Party

22%

Gary Johnson

Libertarian Party

9%

Jill Stein

Green Party

5%

Undecided

3%
The poll found that millennials dislike Trump and have reservations about Clinton. Trump is viewed favourably by only 25% of registered voters surveyed, compared to 72% who view him unfavourably. Only 19% view him as level-headed, 20% said he had the right experience to be president and 23% believe he cares about people like them. Majorities of respondents also said they view Trump as dishonest, lacking leadership and someone who would not bring the right kind of change to the country. 63% of likely voters said he should drop out of the presidential race.
When it came to Hillary Clinton, 56% of those surveyed said they view her favourably, far less than the approval rating for Bernie Sanders (73%) and Barack Obama (71%). Clinton's biggest liability, according to the millennials surveyed, is honesty (only 36% say she is honest) and 46% said she takes responsibility for her mistakes. 71% said they believe she is intelligent (compared to 35% for Trump), 67% said she has the right experience to be president (compared to 20% for Trump) and 60% said she is level-headed (compared to 19% for Trump). However, millennials are split on whether she cares about people like them (55% said yes, 45% said no) and whether she would bring the right kind of change to the country (51% yes to 49% no).
Millennials were also asked how they would vote if Bernie Sanders was the Democratic candidate instead of Hillary Clinton. In a head-to-head matchup between Trump and Sanders, 67% of millennials would choose Sanders compared to 23% for Trump and 10% were undecided, the same margin (44%) by which Clinton leads Trump in a head-to-head matchup of likely voters. However, among those surveyed who said they were "not likely" to vote, Sanders leads Trump 63% to 15%, with 22% undecided, compared to Clinton leading Trump 42% to 21% with 37% undecided among the same group. The results could be an indicator that Sanders supporters in the millennial age group are still unwilling to support Clinton, and may not plan to vote in the election as a result. However, among Sanders supporters who do intend to vote, they are choosing Clinton over Trump.
Survey respondents were also asked who they would vote for if it was Republican vice presidential candidate Mike Pence, rather than Trump, facing Clinton for the presidency. The poll found Clinton leads Pence among likely voters 63% to 21%, a margin that is almost identical to her lead over Trump.
These results could indicate that, regardless of who the candidates are, millennial voters' preferences are influenced by party identification. Millennials are identifying as Democrats by a nearly 3-to-1 margin. This trend may be a troubling one for the Republican Party if millennials continue on the same ideological path in the future.
"In the 2004 election, young voters were closely divided," said Prof. Dyck. "Democrat John Kerry won 18- to 29-year-olds by 11 points. But since 2008, we have seen a significant shift, with millennials abandoning the GOP in large numbers. The nomination of Donald Trump appears only to have made things worse for Republicans, with fewer than 1 in 4 likely voters 18 to 35 years old supporting the candidate. Since party identification is something that people tend to carry with them throughout their lives, the GOP is not just digging a hole in this election, but also setting the stage for future losses as millennials get older and become a bigger part of the electorate."
Michael Luciano, director of editorial innovation for Odyssey, echoed that opinion: "Among millennials, Hillary Clinton is beating Donald Trump by a significantly larger margin than we saw Barack Obama beat John McCain and Mitt Romney in 2008 and 2012, respectively. As the largest demographic in the country, millennials are going to play an increasingly bigger role in elections in the coming years. If Republicans want to be competitive in future presidential races, they need to reverse what they should consider a troubling trend among the millennial generation."
Other findings from the poll include:
• The only issue that a clear majority of 18-35 year olds agree on is supporting the legalisation and usage of recreational marijuana (58%).
• Trust in government institutions is low – except for teachers, universities, military, police and fire departments.
• Millennials do not believe you can be too careful in dealing with others (58%), think that people are mostly looking out for themselves (55%) and that most people would take advantage if they got the chance (70%).
• Racial disparities are evident throughout question responses, indicating very different perspective on racial discrimination between white and non-white millennials.
The full results of the UMass Lowell/Odyssey Millennials poll are available here: https://www.uml.edu/docs/TOPLINE-Millennials_tcm18-263895.pdf

---
• Follow us on Twitter
• Follow us on Facebook
6th October 2016
Scientists calculate the upper limit of human lifespan
Gains in the maximum human lifespan reached a plateau in the 1990s, according to researchers. They report that the absolute physical limit of human lifespan is 125 years.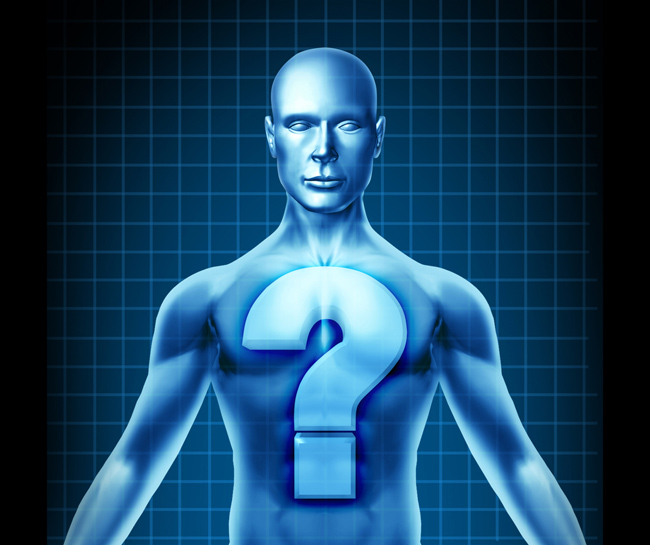 A study published yesterday in Nature by the Albert Einstein College of Medicine suggests that it may not be possible to extend the human lifespan beyond the ages already attained by the oldest people on record.
Since the 19th century, average life expectancy has risen almost continuously – thanks to improvements in public health, diet, living standards and other areas. On average, for example, U.S. babies born today can expect to live to nearly 79, compared with only 47 for those born in 1900. Since the 1970s, the maximum duration of life – the age to which the oldest people live – has also risen. But according to the Einstein College researchers, this upward arc for maximal lifespan has a ceiling: and we've already touched it.
"Demographers, as well as biologists, have contended there is no reason to think that the ongoing increase in maximum lifespan will end soon," said senior author Jan Vijg, Ph.D., professor and chair of genetics. "But our data strongly suggest that it has already been attained and that this happened in the 1990s."
Dr. Vijg and his colleagues analysed data from the Human Mortality Database, which compiles mortality and population data from more than 40 nations. Since 1900, those countries generally show a decline in late-life mortality: the fraction of each birth cohort (i.e. people born in a particular year) who survive to old age (defined as 70 and up) increased with their calendar year of birth, pointing toward a continuing increase in average life expectancy.
But when the researchers looked at survival improvements since 1900 for people aged 100 and above, they found that gains in survival peaked at around 100 and then declined rapidly, regardless of the year people were born. "This finding indicates diminishing gains in reducing late-life mortality and a possible limit to human lifespan," said Dr. Vijg.
He and his colleagues then looked at "maximum reported age at death" data from the International Database on Longevity. They focused on people verified as living to age 110 or older between 1968 and 2006 in the four countries (the U.S., France, Japan and the U.K.) with the largest number of long-lived individuals. Age at death for these supercentenarians increased rapidly between the 1970s and early 1990s, but reached a plateau around 1995 – further evidence for a lifespan limit. This plateau, the researchers note, occurred close to 1997 – the year of death for 122-year-old French woman, Jeanne Calment, who achieved the maximum documented lifespan of any person in history.
Using maximum-reported-age-at-death data, the Einstein researchers put the average maximum human lifespan at 115 years – a calculation allowing for record-oldest individuals occasionally living longer or shorter than 115 years (Jeanne Calment, they conclude, was a statistical outlier). Finally, they calculate 125 years as the absolute limit of human lifespan. Expressed another way, this means the probability in any given year of seeing a person live to 125 anywhere in the world is less than 1 in 10,000.
"Further progress against infectious and chronic diseases may continue boosting average life expectancy – but not maximum lifespan," says Dr. Vijg. "While it's conceivable that therapeutic breakthroughs might extend human longevity beyond the limits we've calculated, such advances would need to overwhelm the many genetic variants that appear to collectively determine the human lifespan. Perhaps resources now being spent to increase lifespan should instead go to lengthening healthspan – the duration of old age spent in good health."
---
• Follow us on Twitter
• Follow us on Facebook
3rd October 2016
Measles has officially been eradicated from the Americas
The Region of the Americas is the first in the world to have officially eliminated measles, a viral disease that can cause severe health problems including pneumonia, brain swelling and even death. This achievement culminates a 22-year effort involving mass vaccination against measles, mumps and rubella throughout the Americas.
The declaration of measles' elimination was made by the International Expert Committee for Documenting and Verifying Measles, Rubella, and Congenital Rubella Syndrome Elimination in the Americas. The announcement came during the 55th Directing Council of the Pan American Health Organisation/World Health Organisation (PAHO/WHO), attended by ministers of health from throughout the region.
Measles is the fifth vaccine-preventable disease to be eliminated from the Americas, after the regional eradication of smallpox in 1971, polio in 1994, and rubella and congenital rubella syndrome in 2015.
"This is a historic day for our region and indeed the world," said Carissa Etienne, PAHO/WHO Director. "It is proof of the remarkable success that can be achieved when countries work together in solidarity towards a common goal. It is the result of a commitment made more than two decades ago, in 1994, when the countries of the Americas pledged to end measles circulation by the turn of the 21st century."
Before mass vaccination was initiated in 1980, measles caused nearly 2.6 million annual deaths worldwide. In the Americas, 101,800 deaths were attributed to the disease between 1971 and 1979. A cost-effectiveness study on measles elimination in Latin America and the Caribbean has estimated that with vaccination, 3.2 million measles cases will have been prevented in the region and 16,000 deaths between 2000 and 2020.
"This historic milestone would never have been possible without the strong political commitment of our Member States in ensuring that all children have access to life-saving vaccines," Etienne continued. "It would not have been possible without the generosity and commitment of health workers and volunteers who have worked so hard to take the benefits of vaccines to all people – including those in vulnerable and hard-to-reach communities."
Measles transmission had been considered interrupted in the region since 2002, when the last endemic case was reported in Venezuela. However, as it continued to circulate in other parts of the world, some countries in the Americas experienced imported cases, with over 5,000 reported infections between 2003 and 2014. The Expert Committee reviewed evidence presented by all the countries of the region between 2015 and August 2016 and decided that it met the established criteria for elimination. This process included six years of work with countries to document evidence of the elimination.
As a result of worldwide measles elimination efforts, only 245,000 measles cases were reported globally in 2015, a substantial decline from earlier years. More than a half of these reported cases were in Africa and Asia. To maintain measles elimination, the Expert Committee have recommended that all countries of the Americas strengthen active surveillance and maintain their populations' immunity through routine vaccination.
"I would like to emphasise that our work on this front is not yet done," warned Etienne. "We cannot become complacent with this achievement but must rather protect it carefully. Measles still circulates widely in other parts of the world, and so we must be prepared to respond to imported cases. It is critical that we continue to maintain high vaccination coverage rates, and it is crucial that any suspected measles cases be immediately reported to the authorities for rapid follow-up."
Under the WHO's Global Vaccine Action Plan, measles will be wiped out by 2020 everywhere except Southeast Asia. Humanity is clearly winning the fight against this particular virus.
---
• Follow us on Twitter
• Follow us on Facebook