28th December 2013
The decline of the bank robber
Better technology and improved security measures have cut robberies in British banks by over 90 per cent in less than two decades, new figures reveal.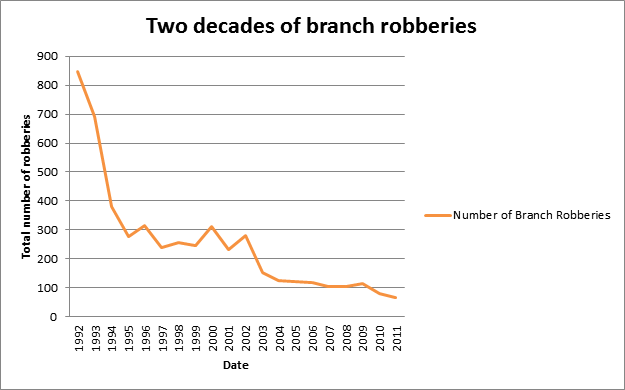 Industry-wide figures show that there were just 66 such robberies in 2011 – down from 847 in 1992.

Experts say the decline in branch robberies is due to:
Advances in branch security, with more CCTV cameras, screens to protect staff and even specialist fog to disperse criminals.


Staff now have access to smaller amounts of cash due to time-delay safes, teller recycling machines and growing use of automated teller machines (ATMs) in branches.


Closer co-operation between banks, police, post offices and other victims of armed gangs to share information about gangs.


Better training to ensure staff are better prepared to handle robberies.
DNA spray is another common deterrent – robbers are coated with a unique, traceable material that is extremely difficult to wash off skin and can prove that a suspect was at the premises of a robbery.
"Banks are working hard to confine armed robberies to the world of TV dramas," said Anthony Browne, CEO of the British Bankers' Association. "Being caught up in a bank job is a terrifying ordeal for staff and customers that can scar lives for decades. It's great to see the number of these crimes has fallen sharply in recent years."
"Anyone trying to rob a bank now faces much better CCTV, protective screens that can rise in less than a second and even special fog designed to disperse criminals. Banks will continue to work closely with each other, post offices and the police to make such raids a thing of the past."
A similar trend has been experienced in the US, according to FBI figures for 2012. Such crimes may be even more difficult (if not impossible) in the future as we move towards a cashless society. Physical currency may disappear entirely.
22nd December 2013
Bedroom of the future revealed
Self-cleaning blankets, furniture that monitors your health, bedside holograms... all of these features and more could appear in the bedrooms of the future.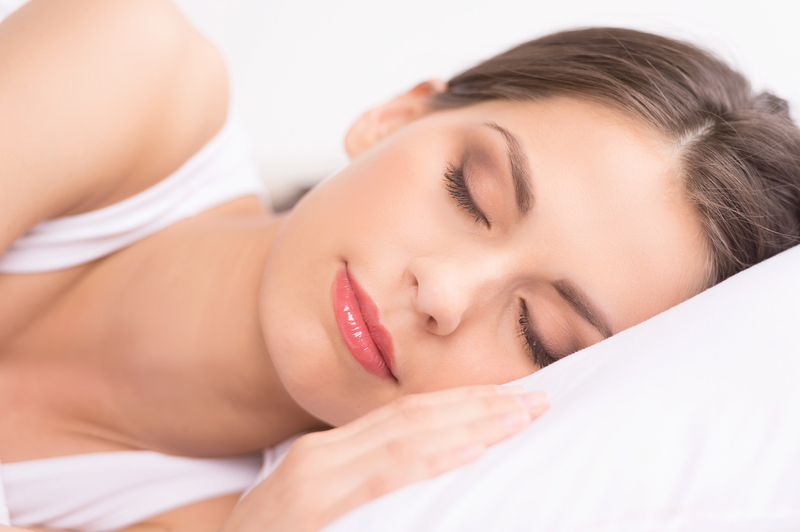 We love our bedrooms. Over two-thirds of us (68%) say this is the room we enjoy spending most of our time in. As the bedroom – and the bed in particular – increasingly becomes the 'hub of the home', we're also very clear about what we want from the Bedroom of the Future. According to a recent survey by the Sleep Council, the top five features people would like to see are:

1. Self-cleaning/bacteria-resistant materials, i.e. mattresses with self-sterilisation systems (47%)
2. Heat/humidity adaptive materials, i.e. mattresses that heat/cool in response to conditions (42%)
3. Smart Bed monitoring your vital statistics as you sleep, i.e. warning you if you have an infection, oncoming cold or if you are about to have a heart attack (33%)
4. Seasonally adaptive lighting, i.e. lights that turn on in darker winter months to help you wake up in the morning (32%)
5. Energy-harvesting flooring and fixtures, i.e. carpet that attracts light and transfers this to usable energy (24%)
The survey, which interviewed 2,042 people across the UK, also found:
• 27% now surf the Internet in their bedrooms, compared to only 11% a decade ago
• 17% now talk on the phone in their bedrooms, compared to only 10% a decade ago
• 55% are intimate in the bedroom with their partner, compared to 65% a decade ago
• 62% of 16-24 year olds like to eat in their bedrooms, compared to only 22% of respondents overall. This age group likes to do most things in their bedrooms, in fact: 28% do hobbies/crafts (compared to only 8% overall); 76% listen to music (compared to only 36% overall); and 28% like to exercise (compared to only 12% overall)
• Reading is still among the favourite bedroom activities (65%), second only to sleeping
Some of the quirkier and more interesting responses from people, when asked what features they would like in their bedroom of the future (and bed specifically) were as follows:

- A hologram of Mr Darcy to read to you
- Ambient sounds, e.g. falling asleep to rainfall, or waking to birdsong
- A bed that raises you to standing position on awakening
- Personally adapted supportive mattress to ensure the body wakes up without aches and pains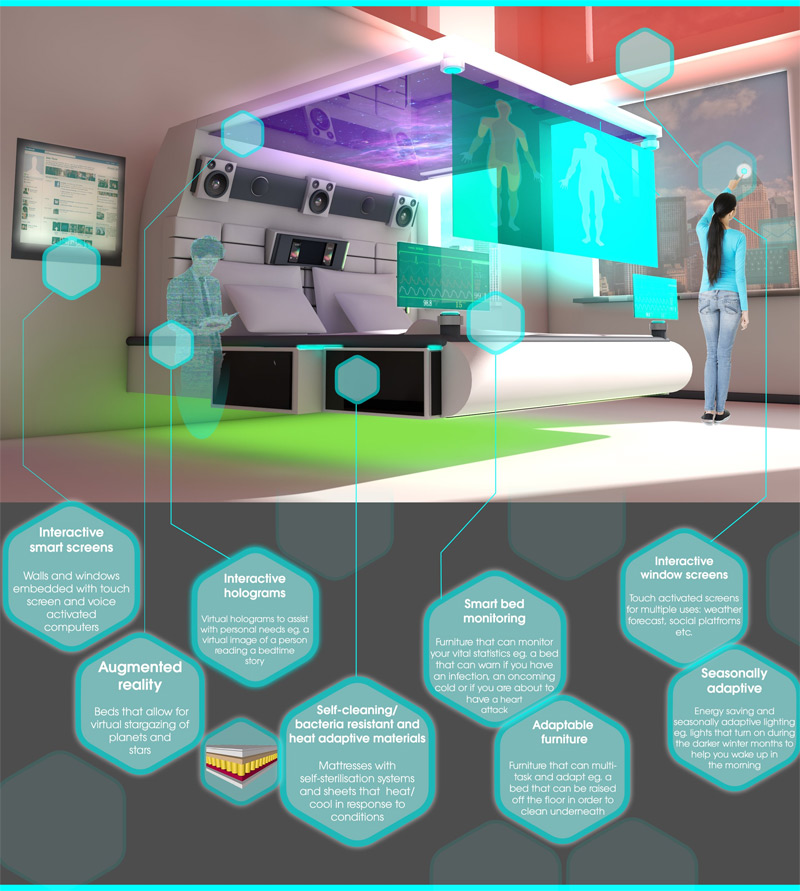 Design scientist and futurist Melissa Sterry, a leading authority on the homes and cities of the future, said of the survey: "The message we're getting is clear. While new science and technology presents many novel and interesting applications, the bedroom and the bed of the future that people actually want is that which benefits their health and wellbeing. Four out of the top five features the public chose for their future bedroom enhance comfort, mood and safety and three of the five features relate directly to the bed. So, no matter how many other activities we do in our bedrooms, it seems sleep is – and will remain – the most important of these."
Carpetright (multi-national carpet and bed retailer): "We see the bed of the future being super high-tech: a sleek and curved bed that floats using clever magnetic forces, helping it to literally become our daily cloud of comfort. Imagine climbing into a bed that recognises you as the sleeper and adjusts accordingly, providing optimum support, comfort and temperature as well as regulating moisture and allergens to provide the perfect sleeping environment and a heavenly night's sleep. By using a single device, such as a portable tablet, we'll be able to control the TV, our daily alarms and the temperature of the room. Of course we'll be able to check social media and emails on it too. It will be an all-in-one futuristic bed that folds itself away into the subfloor when not in use. So no longer will you need to worry about having enough bedroom space, as this perfect invention stores itself away at the click of a button."
8th November 2013
Public perceptions of future wearable computing
As scientists develop the next wave of smartwatches and other wearable computing, they might want to continue focusing their attention on the arms and the wrists. According to a recent study, portable electronic devices placed on the collar, torso, waist or legs may cause awkwardness, embarrassment or strange looks.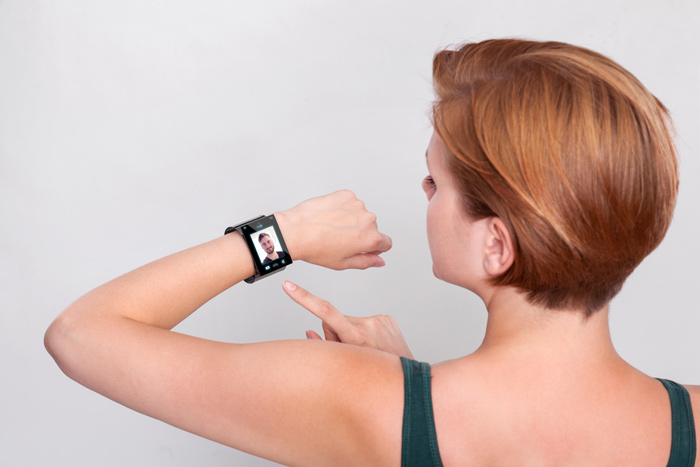 In a paper titled "Don't Mind Me Touching My Wrist," Georgia Tech researchers reported a case study of interaction with on-body technology in public. Specifically, they surveyed people in both the United States and South Korea to gain cultural insights into perceptions of e-textiles, or electronic devices, stitched into everyday clothing.
For the study, researchers directed participants to watch videos of people receiving incoming alerts from e-textile interfaces on various parts of their body including wrists, forearms, collarbones, torsos, waists and front pant pocket. They were asked to describe their thoughts about the interaction (such as whether it appeared normal, silly or awkward) and its placement on the body.
In general, the study found that in both countries, the wrist and forearm were the most preferred locations for e-textiles, as well as the most normal placement when watching someone use the devices.
"This may be due to the fact that these locations are already being used for wearable technology," said Halley Profita, former Georgia Tech industrial design graduate student, who led the study. "People strap smartphones or MP3 players to their arms while exercising. Runners wear GPS watches."
According to the study:
Gender of the technology user affected opinions about the interaction. For example, Americans were uncomfortable when men used a device located at the front pant pocket region or when women reached for their torsos or collarbones.


South Koreans reported exceptionally low acceptance of women using the devices anywhere except for their arms.


Respondents expressed differing views on the most important factors on deciding how to use e-textiles. Americans focused on ease of operation and accessibility; South Koreans raised personal perception issues.
"The South Koreans also said they wanted an easy-to-use system – but the technology should not make them look awkward or weird," Profita said. "This isn't surprising, because their culture emphasises modesty, politeness and avoidance of embarrassing situations."
The findings were presented at the International Symposium in Wearable Computing, held in Switzerland.
26th October 2013
A clear majority of Americans want marijuana to be legal
A new poll by Gallup has revealed that 58% of Americans now support the legalisation of marijuana. Only 39% are now against.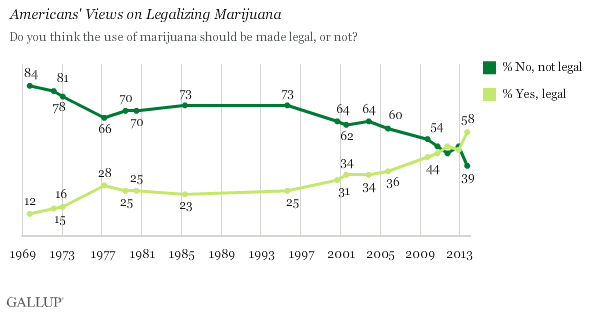 When Gallup first asked the question back in 1969, only 12% favoured legalisation of the drug. This figure had more than doubled by 1980. It then levelled off during the next two decades, before rising steadily again. In 2011, support reached a majority for the first time with 50% in favour and 46% against. The gap has now widened further – by a dramatic amount, in fact – as shown by the graph above.
Support for legalisation has risen across the political spectrum, but remains weakest among Republican voters, with only 35% in favour. For Democrats, the figure is 65%, up from 61% in 2012. The largest increase, by far, has occurred with independent voters, whose support has increased by a massive 12% – from 50% in 2012, to 62% now.

Perhaps unsurprisingly, age makes a difference too, with younger people more likely to be in favour. Among those aged between 18 and 29, over two-thirds believe marijuana should be legal. This decreases to 45% for those 65 and older.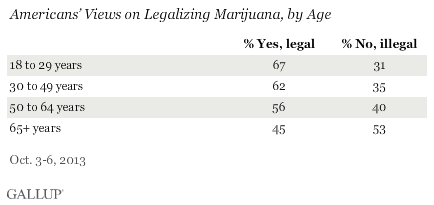 In the last year, recreational use of pot became legal in two states – Colorado and Washington. Over 20 states allow marijuana use for medical purposes. A sizable percentage of Americans (38%) this year admitted to having tried the drug, which may be a contributing factor to its greater acceptance.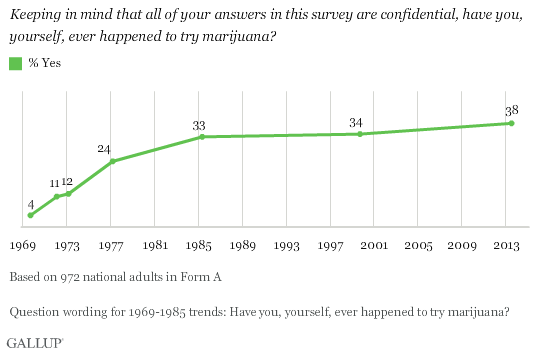 If these trends continue, and with Generation X playing a greater role in politics, there may come a tipping point in the not-too-distant future when marijuana is legal across many more states and – eventually – the entire nation. Taxing and regulating the drug could be financially beneficial, while freeing up police time, allowing officers to concentrate on more serious crimes.
17th October 2013
Nearly 30 million people are living in slavery, according to latest estimate
Slavery was banned globally by the UN Declaration of Human Rights in 1948. However, it continues to be a significant problem today. A new Global Slavery Index – the first of its kind – estimates that 29.8 million people are living as slaves in 2013.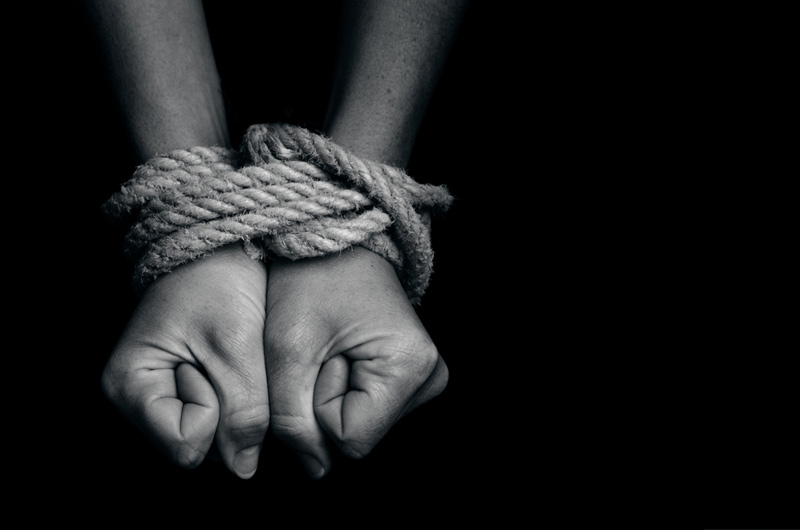 There is evidence of slavery that predates written records. It is thought to have first proliferated after the invention of agriculture during the Neolithic Revolution about 11,000 years ago. In today's world, there are various types of slavery. These include human trafficking, forced labour, forced marriage, debt bondage and child soldiers. In all cases, the victims are treated as property to be bought and sold, exploited and denied the freedom which others take for granted.
The Walk Free Foundation is a new global charity based in Perth, Australia, with a stated aim of ending modern slavery within a generation. It hopes to achieve this by mobilising a global activist movement, generating high quality research, enlisting businesses and raising unprecedented levels of capital, to drive change in those countries and industries bearing the greatest responsibility for slavery.
As part of this effort, Walk Free has just released the Global Slavery Index 2013 which it claims is the most accurate and comprehensive assessment of slavery that has ever been published. This survey has statistics for 162 countries, based on detailed consultations with an international panel of experts, think tanks, and academic institutions. It ranks each country using a combined measure of three factors — prevalence of modern slavery by population, the number of child marriages and the amount of human trafficking in and out of a country. The ranking is heavily weighted to reflect the first factor, prevalence.
In terms of the percentage of its population that is enslaved, Mauritania in West Africa is ranked first. It has an estimated 150,000 slaves — or about 4.47% in a total population of just 3,359,000. The Caribbean nation of Haiti is in second place (2.16%), with Pakistan ranked third (1.23%).
In terms of absolute numbers (as opposed to just percentages), India has by far the most slaves. As shown in this graph, there are nearly 14 million, almost half of the worldwide total. China follows, with an estimated 2.9 million enslaved, and Pakistan comes in third with slightly over two million. The top 10 countries together account for more than 22 million of the 29.8 million people enslaved. If the total number of slaves today was represented by a country, it would be equivalent to the entire population of Malaysia. If represented by a U.S. state, it would be second only to California in population.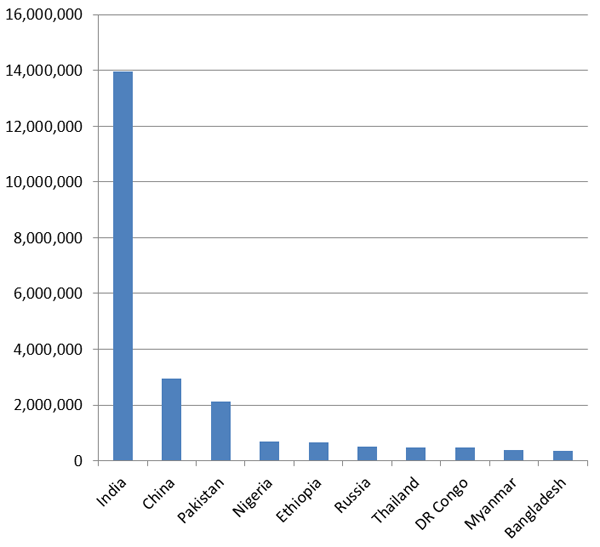 Iceland, Ireland and the United Kingdom are tied last, with a ranking of 160. This does not mean these countries are slavery-free. On the contrary, it is estimated that 4,200 – 4,600 people are in modern slavery in the UK alone.
Nick Grono, CEO of the Walk Free Foundation, says in a press release: "It would be comforting to think that slavery is a relic of history, but it remains a scar on humanity on every continent. This is the first slavery index, but it can already shape national and global efforts to root out modern slavery across the world. We now know that just ten countries are home to over three-quarters of those trapped in modern slavery. These nations must be the focus of global efforts."
Professor Kevin Bales, lead researcher on the Index: "Most governments don't dig deeply into slavery for a lot of bad reasons. There are exceptions, but many governments don't want to know about people who can't vote, who are hidden away, and are likely to be illegal anyway. The laws are in place, but the tools and resources and the political will are lacking. And since hidden slaves can't be counted it is easy to pretend they don't exist. The Index aims to change that."
The report is endorsed by individuals including former Secretary of State Hillary Clinton, former Prime Ministers Tony Blair, Gordon Brown and Julia Gillard; and leading philanthropists, Bill Gates, Sir Richard Branson and Mo Ibrahim, as well as academics, business leaders, and policy makers. It can be viewed at GlobalSlaveryIndex.org.
9th October 2013
Delayed aging is better investment than cancer or heart disease research
Following the recent announcement from Google that the company's next startup, Calico, will tackle the science of aging, a new study concludes that research to delay aging and the infirmities of old age would have better social and economic benefits than advances in individual fatal diseases like cancer or heart disease.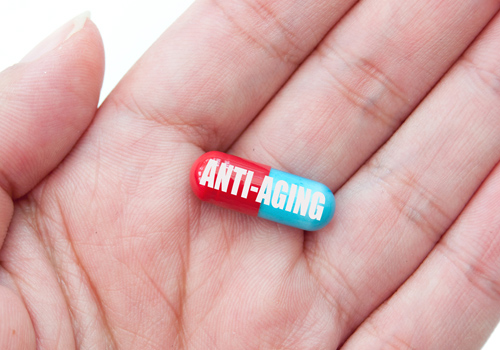 With even modest gains in our scientific understanding of how to slow the aging process, an additional 5 percent of adults in the U.S. over the age of 65 would be healthy rather than disabled every year from 2030 to 2060, revealed the study in the October issue of Health Affairs.
Put another way, an investment in delayed aging would mean 11.7 million more healthy adults over the age of 65 in 2060. The analysis, from top scientists at Harvard University, the University of Southern California, Columbia University, the University of Illinois at Chicago and other institutions, assumes research investment leading to a 1.25 percent reduction in the likelihood of age-related diseases. In contrast to treatments for fatal diseases, slowing aging would have no health returns initially, but would have significant benefits over the long term.
In the United States, the number of people aged 65 and over is expected to more than double in the next 50 years, from 43 million in 2010 to 106 million in 2060. About 28 percent of the current population over 65 is disabled.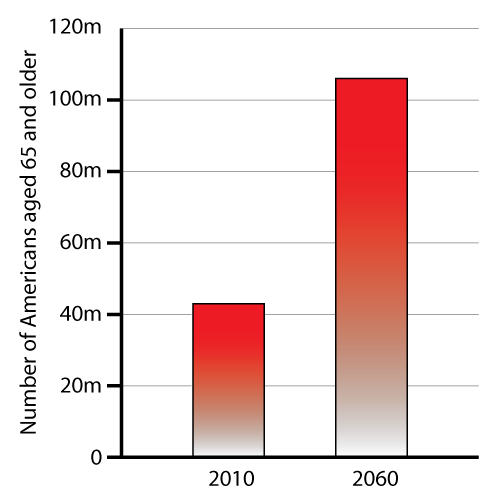 "In the last half-century, major life expectancy gains were driven by finding ways to reduce mortality from fatal diseases," said lead author Dana Goldman, holder of the Leonard D. Schaeffer Director's Chair at the USC Schaeffer Center for Health Policy and Economics. "But now disabled life expectancy is rising faster than total life expectancy, leaving the number of years that one can expect to live in good health unchanged or diminished. If we can age more slowly, we can delay the onset and progression of many disabling diseases simultaneously."
The study showed significantly lower and declining returns for continuing the current research "disease model," which seeks to treat fatal diseases independently, rather than tackling the shared, underlying cause of frailty and disability: aging itself.
Lowering the incidence of cancer by 25 percent in the next few decades — in line with the most favorable historical trends — would barely improve population health over not doing anything at all, the analysis showed. The same is true of heart disease, the leading cause of death worldwide: About the same number of older adults would be alive but disabled in 2060 whether we do nothing or continue to combat cancer and heart disease individually. The findings are in line with earlier research showing that curing cancer completely would only increase life expectancy by about three years.
"Even a marginal success in slowing aging is going to have a huge impact on health and quality of life. This is a fundamentally new approach to public health that would attack the underlying risk factors for all fatal and disabling diseases," said corresponding author S. Jay Olshansky of the School of Public Health at the University of Illinois-Chicago. "We need to begin the research now. We don't know which mechanisms are going to work to actually delay aging, and there are probably a variety of ways this could be accomplished, but we need to decide now that this is worth pursuing."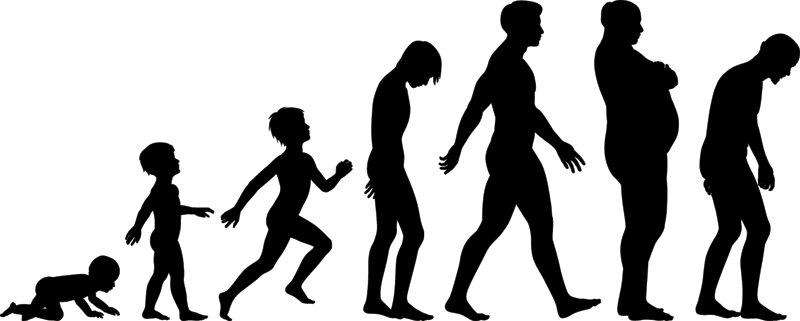 Several lines of scientific inquiry have already shown how we might age more slowly, including studies of the genetics of "centenarians" and other long-lived people. Slowing the signs of biological aging has also been achieved in animal models, using pharmaceuticals or interventions such as caloric restriction.
But until now, no assessment has been made of the costs and health returns on developing therapies for delayed aging.
"We would be affecting every generation," Olshansky said. "This study is a benchmark in the world of public health."
The study showed that, with major advances in cancer treatment or heart disease, a 51-year-old can expect to live about one more year. A modest improvement in delaying aging would double this to two additional years — and those years are much more likely to be spent in good health.
The increase in healthy years of life would have an economic benefit of approximately $7.1 trillion over the next five decades, the researchers find. Their analysis did not account for the potential cognitive benefits for older adults with research in delayed aging.
However, the results of the study also showed that improving the population of healthy, older adults will not lower overall health care spending. With research advances in delayed aging, more people would be alive past the age of 65, which means significantly higher outlays for Medicare and Medicaid despite less per-person spending on medical costs.
"Shifting the focus of medical investment to delayed aging instead of targeting diseases individually would lead to significant gains in physical health and social engagement," Goldman said. "We see extremely large population health benefits, and the benefits will extend to future generations. There are major fiscal challenges, but these are manageable with reasonable policy changes, and the economic value of such a shift is too large to ignore."
19th September 2013
Nearly half of US jobs could be at risk of computerisation within 20 years
A study by the Oxford Martin School shows that nearly half of US jobs could be at risk of computerisation within 20 years. Transport, logistics and office roles are most likely to come under threat.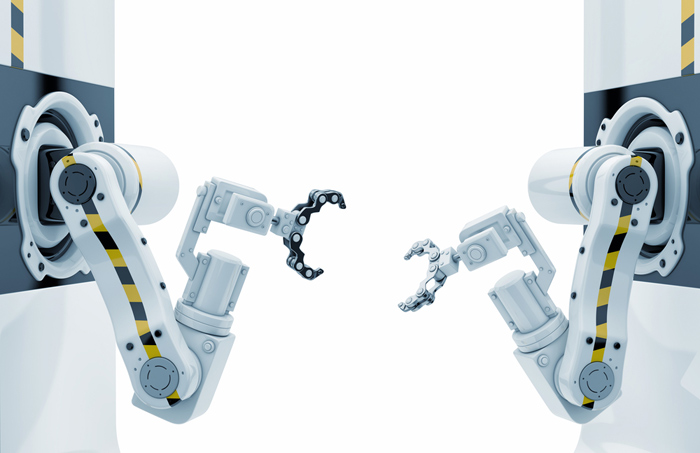 The new study, a collaboration between Dr Carl Benedikt Frey (Oxford Martin School) and Dr Michael A. Osborne (Department of Engineering Science, University of Oxford), found that jobs in transportation, logistics, as well as office and administrative support, are at "high risk" of automation. More surprisingly, occupations within the service industry are also highly susceptible, despite recent job growth in this sector.
"We identified several key bottlenecks currently preventing occupations being automated," says Dr. Osborne. "As big data helps to overcome these obstacles, a great number of jobs will be put at risk."
The study examined over 700 detailed occupation types, noting the types of tasks workers perform and the skills required. By weighting these factors, as well as the engineering obstacles currently preventing computerisation, the researchers assessed the degree to which these occupations may be automated in the coming decades.

"Our findings imply that as technology races ahead, low-skilled workers will move to tasks that are not susceptible to computerisation – i.e., tasks that require creative and social intelligence," the paper states. "For workers to win the race, however, they will have to acquire creative and social skills."
"While computerisation has been historically confined to routine tasks involving explicit rule-based activities, algorithms for big data are now rapidly entering domains reliant upon pattern recognition and can readily substitute for labour in a wide range of non-routine cognitive tasks. In addition, advanced robots are gaining enhanced senses and dexterity, allowing them to perform a broader scope of manual tasks. This is likely to change the nature of work across industries and occupations."
The low susceptibility of engineering and science occupations to computerisation, on the other hand, is largely due to the high degree of creative intelligence they require. However, even these occupations could be taken over by computers in the longer term.
Dr Frey said the United Kingdom is expected to face a similar challenge to the US. "While our analysis was based on detailed datasets relating to US occupations, the implications are likely to extend to employment in the UK and other developed countries," he said.
Full version of the paper:
http://www.futuretech.ox.ac.uk/files/The_Future_of_Employment_OMS_Working_Paper_1.pdf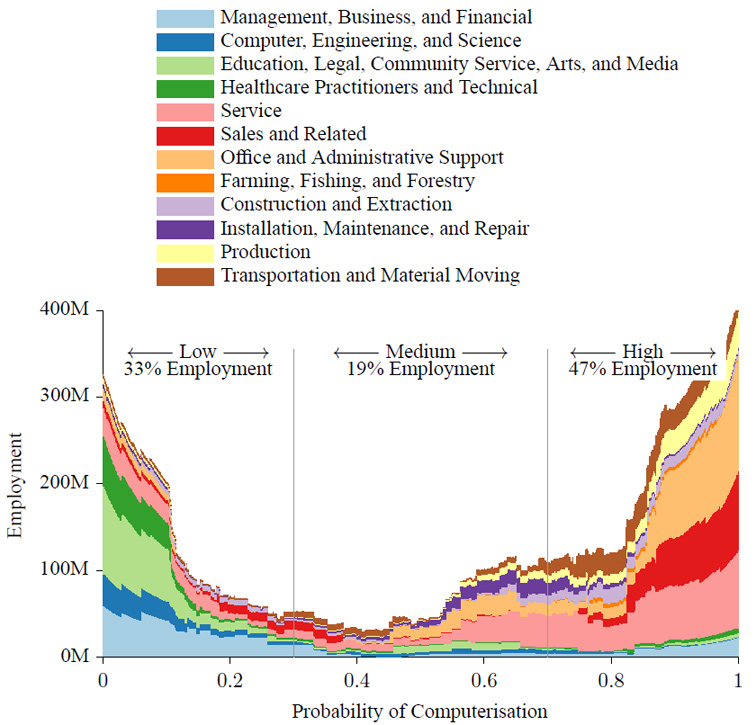 14th September 2013
Giant aquifers discovered in drought-prone Kenya
Massive new reserves of groundwater have been found in Turkana County, northern Kenya – enough to supply the entire country for 70 years.
Huge underground water reserves have been found in Turkana, one of Kenya's driest and poorest regions. The discoveries were made by Radar Technologies International (RTI), a natural resources exploration firm, during a survey conducted for the Kenyan Government on behalf of the UN. The aquifers were detected using the WATEX System – a state-of-the-art, space-based exploration technology.
Both shallow and deep aquifers were surveyed across northern and central Turkana County in an effort to identify supplies to combat drought and water scarcity for the 2 million people living in the region. It was found that Turkana hosts a minimum reserve of 250 billion cubic metres of water, replenished mainly by rainfall in the Kenyan and Ugandan highlands at a rate of 3.4 billion cubic metres per year. This new wealth of water represents nearly double the amount that Kenyans consume today. It could dramatically improve the livelihoods of Turkana's people, most of whom live in poverty and have limited access to basic services and clean water.
Two major aquifers were recorded and proven by drilling. The Lotikipi Basin Aquifer is estimated to store 207 billion cubic metres of water, the same volume of nearby Lake Turkana. About the size of the US state of Rhode Island, this aquifer replenishes at a rate of 1.2 billion cubic metres a year. This paleo lake could be part of the "Land of Marvels", the ancient sources of the Nile that were explored by Egyptian Pharaoh Queen Hatshepsut some 3,500 years ago.
The Lodwar Basin Aquifer is situated within a short distance of Lodwar town and Turkana's oil reserves. It is fed by the perennial Turkwel River and has an estimated reserve of 10 billion cubic metres. RTI recorded three other large structures – Gatome, Kachoda and Nakalale – which may prove to store a combined 30 billion cubic metres if confirmed by drilling.
In addition to deep reserves, RTI also mapped 2 billion cubic meters of water passing only a few metres under the ground and easy to reach, significantly raising the prospect for local agriculture activities.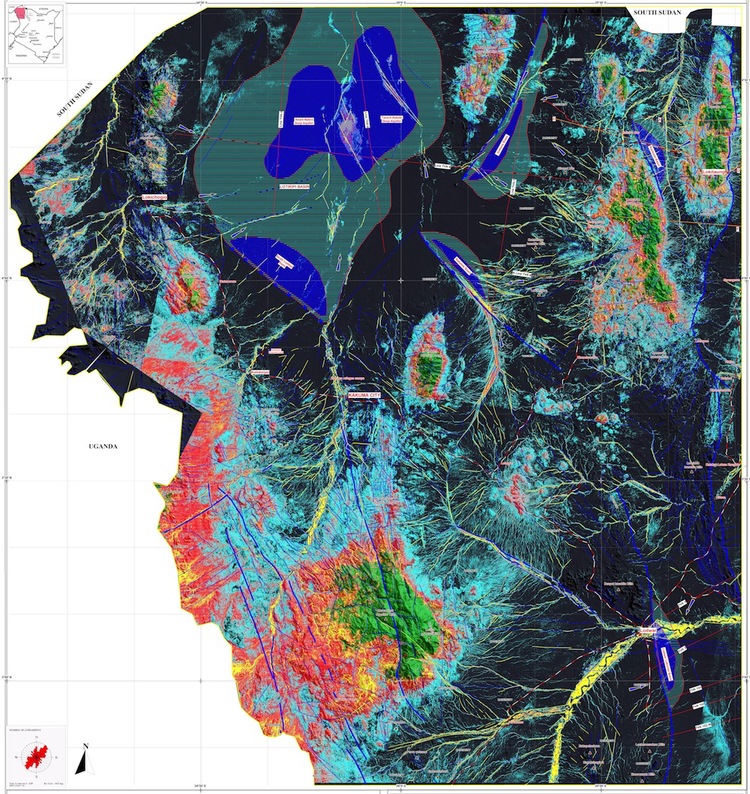 Looking ahead, RTI has recommended that all measures be taken to ensure the sustainability and viability of these newly discovered resources. Their work also establishes a new basis upon which future investigations and mapping in Kenya can be based.
The WATEX System detects water with its unique method of processing and interpreting remote sensing, oil industry and conventional data. The WATEX maps have a 6.25-metre surface accuracy and have been proven to locate underground water with over 94% certainty in most areas. Known for its rapid and large-scale mapping capabilities, WATEX has been utilised in a number of countries to find water for international aid agencies and foreign governments – most recently in Ethiopia, Angola, Chad, Darfur and Afghanistan. During the Darfur Crisis, RTI used the WATEX to find water for thousands of Sudanese refugees. Its partners have used WATEX groundwater maps to drill over 1,500 wells to help alleviate the crisis in Darfur.
Announcing these latest findings at the opening session of UNESCO's Strategic and High-Level Meeting on Water Security and Cooperation, Judi Wakhungu, Cabinet Secretary, said the results were a critical scientific breakthrough for Kenya: "The news about these water reserves comes at a time when reliable water supplies are highly needed. This newly found wealth of water opens a door to a more prosperous future for the people of Turkana and the nation as a whole. We must now work to further explore these resources responsibly and safeguard them for future generations."
Stressing Kenya's vulnerability and water insecurity caused by erratic rainfall patterns and the influence of climate change, Judi Wakhungu said more research and investment were now needed to identify and understand groundwater aquifers and improve capacity for monitoring and assessment of these resources.
"UNESCO is proud to be a part of this important finding, which clearly demonstrates how science and technology can contribute to industrialisation and economic growth, and to resolving real societal issues like access to water," said the Assistant Director-General for Natural Sciences, Gretchen Kalonji. "It is indeed in line with UNESCO's vision for science for sustainable development and we will continue to support Africa, to unlock the full potential of its invisible water wealth."
Gallery: http://www.unesco.org/new/en/media-services/multimedia/photos/kenya-groundwater-survey/
13th September 2013
Americans living longer, healthier lives
Overall, Americans today are living longer and more healthily than the previous generation, according to one of the most comprehensive studies of its kind. There was a 3.8 year increase in average life expectancy during the last two decades, with quality-adjusted life expectancy (QALE) also increasing. However, there was a notable rise in anxiety among young and middle-aged people, beginning in 2001.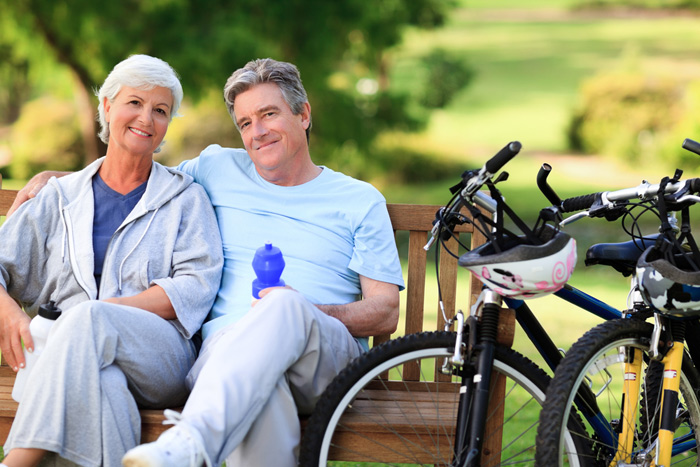 Thanks to medical advances, better treatments and new drugs not available a generation ago, the average American born today can expect to live 3.8 years longer than a person born two decades ago. Despite all these new technologies, however, is our increased life expectancy actually providing more active and healthy years of life? That question has remained largely unanswered – until now. In a first-of-its-kind study, the University of Massachusetts Medical School has found that the average 25-year-old American today can look forward to 2.4 more years of healthy life than 20 years ago while a 65-year-old today has gained 1.7 years.
Synthesising data from multiple government-sponsored health surveys conducted over the last 21 years, the researchers were able, for the first time, to measure how the quality-adjusted life expectancy (QALE) of all Americans has changed over time. The study's findings are described in a paper published yesterday in the American Journal of Public Health.
"QALE tells us more than how long a person can expect to live," said Dr. Allison Rosen, associate professor of quantitative health sciences. "It tells us what the relative qualities of those added years are in terms of physical, emotional and mental well-being. Though many studies have measured this in different ways, this is really the first time we've been able to capture this type of information across the whole U.S. population over an extended period."
Overall, the data shows that Americans are living longer, reporting fewer symptoms of disease, have more energy and show less impairment in everyday tasks than a generation ago. According to the study, a 25-year-old person today can expect to live 6 percent or 2.4 quality years longer than their 1987 counterpart. Meanwhile, a 65-year-old person will gain 1.7 quality years, a 14 percent increase from a generation ago.
Thanks to improvements in health care, many conditions are far more treatable today than 25 years ago, Rosen said. Heart disease, for instance, was potentially much more debilitating a generation ago and patients often suffered a decline in quality of life as a result. "Today, it is far less likely that a patient recovering from a heart attack will become institutionalised or need around-the-clock care the way they once might have," Rosen said.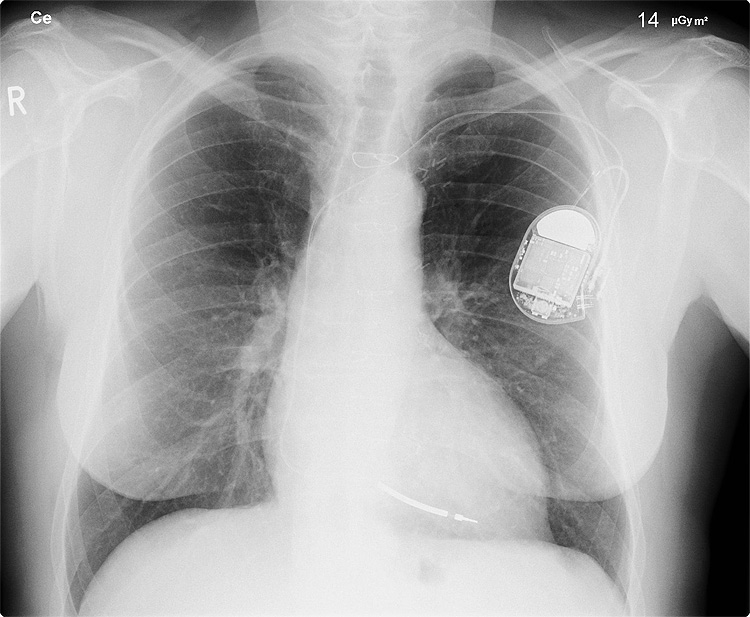 Today, Americans are more likely to see quality of life declines related to chronic, degenerative diseases such as Alzheimer's and dementia, while younger Americans appear to be experiencing problems related to a sedentary lifestyle. The authors also identified some troubling health trends. Among these was an increase in anxiety among young and middle-aged people, beginning in 2001. They also found that health gains made as a result of smoking cessation programs were being off-set, in part, by increases in obesity.
In the past, researchers have had a difficult time measuring population health beyond simple life expectancy because quality of life incorporates so many variables – physical well-being, mental health, pain, vitality, energy, emotional state – that it's difficult to bring all these things together cohesively into a single number. Making it even more challenging, surveys measuring quality of life are rarely consistent with each other as they all define health and life quality differently.
Using multiple national surveys that asked Americans about their health in various ways over the last 21 years, Rosen and her colleagues solved this problem by identifying areas where the studies overlapped – allowing them to build a single, large data set that covered the entire adult population over more than two decades.
"Comprehensive measures of the overall health of the nation are practically non-existent," said Rosen. "This study shows how existing national data can be used to systematically measure whether the population is getting healthier – not just living longer."
As the Affordable Care Act (ACA) goes into effect from 2014–2020, the value of a single, consistent way of measuring improvements in health over a large population will be invaluable in assessing the impact of these pending changes, according to the authors.
"Having a consistent measure of population health represents a major advance in our ability to measure the impact of health care reform on the health – not just the health care use – of all Americans," said Rosen. "The bottom line in assessing the success of the ACA is whether or not we are getting the most health from our investment of increasingly limited resources. Are we getting the most health bang for our bucks?"
7th September 2013
Culture in Decline – "Tale of Two Worlds"
Peter Joseph, creator of the Zeitgeist movies, has released the final episode of his Culture in Decline series. From the video description:
"In this final episode of the season, Dr. Peter Joseph shows off his fresh new Time Machine, guiding the audience through a vision of two possible futures. The first exploring the current trends that just may lead us all into vast new levels of decline; the second showing what the world could be... if anyone actually gave a damn to make it happen."
3rd August 2013
Peter Joseph on Singularity 1 on 1
Peter Joseph is a film-maker and social activist best known as the man behind the Zeitgeist film trilogy and founder of the Zeitgeist movement. His films have become a counter-culture phenomenon on the internet, with tens of millions of views. He has not shied away from controversy and has dared to push a strong vision for the future.
In this video, Peter talks to Nikola Danaylov, creator of Singularity Weblog. They discuss a range of topics including his goals and motivation, projects he is working on, the measure and meaning of progress, resource-based economies, sustainability and central planning, artificial intelligence and the technological singularity.
From the video: "Real success will not be driven by greater and greater technological advancement, or greater lifespans, or any of the materialistic notions that we've put forward. Real success will be when we finally realise exactly what we're a part of in the natural world – and gain complete alignment with that."
20th July 2013
Machine turns sweat into drinking water
UNICEF, in collaboration with Gothia Cup, have developed the world's first sweat machine: a device that extracts moisture from clothes, purifies it and transforms it into water.
This is achieved by spinning and heating the material, then capturing the water vapour through a special technique called membrane distillation. Bacteria, salts, clothing fibres and other substances are filtered out, making the end product cleaner than ordinary tap water.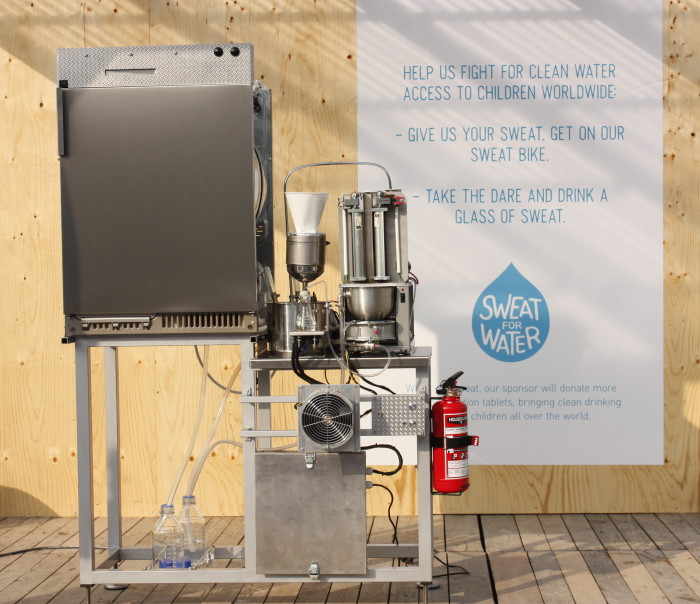 Swedish engineer Andreas Hammar told the BBC: "They have something similar on the [International] Space Station to treat astronaut's urine – but our machine was cheaper to build. The amount of water it produces depends on how sweaty the person is – but one person's T-shirt typically produces 10ml [0.3oz], roughly a mouthful."
Clean drinking water is a human right, but 775 million people still lack access to it. Every day, thousands of children die because of contagious water, lack of sanitation and poor hygiene practices. UNICEF works in more than 190 countries to improve water supplies and sanitation facilities and to promote safe hygiene practices. It is hoped that this new machine will generate awareness about the issue and raise money for water purification tablets for children in developing nations.
16th June 2013
Automated 'coach' could help with social interactions
A new software system from MIT could help people improve their conversational and interview skills.
Social phobias affect about 15 million adults in the United States, according to the National Institute of Mental Health, and surveys show that public speaking is high on the list of such phobias. For some people, these fears of social situations can be especially acute: individuals with Asperger's syndrome, for example, often have difficulty making eye contact and reacting appropriately to social cues. But with appropriate training, such difficulties can often be overcome.
Now, new software developed at MIT can be used to help people practice their interpersonal skills until they feel more comfortable with situations such as a job interview or a first date. The software, called MACH (short for My Automated Conversation coacH), uses a computer-generated onscreen face, along with facial, speech, and behaviour analysis and synthesis software, to simulate face-to-face conversations. It then provides users with feedback on their interactions.
The research was led by doctoral student M. Ehsan Hoque. A paper documenting the software's development and testing has been accepted for presentation at the 2013 International Joint Conference on Pervasive and Ubiquitous Computing, known as UbiComp, to be held in September.

"Interpersonal skills are the key to being successful at work and at home," Hoque says. "How we appear and how we convey our feelings to others define us. But there isn't much help out there to improve on that segment of interaction."

Many people with social phobias, Hoque says, want "the possibility of having some kind of automated system so that they can practice social interactions in their own environment. … They desire to control the pace of the interaction, practice as many times as they wish, and own their data."
The MACH software offers all those features, Hoque says. In fact, in randomised tests with 90 MIT juniors who volunteered for the research, the software showed its value.

First, the test subjects – all of whom were native English speakers – were randomly divided into three groups. Each group participated in two simulated job interviews, a week apart, with MIT career counselors.

But between the two interviews, unbeknownst to the counselors, the students received help: One group watched videos of interview advice, while a second group had a practice session with the MACH simulated interviewer, but received no feedback other than a video of their own performance. Finally, a third group used MACH and then saw videos of themselves accompanied by analysis of such measures as how often they smiled, how well they maintained eye contact, how well they modulated their voices, and how often they used filler words such as "like," "basically" and "umm."

Evaluations by another group of career counselors showed statistically significant improvement by members of the third group on measures including "appears excited about the job," "overall performance," and "would you recommend hiring this person?" In all of these categories, by comparison, there was no significant change for the other two groups.

The software behind these improvements was developed over two years as part of Hoque's doctoral thesis with help from his advisor, professor of media arts and sciences Rosalind Picard, as well as Matthieu Courgeon and Jean-Claude Martin from LIMSI-CNRS in France, Bilge Mutlu from the University of Wisconsin, and MIT undergraduate Sumit Gogia.

Designed to run on an ordinary laptop, the system uses the computer's webcam to monitor a user's facial expressions and movements, and its microphone to capture the subject's speech. The MACH system then analyses the user's smiles, head gestures, speech volume and speed, and use of filler words, among other things. The automated interviewer — a life-size, three-dimensional simulated face — can smile and nod in response to the subject's speech and motions, ask questions and give responses. While this initial implementation was focused on helping job candidates, Hoque says training with the software could be helpful in many kinds of social interactions.
• MACH: My Automated Conversation coacH [PDF]
14th June 2013
World population could reach 11 billion by 2100
A new statistical analysis by the United Nations, in a report released yesterday, shows that global population could reach nearly 11 billion by the end of this century. That's about 800 million, or 8 percent, more than the previous projection of 10.1 billion, issued in 2011.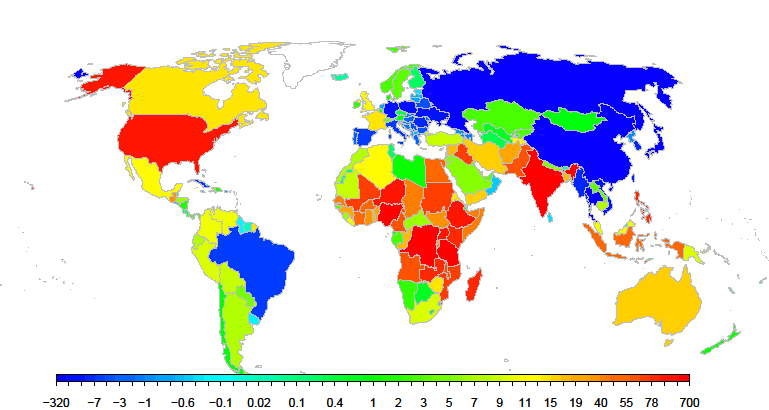 The projected rise is mostly due to fertility in Africa, where the U.N. had expected birth rates to decline more quickly than they have. The current population on the continent is about 1.1 billion and is now expected to reach 4.2 billion, nearly a fourfold increase, by 2100.
"The fertility decline in Africa has slowed down or stalled to a larger extent than we previously predicted, and as a result the African population will go up," said Adrian Raftery, a University of Washington professor of statistics and sociology.
The new U.N. estimates use statistical methods developed by Raftery and his colleagues at the UW Center for Statistics and the Social Sciences. The group's improved fertility forecasting methods – combined with updated data from the U.N. – were used to project long-term consequences of fertility change in Africa since the last population estimate in 2011.
New to this year's projection are finer-tuned statistics that anticipate the life expectancies of men and women across the 21st century. At the global level, life expectancy is projected to reach 76 in the period 2045-2050, and 82 in 2095-2100. People in developed countries could live on average to 89 by 2100, compared to about 81 in developing regions. This is assuming no radical breakthrough in longevity treatments, however.
By far the largest expected population increase is in Nigeria, projected to rise from 184 million now, to 914 million in 2100. Eight of the top ten increases are in Africa, with India in second place. The United States is eighth.
In other areas of the world, few significant changes are expected. Europe may see a small decline because of fertility continuing below replacement level, while other nations around the globe may see modest increases due to longer life expectancies, Raftery said.
There's no end in sight to the increase of world population, he added, yet the topic has gone off the agenda in favour of other pressing global issues, including poverty and climate – both of which have ties to world population.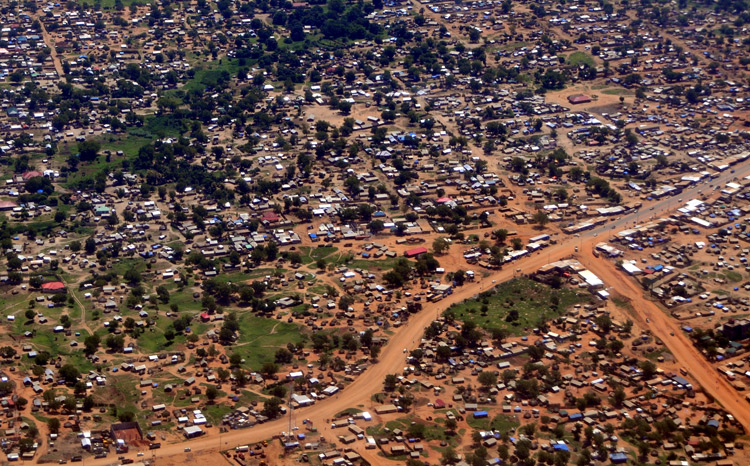 "These new findings show that we need to renew policies, such as increasing access to family planning and expanding education for girls, to address rapid population growth in Africa," Raftery said.
The UN gives high and low variants of its projections, assuming that women have an average of half a child more or less than the best projection. That leaves a large uncertainty, from 7 billion to nearly 17 billion, in the range for potential world population by the end of this century.
By contrast, the UW research group has developed probabilities of future population levels to be coupled with best forecasts. "Our probability intervals are much tighter, ranging from 9 billion to 13 billion in 2100," Raftery said.