30th October 2015
China ends one-child policy after 35 years
35 years after it formally enacted its one-child policy (more accurately known as the "family planning policy"), China's Communist Party has announced that it will allow all couples to have two children.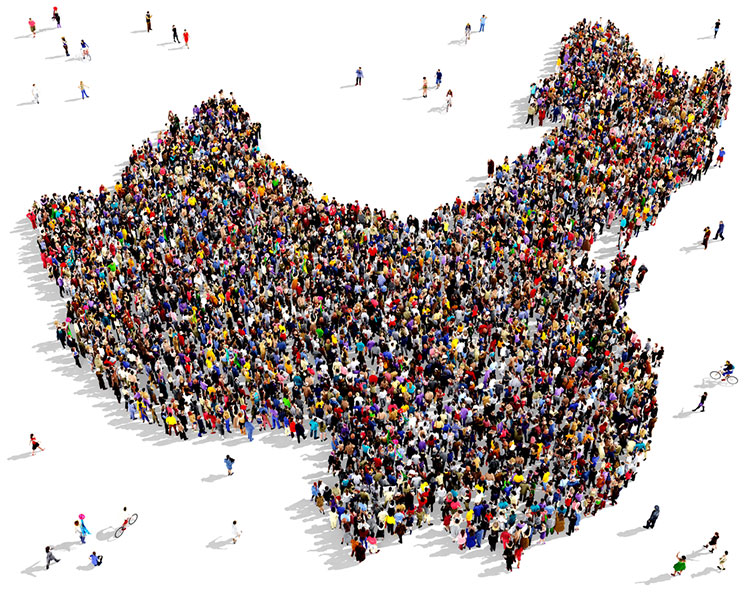 In response to fears about an impending population explosion, China's government began draconian birth control measures in 1980. These were later credited with having prevented up to 400 million births. However, the law was extremely controversial and often brutally enforced with grave violations of human rights, forced sterilisations, abortions and infanticide. It was later relaxed to allow parents to have a second child if they themselves were both only children. A further change was made in 2013 when couples become eligible to have two children if only one of the parents was an only child.
Following the success of its decades-long policy, China is now faced with a much bigger demographic challenge: a rapidly aging population with fewer people of working age to support the older generations. Today, the ratio of workers to retirees is approximately 5:1. However, the nation's workforce is already shrinking, with 2.4 million employees being lost each year. By 2030, China's ratio of workers to pensioners will fall to roughly 2:1, leading to serious economic, political and social problems. By mid-century, the situation could be even worse, as the population enters a long period of decline.
The new "two-child" policy to be introduced from March 2016 may help to slow this trend. State-run news service, Xinhua, quotes Li Bin, head of the National Health and Family Planning Commission, as saying it will "optimise the demographic structure, increase labour supply, ease pressure from the aging population and help improve the health of the economy."
However, the policy change does not go far enough, according to human rights activists, concerned that the Communist Party continues to control the size of Chinese families: "The state has no business regulating how many children people have," said William Nee, a Hong Kong-based activist for Amnesty International. "If China is serious about respecting human rights, the government should immediately end such invasive and punitive controls over people's decisions to plan families and have children."
Some researchers are sceptical that it will make a difference, as one-child families have become the social norm. Furthermore, China's rapid urbanisation means that more and more people are living in city centres, and the cost of raising kids has been skyrocketing. The new law "will probably come with a small bump" in child births "in the next two or three years, but after that, its fertility rate will stay at its current level," says Cai Yong, a population analyst at the University of North Carolina who is an expert on the Chinese one-child policy. "They should actually have abolished this long ago. China missed its best opportunity to relax the policy when people were still willing to have a second or even third child."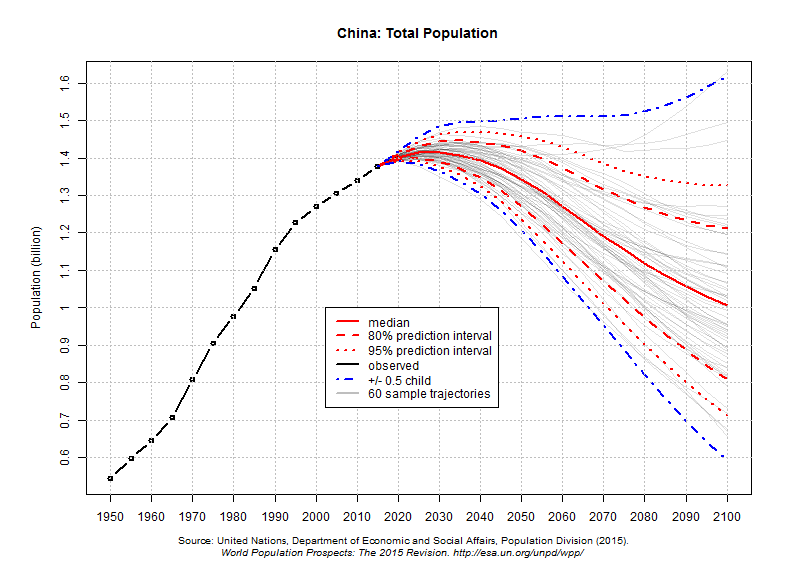 Stuart Gietel-Basten, a demographer at the University of Oxford, comments in the Guardian: "In the short term probably there will be a little baby boom, particularly in some of the poorer provinces where the rules have been very strict, like in Sichuan or in parts of the south. But in the long term, I don't think it's going to make an enormous amount of difference."
"Society is 'greying' much faster than they had anticipated," states Willy Lam – an expert on China from the Jamestown Foundation in Washington, D.C. "So the tax burden on workers and employees in the coming 10, 20 years will be very high."
"This population imbalance is very dangerous for the long-term development of the country," says Ma Size, grandson of Ma Yinchu, known in China as the father of the one-child policy.
China's fertility rate peaked at 6.16 in 1965, before dropping to 2.71 in 1980. Today it stands at just 1.67, one of the lowest in the world and well below the replacement rate of 2.1 needed to sustain a country in the long term. Experts predict that over a quarter of China's population will be aged over 65 by 2050 – slowing down the economy and putting a huge burden on the younger generations. Many other countries around the world will experience a similar trend in the decades ahead. As the ratio between taxpayers and pensioners continues to drop, a new economic system may need to evolve.
5th August 2015
An interview with aging and longevity expert Aubrey de Grey
Aubrey de Grey is Chief Science Officer of the SENS Research Foundation, which is working to find a solution to aging. He believes that the first humans who will live to be 1,000 years old could already be alive today. Yesterday, he appeared on a Reddit AMA (Ask Me Anything) session to answer questions posed by futurology enthusiasts. Some of the responses are reproduced below.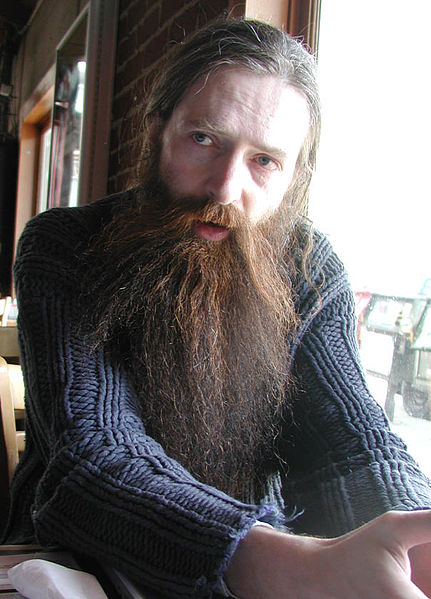 Reddit: I'm curious about how the advent of CRISPR affects the development of SENS therapies?
Aubrey de Grey: It's huge. It will be central to the delivery of the many SENS components that involve somatic gene therapy.
Reddit: Does it speed up the development timeline at all?
Aubrey de Grey: A lot, yes.
Reddit: Are you familiar with the current and/or potential scalability of CRISPR, i.e. it's one thing to edit a single cell in vitro, and a whole other to be able to reprogram every cellular gene expression of Huntington's disease in vivo? I'm really curious where we are on that scale because of the massive ramifications this technology has and it looks like a lot of progress is being made on the error rate.
Aubrey de Grey: It's going extremely well. Fidelity is key – i.e., minimising off-target modifications – and as you say, progress is rapid.
Reddit: What is the likelihood that someone who is 40 today will have their life significantly extended to the point of practical immortality? 30? 20? 10?
Is it a slow, but rapidly rising collusion of things that are going to cause this, or is it something that is going to kind of snap into effect one day?
Will the technology be accessible to everyone, or will it be reserved for the rich?
What are your thoughts on cryonics?
What is your personal preferred method of achieving practical immortality? Nanotechnology? Cyborgs? Something else?
Aubrey de Grey: I'd put it at 60, 70, 80, 90% respectively.
Kind of snap, in that we will reach longevity escape velocity.
For everyone, absolutely for certain.
Cryonics (not cryogenics) is a totally reasonable and valid research area and I am signed up with Alcor.
Anything that works! – but I expect SENS to get there first.
Reddit: Is it fair for me to be telling my friends and others I tell about this stuff, that considering the $25 a month I donate to SENS and the many dozens of people I have educated about SENS and curing aging in general, many quite successfully educated, that I may have personally saved the lives of 100,000 people at this point?
Along that line is this something it would be good for you and your people to really emphasize during talks? To tell people that they can feel good about themselves for going out and advocating and donating even a meagre amount of money because doing so means they are very truthfully saving the lives of tens or hundreds of thousands of people?
Aubrey de Grey: This is by far the best question yet on this AMA. Thank you!
First: I think you can say something like that (depending on how long it's been that you've been sending us $25). I believe that $1B right now would hasten the achievement of LEV by about 10 years; you can do the rest of the maths, but it comes out to about $2 per life – and of course "saving" means a great deal more in terms of extra years than it does for other ways of saving lives, so arguably it's more like a few cents per life.
And yes, I think I should emphasise this more. I probably will.
Reddit: On the topic of money, why do you think so much of the super rich, do so little with their hordes of money, when they could put it towards research of various types, including longevity? That's one thing I have trouble understanding it, my brain defaults towards conspiracy theory type theories. E.g. they are hoarding the money to keep others poorer, to keep themselves more powerful.
Aubrey de Grey: The super-rich are just as afraid of getting their hopes up as anyone else.
Reddit: What do you think of the efforts like Human Longevity Inc. that seem to be focused on DNA/genetic markers of aging, rather than the damage focus of SENS? Is their work helpful do you think?
Aubrey de Grey: It's definitely helpful in the short term, as a way to optimise what we can already do. It has very little longer-term relevance, because once SENS works, it will work the same for everyone.
Reddit: I watched a video from you back in 2013 where you commented on the announcement from Larry Page about Calico. You mentioned that Calico – if they're focused on early stage research – might highly benefit the battle against aging. What is your comment regarding Calico's research now that a couple of years have passed? More/less excited about their potential?
Aubrey de Grey: Cautious. They are structured perfectly: they are doing a bunch of highly lucrative irrelevant short-term stuff that lets them get on with unlucrative critical long-term stuff without distraction. But the latter may be getting too curiosity-driven and insufficiently translational. We'll see.
Reddit: Care to elaborate? "Highly lucrative irrelevant stuff" seems contradictory, likewise "unlucrative critical stuff" :)
Aubrey de Grey:
"Highly lucrative irrelevant stuff" = drugs for specific diseases of aging
"Unlucrative critical stuff" = work leading to actual LEV
Reddit: How difficult would it be maintaining/repairing the brain itself? While we can reasonably access almost every other part of the body, the brain always seems like this elusive bastion that we can't quite reach into for one reason or another.
Aubrey de Grey: With SENS, there's not so much difference between the brain and the rest of the body. It's the same seven types of damage.
Reddit: There has been a lot of noise lately about alternative models for mitochondrial aging and therapies for them. Do you still stand for the hypotheses your book defended, or has SENS changed the way it views mitochondrial aging?
Aubrey de Grey: No change.
Reddit: How much of SENS research involves experimentation on animals, if any? If this does happen, is the sacrifice of animal lives necessary to achieve the foundation's goals, or does it just make things easier or faster? Are there pathways to achieving LEV that don't involve experimentation on animals?
Aubrey de Grey: Quite a bit involves animals, like all biomedical research, but you jump too quickly to the word "sacrifice". How is it a sacrifice if we do things to animals that let them stay healthy longer?
Reddit: Do you think the regulatory pipeline for new therapies in the US and/or EU is adequate? What changes would you make to speed up/slow down/otherwise streamline the process from discovery research to clinical implementation and commercialization?
Aubrey de Grey: There's a lot happening to streamline it. The editorial in the next issue of Rejuvenation Research will discuss the 21st Century Cures Act from our angle. Bottom line: things are improving.
Reddit: Back in the days, what motivated you to decide to cure aging? Like, what was your motivation in the first place?
Aubrey de Grey: The correct question is, what the hell is wrong with everyone else that stops them from being motivated to cure aging? It's responsible for the overwhelming majority of global suffering. WTF?
Reddit: Any tips on not being afraid of death? Even though I'm at the moment 21 years old and my odds of reaching longevity escape velocity are decent, sometimes thinking about not-existing keeps me awake at night. The anti-aging research is kinda the only reason I'm not struggling with it so much anymore, but I don't think that's the correct way of coping with it.
Aubrey de Grey: I hear you. I have a close friend who is so scared of this that she is clinically depressed, and she's only 22. Actually I think getting involved in the anti-aging crusade is indeed the best way.
Reddit: I'm wondering how much time you spend thinking about what a post-death future would look like – is the day-to-day life of an immortal something you spend much time considering, or are you exclusively focused on making it happen at this point? Are there any people you'd recommend who are seriously considering the question?
If you have spent time considering it, what do you think are some major problems an immortal society would face that people DON'T typically talk about? (Rather than normal fears of overpopulation, lack of resources, etc.)
Aubrey de Grey: See the paper from Denver arising from work we funded:
http://www.sciencedirect.com/science/article/pii/S0040162515001985
The abstract sounds a bit pessimistic but only as a wake-up call.
Reddit: What do you think about the singularity in general? I think that if we achieved a singularity, it could help us achieve negligible senescence and potentially even immortality in a significantly shorter timeframe, and of course also all other technological wonders that it could bring.
Aubrey de Grey: Some people are working on AI for just that reason. I think we'll reach the Methuselarity first, but I could be wrong.
30th July 2015
World population projected to hit 9.7 billion by 2050 and 11.2 billion by 2100
The current world population of 7.3 billion is expected to reach 8.5 billion by 2030, 9.7 billion in 2050 and 11.2 billion in 2100, according to a new UN report, "World Population Prospects: The 2015 Revision", launched yesterday.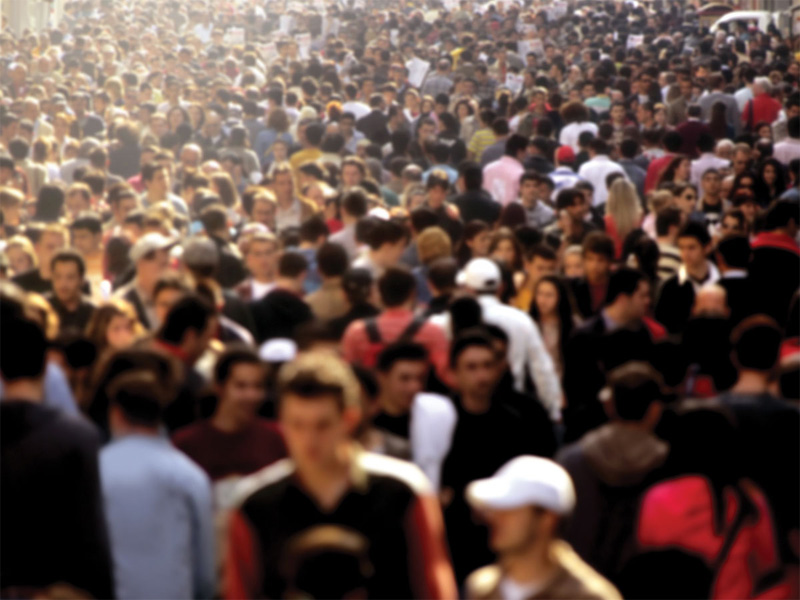 "Understanding the demographic changes that are likely to unfold over the coming years, as well as the challenges and opportunities that they present for achieving sustainable development, is key to the design and implementation of the new development agenda," said Wu Hongbo, UN Under-Secretary-General for Economic and Social Affairs.
Most of the projected increase in the world's population can be attributed to a short list of high-fertility countries, mainly in Africa, or countries with already large populations. During 2015-2050, half of the world's population growth is expected to be concentrated in just nine countries: India, Nigeria, Pakistan, Democratic Republic of the Congo, Ethiopia, United Republic of Tanzania, United States of America (USA), Indonesia and Uganda, listed according to the size of their contribution to the total growth.
Shifts in the current population rankings
China and India remain the two largest countries in the world, each with more than 1 billion people, representing 19 and 18% of the world's population, respectively. But by 2022, the population of India is expected to surpass that of China.
Currently, among the ten largest countries in the world, one is in Africa (Nigeria), five are in Asia (Bangladesh, China, India, Indonesia, and Pakistan), two are in Latin America (Brazil and Mexico), one is in Northern America (USA), and one is in Europe (Russian Federation). Of these, Nigeria's population, currently the seventh largest in the world, is growing the most rapidly. Consequently, the population of Nigeria is projected to surpass that of the USA by around 2050, at which point it would become the third largest country in the world. By 2050, six countries are expected to exceed 300 million people: China, India, Indonesia, Nigeria, Pakistan, and the USA.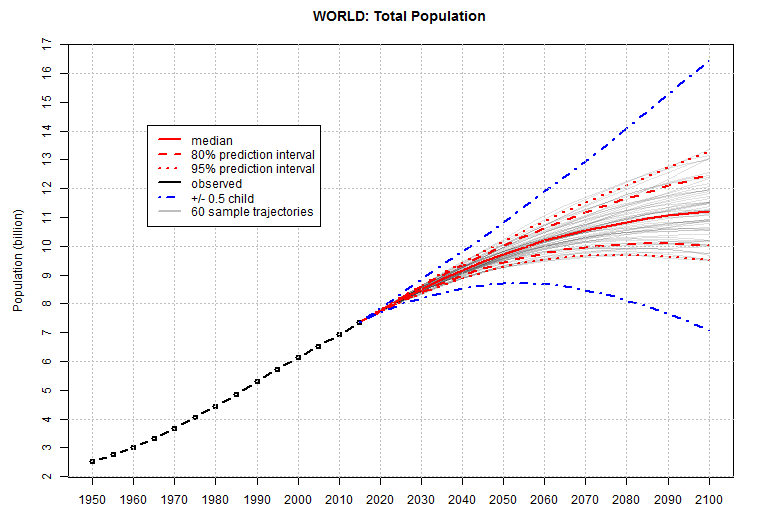 Growing population in Africa
With the highest rate of population growth, Africa is expected to account for more than half of the world's population growth between 2015 and 2050. During this period, the populations of 28 African countries are projected to more than double, and by 2100, ten African countries are projected to have increased by at least a factor of five: Angola, Burundi, Democratic Republic of Congo, Malawi, Mali, Niger, Somalia, Uganda, United Republic of Tanzania and Zambia.
"The concentration of population growth in the poorest countries presents its own set of challenges, making it more difficult to eradicate poverty and inequality, to combat hunger and malnutrition, and to expand educational enrolment and health systems, all of which are crucial to the success of the new sustainable development agenda," said John Wilmoth, Director of the Population Division in the UN's Department of Economic and Social Affairs.
While there is always some degree of uncertainty surrounding any projection, the large number of young people in Africa, who will reach adulthood in the coming years and start having children of their own, ensures that the region will play a central role in shaping the size and distribution of the world's population over the coming decades.
Slower world population growth due to lower fertility rates
Future population growth is highly dependent on the path that future fertility will take, as relatively small changes in fertility behaviour, when projected over decades, can generate large differences in total population. In recent years, fertility has declined in virtually all areas of the world, even in Africa where fertility levels remain the highest of any major area.
Ageing population growing rapidly
The slowdown in population growth, due to the overall reduction in fertility, causes the proportion of older persons to increase over time. Globally the number of persons aged 60 or above is expected to more than double by 2050 and more than triple by 2100.
A significant ageing of the population in the next several decades is projected for most regions of the world, starting with Europe where 34% of the population is projected to be over 60 years old by 2050. In Latin America and the Caribbean and in Asia, the population will be transformed from having 11% to 12% of people over 60 years old today, to more than 25% by 2050. Africa has the youngest age distribution of any major area, but it is also projected to age rapidly, with the population aged 60 years or over rising from 5% today to 9% by 2050.
Higher life expectancy and the contribution of the Millennium Development Goals (MDGs)
Life expectancy at birth has increased significantly in the least developed countries in recent years. The six-year average gain in life expectancy among the poorest countries, from 56 years in 2000-2005 to 62 years in 2010-2015, is roughly double the increase recorded for the rest of the world. While significant differences in life expectancy across major areas and income groups are projected to continue, they are expected to diminish significantly by 2045-2050.
Progress in reducing under-five mortality, one of the MDG targets, has been very significant and wide-reaching in recent years. Between 2000-2005 and 2010-2015, under-five mortality fell by more than 30% in 86 countries, of which 13 countries saw a decline of more than 50%. In the same time period, the rate decreased by more than 20% in 156 countries.
Populations in many parts of the world are still young, creating an opportunity for countries to capture a demographic dividend
Populations in many regions are still young. In Africa, children under age 15 account for 41% of the population in 2015 and young persons aged 15 to 24 account for a further 19%. Latin America and the Caribbean and Asia, which have seen greater declines in fertility, have smaller percentages of children (26 and 24%, respectively) and similar percentages of youth (17 and 16%, respectively). In total, these three regions are home to 1.7 billion children and 1.1 billion young persons in 2015.
These children and young people are future workers and parents, who can help to build a brighter future for their countries. Providing them with healthcare, education and employment opportunities, particularly in the poorest countries and groups, will be a critical focus of the new sustainable development agenda.
The 2015 Revision of World Population Prospects is the 24th round of official UN population estimates and projections that have been prepared by UN DESA's Population Division.
1st July 2015
Oregon becomes the fourth US state to make recreational marijuana legal
Oregon has become the fourth state in the US to make recreational marijuana legal. A new voter-approved law – Measure 91 – comes into effect today allowing for adult possession and home cultivation of the drug. The law permits adults 21 and older to grow four plants and keep eight ounces at home, and possess one ounce in public. Public consumption and sales will continue to remain illegal. Taking marijuana across the Oregon border is also illegal.
Retail businesses offering the drug can apply for licenses from 4th January 2016 and are expected to begin operating later that same year. More time was allotted to create specific regulations for sellers to ensure the best possible public safety outcome.
"Expending law enforcement resources by going after nonviolent marijuana users is a shameful waste of time and tax dollars, and a distraction from what's really plaguing neighbourhoods," says Neill Franklin, executive director of Law Enforcement Against Prohibition (LEAP), a criminal justice group opposed to the drug war. "Cops in Oregon can now get into doing their jobs; protecting communities and helping victims of violent crimes get justice."
"Oregon still has more to do to ensure marijuana legalisation is done properly; lawmakers and regulators are currently working to expunge the records of many non-violent marijuana offenders as well as develop proper regulations for taxes, concentrates, and labelling for consumer and child protection," says Inge Fryklund, a former prosecutor, and board member of LEAP. "We must promote honest and accurate public information along with sensible regulations. Oregon can and will be a model for future states looking to consider legalisation in 2016 and beyond."
A total of 23 states and the District of Columbia have now permitted some form of medical marijuana access, while four states – Alaska, Colorado, Oregon and Washington – and the capital Washington, D.C., have legalised it for recreational use. Oregon's regulatory model will be developed with previous successes and failures of other states in mind. Among the priorities of the Oregon Liquor Control Commission are preventing accidental ingestion by children, with the use of appropriate childproof packaging and ensuring that extracts, concentrates, and edibles are carefully regulated, tested, and labelled.
According to state forecasts, Colorado and Washington could generate over $800 million in combined revenue by 2020 from marijuana sales. A clear and growing majority of Americans are in favour of nationwide legalisation of the drug, as evidenced by surveys from Gallup and others. Most of the remaining opposition comes from the conservative baby boomers, a demographic whose influence is beginning to wane. Some of the next states where legalisation may follow include Arizona, California, Maine, Massachusetts and Nevada, with advocates planning for ballot measures in 2016. Similar to the recent decision on same-sex marriage, a nationwide law on marijuana could follow in the not-too-distant future.
A dedicated website for Oregon's new law has been created at whatslegaloregon.com.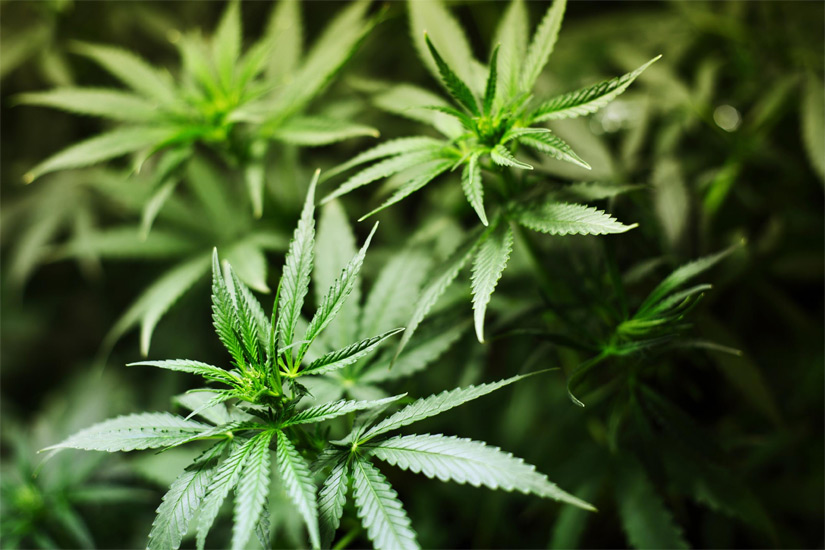 26th June 2015
Gay marriage is legal throughout the USA
In a historic and landmark decision, the US Supreme Court today ruled in favour of same-sex marriage throughout the USA.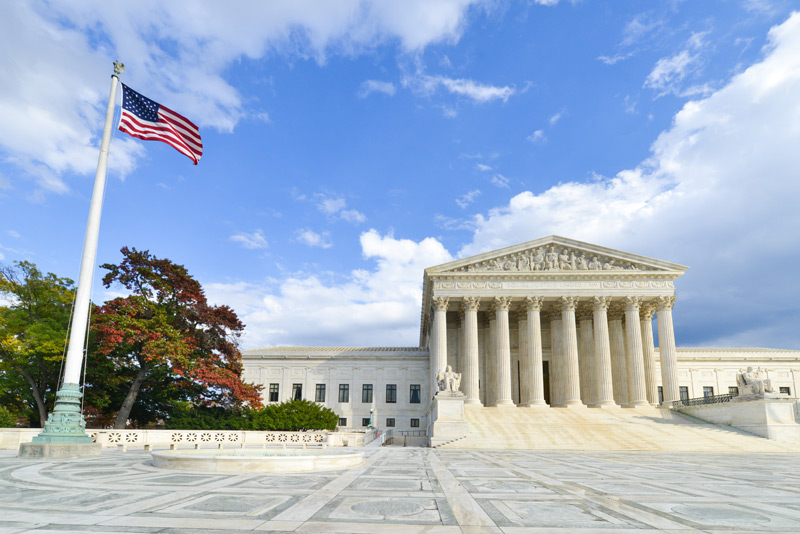 The case, Obergefell v. Hodges, was a consolidation of three other same-sex marriage cases, Tanco v. Haslam (Tennessee), DeBoer v. Snyder (Michigan) and Bourke v. Beshear (Kentucky), challenging state laws that prohibited same-sex marriage.
With a majority of 5-4, the Court held that state recognition of same-sex marriage is a constitutional right under the 14th Amendment, due to the 1868 Equal Protection Clause, which provides that no state shall deny any person within its jurisdiction "the equal protection of the laws." This ruling means the number of states where gay marriage is legal will rise from 37 to all 50. The USA is now the 21st country to legalise same-sex marriage nationwide.
Summing up, Justice Anthony Kennedy stated:
"No union is more profound than marriage, for it embodies the highest ideals of love, fidelity, devotion, sacrifice, and family. In forming a marital union, two people become something greater than once they were. As some of the petitioners in these cases demonstrate, marriage embodies a love that may endure even past death. It would misunderstand these men and women to say they disrespect the idea of marriage. Their plea is that they do respect it, respect it so deeply that they seek to find its fulfilment for themselves. Their hope is not to be condemned to live in loneliness, excluded from one of civilisation's oldest institutions. They ask for equal dignity in the eyes of the law. The Constitution grants them that right. The judgment of the Court of Appeals for the Sixth Circuit is reversed.

It is so ordered."
On Twitter, the White House changed its avatar to the rainbow colours. President Barack Obama declared the ruling as a "victory for America" and said: "When all Americans are treated as equal, we are all more free."
"It's my hope that gay marriage will soon be a thing of the past, and from this day forward it will simply be 'marriage,'" an emotional Jim Obergefell said outside the court.
In a related development, a scientific study this month finds that children of same-sex parents experience "no difference" on a range of social and behavioural outcomes compared to children of heterosexual or single parents. Published in Social Science Research, the paper examined thousands of peer-reviewed articles going back decades and found "overwhelming" consensus on the issue among researchers.
"As same-sex marriage has been debated in courts across the country, there has been the lingering question about the effects of same-sex parenting on children," explains Jimi Adams, associate professor and lead author. "I wanted to analyse the research from past decades to determine if there was consensus amongst researchers about that effect. I found overwhelming evidence that scientists agree that there is not a negative impact to children of same-sex couples."
8th June 2015
New mobile app could revolutionise human rights justice
The International Bar Association (IBA) today launched the eyeWitness app – a new tool for documenting and reporting human rights atrocities in a secure and verifiable way, so the information can be used as evidence in a court of law.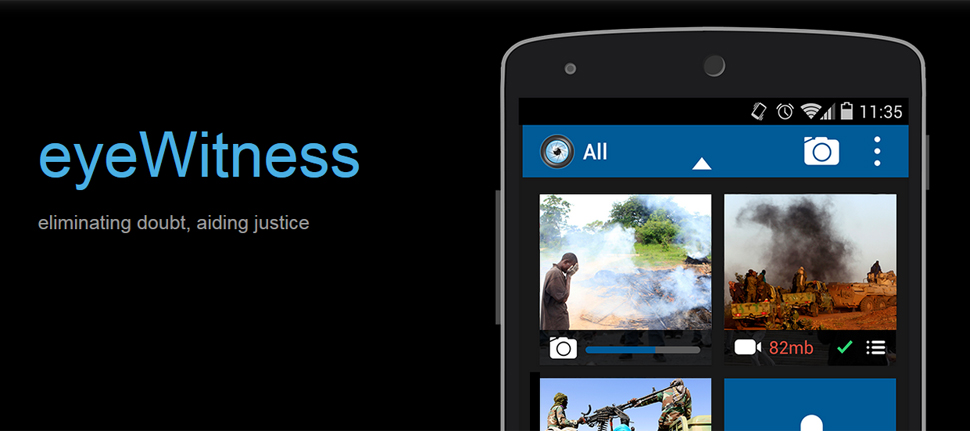 With social media increasingly the forum for communicating human rights, many online images have raised awareness of atrocities around the world but typically lack the attribution or information necessary to be used as evidence in a court of law. Now anyone with an Android-enabled smart phone – including human right defenders, journalists, and investigators – can download the eyeWitness to Atrocities app and help hold accountable the perpetrators of atrocity crimes, such as genocide, crimes against humanity, torture and war crimes.
"The eyeWitness to Atrocities app will be a transformational tool in the fight for human rights, providing a solution to the evidentiary challenges surrounding mobile phone footage," said IBA Executive Director Mark Ellis. "Until now, it has been extremely difficult to verify the authenticity of these images and to protect the safety of those brave enough to record them. As an advocate for the voiceless, the International Bar Association is dedicated to empowering activists on the ground who are witnessing these atrocities with the ability to bring criminals to justice."
The app design is based on extensive research on the rules of evidence in international, regional and national courts and tribunals. It includes several features to guarantee authenticity, facilitate verification and protect confidentiality by allowing the user to decide whether or not to be anonymous.
"Putting information and technology in the hands of citizens worldwide has a powerful role to play in advancing the rule of law," said Ian McDougall, EVP and General Counsel of LexisNexis Legal & Professional, which partnered with the IBA. "LexisNexis Legal & Professional's world class data hosting capabilities will provide the eyeWitness programme with the same technology that we use to safeguard sensitive and confidential material for our clients every day. It's all part of our company's broader commitment to advancing the rule of law around the world, as we believe every business has a role to play in building a safer, more just global society."
How the App Works
When a user records an atrocity, the app automatically collects and embeds into the video file GPS coordinates, date and time, device sensor data and surrounding objects, such as Bluetooth and Wi-Fi networks. The user has the option of adding any additional identifying information about the image. This metadata will provide information integral to verifying and contextualising the footage. The images and accompanying data are encrypted and securely stored within the app. The app also embeds a chain of custody record to verify that the footage has not been edited or digitally manipulated. The user then submits this information directly from the app to a database maintained by the eyeWitness organisation.
Once the video is transmitted, it is stored in a secure repository that functions as a virtual evidence locker safeguarding the original, encrypted footage for future investigations and legal proceedings. The submitted footage is only accessible by a group of legal experts at eyeWitness who will analyse the footage and identify the appropriate authorities, including international, regional or national courts, to pursue relevant cases.
"The IBA is proud to be spearheading the project and allocating $1 million of IBA reserves as part of its efforts to promote, protect and enforce human rights under a just rule of law," said David Rivkin, IBA President. The IBA is working in partnership with LexisNexis Legal & Professional, a part of RELX Group, which is hosting the secure repository, database and backup system to store and analyse data collected via the app. The IBA is also partnering with human rights organisations to put the app in the hands of those working in some of the world's most severe conflict zones.
"The eyeWitness app promises to revolutionise the effectiveness of ground-level human rights reporting," said Deirdre Collings, Executive Director of the SecDev Foundation, a Canadian research organisation. "We also see the app's usefulness for media activists in conflict and authoritarian environments who undertake vital but high-risk reporting. We're proud to include eyeWitness in our training programme for our partners in Syria and will be rolling it out across our projects in the CIS region and Vietnam."
Established in 1947 and headquartered in London, the IBA is the world's leading organisation of international legal practitioners, bar associations and law societies. Through its global membership of individual lawyers, law firms, bar associations and law societies, it influences the development of international law reform and shapes the future of the legal profession throughout the world.
24th May 2015
Ireland votes to legalise gay marriage
Ireland has become the first country in the world to use a constitutional referendum for the legalisation of same-sex marriage.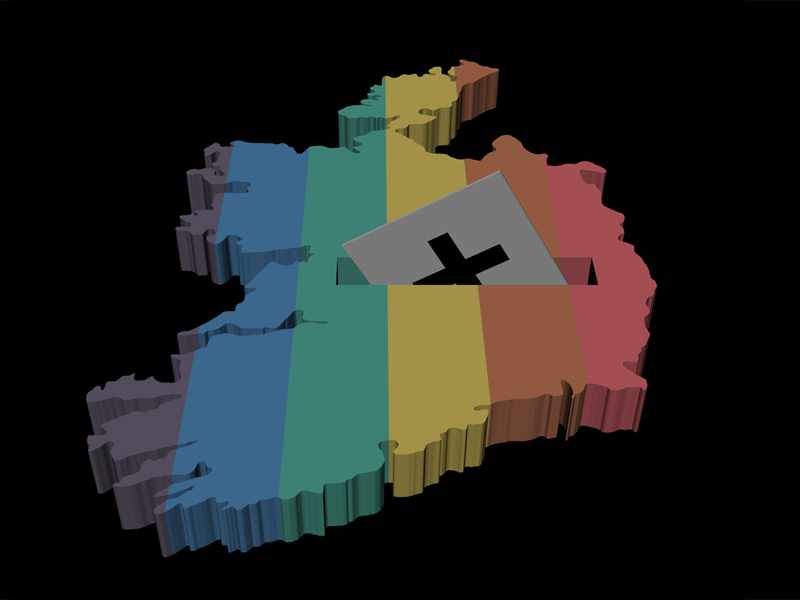 On Friday 22nd May, the Irish people voted in a historic referendum – the 34th Amendment of the Constitution (Marriage Equality) Bill 2015. This was a proposed amendment to the constitution of Ireland to mandate provision for gay and lesbian marriage. The result, announced yesterday, was a decisive victory for the "Yes" campaign, with 62% of the electorate in favour and 38% against. Voter turnout was 62%.
Prior to this week's vote, same-sex marriage had already become legal in neighbouring England, Wales and Scotland during 2013-14. Northern Ireland's Executive does not intend to introduce such legislation for Northern Ireland despite repeated votes on the issue, but in the world at large, acceptance of same-sex marriage is a rapidly emerging social trend. As we become ever more connected and globalised, attitudes are changing; openness and tolerance are increasing. In America, the U.S. Supreme Court is expected to make a nationwide, federal ruling on the issue in the next several weeks. Looking ahead to the longer term, FutureTimeline.net predicts over half the world's countries will allow same-sex marriage by 2045, while the vast majority will have decriminalised homosexuality.
Irish Prime Minister Enda Kenny, speaking at a press conference, commented: "Today Ireland made history. With today's Yes vote we have disclosed who we are – a generous, compassionate, bold and joyful people. Yes to inclusion. Yes to generosity. Yes to love, and yes to equal marriage. I know that for tens of thousands of couples and their families, the past 24 hours were almost like a vigil at the end of a long journey. Would their fragile and deeply personal hopes be realised? Would a majority of people, in this our Republic, stand with them and stand up for them so that they can live in our shelter and not in our shadow? That having come out to us we could now come out for them – and do it with a single word, a solitary syllable – Yes – marked with an X. Today they have their answer. The people have answered the call of families and friends, of neighbours and new acquaintances."
Deputy Prime Minister Joan Burton also commented: "Together, the people of Ireland have struck a massive blow against discrimination as we extend the right of marriage to all our citizens. We've done something incredible and proven that a compassionate, well-informed electorate can and will extend civil rights when asked in a popular ballot. Now I hope that spirit, that torch, is carried abroad. We're the latest country to pass marriage equality into law – but we will certainly not be the last."
British Prime Minister David Cameron, in a Downing Street press release, commented: "My heartfelt congratulations to the people of Ireland, who have voted today to introduce same-sex marriage. Just over a year ago, we introduced same-sex civil marriage and sent out a clear message – you are equal whether you are straight or gay."
21st January 2015
Richest 1% will own more than all the rest by 2016
The combined wealth of the richest 1 per cent will overtake that of the other 99 per cent of people next year, unless the current trend of rising inequality is checked, Oxfam has warned ahead of the annual World Economic Forum meeting in Davos.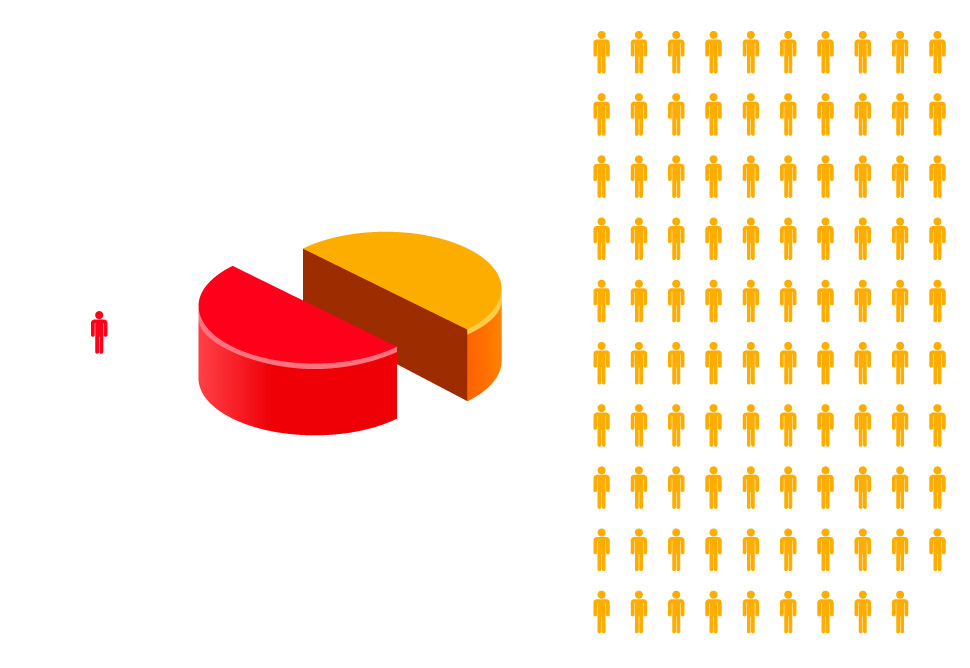 The international agency Oxfam, whose executive director Winnie Byanyima will co-chair the Davos event, warns that the explosion in inequality is holding back the fight against global poverty at a time when 1 in 9 people do not have enough to eat and more than a billion people still live on less than $1.25-a-day.
Byanyima will use her position at Davos to call for urgent action to stem this rising tide of inequality, starting with a crackdown on tax dodging by corporations, and to push for progress towards a global deal on climate change.
Wealth: Having it all and wanting more– a research paper published this week by Oxfam – shows that the richest 1 per cent have seen their share of global wealth increase from 44 per cent in 2009, to 48 per cent in 2014 and at this rate will surpass 50 per cent in 2016. Members of this global elite had an average wealth of $2.7m per adult in 2014.
Of the remaining 52 per cent of wealth, almost all (46 per cent) is owned by the rest of the richest fifth of the world's population. The other 80 per cent share just 5.5 per cent and had an average wealth of $3,851 per adult in 2014 – that's 1/700th of the average wealth of the 1 per cent.
"Do we really want to live in a world where the one per cent own more than the rest of us combined?" says Byanyima. "The scale of global inequality is quite simply staggering and despite the issues shooting up the global agenda, the gap between the richest and the rest is widening fast.
"In the past 12 months, we have seen world leaders from President Obama to Christine Lagarde talk more about tackling extreme inequality, but we are still waiting for many of them to walk the walk. It is time our leaders took on the powerful vested interests that stand in the way of a fairer and more prosperous world.
"Business as usual for the elite isn't a cost free option – failure to tackle inequality will set the fight against poverty back decades. The poor are hurt twice by rising inequality – they get a smaller share of the economic pie and because extreme inequality hurts growth, there is less pie to be shared around."
Lady Lynn Forester de Rothschild, CEO of EL Rothschild and chairman of the Coalition for Inclusive Capitalism, speaking at a joint Oxfam-University of Oxford event on inequality, called on business leaders meeting in Davos to play their part in tackling extreme inequality: "Oxfam's report is just the latest evidence that inequality has reached shocking extremes, and continues to grow. It is time for the global leaders of modern capitalism, in addition to our politicians, to work to change the system to make it more inclusive, more equitable and more sustainable.
"Extreme inequality isn't just a moral wrong. It undermines economic growth and threatens the private sector's bottom line. All those gathering at Davos who want a stable and prosperous world should make tackling inequality a top priority."
Oxfam made headlines at Davos in 2013, by highlighting that the 100 richest people on the planet had enough income to end poverty four times over, while in 2014, they revealed that the 85 richest individuals had the same wealth as the poorest 50 per cent (3.5 billion people). That number is now 80 – a dramatic fall from 388 people in 2010. The wealth of these richest 80 doubled in cash terms between 2009-14.
The international agency is calling on governments to adopt a seven point plan to tackle inequality:
Clamp down on tax dodging by corporations and rich individuals
Invest in universal, free public services such as health and education
Share the tax burden fairly, shifting taxation from labour and consumption towards capital and wealth
Introduce minimum wages and move towards a living wage for all workers
Introduce equal pay legislation and promote economic policies to give women a fair deal
Ensure adequate safety-nets for the poorest, including a minimum income guarantee
Agree a global goal to tackle inequality.
This week's new research paper, which follows the October launch of Oxfam's global Even It Up campaign, shines a light on the way extreme wealth is passed down the generations and how elite groups mobilise their vast resources to ensure global rules are favourable towards their interests. Over a third of the 1,645 billionaires listed by Forbes inherited some or all of their riches.
Twenty per cent of billionaires have interests in the financial and insurance sectors – a group which saw their cash wealth increase by 11 per cent in the 12 months to March 2014. These sectors spent $550m lobbying policy makers in Washington and Brussels during 2013. The 2012 US election cycle alone saw the financial sector providing $571m in campaign contributions. Billionaires listed as having interests in the pharmaceutical and healthcare sectors saw their collective net worth increase by 47 per cent. During 2013, they spent more than $500m lobbying policy makers in Washington and Brussels.
Oxfam is concerned that the lobbying power of these sectors is a major barrier in the way of reforming the global tax system and of ensuring intellectual property rules do not lead to the world's poorest being denied life-saving medicines.
There is increasing evidence from the International Monetary Fund, among others, that extreme inequality is not just bad news for those at the bottom but also damages economic growth. In an interview with the Guardian, Byanyima says: "We want to bring a message from the people in the poorest countries in the world to the forum of the most powerful business and political leaders.
"The message is that rising inequality is dangerous. It's bad for growth and it's bad for governance. We see a concentration of wealth capturing power and leaving ordinary people voiceless and their interests uncared for.
"Extreme inequality is not just an accident or a natural rule of economics. It is the result of policies, and with different policies it can be reduced. I am optimistic that there will be change. A few years ago, the idea that extreme poverty was harmful was on the fringes of the economic and political debate. But having made the case, we now see an emerging consensus among business leaders, economic leaders, political leaders and even faith leaders."