21st January 2015
Richest 1% will own more than all the rest by 2016
The combined wealth of the richest 1 per cent will overtake that of the other 99 per cent of people next year, unless the current trend of rising inequality is checked, Oxfam has warned ahead of the annual World Economic Forum meeting in Davos.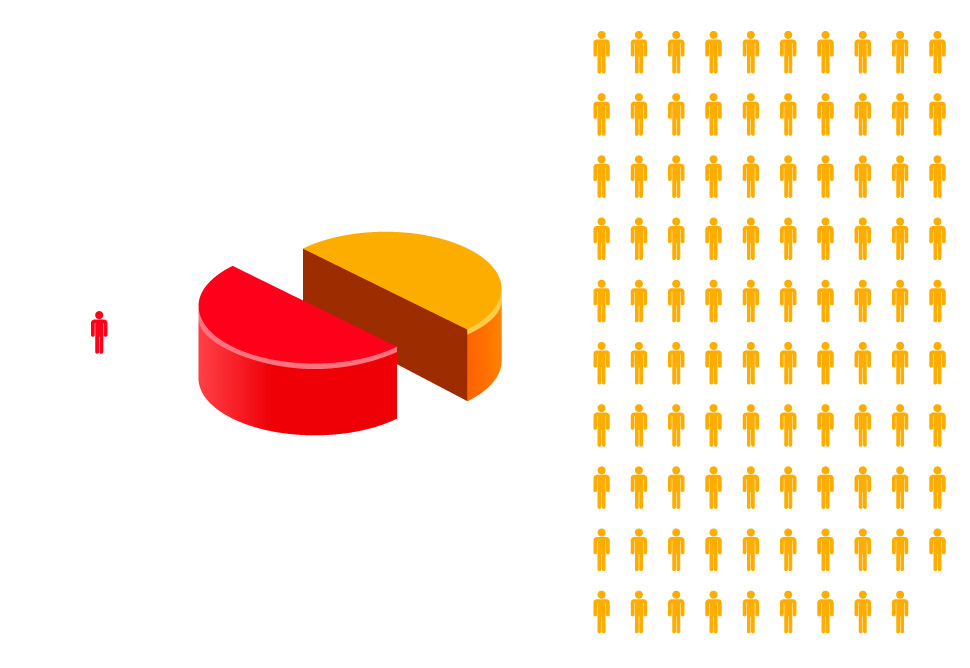 The international agency Oxfam, whose executive director Winnie Byanyima will co-chair the Davos event, warns that the explosion in inequality is holding back the fight against global poverty at a time when 1 in 9 people do not have enough to eat and more than a billion people still live on less than $1.25-a-day.
Byanyima will use her position at Davos to call for urgent action to stem this rising tide of inequality, starting with a crackdown on tax dodging by corporations, and to push for progress towards a global deal on climate change.
Wealth: Having it all and wanting more– a research paper published this week by Oxfam – shows that the richest 1 per cent have seen their share of global wealth increase from 44 per cent in 2009, to 48 per cent in 2014 and at this rate will surpass 50 per cent in 2016. Members of this global elite had an average wealth of $2.7m per adult in 2014.
Of the remaining 52 per cent of wealth, almost all (46 per cent) is owned by the rest of the richest fifth of the world's population. The other 80 per cent share just 5.5 per cent and had an average wealth of $3,851 per adult in 2014 – that's 1/700th of the average wealth of the 1 per cent.
"Do we really want to live in a world where the one per cent own more than the rest of us combined?" says Byanyima. "The scale of global inequality is quite simply staggering and despite the issues shooting up the global agenda, the gap between the richest and the rest is widening fast.
"In the past 12 months, we have seen world leaders from President Obama to Christine Lagarde talk more about tackling extreme inequality, but we are still waiting for many of them to walk the walk. It is time our leaders took on the powerful vested interests that stand in the way of a fairer and more prosperous world.
"Business as usual for the elite isn't a cost free option – failure to tackle inequality will set the fight against poverty back decades. The poor are hurt twice by rising inequality – they get a smaller share of the economic pie and because extreme inequality hurts growth, there is less pie to be shared around."
Lady Lynn Forester de Rothschild, CEO of EL Rothschild and chairman of the Coalition for Inclusive Capitalism, speaking at a joint Oxfam-University of Oxford event on inequality, called on business leaders meeting in Davos to play their part in tackling extreme inequality: "Oxfam's report is just the latest evidence that inequality has reached shocking extremes, and continues to grow. It is time for the global leaders of modern capitalism, in addition to our politicians, to work to change the system to make it more inclusive, more equitable and more sustainable.
"Extreme inequality isn't just a moral wrong. It undermines economic growth and threatens the private sector's bottom line. All those gathering at Davos who want a stable and prosperous world should make tackling inequality a top priority."
Oxfam made headlines at Davos in 2013, by highlighting that the 100 richest people on the planet had enough income to end poverty four times over, while in 2014, they revealed that the 85 richest individuals had the same wealth as the poorest 50 per cent (3.5 billion people). That number is now 80 – a dramatic fall from 388 people in 2010. The wealth of these richest 80 doubled in cash terms between 2009-14.
The international agency is calling on governments to adopt a seven point plan to tackle inequality:
Clamp down on tax dodging by corporations and rich individuals
Invest in universal, free public services such as health and education
Share the tax burden fairly, shifting taxation from labour and consumption towards capital and wealth
Introduce minimum wages and move towards a living wage for all workers
Introduce equal pay legislation and promote economic policies to give women a fair deal
Ensure adequate safety-nets for the poorest, including a minimum income guarantee
Agree a global goal to tackle inequality.
This week's new research paper, which follows the October launch of Oxfam's global Even It Up campaign, shines a light on the way extreme wealth is passed down the generations and how elite groups mobilise their vast resources to ensure global rules are favourable towards their interests. Over a third of the 1,645 billionaires listed by Forbes inherited some or all of their riches.
Twenty per cent of billionaires have interests in the financial and insurance sectors – a group which saw their cash wealth increase by 11 per cent in the 12 months to March 2014. These sectors spent $550m lobbying policy makers in Washington and Brussels during 2013. The 2012 US election cycle alone saw the financial sector providing $571m in campaign contributions. Billionaires listed as having interests in the pharmaceutical and healthcare sectors saw their collective net worth increase by 47 per cent. During 2013, they spent more than $500m lobbying policy makers in Washington and Brussels.
Oxfam is concerned that the lobbying power of these sectors is a major barrier in the way of reforming the global tax system and of ensuring intellectual property rules do not lead to the world's poorest being denied life-saving medicines.
There is increasing evidence from the International Monetary Fund, among others, that extreme inequality is not just bad news for those at the bottom but also damages economic growth. In an interview with the Guardian, Byanyima says: "We want to bring a message from the people in the poorest countries in the world to the forum of the most powerful business and political leaders.
"The message is that rising inequality is dangerous. It's bad for growth and it's bad for governance. We see a concentration of wealth capturing power and leaving ordinary people voiceless and their interests uncared for.
"Extreme inequality is not just an accident or a natural rule of economics. It is the result of policies, and with different policies it can be reduced. I am optimistic that there will be change. A few years ago, the idea that extreme poverty was harmful was on the fringes of the economic and political debate. But having made the case, we now see an emerging consensus among business leaders, economic leaders, political leaders and even faith leaders."
30th December 2014
Police body cameras can prevent excessive force
The first full scientific study into police body cameras has shown the technology can substantially reduce both excessive use-of-force by officers and complaints against officers by the public.
The first full scientific study of an experiment with body-worn police cameras has been published by the Journal of Quantitative Criminology. The trial was conducted in Rialto, California, during a 12-month period and shows highly promising results. Officers wearing the camera devices witnessed a 59% drop in their use-of-force, while complaints against them fell by a massive 87% compared to the previous year's figures. Police shifts were randomly assigned as experimental (with camera) or control (without camera), totalling over 50,000 hours of police-public interactions.
According to the researchers, when people are being recorded, it generates a "self-awareness" for everyone involved. Knowing a third party could later observe their actions – potentially a legal court, or the public – will cause them to change their behaviour and become less confrontational. This makes body-worn video a "preventative treatment" that could diffuse or even completely stop volatile situations from escalating. It applies to both abusive behaviour towards police and unnecessary use-of-force by police.
Dr Barak Ariel, from the University of Cambridge's Institute of Criminology (IoC): "With institutionalised body-worn-camera use, an officer is obliged to issue a warning from the start that an encounter is being filmed, impacting the psyche of all involved by conveying a straightforward, pragmatic message: we are all being watched, videotaped and expected to follow the rules."
"Police subcultures of illegitimate force responses are likely to be affected by the cameras, because misconduct cannot go undetected – an external set of behavioural norms is being applied and enforced through the cameras. Police-public encounters become more transparent and the curtain of silence that protects misconduct can more easily be unveiled, which makes misconduct less likely."
The trials are now being replicated by 30 forces worldwide – including the Metropolitan Police in London, forces in West Yorkshire, Northern Ireland, Uruguay and elsewhere in the United States. In the wake of several high-profile incidents, the White House earlier this month pledged $263 million in additional federal funding for police training and cameras, with $75 million allocated specifically for the purchase of 50,000 body cameras. New findings are due to be announced at the IoC's Conference for Evidence-Based Policing in July 2015. Early signs appear to match the Rialto success, showing that body-worn-video cameras have a major positive impact on interactions between officers and civilians.
However, the research team is keen to sound a note of caution. Just as with any revolutionary new technology, more needs to be known regarding the full effects and legal ramifications. Before departments are "steamrolled" into adopting them, vital questions need to be answered such as how these devices might influence prosecution outcomes.
"Historically, courtroom testimonies of response officers have carried tremendous weight," says Ariel. "But prevalence of video might lead to reluctance to prosecute when there is no evidence from body-worn-cameras to corroborate the testimony of an officer, or even a victim."
There are also the issues of storage, security, privacy and the vast amount of data captured. While the devices are highly cost-effective at present (analysis from Rialto showed every dollar spent on the technology saved about four dollars on complaint litigations), the sheer level of data storage has the potential to become crippling in the future.
"The velocity and volume of data accumulating in police departments – even if only a fraction of recorded events turn into 'downloadable' recordings for evidentiary purposes – will exponentially grow over time," says Ariel. "User licenses, storage space, 'security costs', maintenance and system upgrades can potentially translate into billions of dollars worldwide."
"Body-worn-video has the potential to improve police legitimacy and enhance democracy – not least by calming situations on the front line of policing to prevent the pain and damage caused by unnecessary escalations of volatile situations. But there are substantial effects of body-worn-video that can potentially offset the benefits which future research needs to explore."
19th December 2014
Scientists to begin 100-year study on
artificial intelligence
Stanford University will lead a 100-year effort to study the long-term implications of artificial intelligence in all aspects of life.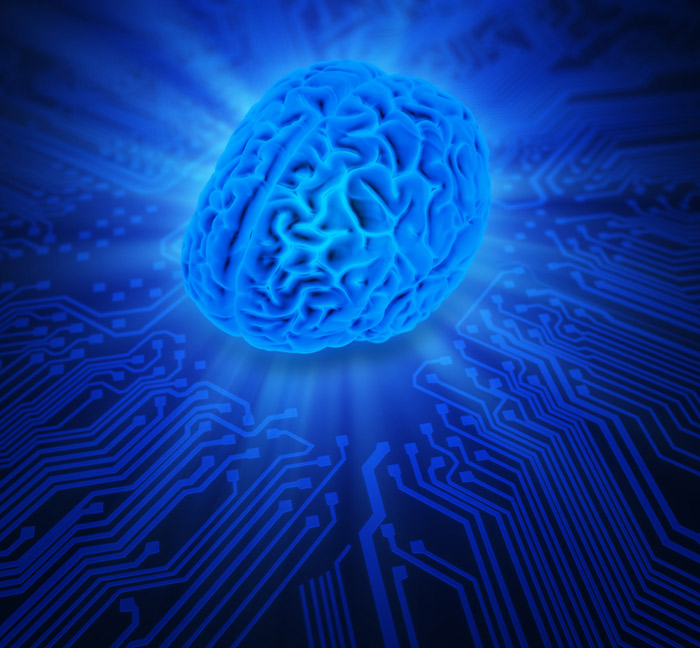 Stanford University has invited leading thinkers from several institutions to begin a 100-year effort to study and anticipate how artificial intelligence (AI) will affect every aspect of how people work, live and play. This effort – called the One Hundred Year Study on Artificial Intelligence, or AI100 – has been initiated by computer scientist Eric Horvitz, a former president of the Association for the Advancement of Artificial Intelligence.
In 2009, Horvitz hosted a conference at which top researchers considered breakthroughs in AI and its influence on people and society. While the group concluded that the advances have been largely positive, their debate highlighted the need for longer-term studies of the implications. Now, along with Russ Altman, professor of bioengineering and computer science, Horvitz has formed a group that will begin a series of periodic studies on how AI will affect automation, democracy, ethics, law, national security, privacy, psychology and other issues. These subjects are outlined in a white paper.
"Artificial intelligence is one of the most profound undertakings in science, and one that will affect every aspect of human life," said John Hennessy the President of Stanford University, who helped initiate the project. "Given Stanford's pioneering role in AI and our interdisciplinary mindset, we feel obliged and qualified to host a conversation about how artificial intelligence will affect our children and our children's children."
Five leading academicians with diverse interests will join Horvitz and Altman in launching this effort. The seven researchers will together form the first AI100 standing committee. It and subsequent committees will identify the most compelling topics in AI at any given time, and convene a panel of experts to study and report on these issues. Horvitz envisions this process repeating itself every several years, as new topics are chosen and the horizon of AI technology is scouted.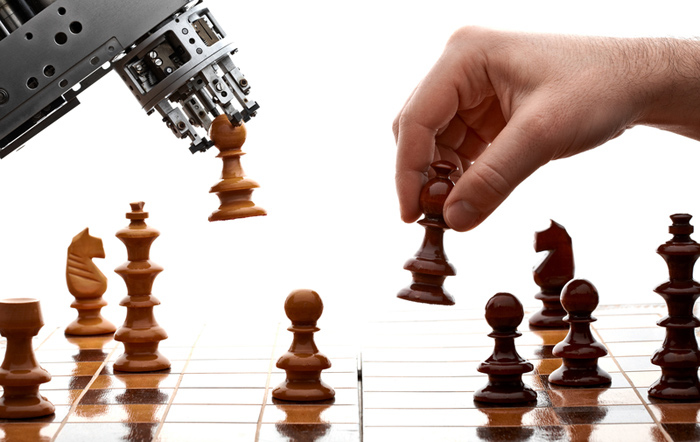 "I'm very optimistic about the future and see great value ahead for humanity, with advances in systems that can perceive, learn and reason," explains Horvitz, who is launching AI100 as a private philanthropic initiative. "However, it is difficult to anticipate all of the opportunities and issues, so we need to create an enduring process."
Altman, who studied computer science and medicine with Horvitz at Stanford during the late 1980s, said a university is the best place to nurture such a long-term effort: "If your goal is to create a process that looks ahead 30 to 50 to 70 years, it's not altogether clear what artificial intelligence will mean, or how you would study it," he said. "But it's a pretty good bet that Stanford will be around, and that whatever is important at the time, the university will be involved in it."
AI100 is funded by a gift from Eric and his wife Mary Horvitz. They envision that the program, with its century-long chain of committees, study panels and growing digital archive, will remain a centre of vigilance as the future unfolds: "We're excited about kicking off a hundred years of observation and thinking about the influences of AI on people and society. It's our hope that the study, with its extended memory and long gaze, will provide important insights and guidance over the next century and beyond," said Horvitz.
Long-term thinking will be vital if humanity is to survive and prosper in the future. More and more people are now recognising its importance as demonstrated by efforts such as the Long Now Foundation, Singularity University, the 100 Year Starship project, the climate projections of the IPCC and indeed this website, Future Timeline. The group of scientists who will join Horvitz and Altman in forming the first AI100 committee – and their comments – are listed below.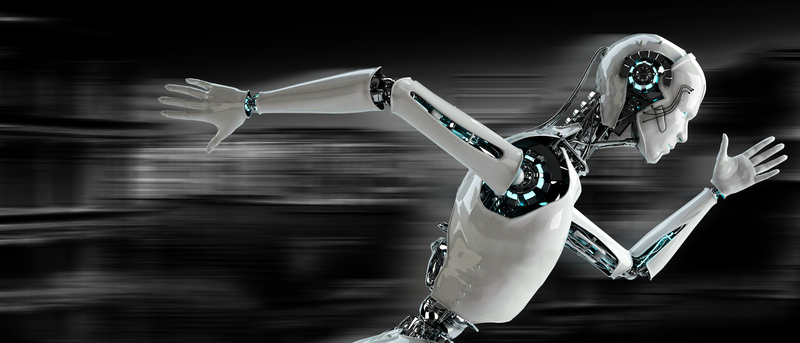 Barbara Grosz
Higgins Professor of Natural Sciences at Harvard University and an expert on multi-agent collaborative systems
"I'm excited about the potential for AI100 to focus attention on ways to design AI to work with and for people. We can shift the discussion about the societal impact of AI from the extremes to positions that take into account the nuances of societal values, human cognitive capacities and actual AI capabilities."
---
Alan Mackworth
Professor of computer science at the University of British Columbia and the Canada Research Chair in Artificial Intelligence, who created the world's first soccer-playing robot
"This study will provide a forum for us to consider critical issues in the design and use of AI systems, including their economic and social impact."
---
Tom Mitchell
Professor and chair of the machine learning department at Carnegie Mellon University, whose studies include how computers might learn to read the Web
"We won't be putting the genie back in the bottle. AI technology is progressing along so many directions and progress is being driven by so many different organisations that it is bound to continue. AI100 is an innovative and far-sighted response to this trend – an opportunity for us as a society to determine the path of our future and not to simply let it unfold unawares."
---
Deirdre K. Mulligan
Lawyer and a professor in the School of Information at the University of California, Berkeley, who collaborates with technologists to advance privacy and other democratic values through technical design and policy
"The 100-year study provides an intellectual and practical home for the long-term interdisciplinary research necessary to document, understand and shape AI to support human flourishing and democratic ideals."
---
Yoav Shoham
Professor of computer science at Stanford, who seeks to incorporate common sense into AI
"The complexities of the field have tended to give rise to uninformed and misguided perceptions and commentaries. This long-term study will help create a more accurate and nuanced view of AI."
28th October 2014
Reducing human population to a sustainable level could take centuries
A new multi-scenario modelling of world human population concludes that even draconian fertility restrictions or a catastrophic mass mortality won't be enough to solve issues of global sustainability by 2100.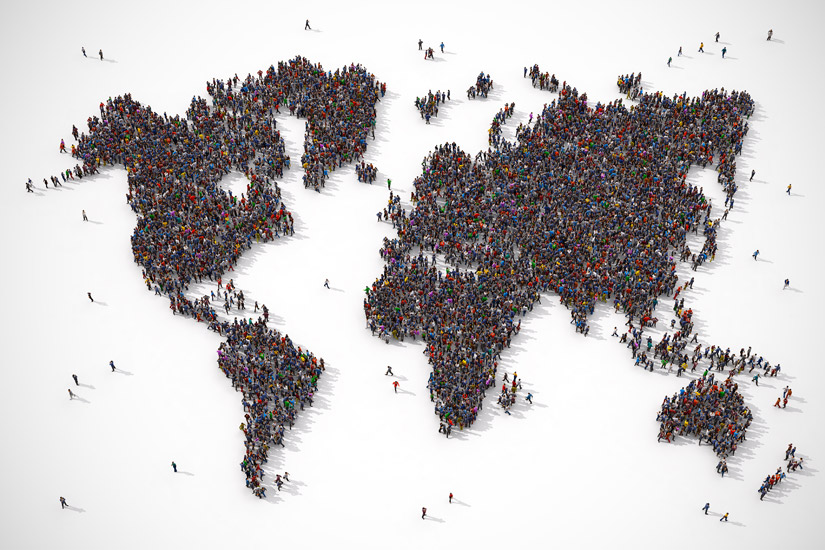 Published today in the Proceedings of the National Academy of Sciences of the USA, ecologists Professor Corey Bradshaw and Professor Barry Brook from the University of Adelaide's Environment Institute say that our "virtually locked-in" population growth means the world must focus on policies and technologies that reverse rising consumption of natural resources and enhance recycling, for more immediate sustainability gains.
Fertility reduction efforts, however, through increased family-planning assistance and education, should still be pursued, as this will lead to hundreds of millions fewer people to feed by mid-century.
"Global population has risen so fast over the past century that roughly 14% of all the human beings that have ever existed are still alive today. That's a sobering statistic," says Professor Bradshaw, Director of Ecological Modelling. "This is considered unsustainable for a range of reasons – not least being able to feed everyone, as well as the impact on the climate and environment.
"We examined various scenarios for global human population change to the year 2100 by adjusting fertility and mortality rates to determine the plausible range of population sizes at the end of this century. Even a worldwide one-child policy like China's, implemented over the coming century, or catastrophic mortality events like global conflict or a disease pandemic, would still likely result in 5-10 billion people by 2100."
The team constructed nine different scenarios for continuing population, ranging from "business as usual" through various fertility reductions, to highly unlikely broad-scale catastrophes resulting in billions of deaths.
"We were surprised that a five-year WWIII scenario – mimicking the same proportion of people killed in the First and Second World Wars combined – barely registered a blip on the human population trajectory this century," says Professor Barry Brook.
"Often when I give public lectures about policies to address global change, someone will claim that we are ignoring the 'elephant in the room' of human population size. Yet, as our models show clearly, while there needs to be more policy discussion on this issue, the current inexorable momentum of the global human population precludes any demographic 'quick fixes' to our sustainability problems.
"Our work reveals that effective family planning and reproduction education worldwide have great potential to constrain the size of the human population and alleviate pressure on resource availability over the longer term. Our great-great-great-great grandchildren might ultimately benefit from such planning, but people alive today will not.
"The corollary of these findings is that society's efforts towards sustainability would be directed more productively towards reducing our impact as much as possible through technological and social innovation."
20th October 2014
Gay marriage in the United States is progressing faster than expected
Back in 2011, we predicted that same-sex marriage would be allowed in every part of the United States by 2024. At the time, some of our readers claimed this was unrealistic and the process would take considerably longer. We chose that year based on the number of states where it had already become legal projected onto a future trend, combined with a reference from Des Moines Register that seemed to agree with our forecast.
Only six states (plus the District of Columbia) permitted same-sex marriages in 2011. Since then, another 25 have legalised it, bringing the total to 31, which is now a clear majority of the 50 states. This year alone has seen 14 states passing new laws. From 6th-12th October 2014, the Supreme Court declined to hear cases on same-sex marriage appeals – thus legalising gay marriage in Virginia, Utah, Indiana, Oklahoma and Wisconsin. This action was followed by legalisation of same-sex marriage in Nevada, Colorado, West Virginia, Idaho, North Carolina and Alaska.
There are even more cases to follow. The Sixth Circuit Court of Appeals is now expected to rule on challenges to the denial of same-sex marriage in Kentucky, Michigan, Ohio and Tennessee. Public support has grown at an increasing pace since the 1990s. According to a recent Gallup poll, it now stands at 52%, with 43% against and 5% with no opinion. Support tends to be higher among the younger generations, with 69% of 18-34 year olds in favour and only 38% of those aged 55 or above.
Below is a graph showing the number of states where gay marriage has been legalised (green) and the original trend we predicted back in 2011 (red). Half of the remaining states lie in the southern Bible Belt, a traditional conservative stronghold (see this excellent map and slider from Pew Research). Nevertheless, it seems our prediction will need revising.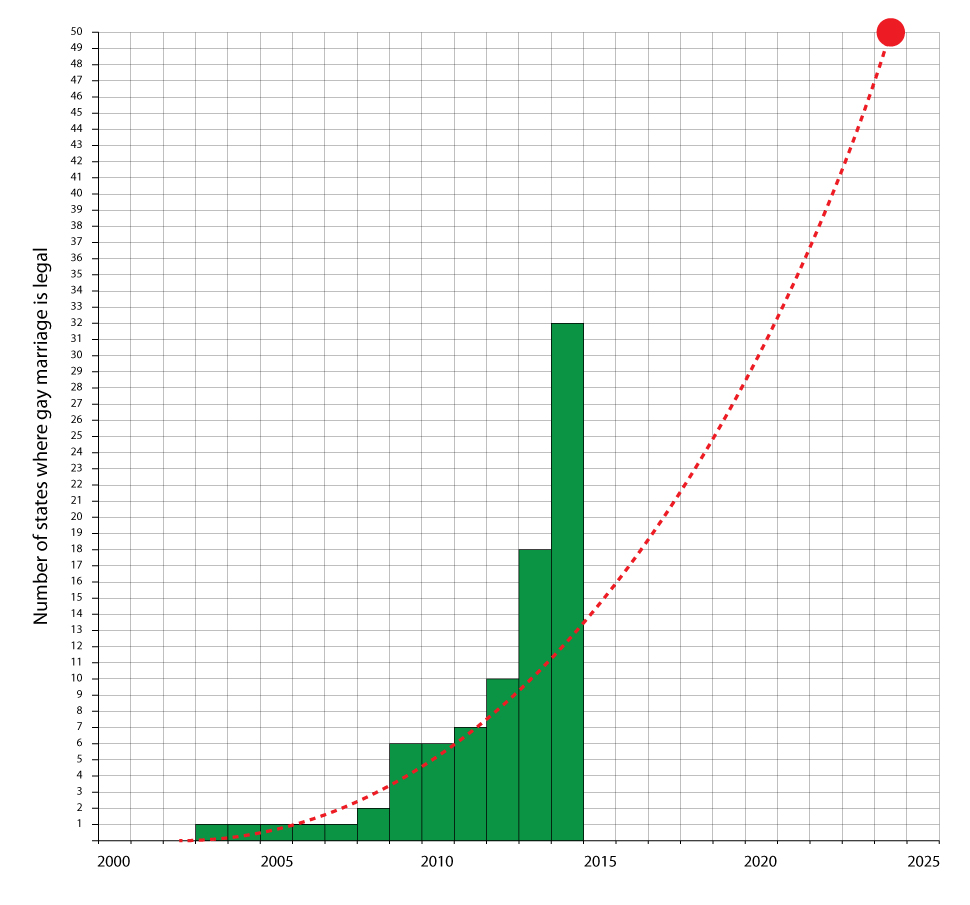 7th October 2014
Premature deaths could be reduced by 40% over next 20 years
New research published in The Lancet suggests that, with sustained international efforts, the number of premature deaths could be reduced by 40% over the next two decades (2010-2030), halving under–50 mortality and preventing a third of the deaths at ages 50–69 years.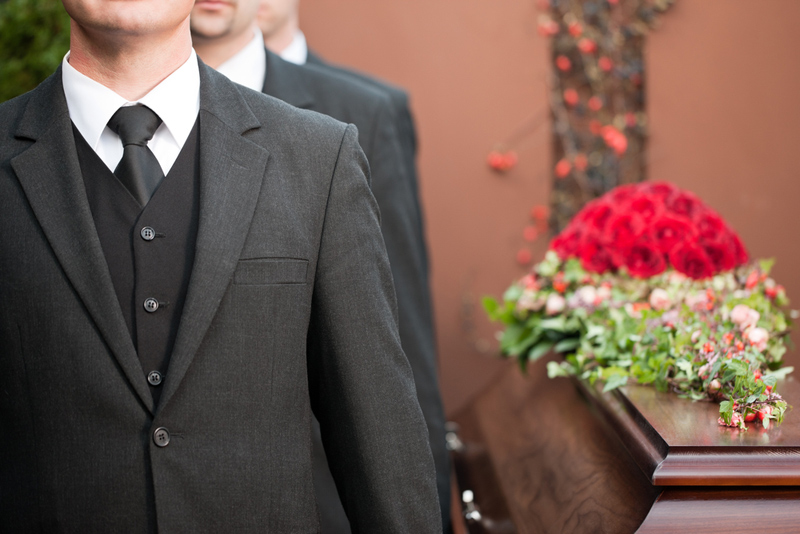 The Lancet reveals that, between 2000 and 2010, child deaths fell by one-third worldwide, helped by the fourth Millennium Development Goal (MDG) to reduce child deaths by two-thirds; and premature deaths among adults fell by one-sixth, helped by MDG 5 to reduce maternal mortality and MDG 6 to fight AIDS, malaria and other diseases. With expanded international efforts against a wider range of causes, these rates of decrease could accelerate, say the study authors.
The most striking change during 2000–2010 was a two-thirds reduction in childhood deaths from the diseases now controlled by vaccination (diphtheria, pertussis, tetanus, polio, and measles), highlighting what targeted international efforts can achieve.
"Death in old age is inevitable, but death before old age is not", said co-author Richard Peto, Professor of medical statistics at the University of Oxford, UK. "In all major countries, except where the effects of HIV or political disturbances predominated, the risk of premature death has been decreasing in recent decades, and it will fall even faster over the next few decades if the new UN Sustainable Development Goals get the big causes of death taken even more seriously."
The United Nations General Assembly has been discussing 17 Sustainable Development Goals for 2016–2030 to replace the MDGs that expire at the end of 2015. The new health goal is "Ensure healthy lives and promote well-being for all at all ages". The group of 16 authors, writing in The Lancet, call for this new health goal to be accompanied by a specific target to avoid in each country 40% of all premature deaths (of the deaths that would occur in the 2030 population of that country, if its 2010 death rates continued).
The 40% reduction from 2010 to 2030 in deaths before age 70 would involve reductions of two-thirds in the causes already being targeted by the MDGs, and a one-third reduction in other causes of premature death, such as non-communicable diseases and injuries.
Lead author Ole Norheim, Professor of global public health at the University of Bergen, Norway, explained, "Based on realistically moderate improvements in current trends, our proposed targets are a two-thirds reduction in child and maternal deaths and in HIV, tuberculosis, and malaria, and a one-third reduction in deaths from non-communicable diseases and injuries. For this, we are going to need improved healthcare, intensified international efforts to control communicable diseases, and more effective prevention and treatment of non-communicable diseases and injuries."
"The most important cause of non-communicable disease is tobacco use – and one of the key determinants of smoking is the price of cigarettes", says co-author Prabhat Jha, Director of the Centre for Global Health Research in St Michael's Hospital, Toronto. "WHO is calling for a 30% reduction in smoking by 2025, and in many countries major increases in excise taxes that double the price of cigarettes are still possible. Such an increase would reduce smoking by about a third, but would increase the total Government tax yield from smoking by about a third."
With political commitment and sustained efforts to improve health, the current rate of decline in premature death can be further accelerated. "We conclude that a 40% reduction in premature deaths is realistic in each country where mortality in 2030 is not dominated by new epidemics, political disturbances or disasters", adds Professor Norheim.
Writing in a linked Comment, the Norwegian Ministers of Foreign Affairs and of Health and Care say, "[This] study shows what an important part science could play in the negotiations at the 69th Session of the UN General Assembly. We strongly urge the medical community to develop a common position that can enable the international community to arrive at a single health SDG with a limited number of simple, understandable and measurable targets."
In another linked Comment, Professor Sir George Alleyne, Director Emeritus of the Pan American Health Organization (PAHO), Washington, DC, USA, and colleagues, write that, "The significant advance in this paper is to introduce quantification to the target-setting process, based on rigorous analysis of mortality trends by age as well as by disease category. The proposed targets focus on premature mortality and avoid more complex metrics which are much harder to measure and track over time. The authors stress the importance of countries adapting the targets to their own circumstances."
This study was funded by the UK Medical Research Council, Norwegian Agency for Development Co-operation, University of Toronto Centre for Global Health Research, and Bill and Melinda Gates Foundation.
17th September 2014
Ebola outbreak "out of all proportion" and severity cannot be predicted
A mathematical model that replicates Ebola outbreaks can no longer be used to ascertain the eventual scale of the current epidemic, finds a study conducted by the University of Warwick.
Dr Thomas House, of the University's Warwick Mathematics Institute, developed a model that incorporated data from past outbreaks that successfully replicated their eventual scale. The research, titled Epidemiological Dynamics of Ebola Outbreaks and published by eLife, shows that when applying the available data from the ongoing 2014 outbreak to the model that it is, according to Dr House, "out of all proportion and on an unprecedented scale when compared to previous outbreaks".
Dr House commented: "If we analyse the data from past outbreaks, we are able to design a model that works for the recorded cases of the virus spreading and can successfully replicate their eventual size. The current outbreak does not fit this previous pattern and, as a result, we are not in a position to provide an accurate prediction of the current outbreak".
Chance events, he argues, are an essential factor in the spread of Ebola and many other contagious diseases: "If we look at past Ebola outbreaks, there is an identifiable way of predicting their overall size based on modelling chance events that are known to be important when the numbers of cases of infection are small and the spread is close to being controlled".
Chance events can include a person's location when they are most infectious, whether they are alone when ill, the travel patterns of those with whom they come into contact or whether they are close to adequate medical assistance. The Warwick model successfully replicated the eventual scale of these past outbreaks by analysing two key chance events: the initial number of people and the level of infectiousness once an epidemic is underway.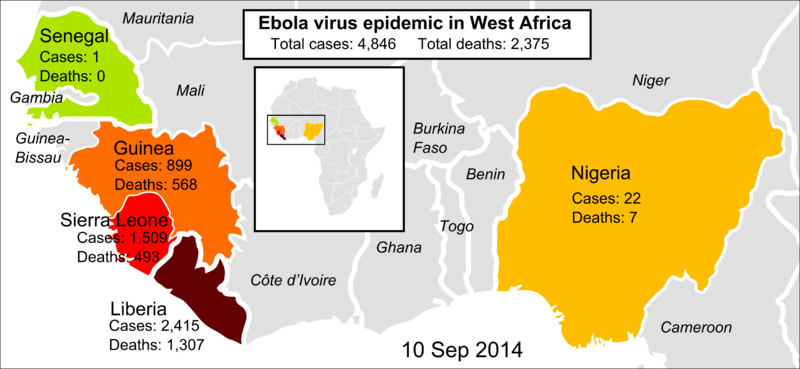 "With the current situation, we are seeing something that defies this previous pattern of outbreak severity," says Dr House. "As the current outbreak becomes more severe, it is less and less likely that it is a chance event – and more likely that something more fundamental has changed".
Discussing possible causes for the unprecedented nature of the current outbreak, Dr House argues that there could be a range of factors that lead it to be on a different scale to previous cases: "This could be as a result of a number of different factors: mutation of virus, changes in social contact patterns or some combination of these with other factors. It is implausible to explain the current situation solely through a particularly severe outbreak within the previously observed pattern".
In light of the research findings and the United Nations calling for a further $1bn USD to tackle the current outbreak, Dr House says that "Since we are not in a position to quantify the eventful scale of this unprecedented outbreak, the conclusion from this study is not to be complacent but to mobilise resources to combat the disease."
1st September 2014
In our digital world, are young people losing the ability to read emotions?
Children's social skills may be declining as they have less time for face-to-face interaction due to their increased use of digital media, according to a psychological study by the University of California, Los Angeles (UCLA).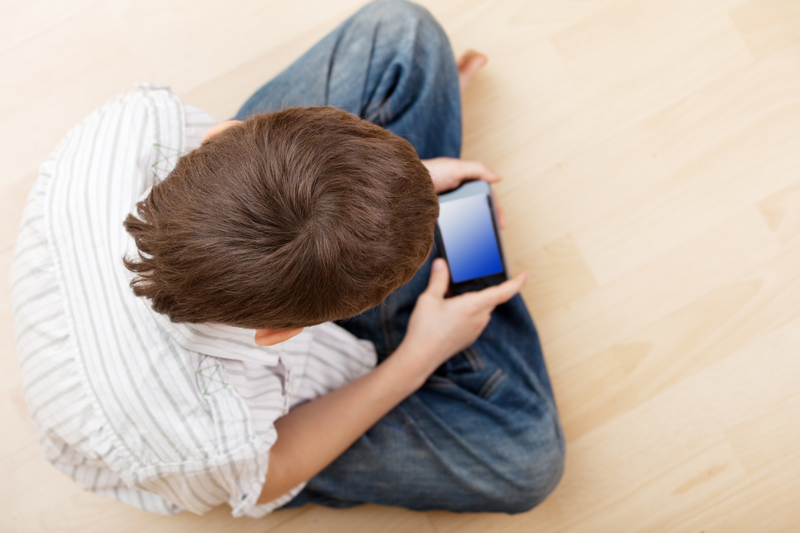 UCLA scientists found that sixth-graders who went five days without even glancing at a smartphone, television or other digital screen did substantially better at reading human emotions than sixth-graders from the same school who continued to spend hours each day looking at their electronic devices.
"Many people are looking at the benefits of digital media in education, and not many are looking at the costs," said Patricia Greenfield, a distinguished professor of psychology at UCLA College and senior author of the study. "Decreased sensitivity to emotional cues — losing the ability to understand the emotions of other people — is one of the costs. The displacement of in-person social interaction by screen interaction seems to be reducing social skills."
Researchers studied two sets of sixth-graders from a Southern California public school: 51 who lived together for five days at the Pali Institute, a nature and science camp about 70 miles east of Los Angeles, and 54 others from the same school. The camp doesn't allow students to use electronic devices — a policy that many students found to be challenging for the first couple of days. Most adapted quickly, however, according to camp counsellors.
At the beginning and end of the study, both groups were evaluated on their ability to recognise people's emotions in photos and videos. The students were shown 48 pictures of faces that were happy, sad, angry or scared, and asked to identify their feelings. They also watched videos of actors interacting with one another and were instructed to describe the characters' emotions. In one scene, students take a test and submit it to a teacher; one of the students is confident and excited, the other is anxious. In another scene, one student is saddened after being excluded from a conversation.
The children who had been at the nature camp improved significantly over the five days in their ability to read facial emotions and other non-verbal cues to emotion, compared with the students who continued to use their media devices.
Researchers tracked how many errors the students made when attempting to identify the emotions in the photos and videos. When analysing photos, for example, those at the camp made an average of 9.41 errors at the end of the study, down from 14.02 at the beginning. The students who didn't attend the camp recorded a significantly smaller change. For the videos, the students who went to camp improved significantly, while the scores of the students who did not attend camp showed no change. The findings applied equally to both boys and girls.
"You can't learn non-verbal emotional cues from a screen in the way you can learn it from face-to-face communication," said Yalda Uhls, lead author and senior researcher with the UCLA's Children's Digital Media Center, Los Angeles. "If you're not practicing face-to-face communication, you could be losing important social skills."
Students participating in the study reported that they text, watch television and play video games for an average of four-and-a-half hours on a typical school day. Some surveys have found that the figure is even higher nationally. Greenfield considers the results significant, given that they occurred after only five days. The implications of the research are that people need more face-to-face interaction — and that even when people use digital media for social interaction, they're spending less time developing social skills and learning to read non-verbal cues.
"We've shown a model of what more face-to-face interaction can do," Greenfield said. "Social interaction is needed to develop skills in understanding the emotions of other people."
Emoticons are a poor substitute for face-to-face communication, Uhls concluded: "We are social creatures. We need device-free time."
The research will appear in the October print edition of Computers in Human Behavior and is already published online.
2nd July 2014
Increases in life expectancy are likely to be even greater than current estimates
By failing to consider future trends in smoking, most projections for life expectancy in low-mortality nations have been underestimated.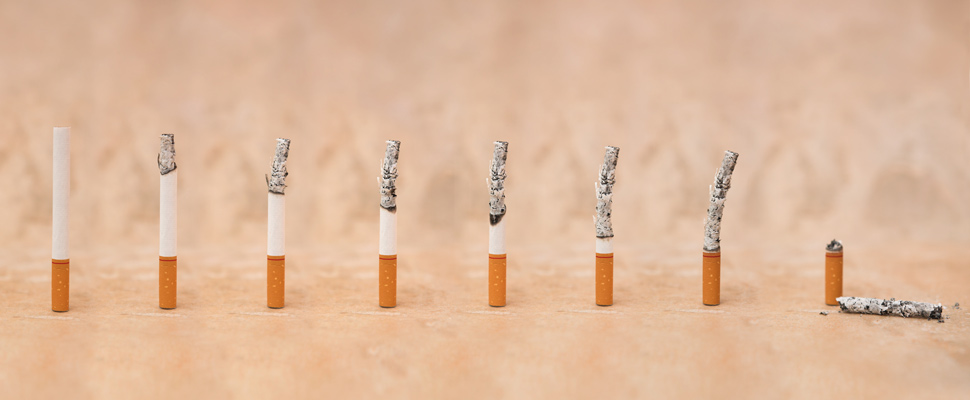 A new study by demographer John Bongaarts – Population Council Vice President and Distinguished Scholar – finds that mortality projections from most low-mortality countries are more pessimistic than they should be. The reason for this flaw is that existing projections fail to recognise that fewer people smoke today than used to. Indeed, less than 5% of the world's population may smoke by the year 2040. As a result, there will be a future decline in smoking-related mortality. This also suggests that with more people living longer, pension and health care costs in coming decades will likely be higher than previously estimated.
A country's future mortality trajectory has important implications for health and social policy, especially in countries with aging populations where pension and health care costs are rising steeply.
Developed countries – such as the United States, Japan, and most nations of Europe – often have government agencies that make mortality projections (e.g. Actuaries of the Social Security Administration in the United States) and the UN Population Division makes projections for 238 countries and regions. All current mortality projections foresee substantial increases in future life expectancy. However, Bongaarts finds that the increases in life expectancy are likely to be even greater than current estimates suggest.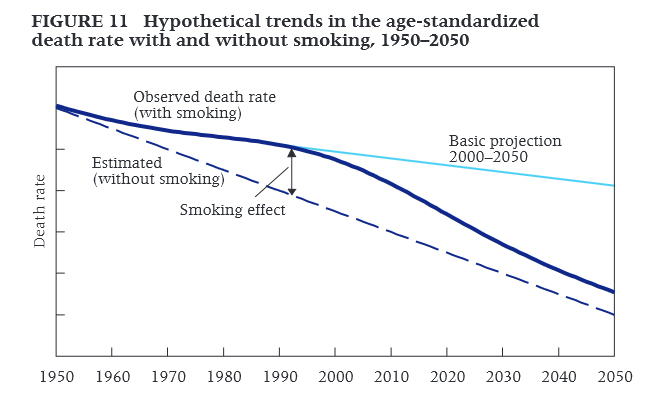 Nearly all methods for projecting mortality ignore trends in causes of death. Rather, they rely wholly or in part on the extrapolation of past trends in mortality rates, longevity measures, or mortality models. Bongaarts examined whether mortality projections could be improved by taking into account smoking trends. He focused on trends in death rates and causes of death in 15 countries with high life expectancy and reliable data on causes of death: Australia, Austria, Canada, Denmark, Finland, France, Italy, Japan, the Netherlands, Norway, Spain, Sweden, Switzerland, the United Kingdom, and the United States. Bongaarts studied mortality data gathered between 1955 and 2010.
A problem arises because most mortality projection methods ignore the past rise and the likely future decline in smoking-related deaths. "Making explicit adjustments for the distorting effects of smoking is likely to improve the accuracy of projections," says Bongaarts. It would not be possible to improve mortality projections by making adjustments for other causes of death, he found. Unlike other causes of death, future trends in smoking mortality can be predicted with a high degree of certainty.
"Worldwide, we are making notable progress in reducing the number of people who smoke," he says. "This not only has immediate health benefits, but also long-term public policy implications. To adequately prepare for longer-living older populations, countries must take smoking trends into account."
The study, "Trends in Causes of Death in Low-Mortality Countries: Implications for Mortality Projections," is published in the journal Population and Development Review.
14th May 2014
Having a sense of purpose in life increases longevity
Feeling that you have a sense of purpose in life may help you live longer, no matter what your age, according to research published in the journal Psychological Science.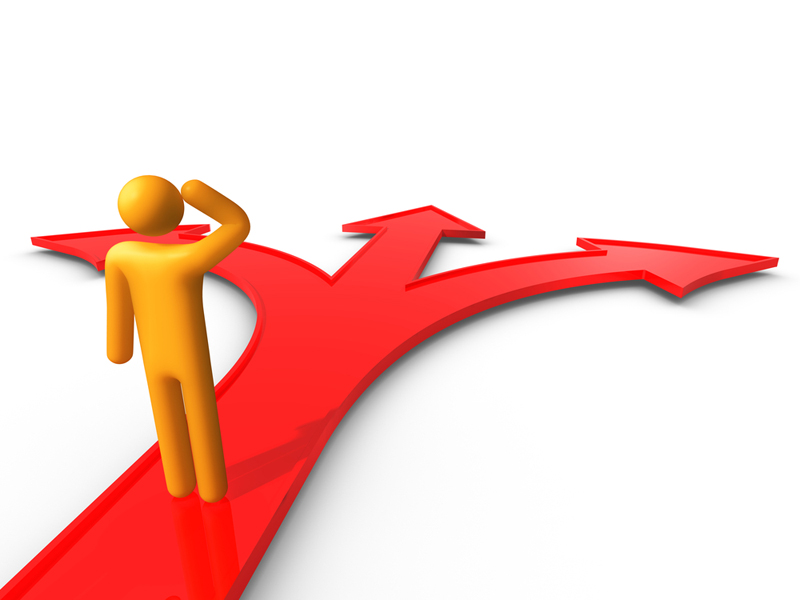 The research has clear implications for promoting positive aging and adult development, says lead researcher Patrick Hill of Carleton University, Canada: "Our findings point to the fact that finding a direction for life, and setting overarching goals for what you want to achieve can help you actually live longer, regardless of when you find your purpose. So the earlier someone comes to a direction for life, the earlier these protective effects may be able to occur."
Previous studies have suggested that finding a purpose in life can lower risk of mortality above and beyond other factors known to predict longevity. But, Hill points out, almost no research examined whether the benefits of purpose vary over time – such as across different developmental periods or after important life transitions.
Hill and colleague Nicholas Turiano of the University of Rochester Medical Center decided to explore this question, taking advantage of the nationally representative data available from the Midlife in the United States (MIDUS) study. The researchers looked at data from over 6000 participants, focusing on their self-reported purpose in life (e.g., "Some people wander aimlessly through life, but I am not one of them") and other psychosocial variables that gauged positive relations with others and their experience of positive and negative emotions.
Over the 14-year follow-up period represented in the MIDUS data, 569 of the participants had died (about 9% of the sample). Those who had died had reported lower purpose in life and fewer positive relations than did survivors. Greater purpose in life consistently predicted lower mortality risk across the entire lifespan – showing the same benefit for younger, middle-aged, and older participants across the follow-up period. This consistency came as a surprise to the researchers:
"There are a lot of reasons to believe that being purposeful might help protect older adults more so than younger ones," comments Hill. "For instance, adults might need a sense of direction more, after they have left the workplace and lost that source for organising their daily events. In addition, older adults are more likely to face mortality risks than younger adults. To show that purpose predicts longer lives for younger and older adults alike is pretty interesting, and underscores the power of the construct."
Purpose had similar benefits for adults regardless of retirement status, a known mortality risk factor. And the longevity benefits of purpose in life held even after other indicators of psychological well-being, such as positive relations and positive emotions, were taken into account.
"These findings suggest that there's something unique about finding a purpose that seems to be leading to greater longevity," says Hill.
The researchers are currently investigating whether having a purpose might lead people to adopt healthier lifestyles, thereby boosting longevity. Hill and Turiano are also interested in examining whether their findings hold for outcomes other than mortality: "In so doing, we can better understand the value of finding a purpose throughout the lifespan, and whether it provides different benefits for different people," Hill concludes.
5th May 2014
'Look Up' is a lesson taught to us through a love story, in a world where we continue to find ways to make it easier for us to connect with one another – but always results in us spending more time alone. Written, performed and directed by Gary Turk.
1st May 2014
Antibiotic resistance – a major global threat
Antibiotic resistance is now a "major global threat" to public health, according to a report by the World Health Organisation (WHO).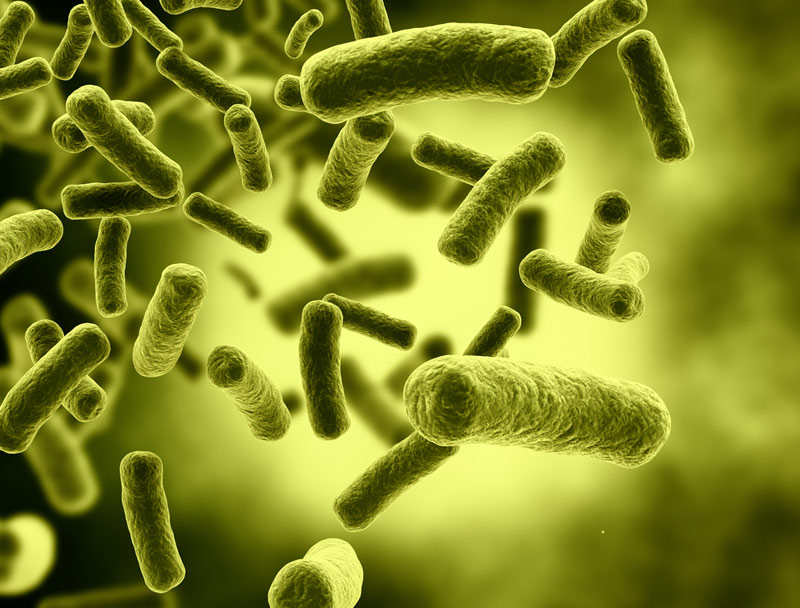 A new study by WHO – its first global report on antimicrobial resistance – reveals that this serious threat is no longer a prediction for the future, but is happening right now, in every region of the world and has the potential to affect anyone, of any age, in any country. Antibiotic resistance occurs when bacteria evolve so that antibiotics no longer work in people who need them to treat infections. Over the last 30 years, no major new types of antibiotics have been developed.
"Without urgent, coordinated action by many stakeholders, the world is headed for a post-antibiotic era, in which common infections and minor injuries which have been treatable for decades can once again kill," says Dr Keiji Fukuda, Assistant Director-General for Health Security. "Effective antibiotics have been one of the pillars allowing us to live longer, live healthier, and benefit from modern medicine. Unless we take significant actions to improve efforts to prevent infections and also change how we produce, prescribe and use antibiotics, the world will lose more and more of these global public health goods and the implications will be devastating."
Key findings of the report
The report, "Antimicrobial resistance: global report on surveillance", notes that resistance is occurring across many different infectious agents, but it focuses on antibiotic resistance in seven different bacteria responsible for common, serious diseases. These include bloodstream infections (sepsis), diarrhoea, pneumonia, urinary tract infections and gonorrhoea. The results are grave cause for concern, documenting resistance to antibiotics – especially "last resort" antibiotics – in all regions of the world.
Key findings include:
Resistance to "last resort" treatment for life-threatening infections caused by a common intestinal bacteria – K. pneumoniae – has spread to all regions of the world. K. pneumoniae is a major cause of hospital-acquired infections. In some countries, antibiotics no longer work in over half of people treated.


Resistance to a widely used medicine for treatment of urinary tract infections caused by E. coli is very widespread. In the 1980s, resistance was virtually zero. Today, there are countries around the world where drugs are now ineffective in more than half of patients.


"Last resort" treatment failure for gonorrhoea has been confirmed in Austria, Australia, Canada, France, Japan, Norway, Slovenia, South Africa, Sweden and the United Kingdom. More than 1 million people are infected with gonorrhoea around the world every day.


Antibiotic resistance causes people to be sick for longer and increases the risk of death. For example, people with MRSA (methicillin-resistant Staphylococcus aureus) are estimated to be 64% more likely to die than people with a non-resistant form of the infection. Resistance also increases the cost of healthcare with longer stays in hospital and more intensive care required.
Ways to fight antibiotic resistance
The report shows that basic systems to track and monitor the problem have gaps or do not exist in many countries. While some countries have taken important steps in dealing with antibiotic resistance, every country and individual needs to do more. Actions to prevent infections from happening in the first place include better hygiene, access to clean water, infection control in healthcare facilities, and vaccination. Individuals can help tackle resistance by taking antibiotics only when prescribed by a doctor; completing the full prescription, even if they feel better; and never sharing antibiotics with others or using leftover prescriptions.
The report is kick-starting a global effort led by WHO to address drug resistance. This will involve the development of new tools and standards and improved collaboration around the world to track resistance, measure its health and economic impacts, and design targeted solutions. The report also covers other infections such as HIV, malaria, tuberculosis and influenza. It provides the most comprehensive picture of drug resistance to date, incorporating data from 114 countries.
Despite the apparent doom and gloom in this report, some recent developments offer hope. Last year, for example, it was discovered that adding small amounts of silver can make antibiotics up to 1,000 times more effective. Researchers also made progress in identifying the molecular events that occur when antibiotics are ejected from a bacterial cell. Phage therapy is another possibility – and somewhat later down the line, the use of nano-robotics.
24th April 2014
Food shortages could be most critical world issue by mid-century
The world is only a few decades away from a major food crisis, according to a top scientist at the U.S. Agency for International Development.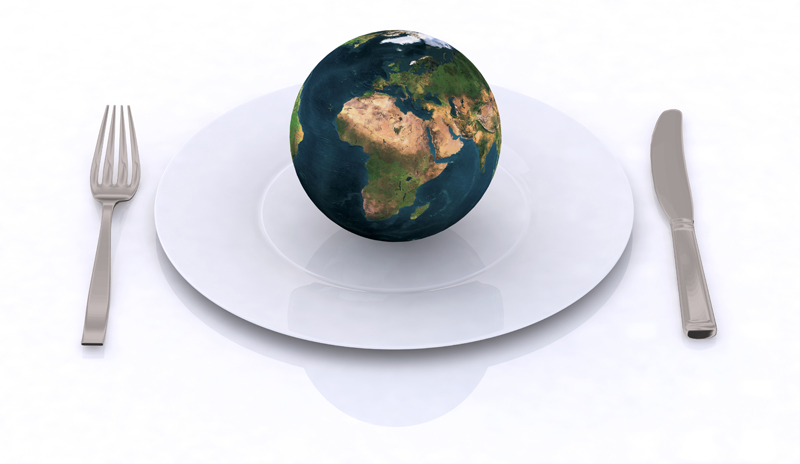 "For the first time in human history, food production will be limited on a global scale by the availability of land, water and energy," said Dr. Fred Davies, senior adviser for the agency's bureau of food security. "Food issues could become as politically destabilising by 2050 as energy issues are today."
Davies, who is also a Texas A&M AgriLife Regents Professor of Horticultural Sciences, addressed the North American Agricultural Journalists meeting in Washington, D.C. on the "monumental challenge of feeding the world."
Global population will increase 30 percent to 9 billion people by mid-century. However, that would require a 70 percent increase in food production to meet demand from the rising middle classes, he said.
"But resource limitations will constrain global food systems," Davies explained. "The increases currently projected for crop production from biotechnology, genetics, agronomics and horticulture will not be sufficient to meet food demand."
The ability to discover new ways to keep pace with food demand has been curtailed by cutbacks in spending on research, he added.
"U.S. agricultural productivity has averaged less than 1.2 percent per year between 1990 and 2007," he said. "More efficient technologies and crops will need to be developed — and equally important, better ways for applying these technologies locally for farmers — to address this challenge."
When new technologies are developed, they often do not reach the small-scale farmer worldwide.
"A greater emphasis is needed in high-value horticultural crops," he continued. "Those create jobs and economic opportunities for rural communities and enable more profitable, intense farming."
Horticultural crops, Davies noted, are 50 percent of the farm-gate value of all crops produced in the U.S. He also made the connection between the consumption of fruits and vegetables and chronic disease prevention and pointed to research centres in the U.S. that are making links between farmers, biologists and chemists, grocers, health care practitioners and consumers. That connection, he suggested, will also be vital in the push to grow enough food to feed people in the coming decades.
"Agricultural productivity, food security, food safety, the environment, health, nutrition and obesity – they are all interconnected," Davies said. One in eight people worldwide, he said, already suffers from chronic undernourishment and 75 percent of the world's chronically poor are in mid-income nations such as China, India, Brazil and the Philippines.
"The perfect storm for horticulture and agriculture is also an opportunity," Davies added. "Consumer trends – such as views on quality, nutrition, production origin and safety – impact what foods we consume. Also, urban agriculture favours horticulture." For example, he said, the fastest growing segment of new farmers in California is female, non-Anglos, who are "intensively growing horticultural crops on small acreages."
18th April 2014
World's first marijuana vending machines are unveiled in Colorado
In a sign of the changing times, marijuana is now publicly available from vending machines in Colorado. American Green, part of Tranzbyte Corporation, has begun distributing "Zazzz Machines" containing the drug. These utilise radio-frequency identification tags (RFID) to track the products, along with biometrics to verify a customer's age. They even accept Bitcoin, a new digital currency. The first machine was unveiled on 12th April and is located at the Herbal Elements store in Avon, Colorado. A recent Gallup poll showed a clear majority of Americans (58%) in favour of marijuana being made fully legal, with growing numbers admitting to have tried it. Colorado expects to collect nearly $100 million in tax revenue from recreational marijuana use this year – about 40% more than originally forecast.