3rd March 2015
200GB microSD card announced by SanDisk
SanDisk has announced the first 200GB capacity microSD card, a 56% increase on its previous record of 128GB just a year earlier.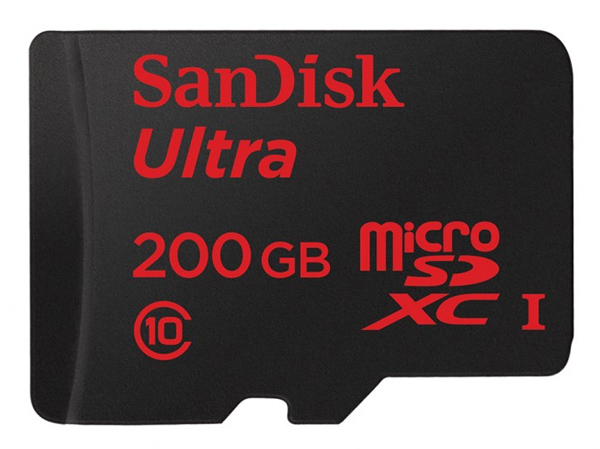 SanDisk Corporation has introduced the 200GB SanDisk Ultra® microSDXC™ UHS-I card, Premium Edition – the world's highest capacity microSD card for use in mobile devices. Just one year after its record-breaking 128GB microSD card, the company has increased storage capacity by 56% within the same fingernail-sized form factor. Blazingly fast transfer speeds of 90MB/s enable consumers to move up to 1,200 photos per minute.
"Mobile devices are completely changing the game," said Christopher Chute, Vice President, Worldwide Digital Imaging Practice, IDC. "Seven out of 10 images captured by consumers are now from smartphones and tablets. Consumers view mobile-first devices as their primary means for image capture and sharing – and by 2019, smartphones and tablets will account for nine out of 10 images captured. As the needs of mobile users continue to change, SanDisk is on the forefront of delivering solutions for these demands as is clearly illustrated through their growing portfolio of innovative products, including the new 200GB SanDisk Ultra microSDXC card."
SanDisk achieved this capacity breakthrough by leveraging the proprietary technology developed last year for the 128GB version and creating a new design and production process that allows for more bits per die. Digital storage is a very good example of an exponential technology. On current trends, microSD cards with terabyte (1000GB) capacities are likely to be achieved within the next several years.
The 200GB SanDisk Ultra microSDXC UHS-I card, Premium Edition, features a ten-year limited warranty and will be available worldwide in Q2 2015 at a suggested retail price of $399.99.
Comments »