5th June 2019
IKEA to sell "robotic furniture" in 2020
Swedish furniture maker IKEA has announced a partnership with American startup Ori, to develop a line of "robotic furniture" that allows people to "create their dream homes in small spaces."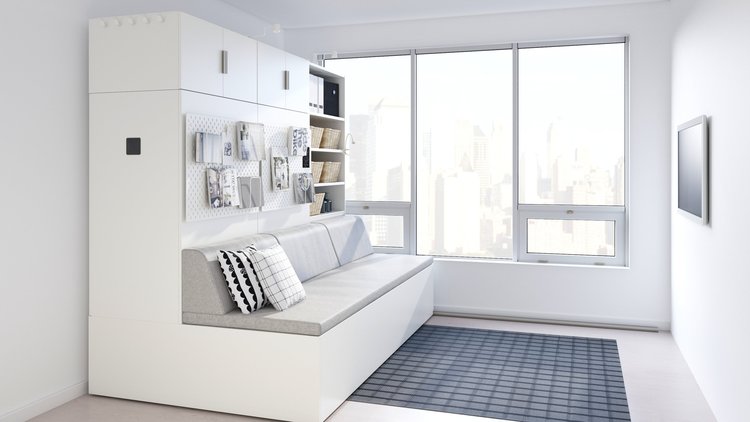 More and more of us are living and moving into cities, where an extra 1.5 million people join the urban population every week. This trend is creating ever more densely populated environments with smaller dwelling sizes.
"We have been working with developing small space living solutions for a long time, and we know that some of the biggest challenges in peoples' homes are storage and finding the place to do all the activities that you'd want to do in your home," said Seana Strawn, Product Design Developer at IKEA Sweden. "This is especially the case in big cities, where people have to make compromises in the functions of their homes. We wanted to change that."
To meet this need, IKEA is collaborating with Ori, a spin-off company from MIT that designs motorised, shape-shifting furniture. Together, IKEA and Ori will challenge the limitations of square metres in living spaces, by introducing ROGNAN – seen in the promotional video below.
ROGNAN is essentially a hybrid of Ori's robotic platform and IKEA's highly flexible and modular "PLATSA" storage solution. It combines the two and becomes multi-functional at the touch of a button. This means that people can easily change the look and utility of ROGNAN, seamlessly moving elements across a room for division into multiple living spaces, and shapeshifting into different items of furniture depending on the situation or time of day. It can provide users with up to eight square metres (86 square feet) of extra space, according to IKEA. The product is initially launching in Japan and Hong Kong in 2020.
"With ROGNAN, small space living customers will no longer have to compromise their needs, dreams or comfort in order to achieve a multi-functional living environment ... [We are] using robotics to transform the solution from bedroom to walk-in closet, to work space, to living room. An all-in-one solution activated through a simple interface touchpad," continues Strawn. "Instead of making the furniture smaller, we transform the furniture to the function that you need at that time. When you sleep, you do not need your sofa. When you use your wardrobe, you do not need your bed."
Could this be the future of city living? It might appear something of a novelty for now – but perhaps in the coming years, the concept will become more popular and more recognised as a practical solution to overcrowding, higher rents, and lack of space. More advanced versions could be developed offering hi-tech features to convert a room, such as electronic displays and interactive surfaces, greater autonomy, a bigger variety of transformations and so on. Ultimately, living rooms in the distant future could become whatever we wanted them to be.
Comments »