20th May 2017
Solar power is now cheaper than coal in India
The price of clean energy continues to plummet. In India, electricity from solar is now cheaper than electricity from coal.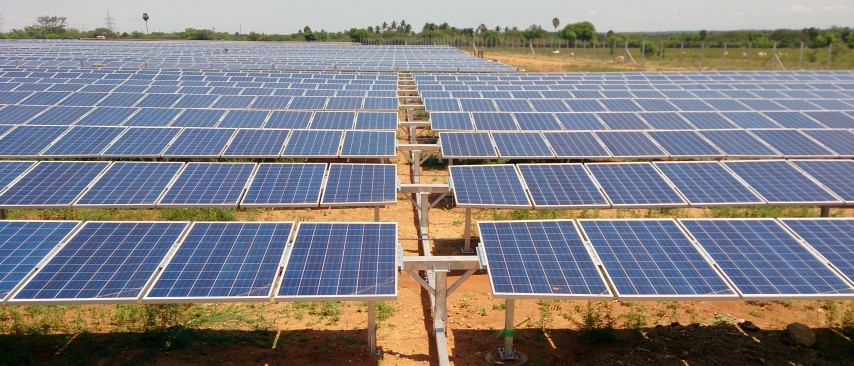 4MW solar power plant in Tamil Nadu, India. By Vinaykumar8687 (Own work) [CC BY-SA 4.0], via Wikimedia Commons
At a recent auction held in Rajasthan, northern India, clean energy supplier Phelan Energy and Aaada Power offered to charge just 2.62 rupees per kilowatt-hour (kWh) of solar-generated electricity. That is well below a previous record low bid of 3.15 rupees per kWh, set last month, and far below the 4.34 rupees per kWh offered last year. For comparison, the average charged by India's largest coal firm is currently around 3.20 rupees per kWh.
In recent years, the writing has been on the wall for the coal industry. In May 2014, the Institute for Energy Economics and Financial Analysis (IEEFA) warned that international coal projects relying on imports to India – such as Australia's Galilee Basin – faced major financial risks. Meanwhile, a draft report was issued by India's electricity agency in December last year, predicting that the country was unlikely to need any new coal plants for at least the next decade besides those already in the pipeline. The 50 GW of coal projects being planned would be "largely stranded" under the forecast.
In related news, a 4,000 MW coal "ultra-mega power project" (UMPP) planned for Gujarat, India's westernmost state, has been scrapped this month: "Our focus is now on renewable energy," said energy minister Chimanbhai Sapariya. "The government will encourage solar power."
Like many countries around the world, the cumulative capacity of India's solar grid is following an exponential curve, as costs continue to plummet and technology improves – from 2.65 GW in May 2014, to 6.7 GW in March 2016 and 12.28 GW in April 2017. The Indian government believes that 57% of its electricity capacity will come from non-fossil fuels by 2027. The Paris climate accord target is 40% by 2030. In that same timeframe, it is also hoped that every new car will be an electric car.
In addition to its large-scale, grid-connected solar PV initiatives, India is developing off-grid solar power for local energy needs. The country has a poor rural electrification rate – in 2015, only 55% of all rural households had access to electricity. Solar products are increasingly helping to meet rural needs and reducing the demand for kerosene.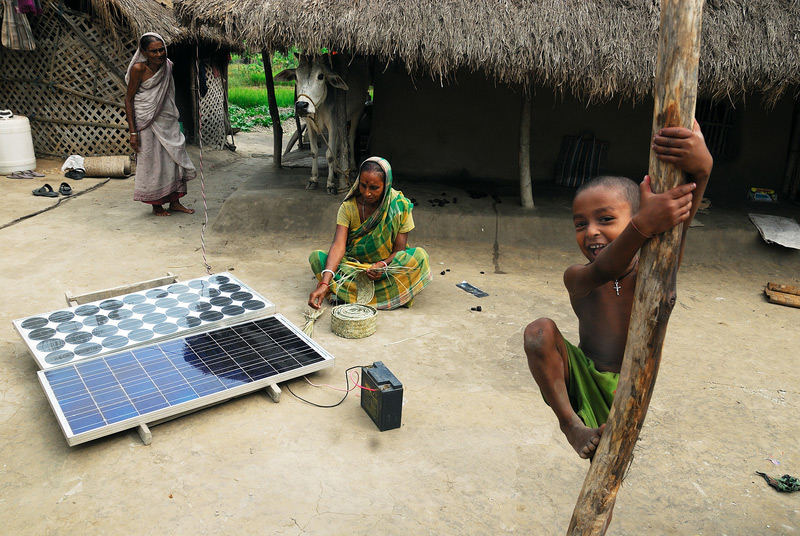 © Samrat35 | Dreamstime.com
Last year, Prime Minister Modi laid the foundation stone for the headquarters of the International Solar Alliance (ISA) in Gurgaon, just outside New Delhi. This will focus on promoting and developing solar for countries between the Tropic of Cancer and Tropic of Capricorn, reducing the costs and increasing the deployment of these technologies to poor and remote regions. India is particularly well-placed for solar energy with its high solar irradiance.
Alan Fotheringham, a director from energy services company Wood Group, commenting on the auction bid in Rajasthan province, said that India was "demonstrating that when the conditions allow, it is possible to move very quickly to transition the energy mix."
"We have seen strong and steady growth of the solar energy market in India," he said, explaining that it has become "one of the largest and strongest markets. With a huge population and a huge demand for energy, growing investments and political willingness, all the ingredients are there for the transition to happen."
The picture is similar in China, where coal production has been in a downward spiral for several years now, with major efforts being undertaken to accelerate the switch to clean tech. Some Chinese provinces and cities are on a path to reach peak emissions as early as 2020.
Meanwhile, in the USA, President Trump is taking a wrecking ball to most of the progress achieved by his predecessor – gutting the EPA and its power to regulate the fossil fuel industry, scrapping fuel efficiency standards, and withdrawing protections for many areas of land, in order to ramp-up the use of coal, oil and gas. Currently, it is not yet known whether Trump will officially withdraw the USA from the Paris treaty, but he has repeatedly stated his objection to it, his intention to cancel all funding for climate-related efforts, and his denial of the basic science.
---
• Follow us on Twitter
• Follow us on Facebook
• Subscribe to us on YouTube
Comments »