18th April 2015
World's first robotic kitchen to debut in 2017
Moley Robotics has unveiled an automated kitchen system, able to scan and replicate the movements of a human chef to produce recipes.
The world's first automated kitchen system was unveiled this week at Hanover Messe in Germany – the premier industrial robotics show. Developed by tech firm Moley Robotics, it features a dexterous robot integrated into a kitchen that cooks with the skill and flair of a master chef.
The company's goal is to produce a consumer version within two years, supported by an iTunes-style library of recipes that can be downloaded and created by the kitchen. The prototype at the exhibition is the result of two years development and the collaboration of an international team including Sebastian Conran who designed the cooking utensils and Mauro Izzo, DYSEGNO and the Yachtline company, who created the futuristic kitchen furniture.
Two complex, fully articulated hands, made by the Shadow Robot Company, comprise the kitchen's key enabling technology. The product of 18 years' research and development, Shadow's products are used in the nuclear industry and by NASA. Able to reproduce the movements of a human hand with astonishing accuracy, their utility underpins the unique capability of the automated kitchen.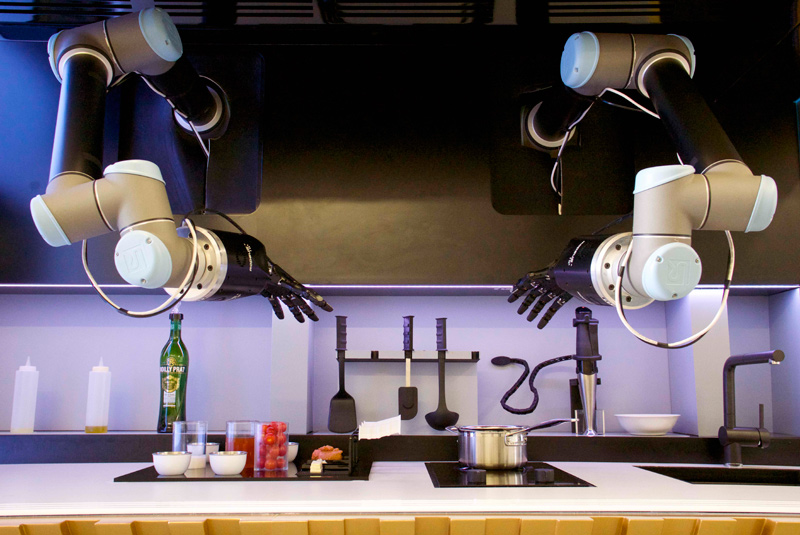 The Moley Robotics system works by capturing human skills in motion. Tim Anderson – culinary innovator and winner of the BBC Master Chef competition – played an integral role in the kitchen's development. He first developed a dish that would test the system's capabilities – a crab bisque – and was then 3D recorded at a special studio cooking it. Every motion and nuance was captured, from the way Tim stirred the liquids to the way he controlled the temperature of the hob. His actions were then translated into elegant digital movement, using bespoke algorithms. The robot doesn't just cook like Tim – in terms of skill, technique and execution it is Tim producing the dish. The kitchen even 'signs off' its work with an 'OK' gesture – just as the chef does.
"To be honest, I didn't think this was possible," he said. "I chose crab bisque as a dish because it's a real challenge for a human chef to make well – never mind a machine. Having seen – and tasted – the results for myself, I am stunned. This is the beginning of something really significant: a whole new opportunity for producing good food and for people to explore the world's cuisines. It's very exciting."
Moley Robotics, headquartered in the UK, is now working to scale the technology ready for mass production and installation in regular-sized kitchens. Future iterations will be more compact, with smaller control arms but with added functionality in the form of a built-in refrigerator and dishwasher to complement a professional-grade hob and oven.
The company is working with designers, homebuilders, kitchen installers and food suppliers to promote the system. The mass-market product will be supported by a digital library of over 2,000 dishes when it launches in 2017 and it is envisaged that celebrity chefs will embrace 3D cooking downloads as an appealing addition to the cook book market. Home chefs will be able to upload their favourite recipes too, and so help create the 'iTunes' for food.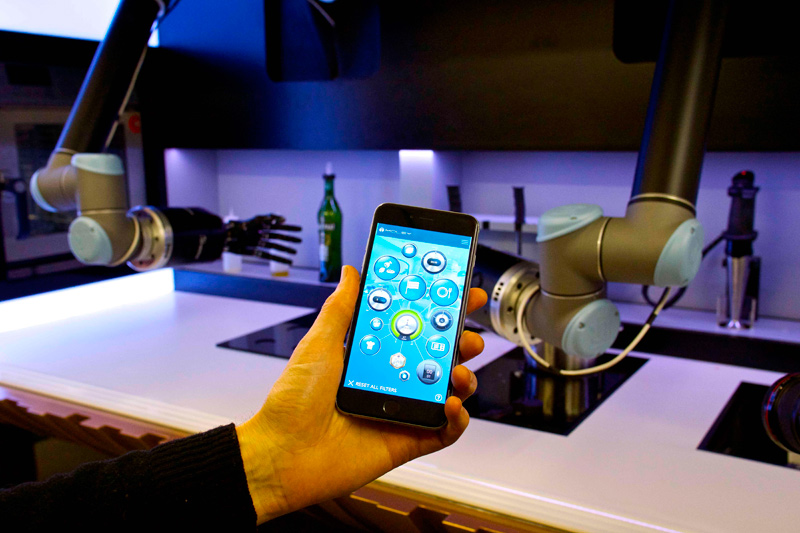 Moley Robotics was founded by London-based computer scientist, robotics and healthcare innovator Mark Oleynik. The company's aim is to produce technologies that address basic human needs and improve day-to-day quality of life.
"Whether you love food and want to explore different cuisines, or fancy saving a favourite family recipe for everyone to enjoy for years to come, the Automated Kitchen can do this," says Oleynik. "It is not just a labour saving device – it is a platform for our creativity. It can even teach us how to become better cooks!"
The robotic hands demonstrated this week offer a glimpse of the not-too-distant future, when even greater advances in movement, flexibility, touch and object recognition will have been achieved. Experts believe that near-perfect recreations of human hands, operating in a wide variety of environments, will be possible in just 10 years' time.
21st March 2015
Consumer virtual reality will grow exponentially between 2015 and 2020
Several years ago, in the early days of this website, we predicted that virtual reality (VR) would see a major comeback during the second half of the 2010s. This prediction appears to be right on track.
BI Intelligence, a cutting-edge research service from Business Insider, this week announced its latest report on the global market for head-mounted VR. While the current level of adoption remains low, it is likely to explode from this year onwards, achieving a compound annual growth rate of nearly 100% – in other words, sales will roughly double each year, reaching 26.5 million by 2020.
Thanks to falling costs, exponential technology improvements, and a variety of well-known brands competing for market share, the industry will soon be a mainstream form of entertainment.
Just some of the companies involved now include Facebook (Oculus Rift), Google (Google Cardboard), Samsung (Gear VR), Sony (Project Morpheus) and HTC (Vive). Based on its recent patent activity and job postings, Apple is rumoured to be working on VR too. For those who enjoy being immersed in highly realistic virtual environments (and we strongly recommend Elite), the next several years look to be very exciting indeed.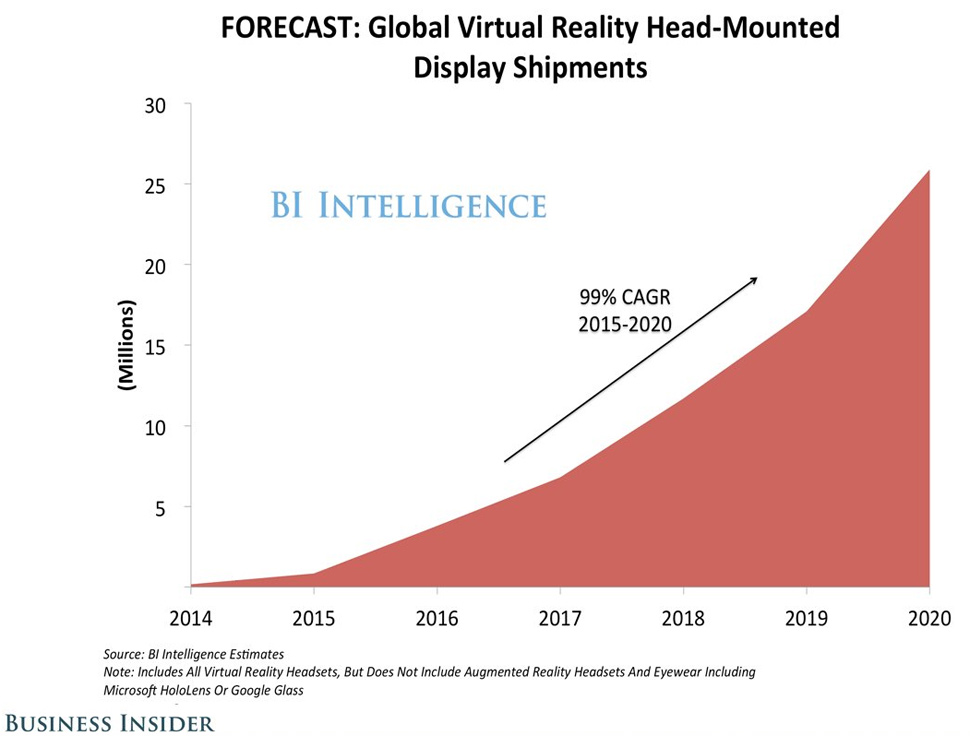 21st March 2015
Google files patent for wearable medical device
Google has filed a patent application for a wearable medical device, able to use nanoparticles to detect and treat illnesses such as cancer.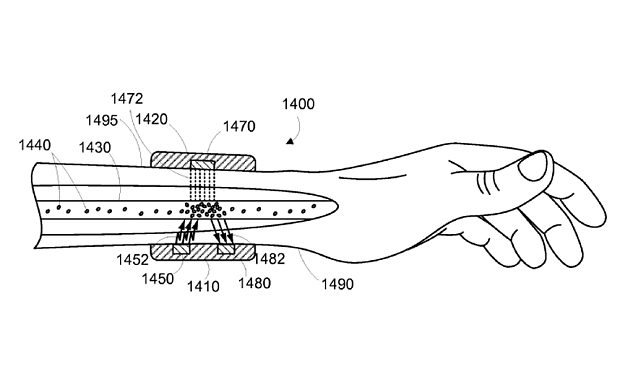 For those wishing to protect their health and extend their lifespan, a futuristic medical device may become available in the next several years. Details of this wearable technology – known as a Nanoparticle Phoresis – have been published online by Google, via the World Intellectual Property Organisation.
The patent application describes a strap, or band, mounted on the lower arm. Similar in appearance to a wristwatch, it would "automatically modify or destroy one or more targets in the blood that have an adverse health effect." This would be achieved by beaming energy into blood vessels to stimulate cells and molecules, increasing their effectiveness at fighting diseases. It could even be used on synthetic nanoparticles. Millions of these tiny objects would be introduced into the wearer's bloodstream, then activated by magnets in the wristband and directed to specific locations.
In addition to its physical treatment abilities, the Nanoparticle Phoresis could generate vast amounts of data – not only helpful to the user, but also to researchers and doctors. It could accept inputs from the wearer regarding his or her health state, such as "feeling cold," "feeling tired," "pollen allergy symptoms today," "stressed," "feeling energetic," etc. According to the patent, these user inputs "may be used to complement any other physiological parameter data that the wearable device may collect and establish effective signal levels for and timing of modification of the target."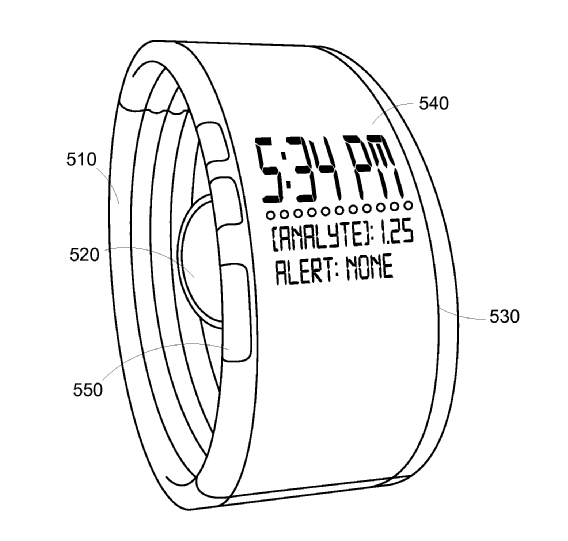 Analysts forecast that wearable technology will see huge growth in the coming years, with unit sales potentially reaching into the hundreds of millions. This new device from Google – if successfully developed – could become part of that rapidly evolving ecosystem. Initially aimed at patients who are seriously ill, this product (or its derivatives) could also be offered to mainstream consumers who aren't necessarily in bad health, but wish to monitor and improve their well-being.
For those with a needle phobia, injections might be possible using high-pressure jets. Although the patent itself makes no mention of this, we can speculate that such a procedure would eventually be incorporated into a wristwatch form factor. Similar to the "hypospray" on Star Trek, these jets would ensure that the skin is not punctured. High-pressure jet injection was covered on our blog in May 2012.
Looking further ahead, the prospects become even more exciting. Bill Maris – who helped form Google Calico – this month stated his belief that humans will live to be many centuries old in the future, while today's cancer treatments will seem "primitive" within just 20 years. His comments echo those of futurist and inventor Ray Kurzweil, also employed at Google and currently involved in AI research for the company. Kurzweil predicts that nanoparticles will be superseded by nanobots – small and compact enough to feature motors, sensors and other tools, allowing them to be controlled with extreme precision directly inside cells. If this idea sounds like science fiction, then consider this: a handheld smartphone today contains more processing power than a room-sized supercomputer of the 1980s. With ongoing advances in miniaturisation, together with new materials such as graphene, the future trend seems inevitable.
As humans become ever more dependent on technology, our bodies will gradually begin to incorporate these and similar devices on a permanent basis. Later in the 21st century, the line between man and machine could become blurred.
2nd March 2015
"The Vive" – new VR headset being developed by HTC and Valve
Smartphone giant HTC, in partnership with gaming company Valve, has announced plans to bring mass-market virtual reality a step closer.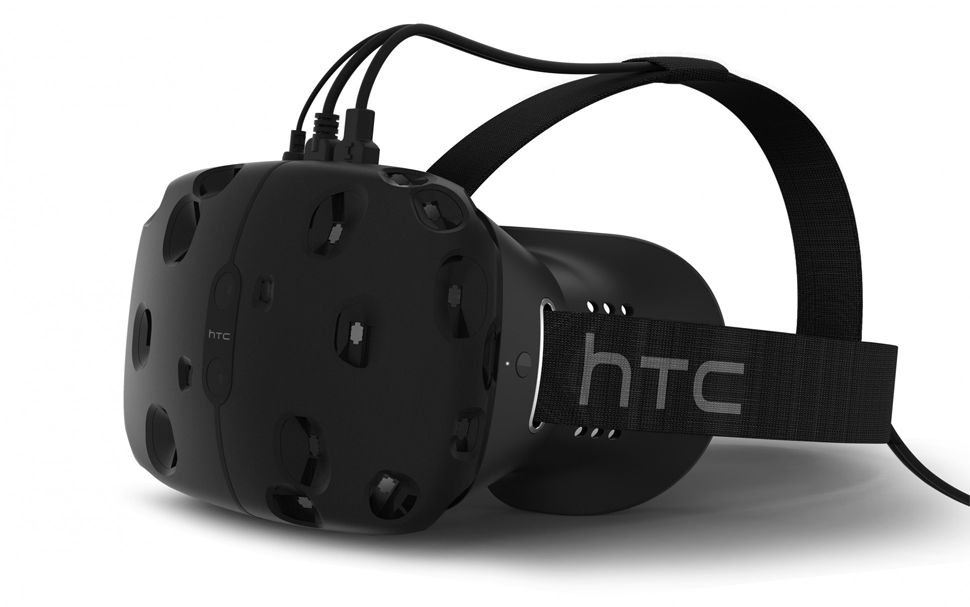 Through a strategic partnership with Valve, HTC hopes to transform the way in which consumers interact with technology and the world around them with the debut of HTC Vive. The Developer Edition will be launched this Spring, with a consumer edition available by the end of 2015. The Vive will combine Valve's Steam VR tracking and input technologies with HTC's design and engineering talent. If successful, it could set a new gold standard for an industry that has, until now, struggled to move beyond the concept stage.
Cher Wang, Chairwoman of HTC: "It's rare that a company has an opportunity to forever transform the ways in which people interact with the world and communicate with each other, but that is exactly what we plan to do with Valve."
"We achieved this once before with our development of smartphone technology," says Peter Chou, CEO of HTC. "And through our partnership with Valve, we'll now be doing this for a second time with VR technology of which consumers could only previously dream."
There are several competing VR headsets now being developed including the Oculus Rift, Samsung Gear VR and Sony's Project Morpheus. HTC claims its Vive product will offer "the most immersive experience of any VR package" – a Full Room Scale 360° Solution with tracked controllers, letting you get up, walk around and explore your virtual space, inspect objects from every angle and truly interact with your surroundings. Setting a new benchmark for performance and speed, Vive will feature 1200 x 1080 pixel resolution displays refreshing at 90 frames per second, "eliminating jitter" and achieving "photorealistic imagery." More than 70 sensors are built into the device including a gyrosensor, accelerometer, and laser position sensor that will track users' head movements as precisely as one-tenth of a degree.
"We believe that virtual reality will totally transform the way that we interact with the world," said Chou at a press event in Barcelona. "Virtual reality will become a mainstream technology for the rest of the world."
While gaming has been a major focus of virtual reality, there are many other applications for the Vive, according to HTC. Just some of the potential experiences include travel, attending real-time concerts, meeting friends, shopping, learning history, exploring the universe, or even reliving memories.
"Vive creates an exciting opportunity for all developers and content creators, to help us bring virtual reality into the mainstream with an end-to-end solution that completely redefines how we entertain ourselves, communicate with each other, learn and, eventually, how we become more productive," Cher Wang concluded. "HTC Vive is real, it's here and it'll be ready to go before the start of 2016."
22nd February 2015
Care-O-bot 4: universal helper for everyday situations
Built by researchers in Germany, the latest generation of "Care-O-bot" is both cheaper and more versatile than its predecessors, offering a wide range of applications.
In recent years, there has been significant progress in robotics – both in terms of technological development, and the number of these machines appearing in homes and workplaces. Just some examples include OSHbot (an automated retail assistant), RP-VITA (a telemedicine robot for hospitals), A.L.O. (a robotic butler, or "Botlr") and the latest model of ASIMO (arguably the most famous robot in the world). As they become cheaper, more versatile and ever more widespread, robots can fulfil an increasingly diverse range of activities. Within the next few decades, it is likely that they will become an everyday common sight in countries around the world.
The Fraunhofer Institute in Germany has been developing service robots since the 1990s. One of their projects is the "Care-O-bot" – a two-armed, omnidirectional machine with autonomous navigation, object recognition and grasping abilities. It has gone through various design revisions since 1998 and the 4th generation has now been announced. Care-O-bot 4 is a major improvement on its predecessors. Described as "a universal helper for everyday scenarios", it is modular and can be adapted to a multitude of different scenarios at a cost that makes it commercially viable; from airports to apartments, care homes, DIY stores, hospitals, hotels, museums, restaurants, security applications and warehouses.
"The fourth generation of the Care-O-bot is not only more agile, modular and charming than its predecessors, but it also stands out through the use of cost-reducing construction principles," explains Dr Ulrich Reiser, Project and Group Leader at Fraunhofer IPA.
Andreas Haug, co-Founder and Managing Director of Phoenix Design, who partnered with Fraunhofer: "Care-O-bot 4 is a successful symbiosis of design and engineering, as well as functionality and emotion, which quickly encourages user interaction."
All images credit: Fraunhofer IPA
Large parts of Care-O-bot 4's internal construction are made with folding sheet metal, which is economical to produce in small quantities. Its design is streamlined with a "head" section and two arms, meaning its form resembles a human being. However, the developers did not want its appearance to be over-human, as this would "encourage false expectations with regard to its capabilities", says Dr. Reiser. It is just the robot's "internal values" that are human: it always maintains a respectful distance, shows what it has understood and what it intends to do, while also being able to make simple gestures and reflect emotions. As with its previous versions, social role models were used as a guiding vision in developing the design and functionality. While the concept for the Care-O-bot 3 was a more reserved, cautious butler, its successor is more friendly and dynamic.
Care-O-bot 4 also features a greater range of movements. Spherical joints around discreet pivot points on its neck and hips allow it to bend forward without losing its balance. Developers took inspiration from human anatomy, creating a moving part which shifts backwards when the robot bends over, ensuring balance is maintained when carrying a load in outstretched arms. It can make 360° rotations of its head and torso. An innovative one-finger hand with integrated sensors was developed in collaboration with manufacturing company Schunk.
Managing partner Henrik Schunk comments: "The Care-O-bot 4 represents a significant milestone in the mobile service robot industry, on account of its high degree of standardisation."
The Fraunhofer Institute was determined to ensure that Care-O-bot 4 is simple to use. The head is fitted with an easily accessible touchscreen and there is a microphone for speech recognition, along with cameras for personal and gesture recognition. Care-O-bot 4's spherical joints allow it to intuitively inform users what it is planning to do and what it has understood, including gestures such as nodding and shaking the head. A circle of LEDs on its torso and a laser pointer in the hand serve as information exchange points.
Care-O-bot 4 provides open software interfaces that make it easily expandable for developers. Ulrich Reiser is keen for as many scientists as possible to use the system developed in Stuttgart in order to steadily advance its possible areas of application: "The objective is to steadily grow the developer community that was established already around Care-O-bot 3," he explains. Numerous research institutions and universities around the world have already worked with Care-O-bot 3 and the new version 4 should follow suit.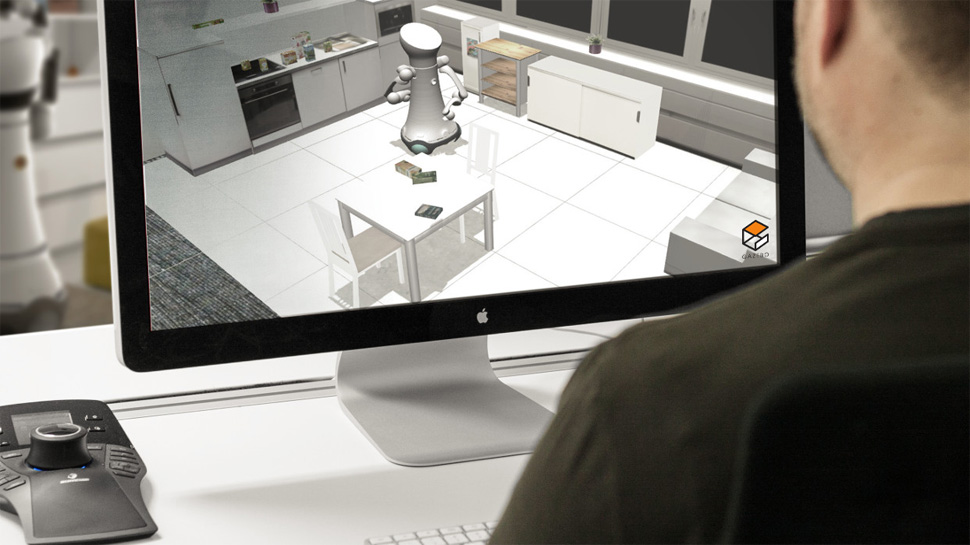 22nd January 2015
Tesco becomes first UK retailer to launch a Google Glass-enabled service
Tesco has become the first UK retailer to launch a customer Glass-enabled service with a basic version of its shopping app now available for users of the wearable device.
The Glassware has been developed by Tesco Labs, which experiments with disruptive technologies able to change the way customers shop. The Tesco Grocery Glassware lets you browse goods, view nutritional information and add items to your basket hands-free, via the voice search function or by scanning a product's barcode using the headset's built-in camera. In this, its first foray into providing services for wearable technology users, Tesco has intentionally kept the functionality of the app simple as it considers the consumer response to wearables and the likelihood of increased demand.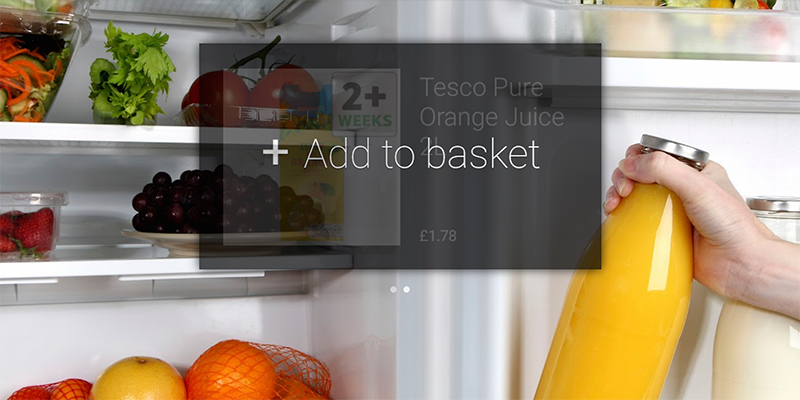 Pablo Coberly, Innovation Engineer at Tesco Labs comments, "At Tesco we want to ensure we have the means in place to allow customers to shop whenever, however they want which is why we're testing the possibilities of customers topping up their online basket with Glass."
The Tesco Grocery Glassware works alongside customers' Tesco.com grocery accounts, automatically adding products to their online basket for them to then review and order by computer, tablet or mobile. Pablo Coberly continues, "We don't envisage Glass becoming the new platform for shopping as its functionality is different and more immediate. Instead, it compliments other devices and integrates shopping into everyday life because products can be ordered or added as and when customers realise they need replacing."
As for the future of the Tesco Grocery Glassware, Tesco Labs says this will be driven by customer needs and demand. Pablo comments, "We've intentionally kept functionality very basic given the early stages of customer use of Glass. We're keen to see how customers react to shopping with Glassware and welcome feedback or suggestions from customers using Glass."
Last week, Google announced they would stop producing the Google Glass prototype, but remain committed to the product's development. In their eyes, Glass is ready to 'graduate' from Google Labs, the experimental phase of the project. The company will now focus on "future versions of Glass" with research and development handled by a different division to before.
22nd January 2015
Laying the foundations for 5G mobile
UK telecoms regulator, Ofcom, is calling on industry to help lay the foundations for the next generation of wireless communications.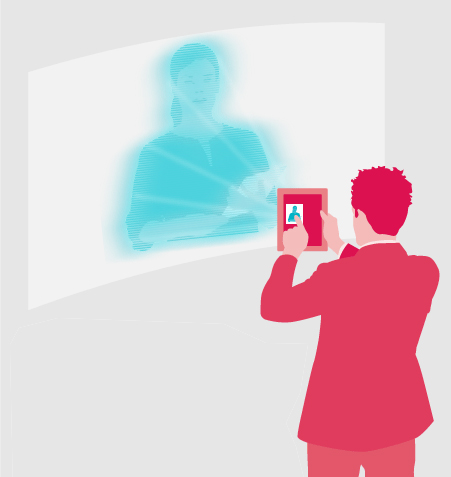 So-called '5G' mobile communications will use a very high frequency part of the spectrum above 6 GHz. This could support a variety of new uses including holographic projections and 3D medical imaging, with the potential to support very high demand users in busy areas, such as city centres. 5G mobile is expected to deliver extremely fast data speeds – perhaps 10 to 50 Gbit/s – compared with today's average 4G download speed of 15 Mbit/s. 5G services are likely to use large blocks of spectrum to achieve these speeds, which are difficult to find at lower frequencies.
The timeframe for the launch of 5G services is uncertain, although commercial applications could emerge by 2020, subject to research and development and international agreements for aligning frequency bands. Ofcom says it is important to do the groundwork now, to understand how these frequencies might be used to serve citizens and consumers in the future. The regulator is therefore asking industry to help plan for the spectrum and bandwidth requirements of 5G.
The spectrum above 6 GHz currently supports various uses – from scientific research, to satellite broadcasting and weather monitoring. One of Ofcom's core roles is to manage the limited supply of spectrum, taking into account the current and future demands to allow these different services to exist alongside each other.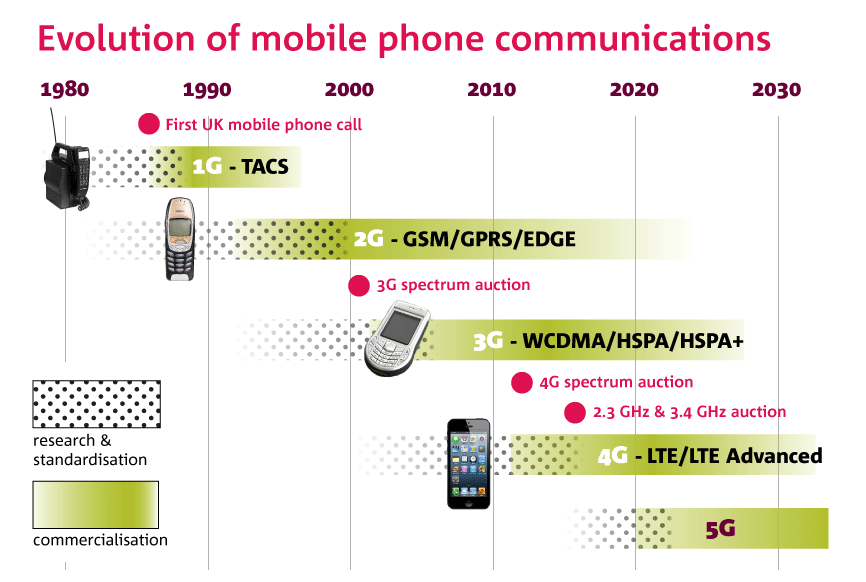 Steve Unger, Ofcom's Acting Chief Executive: "We want the UK to be a leader in the next generation of wireless communications. Working with industry, we want to lay the foundations for the UK's next generation of wireless communications.
"5G must deliver a further step change in the capacity of wireless networks – over and above that currently being delivered by 4G. No network has infinite capacity, but we need to move closer to the ideal of there always being sufficient capacity to meet consumers' needs."
Philip Marnick, Ofcom Spectrum Group Director, comments: "We want to explore how high frequency spectrum could potentially offer significant capacity for extremely fast 5G mobile data. This could pave the way for innovative new mobile services for UK consumers and businesses."
These innovations, according to Ofcom, might include real-time holographic technologies, allowing relatives to virtually attend family gatherings. Or they could enable specialist surgeons to oversee hospital operations while located on the other side of the world, using 3D medical imaging.
Ofcom is seeking views on the use of spectrum above 6 GHz that might be suitable for future mobile communication services. The closing date for responses is 27th February 2015.
20th December 2014
RFID-blocking jeans and blazer
RFID-blocking materials in clothes can prevent "digital pickpocketing".
New devices using RFID/NFC (radio-frequency identification/near-field communication) are now being exploited by criminals to steal personal information – including credit card data – right from victims' pockets. As shown in the video below, this can be done quickly and effortlessly. Over 10 million identities are being digitally pickpocketed each year and more than 70% of all credit cards will be vulnerable to such attacks in 2015.
San Francisco-based clothing company Betabrand has partnered with Internet security firm Symantec as part of a crowdfunding project to create the world's first RFID-blocking clothes. Incorporating a special material based on silver, the READY Active Jeans and Work-It Blazer can shield credit cards from wireless signals like those in scanning devices. The jeans will retail at $168 (£107) and the blazer at $198 (£127), with both going on sale during the first quarter of 2015.
3rd December 2014
Mediterranean diet linked to longer life
A new study has provided evidence that a Mediterranean diet can increase longevity by preserving telomere lengths.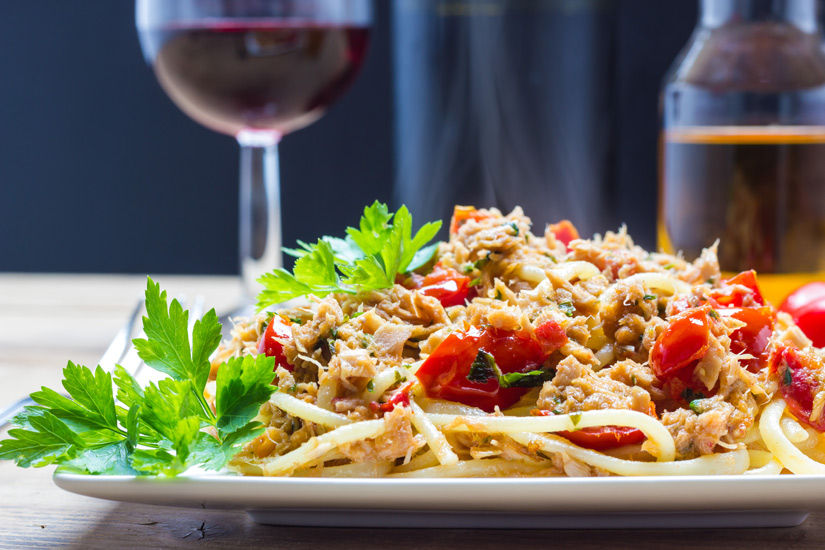 Eating a Mediterranean diet can extend your lifespan, suggests a study published in the British Medical Journal (BMJ) this week. The diet appears to be associated with longer telomere length – an established marker of slower ageing. In previous studies, a regular intake of Mediterranean food has been consistently linked with health benefits, including reduced mortality and reduced risk of chronic diseases, such as heart disease.
The diet is characterised by a high intake of vegetables, fruits, nuts, legumes (such as peas, beans and lentils), and (mainly unrefined) grains; a high intake of olive oil but a low intake of saturated fats; a moderately high intake of fish, a low intake of dairy products, meat and poultry; and regular but moderate intake of alcohol (specifically wine with meals).
Telomeres are located on the end of our chromosomes, like the plastic tips on the end of shoelaces, stopping them from fraying and scrambling the genetic codes they contain. In healthy people, telomeres shorten progressively throughout life, more than halving in length from infancy to adulthood, and halving again in the very elderly.
Shorter telomeres are thus associated with a lower life expectancy and greater risk of age-related diseases. Lifestyle factors, such as obesity, smoking and consumption of sugar sweetened drinks, have all been linked to people having shorter telomeres than typically occur in people of a similar age. Oxidative stress and inflammation have also been shown to speed up telomere shortening.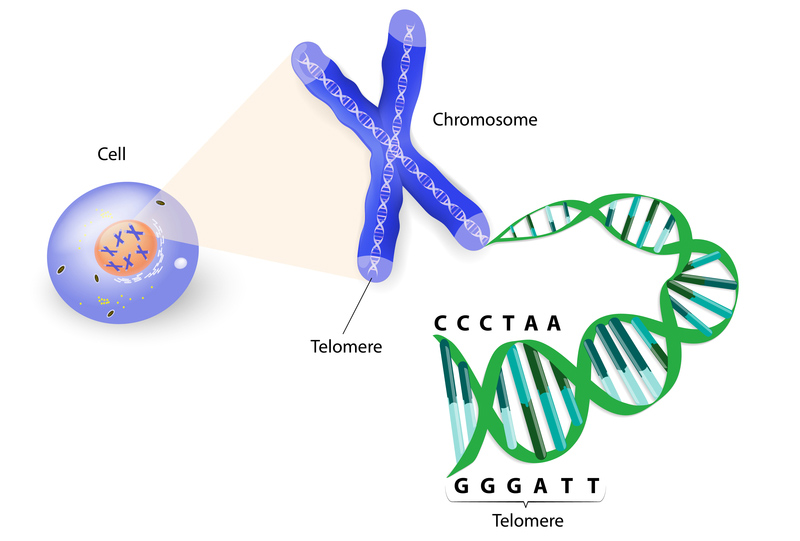 Given that fruits, vegetables and nuts – key components of the Mediterranean diet – have well-known antioxidant and anti-inflammatory effects, a team of US researchers led by Immaculata De Vivo, Associate Professor at Brigham and Women's Hospital and Harvard Medical School, set out to examine whether adherence to the Mediterranean diet was associated with longer telomere length. They analysed data on 4,700 healthy middle-aged women from the Nurses' Health Study – an ongoing study tracking the health of more than 120,000 US nurses since 1976. Participants completed detailed food questionnaires and had a blood test to measure telomere length.
A diet score ranging from 0-9 points was calculated for each participant, with a higher score representing closer resemblance to a Mediterranean diet. The results, after adjusting for other factors, show that greater adherence to Mediterranean diets was significantly associated with longer telomeres. Each one point change in diet score corresponded on average to 1.5 years of telomere ageing.
However, none of the individual dietary components was associated with telomere lengths – underlining the importance of examining dietary patterns in relation to health, not just separate dietary factors such as intake of whole grains, say the authors.
"To our knowledge, this is the largest population-based study specifically addressing the association between Mediterranean diet adherence and telomere length in healthy, middle-aged women," they write. "Our results further support the benefits of adherence to the Mediterranean diet for promoting health and longevity."
A Mediterranean diet is the cornerstone of dietary advice in cardiovascular disease prevention, and the fact that it also links with a biomarker of slower ageing is reassuring, says Prof. Peter Nilsson from Lund University, Sweden in an accompanying editorial. He suggests that genetic background factors, reflecting ancestry, could probably explain some of the variation in association between dietary patterns and telomere length, and that future studies on this question "should take into account the possibility of interactions between genes, diet, and sex."
24th November 2014
Ocean Spiral – an underwater city
Japanese engineering firm, Shimizu Corp, has announced plans for "Ocean Spiral", an underwater city that would form a nine mile (15 km) structure plunging down to the sea floor. Costing three trillion yen ($25 billion), it would feature residential, hotel and business zones at its top, with resource development facilities at its base to harvest rare earth metals and minerals. Electrical power could be generated by exploiting the wide differences in water temperature between the top and bottom of the ocean. Construction would be achieved with industrial-scale 3D printers using resin components instead of concrete. Shimizu believes the technology required for this project could be available by 2030. The company has been behind a number of previous futuristic concepts, including a "Luna Ring" of solar panels going around the Moon and a floating botanical city that could absorb CO2.
"We had this in Japan in the 1980s when the same corporations were proposing underground and 'swimming' cities and 1 kilometre-high towers as part of the rush to development during the height of the bubble economy," says Christian Dimmer, assistant professor in urban studies at Tokyo University. "It's good that many creative minds are picking their brains as to how to deal with climate change, rising sea levels and the creation of resilient societies – but I hope we don't forget to think about more open and democratic urban futures in which citizens can take an active role in their creation, rather than being mere passengers in a corporation's sealed vision of utopia."
For more information on the Ocean Spiral, see its press release.
8th November 2014
Amazon launches "Echo" speaker with interactive AI
Online retail giant Amazon has unveiled a new hi-tech speaker system with a wide range of interactive features. Called Echo, the cylindrical device is controlled by your voice, activated by a special "wake word" and uses far-field listening to hear from anywhere in the room. It can provide real-time information, music, news, weather, a timer/alarm, and many more services – even telling jokes. Crisp vocals with dynamic bass are fine-tuned to deliver an immersive sound from 360° omni-directional speakers.
With an always-on connection, it uses the cloud to continually learn and increase functionality over time – adapting to speech patterns, vocabulary and users' personal preferences. For now, Echo is only available to those with an invitation, but you can request an invite on its product page. It is currently priced at $199, but Prime members can obtain it for $99 for a limited time. Although its technology appears impressive, to some people it might seem rather Orwellian. Let us know your opinion in the comments below.
3rd November 2014
3D printer is 10 times faster than current models
Hewlett-Packard (HP) has unveiled a 3D printer that it claims will be 10 times faster than current models.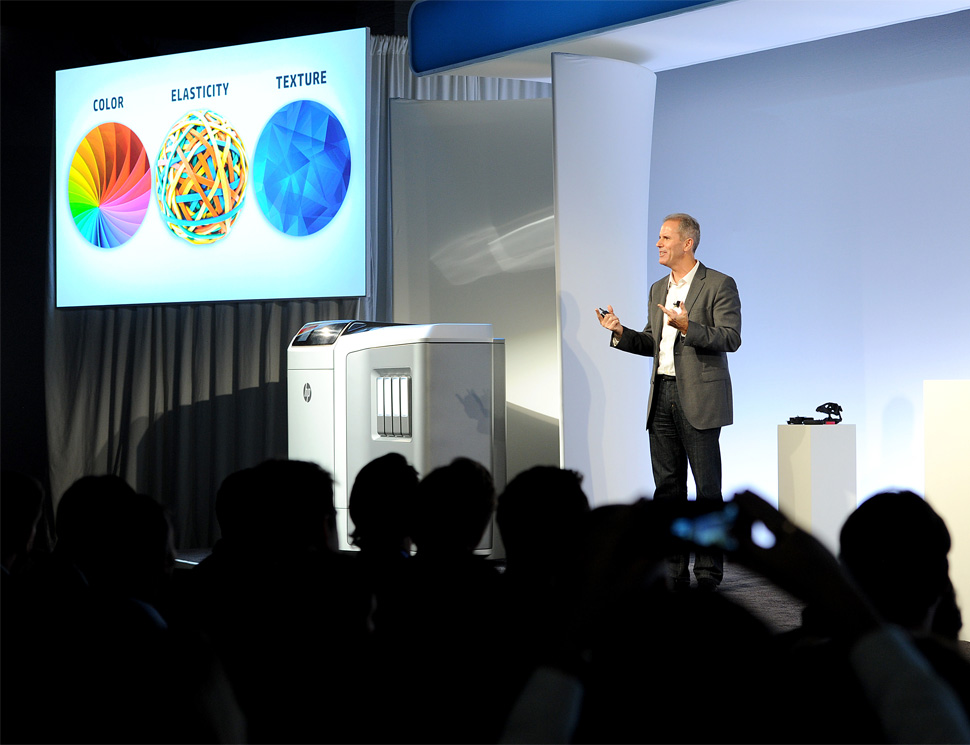 HP has introduced its vision for the future of computing and 3D printing by unveiling its new "Blended Reality" ecosystem. Designed to break down the barriers between the digital and physical worlds, this ecosystem is underpinned by two key advancements:
HP Multi Jet Fusion: A revolutionary technology engineered to resolve critical gaps in the combination of speed, quality and cost, and deliver on the potential of 3D printing.


Sprout by HP: A first-of-its-kind Immersive Computing platform that will redefine the user experience and that creates a foundation for future immersive technologies.
"We are on the cusp of a transformative era in computing and printing," said Dion Weisler, executive vice president, Printing & Personal Systems (PPS). "Our ability to deliver Blended Reality technologies will reduce the barriers between the digital and physical worlds, enabling us to express ourselves at the speed of thought – without filters, without limitations. This ecosystem opens up new market categories that can define the future, empowering people to create, interact and inspire like never before."
"As we examined the existing 3D print market, we saw a great deal of potential but also saw major gaps in the combination of speed, quality and cost," said Stephen Nigro, vice president of Inkjet and Graphic Solutions at HP. "HP Multi Jet Fusion is designed to transform manufacturing across industries by delivering on the full potential of 3D printing with better quality, increased productivity, and break-through economics."
Multi Jet Fusion is built on HP Thermal Inkjet technology and features a unique synchronous architecture that significantly improves the commercial viability of 3D printing and has the potential to change the way we think about manufacturing.
10 times faster: Images entire surface areas versus one point at a time to achieve breakthrough functional build speeds, 10 times faster than the fastest technology in the market today.


New levels of quality, strength and durability: Multi-agent printing process utilising HP Thermal Inkjet arrays that simultaneously apply multiple liquid agents to produce best-in-class quality that combines greater accuracy, resiliency and uniform part strength in all three axis directions.


Accuracy and detail: Capable of delivering fully functional parts with more accuracy, finer details and smooth surfaces, and able to manipulate part and material properties, including form, texture, friction, strength, elasticity, electrical, thermal properties and more.


Achieves breakthrough economics: Unifies and integrates various steps of the print process to reduce running time, cost, energy consumption and waste to significantly improve 3D printing economics.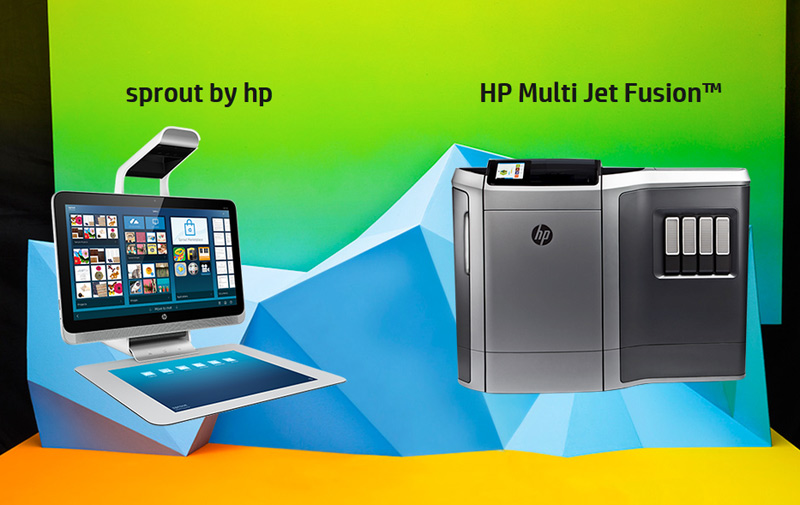 Sprout – the first product available in HP's Blended Reality ecosystem – combines the power of an advanced desktop computer with an immersive, natural user interface to create a new computing experience. As shown in the image above, this puts a scanner, depth sensor, hi-resolution camera and projector into a single device, allowing users to take physical items and seamlessly merge them into a digital workspace. The system also delivers an unmatched collaboration platform, allowing users in multiple locations to collaborate on and manipulate a single piece of digital content in real-time.
"We live in a 3D world, but today we create in a 2D world on existing devices," said Ron Coughlin, senior vice president, Consumer PC & Solutions, HP. "Sprout by HP is a big step forward in reimagining the boundaries of how we create and engage with technology to allow users to move seamlessly from thought to expression."
Together, HP says these advancements have the potential to revolutionise production and offer small businesses a new way to produce goods and parts for customers. HP aims to invite open collaboration and partnerships in 2015 to further develop its 3D print system, with general consumer availability in the second half of 2016.
23rd October 2014
Three cups of coffee a day can reduce the risk of abnormal liver enzyme levels by 25 percent, regardless of how much caffeine it contains.
If you're looking for ways to extend your lifespan, then coffee might be a good choice. Researchers at the National Cancer Institute report that it may significantly benefit liver health. Their study, published this month in Hepatology, shows that higher coffee consumption – regardless of how much caffeine it contains – results in lower levels of abnormal liver enzymes. This suggests that chemical compounds in coffee other than caffeine may help to protect the liver.
Coffee consumption is highly prevalent, with more than half of all Americans over 18 drinking on average three cups per day, according to a 2010 report from the National Coffee Association. Moreover, consumption has increased by between 1-2% each year since the 1980s. Previous studies have found that coffee may lower the risk of developing diabetes, cardiovascular disease, non-alcoholic fatty liver disease, cirrhosis and liver cancer.
"Prior research found that drinking coffee may have a possible protective effect on the liver," said lead author Dr. Qian Xiao. "However, the evidence is not clear if that benefit may extend to decaffeinated coffee."
For this study, researchers examined the coffee-drinking habits of 28,000 people, using data from a national health survey conducted from 1999-2010. 14,000 of the subjects drank coffee. Several markers were compared to determine liver function, including blood levels of four enzymes. After adjusting for age, sex, race, education, smoking, alcohol consumption and other factors, the researchers found that compared with people who drank no coffee, those who drank three cups a day were about 25 percent less likely to have abnormal liver enzyme levels. Among the 2,000 or so who drank only decaffeinated coffee, the results were similar.
Dr. Xiao concludes: "Our findings link total and decaffeinated coffee intake to lower liver enzyme levels. These data suggest that ingredients in coffee, other than caffeine, may promote liver health. Further studies are needed to identify these components."
In a related development, researchers last month sequenced the coffee genome.
17th October 2014
Wi-Fi up to five times faster coming in 2015
Samsung Electronics has developed a new way of transmitting Wi-Fi data five times faster than was previously possible. The new technology is expected to be available in consumer devices as early as 2015.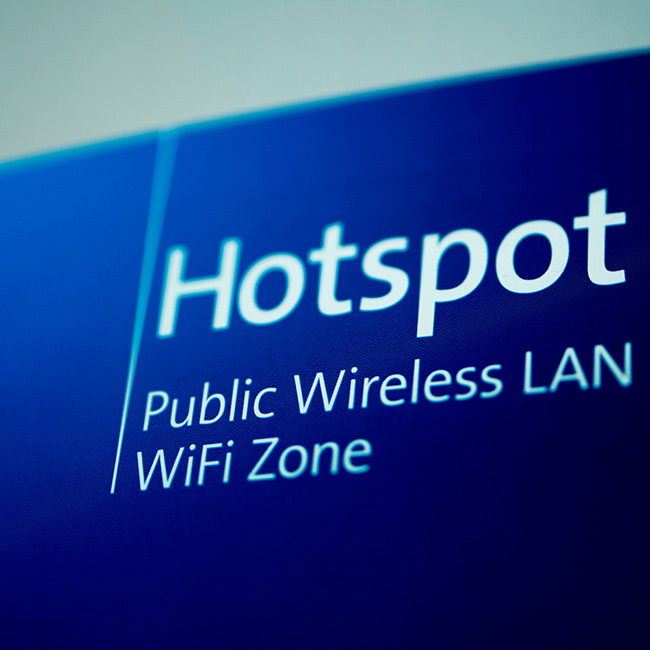 If you've been to a cafe or other public place recently and been frustrated at the slow speed of Wi-Fi, a new breakthrough by Samsung Electronics may soon change that. Researchers at the company have this week achieved the development of 60GHz Wi-Fi allowing transfer rates of 4.6Gbps, or 575MB per second. That is 5.3 times faster than the previous maximum speed for consumer devices (866Mbps, or 108MB per second).
Today's generation of Wi-Fi uses the 2.4Ghz and 5Ghz areas of the radio spectrum. The 60GHz band is currently unlicensed and offers major potential, but previous attempts to exploit it have failed to send data over significant distances, due to path loss and weak penetration properties. Samsung has overcome these issues through a combination of millimetre-wave circuit design, a high performance modem and wide-coverage beam-forming antenna. This eliminates co-channel interference, regardless of the number of devices using the same network.
Commercialisation is expected in 2015, with Samsung planning integration into a wide variety of products – including audio visual, medical devices and telecommunications equipment. It will also help to spur the Internet of Things.
"Samsung prides itself at being of the forefront of technology innovation, and is delighted to have overcome the barriers to the commercialisation of 60GHz millimetre-wave band Wi-Fi technology," said Paul Templeton, General Manager of Samsung Networks UK. "This breakthrough has opened the door to exciting possibilities for Samsung's next-generation devices, and has also changed the face of the future development of Wi-Fi technology, promising innovations that were not previously within reach."
To give an idea of the speed: a 1GB movie will take less than three seconds to transfer between devices, while uncompressed high-definition videos could easily be streamed from mobile devices to TVs in real-time without any delay.
4th October 2014
Elon Musk: Tesla 90% autonomous in 2015
In this interview with CNN Money, Elon Musk says that a Tesla car able to self-drive up to 90% of the time will be launched in 2015. The company will also reveal its next electric vehicle – the model "D" – on 9th October, according to a tweet.
1st September 2014
In our digital world, are young people losing the ability to read emotions?
Children's social skills may be declining as they have less time for face-to-face interaction due to their increased use of digital media, according to a psychological study by the University of California, Los Angeles (UCLA).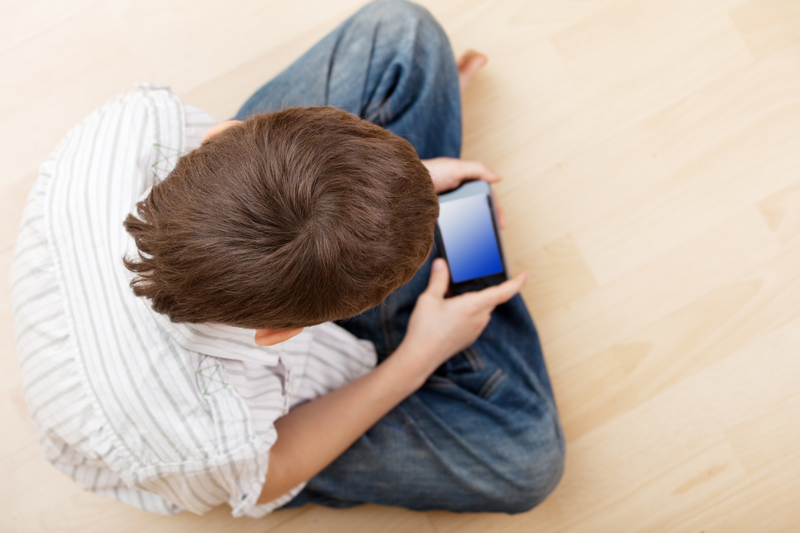 UCLA scientists found that sixth-graders who went five days without even glancing at a smartphone, television or other digital screen did substantially better at reading human emotions than sixth-graders from the same school who continued to spend hours each day looking at their electronic devices.
"Many people are looking at the benefits of digital media in education, and not many are looking at the costs," said Patricia Greenfield, a distinguished professor of psychology at UCLA College and senior author of the study. "Decreased sensitivity to emotional cues — losing the ability to understand the emotions of other people — is one of the costs. The displacement of in-person social interaction by screen interaction seems to be reducing social skills."
Researchers studied two sets of sixth-graders from a Southern California public school: 51 who lived together for five days at the Pali Institute, a nature and science camp about 70 miles east of Los Angeles, and 54 others from the same school. The camp doesn't allow students to use electronic devices — a policy that many students found to be challenging for the first couple of days. Most adapted quickly, however, according to camp counsellors.
At the beginning and end of the study, both groups were evaluated on their ability to recognise people's emotions in photos and videos. The students were shown 48 pictures of faces that were happy, sad, angry or scared, and asked to identify their feelings. They also watched videos of actors interacting with one another and were instructed to describe the characters' emotions. In one scene, students take a test and submit it to a teacher; one of the students is confident and excited, the other is anxious. In another scene, one student is saddened after being excluded from a conversation.
The children who had been at the nature camp improved significantly over the five days in their ability to read facial emotions and other non-verbal cues to emotion, compared with the students who continued to use their media devices.
Researchers tracked how many errors the students made when attempting to identify the emotions in the photos and videos. When analysing photos, for example, those at the camp made an average of 9.41 errors at the end of the study, down from 14.02 at the beginning. The students who didn't attend the camp recorded a significantly smaller change. For the videos, the students who went to camp improved significantly, while the scores of the students who did not attend camp showed no change. The findings applied equally to both boys and girls.
"You can't learn non-verbal emotional cues from a screen in the way you can learn it from face-to-face communication," said Yalda Uhls, lead author and senior researcher with the UCLA's Children's Digital Media Center, Los Angeles. "If you're not practicing face-to-face communication, you could be losing important social skills."
Students participating in the study reported that they text, watch television and play video games for an average of four-and-a-half hours on a typical school day. Some surveys have found that the figure is even higher nationally. Greenfield considers the results significant, given that they occurred after only five days. The implications of the research are that people need more face-to-face interaction — and that even when people use digital media for social interaction, they're spending less time developing social skills and learning to read non-verbal cues.
"We've shown a model of what more face-to-face interaction can do," Greenfield said. "Social interaction is needed to develop skills in understanding the emotions of other people."
Emoticons are a poor substitute for face-to-face communication, Uhls concluded: "We are social creatures. We need device-free time."
The research will appear in the October print edition of Computers in Human Behavior and is already published online.
29th August 2014
The Internet of Things: A Trillion Dollar Market
The Internet of Things is a new paradigm that will revolutionise the world of computers – offering widespread automation and connectivity of devices, systems and services, including the emergence of Smart Grids. Over the next decade, it is forecast to mushroom into a trillion dollar market.
This slideshare presentation by Vala Afshar, Chief Marketing Officer at Extreme Networks, shows many applications that are already becoming available.
14th August 2014
Robotic butlers to appear in hotels
From next week, guests at the Aloft hotel chain may feel like they are living in the future, as a new robotic butler offers its services.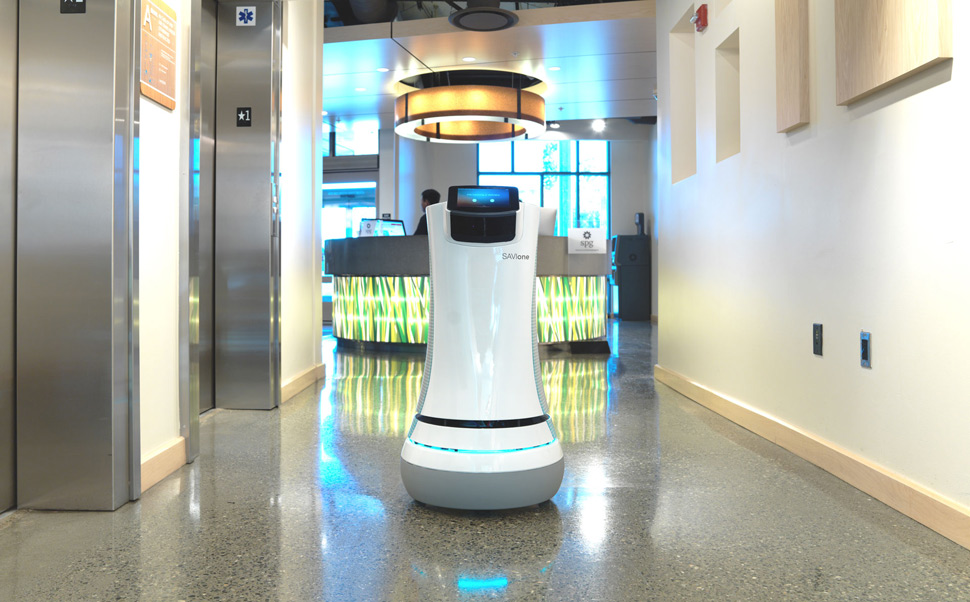 Aloft Hotels has announced A.L.O. as the company's first "Botlr" (robotic butler). This futuristic service will be introduced on 20th August, making Aloft the first major hotel brand to hire a robot for both front and back of house duties.
In this role, A.L.O. will be on call 24/7 as a robotic operative, assisting the human staff in delivering amenities to guest rooms. Professionally "dressed" in a custom shrink-wrapped, vinyl collared uniform and nametag, A.L.O. can modestly accept tweets as tips. It will not only free up time for employees, allowing them to create a more personalised experience for guests, but will also enhance the hotel's image and technological features.
Brian McGuinness, Global Brand Leader: "As you can imagine, hiring for this particular position was a challenge as we were seeking a very specific set of automated skills, and one that could work – literally – around the clock. As soon as A.L.O. entered the room, we knew it was what we were looking for. A.L.O. has the work ethic of Wall-E, the humour of Rosie from The Jetsons and reminds me of my favourite childhood robot – R2-D2. We are excited to have it join our team."
A.L.O. was developed by Silicon Valley-based Savioke – a new startup company with funding from Google Ventures – which the robotics community has been eagerly anticipating. It uses a combination of sonar wave technology, lasers and cameras to avoid people and obstacles. It can facilitate and prioritise multiple guest deliveries, communicate easily with guests and various hotel platforms, and efficiently navigate throughout the property – including the elevator, using WiFi.
Steve Cousins, CEO of Savioke: "We are thrilled to introduce our robot to the world today through our relationship with Aloft Hotels. In our early testing, all of us at Savioke have seen the look of delight on those guests who receive a room delivery from a robot. We have also seen the front desk get busy at times, and expect Botlr will be especially helpful at those times, freeing up human talent to interact with guests on a personal level."
The first A.L.O. reports for duty next week at Aloft Cupertino, next to the Apple HQ. If successful, all 100 of the company's hotels may introduce them during 2015. In the future, Cousins predicts a huge market for service robots like A.L.O.: "There are all these places, hotels, elder care facilities, hospitals, that have a few hundred robots maybe – but no significant numbers – and we think that's just a huge opportunity."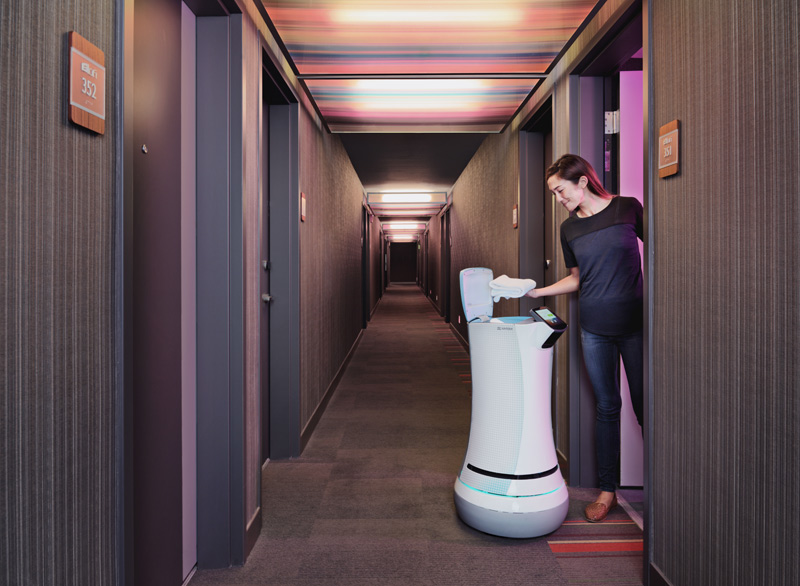 4th August 2014
Five daily portions of fruit and vegetables may be enough to lower risk of early death
Eating five daily portions of fruit and vegetables is associated with a lower risk of death from any cause, particularly from cardiovascular disease – but beyond five portions appears to have no further effect, finds a new study.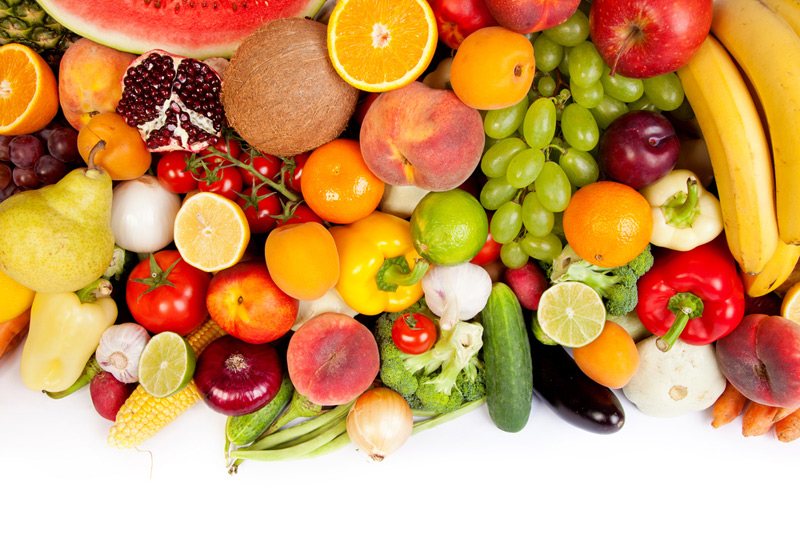 These results conflict with a recent study published in BMJ's Journal of Epidemiology and Community Health suggesting that seven or more daily portions of fruits and vegetables were linked to lowest risk of death.
There is growing evidence that increasing fruit and vegetable consumption is related to a lower risk of death from cardiovascular disease and cancer. However, the results are not entirely consistent. So a team of researchers based in China and the United States decided to examine the association between fruit and vegetable intake and risk of all-cause, cardiovascular, and cancer deaths.
They analysed the results of sixteen studies involving a total of 833,000 participants and 56,000 deaths. Differences in study design and quality were taken into account to minimise bias. Higher consumption of fruit and vegetables was significantly associated with a lower risk of death from all causes, particularly from cardiovascular diseases.
Average risk of death from all causes was reduced by 5% for each additional daily serving of fruit and vegetables, while risk of cardiovascular death was reduced by 4 percent for each additional daily serving of fruit and vegetables. But the researchers identified a threshold around five servings per day, after which the risk of death did not reduce further.
In contrast, a higher consumption of fruit and vegetables was not appreciably associated with risk of death from cancer. The researchers suggest that — as well as advice to eat adequate amounts of fruit and vegetables — the adverse effects of obesity, physical inactivity, smoking and high alcohol intake on cancer risk should be further emphasised.
Although a threshold of five servings was identified, the team reiterates the importance of regular fruit and vegetable intake, concluding that their study "provides further evidence that a higher consumption of fruits and vegetables is associated with a lower risk of mortality from all causes, particularly from cardiovascular diseases. The results support current recommendations to increase consumption of fruits and vegetables to promote health and longevity."
15th July 2014
World's first climate-controlled city planned for Dubai
Dubai is already known for its luxury tourist experience, super-tall skyscrapers and extravagant megaprojects. Now developers have announced it will host the world's first temperature-controlled city – incorporating the largest mall, largest domed park, cultural theatres and wellness resorts. Known as the "Mall of the World", this gigantic $7bn project will encompass 50 million square feet of floorspace, taking 10 years to construct.
Intended as a year-round destination, its capacity will be large enough to accommodate 180 million visitors each year in 100 hotels and serviced apartment buildings. Glass-roofed streets, modelled on New York's Broadway and London's Oxford Street, will stretch for 7 km (4.6 miles). These will be air-conditioned in summer as temperatures soar above 40°C, but the mall and its glass dome will be open to the elements during cooler winter months. Cars will be redundant in this "integrated pedestrian city."
"The project will follow the green and environmentally friendly guidelines of the Smart Dubai model," explained Ahmad bin Byat, the chief executive of Dubai Holding. "It will be built using state-of-the-art technology to reduce energy consumption and carbon footprint, ensuring high levels of environmental sustainability and operational efficiency."
In response to concerns about another real estate bubble, he insisted there was demand for such a project: "The way things are growing I think we are barely coping with the demand ... tourism is growing in Dubai," he said in an interview with Reuters. "This is a long-term project and we are betting strongly on Dubai."
Speaking at the launch of the mall, Sheikh Mohammed said: "The growth in family and retail tourism underpins the need to enhance Dubai's tourism infrastructure as soon as possible. This project complements our plans to transform Dubai into a cultural, tourist and economic hub for the 2 billion people living in the region around us – and we are determined to achieve our vision."
Mall of the World is one of several hi-tech, futuristic cities that could set the standard for eco-city designs in the coming decades. Others include China's car-free "Great City" (planned to be finished by 2020) and the Masdar City arcology (due in 2025).
30th June 2014
High-tech solar-powered benches coming to parks
Boston area parks will be piloting a 21st century bench upgrade through a partnership with MIT Media Lab spin-off firm, Changing Environments. "Soofa," as the bench is termed, is a solar-powered outdoor charging station that also collects and shares location-based data like air quality and noise level.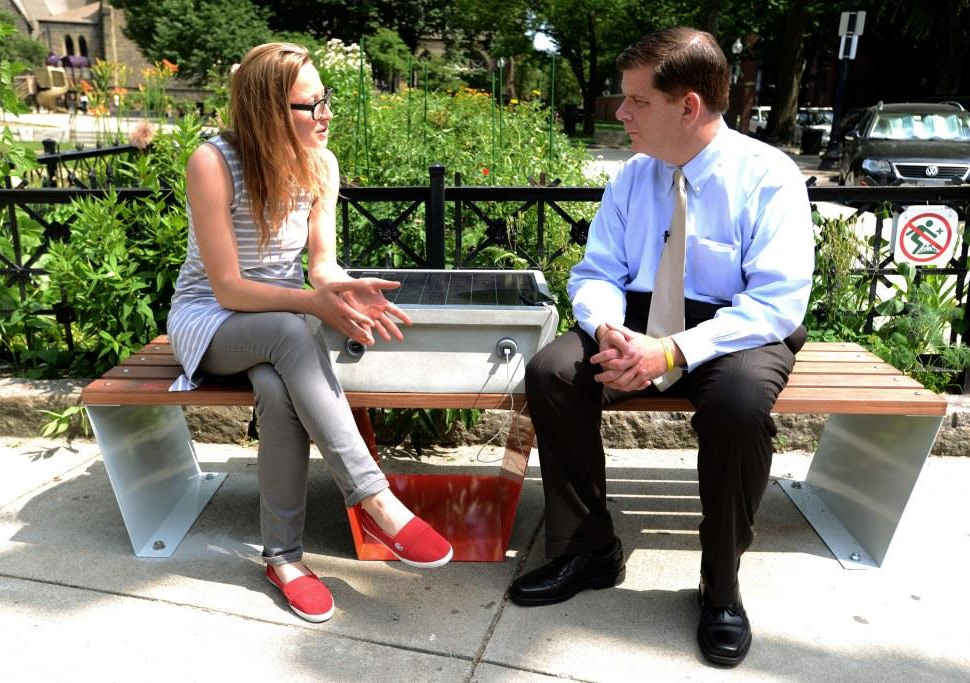 The high-tech benches will be deployed in green spaces over the next week, including in Titus Sparrow Park in the South End, the Boston Common, and the Rose Kennedy Greenway. The Soofa debuted last week at the White House Maker Faire in Washington, D.C., where select innovators and entrepreneurs gathered to encourage robust development of new American ideas.
"Your cell phone doesn't just make phone calls; why should our benches just be seats?" said Mayor Walsh. "We are fortunate to have talented entrepreneurs and makers in Boston thinking creatively about sustainability and the next generation of amenities for our residents."
The Soofa will provide more seating space and will be able to charge two phones at a time, building on the functionality of the first solar-powered seat by Changing Environments, which was successfully piloted in Boston in 2013.
"We're delighted to continue the Greenway's partnership with New Urban Mechanics and the MIT Media Lab," said Jesse Brackenbury, Executive Director of the Rose Kennedy Greenway Conservancy. "The Soofa will allow visitors and their phones to enjoy the sun on the Greenway."
The City of Boston is asking residents to recommend one additional City of Boston park to install the Soofa. Residents are encouraged to go online and recommend a location at bit.ly/bosbench or tweet the location to @newurbanmechs.
In addition, the designers at Changing Environments are asking Bostonians to submit ideas for names of the Soofas in each park through Twitter to @mysoofa or via the website, soofa.co. The winners will be invited to visit designers at the MIT Media Lab and see where it all started.
"Soofa is the first step into Smart Urban Furniture. The possibilities to update the city for the mobile generation are endless and long overdue," said Sandra Richter, Co-founder and CEO of the young startup. "So are more female-lead startups which is why we hope to be a roll-model for women all over the world to found cool companies like Nan Zhao, Jutta Friedrichs and I did."
Soofas are also being piloted at Babson College and at the Massachusetts Institute of Technology.
7th June 2014
Shatterproof screens to protect smartphones
Polymer scientists at the University of Akron in Ohio have developed a transparent electrode that could change the face of smartphones, literally, by making their displays shatterproof.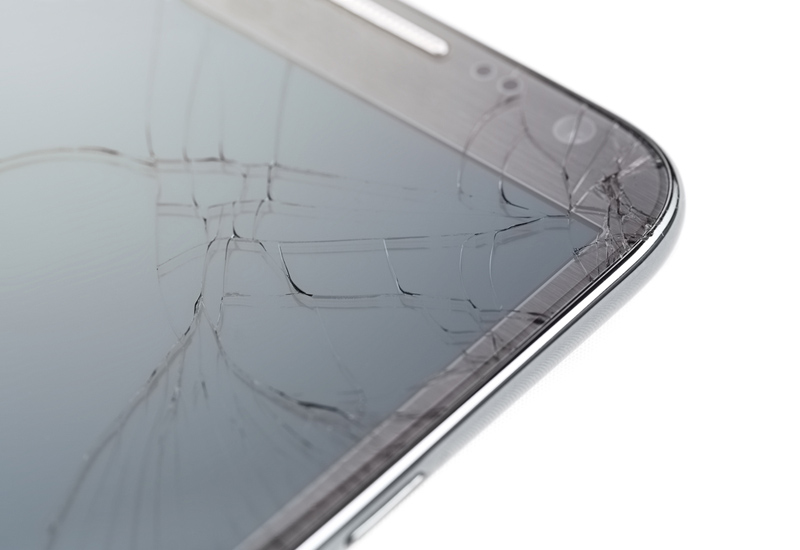 In a recently published paper, researchers show how a transparent layer of nanowire-based electrodes on a polymer surface could be extraordinarily tough and flexible, withstanding repeated scotch tape peeling and bending tests. This could revolutionise and replace conventional touchscreens, according to Yu Zhu, UA assistant professor of polymer science. Currently used coatings made of indium tin oxide (ITO) are more brittle, most likely to shatter, and increasingly costly to manufacture.
"These two pronounced factors drive the need to substitute ITO with a cost-effective and flexible conductive transparent film," Zhu says, adding that the new film provides the same degree of transparency as ITO, yet offers greater conductivity. The novel film retains its shape and functionality after tests in which it has been bent 1,000 times. Due to its flexibility, the transparent electrode can be fabricated in economical, mass-quantity rolls.
"We expect this film to emerge on the market as a true ITO competitor," Zhu says. "The annoying problem of cracked smartphone screens may be solved once and for all with this flexible touchscreen."
The findings are published by the American Chemical Society's journal ACS Nano in a study titled "A Tough and High-Performance Transparent Electrode from a Scalable and Transfer-Free Method."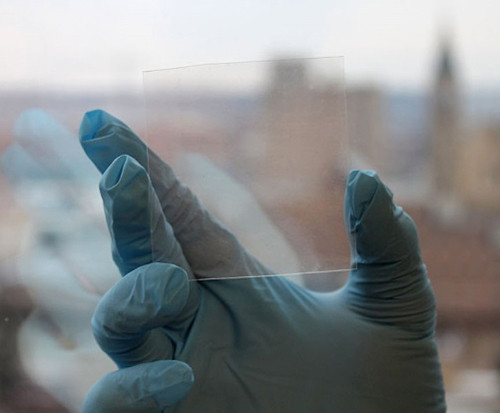 29th May 2014
A breakthrough in real-time translated conversations
At the Code Conference in California, Microsoft has demonstrated Skype Translator – a new technology enabling cross-lingual conversations in real time. Resembling the "universal translator" from Star Trek, this feature will be available on Windows 8 by the end of 2014 as a limited beta. Microsoft has worked on machine translation for 15 years, and translating voice over Skype in real time had once been considered "a nearly impossible task." In the world of technology, however, miracles do happen. This video shows the software in action. According to CEO Satya Nadella, it does more than just automatic speech recognition, machine translation and voice synthesis: it can actually "learn" from different languages, through a brain-like neural net. When you consider that 300 million people are now connecting to Skype each month, making 2 billion minutes of conversation each day, the potential in terms of improved communication is staggering.
26th May 2014
Floating, self-sustaining city offers solution to overcrowding and ecological impacts
AT Design Office has unveiled its proposal for a hi-tech, floating metropolis. With self-sufficient energy, food and recycling systems, it could solve problems of overcrowding and environmental degradation on land.
As the world becomes ever more crowded, polluted and depleted of resources, there are often suggestions that we must explore space and colonise other planets to ensure our survival. However, perhaps we should look closer to home. Oceans cover more than 70% of the Earth's surface and represent a new, potentially massive opportunity for civilisation.
AT Design Office – a firm of architects and urban/interior/landscape designers – was commissioned by Chinese construction firm CCCC to investigate the possibility of self-sustaining, floating cities. They have now unveiled a proposal that is capable of housing many thousands of residents in a futuristic, hexagonal arrangement of modules with areas both above and below water.
This 10 km² (4 mi²) settlement would feature vertical farms and fish hatcheries to produce its own food, a garbage and recycling centre to sustainably handle waste, along with zero-carbon and energy efficient systems driven by tidal power. World class facilities would bring new opportunities for education, recreation, employment and business. According to AT, this would create a "vibrant, diverse and sustainable social and economic platform."
All living spaces in this floating city would have 360° views of the surrounding ocean scenery. Residents would enjoy close proximity to local facilities and public services, with fast and convenient transport provided in the form of electric vehicles and submarines, eliminating air pollution and congestion. Inhabitants could visit neighbouring cities or the mainland via submarines, cruise ships and ferries.
Trees and parks are designed to weave in a continuous public green belt, above and below water. The upper areas can provide public space usable for sports and recreation in a fresh air environment. A chimney in the central hub creates natural ventilation and lighting for the underwater sections and a gravity regulation system is located at the bottom.
While it may sound like science fiction, China Transport Investment Company is taking the project seriously and may begin a small-scale trial in 2015. Technologies featured in this design are already being used to build a 31 mile bridge connecting Hong Kong, Macau and Zhuhai. As the world adapts to rising sea levels, these types of amphibious settlements could be a fairly common sight by 2100.
11th May 2014
FDA approves the first prosthetic arm controlled by muscle electrical signals
After eight years of development, a new hi-tech bionic arm has become the first of its kind to gain regulatory approval for mass production.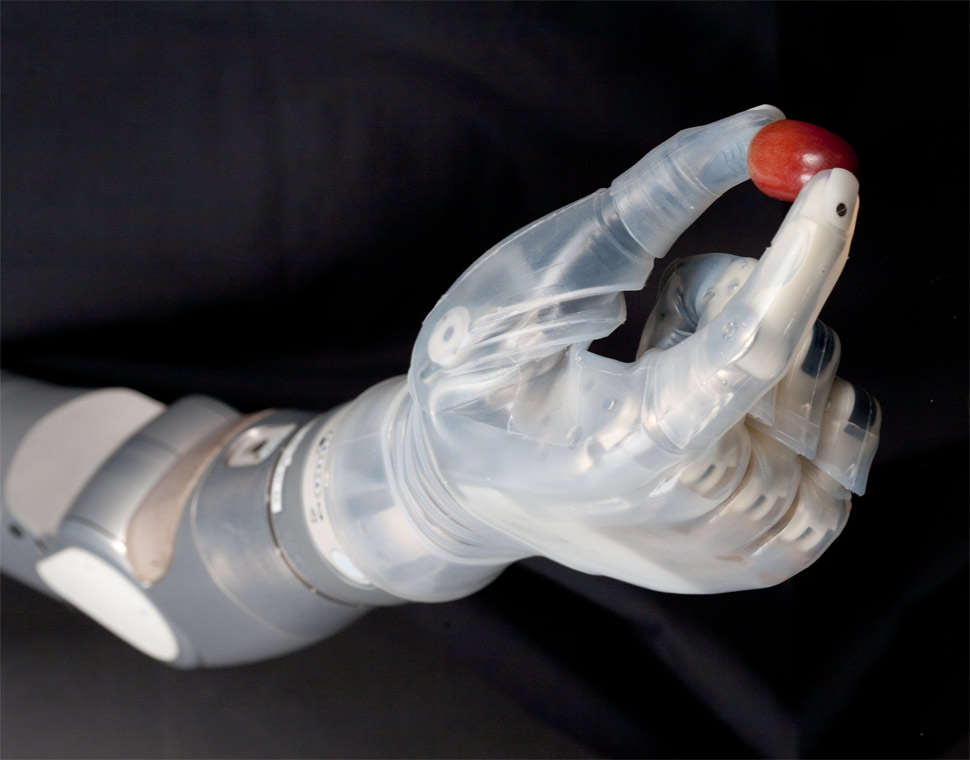 The DEKA Arm System is part of the $100m Revolutionising Prosthetics program launched by the Defense Advanced Research Projects Agency (DARPA). Upper-limb prosthetic technology had for many years lagged behind lower-limb technology and the program sought to address this issue. The DEKA was made possible through a combination of breakthroughs in both engineering and biology, resulting in a bionic arm that offers near-natural control. It is nicknamed "The Luke", after Star Wars' Luke Skywalker who received a robotic replacement for the hand he lost in a fight with Darth Vader.
Simultaneous control of multiple joints is enabled by miniature motors and a variety of input devices, including wireless signals generated by sensors on the user's feet. Constructed from lightweight but strong materials, the battery-powered arm system is of similar size and weight to a real limb and has six user-selectable grips.
During eight years of testing and development, 36 volunteers took part in studies to refine the arm's design. Their feedback helped engineers to create a mind-controlled device enabling amputees to perform a wide range of tasks – preparing food, using locks and keys, opening envelopes, brushing hair, using zippers and feeding themselves, all of which greatly enhances their independence and quality of life.
Similar devices are being developed around the world, but this is the first of its kind to gain approval from the U.S. Food and Drug Administration (FDA). Dr. Geoffrey Ling, Director of DARPA's Biological Technologies Office, comments in a press release: "DARPA is a place where we can bring dreams to life."
5th May 2014
'Look Up' is a lesson taught to us through a love story, in a world where we continue to find ways to make it easier for us to connect with one another – but always results in us spending more time alone. Written, performed and directed by Gary Turk.
21st April 2014
Transparent solar-powered windows made possible by quantum dot breakthrough
The superior light-emitting properties of quantum dots can be applied to solar energy, helping to more efficiently harvest sunlight.

A house window that doubles as a solar panel could be on the horizon, thanks to recent work by Los Alamos National Laboratory researchers in collaboration with scientists from the University of Milano-Bicocca (UNIMIB), Italy. Their project demonstrates that superior light-emitting properties of quantum dots can be applied in solar energy by helping more efficiently harvest sunlight.
Quantum dots are ultra-small nanocrystals of semiconductor matter that are synthesized with nearly atomic precision. Their emission colour can be tuned by simply varying their dimensions. Colour tunability is combined with high emission efficiencies approaching 100%. These properties have recently become the basis of a new technology – quantum dot displays – employed, for example, in the newest generation of the Kindle Fire e-reader.
A luminescent solar concentrator (LSC) is a photon management device, representing a slab of transparent material that contains highly efficient emitters such as dye molecules or quantum dots. Sunlight absorbed in the slab is re-radiated at longer wavelengths and guided towards the slab edge equipped with a solar cell.
Lead researcher Victor Klimov explained: "The LSC serves as a light-harvesting antenna – which concentrates solar radiation collected from a large area onto a much smaller solar cell – and this increases its power output."
"LSCs are especially attractive because, in addition to gains in efficiency, they can enable new interesting concepts such as photovoltaic windows that can transform house facades into large-area energy generation units," said his colleague, Sergio Brovelli.
To implement their concept, Los Alamos researchers created a series of cadmium selenide/cadmium sulfide (CdSe/CdS) quantum dots, which were then incorporated by the Italian team into large slabs of transparent polymer. The particles are tiny, only about 10 nanometres (nm) across. For comparison, human hairs are typically 50,000 nm wide.
Spectroscopic measurements indicated virtually no losses to re-absorption on distances of tens of centimetres. Tests using simulated solar radiation demonstrated high photon harvesting efficiencies of around 10% per absorbed photon – achievable in nearly transparent samples – perfectly suited for utilisation as photovoltaic windows.
These findings are published in Nature Photonics. According to a report earlier this year, the quantum dot and quantum dot display (QLED) markets are expected to see a 42-fold growth in the next five years, reaching $6.4 billion by 2019.
18th April 2014
World's first marijuana vending machines are unveiled in Colorado
In a sign of the changing times, marijuana is now publicly available from vending machines in Colorado. American Green, part of Tranzbyte Corporation, has begun distributing "Zazzz Machines" containing the drug. These utilise radio-frequency identification tags (RFID) to track the products, along with biometrics to verify a customer's age. They even accept Bitcoin, a new digital currency. The first machine was unveiled on 12th April and is located at the Herbal Elements store in Avon, Colorado. A recent Gallup poll showed a clear majority of Americans (58%) in favour of marijuana being made fully legal, with growing numbers admitting to have tried it. Colorado expects to collect nearly $100 million in tax revenue from recreational marijuana use this year – about 40% more than originally forecast.
17th April 2014
Researchers discover groundbreaking method to commercialise graphene for electronics
Graphene has the potential to usher in a new era of next generation electronic devices, including flexible displays and wearable technology.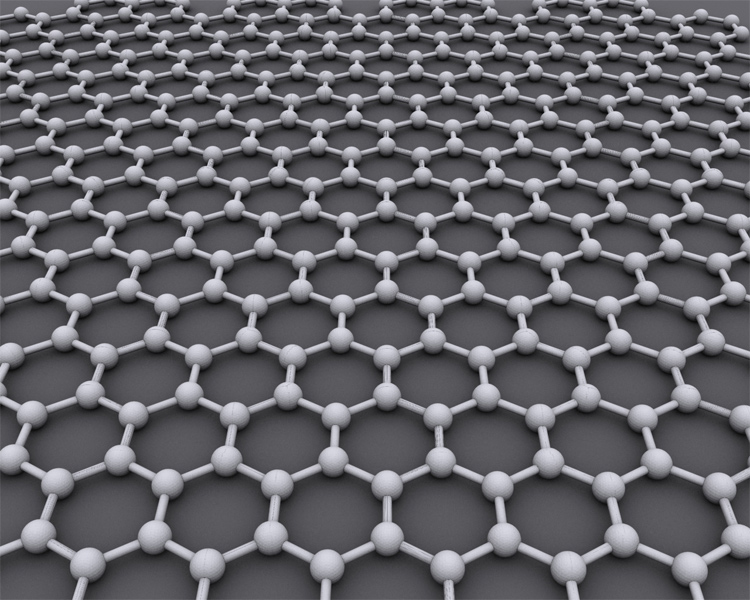 Samsung Electronics have announced a breakthrough synthesis method to speed the commercialisation of graphene, a unique material ideally suited for electronic devices. Samsung Advanced Institute of Technology (SAIT), in partnership with Sungkyunkwan University, became the first in the world to develop this new method.

"This is one of the most significant breakthroughs in graphene research in history," said the laboratory leaders at SAIT's Lab. "We expect this discovery to accelerate the commercialisation of graphene, which could unlock the next era of consumer electronic technology."

Graphene has 100 times greater electron mobility than silicon, the most widely used material in semiconductors today. It is more durable than steel and has high heat conductibility as well as flexibility, which makes it the perfect material for use in flexible displays, wearables and other next generation electronic devices.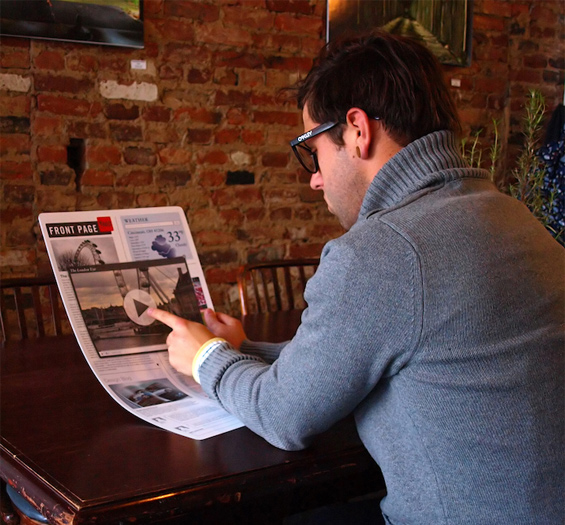 Through its partnership with Sungkyungkwan University's School of Advanced Materials Science and Engineering, SAIT uncovered a new method of growing large area, single crystal wafer scale graphene. Engineers around the world have invested heavily in research for the commercialisation of graphene, but have faced many obstacles due to the challenges associated with it. In the past, researchers have found that multi-crystal synthesis – the process of synthesising small graphene particles to produce large-area graphene – deteriorated the electric and mechanical properties of the material, limiting its application range.

The new method developed by SAIT and Sungkyunkwan University synthesises large-area graphene into a single crystal on a semiconductor, maintaining its electric and mechanical properties. The new method repeatedly synthesises single crystal graphene on the current semiconductor wafer scale.


Over the past several decades, the growth of the semiconductor industry has been driven by the ability to grow the area of a silicon wafer, while steadily decreasing the process node. In order to commercialise graphene to displace the industry's reliance on silicon, it is vital to develop a new method to grow a single crystal graphene into a large area.

The research results are published in Science Magazine and ScienceExpress, one of the world's most prestigious science journals.
14th April 2014
A battery that charges in seconds
Nanotechnology startup company, StoreDot, has unveiled a ground-breaking battery capable of charging your smartphone and other devices in under 30 seconds.
At Microsoft's Think Next symposium in Tel Aviv, StoreDot demonstrated the prototype of its ultra-fast-charge battery for the first time. This company specialises in technology that is inspired by natural processes. They have produced "nanodots" derived from bio-organic material that, due to their size, have both increased electrode capacitance and electrolyte performance. These nanodots – described as "stable, robust spheres" – have a diameter of just 2.1 nanometres and are made of chemically synthesized peptide molecules, short chains of amino acids that form the building blocks of proteins.
StoreDot's bio-organic devices, which include smartphone displays, provide much more efficient power consumption, and are eco-friendly. While other nanodot and quantum-dot technologies currently in use are heavy metal based, and therefore toxic, StoreDot's are biocompatible and superior to all previous discoveries in the field. Using their method, the company is hoping to synthesize new nanomaterials for use in a wide variety of applications. Nano-crystals in memory chips, for example, could triple the speed of traditional flash memory, while image sensors could be five times more sensitive.
Furthermore, the nanodots are relatively inexpensive, as they originate naturally, and utilise a basic biological mechanism of self-assembly. They can be made from a vast range of bio-organic raw materials that are readily available and environmentally friendly.
The battery seen in the video above remains in the prototype stage, with a rather bulky form factor. However, the CEO of Storedot, Doron Myersdorf, says he is confident that a smaller version can be developed and on the market by 2017.
"The fast-charge battery is the result of our focus on commercialising the materials we have discovered," he explained. "We're particularly pleased that this innovative nanotechnology, inspired by nature, not only changes the rules of mobile device capabilities, but is also environmentally-friendly."