20th May 2013
Worldwide capacity of lithium-ion batteries for electric vehicles will multiply more than 10-fold by 2020
Improvements in lithium ion (Li-ion) battery technology are helping to accelerate the worldwide market for electric vehicles (EVs).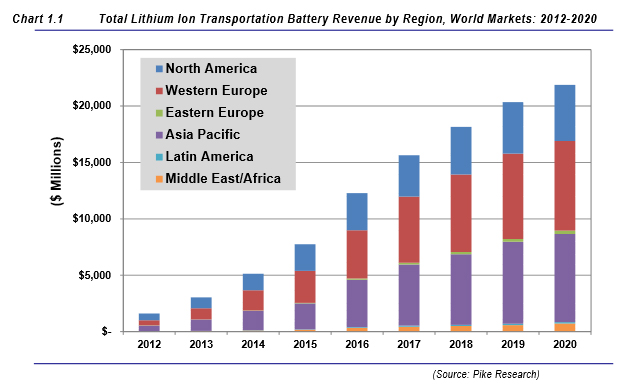 In the last few years, automakers have shifted from nickel-metal hydride (NiMH) batteries to Li-ion batteries. This shift represents a major endorsement of Li-ion chemistry and its ability to perform consistently in an automotive environment. According to a new report from Navigant Research, total worldwide capacity of Li-ion batteries for transportation applications will increase more than ten-fold, from 4,400 megawatt-hours (MWh) in 2013 to nearly 49,000 MWh by 2020.
"Li-ion technology continues to improve, as increased energy densities translate into smaller and lighter battery packs with more power," says David Alexander, senior research analyst with Navigant Research. "At the same time, leading battery cell manufacturers have built new factories utilising the latest production techniques, including greater automation and faster throughput. This will lead to a reduction in the cost per kilowatt-hour (kWh) over the next few years, provided that volumes continue to increase."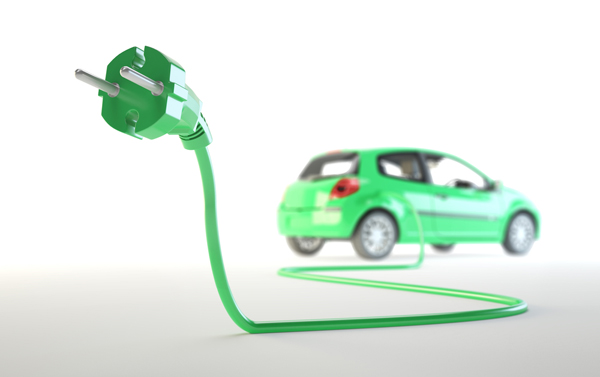 The market for Li-ion batteries will primarily be driven by the growth of battery electric vehicles (BEVs), as they utilise much larger battery packs than plug-in hybrid electric vehicles (PHEVs). Today, most BEVs use battery packs ranging from 16 kWh to 85 kWh, compared to PHEVs that typically use packs ranging from 4 kWh to 16 kWh. Additionally, many recently introduced hybrid vehicles, such as the Honda Civic Hybrid, use Li-ion batteries, and the percentage of hybrids using Li-ion technology is expected to grow steadily as automakers update their models.
The report, "Electric Vehicle Batteries", provides a detailed examination of the growing market for Li-ion batteries, including profiles of all of the leading Li-ion battery manufacturers. Forecasts for revenues from Li-ion batteries, segmented by vehicle type, are included, along with vehicle roadmaps for hybrid, PHEV, and BEV sales by region. The report also includes a review of competing energy storage technologies, including ultracapacitors and nickel-metal hydride batteries. An Executive Summary of the report is available for free download on the Navigant Research website.
19th May 2013
Samsung announces breakthrough in 5G mobile technology
South Korean electronics giant Samsung has successfully developed the world's first adaptive array transceiver operating in the millimetre-wave Ka bands for cellular communications.
This new technology will be central to 5G mobile communication systems and will provide data transfer speeds up to several hundred times faster than current 4G networks.
Future networks will require a broad range of frequencies. It was previously assumed that millimetre-wave bands would be impractical over long distances, due to extremely high atmospheric attenuation and other problems. However, the new adaptive array transceiver made by Samsung, which includes 64 antenna elements, has been shown to overcome loss of radio propagation. Data is transmitted over 2 km at a frequency of 28 GHz, much higher than conventional bands which typically range from several hundred MHz to several GHz.
In addition to speeds of 1 gigabit per second (allowing users to download an entire film in a second, or enjoy real-time streaming of ultra HD), 5G will provide a number of other features designed to improve reliability, compatibility, service and user experience. Samsung now plans to accelerate its research and development of 5G mobile and estimates it will be ready for commercialisation in 2020. Other regions too – including Europe and China – plan to bring these services to market by that year.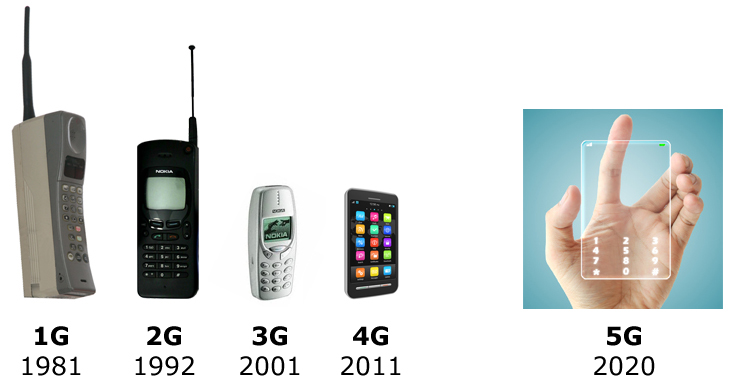 15th May 2013
Already released to developers, Google Glass will have its consumer launch by early 2014. This video is from Playground – a digital creative agency based in Toronto. In the company's own words:
"For us at Playground, Google Glass is exciting. We are constantly trying to dissect the human-technology relationship and Glass represents information technology at its most intimate. The Explorer edition Glass and its Mirror API is an amazing techno-social experiment, but it is an experiment with limitations. We wanted to visualize what Glass may do as the platform matures past today's limits."
11th May 2013
Aldebaran Robotics are the creators of NAO — an autonomous, programmable humanoid robot. The latest model features a higher level of interaction, more accuracy, faster and more reliable "Nuance" voice recognition, smart torque control, improved walking algorithms and measures to reduce collisions. One of the recent apps to have been developed, seen in the video below, allows NAO to write any word you ask him, then spell the word as he writes it. This uses text-to-speech for word recognition, and inverse kinematics for the writing part.
Video credit: Franck Calzada
7th May 2013
Terrafugia's vision for the future of personal transportation
Last year, US company Terrafugia achieved a milestone in its goal of developing a flying car. A production prototype of the "Transition" – a two-seater personal aircraft/car hybrid – completed its first test flight at New York's Plattsburgh International Airport. It became the first vehicle in the world to meet the standards of both the FAA (Federal Aviation Administration) and the NHTSA (National Highway Traffic Safety Administration). Commercial sales of the Transition are expected within two years at a cost of $279,000.
Terrafugia has now released a video, seen below, of another vehicle it is working on. "TF-X" – a more advanced concept – would take-off vertically, rather than needing a runway. It could seat four passengers (double that of the Transition) and fit into a standard home garage. With a hybrid-electric motor, the TF-X would be able to recharge its batteries either from the engine, or by plugging into electric car charging stations.
Advances in materials and technology will make the concept possible, according to the company. Carbon-fibre for the skin is lighter and stronger than metals, for example, while engines are becoming ever more compact and powerful. The TF-X is the "next logical progression".
"I would caution anyone from saying this is science fiction," says John Brown, editor of the Roadable Times. "They have a track record of doing what they say. We need to take this seriously." For more information, visit the official website.
29th April 2013
Grocery delivery service is greener than driving to the store
At the end of a long day, it can be more convenient to order your groceries online while sitting on the living room couch instead of making a late-night run to the store. New research shows it's also much more environmentally friendly to leave the car parked and opt for groceries delivered to your doorstep.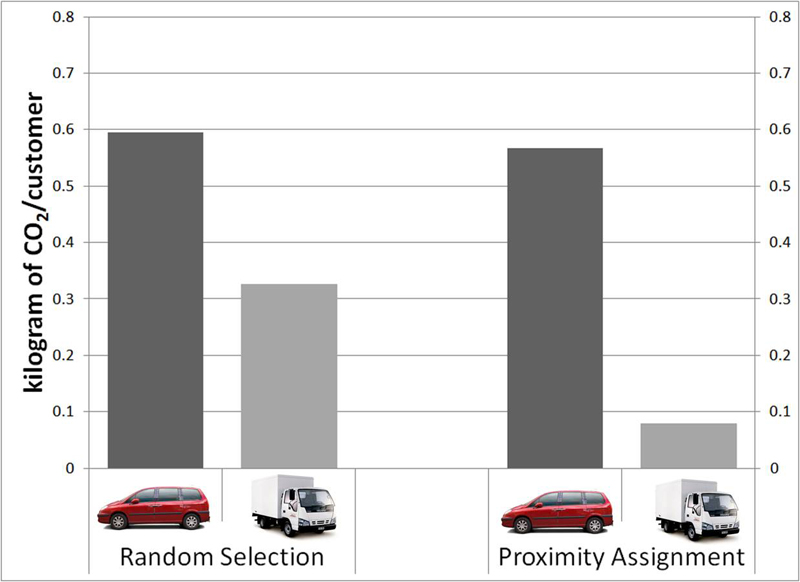 University of Washington engineers have found that using a grocery delivery service can cut carbon dioxide emissions by at least half when compared with individual household trips to the store. Trucks filled to capacity that deliver to customers clustered in neighbourhoods produced the most savings in carbon dioxide emissions.
"A lot of times, people think they have to inconvenience themselves to be greener, and that actually isn't the case here," said Anne Goodchild, UW associate professor of civil and environmental engineering. "From an environmental perspective, grocery delivery services overwhelmingly can provide emissions reductions."
Consumers have increasingly more grocery delivery services to choose from. AmazonFresh operates in the Seattle area, while Safeway's service is offered in many U.S. cities. FreshDirect delivers to residences and offices in the New York City area. Last month, Google unveiled a shopping delivery service experiment in the San Francisco Bay Area, and UW alumni recently launched the grocery service Geniusdelivery in Seattle.
As companies continue to weigh the costs and benefits of offering a delivery service, Goodchild and Erica Wygonik, a UW doctoral candidate in civil and environmental engineering, looked at whether using a grocery delivery service was better for the environment, with Seattle as a test case. In their analysis, they found delivery service trucks produced 20 to 75 percent less carbon dioxide than the corresponding personal vehicles driven to and from a grocery store.
They also discovered significant savings for companies – 80 to 90 percent less carbon dioxide emitted – if they delivered based on routes that clustered customers together, instead of catering to individual household requests for specific delivery times.
"What's good for the bottom line of the delivery service provider is generally going to be good for the environment, because fuel is such a big contributor to operating costs and greenhouse gas emissions," Wygonik said. "Saving fuel saves money, which also saves on emissions."
The researchers used an EPA modelling tool which calculated emissions at a much more detailed level than previous studies have done. Their work was funded by the Oregon Department of Transportation and published in the Journal of the Transportation Research Forum.
29th April 2013
World's first curved OLED TVs go on sale
Pre-orders for a 55-inch curved OLED TV will start today in Korea, shipping next month.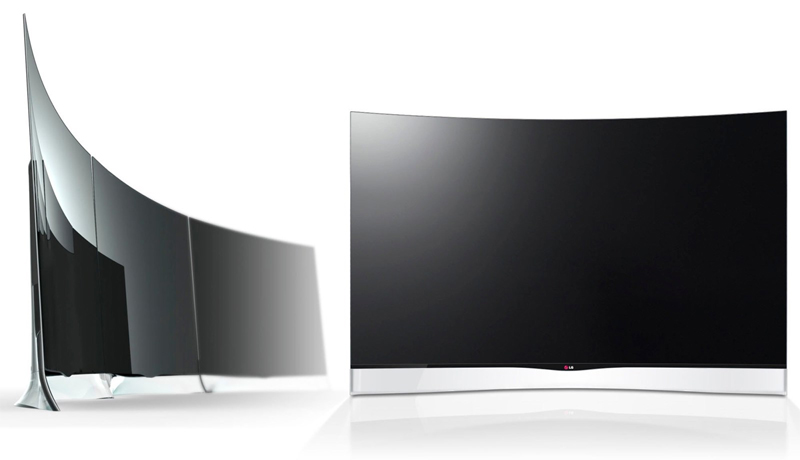 LG Electronics has announced that it will begin accepting pre-orders for its 55-inch (54.6-inch diagonal) Curved OLED TV (Model 55EA9800) in South Korea, with deliveries to begin next month. More than 1,400 LG retail stores will begin taking orders today for the premium TV, priced at KRW 15 million (approximately US$13,500).
The announcement makes LG the first and only company to commercialise both the flat screen OLED TV, which began shipping to Korean customers in February, and the curved OLED TV. This gives LG a significant lead over its competitors.
The new model provides an "IMAX-like" viewing experience in the home. With more than five years of research behind developing the optimum curvature, the entire screen surface is equidistant from the viewer's eyes, eliminating the problem of screen-edge visual distortion and loss of detail.
Only 4.3 millimetres (0.17 inches) thick, LG's Curved OLED TV produces astoundingly vivid and realistic images, thanks to its proprietary WRGB technology. The unique Four-Colour Pixel system features a white sub-pixel, which works in conjunction with the conventional red, blue, green setup to create the perfect colour output. Transparent film speakers are built into the crystal clear stand, providing high-quality sound without compromising the TV's design.
Timing and pricing of the Curved OLED TV in markets outside of Korea will be announced in the months ahead. The OLED segment is expected to grow to 7 million units by 2016 as prices fall.
18th April 2013
Batteries that recharge 1,000 times faster and are 30 times smaller
Researchers at the University of Illinois have developed a new type of battery that could revolutionise the way consumer electronics and electric vehicles are powered.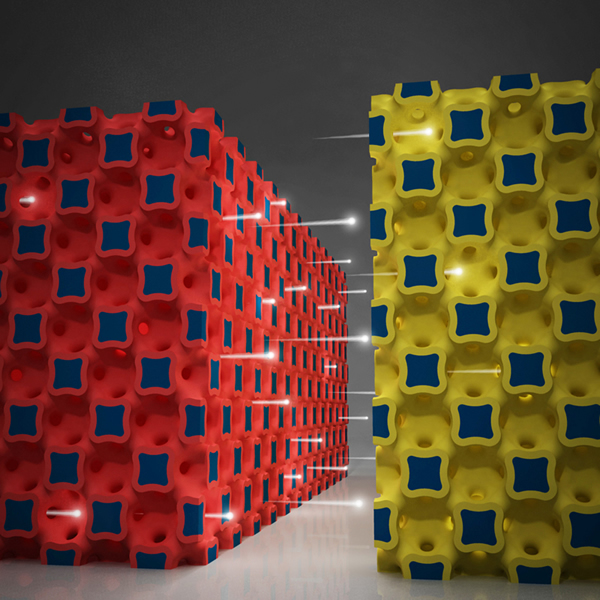 Led by William King, the Bliss Professor of mechanical science and engineering, the researchers published their results in Nature Communications. They describe a new class of "microbatteries" which owe their high performance to an internal three-dimensional microstructure.
"The thinking parts of computers have gotten small," said King. "And the battery has lagged far behind. This is a microtechnology that could change all of that. Now, the power source is as high-performance as the rest of it."
Batteries have two key components: the anode (minus side) and cathode (plus side). Building on a novel fast-charging cathode design by materials science and engineering professor Paul Braun's group, King and his colleague James Pikul developed a matching anode, then developed a new way to integrate the two components at the microscale to make a complete battery with superior performance.
"Our key insight," they report, "is that the battery micro-architecture can concurrently optimize ion and electron transport for high-power delivery, realized here as three-dimensional bi-continuous interdigitated microelectrodes. The battery microarchitecture affords trade-offs between power and energy density, resulting in a high-performance power source which is scalable to larger areas."
With so much raw power, the batteries could enable sensors that broadcast 30 times farther, or devices 30 times smaller. The batteries are rechargeable and can charge 1,000 times faster than competing technologies, potentially allowing a smartphone to be replenished in a matter of seconds. As well as consumer electronics, a vast range of other applications could benefit – from tiny medical devices, up to large objects like electric vehicles.
The team is now working on integrating their batteries with other components and will begin trials on electronic equipment before the end of the year. Safety issues will also need to be resolved, as well as manufacturability at low cost. However, this appears to be a very promising development.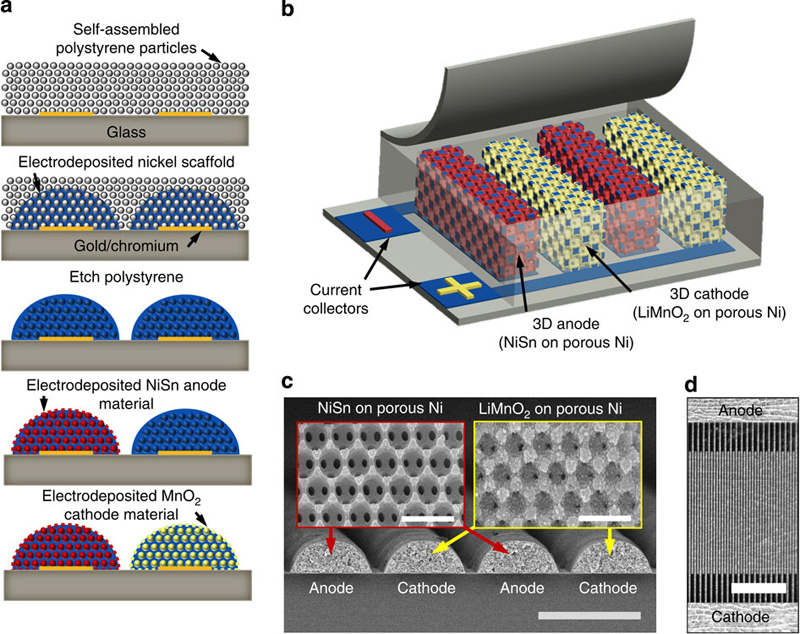 13th April 2013
How will the revolutionary technology of 3D printing help us rise to the future challenge of peak oil? In his latest video, futurist Christopher Barnatt explains. For more information on 3D printing, see explainingthefuture.com.
10th April 2013
Below is the trailer for an upcoming sci-fi movie, Elysium. It is directed by Neill Blomkamp, whose previous work includes the critically-acclaimed District 9. Set in the 22nd century, Elysium portrays two groups of people: a hyper-rich overclass who live in the utopian paradise of an orbiting space habitat; and the billions of others, who struggle in the crime-ridden, overpopulated and ruined environment of Earth. For more information, visit the official website.
20th March 2013
A virtual "talking head" with realistic emotions
Researchers at the University of Cambridge have demonstrated a virtual "talking head" with realistic emotions, which could lead to improvements in human-computer interactions.
The system, called Zoe, bears a striking resemblance to Holly, the ship's computer in British sci-fi comedy, Red Dwarf. It is based on a template that, in the near future, could allow people to upload their own faces and voices. Users would be able to customise and personalise their own digital assistants for a range of applications – in mobile "face messages", gaming, audio-visual books, as a means of delivering online lectures or presentations, and in various user interfaces.
Professor Roberto Cipolla, from the Department of Engineering, University of Cambridge: "This technology could be the start of a whole new generation of interfaces which make interacting with a computer much more like talking to another human being."
As well as being more expressive than any previous system, Zoe is also remarkably data-light. The program used to run her is just tens of megabytes in size, which means that it can be easily incorporated into even the smallest computer devices, including tablets and smartphones.
It works by using a set of fundamental, "primary colour" emotions. Zoe's voice, for example, has six basic settings – Happy, Sad, Tender, Angry, Afraid and Neutral. The user can adjust these settings to different levels, as well as altering the pitch, speed and depth of the voice itself. By combining these levels, it becomes possible to pre-set or create almost infinite emotional combinations.
17th March 2013
Samsung introduces the Galaxy S4
Samsung this week unveiled its latest flagship smartphone – the Galaxy S4. Even lighter and thinner than its predecessor, it features a 13-megapixel back camera, and a 5-inch display with 441 ppi (1920×1080) resolution. It will be available in late April, on 327 networks and in 155 countries.
Other new features include:
• Eye-tracking: pause video and scroll through pages using eye movements alone
• Dual Camera: take simultaneous photos and videos, using both rear and front cameras, and blend them together
• Air View: hover with your fingers to preview the content of an email, S-Planner, image gallery or video without having to open it
• Air Gesture: change a music track, scroll up and down a web page, or accept a call with a wave of your hand
• Story Album: curates content, such as SNS posts, memos, location and weather information, as well as photos and videos, to create a photo album which is personalised around your timeline of special occasions and events
• Group Play: means you can enjoy music, photos and games with those around you, without requiring a Wi-Fi AP or cellular signal
• S-Health software: empowers your life by keeping you up-to-date with health and wellbeing information through a range of accessories
• Samsung WatchON: the Galaxy S4 will transform into an IR remote to control your home entertainment system including TV, set-top box, DVD player and even air conditioner.
Telecoms expert Ernest Doku from uSwitch.com: "The debut of nifty eye motion-sensitive controls allowing users to pause video and scroll through pages with eye movements alone is smart. For commuters crammed in trains – or just those who love a bit of futuristic tech that makes their lives easier – this novel feature will really help the Galaxy S4 to stand out."
9th March 2013
World's first rear vision motorcycle helmet
Global motorsports company, Reevu, this week unveiled its latest product – the FSX1. This futuristic helmet provides a rear view system to its wearer.
The FSX1, with integrated optical device, allows the motorcyclist a view of the road behind them through the helmet using a number of reflective surfaces that are coated onto a bullet proof material. The optical device, put simply, bends the light over the top of the wearer's head. It is constructed and reacts as a crumple zone – another world first in delivering security, safety, and that all important rear view.
Motorcycles have long had a reputation for safety issues. Between 1997 and 2008, accident fatalities in the United States more than doubled. You are 35 times more likely to die from riding a motorcycle than driving in a car. The FSX1 allows riders to maintain awareness of traffic conditions behind them, in the same way that a car driver uses a rear view mirror above their normal field of vision. The helmet is also surprisingly light, at 1500g (3.3 lb), and has excellent acoustics.
For more information, visit the Reevu official website: http://www.reevu.com/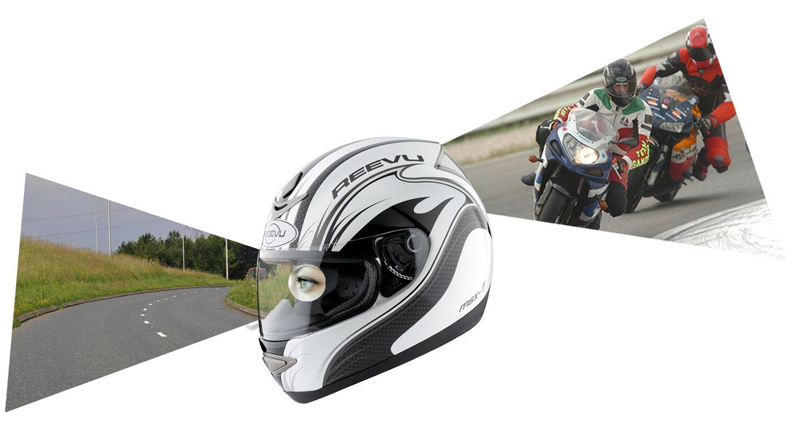 3rd March 2013
Mobile data revenue will overtake voice by 2018
The rise of connected devices will drive mobile data revenues past voice revenues globally by 2018, according to a new report from the Global System Mobile Association (GSMA). This data explosion will provide better access to healthcare and education, help lift people out of poverty, fight hunger and reduce carbon emissions.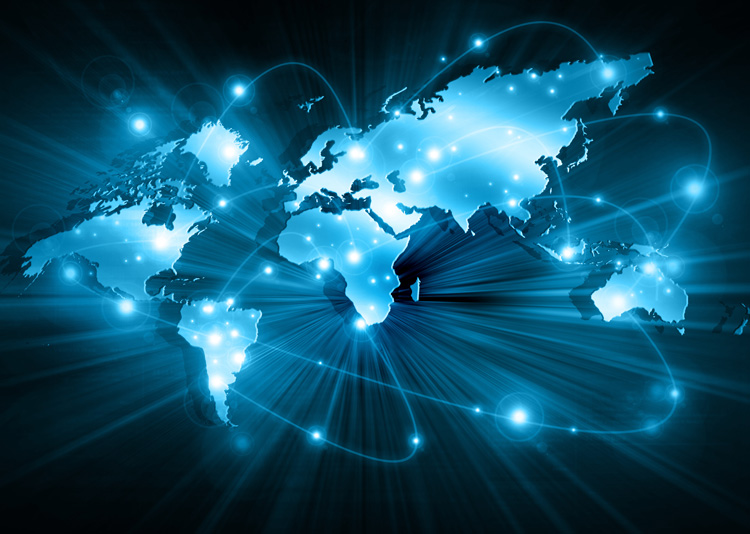 Mobile data is being driven by a surge in demand for connected devices and machine-to-machine (M2M) communications, as we accelerate towards a truly networked world. This is transforming the socioeconomic future of people in both developed and developing countries. The new GSMA report, produced in collaboration with PwC, reveals how innovative mobile connected products and services will revolutionise people's lives over the next five years:
In developed countries:
Mobile health could save $400 billion in healthcare costs in OECD countries


Connected cars could save one in nine lives through emergency calling services, providing quicker and more accurate location and response times


Mobile education can reduce student drop-outs by eight per cent


Smart metering can cut carbon emissions by 27 million tonnes – the equivalent of planting 1.2 billion trees
In developing countries:
Mobile health could save one million lives in sub-Saharan Africa


Automotive data will improve food transport and storage, helping feed more than 40 million people annually – equivalent to the entire population of Kenya


Mobile education can enable 180 million students to further their education


Smart cities with intelligent transport systems could reduce commute times by 35 per cent, giving commuters back a whole week each year

Michael O'Hara, Chief Marketing Officer, GSMA: "Mobile data is not just a commodity, but is becoming the lifeblood of our daily lives, society and economy, with more and more connected people and things. This is an immense responsibility and the mobile industry needs to continue collaborating with governments and key industry sectors to deliver products and services that help people around the world improve their businesses and societies."
The increase in mobile operator data revenues is a global trend, across both developed and emerging markets. In 2012, Japan became the first country where data revenues exceeded voice revenues, due largely to the availability of advanced mobile broadband networks and a higher adoption of the latest smartphones, tablets and connected devices. This year, Argentina's data revenues will exceed voice revenues – attaining this milestone ahead of the US and UK, which will reach this point in 2014. Kenya will experience this shift in 2016, with global revenues following in 2018 as mobile broadband continues to thrive.
26th February 2013
Clean water produced from thin air
The University of Engineering and Technology (UTEC), in collaboration with ad agency Mayo DraftCFB, has developed a billboard that converts air humidity into drinkable water for local residents in Lima, Peru.
22nd February 2013
Jetpack "anyone can fly" launched at Abu Dhabi exhibition
A jetpack costing $100,000 has been unveiled at the International Defence Exhibition and Conference (IDEX) in the United Arab Emirates. Its makers, California-based Martin Aircraft Company, say it could be used by emergency services, the military and also for leisure. The 140kg aircraft, which took 10 years to develop, can fly up to a mile high, reach a speed of 62mph and take off from a small space. It has an automated hover function, making it easy to operate.
20th February 2013
Google Glass features unveiled in preview video
Last year, Google announced "Project Glass" – a research and development program which aims to prototype and build an augmented reality (AR) head-mounted display. The project's intended purpose was to allow hands-free displaying of information currently found on smartphones, while providing interaction with the Internet via natural language voice commands, in a manner similar to the iPhone application Siri.
Developers were given early access to the device for $1,500, with a consumer version expected in 2014. New details have now emerged on the company's website, including this video which shows the glasses in action. The search giant is offering trials of the product to "bold, creative individuals" and wants people to suggest ways in which they would make use of the headset.
9th February 2013
Transparent smartphone being developed
Taiwanese company Polytron Technologies is working on a touchscreen smartphone that is almost entirely transparent. Due to its early stage of development, there is no software running yet, but the hardware is mostly in place. In this video from Mobile Geeks, the presenter claims that battery technology is "not even close" to becoming transparent yet. This is not true, however, as demonstrated by a breakthrough at Stanford University in 2011.
8th February 2013
Dyson launches all-in-one Airblade Tap
Engineering company Dyson has launched the Airblade Tap – a device that combines a high-speed hand dryer with hot and cold water outlets. Infrared sensors pinpoint hand positions and release water from the tap stem. Once hands are wet and drying is requested, integrated circuitry computes the information and activates a digital motor, creating two high velocity sheets of air on the tap's branches. Unheated clean air is then released at 430 mph (692 km/h), blowing water off hands and leaving them dry in 12 seconds. This means that users no longer have to leave the sink, which both saves time and prevents spillage of water on the floor. At present, the device is £1,000 ($1,573) and intended for use in hotels and commercial environments. Experts say its appeal to home users will therefore be limited until this cost falls.
15th January 2013
Some news on these upcoming 8th generation games consoles, courtesy of GameSpot:
12th January 2013
Up to half of all food produced globally is wasted
The Institution of Mechanical Engineers calls for urgent action to prevent 2 billion tonnes of all food produced in the world ending up as waste.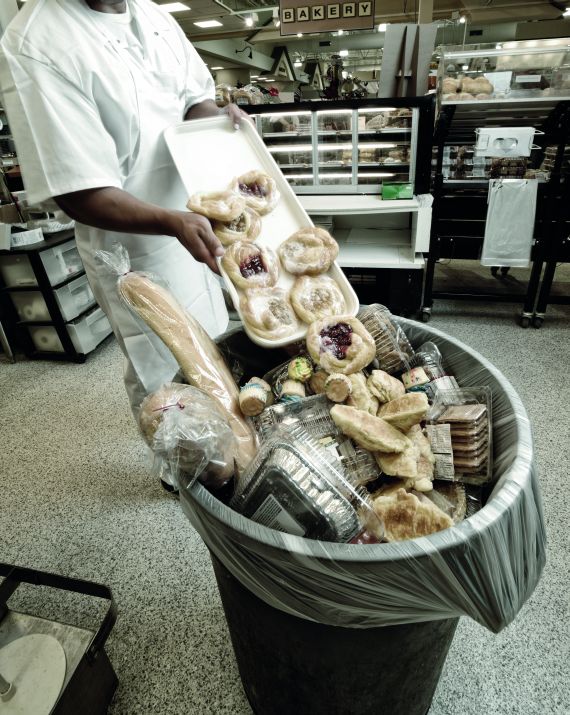 A new report by the Institution of Mechanical Engineers finds that as much as 50% of all food produced around the world never reaches a human stomach – due to issues as varied as inadequate infrastructure and storage facilities, through to overly strict sell-by dates, "buy one get one free" offers and consumers demanding cosmetically perfect food.
With UN predictions that there could be about an extra three billion people to feed by the end of this century and an increasing pressure on the resources needed to produce food – including land, water and energy – the Institution is calling for urgent action to tackle this waste.
The report 'Global Food Waste Not Want Not' found that:
• between 30% and 50% (about 1.2-2 billion tonnes) of food produced around the world each year is thrown away;

• as much as 30% of UK vegetable crops are not harvested due to them failing to meet exacting standards based on their physical appearance, while up to half of the food that's bought in Europe and the USA is thrown away by the consumer;

• about 550 billion m³ of water is wasted globally in growing crops that never reach the consumer;

• it takes 20-50 times the amount of water to produce 1 kilogram of meat than 1 kilogram of vegetables;

• the demand for water in food production could reach 10–13 trillion m³ a year by 2050. This is 2.5 to 3.5 times greater than the total human use of fresh water today and could lead to more dangerous water shortages around the world;

• there is the potential to provide 60-100% more food, by eliminating losses and waste, while at the same time freeing up land, energy and water resources.
Dr Tim Fox, Head of Energy and Environment at the Institution of Mechanical Engineers said: "The amount of food wasted and lost around the world is staggering. This is food that could be used to feed the world's growing population – as well as those in hunger today. It is also an unnecessary waste of the land, water and energy resources that were used in the production, processing and distribution of this food."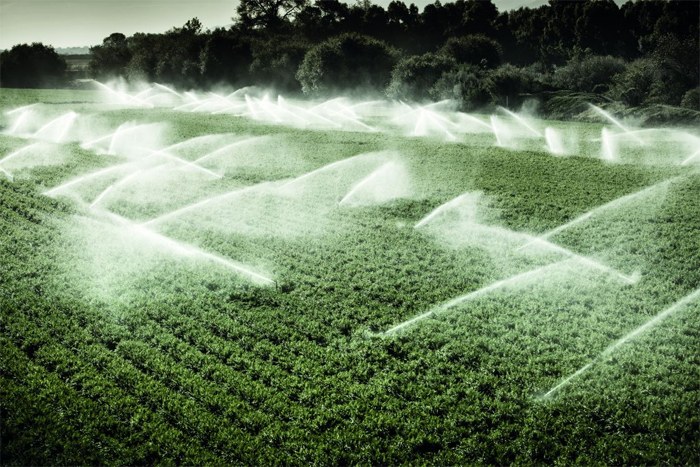 He continued: "The reasons for this situation range from poor engineering and agricultural practices, inadequate transport and storage infrastructure through to supermarkets demanding cosmetically perfect foodstuffs and encouraging consumers to overbuy through buy-one-get-one free offers.
"As water, land and energy resources come under increasing pressure from competing human demands, engineers have a crucial role to play in preventing food loss and waste by developing more efficient ways of growing, transporting and storing foods.
"But in order for this to happen Governments, development agencies and organisation like the UN must work together to help change people's mindsets on waste and discourage wasteful practices by farmers, food producers, supermarkets and consumers."
By 2075, the UN predicts that the world's population is set to reach around 9.5 billion, which could mean an extra three billion mouths to feed. A key issue to dealing with this population growth is how to produce more food in a world with resources under competing pressures – particularly given the added stresses caused by global warming and the increasing popularity of eating meat – which requires around 10 times the land resources of food like rice or potatoes.
The world produces about four billion metric tonnes of food per year, but wastes up to half of this food through poor practices and inadequate infrastructure. By improving processes and infrastructure, as well as changing consumer mindsets, we would have the ability to provide 60-100% more food to feed the world's growing population.
12th January 2013
Samsung flexible OLED display at CES 2013
At the Consumer Electronics Show (CES), Samsung introduced its new flexible OLED display, known as 'YOUM':
9th January 2013
Sharp provides a glimpse of the future
The Consumer Electronics Show (CES) – the biggest technology exhibition of the year – is currently underway in Las Vegas. Among the companies present is Sharp, which has just released a video exploring the future possibilities of "IGZO", a new semiconducting material that has already begun to appear in its products.
IGZO stands for "Indium Gallium Zinc Oxide" and is used as the channel for a transparent thin-film transistor. It replaces amorphous silicon for the active layer of an LCD screen, and, with 40 times higher electron mobility than amorphous silicon, allows either smaller pixels (for screen resolutions higher than HDTV), or much higher reaction speeds for a screen. It is ultra-responsive to touch, drastically minimising the noise caused during touch input. This allows for quick, easy and more natural-feeling writing and smooth lines. It is also far more energy efficient, maintaining onscreen data for a period of time without refreshing the data, even when the current is off.
Sharp is the first company to successfully mass produce IGZO. In April 2012, it was announced that they would be producing bulk volumes of 32-inch 3840×2160, 10-inch 2560×1600 and 7-inch 1280x800 panels. In addition to IGZO, Sharp is showcasing a range of other next-generation TVs and devices – including its 2013 AQUOS® LED TV lineup, featuring the world's biggest LED TV (90" diagonal).
Toshi Osawa, the CEO and Chairman of Sharp: "Whether in your home or in your hand, display technology is everywhere. From game changing IGZO, to stunning Ultra HD products, and large screen televisions, the introductions we are making at CES 2013 will advance people's lives at home, work and everywhere in between."
5th January 2013
Toyota and Audi to reveal self-driving cars
For a number of years now, Google has been leading the way in self-driving, autonomous car technology. However, car makers Toyota and Audi are now developing the vehicles themselves, independently of the Internet search giant.
Both companies have confirmed that they will demonstrate self-driving systems at the Consumer Electronics Show (CES), the biggest technology trade show of the year, which begins on 8th January. Toyota released a brief, 5 second teaser clip this week, showing its prototype Lexus LS 600h. This is apparently codenamed the AASRV (Advanced Active Safety Research Vehicle) and will "lead the industry into a new automated era."
As you can see in the video below, it appears very similar to a Google self-driving Prius – but as mentioned, Toyota has developed this model entirely independently, with no partnership involved. In addition to the vehicle itself, they will also discuss the state of Intelligent Transport Systems (ITS) research and development, which includes vehicle-to-vehicle and vehicle-to-infrastructure communications technology. This is expected to be fairly widespread by 2019 and could massively reduce the number of casualties on the roads.
As for Audi, there is no video available. However, a spokesperson has stated that its car will include a feature allowing it to find a parking space and park without a driver behind the wheel.
Thanks largely to Google's lobbying efforts, new laws were introduced last year – in California and Nevada – to make self-driving vehicles a reality. It's clear that this technology is moving forward and could soon enter the mainstream. In our recent poll, 70% of readers said they would feel safe riding in a computer-controlled car.
3rd January 2013
LG launches the first next-generation OLED 55" TV
LG and Samsung both announced 55in OLEDs last year, but LG is the first to make its commercially available.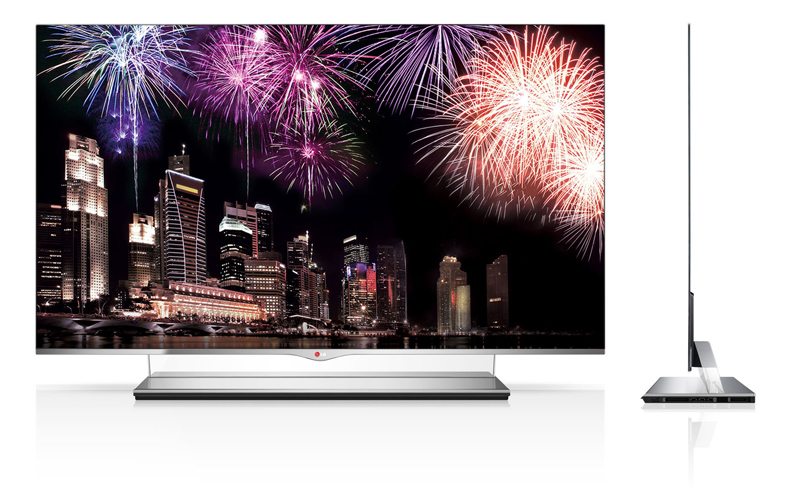 OLED stands for "Organic Light Emitting Diode". Organic LEDs emit their own light through organic compounds in response to electrical input, as opposed to LCD or LCD LED displays which require separate backlighting. This allows each individual pixel in the OLED screen to emit red, green and blue colour to create a picture, while the lack of backlighting creates darker blacks and an ultra-thin screen. Pictures are extremely vibrant and natural in appearance, with consistent colour and superior contrast.
After many years of research and development, LG Electronics (LG) has announced that it will begin accepting pre-orders for its eagerly-awaited 55-inch WRGB OLED TV (Model 55EM9700) in South Korea this month, with deliveries scheduled to begin in February. Other markets where the next-generation TV is being sold will be announced in the next several weeks along with their prices. The announcement comes just days before the 2013 Consumer Electronics Show (CES), where an early version of the TV last year was awarded "Best of Show."
More than 1,400 LG retail stores in South Korea will begin accepting orders from consumers for KRW 11 million – approximately US $10,000 – starting today (3rd January). As the first and only company to announce availability of the next-generation TV technology, LG is prepared to ramp up quickly to take the lead in the OLED segment that is expected to reach 7.2 million units in 2016, by which time it should be much more affordable.
"We are extremely pleased to be able to make this announcement at the start of the new year because we believe that OLED will usher in a whole new era of home entertainment," said Havis Kwon, President and CEO of LG's Home Entertainment Company. "Not since colour TV was first introduced 60 years ago has there been a more transformational moment. When high definition TV was first introduced 15 years ago, the public's reaction was 'wow!' but when customers see our razor-thin OLED TV for the first time, they're left speechless. That's a clear indicator as any that OLED TV is much more than just an incremental improvement to current television technology."
Only 4 millimeters (0.16 inches) thin and weighing less than 10 kilograms (22 pounds), LG's OLED TVs produce astoundingly vivid and realistic pictures thanks to its superior WRGB technology. In addition to the standard three colours, LG's unique Four-Colour Pixel system features a white sub-pixel, which works in conjunction with the conventional red, blue, green setup to create the perfect colour output. LG's exclusive "Colour Refiner" delivers even greater tonal enhancement, resulting in images that are more vibrant and natural than anything seen before. The 55-inch OLED TV also offers an infinite contrast ratio, which maintains optimal contrast levels regardless of ambient brightness or viewing angle.
Even before its launch, LG's OLED TV was turning heads all over the world. In addition to being named Best of Show at CES 2012, the influential Industrial Designers Society of America recognised the TV with a coveted IDEA Award. Meanwhile, LG received the European Display Achievement 2012-2013 Award from the European Imaging and Sound Association (EISA). And to cap it off, LG's OLED received Korea's Good Design President Award in October.
30th December 2012
Advanced humanoid "Roboy" to debut in 2013
The Artificial Intelligence Laboratory at the University of Zurich is aiming to develop one of the most advanced humanoid robots in the world. Furthermore, they intend to achieve this goal within just nine months.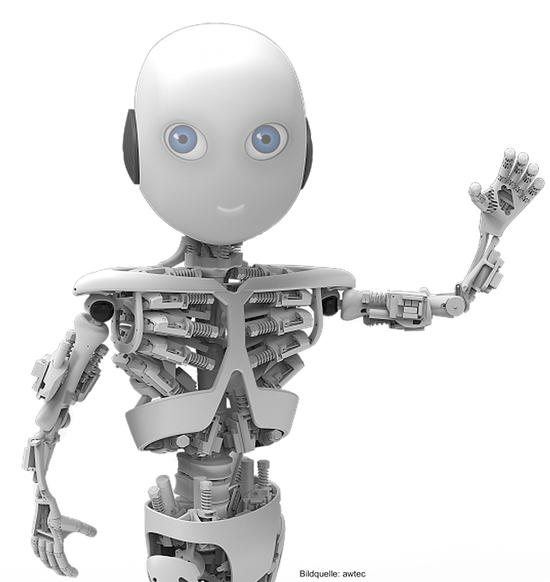 Roboy was a project that began in May 2012, so the machine is already nearing completion. In March 2013, it will be revealed to the public at the Robots on Tour exhibition, to celebrate the laboratory's 25th anniversary.
There are 15 project partners and over 40 engineers and scientists working on Roboy. He is described as a "soft robot" – and a more advanced version of his older brother Ecce. Thanks to his construction as a tendon-driven robot modelled on human beings ("normal" robots use motors in their joints), he will move almost as elegantly as a real person. The team is even designing a tricycle for him to carry heavy objects more easily. Furthermore, at a later stage in the project, he will be covered in "soft skin", so that interacting with him becomes safer and more pleasant.
Creating humanoid androids is a great challenge for researchers. Elements such as quick, smooth movements or durable yet flexible and soft skin are difficult to recreate. Fundamental new discoveries are needed for this purpose. It is precisely through projects like Roboy that innovation is possible. The findings from his predecessor "Ecce" are being studied and evaluated, leading to design improvements and new materials. A robotics platform is being created to investigate and further develop the principles of tendon-driven drive technology.
Another innovative aspect of Roboy is the way he is financed, through sponsorship and crowd funding. Those supporting the project benefit not only from direct access to the expertise involved, but also brand recognition: their names or company logos are engraved onto the robot.
Service robots are already being used today for household chores, surveillance work and cleaning, but also in hospitals and care homes. Our aging population means that in the future, caring for older people will be a vital area for the deployment of these machines. We can very safely assume that service robots will be widespread in the future, perhaps even as commonplace as everyday objects like cars and computers are today.
The laboratory has now released a teaser video. For more information, visit Roboy's official website. You can also follow his progress on Facebook.
Burger-making machine could replace human workers
1st December 2012
A company called Momentum Machines aims to revolutionise the fast food industry with a new machine that can produce hamburgers at industrial speeds.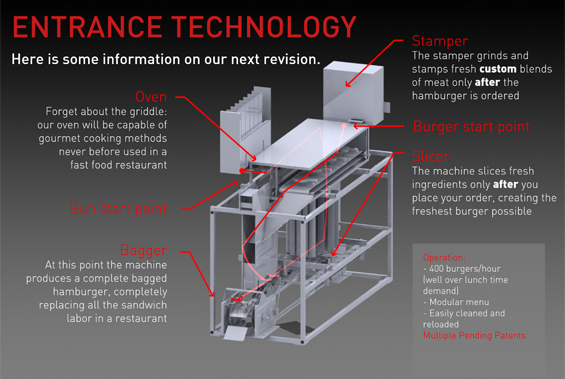 Yet another industry could soon be handed over to machines, as automation continues its unending progress. San Francisco-based Momentum Machines is planning a new chain of restaurants in which food preparation and cooking is done entirely by robots, at a rate of 400 burgers per hour. Customers will have the option of precisely tailoring their burger and the finished product will even arrive in a neatly-wrapped bag.
The company claims their machine "does everything employees can do except better" and could save the country $9 billion a year in labour. These savings could allow restaurants to spend twice as much on high quality ingredients and the gourmet cooking techniques for making the ingredients taste better. It would also improve hygiene, as well as reducing preparation space and real estate requirements, with an entire kitchen being replaced by a small metallic box. Staff would be more relaxed and less stressed with a robot doing most of the hard work, making customer service better.
The company aims to market its machines to third parties including other restaurants, convenience stores, food trucks and even in vending applications.
What will this mean for jobs in the future? Momentum Machines has this to say:
"The issue of machines and job displacement has been around for centuries and economists generally accept that technology like ours actually causes an increase in employment. The three factors that contribute to this are:
1. the company that makes the robots must hire new employees,
2. the restaurant that uses our robots can expand their frontiers of production which requires hiring more people,
and 3. the general public saves money on the reduced cost of our burgers. This saved money can then be spent on the rest of the economy. We take these issues very seriously so please feel free to tell us how we can help with this transition."
You can read more at their website.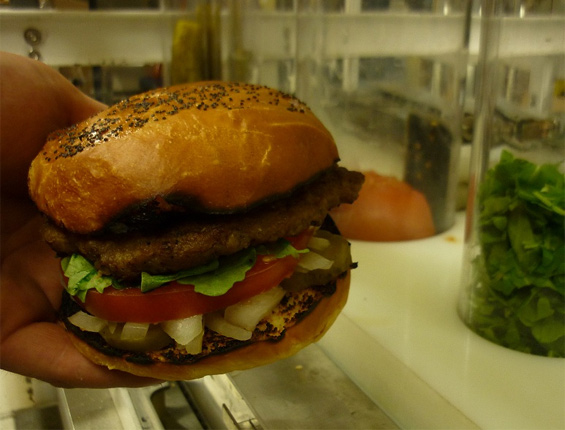 Disney teaches a humanoid robot to play catch and juggle balls
24th November 2012
Yet another breakthrough in robotics, this time courtesy of Disney research:
Entertainment robots in theme park environments typically do not allow for physical interaction and contact with guests. However, catching and throwing back objects is one form of physical engagement that still maintains a safe distance between the robot and participants. Using a theme park type animatronic humanoid robot, Disney has developed a test bed for a throwing and catching game scenario.
This machine uses an external camera system (ASUS Xtion PRO LIVE) to locate balls and a Kalman filter to predict ball destination and timing. The robot's hand and joint-space are calibrated to the vision coordinate system using a least-squares technique, such that the hand can be positioned to the predicted location.
Successful catches are thrown back two and a half metres forward to the participant, and missed catches are detected to trigger suitable animations that indicate failure. Human-to-robot partner juggling (three ball cascade pattern, one hand for each partner) is also achieved by speeding up the catching/throwing cycle. Disney tested the throwing and catching system on six participants (one child and five adults, including one elderly), and the juggling system on three skilled jugglers.
Microsoft files patent for augmented reality glasses
24th November 2012
Microsoft is working on hi-tech, augmented reality "smart glasses", according to a newly-released document.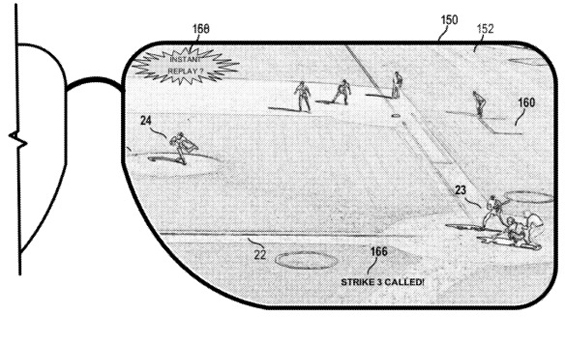 The patent – available online – is highly detailed and describes how the eyewear could overlay information in the user's field of vision. For example, bringing up statistics of players in a baseball game, computer-drawn lines on a football pitch to show distances and other information, details of characters in a play, or lyrics by a singer on stage.
If this product is ever developed, it could challenge Google's Project Glass, due for launch to the general public in 2014. Smaller firms – such as Vuzix, TTP and Explore Engage – are also working on similar devices.
Juniper Research reports that the market for smart glasses and other "wearable" tech could be worth £940m ($1.5bn) within the next two years. Nitin Bhas, a senior analyst: "We think smart glasses and other head-worn displays will be the next major form-factor for computing with adoption by consumers beginning around late-2014 to 2017 ... Wearable devices ranging from fitness accessories to heads-up displays will be more prevalent in the consumer market." The market will be dominated by North America and Western Europe, representing over 60% of global wearable device sales.
In the Microsoft patent, it is suggested that the device could be operated by a combination of wrist-worn computer, voice-commands and/or the user flicking their eyes to a certain spot. The glasses would be lightweight and could save processor power by doing most of their work on remote servers hosted in the Cloud. A wide range of sensors would be incorporated into the eyewear – including a microphone, video camera, gyroscope, eye gaze-trackers, infra-red detector and magnetometer as well as wi-fi and/or bluetooth connectivity.
One of the two inventors listed on the patent is Kathryn Stone Perez, executive producer on the Xbox team who developed the Kinect motion-sensing device; and John Tardiff who previously worked for Apple as an audio-video engineer.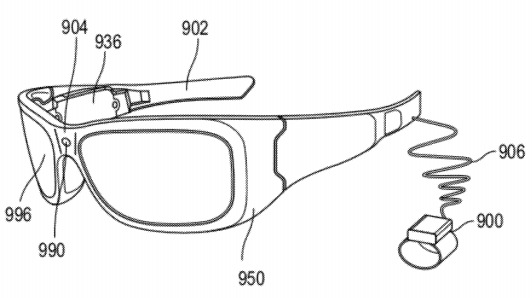 PBS NOVA: What Will the Future Be Like?
15th November 2012
A clip from PBS's NOVA. Will new augmented reality technologies redefine how we communicate and search the web?