21st October 2016
AI milestone: a new system can match humans in conversational speech recognition
A new automated system that can achieve parity and even beat humans in conversational speech recognition has been announced by researchers at Microsoft.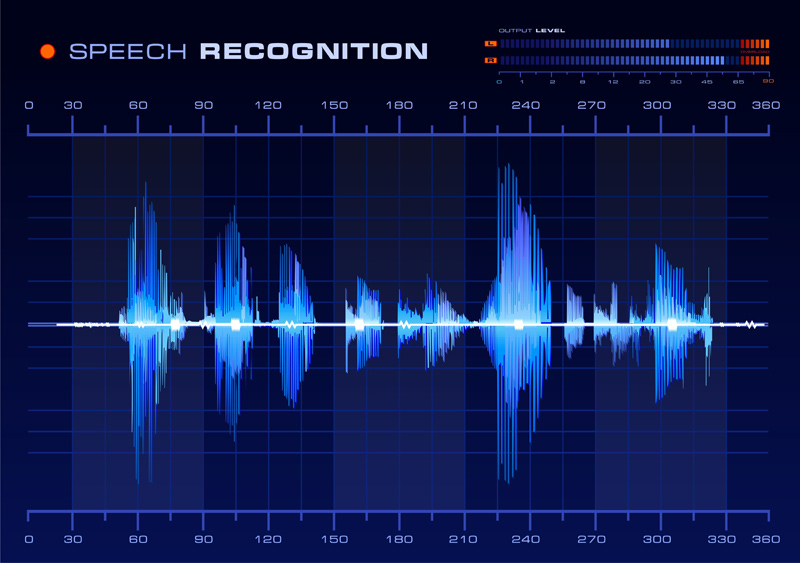 A team at Microsoft's Artificial Intelligence and Research group has published a study in which they demonstrate a technology that recognises spoken words in a conversation as well as a real person does.
Last month, the same team achieved a word error rate (WER) of 6.3%. In their new paper this week, they report a WER of just 5.9%, which is equal to that of professional transcriptionists and is the lowest ever recorded against the industry standard Switchboard speech recognition task.
"We've reached human parity," said Xuedong Huang, the company's chief speech scientist. "This is an historic achievement."
"Even five years ago, I wouldn't have thought we could have achieved this," said Harry Shum, the group's executive vice president. "I just wouldn't have thought it would be possible."
Microsoft has been involved in speech recognition and speech synthesis research for many years. The company developed Speech API in 1994 and later introduced speech recognition technology in Office XP and Office 2003, as well as Internet Explorer. However, the word error rates for these applications were much higher back then.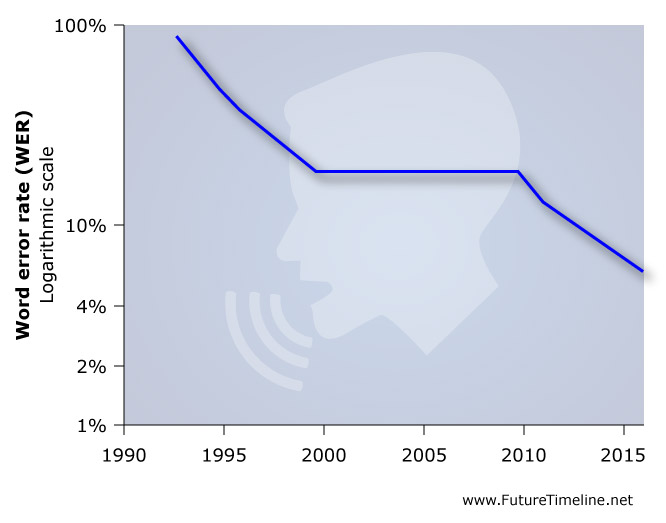 In their new paper, the researchers write: "the key to our system's performance is the systematic use of convolutional and LSTM neural networks, combined with a novel spatial smoothing method and lattice-free MMI acoustic training."
The team used Microsoft's own Computational Network Toolkit – an open source, deep learning framework. This was able to process deep learning algorithms across multiple computers, running a specialised GPU to greatly improve its speed and enhance the quality of research. The team believes their milestone will have broad implications for both consumer and business products, including entertainment devices like the Xbox, accessibility tools such as instant speech-to-text transcription, and personal digital assistants such as Cortana.
"This will make Cortana more powerful, making a truly intelligent assistant possible," Shum said.
"The next frontier is to move from recognition to understanding," said Geoffrey Zweig, who manages the Speech & Dialog research group.
Future improvements may also include speech recognition that works well in more real-life settings – places with lots of background noise, for example, such as at a party or while driving on the highway. The technology will also become better at assigning names to individual speakers when multiple people are talking, as well as working with a wide variety of voices, regardless of age, accent or ability.
The full study – Achieving Human Parity in Conversational Speech Recognition – is available at: https://arxiv.org/abs/1610.05256
---
• Follow us on Twitter
• Follow us on Facebook
13th October 2016
Playing golf can add five years to your life expectancy
Playing golf is likely to increase life expectancy, help prevent chronic diseases and improve mental health, a new study suggests.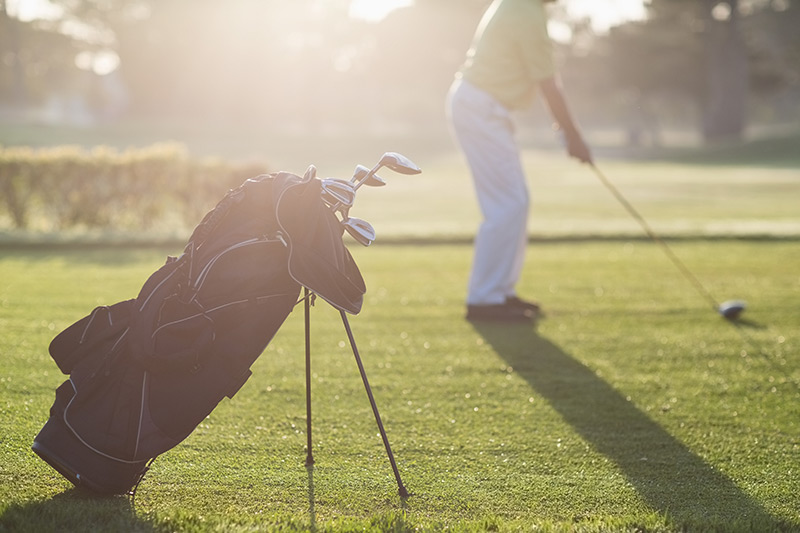 Researchers from the University of Edinburgh reviewed 5,000 studies into golf to build a comprehensive picture of the sport's health benefits, as well as its potential drawbacks. They found it can significantly improve both physical and mental health for people of all ages, genders and backgrounds. Furthermore, it was shown that these improvements are of particular help to seniors, as the benefits of playing golf increase with age. Balance and muscle endurance, for example, can be enhanced in older people.
Golfers playing a regular round of 18 holes can walk four to eight miles, typically burning a minimum of 500 calories – easily enough to reach and exceed the minimum government recommendations for exercise. Even those using an electric cart were found to average four miles of walking. In addition to the obvious physical benefits, golf can significantly improve mental health and well-being – increasing exposure to sunshine and fresh air, while reducing the risk of anxiety, depression and dementia.
In one of the studies they analysed, the researchers noted a 40% reduction in mortality rates among 300,000 members of the Swedish Golf Federation, corresponding to an increase in life expectancy of about five years.
"The moderate physical activity that golf provides increases life expectancy, has mental health benefits, and can help prevent and treat more than 40 major chronic diseases, such as heart attacks, stroke, diabetes, breast and colon cancer," says Dr Andrew Murray, lead author and researcher for the Golf & Health Project at the University of Edinburgh. "Evidence suggests golfers live longer than non-golfers, enjoying improvements in cholesterol levels, body composition, wellness, self-esteem and self-worth. Given that the sport can be played by the very young to the very old, this demonstrates a wide variety of health benefits for people of all ages."
However, there were also a number of risks found to be associated with playing golf – such as lightning strikes, and accidents involving carts. Golf was found to be the sport with the highest incidence of lightning strikes in the US, while more than 15,000 golf cart-related injuries were reported a year.
Their study is published online this month in the British Journal of Sports Medicine.
---
• Follow us on Twitter
• Follow us on Facebook
26th August 2016
World's first commercial drone delivery service
Domino's Pizza Enterprises Limited has joined forces with a global leader in drone deliveries, Flirtey, to launch the first commercial drone delivery service in the world.
Domino's Pizza Enterprises Limited (Domino's) has joined forces with a global leader in drone deliveries, Flirtey to launch the first commercial drone delivery service in the world. The two companies exhibited the first stage of their partnership with a demonstration of pizza delivery by drone yesterday in Auckland, New Zealand. The successful demonstration was also attended by the Civil Aviation Authority (CAA) and Minister of Transport Simon Bridges.
The test was conducted under Civil Aviation Rules Part 101 and marks a final step in Flirtey's approval process – following which, the partnership will aim to connect people with pizza via CAA-approved trial store-to-door drone deliveries from a selected Domino's New Zealand store with flights to customer homes later this year.
New Zealand was selected as the launch market given that its current regulations allow for businesses to embrace unmanned aircraft opportunities, which enable the gradual testing of new and innovative technologies. Domino's Group CEO and Managing Director, Don Meij said the company's growth in recent years had led to a significant increase in the number of deliveries and that Domino's is constantly looking for innovative and futuristic ways to improve its service.
"With the increased number of deliveries we make each year, we were faced with the challenge of ensuring our delivery times continue to decrease and that we strive to offer our customers new and progressive ways of ordering from us," he said. "Research into different delivery methods led us to Flirtey. Their success within the airborne delivery space has been impressive and it's something we have wanted to offer our customers."
The use of drones as a delivery method is designed to work alongside Domino's current delivery fleet and will be fully integrated into online ordering and GPS systems.
"Domino's is all about providing customers with choice and making customer's lives easier. Adding innovation such as drone deliveries means customers can experience cutting-edge technology and the convenience of having their Supreme pizza delivered via air to their door. This is the future. We have invested heavily to provide our stores with different delivery fleet options – such as electric scooters, e-bikes and even the Domino's Robotic Unit - DRU that we launched earlier this year.
"We've always said that it doesn't make sense to have a 2-tonne machine delivering a 2-kilogram order. DRU DRONE is the next stage of the company's expansion into the artificial intelligence space and gives us the ability to learn and adopt new technologies in the business."
The Flirtey delivery drone is constructed from carbon fibre, aluminium and 3D printed components. It is a lightweight, autonomous and electrically driven unmanned aerial vehicle. It lowers its cargo via tether and has built-in safety features such as low battery return to safe location and auto-return home in case of low GPS signal or communication loss.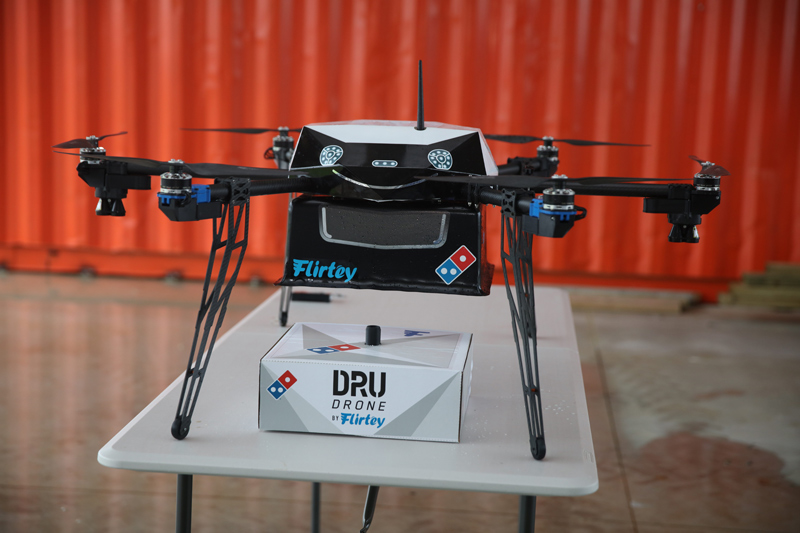 The reach that a drone offers is greater than other current options which are restricted by traffic, roads and distance. Domino's will look to the results of the trial to determine where drones are implemented further.
"What drones allow us to do is to extend that delivery area by removing barriers such as traffic and access, as well as offering a much faster, safer delivery option, which means we can deliver further afield than we currently do to our rural customers while reaching our urban customers in a much more efficient time."
The trial flights are set to commence later this year following the beginning of daylight savings in New Zealand. Domino's will offer Drone Delivery Specials at the launch of the trial with plans to extend the dimensions, weight and distance of deliveries, based on results and customer feedback.
"These trial deliveries will help provide the insight we need to extend the weight carried by the drone and distance travelled," said Meij. "It is this insight that we hope will lead to being able to consider a drone delivery option for the majority of our orders. We are planning a phased trial approach which is based on the CAA granting approval, as both Domino's and Flirtey are learning what is possible with the drone delivery for our products – but this isn't a pie in the sky idea. It's about working with the regulators and Flirtey to make this a reality."
Flirtey CEO Matt Sweeny said: "Launching the first commercial drone delivery service in the world is a landmark achievement for Flirtey and Domino's, heralding a new frontier of on-demand delivery for customers across New Zealand and around the globe. New Zealand has the most forward-thinking aviation regulations in the world, and with our new partnership, we are uniquely positioned to bring the same revolutionary drone delivery service to customers globally. We are getting closer to the time where you can push a button on your smartphone and have Domino's delivered by drone to your home."
Domino's is looking at opportunities for drone delivery trials in its six other markets – Australia, Belgium, France, The Netherlands, Japan and Germany.
---
• Follow us on Twitter
• Follow us on Facebook
12th July 2016
A new survey reveals the technologies Americans think will disrupt traditional industries over the next 20 years.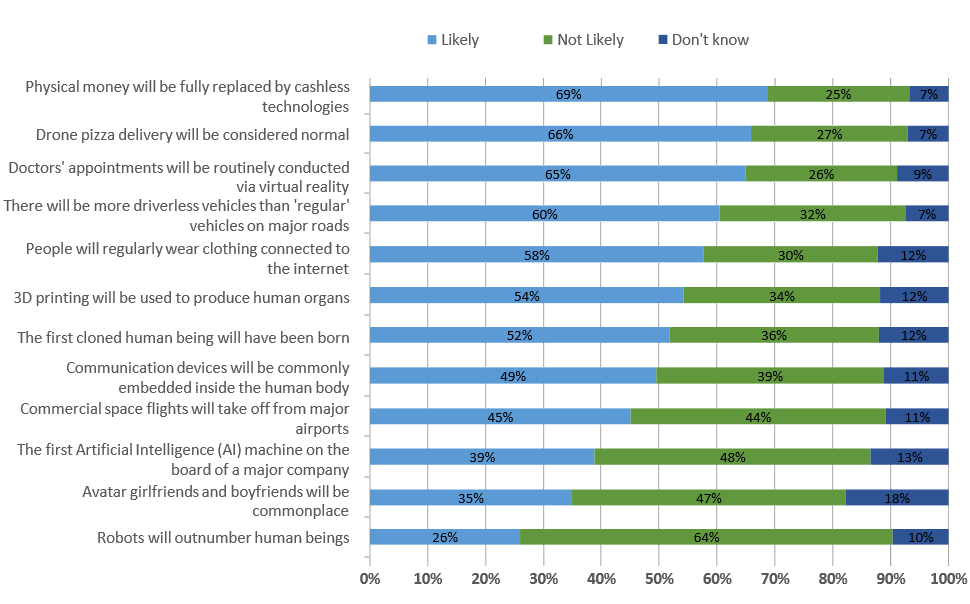 This survey was inspired by a list of predictions made by Imperial College London's Tech Foresight research team, released as part of Technology Week in London. SMG Insight/YouGov interviewed 2,088 American adults to find their views on technology in 20 years' time. The results show that a large majority of people (69%) believe that physical money will disappear, two-thirds (66%) believe that pizza deliveries via drone will be commonplace and virtual reality will be routinely used for doctors' appointments. About half the respondents believe it likely that communication devices will be commonly embedded in our bodies. The prediction seen as the least likely is that robots will outnumber human beings, with only 26% considering this likely.
Professor David Gann, Vice President of Innovation at Imperial College London, commented: "London's technologists, scientists, medics and entrepreneurs are creating the future. No city in the world enjoys London's quotient of talent, technology, culture and capital. It is a potent combination. It's an environment where ideas flourish, design and innovation is embraced and new technologies are transforming our lives for the better."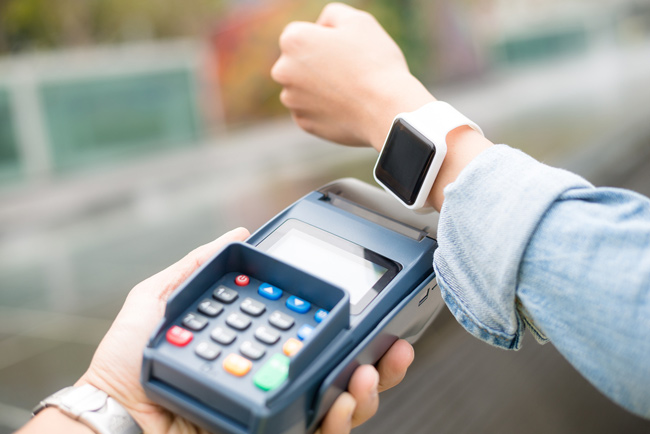 Separate research from Accenture recently revealed the impact of technology on the global economy, with its Digital Multiplier report estimating that the digital economy currently represents 22.5 percent of the world's GDP. This is expected to rise to 25 percent by 2020.
The US is the world's most digital economy, with existing digital investments accounting for 33 percent of its output. Accenture's report highlights how digital skills and digital technologies are having impacts across various sectors – 22 percent of the global retail industry's output is derived from digital, 28 percent in health, and 20 percent in consumer goods.
What are your predictions for 2036? Let us know in the comments below...
---
• Follow us on Twitter
• Follow us on Facebook