26th August 2016
World's first commercial drone delivery service
Domino's Pizza Enterprises Limited has joined forces with a global leader in drone deliveries, Flirtey, to launch the first commercial drone delivery service in the world.
Domino's Pizza Enterprises Limited (Domino's) has joined forces with a global leader in drone deliveries, Flirtey to launch the first commercial drone delivery service in the world. The two companies exhibited the first stage of their partnership with a demonstration of pizza delivery by drone yesterday in Auckland, New Zealand. The successful demonstration was also attended by the Civil Aviation Authority (CAA) and Minister of Transport Simon Bridges.
The test was conducted under Civil Aviation Rules Part 101 and marks a final step in Flirtey's approval process – following which, the partnership will aim to connect people with pizza via CAA-approved trial store-to-door drone deliveries from a selected Domino's New Zealand store with flights to customer homes later this year.
New Zealand was selected as the launch market given that its current regulations allow for businesses to embrace unmanned aircraft opportunities, which enable the gradual testing of new and innovative technologies. Domino's Group CEO and Managing Director, Don Meij said the company's growth in recent years had led to a significant increase in the number of deliveries and that Domino's is constantly looking for innovative and futuristic ways to improve its service.
"With the increased number of deliveries we make each year, we were faced with the challenge of ensuring our delivery times continue to decrease and that we strive to offer our customers new and progressive ways of ordering from us," he said. "Research into different delivery methods led us to Flirtey. Their success within the airborne delivery space has been impressive and it's something we have wanted to offer our customers."
The use of drones as a delivery method is designed to work alongside Domino's current delivery fleet and will be fully integrated into online ordering and GPS systems.
"Domino's is all about providing customers with choice and making customer's lives easier. Adding innovation such as drone deliveries means customers can experience cutting-edge technology and the convenience of having their Supreme pizza delivered via air to their door. This is the future. We have invested heavily to provide our stores with different delivery fleet options – such as electric scooters, e-bikes and even the Domino's Robotic Unit - DRU that we launched earlier this year.
"We've always said that it doesn't make sense to have a 2-tonne machine delivering a 2-kilogram order. DRU DRONE is the next stage of the company's expansion into the artificial intelligence space and gives us the ability to learn and adopt new technologies in the business."
The Flirtey delivery drone is constructed from carbon fibre, aluminium and 3D printed components. It is a lightweight, autonomous and electrically driven unmanned aerial vehicle. It lowers its cargo via tether and has built-in safety features such as low battery return to safe location and auto-return home in case of low GPS signal or communication loss.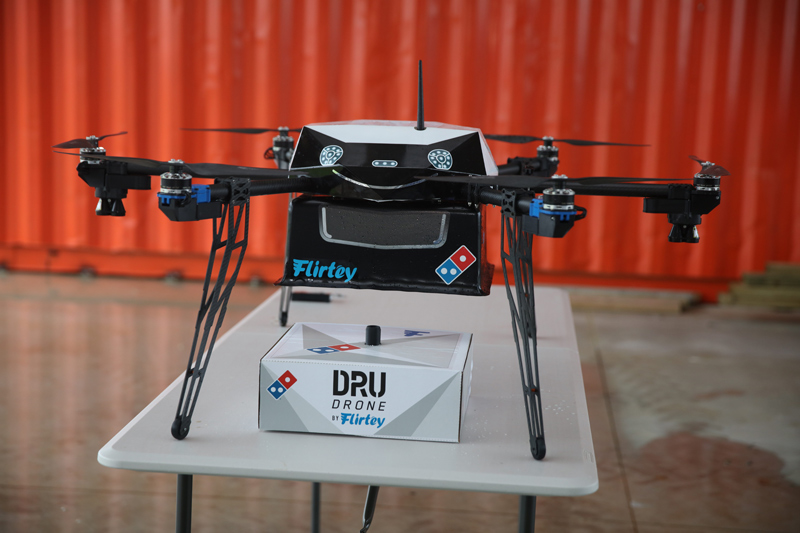 The reach that a drone offers is greater than other current options which are restricted by traffic, roads and distance. Domino's will look to the results of the trial to determine where drones are implemented further.
"What drones allow us to do is to extend that delivery area by removing barriers such as traffic and access, as well as offering a much faster, safer delivery option, which means we can deliver further afield than we currently do to our rural customers while reaching our urban customers in a much more efficient time."
The trial flights are set to commence later this year following the beginning of daylight savings in New Zealand. Domino's will offer Drone Delivery Specials at the launch of the trial with plans to extend the dimensions, weight and distance of deliveries, based on results and customer feedback.
"These trial deliveries will help provide the insight we need to extend the weight carried by the drone and distance travelled," said Meij. "It is this insight that we hope will lead to being able to consider a drone delivery option for the majority of our orders. We are planning a phased trial approach which is based on the CAA granting approval, as both Domino's and Flirtey are learning what is possible with the drone delivery for our products – but this isn't a pie in the sky idea. It's about working with the regulators and Flirtey to make this a reality."
Flirtey CEO Matt Sweeny said: "Launching the first commercial drone delivery service in the world is a landmark achievement for Flirtey and Domino's, heralding a new frontier of on-demand delivery for customers across New Zealand and around the globe. New Zealand has the most forward-thinking aviation regulations in the world, and with our new partnership, we are uniquely positioned to bring the same revolutionary drone delivery service to customers globally. We are getting closer to the time where you can push a button on your smartphone and have Domino's delivered by drone to your home."
Domino's is looking at opportunities for drone delivery trials in its six other markets – Australia, Belgium, France, The Netherlands, Japan and Germany.
---
• Follow us on Twitter
• Follow us on Facebook
25th August 2016
World's first public trial of self-driving taxi
A company in Singapore is conducting the world's first public trial of a self-driving taxi. If successful, the service will be launched in 2018.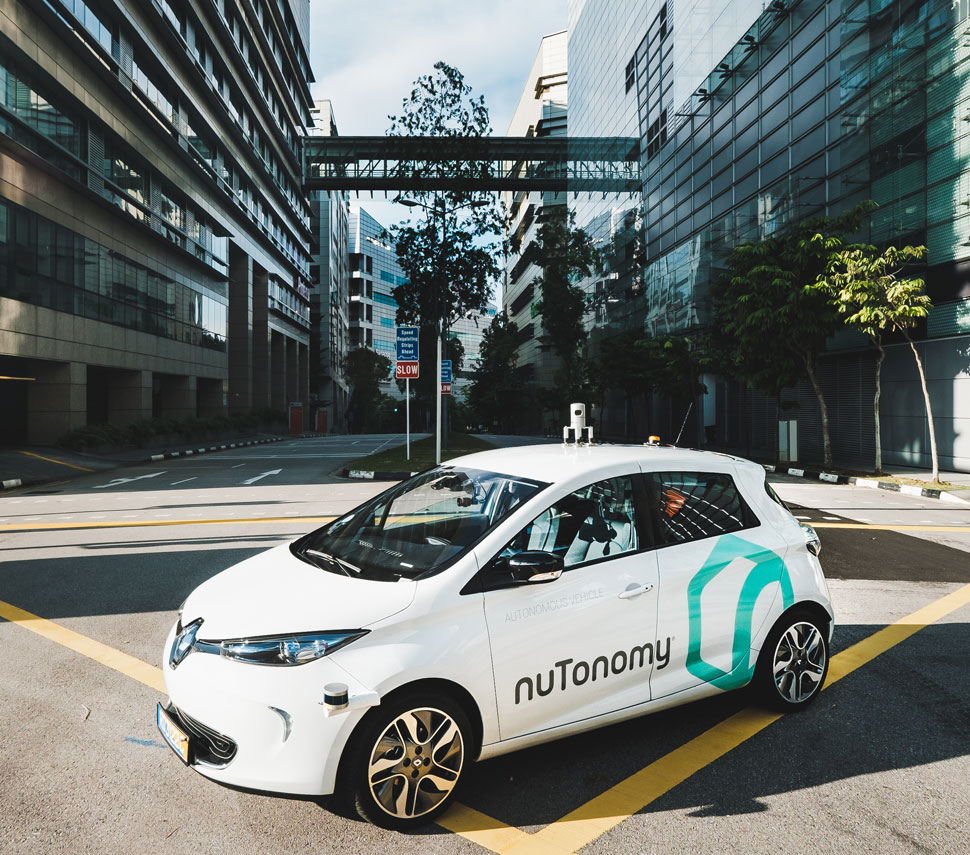 nuTonomy, a company developing state-of-the art software for self-driving cars, today launched the first-ever public trial of a robo-taxi service. The trial, which will continue on an on-going basis, is being held within Singapore's "one-north", a 2.5-square-mile business district where nuTonomy has been conducting daily autonomous vehicle (AV) testing since April.
Beginning today, select Singapore residents will be invited to use nuTonomy's ride-hailing smartphone app to book a no-cost ride in a nuTonomy self-driving car that employs the company's sophisticated software, which has been integrated with high-performance sensing and computing components. Rides will be provided in a Renault Zoe or Mitsubishi i-MiEV electric vehicle that nuTonomy has specially configured for autonomous driving. An engineer will ride in the vehicle to observe system performance and assume control if needed to ensure passenger comfort and safety.
Throughout the trial, nuTonomy will collect and evaluate valuable data related to software system performance, vehicle routing efficiency, the vehicle booking process, and the overall passenger experience. This data will enable nuTonomy to refine its software in preparation for the launch of a widely-available commercial robo-taxi service in Singapore from 2018.
Earlier this month, nuTonomy was selected by the Singapore Land Transport Authority (LTA) as an R&D partner, to support the development of a commercial AV service in Singapore. This trial represents the first, rapid result of that partnership. nuTonomy is the first, and to date only, private enterprise approved by the Singapore government to test AVs on public roads.
CEO and co-founder of nuTonomy, Karl Iagnemma, said: "nuTonomy's first-in-the-world public trial is a direct reflection of the level of maturity that we have achieved with our AV software system. The trial represents an extraordinary opportunity to collect feedback from riders in a real-world setting, and this feedback will give nuTonomy a unique advantage as we work toward deployment of a self-driving vehicle fleet in 2018."
Autonomous taxis could eventually reduce the number of cars on Singapore's roads from 900,000 to 300,000, according to Doug Parker, the firm's chief operating officer: "When you are able to take that many cars off the road, it creates a lot of possibilities. You can create smaller roads, you can create much smaller car parks. I think it will change how people interact with the city going forward."
In May of this year, nuTonomy completed a $16m Series A funding led by Highland Capital Partners that included participation from Fontinalis Partners, Signal Ventures, Samsung Ventures, and EDBI, the dedicated corporate investment arm of the Singapore Economic Development Board.
In addition to Singapore, nuTonomy is operating self-driving cars in Michigan and the United Kingdom, where it tests software in partnership with major automotive manufacturers such as Jaguar Land Rover.
---
• Follow us on Twitter
• Follow us on Facebook
27th July 2016
The first solar-powered aircraft to circumnavigate the Earth
Solar Impulse 2 has become the first solar-powered aircraft to circumnavigate the Earth – a journey of 43,000 kilometres (26,700 miles) – proving that clean technologies can achieve the impossible.
Taking turns at the controls of Solar Impulse 2 (Si2) – their zero-emission electric and solar airplane, capable of flying through day and night without fuel – Bertrand Piccard and André Borschberg have succeeded in their crazy dream of achieving the first ever round-the-world solar flight. By landing back in Abu Dhabi after 23 days of flight and 43,041 km travelled in a 17 leg journey, Si2 has proven that clean technologies can achieve the impossible.
Coming from Egypt, the aircraft landed back in Abu Dhabi yesterday morning at 4:05am local time (UTC+4) completing the final leg of an endeavour that began on 9th March 2015 when Si2 set off from Abu Dhabi with André Borschberg at the controls. Taking turns in the single-seater cockpit, Piccard and Borschberg flew across Asia, the Pacific Ocean, the USA, the Atlantic Ocean, the Mediterranean and the Middle East. A total of 19 world records were set or are still pending by the World Air Sports Federation (FAI). Of particular note were Borschberg's flying five consecutive days and nights over the Pacific from Japan to Hawaii in the longest duration a solo airplane of any kind has ever flown, and when Piccard achieved the historic first crossing of the Atlantic Ocean in a solar airplane.
For the two Swiss pioneers, it's the accomplishment of a dream that was considered impossible by many experts and demonstrates that clean energies and efficient technologies offer tangible solutions for sustainable air travel.
Bertrand Piccard had the vision of an airplane of perpetual endurance after his non-stop round the world balloon flight in 1999, when he made the promise to circumnavigate the Earth again, but this time without any fuel. In 2004, he began bringing together partners who provided funds and technology for this adventure and partnered with André Borschberg. An entrepreneur and skilled aviator, Borschberg took on the technical challenge of developing the solar airplane and making it fly. More than taking turns at the controls of Si2 in the air, the first ever round-the-world solar flight is also a tandem achievement on the ground: while Piccard developed the project outreach to promote clean technologies, Borschberg pulled together the team that designed and constructed Si2 as well as organised the flight missions.
"This is not only a first in the history of aviation – it's before all, a first in the history of energy. I'm sure that within 10 years, we'll see electric airplanes transporting 50 passengers on short to medium haul flights." said Piccard, addressing the crowds after exiting the cockpit of Si2. "But it's not enough. The same clean technologies used on Solar Impulse could be implemented on the ground, in our daily life."
"Flying one leg with a completely new type of airplane is difficult enough, but flying around the world is a real challenge," said his partner Borschberg. "More than a demonstration, it's the confirmation that these technologies are truly dependable and reliable. There is so much potential for the aeronautical world: while one hundred percent solar powered airplanes might take longer to materialise, electric planes will develop in the near future because of their tremendous advantages, such as energy efficiency."
UN Secretary-General Ban Ki-moon spoke to Bertrand Piccard, live from the Si2 cockpit, a few hours before the landing in Abu Dhabi: "Solar Impulse has flown more than 40,000 kilometres without fuel, but with an inexhaustible supply of energy and inspiration. This is a historic day for Captain Piccard and the Solar Impulse team, but it is also a historic day for humanity," said the UN leader. "You may be ending your around the world flight today – but the journey to a more sustainable world is just beginning. The Solar Impulse team is helping to pilot us to that future."
Looking forward, Bertrand Piccard and André Borschberg will continue to actively promote the use of modern clean technologies as a way to improve the quality of life on Earth. Firstly, through the already announced creation of the International Committee for Clean Technologies that will build on the #futureisclean initiative to bring independent and credible guidance on energy policy to governments and businesses. Secondly, by carrying on the work initiated by the engineering team on unmanned and high endurance electric aircrafts, which could fly at high altitude for months – offering services with exponential added value and complementing the work done by satellites today, in a flexible and sustainable way.
"Solar Impulse is very well positioned to contribute to the next generations of manned or unmanned electric aircrafts. By capitalising on the engineering skills and expertise gained over the past decade, we will continue to work to encourage concrete innovations and disruptive solutions," said Borschberg.
"We are pleased to welcome back Bertrand Piccard and Andre Borschberg after their outstanding success in circumnavigating the world using only the power of the Sun," said Sultan Ahmed Al Jaber, minister of state in the United Arab Emirates and chairman of Masdar, a company located in Abu Dhabi and specialising in clean technology, renewable energy, and sustainable development.
"As a leader in developing innovative renewable energy projects and technologies, Masdar is committed to supporting groundbreaking initiatives like Solar Impulse which will inspire and deliver a more sustainable future. Solar Impulse has proven just how practical the application of solar energy can be. It will also provide valuable data that will lead to critical improvements in two key areas, energy storage and efficiency. Masdar is truly excited about the endless possibilities of solar energy and we will be part of taking such technologies to the next level," Dr. Al Jaber concluded.
As stated in Bertrand Piccard's manifesto for clean technologies written in 2004, Solar Impulse's ambition is "for the worlds of exploration and innovation to make a contribution to the cause of renewable energies; to demonstrate the importance of clean technologies for sustainable development; and to place dreams and emotions back at the heart of scientific adventure." There is still much to be done to make the world we live in more energy efficient, but through innovation and pioneering spirit, the first ever round-the-world solar flight is credible proof that change is possible and that there is reason to hope for a more sustainable world.
---
• Follow us on Twitter
• Follow us on Facebook
14th July 2016
Global airline fleet to double by 2035
Boeing has predicted a demand for 39,620 new airplanes over the next 20 years, an increase of 4.1 percent over their previous forecast.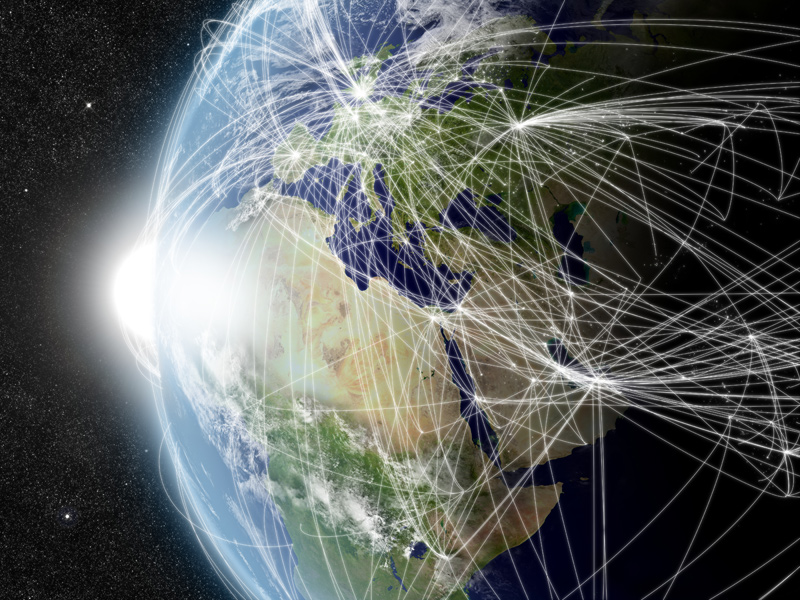 In its latest market outlook, aircraft manufacturer Boeing has predicted that the number of commercial planes in service globally will increase by 39,620 during the next 20 years. When accounting for the number of retired planes, this means an increase from 22,510 today to 45,240 by 2035, more than doubling the worldwide fleet. The total value of those new airplanes is estimated at $5.9 trillion.
"Despite recent events that have impacted the financial markets, the aviation sector will continue to see long-term growth with the commercial fleet doubling in size," said Randy Tinseth, vice president of Marketing, Boeing Commercial Airplanes. "We expect to see passenger traffic grow 4.8 percent a year over the next two decades."
The single-aisle market will be especially strong, with low-cost carriers and the emerging markets driving growth. 28,140 new airplanes will be needed in this segment.
"There's no question the heart of the single-aisle market is around the new Boeing MAX 8 and the current 737-800," Tinseth added. "Airplanes that size already account for 76 percent of the global single-aisle backlog, and our products have the clear advantage in that space."
On the widebody side, about 9,100 airplanes are in the forecast, with a large wave of potential replacement demand in the 2021-2028 time frame. Boeing has forecast a continued shift from very large airplanes to small and medium widebodies such as the 787, 777 and 777X. The Asia market, including China, will continue to lead the way in total airplane deliveries.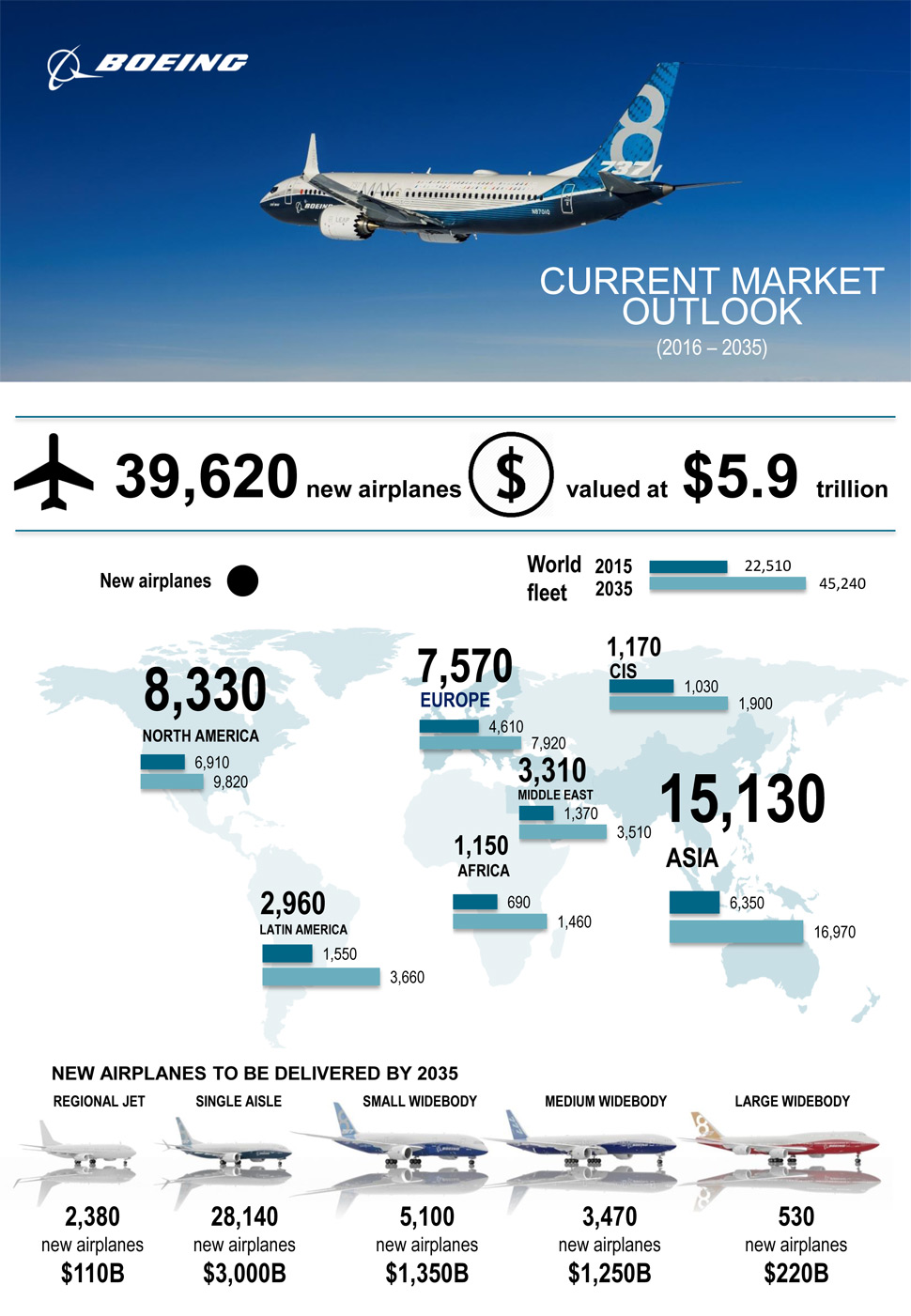 ---
• Follow us on Twitter
• Follow us on Facebook
23rd June 2016
U.S. drone industry welcomes new regulations
The Federal Aviation Administration (FAA) has finalised the first operational rules for commercial use of drones across the USA.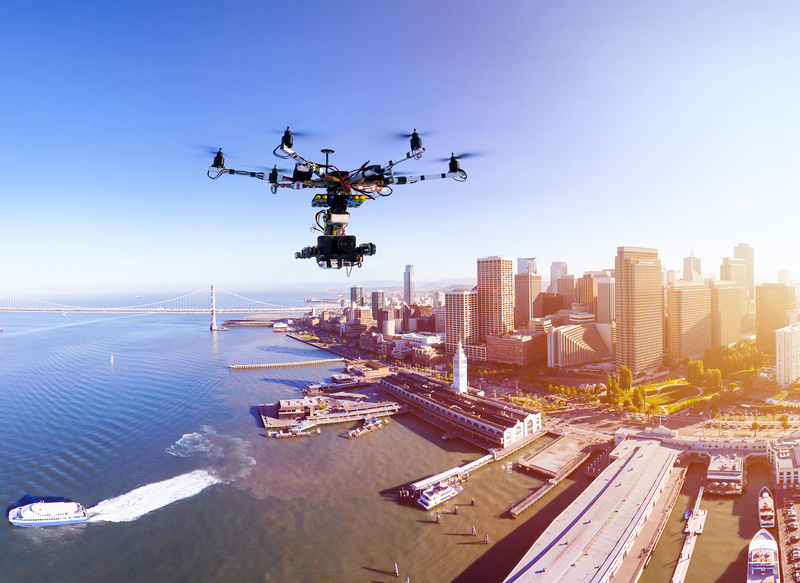 The FAA has just released the first operational rules for routine commercial use of small unmanned aircraft systems (UAS or "drones"). This greatly relaxes the existing laws, and paves the way towards fully integrating these flying machines into the nation's airspace. The new regulations are designed to harness technological innovations safely, to spur job growth, to advance critical scientific research and to save lives.
"We are part of a new era in aviation, and the potential for unmanned aircraft will make it safer and easier to do certain jobs, gather information, and deploy disaster relief," said U.S. Transportation Secretary Anthony Foxx. "We look forward to working with the aviation community to support innovation, while maintaining our standards as the safest and most complex airspace in the world."
The guidelines, which take effect in late August, offer safety regulations for unmanned aircraft drones weighing less than 55 pounds that are conducting non-hobbyist operations. The rule's provisions are designed to minimise risks to other aircraft, as well as people and property on the ground. Pilots will be required to keep an unmanned aircraft within visual line of sight. Operations are allowed during daylight and during twilight if the drone is equipped with anti-collision lights. Drones will be limited to a maximum speed of 100 mph (160 km/h) and maximum altitude of 400 feet above ground level (AGL) or, if higher, must remain within 400 feet of a structure. The person actually flying a drone must be at least 16 years old.
Drones are still prohibited from carrying packages or other goods across US airspace – a setback for companies like Amazon and Google, which for the last few years have been trying to achieve this. However, the commercial potential for drones remains huge. According to industry estimates, they could generate more than $82 billion for the U.S. economy and create 100,000 new jobs over the next 10 years.
Until now, the FAA laws were highly restrictive, cumbersome and expensive. Commercial operators needed a pilot's licence for even small drones and were forced to apply on a case-by-case basis. The new system is far simpler and will greatly increase the number of drones appearing in the skies.
"This is just our first step," said FAA Administrator Michael Huerta. "We're already working on additional rules that will expand the range of operations."
DJI, a major manufacturer of drones, called the FAA's announcement a "milestone" and commented further: "The new rules codify common sense – making it easier for a farmer to fly a drone over his fields, for a contractor to inspect property without climbing a ladder, and for a rescue service to use drones to save lives."
However, concerns will arise over issues of privacy, security and civil liberties. For example, some of the more advanced drones may feature remote sensing technology and hi-res cameras. They could scan entire cities, at sufficient detail to read a milk carton from 60,000 feet away. Others could intercept mobile texts and phone calls. The new law does not specifically deal with privacy issues in the use of drones, and the FAA does not regulate how drones gather data on people or property. However, the FAA confirms it will be acting to address privacy considerations in this area.
---
• Follow us on Twitter
• Follow us on Facebook
1st June 2016
World's longest and deepest rail tunnel officially opens in Switzerland
After nearly 20 years of construction work, the Gotthard Base Tunnel was officially opened today.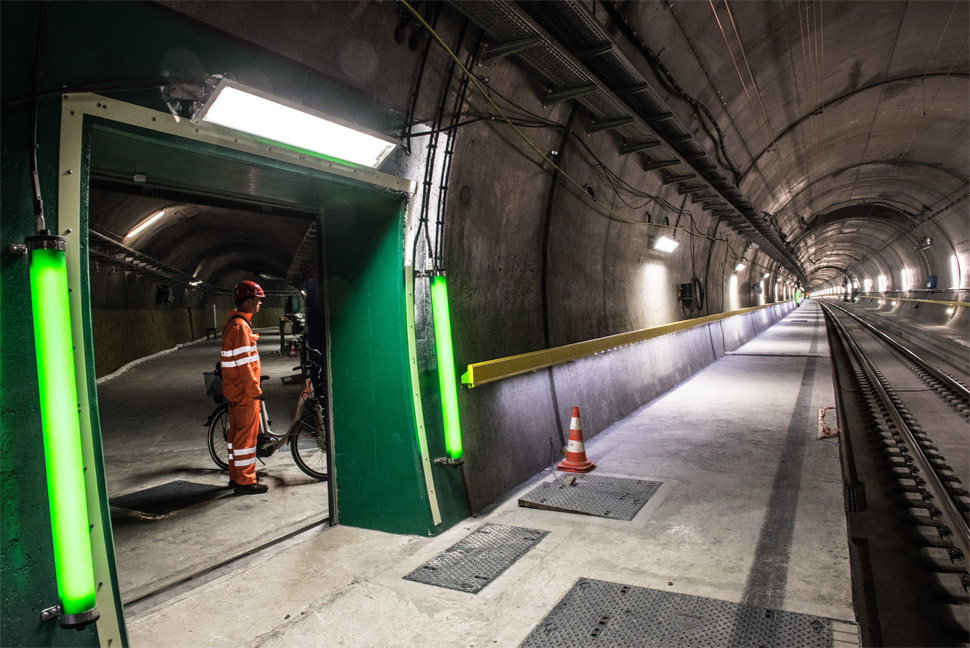 With a route length of 57 km (35 miles) and a total of 152 km (94 miles) of tunnels, shafts and passages, the Gotthard Base Tunnel (GBT) becomes the world's longest rail tunnel. It is also the deepest, reaching as far down as 2500m (8,200 ft) below the Alps mountain range.
This remarkable feat of engineering is designed to provide a high-speed rail link from Rotterdam in the Netherlands to Genoa in Italy. The tunnel will slash the 3.5-hour travel time from Zürich to Milan by an hour, while the journey from Zürich to Lugano is reduced by 45 minutes. Trains will operate as fast as 250 km/h (155 mph) along the new route.
The GBT is part of the AlpTransit project, which also includes the shorter Ceneri Base Tunnel, scheduled to open in December 2020. After 64 percent of Swiss voters accepted the proposals in a 1992 referendum, construction began in 1996. The total projected cost was around 9.8 billion Swiss francs (€8.85 billion or US$10.3 billion), but the final cost exceeded $12 billion.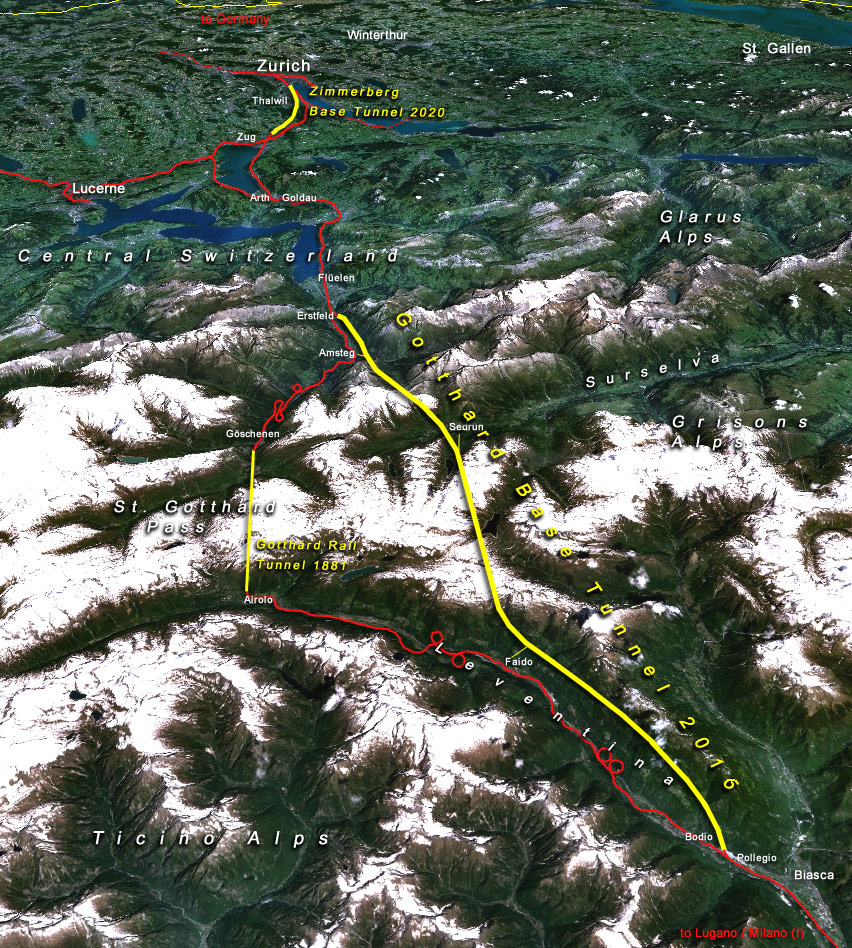 During the construction of the Gotthard Base Tunnel, workers had to bore through a wide variety of different rock strata, from hard granite to crumbly sedimentary rock. Tunnel boring machines carried out 80 per cent of the work in the main tunnels, while conventional blasting methods were used for the other 20 per cent. A total of 28.2 million tonnes of excavated material was removed – equivalent to six Egyptian pyramids. To save time and money, teams worked in different sections of tunnel at the same time, via access galleries and shafts. Temperatures inside reached as high as 50°C (122°F).
The tunnel will be hugely important to Europe's economy. More than 20 million people are located in the catchment area between southern Germany and northern Italy. As many as 260 freight trains and 65 passenger trains will pass through every day. Thanks to a flat and relatively straight route, connections will be faster and more punctual. The speed, capacity and reliability of freight traffic will increase, making it more competitive. In addition to boosting the trade route between northern and southern Europe, it will also shift alpine traffic from road to rail, cutting CO2 emissions and helping to protect the surrounding ecosystem.
The leaders of France, Germany, Italy and Switzerland attended a grand opening ceremony today. In a speech at the northern entrance to the tunnel, the Swiss President Johann Schneider-Ammann said it was a "giant step for Switzerland, but equally for our neighbours and the rest of the continent."
The GBT is unlikely to hold the record for very long, however. China is planning to build an even longer tunnel underneath the Bohai Strait, forming a vital high-speed route between the north and south of the country. This will measure 76 miles (122 km), over twice as long as the Gotthard Base Tunnel.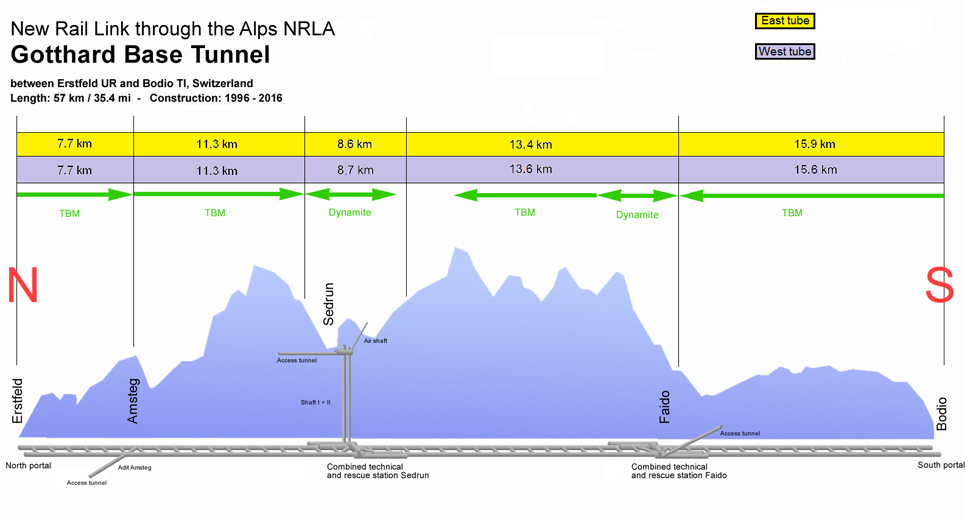 ---
• Follow us on Twitter
• Follow us on Facebook
28th May 2016
Futuristic bus concept to be tested in China
A radical new "straddling bus" that allows cars to drive underneath it will be tested in China this summer.
Plans for the Land Airbus – proposed by the Transit Explore Bus company – have been floating around for several years. Previous versions failed to have much of an impact, but last week a model was showcased at the China Beijing International High-Tech Expo (CHITEC); and a full-scale prototype is now planned for testing on the streets of Qinhuangdao, a coastal city about 200km east of Beijing, this July or August.
The Land Airbus would measure 60m (197 ft) in length, 7.8m (25 ft) in width and 4.5m (15 ft) in height. Travelling on rails at each side of a road, it could arch over the flow of traffic, spanning two lanes, with cars and other small vehicles able to pass below.
"The biggest advantage is that the bus will save lots of road space," said chief engineer Song Youzhou, in an interview with Xinhua, the state-owned news agency. Youzhou has worked on the project since the beginning, in partnership with various companies.
Carrying up to 1,400 commuters and moving at 37 mph (60 km/h), its combination of speed and capacity would enable the Land Airbus to do the equivalent work of 40 traditional buses. Electrically powered, it would also help to reduce air pollution – currently a major problem throughout China – and cut greenhouse gas emissions. Furthermore, costs would be substantially lower than a subway.
"It has the same function as the subway, but it costs only 16 percent of what a subway costs," added Youzhou. "Manufacturing and construction times are also much shorter than that for a subway."
---
• Follow us on Twitter
• Follow us on Facebook
13th April 2016
Dubai to build tallest tower by 2020
A futuristic new tower in Dubai will surpass the height of the current world record holder – the Burj Khalifa – and utilise the most advanced technology, engineering and materials available.
Emaar Properties has announced a "glittering new icon" that will redefine Dubai's skyline when completed in time for the 2020 World Expo. The tower is set to rise in the heart of Dubai Creek Harbour, to the east of the city's current tallest skyscraper and world record holder, the Burj Khalifa. The exact height of this proposed megaproject remains a secret and will be revealed at a later date, but its developers claim it will be the tallest in the city. It is, however, likely to be surpassed in height by the Jeddah Tower, currently under construction in Saudi Arabia and planned to reach 1,008 m (3,307 ft).
The unnamed building, currently known as simply "The Tower", will serve as the vibrant core of Dubai Creek Harbour – a 6 sq km world-class masterplannned development twice the size of Downtown Dubai and located 10 minutes from Dubai International Airport. The waterfront development is centred off Dubai Creek, the cradle of history and culture for this region, and in close proximity to Ras Al Khor National Wildlife Sanctuary, protected by UNESCO and home to nearly 70 species of water birds.
Mohamed Alabbar, Chairman of Emaar Properties, said: "The Tower in Dubai Creek Harbour is our tribute to the positivity, energy and optimism that Dubai and the UAE celebrate, led by a leadership committed to all-round progress. A shining beacon of hope for the world, celebrating diversity and human achievements, this new iconic landmark further highlights the country's ambition and futuristic vision and enhances our nation's pride. It will be the destination for the world to visit, enjoy and celebrate life, as Dubai prepares to host the Expo 2020."
He added: "The design by Santiago Calatrava, chosen after a competitive pitch from the world's top architects, was a perfect fit to our requirement for a landmark that defined our urban core for Dubai Creek Harbour. It integrates not just design excellence but also strong environmental and smart-tech considerations. With The Tower, we are delivering a compelling destination that will add long-term economic value to Dubai and the UAE. It will also position Dubai Creek Harbour as one of the most desired residential, leisure and touristic attractions, providing visitors and residents with a modern, luxurious and sustainable environment in which to live, work, learn and entertain."
"From the beginning, my team and I have tried to put the best of ourselves into this project, since it is very special and is a great honour to participate," said architect Santiago Calatrava Valls. "The collaboration with such a prestigious firm as Emaar Properties makes it even more exciting and demanding. The design has clear reference to the classic art from the past and the culture of the place while serving as a great technological achievement. In my whole career, I have perceived technology as a vehicle to beauty and to art. This project envisages an artistic achievement in itself, inspired by the idea of welcoming people, not only from Dubai and the UAE, but from the entire world. It is a symbol of an abiding belief in progress."
Calatrava's previous works include the World Trade Centre Transportation Hub in New York, Calgary Peace Bridge, Olympic Sports Complex in Athens and the Turning Torso Tower in Malmö that was recently awarded the Ten Year Award from the Council on Tall Buildings & Urban Habitat (CTBUH).
The Tower will feature green technology and sustainability measures that serve as industry benchmarks. An environment-friendly tram service will be integrated for effortless access, while on-foot visitors will have a multitude of access points onto the plaza. A number of green corridors are envisaged for pedestrian access and effortless connectivity with Dubai Creek Harbour.
The crowning glory of the $1 billion tower will be a "Pinnacle Room" with 360 degree views of the city and beyond. Observation garden decks will recreate the splendour of the "Hanging Gardens of Babylon" – one of the Seven Wonders of the Ancient World. In addition, fully glazed rotating balconies will extend outward and move around the external facade.
The Tower will serve mainly as an architectural structure, as opposed to a fully occupied working building – but will include about 20 upper floors used for a hotel, restaurants and function rooms, as well as the interior garden space and observation decks. The surrounding Dubai Creek Harbour project – being developed in a joint venture with Dubai Properties – will feature a 4.5km boardwalk, retail, nine lifestyle districts, 22 hotels, a yacht club, a marina and harbour.
In addition to hosting the World Expo, the UAE plans to launch the first Arabian mission to Mars the following year, which coincides with the 50th anniversary of the country's formation. To diversify its economy away from reliance on hydrocarbon exports, several billion dollars are being invested in the space sector and the creation of a regional hub for satellite construction. It is clear that the UAE has big ambitions for the future.
---
• Follow us on Twitter
• Follow us on Facebook
10th April 2016
Self-driving trucks complete journey across Europe
Fleets of self-driving trucks this week completed the European Truck Platooning Challenge.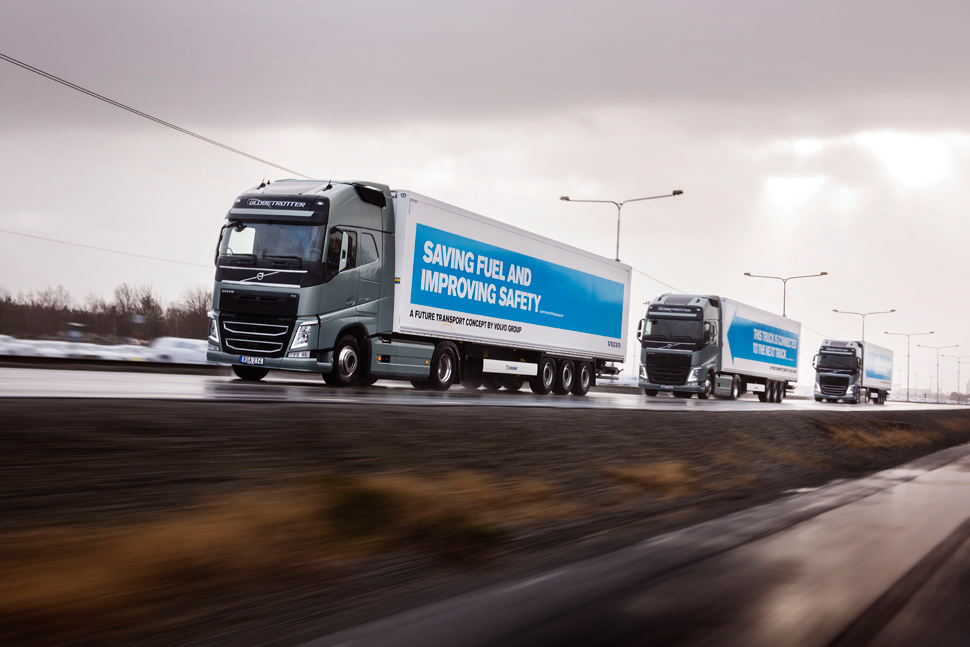 As part of the world's first cross-border initiative with smart trucks, six "platoons" of semi-automated trucks have completed their journeys from various cities across Europe, reaching their final destination at the Port of Rotterdam on 6th April.
They were participating in the European Truck Platooning Challenge organised by the Dutch government as part of its EU Presidency. The European Automobile Manufacturers' Association (ACEA) and commercial vehicle members – including Daimler, Scania and Volvo – are active partners of the initiative with each supplying a platoon. One set of trucks made by Scania travelled over 2,000 km and crossed four borders. Daimler made headlines in 2014 when the company demonstrated the world's first autonomous truck in Magdeburg, Germany, and in 2015 its Freightliner Inspiration Trucks gained a licence for road use in Nevada.
Truck platooning – which has the potential to make transport cleaner, safer and more efficient – is the linking of two or three trucks in a convoy. These vehicles follow each other at a fixed, close distance, by using connectivity technology and automated driving support systems.
Using this technique cuts fuel use by 15%, prevents human error from causing accidents, and reduces congestion, according to research firm TNO. Expenses can be lowered significantly.
Two trucks doing 100,000 miles annually can save €6,000 ($6,840) on fuel by platooning, compared to driving on cruise control. Safety is greatly improved by using technology such as Volvo's emergency braking system and Daimler's Highway Pilot Connect – systems with braking reaction times of under 0.1 seconds, compared to 1.4 seconds for a human driver. A Wi-Fi connection between the trucks ensures synchronised braking and can prevent sudden jolt/shock effects.
When operating in platoon mode, a convoy of three semi-autonomous trucks can travel much closer together – requiring only 80 metres of road space, from end to end. For comparison, if they were driven by humans, they would need to fill 185 metres of road. Congestion on roads will therefore be greatly reduced if more and more self-driving vehicles are deployed in the future, while pollution can also be lowered.
Melanie Schulz, Dutch minister for Infrastructure and the Environment who spearheaded this initiative, commented: "The results of this first ever major try-out in Europe are promising. The hands-on experience gained here will be very useful in the informal European transport council on 14th April in Amsterdam. It will certainly help my colleagues and I discuss the adjustments needed to make self-driving transport a reality."
There are still a number of barriers standing in the way of truck platooning across Europe. These barriers are not of a technical nature as platooning technology exists already; rather they are caused by differences in legislation between the EU member states: "Harmonisation is needed if we want a wide-scale introduction of platooning," stated Harrie Schippers, President of DAF Trucks.
Sufficient demand is also crucial, to ensure the right level of market uptake. Following the Truck Platooning Challenge, there have been encouraging expressions of interest from the business community and the transport sector, including Unilever and major Dutch supermarkets. The testing phase is the most important next step. More and more national governments are offering industry the opportunity to test their latest vehicles and technologies, thereby also supporting efforts to increase public awareness, understanding and acceptance. However, this is also vital on a pan-European scale.
"It is precisely for this reason that we believe that the European Truck Platooning Challenge has been a huge success: it has fostered much-needed cooperation between all relevant stakeholders right across the EU, facilitating cross-border driving and encouraging compatibility on legal and technical issues," said Schippers. "We look forward to harvesting the learnings from this initiative so that, together, we can make truck platoons a common sight on Europe's roads in the future."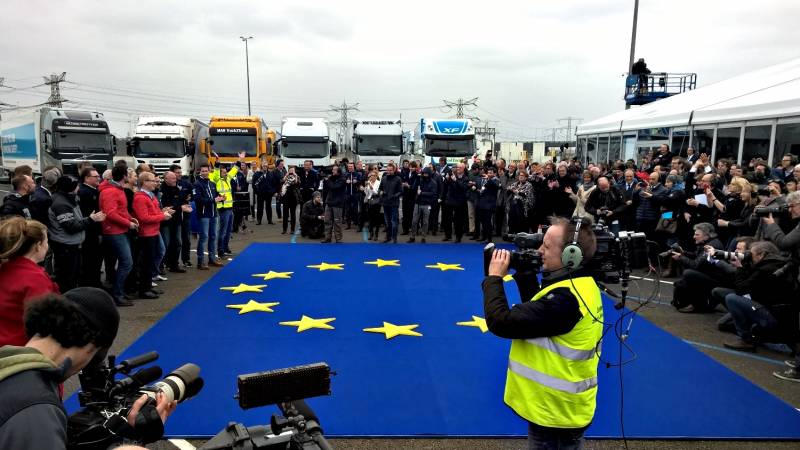 ---
• Follow us on Twitter
• Follow us on Facebook
25th March 2016
Future autonomous cars may include windshield movie displays
Ford Motor Company has filed a patent for what it calls an "Autonomous Vehicle Entertainment System" to be used in self-driving cars. If successfully developed and commercialised, this would enable the interior side of a windshield to be turned into a 50-inch movie screen.
The patent describes a dual-screen system, which consists of a projector, along with a large and small screen. The larger screen can be automatically deployed at the front of the vehicle's interior – completely replacing the window view – while the seat layout can also be adjusted to provide additional comfort and leg room, offering a more "theatre"-like experience. The projector is mounted to the ceiling, aimed at the large screen, playing a variety of media content that may include movies, television shows, games, music and so on.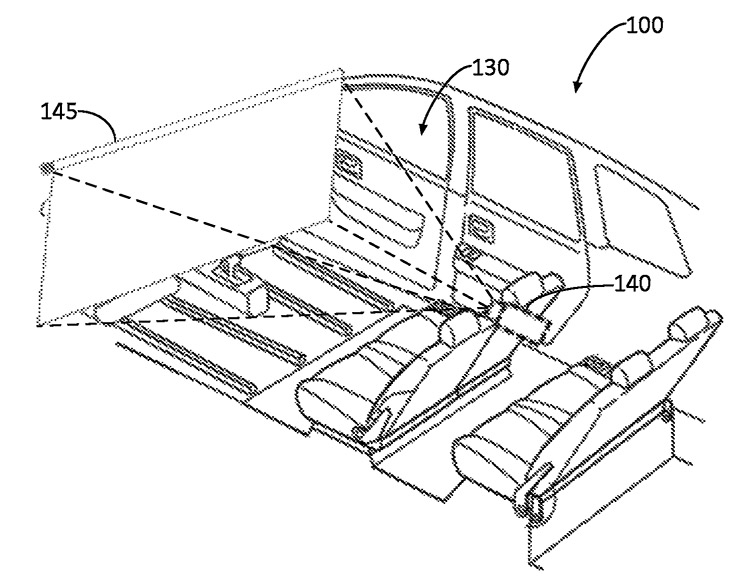 This large cinematic screen is only intended for deployment in fully autonomous mode, i.e. when the vehicle is driving itself. It retracts back into the ceiling when a human driver is needed at the wheel. If entering non-autonomous mode, Ford states the media content might continue to be viewable on a smaller screen elsewhere – such as the dashboard, instrument cluster, or rear-view mirror: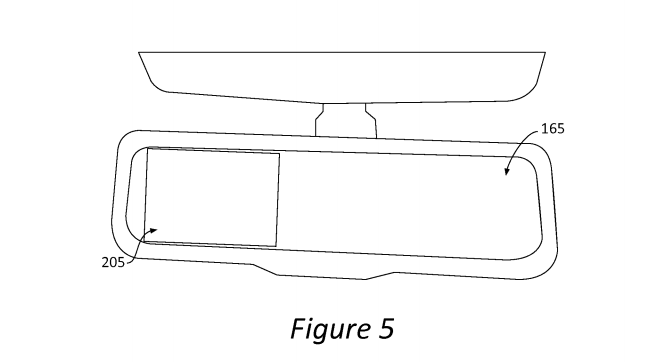 At this stage, the Autonomous Vehicle Entertainment System is only a concept, without a prototype or demonstration in the works: "We submit patents on innovative ideas as a normal course of business," says company spokesman Allan Hall, in an interview with Forbes magazine. "Patent applications are intended to protect new ideas, but aren't necessarily an indication of new business or product plans."
However, Ford has been investing heavily in autonomous vehicle research. At the Consumer Electronics Show in Las Vegas earlier this year, it was revealed that the company is tripling its fleet of fully autonomous Fusion Hybrid models – making it the largest in the industry – with about 30 vehicles being tested on roads in California, Arizona and Michigan. Ford is also using a lightweight, next-generation sensor technology featuring higher resolution and a longer range of 200 metres, capable of handling a greater variety of driving scenarios.
Given the massive cost savings, improved safety, reduced congestion and other benefits, it seems almost inevitable that self-driving cars will be commonplace in the not-too-distant future and will revolutionise the world of transport. A large majority (75%) of new cars will be autonomous by 2035, according to a forecast by Navigant Research. The market for in-car entertainment systems like that seen in Ford's patent could be huge. Perhaps their idea could be further refined to remove the need for a ceiling projector – instead using a flexible, roll-up electronic display (pictured below). Either way, long distance journeys could become a lot less boring in the future.
---
• Follow us on Twitter
• Follow us on Facebook
19th March 2016
The world's first autonomous pizza delivery vehicle
Domino's Pizza Enterprises in Australia has unveiled the world's first autonomous pizza delivery vehicle.
Domino's Pizza Enterprises in Australia has revealed plans for an autonomous delivery vehicle, named the DRU (Domino's Robotic Unit). While still at the prototype stage, the company says it demonstrates just how serious they are about informing regulation in this space.
The machine is designed with sleek, refined forms combined with a friendly persona and lighting to help customers identify and interact with it. DRU is a four wheeled vehicle with compartments built to keep the customer's order piping hot and drinks cold, whilst travelling on the footpath at a safe speed from the store to the customer's door. It can select the best path of travel, with on-board sensors enabling it to perceive obstacles along the way and avoid them if necessary. The pizza is kept in a locked storage compartment, accessible through use of a security code sent to the customer's phone.
Domino's Group CEO and Managing Director, Don Meij said that autonomous vehicles would open up new opportunities and create an impetus for innovation both in Australia and around the world: "This highlights what can happen when disruptive thinking is fostered – it turns into a commercially viable and revolutionary product. It allows Domino's to explore new concepts and push the boundaries of what is possible for our customers. The DRU prototype is only the first step in our research and development as we continue to develop a range of innovations set to revolutionise the entire pizza ordering experience."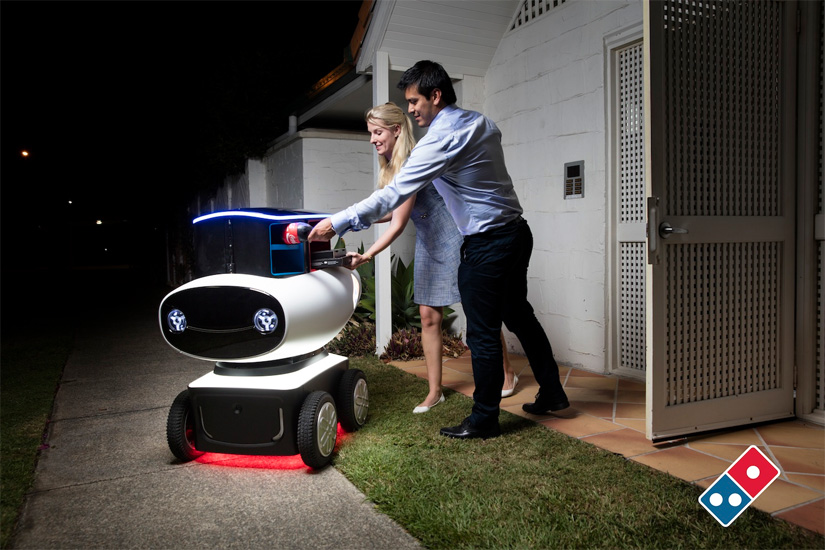 Meij confirmed the idea for DRU came from within the company's internal innovation sessions and has been developed in Domino's own DLAB, a purpose built lab to help budding entrepreneurs commercialise their ideas: "With a dedicated innovation lab, this project has been accelerated much faster than normal projects, without losing any of the quality control," he said.
DRU is powered by technology from Australian start-up company, Marathon Robotics.
"To launch DRU from concept through to development of a prototype highlights the extraordinary talent and resources available on our doorstep – both with excellent external talent such as Marathon and the knowledge and experience of our internal team at Domino's."
Domino's has been working with the Queensland Department of Transport and Main Roads, along with other global partners to ensure the delivery droid concept meets relevant legislative requirements as it is trialled and tested.
"We are also working with Government agencies on the project to ensure all legal requirements are met. The agencies have been very supportive in the process to date and we're all excited about what this technology can lead to."
While autonomous drones and cars still need to pass a number of regulatory hurdles and challenges before they're delivering pizza on Australian streets, DRU shows that Domino's is actively engaged in the field and working with regulators on the future commercialisation of such technology. The machine has already been involved in a number of customer deliveries in restricted streets identified by the Department under a special permit and is currently operated in semi-autonomous mode. These early trials are a big step forward in commercialising fully autonomous delivery vehicles.
"With autonomous vehicles opening up possibilities for saving lives, saving time and moving goods more efficiently, we look forward to continuing our work in this field and leading the commercial trials so that our customers can reap the benefits," Mr Meij said. He confirmed that DRU will one day fit into and enhance the existing team of delivery personnel, and when he does will be a welcome addition to the team: "DRU is cheeky and endearing and we are confident that one day, he will become an integral part of the Domino's family. He's a road to the future and one that we are very excited about exploring further."
The global service robotics market is forecast to be worth $18 billion USD by 2020, according to analyst firm Research and Markets. This value will most likely be higher if DRU proves successful, influencing other fast-food suppliers to implement robotic technology in their delivery services.
---
• Follow us on Twitter
• Follow us on Facebook
24th February 2016
Samsung predicts the world 100 years from now
Hyper-tall skyscrapers, underwater bubble cities, personal home "medi-pods" and civilian colonies on the Moon are all likely to be a reality in a hundred years' time, according to a report commissioned by Samsung.
A new study commissioned by Samsung paints a vivid picture of our future lives; suggesting the way we live, work and play will change beyond recognition over the course of the next century. The SmartThings Future Living Report was authored by a team of leading academics – including TV presenter and space scientist, Dr Maggie Aderin-Pocock, award-winning futurist architects and lecturers at the University of Westminster, Arthur Mamou-Mani and Toby Burgess, as well as pioneering urbanists Linda Aitken and Els Leclerq.
The report was released to promote SmartThings, a system which allows people to make their home smarter, meaning that at any time and from anywhere it is possible to switch on lights, turn up the thermostat or unlock the back door, all via a simple app or automatically through daily routines – something that might have seemed like science fiction as little as 10 years ago, but today is a reality.
The predictions for how we will live in the future have been brought to life via detailed animated renders, showing a futuristic London where high rise apartments dwarf the Shard, and drone transportation is ubiquitous.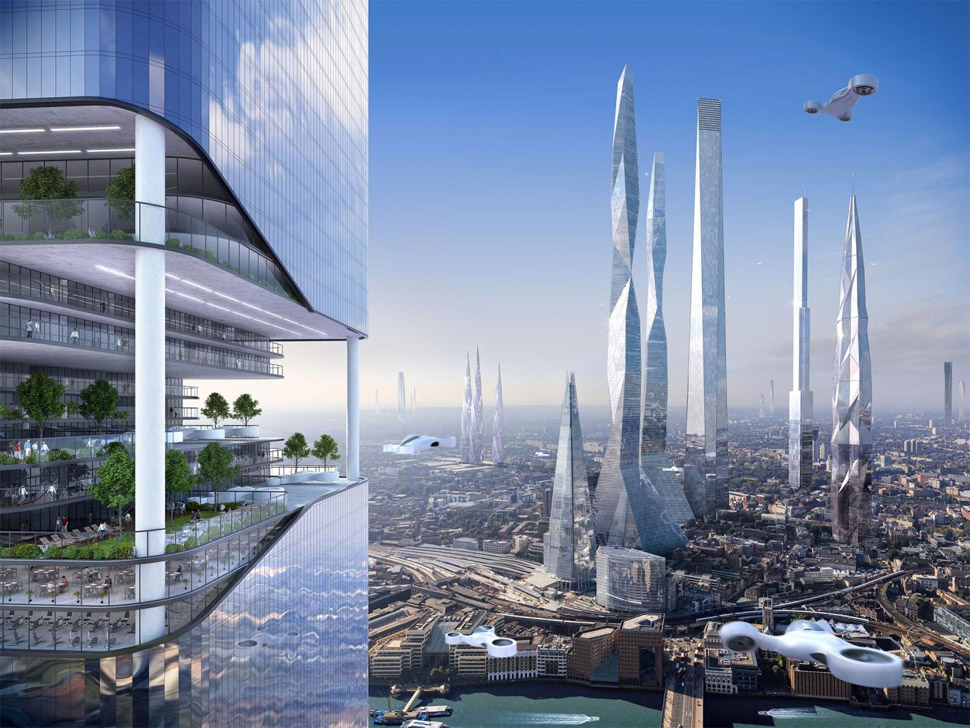 Many of the predictions were influenced by environmental conditions, with growing populations leading to the development of structures better able to cope with space constraints and diminishing resources. As city space becomes ever more squeezed, we will burrow deeper and build higher with the creation of:
Super skyscrapers: carbon nanotubes and diamond nano-threads will help us create towering megastructures that dwarf today's skyscrapers
Earth-scrapers: just as we build up, we will also dig down – huge structures will tunnel 25 storeys deep, or more
Underwater cities: using the water itself to create breathable atmospheres and generating hydrogen fuel in the process
Personal flying drones replacing cars: we will travel through "skyways" with our own personal flying drones, some big enough to carry entire homes around the world for holidays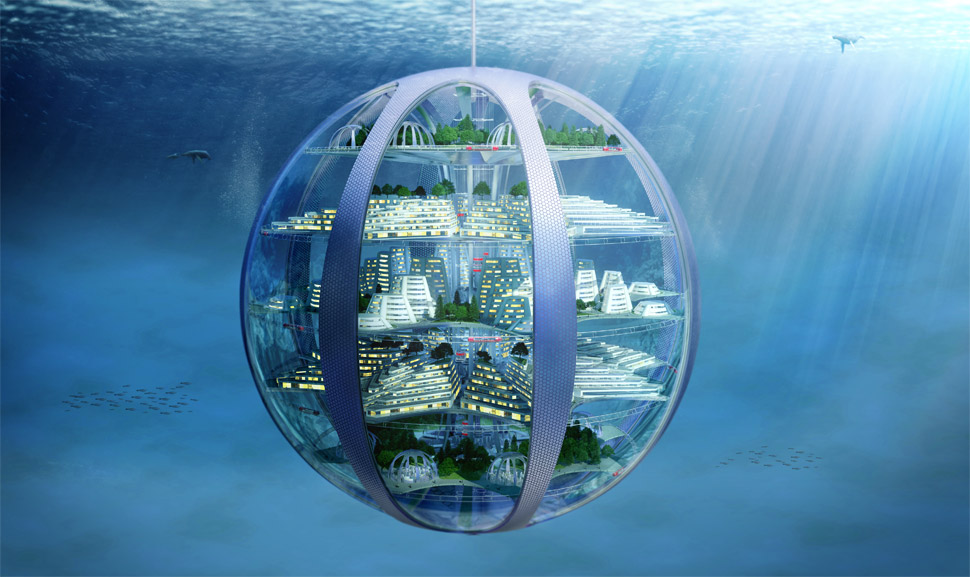 As technology develops, Samsung predicts:
3D printing of houses and furniture: we will be able to print exact replicas of large scale structures like houses out of local, recyclable materials so that we really can have all the comforts of home while we are away
Flexible, smart walls and 3D printed Michelin starred meals: smart walls will mean you won't need to decorate your home – room surfaces will adapt to suit your mood. When it comes to entertaining, there will be no more botched recipes or pizza deliveries – instead we will be downloading dishes from famous chefs that we will tailor to our personal needs. We will be able to 3D-print a banquet or a favourite cake in minutes
Virtual meetings: our working lives will be transformed with the use of holograms which will allow us to attend meetings virtually, without leaving the comfort of our homes
Home medi-pods: stepping into these will confirm if you really are ill, providing a digital diagnosis and supplying medicine or a remote surgeon if needed
Colonisation of space: first the Moon, then Mars, then far beyond into the galaxy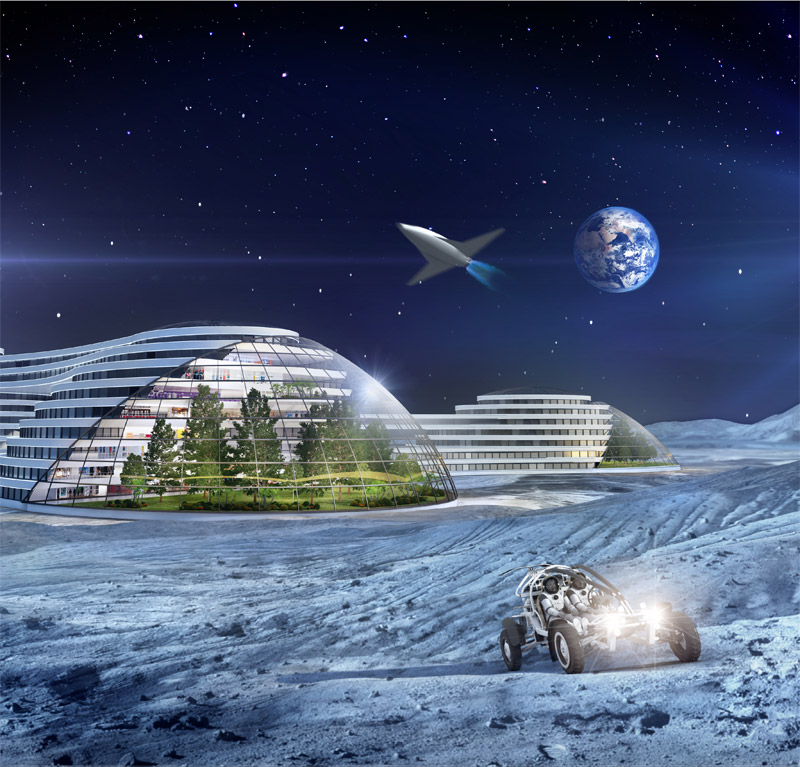 In addition to looking at how we will live in 100 years' time, the SmartThings team surveyed 2,000 British adults to pinpoint the predictions the nation thought were the most likely to become a reality in the future. This survey shines a spotlight on the public perception of the future and suggests that building further into the sky, and colonising oceans are believed to be the biggest future trends, as space and resources become scarce. The top ten predictions for future living:
| | | |
| --- | --- | --- |
| 1 | Virtual work meetings – the ability to work from anywhere and attend meetings remotely via avatars/holograms | 48% |
| 2 | Commercial flights into space | 41% |
| 3 | Virtual interior decoration to program your surroundings/LED walls that adapt surroundings to your mood | 26% |
| 4 | 3D printed houses/furniture/food – you can instantly download and print these things at home | 25% |
| 5 | At-home scanning capsules/pods that can diagnose health problems and administer medicines/treatments | 24% |
| 6 | Colonising other planets as we use up resources on Earth | 19% |
| 7 | AI becoming a normal part of daily life – taking over from humans in many industries | 18% |
| 8 | Giant skyscrapers that house entire cities, built with new super-strong materials | 18% |
| 9 | At-home hydroponic farms (that don't require soil) where you can grow your own food | 17% |
| 10 | Earth-scrapers – parts of cities becoming subterranean, due to space constraints and also to provide further shelter | 16% |
Space Scientist Maggie Aderin-Pocock, who co-authored the report, commented: "Our lives today are almost unrecognisable from those a century ago. The Internet has revolutionised the way we communicate, learn and control our lives. Just 25 years ago, technology like SmartThings would have been inconceivable, yet today, developments like this let us monitor, control and secure our living spaces with the touch of a smartphone. Over the next century we will witness further seismic shifts in the way we live and interact with our surroundings – working on the SmartThings Future Living Report, with a panel of industry experts, has allowed me to explore what these could be.
"We are likely to see the emergence of towering megastructures, as well as sub-aquatic cities and transportation via advanced flying drones – some of which could be strong enough to transport entire houses on holiday."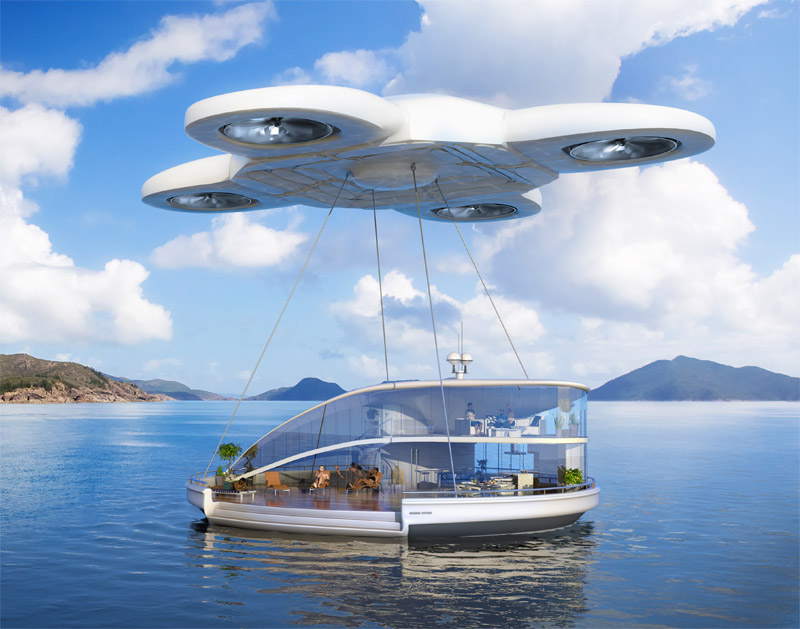 James Monighan, UK Managing Director of Samsung SmartThings, comments as follows: "The smart home revolution will have massively positive implications on how we live. Our homes are becoming smarter – they can now detect the presence of things like people, pets, smoke, humidity, lighting and moisture. And this is just the beginning.
"Just as the technology driving the Internet has spread to smartphones and smart homes, the smart home revolution is destined to spread to larger communities and countries. By simply turning lights and heating off when we don't use them, we can reduce emissions. By being able to better monitor and secure our homes, we can reduce crime. By better monitoring the habits of aging relatives, we help them to achieve greater independence and a higher quality of life."
The report has been published to coincide with the announcement that SmartThings will work with hundreds of products, from a wide range of brands – as well as working with all of Samsung's TVs, refrigerators, washer machines, ovens, and robot vacuum cleaners.
16th January 2016
U.S. government pledges $4bn for self-driving vehicles
The U.S. government this week revealed plans for a 10-year, nearly $4 billion investment to accelerate the development and adoption of safe vehicle automation, through real-world pilot projects.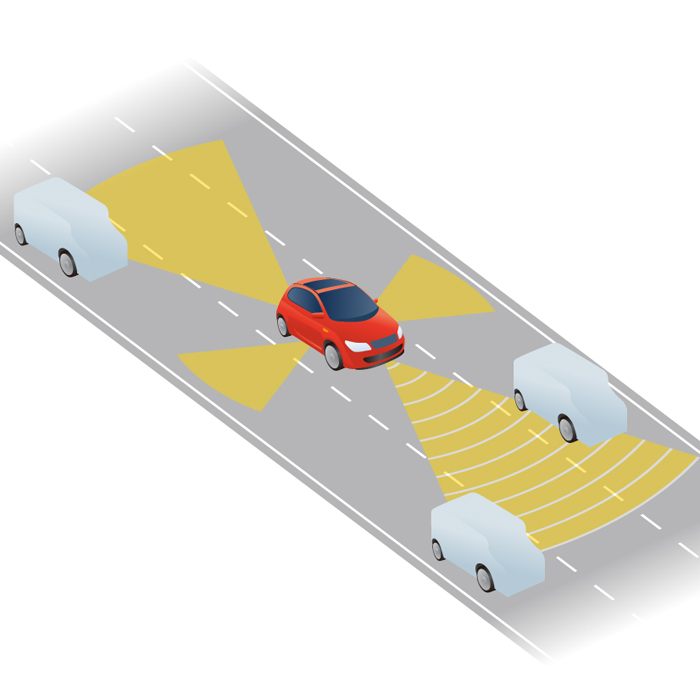 In his final State of the Union address, President Obama signalled his intent to invest in a 21st century transportation system. U.S. Transportation Secretary Anthony Foxx this week revealed part of the president's proposal: a 10-year, nearly $4 billion investment to accelerate the development and adoption of safe vehicle automation, through real-world pilot projects.
Secretary Foxx also announced the removal of potential roadblocks to the integration of innovative, transformational automotive technology that can significantly improve safety, mobility, and sustainability. Foxx made the announcement at the North American International Auto Show (NAIAS) in Detroit, where he was joined by leaders in technology, executives of traditional auto manufacturers, and newcomers to the industry.
"We are on the cusp of a new era in automotive technology with enormous potential to save lives, reduce greenhouse gas emissions, and transform mobility for the American people," said Foxx. "Today's actions and those we will pursue in the coming months will provide the foundation and the path forward for manufacturers, state officials, and consumers to use new technologies and achieve their full safety potential."
The President's 2017 budget proposal would provide nearly $4 billion over 10 years for pilot programs to test connected vehicle systems in designated corridors throughout the country, and work with industry leaders to ensure a common, multistate framework, for connected and autonomous vehicles.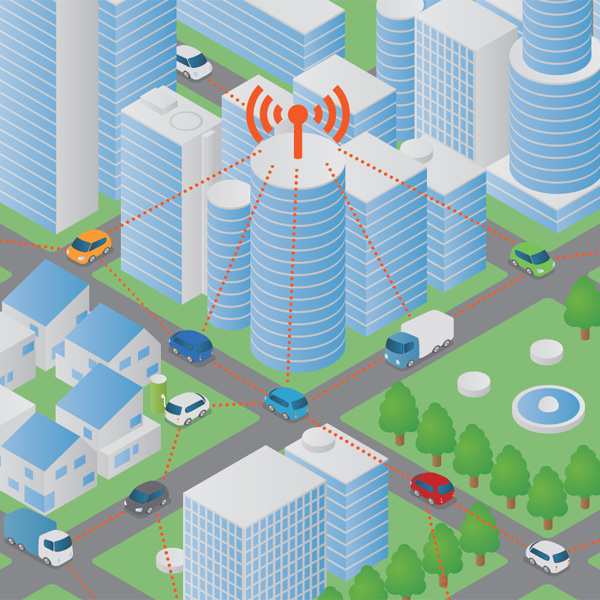 Secretary Foxx has also confirmed an update for the National Highway Traffic Safety Administration's (NHTSA) 2013 preliminary policy statement on autonomous vehicle technology. This new guidance reflects the reality that the widespread deployment of fully autonomous vehicles is now feasible.
Administrator Mark Rosekind said: "The NHTSA is using all of its available tools to accelerate the deployment of technologies that can eliminate 94% of fatal crashes involving human error. We will work with state partners toward creating a consistent national policy on these innovations, provide options now and into the future for manufacturers seeking to deploy autonomous vehicles, and keep our safety mission paramount at every stage."
Under Foxx's leadership, the Department of Transportation has been working to transform government for the 21st century, by harnessing technology and innovation that will improve people's lives. In 2015, he refocused the national dialogue about the future of America's transport system by releasing Beyond Traffic – a report examining the challenges facing the country's infrastructure between now and 2045. The draft framework has already influenced decisions by elected officials, planners, and stakeholders nationwide. He also launched the Smart City Challenge, a national competition to implement bold, data-driven ideas that make transportation safer, easier, and more reliable in cities. He also worked to accelerate the Department's efforts to incorporate vehicle-to-vehicle (V2V) communication technology into new vehicles.
Numerous forecasts by technology analysts point to a future dominated by intelligent, self-driving vehicles and smarter road systems. These new measures announced by the U.S. government will help to bring that futuristic vision closer to reality.
12th December 2015
Ford will invest $4.5 billion in electric vehicles by 2020
US car giant Ford has announced it will invest an additional $4.5 billion in electric vehicle technology by 2020, as well as changing how the company develops vehicle experiences for customers.
Ford is adding 13 new electrified vehicles to its portfolio by 2020 – by which time, more than 40 per cent of the company's global nameplates will come in electrified versions. This represents Ford's largest-ever electrified vehicle investment in a five-year period.
On the way next year is a new Focus Electric, which features all-new DC fast-charge capability, delivering an 80 per cent charge in just 30 minutes and a projected 160-kilometre (100‑mile) range – an estimated two hours faster than today's model.
The zero emissions Focus Electric is manufactured in an eco-conscious facility. Its production home, the Michigan Assembly Plant, has one of the largest solar energy generator systems in the state. The new version of the Focus Electric, which starts production in late 2016, will provide features including:
SmartGauge with EcoGuide LCD Instrument Cluster, which offers a multitude of customisable displays that can help the driver see real-time electric vehicle power usage to help maximise efficiency. At the end of each trip, a screen provides the distance driven, miles gained through regenerative braking, energy consumed and comparative gasoline information achieved by driving electric.


Brake Coach (pictured below), another smart feature that coaches the driver on how to use smooth braking, to maximise the energy captured through the Regenerative Braking System. The more energy a driver captures through braking, the more energy is returned to the battery.


"MyFord" mobile app, allowing owners to control and maintain contact with the car remotely, get instant vehicle status information, monitor the car's state of charge and current range, get alerts when the vehicle has finished charging, precondition the car (to be heated or cooled to a desired temperature, by a selected time), locate the vehicle with GPS, remotely start the vehicle, and remotely lock and unlock the car doors.


SYNC 3, an enhanced voice recognition communications and entertainment system.


Fun-to-drive character, with agile steering and handling engineered into the vehicle to give drivers a more connected feel to the road.


Eco-conscious materials, such as soy, bio-foam seat cushions and recycled fabrics.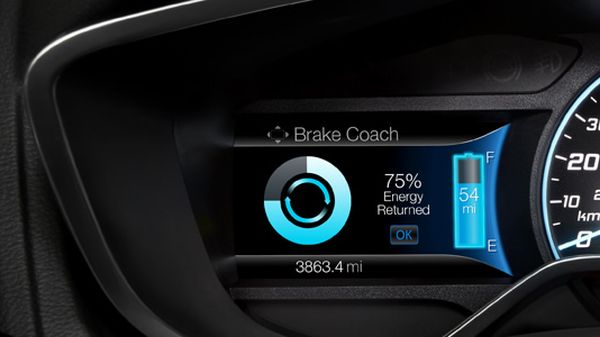 Ford's shift towards electrified vehicle technology is in response to the increasing global demand for cleaner, more efficient vehicles. Electric car ownership is expected to surpass one million this year, with continued rapid growth predicted in the years ahead. Ford is also expanding its research and development programme in Europe and Asia, creating a "hub and spoke" system allowing its global team to further accelerate battery technology and take advantage of market specific opportunities. Ford is also reimagining how to set itself apart in the marketplace by focusing on the customer experience and not just the vehicle itself. The company is changing its product development process to support that shift.
"The challenge going forward isn't who provides the most technology in a vehicle, but who best organises that technology in a way that most excites and delights people," said Raj Nair, executive vice president, Product Development and chief technical officer. "By observing consumers, we can better understand which features and strengths users truly use and value and create even better experiences for them going forward."
In addition to traditional market research, Ford is investing in social science-based research globally, observing how consumers interact with vehicles and gaining new insights into the cognitive, social, cultural, technological and economic nuances that affect product design.
"This new way of working brings together marketing, research, engineering and design in a new way to create meaningful user experiences, rather than individually developing technologies and features that need to be integrated into a final product," Nair said. "We are using new insights from anthropologists, sociologists, economists, journalists and designers, along with traditional business techniques, to reimagine our product development process, create new experiences and make life better for millions of people."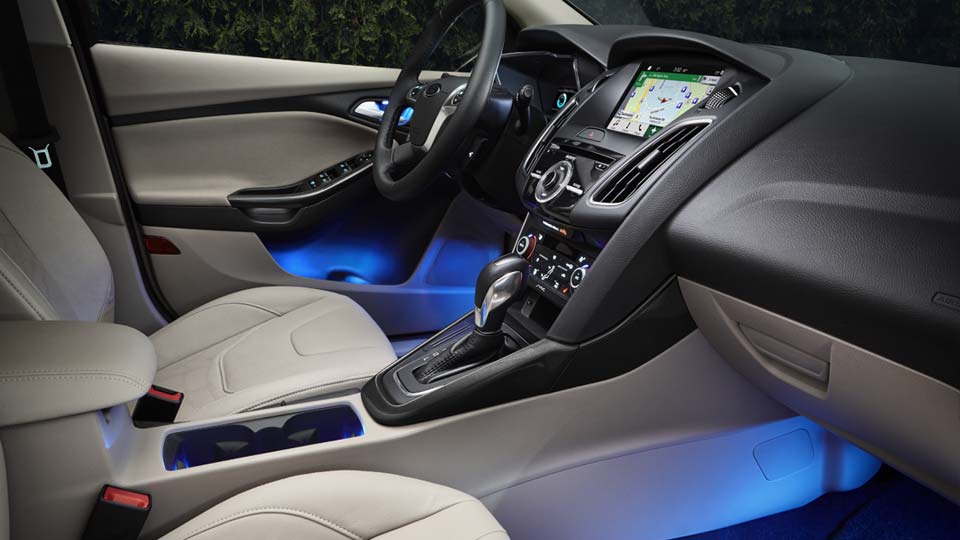 The global expansion of Ford's electric vehicle research and development programme allows the company's Electrified Powertrain Engineering teams to share common technologies and test batteries virtually, in real time, to develop new technology faster while reducing the need for costly prototypes.
Ford is expanding in Europe and China to accelerate battery technology development for new markets. By using an innovative hardware and software systems called HIL, or "Hardware in a Loop", the global team can test battery technology and control system hardware in a virtual environment to simulate how batteries and control modules would behave in different – often punishing – environments in any part of the world.
"Batteries are the life force of any electric vehicle – and we have been committed to growing our leadership in battery research and development for more than 15 years," said Kevin Layden, director of Ford Electrification Programs.
3rd November 2015
A shape-shifting, self-driving concept car by Nissan
A new futuristic concept car by Nissan has been unveiled at the 2015 Tokyo Motor Show.
At the Tokyo Motor Show 2015, Nissan Motor Company unveiled a concept vehicle that the company says embodies its vision for the future of autonomous driving and zero emission EVs: the Intelligent Driving System (IDS).
"Nissan's forthcoming technologies will revolutionise the relationship between car and driver, and future mobility," said Carlos Ghosn, Nissan president and CEO, presenting at the show. "Nissan Intelligent Driving improves a driver's ability to see, think and react. It compensates for human error, which causes more than 90% of all car accidents. As a result, time spent behind the wheel is safer, cleaner, more efficient and more fun."
After leading the development and expansion of EV technology, Nissan once again stands at the forefront of automotive technology. By integrating advanced vehicle control and safety technologies with cutting-edge artificial intelligence (AI), Nissan is among the leaders developing practical, real-world applications of autonomous driving. The company plans to include this technology on multiple vehicles by 2020, and progress is well on track to achieve this goal, said Ghosn.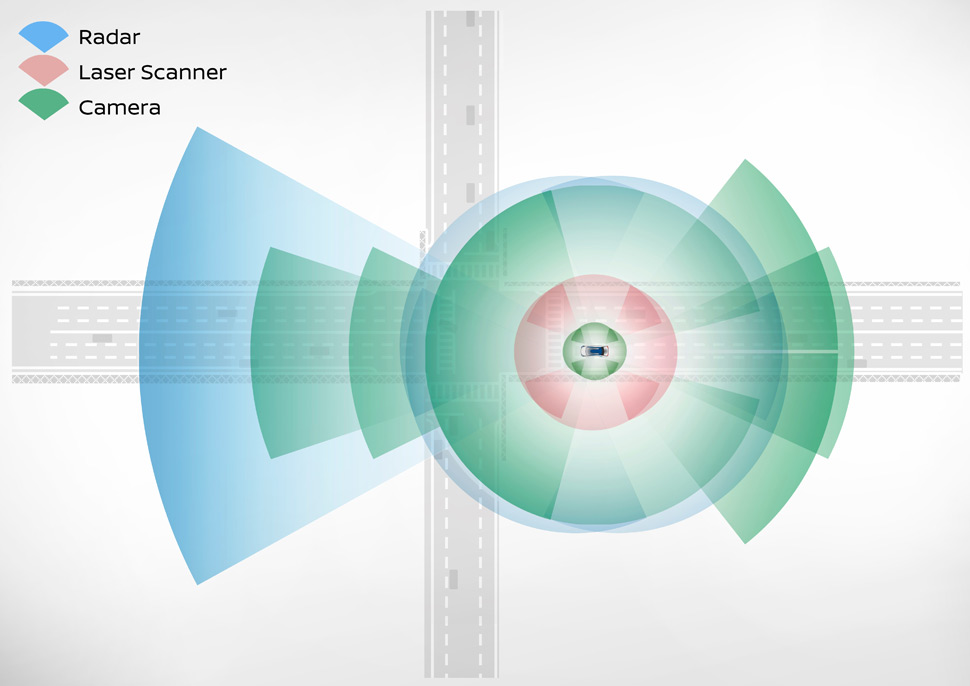 Some have compared a future with autonomous drive to living in a world of conveyer belts that simply ferry people from point A to B, but the Nissan IDS promises a very different vision. Even when a driver selects Piloted Drive and turns over driving to the vehicle, the car's performance – from accelerating to braking to cornering – imitates the driver's own style and preferences.
In Manual Drive mode, the driver has control. The linear acceleration and cornering are pure and exhilarating. Yet behind the scenes, the Nissan IDS continues to provide assistance. Sensors constantly monitor conditions and assistance is available even while the driver is in control. In the event of imminent danger, the Nissan IDS will assist the driver in taking evasive action.
In addition to learning, the IDS concept's AI communicates like an attentive partner. From information concerning traffic conditions, the driver's schedule to personal interests, it has what is needed to create a driving experience that is comfortable, enjoyable and safe.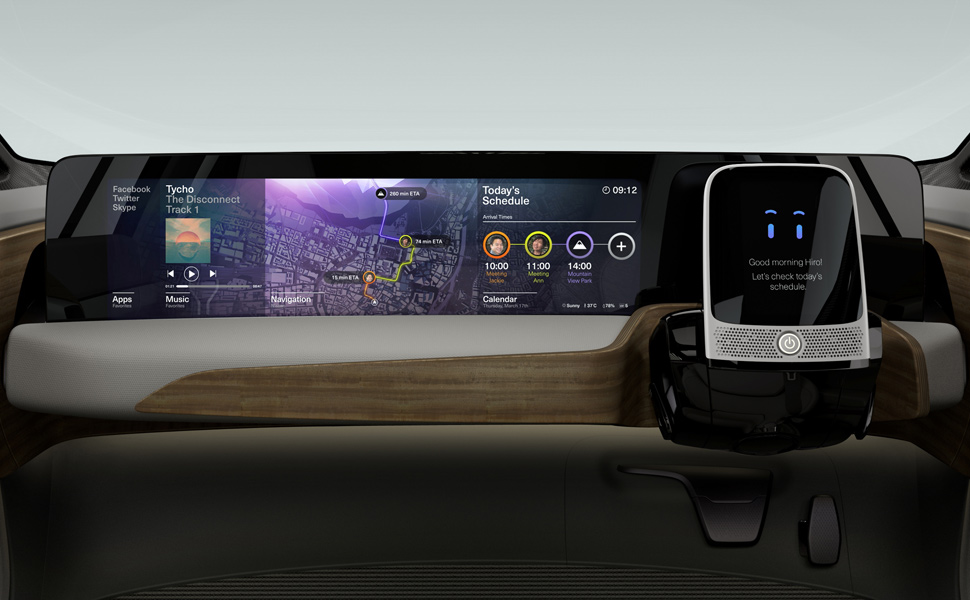 "A key point behind the Nissan IDS Concept is communication. For autonomous drive to become reality, as a society we have to consider not only communication between car and driver but also between cars and people. The Nissan IDS Concept's design embodies Nissan's vision of autonomous drive as expressed in the phrase together, we ride," says Mitsunori Morita, Design Director.
Together, we ride is demonstrated in the shape-shifting interior design: "The Nissan IDS Concept has different interiors, depending on whether the driver opts for Piloted Drive or Manual Drive. This was something that we thought was absolutely necessary to express our idea of autonomous drive," explains Morita.
In piloted self-driving mode, all four seats rotate inward, and the steering wheel recedes into the dashboard, giving the driver space to relax and making it easier to see and talk to other passengers. The interior, comprised of natural materials such as mesh leather, is illuminated by soft light, adding a further layer of comfort that feels almost like a home living room.
"In every situation, it is about giving the driver more choices and greater control," Ghosn said at the show. "And the driver will remain the focus of our technology development efforts."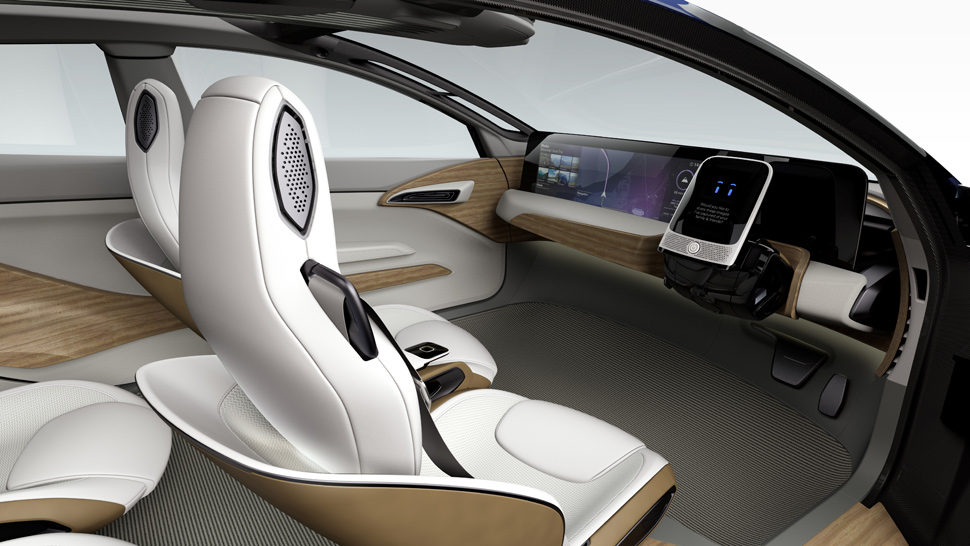 For autonomous drive to be widely accepted, people need to fully trust the technology. Through its innovative communication features, the Nissan IDS promotes confidence and a sense of harmony for those outside the car as well. Various exterior lights and displays convey to pedestrians and others the car's awareness of its surroundings and signals its intentions. The car's silver side body line, for example, is actually an LED that Nissan calls the Intention Indicator. If there are pedestrians or cyclists nearby, the strip shines red, signalling that the car is aware of them. Another electronic display, facing outside from the instrument panel, can flash messages such as "After you" to pedestrians.
Another feature of this electric vehicle is energy efficiency, with advanced aerodynamic performance for a greater driving range. The carbon fibre body is lightweight and constrained in height to sharply minimise aerodynamic drag, while the tires are designed to minimise air and roll resistance. The wheels have a layered form that creates tiny vortexes of air on their surface, which further contributes to smooth air flow. The Nissan IDS concept is fitted with a high-capacity 60 kWh battery.
"By the time Nissan Intelligent Driving technology is available on production cars, EVs will be able to go great distances on a single charge," says Mitsunori Morita, Design Director. "Getting to this point will, of course, require the further evolution of batteries – but aerodynamic performance is also very important. We incorporated our most advanced aerodynamic technology in the design of the Nissan IDS Concept."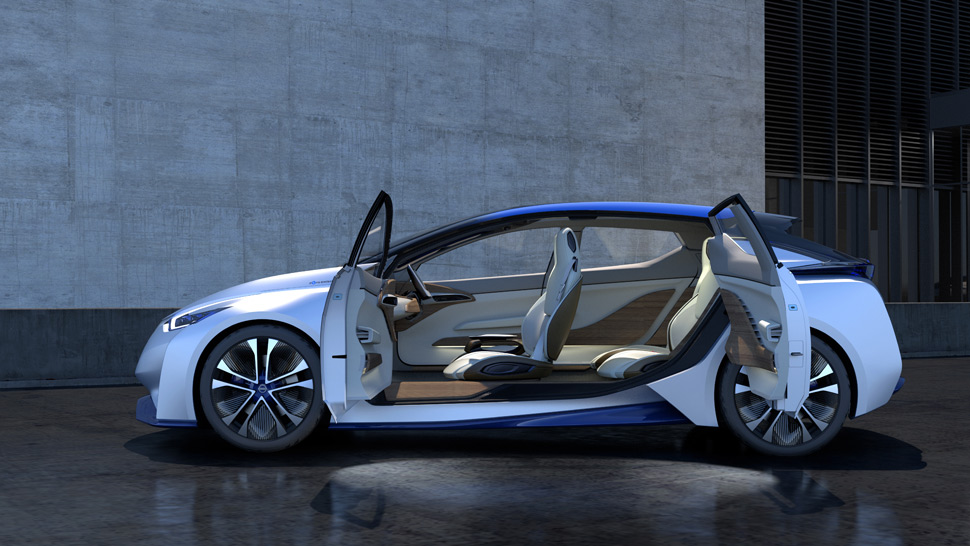 At Nissan's annual shareholder meeting in June, Executive Vice President Hideyuki Sakamoto said: "Our zero emission strategy centres on EVs. We are pursuing improved electric powertrain technologies – such as motors, batteries and inverters – which will enable us to mass produce and market EVs that equal or surpass the convenience of gasoline-powered cars."
Other technologies on the Nissan IDS concept include "Piloted Park" that can be operated by smartphone or tablet, and wireless charging technologies. Through these, the driver can leave parking and charging to the car.
Self-driving, zero emission cars are clearly the future, and Nissan appears to be well-positioned for delivering this vision. The Nissan LEAF is the world's most popular electric vehicle, with 96% of customers willing to recommend the car to friends. Yesterday, the firm posted a rise of 37.4% in net income for the six months ending in September.
"Nissan has delivered solid revenue growth and improved profitability in the first half of the fiscal year, driven by encouraging demand for our vehicles in North America and a rebound in western Europe," said chief executive Carlos Ghosn.