10th August 2015
First autonomous vessel to cross the ocean
Plans have been unveiled for "Mayflower Autonomous Research Ship" (MARS), the world's first full-sized, fully autonomous unmanned ship to cross the Atlantic Ocean.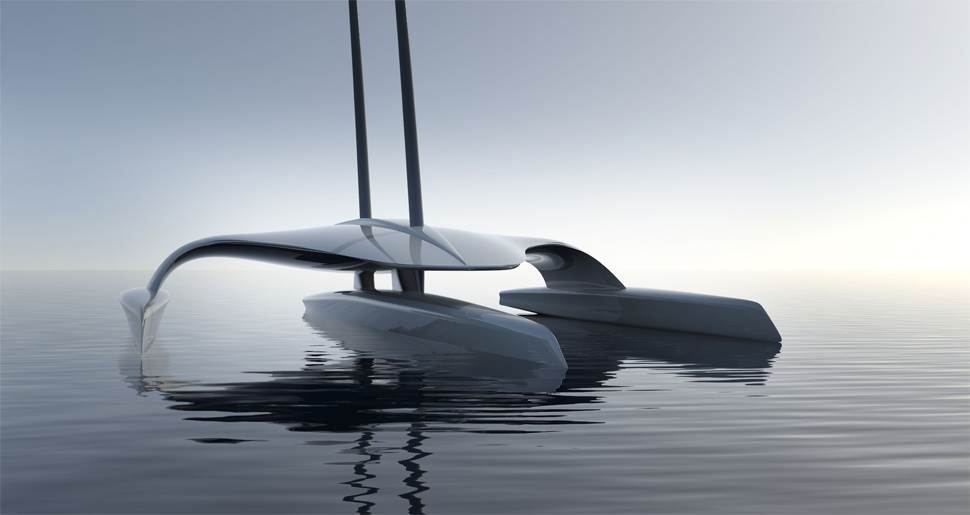 A pioneering project has been launched to design, build and sail the world's first full-sized, fully autonomous unmanned ship across the Atlantic Ocean. The Mayflower Autonomous Research Ship, codenamed MARS, will be powered by state-of-the-art renewable energy technology, and will carry a variety of drones through which it will conduct experiments during the crossing.
MARS is being developed by a partnership of Plymouth University, autonomous craft specialists MSubs, and award-winning yacht designers Shuttleworth Design, and is expected to take two-and-a-half years to build. Following a year-long testing phase, the planned voyage in 2020 will also mark the 400th anniversary of the original Mayflower sailings from Plymouth to the North American continent.
Professor Kevin Jones, Executive Dean of the Faculty of Science and Engineering at the University: "MARS has the potential to be a genuine world-first, and will operate as a research platform, conducting numerous scientific experiments during the course of its voyage. And it will be a test bed for new navigation software and alternative forms of power, incorporating huge advancements in solar, wave and sail technology. As the eyes of the world follow its progress, it will provide a live educational resource to students – a chance to watch, and maybe participate in history in the making."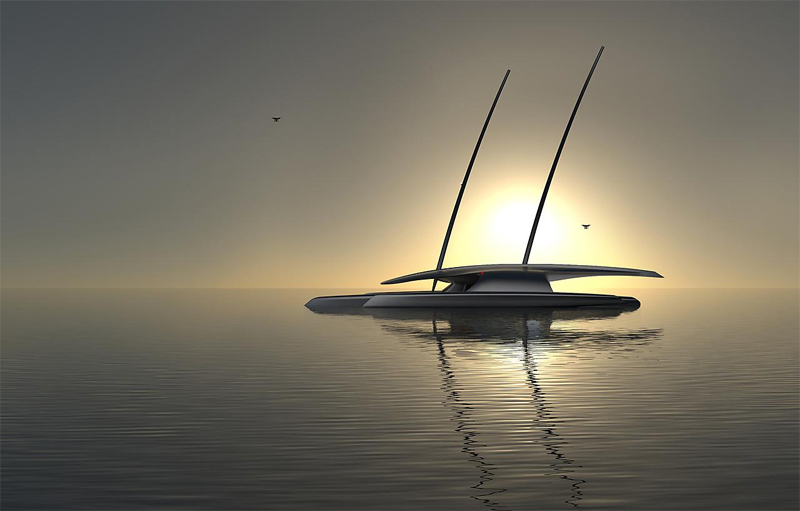 Plymouth-based firm MSubs will be leading on the construction, using their expertise in building autonomous marine vessels for a variety of global customers. Managing Director Brett Phaneuf said the project would confront current regulations governing autonomous craft at sea, and confirmed that conversations had already been initiated with bodies such as the Maritime and Coastguard Agency and DNV GL, the international certification and classification society.
"While advances in technology have propelled land and air-based transport to new levels of intelligent autonomy, it has been a different story on the sea," Brett said. "The civilian maritime world has, as yet, been unable to harness the autonomous drone technology that has been used so effectively in situations considered unsuitable for humans. It begs the question, if we can put a rover on Mars and have it autonomously conduct research, why can't we sail an unmanned vessel across the Atlantic Ocean and, ultimately, around the globe? That's something we are hoping to answer with MARS."
The concepts are being worked on by Isle of Wight-based Shuttleworth Design, and they will be preparing scale models for testing in the University's Marine Building. Many of the features of the trimaran are yet to be finalised, but it is expected to take advantage of advancements in solar panel technology to provide the energy required for its propulsion.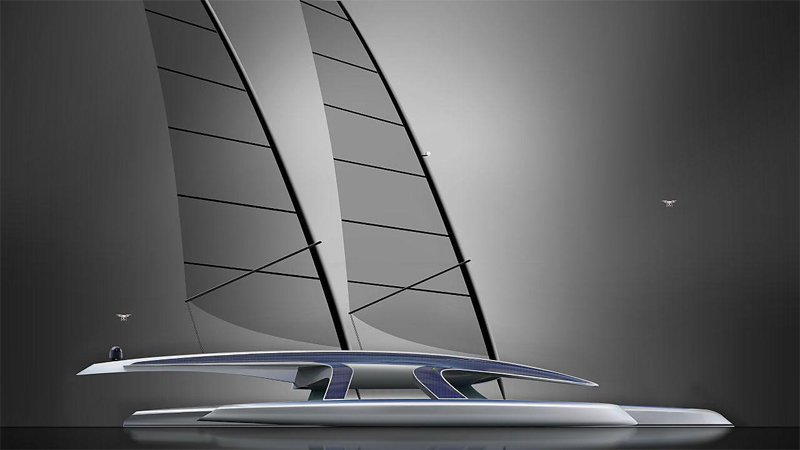 Orion Shuttleworth comments: "We want the vessel to really capture the imagination. It's of a scale unmatched by anything in the civilian world."
The multi-million pound project is part of the University's 'Shape the Future' fundraising Campaign, recently launched at the House of Lords. Initial funding has been provided by the University, MSubs, and the ProMare Foundation, and corporate and private sponsorship will be sought for ongoing support. MARS will also create a large number of student internship opportunities for the University.
Christian Burden, Director of Development at the University: "MARS represents the very essence of the fundraising campaign we have recently launched at the University – not only does it reflect the values and characteristics of the University, but it is also a game changing project in every sense, one that will transform lives and have an enormous impact on the maritime and marine industries. MARS will be a multi-million pound project, providing benefit and value to many of our local partners who will be involved in building the ship. With the initial design phase underway, we are now seeking additional external sponsorship and philanthropy to help make this project become a reality – it's a once in a lifetime opportunity to be involved in a project like this, so we look forward to working with future supporters and partners."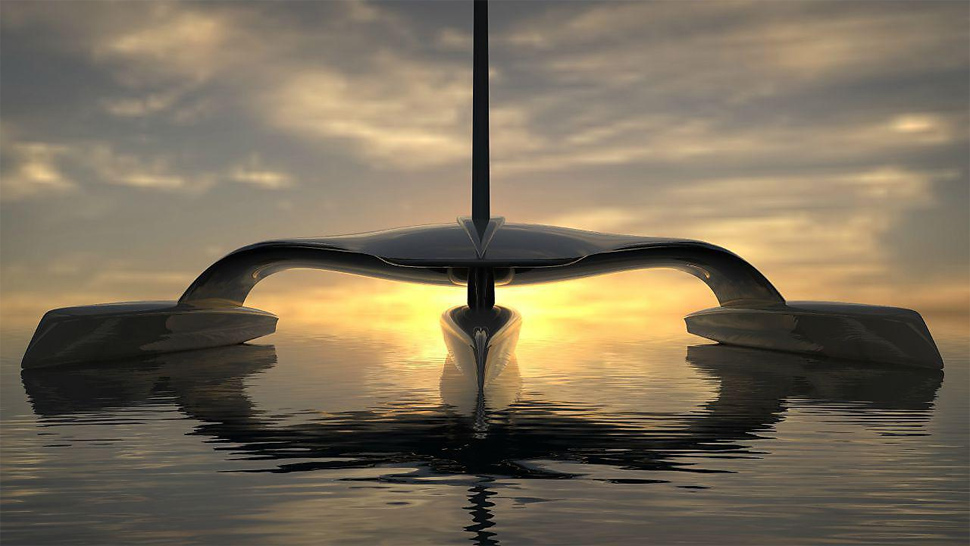 7th August 2015
Lexus completes testing of hoverboard
Luxury vehicle maker Lexus has released a video showing off a real-life, working hoverboard.
The hoverboard seen here was first revealed in a teaser trailer back in June. Lexus claims it has now completed a testing phase, which took place in Cubelles, Barcelona, following 18 months of development. The device is based on quantum levitation – it uses a combination of superconductors and magnets in the ground to stay afloat. The superconductors are cooled to a chilly –197°C (–322°F) via liquid nitrogen stored in two "cryostat" reservoirs. The specially constructed hoverpark features 200 metres of magnetic track, which was transported from a facility in Dresden, Germany.
Mark Templin, Executive Vice President at Lexus International, comments in a press release: "Embarking on this project, we set out to push the boundaries of technology, design and innovation to make the impossible possible. With this project we call 'SLIDE', we collaborated with partners who share our passion for creating enjoyment out of motion. Even through combining our technology and expertise, we discovered making a hoverboard isn't an easy process. We've experienced the highs and lows and have overcome a few challenges, but through mutual determination we have created a demonstration of our philosophy in design and technology to create Amazing in Motion."
Pro skateboarder and hoverboard test rider Ross McGouran: "I've spent 20 years skateboarding, but without friction it feels like I've had to learn a whole new skill, particularly in the stance and balance in order to ride the hoverboard. It's a whole new experience."
Lexus isn't the only company to be working on a hoverboard. Last year, California-based Arx Pax announced plans for "Hendo Hoverboards" to be launched on 21st October 2015 – the same date as the setting for Back to the Future II, in which the futuristic boards appear.
23rd July 2015
A modular vertical city concept
Luca Curci architects studio have presented their "Vertical City" concept, a project proposal for a modular city-building settled in the water.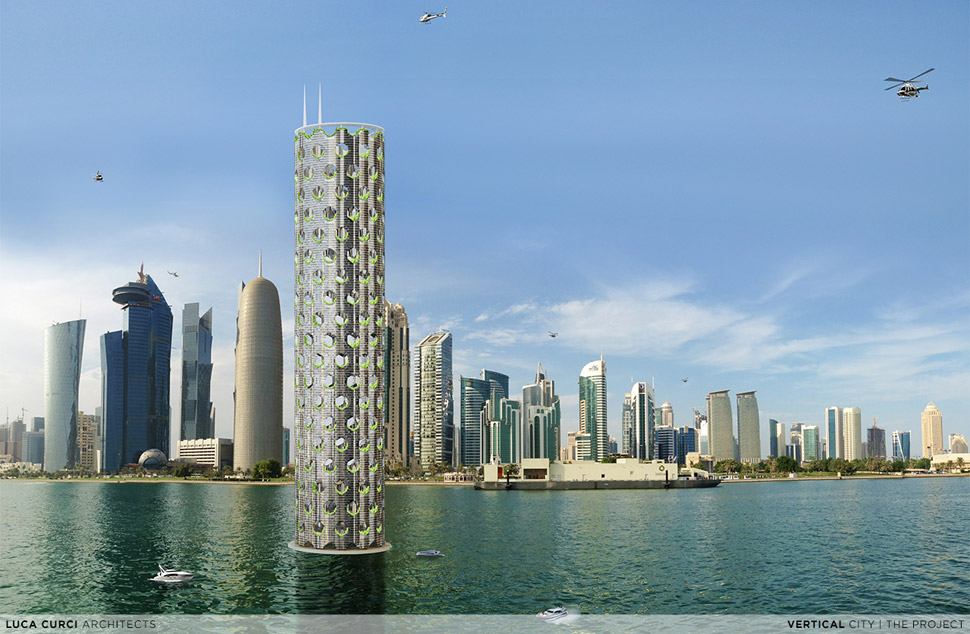 Italian architecture studio, Luca Curci, has presented "Vertical City" – a project proposal for a vertical city-building settled in the water. The project combines sustainability with population density and aims to be a "zero-energy city-building".
The architects explain how they analysed the contemporary skyscraper, and re-interpreted it as an opened structure, with green areas on each level and more natural light and ventilation. This new interpretation would allow residents to enjoy a healthier lifestyle, in connection with natural elements and improving their local community.
The building's design is based on a modular structural prefabricated element, which is repeatable horizontally as well as vertically. The singular shape of this element creates a 3-D network which sustains every single floor. The structure is surrounded by a membrane of photovoltaic glasses which provide electricity to the whole building and make it energy independent, with any excess solar energy able to be exported to the mainland.
The city-building is completely perforated to permit the circulation of air and light on each level, hosting green areas and vertical gardens. Green zones are spread all over the tower, while meeting and social areas can enhance community life.
The city-building consists of 10 modular layers overlapping. It reaches the height of 750 metres (2,460 ft). With a total volume of 3.8 million cubic metres it can host up to 25,000 people, with green areas encompassing 200,000 square metres, including the public garden square at the top of the building. Each modular and repeatable layer has a diameter of 155 metres (508 ft). The tower has 18 floors, with a mixture of homes, commercial services and other facilities for a large community. Residences have different sizes and shapes for each floor, and they include apartments, duplex and villas.
The building is settled on the sea bottom, with a series of underwater floors that host parking and technical areas, facilities such as spas, mediation centres and gym and luxury hotels rooms with underwater views.
It is possible to reach the Vertical City by water, by land or by air. The circular basement is equipped with external and internal docks and three naval entries: large boats can dock at the external berths, permitting public or private smaller boats only, to navigate in the inner gulf. A connection with the mainland is made possible through a semi-submersed bridge for pedestrians, cars and public electric transports, which connect the land with the basement underwater. The tower also features a heliport connected with the upper garden-square and vertical linking-installations.
The architects conclude that Vertical City is "a modular interpretation of the contemporary city – and possible future."
21st July 2015
New promotional video of the TF-X flying car
U.S. aircraft designer Terrafugia has just announced the premier of the new Outer Mould Line (an aeroshell's outer surface) for the TF-X – a four-seat, vertical takeoff and landing (VTOL) hybrid electric aircraft that can be driven on roads and highways, in addition to flying. It features retractable wings, the ability to land and take off within a 100 ft diameter zone, a flight speed of 200 mph (322 km/h), a flight range of 500 miles (800 km), and a backup full-vehicle parachute system for safety. When fully developed, Terrafugia claims the vehicle will be statistically safer than driving a modern automobile, and will automatically avoid other air traffic, bad weather, and restricted and tower-controlled airspace.
A one-tenth scale wind tunnel test model of the TF-X has been successfully developed based on the new Outer Mould Line and is currently on display at EAA's AirVenture in Oshkosh, Wisconsin. The model will be tested at the MIT Wright Brothers wind tunnel, the same tunnel that was used to test models of Terrafugia's Transition – a similar vehicle it has been developing alongside the TF-X. The wind tunnel test model will be used to measure drag, lift and thrust forces while simulating hovering flight, transitioning to forward flight and full forward flight.
The Transition, originally planned for launch in 2013, will now debut in either late 2015 or 2016, while the TF-X seen below is expected to go on sale during the mid-2020s. There's no word yet on pricing details for the TF-X, though it's likely to be aimed at wealthy individuals, given that its brother the Transition has a price tag of US$280K. Over the coming decades, however, as costs and technology improve, the dream of a practical flying car may become a reality for everyone. Then we will truly be living in the future.
29th May 2015
Ford releases electric vehicle technology patents
In June 2014, Tesla released its patents in an effort to accelerate the development of electric vehicles (EVs). Following Tesla's lead, Ford has now taken similar action by opening its portfolio of EV technology patents to competitors. Last year, Ford filed more than 400 patent applications for EV technology amounting to over 20% of the company's 2,000 total applications.
"Innovation is our goal," says Kevin Layden, the director of Ford Electrification Programs. "The way to provide the best technology is through constant development and progress. By sharing our research with other companies, we will accelerate the growth of electrified vehicle technology and deliver even better products to customers."
Ford Motor Company is a leader in this area – offering six hybrid or fully electrified vehicles including Ford Focus Electric, Ford Fusion Hybrid, Ford Fusion Energi plug-in hybrid, Ford C-MAX Hybrid, Ford C-MAX Energi plug-in hybrid (including a solar-powered concept) and Lincoln MKZ Hybrid. In total, Ford has more than 650 electrified vehicle patents and 1,000 pending applications on electrified vehicle technologies.

Ford's innovations have resulted in acclaimed electrified vehicles on the road today, but the company believes sharing its patented technologies will promote faster development of future inventions as all automakers look toward greater opportunities.
"As an industry, we need to collaborate while we continue to challenge each other," says Layden. "By sharing ideas, companies can solve bigger challenges and help improve the industry."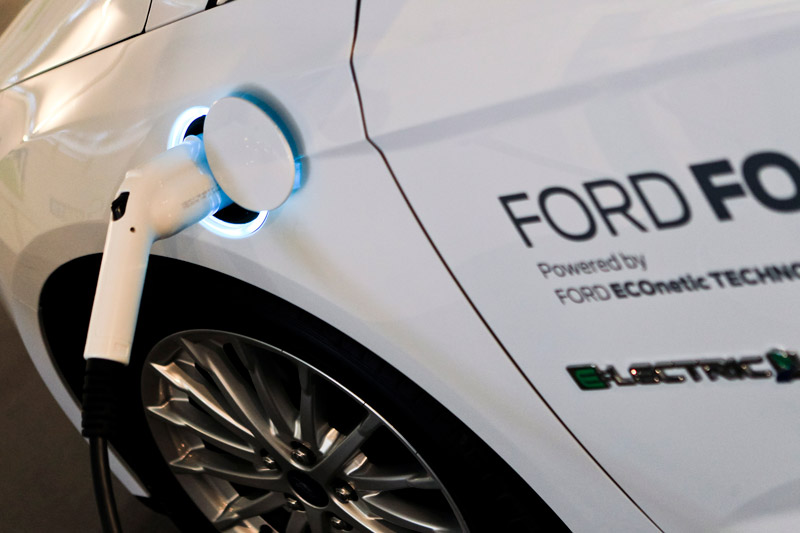 As part of Ford's increased focus on new and innovative technologies, the automaker is set to hire an additional 200 electrified vehicle engineers this year as the team moves into a newly dedicated facility – Ford Engineering Laboratories – home to Henry Ford's first labs in Dearborn.
Some of Ford's electrified vehicle patents available for competitors include:
• Method and Apparatus for Battery Charge Balancing, patent No. US5764027: This patent covers passive cell balancing: discharging a cell through a resistor to lower the state of charge to match other cells. This innovation extends battery run time and overall life. This is the first invention to enable battery balancing at any time, instead of only while charging, and it enables the use of lithium-ion batteries in electrified vehicles. It was invented long before lithium-ion battery-powered vehicles became commonplace – truly ahead of its time.
• Temperature Dependent Regenerative Brake System for Electric Vehicle, patent No. US6275763: This works to maximise the amount of energy recaptured in a hybrid vehicle through regenerative braking. By improving the interplay between normal friction brakes and regenerative braking during stopping at certain air temperatures, a driver is able to recapture more energy than previously possible, helping the motorist drive farther on a charge.
• Driving Behaviour Feedback Interface, patent No. US8880290: This patent provides a system and method for monitoring driver inputs such as braking and accelerating, and vehicle parameters including energy consumption to assess driving behaviour. The feedback can be used to coach future driving behaviour that may translate into better long-term driving habits and improve fuel economy. This technology has also enabled drivers of non-electrified vehicles, such as a Ford Focus, to develop better driving habits.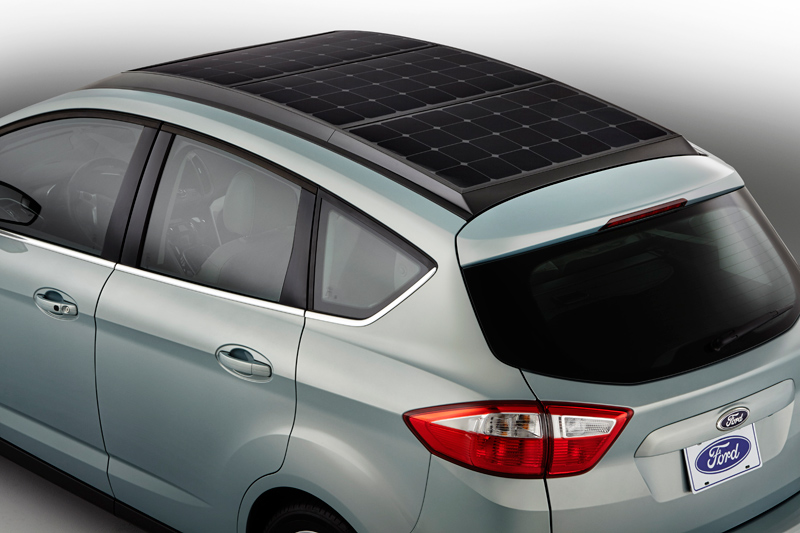 7th May 2015
The first licenced autonomous driving truck in the US
Vehicle manufacturer Daimler this week announced that its Freightliner Inspiration Truck has become the world's first autonomous truck to be granted a licence for road use in the State of Nevada.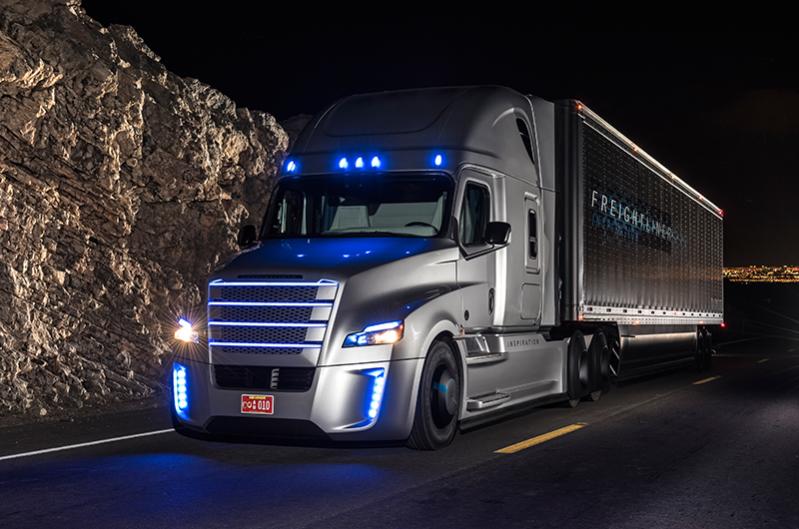 In July last year, Daimler provided the world's first demonstration of an autonomous truck in action, when the Mercedes-Benz Future Truck 2025 drove along a cordoned-off section of the A14 autobahn near Magdeburg, Germany. Engineers then transferred the system to the US brand Freightliner and created the Inspiration Truck – modified for use on American highways. The result: the State of Nevada has certified no less than two Freightliner Inspiration Trucks for regular operations on public roads. Governor Brian Sandoval handed over the official Nevada licence plates during a ceremony at the Las Vegas Motor Speed.
This futuristic vehicle is based on the existing Freightliner Cascadia model, but has the addition of "Highway Pilot" technology. The latter combines a sophisticated stereo camera and radar technology with systems providing lane stability, collision avoidance, speed control, braking, steering and an advanced dash display, allowing for safe autonomous operation on public highways. These components were extensively tested. As part of the truck's so-called Marathon Run, it covered over 10,000 miles (16,000 km) on a test circuit in Papenburg, Germany.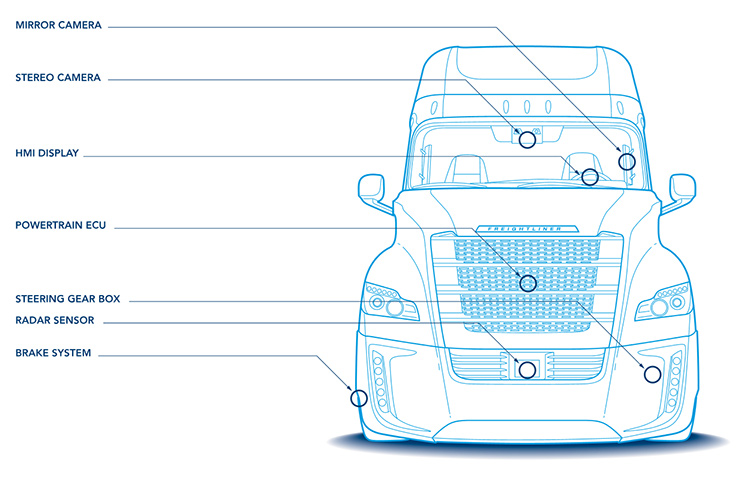 The radar unit in the front bumper scans the road ahead at both long and short range. The long-range radar, with a range of 820 feet and scanning an 18° segment, looks far and narrow to see vehicles ahead. The short-range radar, with a range of 230 feet and scanning a 130° segment, looks wider to see vehicles that might cut in front of the truck.
There is also a medium-range stereo camera, which is located behind the windscreen. The range of this camera is 328 feet, and it scans an area measuring 45° horizontal by 27° vertical. This camera is able to recognise lane markings and communicates to the Highway Pilot steering gear for autonomous lane guidance.
In addition, tiny cameras are located on the exterior of the truck. These reduce blind spots and are capable of replacing exterior mirrors, while creating a slight boost in fuel efficiency (1.5 percent).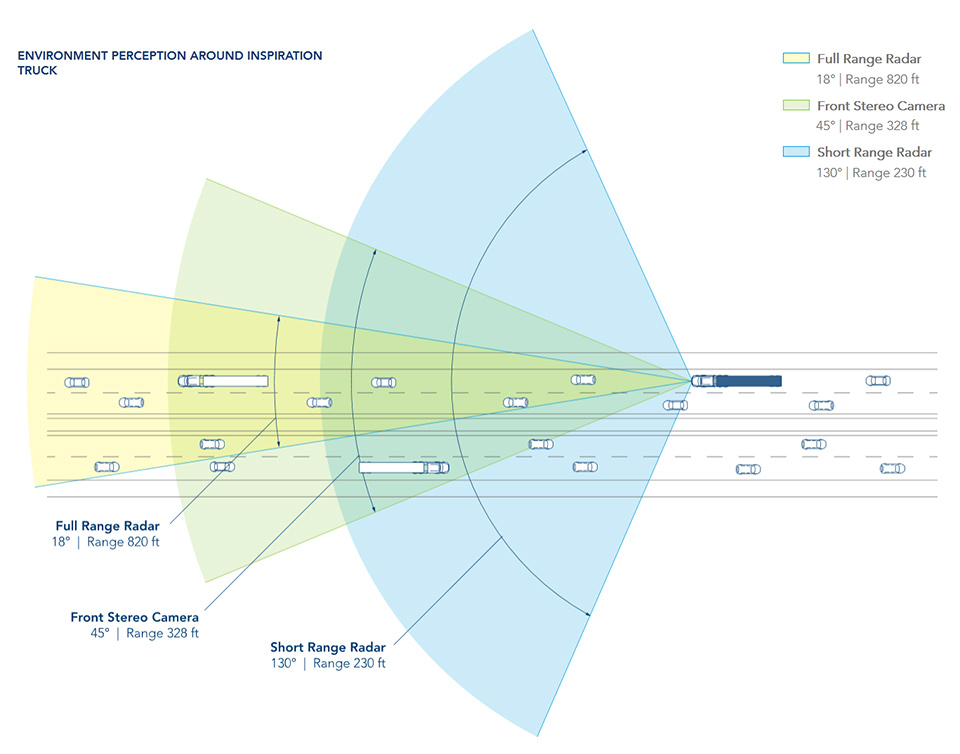 The vehicle operates safely under a wide range of conditions – it will automatically comply with posted speed limits, regulate the distance from the vehicle ahead and use the stop-and-go function during rush hour. The driver can deactivate the Highway Pilot manually and is able to override the system at any time. If the vehicle is no longer able to process crucial aspects of its environment, e.g. due to road construction or bad weather, the driver is prompted to retake control.
A large, state-of-the-art dash interface, combined with video displays from the various cameras, is designed to offer a great driver experience and to vastly improve the way data from the truck's performance is communicated to the driver. Highway Pilot informs the driver visually on its current status and also accepts commands from the driver.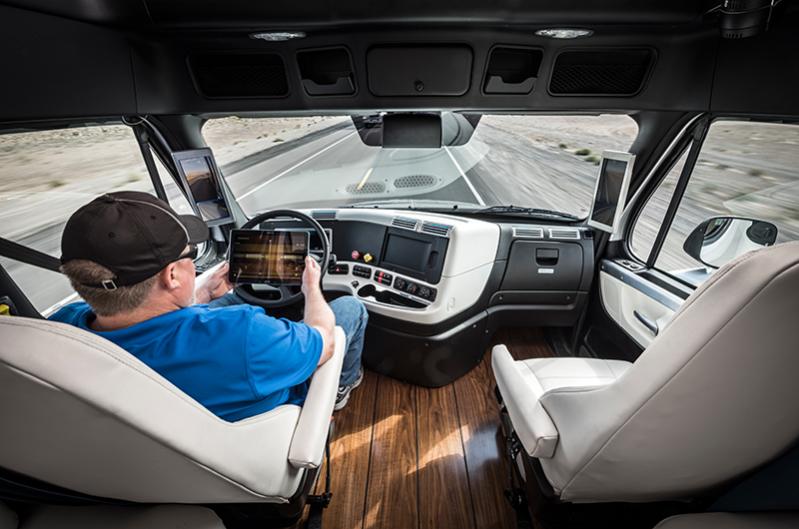 According to U.S. government data, 90 percent of truck crashes involve human error – much of that due to fatigue. Wolfgang Bernhard, a member of the Board of Management at Daimler, commented: "An autonomous system never gets tired, never gets distracted. It is always on 100 percent."
For now, the Inspiration Trucks will be limited to Nevada, one of the lowest density states in the country, but other states are likely to create similar regulations in the future, with California and Michigan expected to follow soon: "Ultimately, this has to be federally regulated to have a consistent basis across the country," says Martin Daum, president and CEO of Daimler Trucks North America.
The Inspiration Truck is only semi-autonomous, as it requires a human behind the wheel, who can take over in case of an emergency. The technology is advancing rapidly, however. Daimler and other manufacturers, including Nissan and Tesla, are planning to introduce fully autonomous vehicles (with no human driver on board) during the early 2020s. Worldwide, freight traffic shipped by road is predicted to triple by 2050, with self-driving vehicles expected to play an ever-increasing role in transportation.
Eventually, these autonomous vehicles will be intelligently connected – to their environment and other road users – to such an extent that they will be able to avoid areas with heavy traffic and contribute to reducing traffic jams. Traffic of the future will flow more smoothly and be far more predictable. Traffic systems will be more flexible and the infrastructure will be utilised better. Transport firms will operate more profitably, with fuel savings alongside lower maintenance costs as a result of less wear on the vehicle components, due to a more constant flow of traffic. Most importantly of all, road safety will be hugely improved – with many thousands of deaths prevented each year.
5th May 2015
'Centimetre accurate' GPS system could transform virtual reality and mobile devices
Researchers at the University of Texas at Austin have developed a centimetre-accurate GPS-based positioning system that could revolutionise geolocation on virtual reality headsets, cellphones and other technologies – making global positioning and orientation far more precise than what is currently available on a mobile device.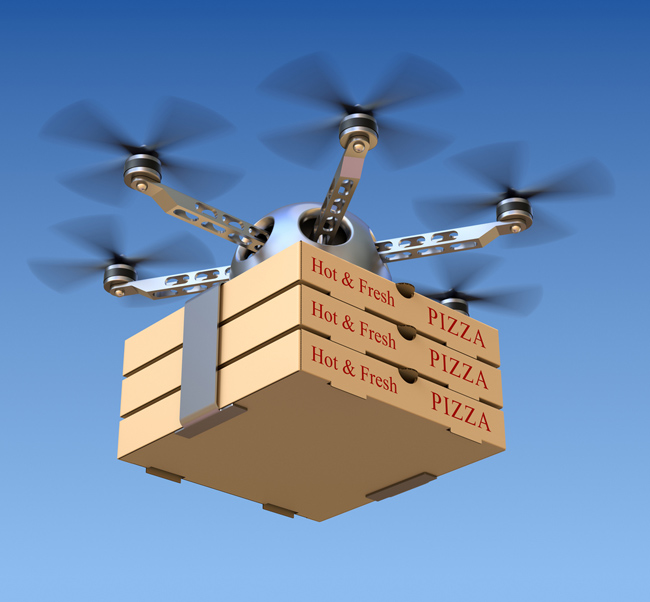 The researchers' new system could allow unmanned aerial vehicles to deliver packages to a specific spot on a consumer's back porch, improve collision avoidance technologies on cars and allow virtual reality (VR) headsets to be used outdoors. This ultra-accurate GPS, coupled with a smartphone camera, could be used to quickly build a globally referenced 3-D map of one's surroundings that would greatly expand the radius of a VR game. Currently, VR does not use GPS, which limits its use to indoors and usually a two- to three-foot radius.
"Imagine games where, rather than sit in front of a monitor and play, you are in your backyard actually running around with other players," said Todd Humphreys, lead researcher and assistant professor in the Department of Aerospace Engineering and Engineering Mechanics. "To be able to do this type of outdoor, multiplayer virtual reality game, you need highly accurate position and orientation that is tied to a global reference frame."
Humphreys and his team in the Radionavigation Lab have designed a low-cost system that reduces location errors from the size of a large car to the size of a nickel – a more than 100 times increase in accuracy. Humphreys collaborated on the new technology with Professor Robert W. Heath from the Department of Electrical and Computer Engineering, along with graduate students.
Centimetre-accurate positioning systems are already used in geology, surveying and mapping – but the survey-grade antennas these systems employ are too large and costly for use in mobile devices. This breakthrough by Humphreys and his team is a powerful and sensitive software-defined GPS receiver that can extract centimetre accuracies from the inexpensive antennas found in mobile devices. Such precise measurements were not previously possible. The researchers anticipate that their software's ability to leverage low-cost antennas will reduce the overall cost of centimetre accuracy and make it economically feasible for mobile devices.
Humphreys and his team have spent six years building a specialised receiver, called GRID, to extract so-called carrier phase measurements from low-cost antennas. GRID currently operates outside the phone, but it will eventually run on the phone's internal processor. To further develop this technology, they recently co-founded a startup, called Radiosense. Humphreys and his team are working with Samsung to develop a snap-on accessory that will tell smartphones, tablets and virtual reality headsets their precise position and orientation.
The researchers designed their system to deliver precise position and orientation information – how one's head rotates or tilts – to less than one degree of measurement accuracy. This level of accuracy could enhance VR environments that are based on real-world settings, as well as improve other applications including visualisation and 3-D mapping. Additionally, it could make a significant difference in people's daily lives, including transportation, where centimetre-accurate GPS could allow better vehicle-to-vehicle communication technology.
"If your car knows in real time the precise position and velocity of an approaching car that is blocked from view by other traffic, your car can plan ahead to avoid a collision," Humphreys said.