26th October 2013
By 2017, New York City aims to have replaced all of its street lights with LEDs
Mayor Bloomberg and Transportation Commissioner Sadik-Khan have announced that all 250,000 street lights in New York City will be replaced with energy-efficient LEDs by 2017 – reducing power consumption and maintenance costs, while also lowering carbon emissions.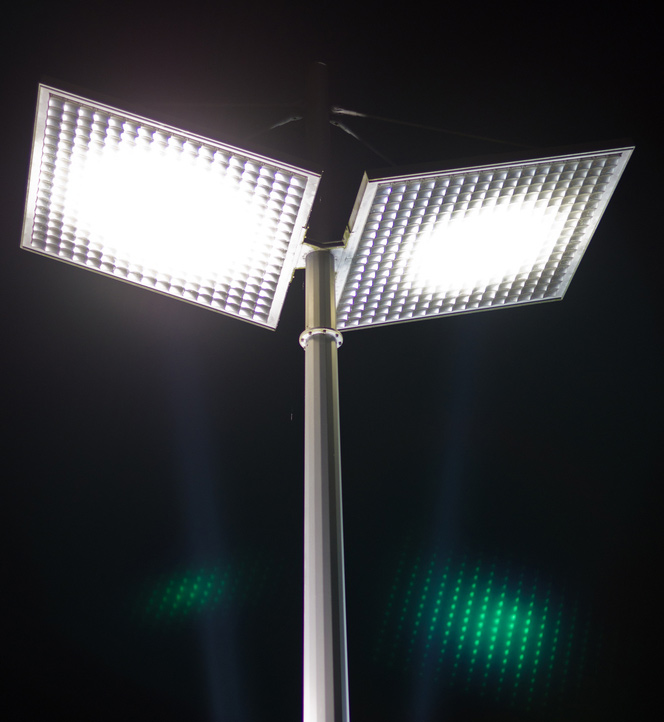 These plans will be the largest LED retrofit in the country, are expected to deliver at least $14 million in savings annually and will be another step towards the goal of reducing citywide greenhouse gas emissions by 30 percent by 2030.
Mayor Bloomberg: "With a quarter-million street lights in our City, upgrading to more energy efficient lights is a large and necessary feat. It will save taxpayers millions of dollars, move us closer to achieving our ambitious sustainability goals and help us to continue reducing City government's day-to-day costs and improving its operations."
"Using LEDs for street lighting is more than just a bright idea," said Commissioner Sadik-Khan. "It's a necessity for sustainable cities to operate more efficiently while also delivering clearer, better quality light for New Yorkers. From our parks to our bridges and to our streets and highways, these 250,000 lights will brighten New York City's streetscapes for generations to come."
In 2009, the Department of Transportation (DOT) partnered with the Climate Group, while the U.S. Department of Energy (DOE) conducted studies to collect data on the performance of LED fixtures, as part of a global study to quantify the benefits for cities with LED lights. The tests measured factors such as illumination, colour and energy consumption. Replacement trials in Central Park and on Manhattan's FDR Drive showed energy savings of up to 83%.
These LEDs have also been found to minimise light pollution, improve public safety and make outdoor areas feel more welcoming at night. The bulbs can last up to 20 years before needing replacement, compared to standard high-pressure sodium lights currently on streets, which last for only six years. LEDs don't contain mercury or lead, and therefore won't release toxic gases if damaged. Yet another benefit is that LEDs are less attractive to nocturnal insects, which are instead drawn to ultraviolet, blue and green lights emitted by conventional light sources.
More importantly, lighting accounts for nearly 6% of CO2 emissions – about 1,900 million tons globally each year – equivalent to emissions from 70% of the world's passenger vehicles. A considerable dent in our carbon footprint would be achieved simply by switching to more energy efficient lamps.
This announcement comes as more and more cities have begun adopting LED lights. Last year, for example, Los Angeles completed its own massive project, retrofitting 141,000 street lights with LED bulbs. The LED lighting market is expected to grow rapidly from 2015 onwards – accounting for 64 percent of general lighting by 2020, with prices falling by 80%.
5th October 2013
World's most fuel-efficient car makes U.S. debut
The Volkswagen XL1 – the most aerodynamic and fuel-efficient car ever built – made its U.S. debut this week at the 23rd Annual Society of Environmental Journalists (SEJ) Conference held in Chattanooga, Tennessee.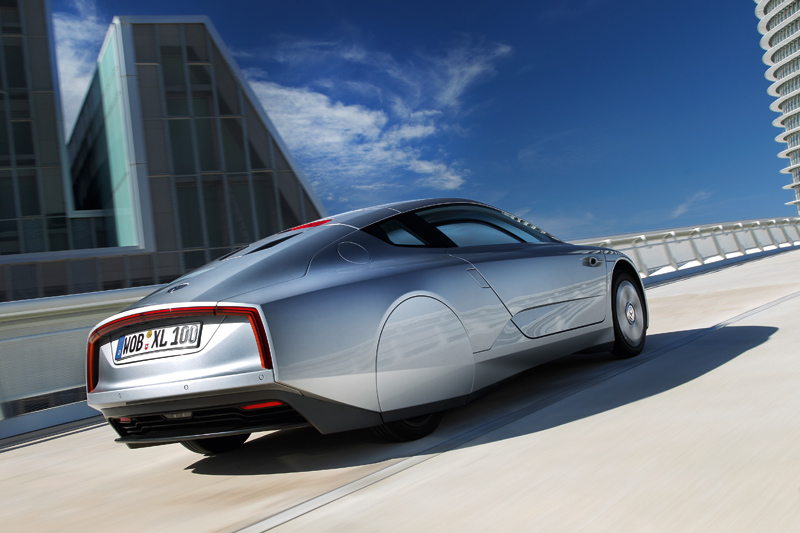 The XL1 offers a European combined fuel consumption rating of 261 miles per gallon (more than 200 mpg estimated in the U.S. cycle). By way of comparison, the U.S. average for new passenger vehicles is currently around 32 mpg and forecast to reach 54 mpg by 2025. The XL1 goes 32 miles in all-electric mode as a zero-emissions car, with top speed of 99 mph, accelerating from 0 to 62 mph in 12.7 seconds.
"The XL1 offers a glimpse into Volkswagen's present and future eco-mobility capabilities, and highlights the ultimate successes of 'Thinking Blue'," said Oliver Schmidt, General Manager of the Engineering and Environmental Office (EEO), Volkswagen Group of America. "Volkswagen is proud to debut this ultra-fuel-efficient vehicle before the Society of Environmental Journalists, a group that shares in our commitment to environmental stewardship."
The XL1 follows pure sports-car design principles: light weight (1753 pounds), exceptional aerodynamics (Cd 0.19), and a low centre of gravity. This super-efficient vehicle has the ability to cruise down the road at a constant 62 mph while using just 8.4 PS (6.2kW) horsepower. In all-electric mode, it requires less than 0.1 kWh to cover more than a kilometre.

The car emits just 21 g/km of CO2, thanks to its high-tech lightweight design, aerodynamic efficiency, and plug-in hybrid system consisting of a 48 PS (35kW) two-cylinder TDI engine, 27-hp electric motor, seven-speed DSG dual-clutch automatic transmission, and lithium-ion battery.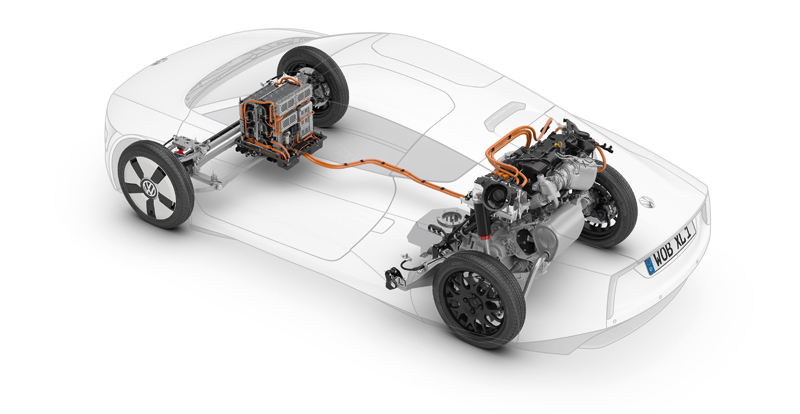 Conceptually, the XL1 is the third evolutionary stage of Volkswagen's 1-litre car strategy. When the new millennium was ushered in, Professor Ferdinand Piëch – now Chairman of the Supervisory Board of Volkswagen – formulated the visionary goal of putting into production a practical car with combined fuel consumption of one litre per 100 km (235 mpg). In the two-seat XL1, this vision has become a reality.
Despite the tremendous efficiency of the car, its engineers and designers successfully came up with a body design which delivers more everyday utility than the two previous prototypes. In the L1, shown in 2002 and 2009, driver and passenger sat in a "tandem" arrangement for optimal aerodynamics; in the XL1, the two occupants sit slightly offset, side by side, almost like a conventional vehicle.
The XL1 is 153.1 inches long, 65.6 inches wide, and just 45.4 inches tall. By comparison, a Volkswagen Polo is slightly longer (156.3 in) and wider (66.2 in), but is significantly taller (57.6 in). Even a purebred sports car like today's Porsche Boxster is 5.1 inches taller. The XL1 will look spectacular going down the highway – a car of the future, built for today.
This technology comes at a price, of course. The XL1 will be sold at $146,000 with only 250 being produced.
28th September 2013
How the Sagrada Família will look in 2026
The Sagrada Família is a massive, privately-funded Roman Catholic church that has been under construction in Barcelona since 1882. Considered the masterwork of renowned Spanish architect Antoni Gaudí (1852–1926), the project's vast scale and idiosyncratic design have made it one of Spain's top tourist attractions, visited by millions of people each year. Construction of the building is scheduled for completion in 2026, the 100th anniversary of Gaudí's death.
This week, a video was released showing a computer-rendered visualisation of how the finished project will look. This has been added to our timeline entry for 2026 (you might need to refresh the page), or you can view it below.
31st August 2013
Testing resumes on Japanese maglev planned for 2027
Last year, Japan unveiled its L0 Series train – intended for use on a maglev route planned between Tokyo and Nagoya. Following upgrades and extension of the Yamanashi line, it is now able to maintain top speed for longer periods. This week, a five-car prototype reached 504 km/h (313 mph) in a public test, travelling for a total of nine minutes. For comparison, the maximum operating speed of the Shanghai Maglev Train in neighbouring China – the world's current fastest train in regular commercial service – is 431 km/h (268 mph). Amtrak trains in the US, meanwhile, get up to 177 km/h (110 mph).
Based on the results of this trial run, researchers will now evaluate its environmental impact and look for ways to reduce costs in the future. The Yamanashi test track is 43 km (27 miles) in length, but the final completed route, known as the Chūō Shinkansen, will cover 286 km (178 miles). Running beneath the Japanese Alps, it aims to slash journey times between Tokyo and Nagoya, from the current 90 minutes to just 40 minutes. Completion is scheduled for 2027, with a further extension to Osaka by 2045.