9th March 2015
Solar-powered plane attempts to fly around the world
The Solar Impulse team have begun their epic journey around the world.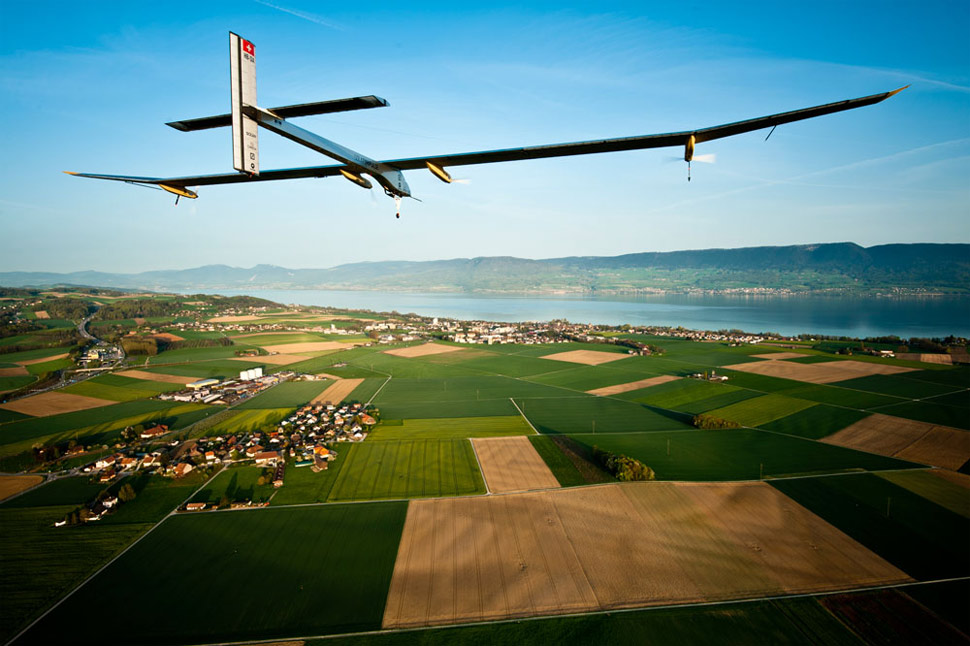 Solar Impulse – a long-range, solar-powered aircraft project – took off this morning from Abu Dhabi in the United Arab Emirates. It aims to become the first plane to fly around the world using only energy from the Sun.
On the plane's 35,000 km (21,747 miles) route, pilots Bertrand Piccard and Andre Borschberg will take turns in the cockpit as the aircraft makes it way eastwards from Abu Dhabi – stopping in cities including Muscat, Oman; Ahmedabad and Varanasi in India; Mandalay in Myanmar; Chongqing and Nanjing in China; and Hawaii, Phoenix and New York in the United States – before crossing the Atlantic on its way back to Abu Dhabi, where it is expected to arrive in mid-2015.
The most challenging leg of the journey will be a non-stop flight of five days and nights across the Pacific Ocean, from China to Hawaii. The plane, powered by 17,248 solar cells, will ascend to altitudes approaching 10,000 metres during the day, while fully charging its batteries to stay aloft throughout the night.
"When we speak of clean technologies for the world, it is not a dream, it is real," said Piccard, the Swiss aviation pioneer who was part of the first team to circle the earth in a balloon in 1999. His partner Borschberg sees "technology changing much faster than we could ever have imagined."
A webcam, map and other real-time data can be seen on the official website.
8th March 2015
Futuristic tires could boost electric vehicles
Two futuristic concept tires unveiled by Goodyear at this week's Geneva International Motor Show could radically change the role of car tires in the future.
Although the tires pictured here are only concept products at this stage, the technologies in their designs offer a glimpse of what practical innovations may be on the horizon.
The first concept – named "BHO3" – offers the possibility of charging the batteries of electric cars by transforming the heat generated by the rolling tire into useful electrical energy. The second concept – named "Triple Tube" – contains three tubes that adjust tire inflation pressure in response to changing road conditions, delivering new levels of performance and versatility.
"These concept tires reimagine the role that tires may play in the future," said Joe Zekoski, Goodyear's senior vice president and chief technical officer. "We envision a future in which our products become more integrated with the vehicle and the consumer, more environmentally friendly and more versatile."
Additional details on the two concept tires:
BHO3
This tire generates electricity through the action of thermoelectric and piezoelectric materials in the tire that capture and transform the energy created by heat when it flexes as it rolls during normal driving conditions. The materials used would optimise the tire's electricity generation capabilities as well as its rolling resistance.

As demand for electric cars grows, this technology has the potential to significantly contribute to the solution of future mobility challenges. This visionary tire technology could help to alleviate the vehicle-range anxiety motorists may have with electric cars.
TRIPLE TUBE
This tire features three internal tubes within the tire. Tubes are located beneath the tread and near the inboard and outboard shoulders of the tire, as well as the centre. The tire relies on an internal pump that moves air from the main air chamber to the three individual air chambers, or tubes. The tire automatically adjusts – on its own – to three different positions based on road conditions.

• The Eco/Safety position – with maximum inflation in all three tubes – offers reduced rolling resistance.

• The Sporty position – with reduced inflation within the inboard shoulder tube – gives drivers dry handling through an optimised contact patch.

• The Wet Traction position – with maximised inflation in the centre tube – provides high aquaplaning resistance through a raised tread in the centre of the tire.
Although these tires are future concepts, Zekoski says they represent an essential aspect of Goodyear's innovation strategy, instilling a forward-looking, market-back mindset in the company's research and development teams.
"It is more important than ever for us to stay firmly rooted in our market-back innovation process, which calls on us to focus on, and anticipate, the rapidly evolving needs of our customers," said Zekoski.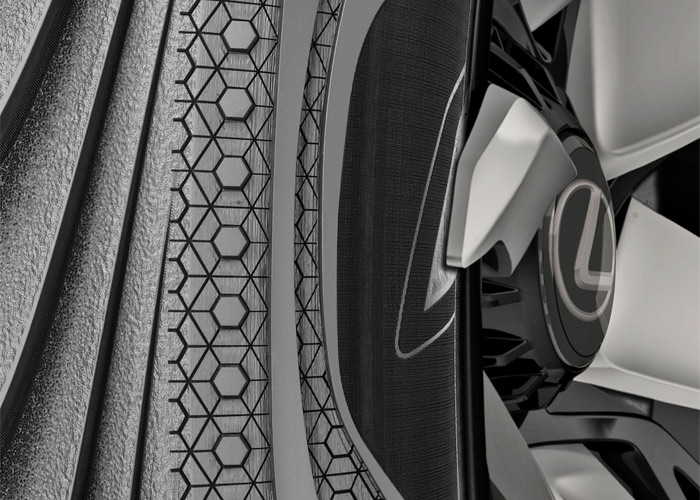 12th February 2015
UK will begin testing driverless car technology on public roads
The United Kingdom has joined a growing number of countries planning to allow driverless cars on roads. Yesterday, the government announced a review into highway regulations and maintenance checks in preparation for testing the new technology.
A major review has confirmed the UK is uniquely positioned to develop driverless car technology. Up to now, the scope for testing driverless cars had been limited, but yesterday the industry was given the green light for testing on public roads. The UK's regulatory environment now sets it apart as a premium location for developing the new technology, with tremendous potential for reducing accidents and making traffic flow more smoothly.
"Driverless cars are the future," said Transport Minister Claire Perry. "I want Britain to be at the forefront of this exciting new development, to embrace a technology that could transform our roads and open up a brand new route for global investment. These are still early days, but today is an important step. The trials present a fantastic opportunity for this country to take a lead internationally in the development of this new technology."
Business Secretary, Vince Cable: "The UK is at the cutting edge of automotive technology – from the all-electric cars built in Sunderland, to the formula 1 expertise in the Midlands. It's important for jobs, growth and society that we keep at the forefront of innovation, that's why I launched a competition to research and develop driverless cars. The projects we are now funding in Greenwich, Bristol, Milton Keynes and Coventry will help to ensure we are world-leaders in this field and able to benefit from what is expected to be a £900 billion industry by 2025.
"The government's industrial strategy is backing the automotive sector as it goes from strength to strength. We are giving business the confidence to invest over the long term and developing cutting-edge technology that will create high skilled jobs."
To mark the launch of the review, Vince Cable joined Claire Perry in Greenwich, home to one of the projects benefiting from £19 million of government funding for driverless car trials. They witnessed the first official testing of the fully autonomous Meridian shuttle in Greenwich and unveiled a prototype of a driverless pod that will be tested in public areas in Milton Keynes. They were also shown other autonomous vehicles involved in the trials, including a BAE wildcat vehicle that is the result of years of advanced research and development by BAE systems and will be tested in Bristol.
The Department for Transport review, conducted over the past 6 months, considered the best and safest ways to trial automated vehicles where an individual is ready to take control of the car if necessary. It also looked further ahead to the implications of testing fully automated vehicles. The review provides legal clarity to encourage UK and international industry to invest in this technology and encourages the largest global businesses to come to the UK to develop and test new models.
The next step is for the government to introduce a code of practice to provide industry with the framework they need to trial cars in real-life scenarios, and to create more sophisticated versions of the models that already exist. This code of practice is scheduled for publication in spring 2015, with the first driverless cars supported by the prize fund expected to be tested on roads by the summer.
2nd December 2014
Horizontal, cable-free elevators arriving in 2016
The American industrialist, Elisha Otis, demonstrated the first safety elevator in 1854. His invention was revolutionary, paving the way for buildings of unprecedented height. These "skyscrapers" (as they became known) transformed the urban landscape, allowing cities with greatly increased verticality and population density.
In the 160 years since then, little has fundamentally changed in the design of elevators. Meanwhile, the world has become highly urbanised – a trend that is forecast to continue in the future, with two-thirds of people living in urban areas by the 2050s compared to 50% in 2010. In response to the emerging challenges of city and building design, German company ThyssenKrupp aims to reinvent this form of transportation. By using a combination of linear motors (similar to those in maglev trains), inductive power transfers from shaft to cabin, multi-level brakes and lightweight materials, they intend to develop a new system that eliminates the need for cables.
Known as "MULTI", this setup could reduce elevator footprints by 50% and increase a building's available space by 25%. Many cabins in the same shaft moving around vertical and horizontal loops would allow much higher volumes of passengers to be handled. Office workers, residents, and other users would no longer have to endure long waits, having near-constant access to a cabin every 15-30 seconds. The overall increase in efficiency would translate into major cost savings for construction, as well as a multiplication of rent revenues from the increased usable floorspace. Architects could also experiment with radically new heights, shapes and building purposes. The first MULTI unit will be tested in 2016.
24th November 2014
Ocean Spiral – an underwater city
Japanese engineering firm, Shimizu Corp, has announced plans for "Ocean Spiral", an underwater city that would form a nine mile (15 km) structure plunging down to the sea floor. Costing three trillion yen ($25 billion), it would feature residential, hotel and business zones at its top, with resource development facilities at its base to harvest rare earth metals and minerals. Electrical power could be generated by exploiting the wide differences in water temperature between the top and bottom of the ocean. Construction would be achieved with industrial-scale 3D printers using resin components instead of concrete. Shimizu believes the technology required for this project could be available by 2030. The company has been behind a number of previous futuristic concepts, including a "Luna Ring" of solar panels going around the Moon and a floating botanical city that could absorb CO2.
"We had this in Japan in the 1980s when the same corporations were proposing underground and 'swimming' cities and 1 kilometre-high towers as part of the rush to development during the height of the bubble economy," says Christian Dimmer, assistant professor in urban studies at Tokyo University. "It's good that many creative minds are picking their brains as to how to deal with climate change, rising sea levels and the creation of resilient societies – but I hope we don't forget to think about more open and democratic urban futures in which citizens can take an active role in their creation, rather than being mere passengers in a corporation's sealed vision of utopia."
For more information on the Ocean Spiral, see its press release.
7th November 2014
The world's first solar-powered road
A project creating the first solar-powered bicycle path will be officially opened in the Netherlands next week. If successful, it could be applied to 20% of the country's roads in the future.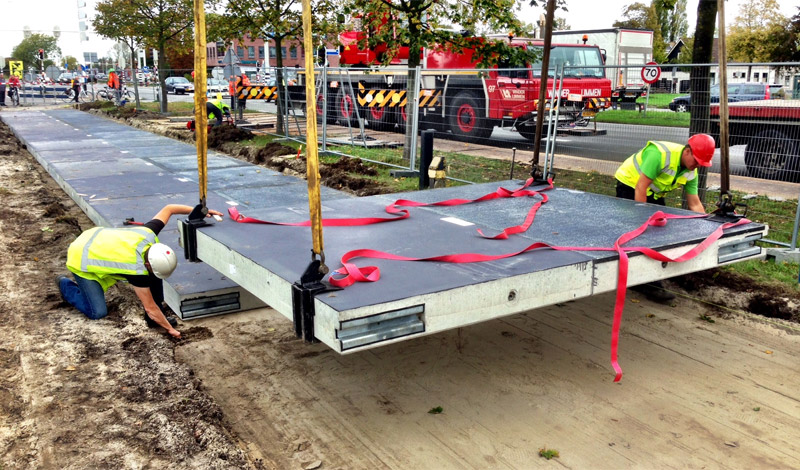 Developed by the Netherlands' TNO research institute, SolaRoad is the first road in the world that converts sunlight into electricity. The pilot project of just a hundred metres will be used as a bike path and consists of concrete modules each measuring 2.5 by 3.5 metres. Solar cells are fitted in one travelling direction underneath an extremely strong top layer of glass with a dirt and abrasion-resistant coating about 1 cm thick.
There are no solar cells on the other side of the road and this is used to test various top layers. In time, energy generated from the road will be used for practical applications in street lighting, traffic systems, electric cars (which will drive on the surface) and households. This first section of SolaRoad is located in Krommenie, along the provincial road N203, next to the Texaco garage on the railway track side (see Google Street View).
For a three-year period, various measurements will be taken and tests performed to enable SolaRoad to undergo further development. The tests must answer questions such as: How does it behave in practice? How much energy does it produce? What is it like to cycle over? In the run-up to the surface being laid, laboratory tests were conducted to ensure all safety and other requirements were met. The modules were found to successfully carry the weight of heavy vehicles such as tractors, though how they respond to longer term wear and tear remains to be seen.
A spokesperson for the project, Sten de Wit, claims that up to 20% of the Netherlands' 140,000 km (87,000 miles) of road could potentially be adapted. The pilot road will be officially opened on 12th November by Dutch Minister of Economic Affairs, Henk Kamp.
A similar concept – Solar Roadways – is being developed in the US, though its technical and financial viability seems to have come under a lot of criticism in the blogosphere and elsewhere. Perhaps this Dutch effort can prove to be more successful.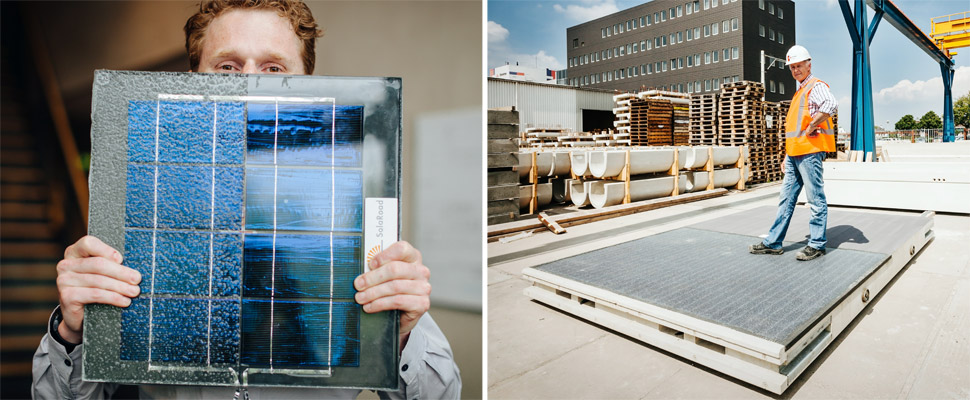 30th October 2014
China to invest £105 billion in UK infrastructure by 2025
According to a report published yesterday by global law firm Pinsent Masons and the Centre for Economics and Business Research, China is set to invest £105 billion (US$168 bn) into UK infrastructure by 2025.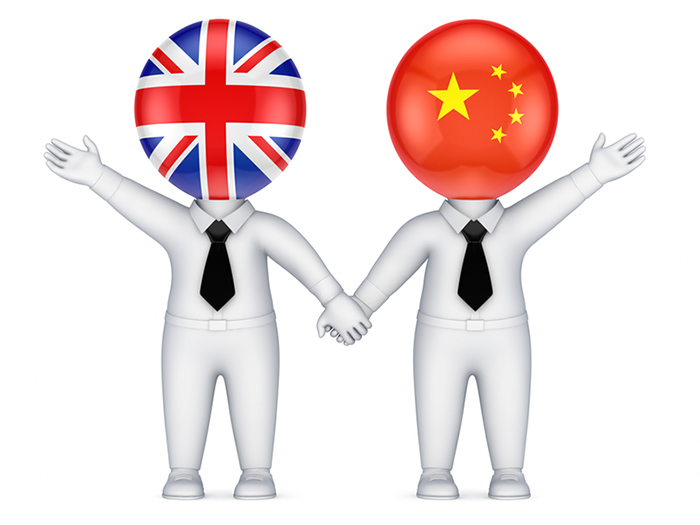 The report finds that of the £105 billion, the leading recipients will be the energy, real estate and transport sectors. The UK's energy sector will be the biggest target for Chinese capital, with investment in projects including nuclear, wind energy and solar power generation forecast to reach £43.5 billion (US$69.5 bn). The real estate and transport sectors could receive £36 billion (US$57.5 bn) and £19 billion (US$30 bn) respectively over the next decade.
Richard Laudy, head of infrastructure at Pinsent Masons: "As the need to modernise UK's major infrastructure gets greater by the day, the projected influx of Chinese investment into UK infrastructure is expected to be a welcome boost to the construction industry in particular and UK economy as a whole. As a foreign investor China is going to become increasingly important for UK infrastructure by 2025. This means UK-China partnerships need to grow over the next decade.
"Our report finds that this level of investment is going to be a game-changer for the UK infrastructure. Over the past few years, we have seen China's role as an investor evolve from making indirect investments through sovereign wealth funds – Chinese businesses are now becoming co-funders, co-developers and co-contractors in major UK infrastructure projects. We are already seeing this happen – for example, Beijing Construction Engineering Group making a major investment in Manchester Airport City."
UK and Chinese business leaders consulted for the report are already seeing a clear rise in the number of joint ventures between UK and Chinese firms, including one of the largest real estate developments in the UK – Royal Albert Docks in East London and the transformative developments at Nine Elms featuring one of the tallest residential skyscrapers in London.
Business leaders also believe that the energy sector will see a continued increase in Chinese investment in projects including offshore wind farms and other key renewable power networks. The report finds that this will pick up significant pace in the latter half of the forecast period.
As much as £19 billion will flow into transport such as roads, rail and airports. However – given the need to develop the current position in respect of policy on public ownership, planning policy and funding mechanisms – this investment is highly likely to come towards the end of the forecast period in the mid-2020s. Therefore, no immediate flow is expected into transport, according to the research.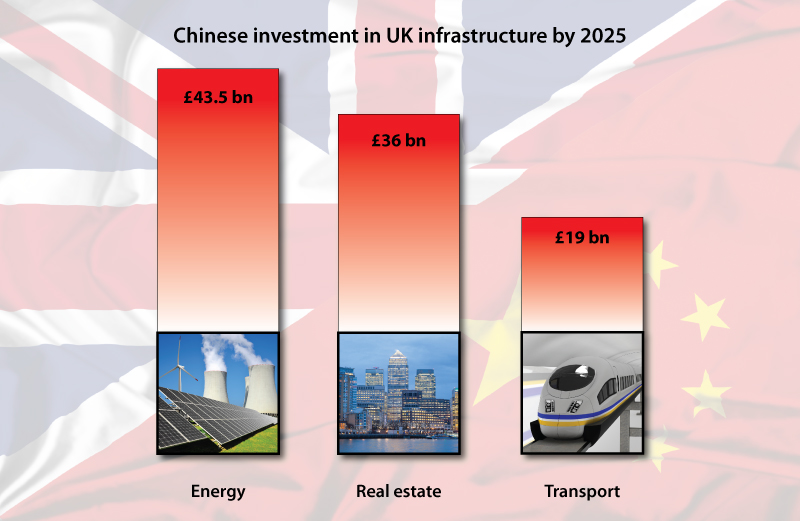 In addition to identifying the level of Chinese investment capital projected into UK infrastructure over the next ten years, the report expects China to use its vast domestic manufacturing capability and capacity to export equipment and materials for UK infrastructure and real estate projects where it is providing investment. This will change the landscape of the UK's infrastructure industry as China enters the supply chain over the next decade.
"Over the coming decade, we expect a significant increase in direct investment from the Chinese coming through in the shape of joint-ventures and strategic alliances," says Laudy. "Four out of five of the world's largest construction and engineering companies are now Chinese with a growing appetite for infrastructure investment and with the potential to invest vast amounts of capital in advanced economies in Europe.
"Entry by China into the UK market will create significant sector opportunities to provide expertise on how to operate in the UK market effectively – from labour market regulations, to the planning process and how to operate with the framework of EU regulations.
"However, with UK public finances still under pressure, uncertainty around government support for infrastructure is still a key concern for the infrastructure sector. If the UK wants to unlock Chinese investment to fill in the funding gap to modernise its aging infrastructure, the UK government will need to address issues around policy and further develop the pipeline for investment – delay and lack of clear commitment on policy will only create uncertainty for investors.
"Although, the flow of investment from China has already started, we expect this to be the beginning of a major trend, as a trickle of major Chinese investment turns into a wave over the coming decade."
The report – 'China Invests West: Can Chinese investment be a game-changer for UK infrastructure?' – can be viewed online or downloaded as a PDF.
Report highlights
Between 2014 and 2025, a total of £105 billion of Chinese money will flow into UK infrastructure and real estate investments, including a total of £43.5 billion into energy infrastructure, £19 billion into transport and other infrastructure, and £36 billion into real estate.
Joint ventures and strategic partnerships with China's massive construction and engineering corporations to play a catalytic role to make this reality, transforming UK construction sector
UK ranks third globally, out of 144 countries, in the Pinsent Masons and CEBR Infrastructure Investment Attractiveness Index
Chronic underinvestment has created an infrastructure need close to £500 billion in the UK, more than the £383 billion of projects set out in the UK's National Infrastructure Plan.
UK's strained public finances and pressured household incomes create problem of affordability for infrastructure
China's economy to become world's largest, approaching $30 trillion by 2030
Chinese savings to reach $12 trillion in coming decade, representing more than 30% of global savings
China to increasingly seek investments in advanced, innovative economies
4th October 2014
Elon Musk: Tesla 90% autonomous in 2015
In this interview with CNN Money, Elon Musk says that a Tesla car able to self-drive up to 90% of the time will be launched in 2015. The company will also reveal its next electric vehicle – the model "D" – on 9th October, according to a tweet.
8th August 2014
Air traffic growth will outpace carbon reduction efforts
Carbon reduction efforts by airlines will be outweighed by growth in air traffic, even if the most contentious mitigation measures are implemented, according to new research by the University of Southampton.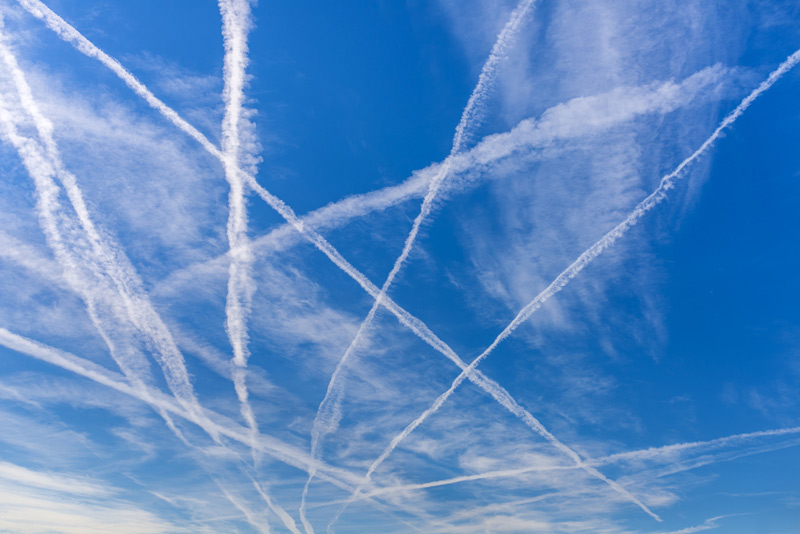 Even if proposed mitigation measures are agreed upon and put in place, air traffic growth rates are likely to outpace emission reductions, unless demand is substantially reduced.
"There is little doubt that increasing demand for air travel will continue for the foreseeable future," says Professor John Preston, travel expert and study co-author. "As a result, civil aviation is going to become an increasingly significant contributor to greenhouse gas emissions."

The authors of the new study – which is published in the journal Atmospheric Environment – have calculated that the ticket price increase necessary to drive down demand would value CO2 emissions at up to one hundred times the amount of current valuations.

"This would translate to a yearly 1.4 per cent increase on ticket prices, breaking the trend of increasing lower airfares," says co-author and researcher Matt Grote. "The price of domestic tickets has dropped by 1.3 per cent a year between 1979 and 2012, and international fares have fallen by 0.5 per cent per annum between 1990 and 2012."
However, the research suggests any move to suppress demand would be resisted by the airline industry and national governments. The researchers say a global regulator 'with teeth' is urgently needed to enforce CO2 emission reduction measures.
"Some mitigation measures can be left to the aviation sector to resolve," says Professor Ian Williams, Head of the Centre for Environmental Science at the University of Southampton. "For example, the industry will continue to seek improvements to fuel efficiency as this will reduce costs. However, other essential measures, such as securing international agreements, setting action plans, regulations and carbon standards will require political leadership at a global level."

The literature review conducted by the researchers suggests that the UN's International Civil Aviation Organisation (ICAO) "lacks the legal authority to force compliance and therefore is heavily reliant on voluntary cooperation and piecemeal agreements".

Current targets, set at the most recent ICAO Assembly Session last October, include a global average fuel-efficiency improvement of two per cent a year (up to 2050) and keeping global net CO2 emissions for international aviation at the same level from 2020. Global market based measures (MBM) have yet to be agreed upon, while Boeing predicts the number of aircraft in service to double between the years 2011 and 2031.
3rd August 2014
Tesla and Panasonic to build $5 billion "Gigafactory"
Tesla has reached an agreement with Panasonic to build a $5 billion "Gigafactory". This will produce more batteries than all other lithium-ion battery factories in the world combined, slashing costs by nearly one-third and boosting the adoption of electric vehicles.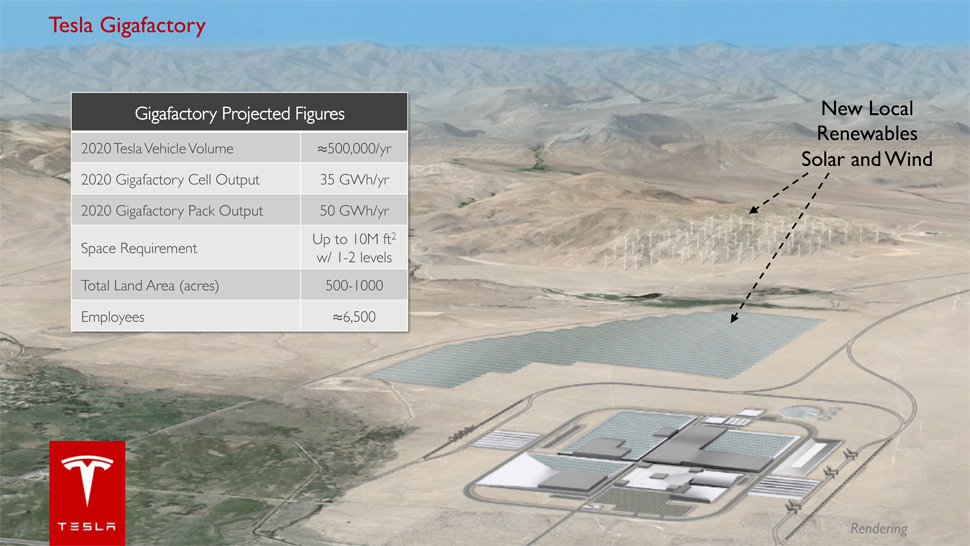 Tesla Motors and Panasonic had been in talks for several months over a massive new factory to produce electric car batteries. This week, they signed an agreement to build the $5 billion facility. Dubbed the "Gigafactory," its location is still unknown – but sites are being evaluated in Arizona, California, Nevada, New Mexico and Texas. Tesla will be responsible for the land, buildings and utilities, while Panasonic will handle the equipment, manufacturing and supply side, based on their mutual approval.
Ground-breaking is planned to begin later this year, and the first batteries are expected to roll off the assembly line in 2017. It is hoped that by 2020, 500,000 battery cells will be produced each year; 35 GWh worth of cells and 50 GWh worth of packs. These will be used to power Tesla's Model S and Model X cars, along with a cheaper Model 3 sedan being introduced in 2017. The Model 3 is expected to be around $35,000 – half the cost of a Model S.
According to the press release, cost reductions at the Gigafactory will be driven by economies of scale previously impossible in battery cell production. Further savings will be achieved by manufacturing cells that have been optimised for electric vehicle design – both in size and function – by co-locating suppliers on-site to eliminate packaging, transportation and duty costs and inventory carrying costs, and by manufacturing at a location with lower utility and operating expenses. As shown in the rendering above, localised solar and wind turbines will be used to power the facility.
Tesla co-founder and CEO, Elon Musk, says there will eventually be a need for "several more" of these Gigafactories. Other efforts by Tesla to boost electric cars have included its revolutionary supercharger network, offering free high-speed charges in less than an hour. There are now more than 100 of these stations operating in the United States, with many more planned, covering 98 percent of the population by the end of 2015. Networks are also being established in Europe and Asia. The company released its patents in June this year, to encourage the spread of its technology. Future historians will surely look back on Elon Musk favourably.
31st July 2014
UK government to allow driverless cars on roads from January 2015
Vince Cable, UK Business Secretary, has announced measures that give the green light for driverless cars on UK roads from January 2015.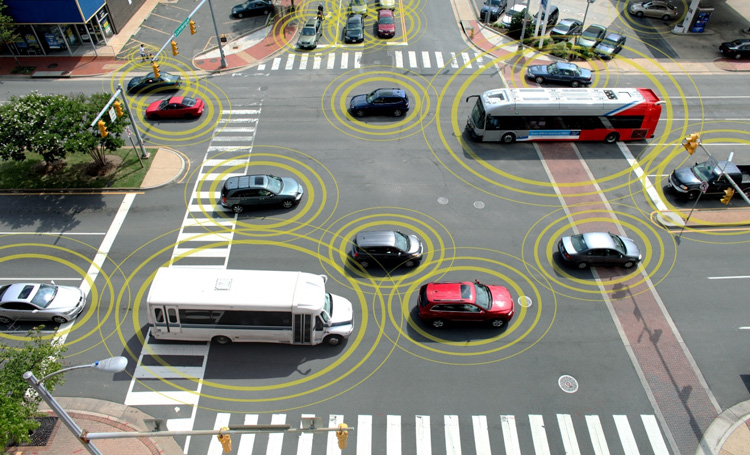 UK cities can now bid for a share of a £10 million (US$17m) competition to host a driverless cars trial. The government is calling on cities to join together with businesses and research organisations to put forward proposals to become a test location. Up to three cities will be selected to host the trials from next year, with each project expected to last between 18 and 36 months, starting in January 2015.
Ministers have also launched a review to look at current road regulations to establish how the UK can stay at the forefront of driverless car technology and ensure there is an appropriate regime for testing driverless cars in the UK. Two areas will be covered in the review: cars with a qualified driver who can take over control of the driverless car, and fully autonomous vehicles where there is no driver.
Speaking at MIRA – a vehicle engineering consultancy, test and research facility – where he tested a driverless car with Science Minister Greg Clark, Business Secretary Vince Cable said: "The excellence of our scientists and engineers has established the UK as a pioneer in the development of driverless vehicles through pilot projects. Today's announcement will see driverless cars take to our streets in less than six months, putting us at the forefront of this transformational technology and opening up new opportunities for our economy and society.
"Through the government's industrial strategy, we are backing the automotive sector as it goes from strength to strength. We are providing the right environment to give businesses the confidence to invest and create high skilled jobs."
Britain joins a growing number of countries planning to use this technology. Elsewhere in Europe, cities in Belgium, France and Italy intend to operate transport systems for driverless cars. In the USA, four states have passed laws permitting autonomous cars: Nevada, Florida, California, and Michigan. FutureTimeline.net predicts annual purchases of autonomous vehicles will reach almost 100 million worldwide by 2035. The benefits could be enormous, with drastic reductions in accident fatalities, traffic congestion and pollution.
15th July 2014
World's first climate-controlled city planned for Dubai
Dubai is already known for its luxury tourist experience, super-tall skyscrapers and extravagant megaprojects. Now developers have announced it will host the world's first temperature-controlled city – incorporating the largest mall, largest domed park, cultural theatres and wellness resorts. Known as the "Mall of the World", this gigantic $7bn project will encompass 50 million square feet of floorspace, taking 10 years to construct.
Intended as a year-round destination, its capacity will be large enough to accommodate 180 million visitors each year in 100 hotels and serviced apartment buildings. Glass-roofed streets, modelled on New York's Broadway and London's Oxford Street, will stretch for 7 km (4.6 miles). These will be air-conditioned in summer as temperatures soar above 40°C, but the mall and its glass dome will be open to the elements during cooler winter months. Cars will be redundant in this "integrated pedestrian city."
"The project will follow the green and environmentally friendly guidelines of the Smart Dubai model," explained Ahmad bin Byat, the chief executive of Dubai Holding. "It will be built using state-of-the-art technology to reduce energy consumption and carbon footprint, ensuring high levels of environmental sustainability and operational efficiency."
In response to concerns about another real estate bubble, he insisted there was demand for such a project: "The way things are growing I think we are barely coping with the demand ... tourism is growing in Dubai," he said in an interview with Reuters. "This is a long-term project and we are betting strongly on Dubai."
Speaking at the launch of the mall, Sheikh Mohammed said: "The growth in family and retail tourism underpins the need to enhance Dubai's tourism infrastructure as soon as possible. This project complements our plans to transform Dubai into a cultural, tourist and economic hub for the 2 billion people living in the region around us – and we are determined to achieve our vision."
Mall of the World is one of several hi-tech, futuristic cities that could set the standard for eco-city designs in the coming decades. Others include China's car-free "Great City" (planned to be finished by 2020) and the Masdar City arcology (due in 2025).
12th July 2014
Global building stock will expand by 24 percent
by 2023
Driven by accelerating urbanisation – particularly in the Asia Pacific region – the global building stock is expected to grow strongly over the next 10 years, putting further pressure on resource demands and the environment.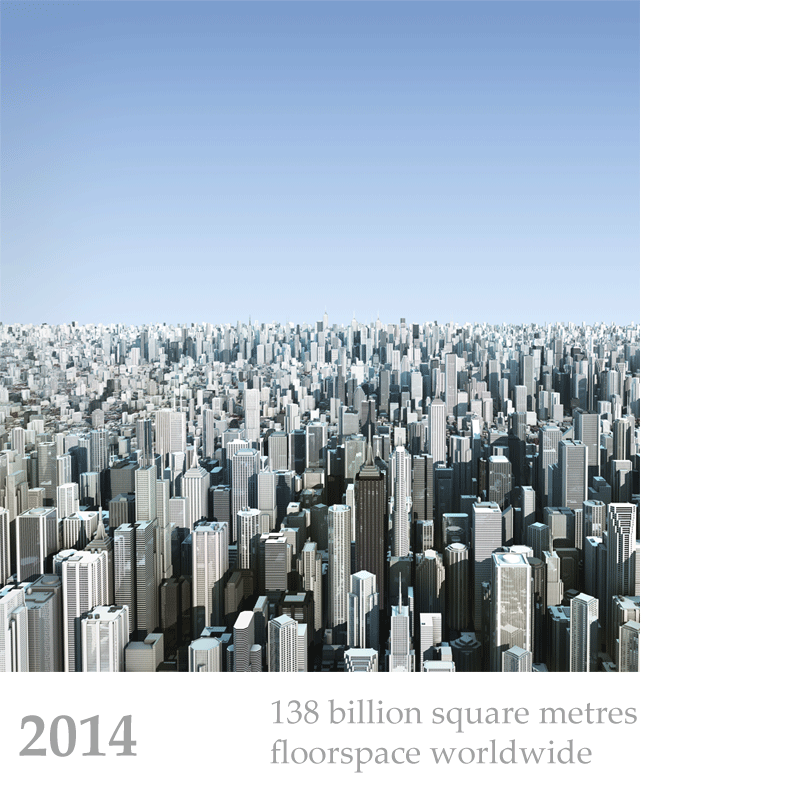 Construction markets, while still recovering from the 2009 recession, continue to add new commercial and residential floorspace to the world's buildings. According to a new report from Navigant Research, the global building stock will grow from 138 billion square metres today to over 171 billion by 2023 – an increase of 24 percent.
"Economic growth in developing countries like China and India is slowing, but remains robust, and the rising middle classes in these countries demand a higher quality of life, including improved working and living spaces," states Eric Bloom, lead research analyst. "The commercial and residential segments will experience compound annual growth rates over the next 10 years of 2.1 percent and 2.2 percent, respectively."
China's construction boom has fuelled extraordinary growth in that country's building stock, with nearly 2 billion square metres added every year. Although there is speculation today about the boom turning into a bubble, Navigant predicts growth continuing at a healthy rate of 4.2 percent annually. By 2023, China will have 58 billion square metres of building space – more than one-third of the world's total.
The report, "Global Building Stock Database", provides data on the size and growth of building stock from now to 2023, examining key drivers and trends covering eight commercial building types (office, retail, education, healthcare, hotels & restaurants, institutional/assembly, warehouse, and transport) and two residential building types (single-family detached and multi-unit residential). An Executive Summary is available on the Navigant website.
Commercial, residential, and industrial buildings are responsible for 47% of global greenhouse gas emissions and 49% of global energy consumption. Much of this energy is consumed needlessly and can be reduced through cost-effective measures. Thankfully, new and innovative technologies will soon become mainstream, such as LED lighting and smart grids. The "sprawl" effect of cities can also be reduced with self-sufficiency and taller skyscrapers.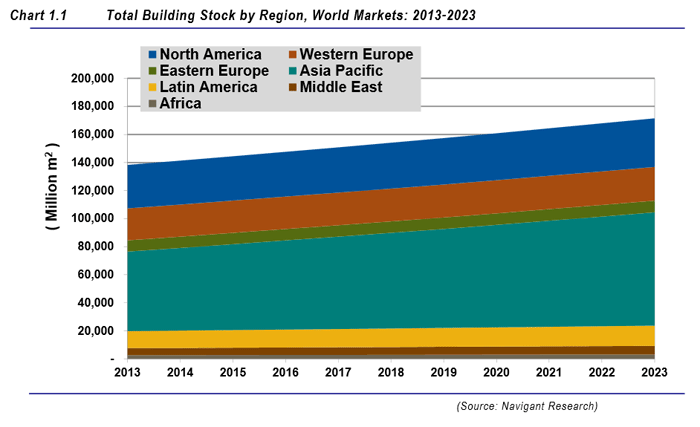 21st June 2014
Major victory for wildlife conservation in Africa as the Serengeti Highway is ruled unlawful
A highway cutting directly through the world famous Serengeti National Park has been ruled unlawful by the East African Court of Justice.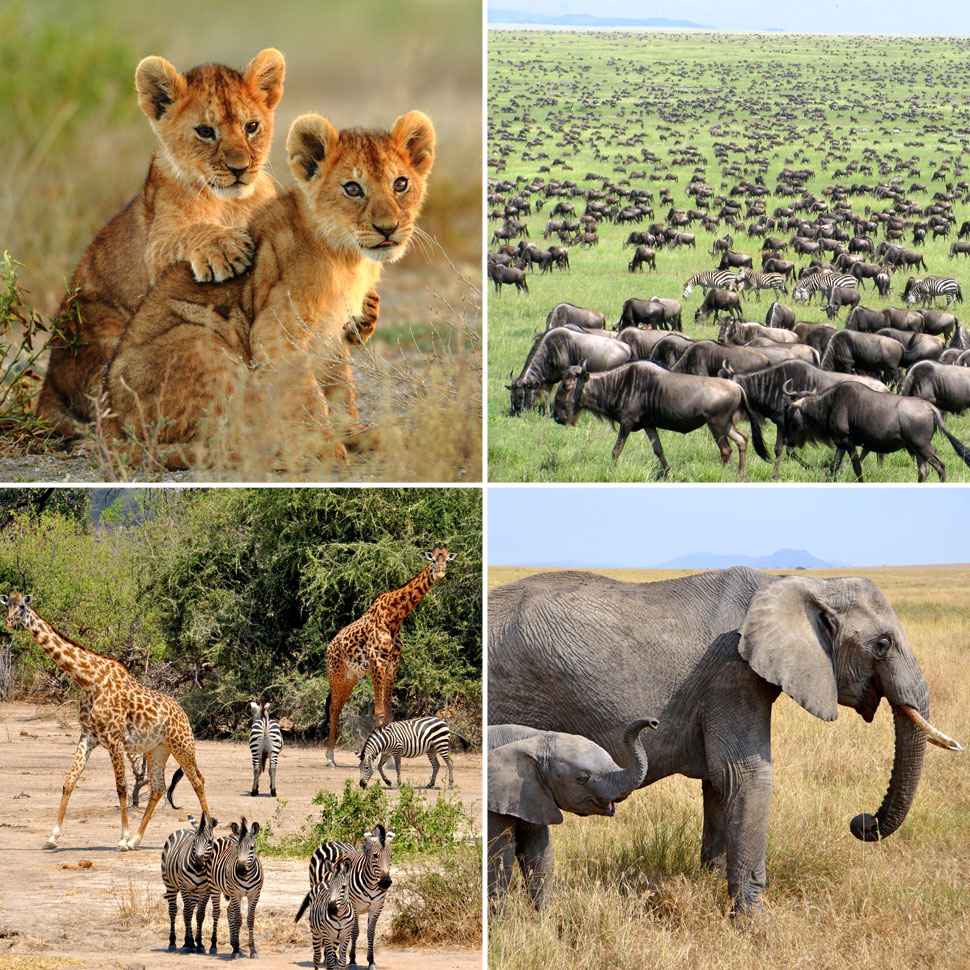 Long-time readers of this blog may remember an almost unbelievable story we reported in September 2012 about an asphalt highway planned to cut directly through the Serengeti National Park. This was proposed by the Tanzanian government to boost economic growth and improve transport links to neighbouring regions. The plans caused international outrage when first announced, with scientists warning of an "environmental disaster" that would severely degrade animal populations, diminish the quality of grazing, trigger more grass fires and turn the ecosystem into a net source of CO2.
While Tanzania's President Jakaya Kikwete vowed to proceed with the project, the African Network for Animal Welfare (ANAW) began a legal challenge. For months, the plans were in legal limbo and news remained sketchy. Yesterday, however, the East African Court of Justice (EACJ) – a treaty-based judicial body of the East African Community – ruled in favour of the Serengeti. It has officially banned the government of Tanzania from constructing a paved road across the northern Serengeti.
The ANAW, after winning its case, has issued the following statement: "In a milestone development, the East African Court of Justice has declared in its ruling today, 20th June 2014, that constructing a bitumen road across the world famous Serengeti National Park is unlawful. The Judges have restrained the Tanzanian Government from constructing the road. ANAW fully respects Tanzania's sovereignty and its need for national development. However, by taking up this matter, ANAW was in actual fact protecting a resource that would be of future benefit not only to Tanzanians or East Africans but also the entire humanity."
Josphat Ngonyo, Executive Director of ANAW, comments as follows: "This was not a win for ANAW, not for our lawyer, Saitabao Ole Kanchory, not for Serengeti Watch, not for our expert witness John Kuloba – but for the millions of animals in the Serengeti-Mara ecosystem. It is a win for nature and God's creation. Nature has won today. We send congratulatory messages to all our partners in Serengeti Watch and all who walked with us over the entire period that the case was in court."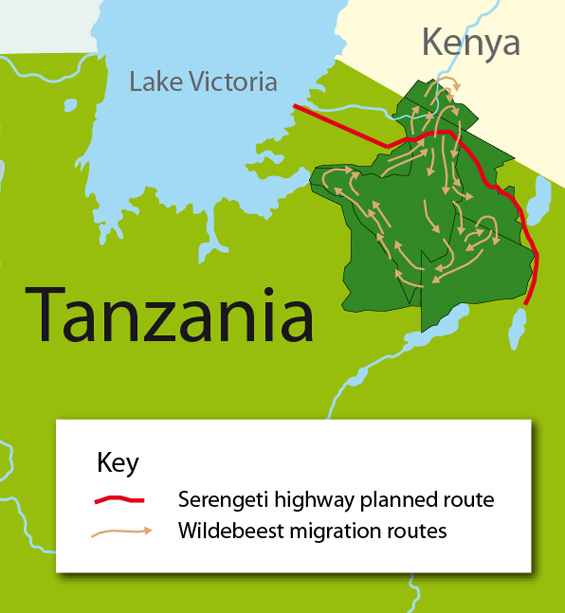 This news is a major victory for wildlife conservation. Sadly, the battle is not over yet. A longer term threat still exists, as reported by Serengeti Watch: "There are still plans for road construction in migration areas in the north, outside of the park boundary but well within the larger Serengeti ecosystem. While the court has barred Tanzania from building a paved road, the government still plans to upgrade the existing seasonal dirt track to gravel, even though it lies in a designated wilderness zone where public traffic is not allowed. There will be increased traffic and continued pressure to connect the paved roads with a commercial link through the park."
In addition, a pair of soda ash factories will be constructed in the Lake Natron area, bordering the Serengeti ecosystem. This is despite a new study showing that soda ash mining will wipe out almost the entire population of Africa's lesser flamingos and despite local opposition to it.
---
Meanwhile, two other developments causing major international concern right now are the dumping ground in the Great Barrier Reef and the oil drilling planned for Yasuni National Park. This week, UNESCO expressed alarm at the former, warning that the reef could be added to the World Heritage in Danger list at its next meeting in 2015.
"The world heritage committee has resisted intense pressure from the Australian and Queensland governments to water down its decision on the reef," said WWF campaigner Richard Leck. "Instead, the committee has put Australia firmly on notice to take stronger action to protect the Great Barrier Reef."
26th May 2014
Floating, self-sustaining city offers solution to overcrowding and ecological impacts
AT Design Office has unveiled its proposal for a hi-tech, floating metropolis. With self-sufficient energy, food and recycling systems, it could solve problems of overcrowding and environmental degradation on land.
As the world becomes ever more crowded, polluted and depleted of resources, there are often suggestions that we must explore space and colonise other planets to ensure our survival. However, perhaps we should look closer to home. Oceans cover more than 70% of the Earth's surface and represent a new, potentially massive opportunity for civilisation.
AT Design Office – a firm of architects and urban/interior/landscape designers – was commissioned by Chinese construction firm CCCC to investigate the possibility of self-sustaining, floating cities. They have now unveiled a proposal that is capable of housing many thousands of residents in a futuristic, hexagonal arrangement of modules with areas both above and below water.
This 10 km² (4 mi²) settlement would feature vertical farms and fish hatcheries to produce its own food, a garbage and recycling centre to sustainably handle waste, along with zero-carbon and energy efficient systems driven by tidal power. World class facilities would bring new opportunities for education, recreation, employment and business. According to AT, this would create a "vibrant, diverse and sustainable social and economic platform."
All living spaces in this floating city would have 360° views of the surrounding ocean scenery. Residents would enjoy close proximity to local facilities and public services, with fast and convenient transport provided in the form of electric vehicles and submarines, eliminating air pollution and congestion. Inhabitants could visit neighbouring cities or the mainland via submarines, cruise ships and ferries.
Trees and parks are designed to weave in a continuous public green belt, above and below water. The upper areas can provide public space usable for sports and recreation in a fresh air environment. A chimney in the central hub creates natural ventilation and lighting for the underwater sections and a gravity regulation system is located at the bottom.
While it may sound like science fiction, China Transport Investment Company is taking the project seriously and may begin a small-scale trial in 2015. Technologies featured in this design are already being used to build a 31 mile bridge connecting Hong Kong, Macau and Zhuhai. As the world adapts to rising sea levels, these types of amphibious settlements could be a fairly common sight by 2100.
28th April 2014
Nissan develops first 'self-cleaning' car prototype
Nissan has begun tests on innovative paint technology that repels mud, rain and everyday dirt, meaning that drivers may never have to clean their car again.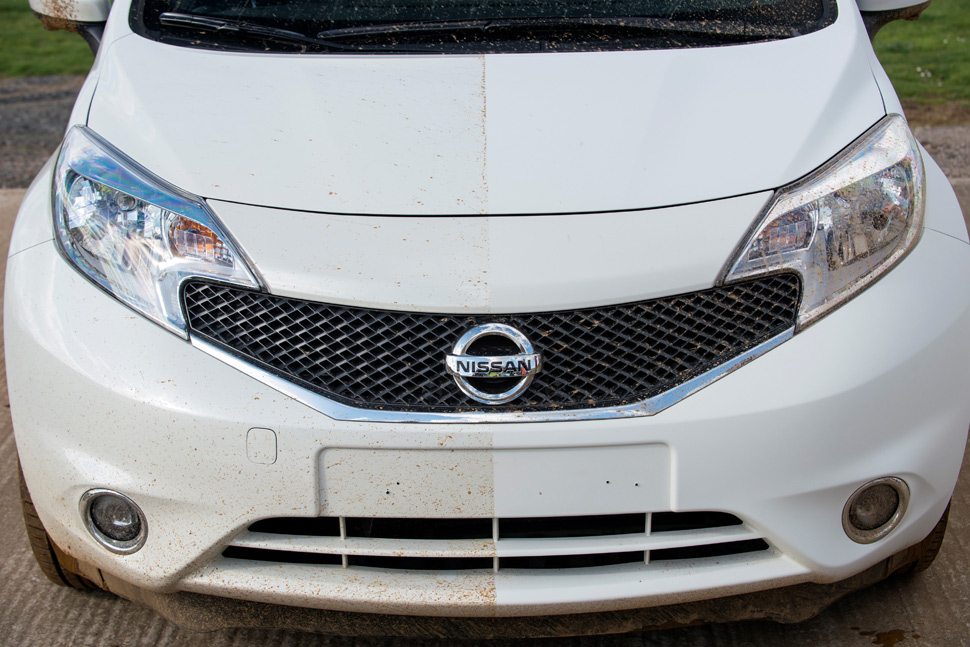 The specially engineered super-hydrophobic and oleophobic paint – which repels water and oils – has been applied to the all-new Nissan Note to create the world's first self-cleaning car.
To assess the real-world effectiveness of the super-hydrophobic as a potential aftermarket application, engineers at Nissan Technical Centre Europe will be testing the self-cleaning Note over the coming months in a variety of conditions.
Nissan is the first carmaker to apply the technology, called "Ultra-Ever Dry", on automotive bodywork. By creating a protective layer of air between the paint and environment, it effectively stops standing water and road spray from creating dirty marks on the car's surface.
It's not the first time 'self-cleaning' technology has been used on the Note. The car already features a 'wash and blow dry' function on its rear view camera. This uses water and compressed air to automatically keep the lens free of dirt and ensure the Notes' safety sensors work in all conditions.
So far, the coating, which is being marketed and sold by UltraTech International Inc, has responded well to common use cases including rain, spray, frost, sleet and standing water. Whilst there are currently no plans for the technology to be applied to the model as standard, Nissan will continue to consider the coating technology as a future option.
Geraldine Ingham, Chief Marketing Manager for Nissan Note, comments: "The Nissan Note has been carefully engineered to take the stress out of customer driving and Nissan's engineers are constantly thinking of new ways to make families' lives easier.
"We are committed to addressing everyday problems our customers face and will always consider testing exciting, cutting edge technology like this incredible coating application."
The all-new Nissan Note is already packed with innovative technology to make driving safer. Lane Departure Warning, Blind Spot Warning and Moving Object Detection combine to form the Nissan Safety Shield. This unique package is powered by 360° Around View Monitor technology which relies on the unique self-cleaning rear camera.