30th September 2016
NVIDIA and TomTom develop mapping system for self-driving cars
NVIDIA and TomTom (TOM2), the Dutch mapping and navigation group, have announced they are partnering to develop artificial intelligence to create a cloud-to-car mapping system for self-driving cars.
This research combines TomTom's extensive HD map coverage, which already spans more than 120,000 km of highways and freeways, with NVIDIA's DRIVE PX 2 computing platform. Together, the solution accelerates support for real-time in-vehicle localisation and mapping for driving on highways.
NVIDIA co-founder and CEO Jen-Hsun Huang announced the collaboration at the company's inaugural GTC Europe, a regional version of its annual GPU Technology Conference in Silicon Valley, now in its seventh year.
"Self-driving cars require a highly accurate HD mapping system that can generate an always up-to-date HD map in the cloud," said vice president and manager of Automotive at NVIDIA, Rob Csongor. "DRIVE PX 2 for AutoCruise provides TomTom with a real-time, in-vehicle source for HD map updates."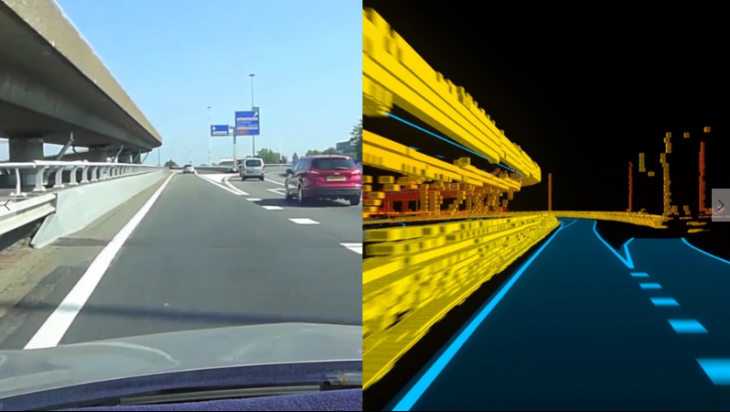 The NVIDIA DriveWorks software development kit now integrates support for TomTom's HD mapping environment. The open solution is available for all automakers and tier 1 suppliers developing autonomous vehicles.
"This collaboration is an important step for TomTom," said Willem Strijbosch, head of Autonomous Driving at TomTom. "Combining our highly accurate HD maps with NVIDIA's self-driving car platform will enable us to propose new features to automakers faster, and therefore to make autonomous driving a commercial reality sooner."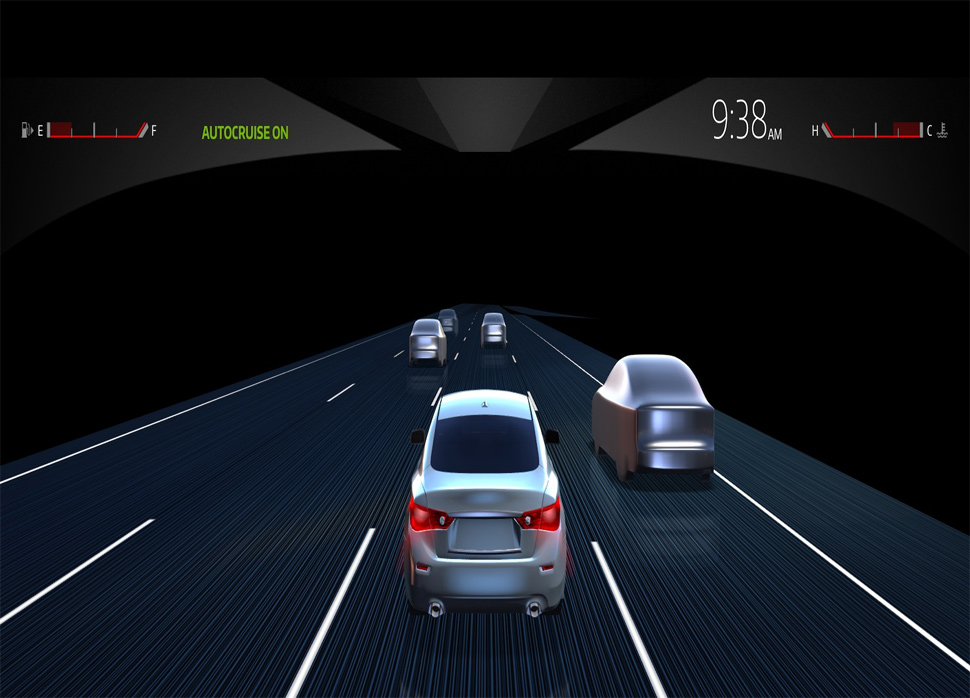 ---
• Follow us on Twitter
• Follow us on Facebook
26th August 2016
World's first commercial drone delivery service
Domino's Pizza Enterprises Limited has joined forces with a global leader in drone deliveries, Flirtey, to launch the first commercial drone delivery service in the world.
Domino's Pizza Enterprises Limited (Domino's) has joined forces with a global leader in drone deliveries, Flirtey to launch the first commercial drone delivery service in the world. The two companies exhibited the first stage of their partnership with a demonstration of pizza delivery by drone yesterday in Auckland, New Zealand. The successful demonstration was also attended by the Civil Aviation Authority (CAA) and Minister of Transport Simon Bridges.
The test was conducted under Civil Aviation Rules Part 101 and marks a final step in Flirtey's approval process – following which, the partnership will aim to connect people with pizza via CAA-approved trial store-to-door drone deliveries from a selected Domino's New Zealand store with flights to customer homes later this year.
New Zealand was selected as the launch market given that its current regulations allow for businesses to embrace unmanned aircraft opportunities, which enable the gradual testing of new and innovative technologies. Domino's Group CEO and Managing Director, Don Meij said the company's growth in recent years had led to a significant increase in the number of deliveries and that Domino's is constantly looking for innovative and futuristic ways to improve its service.
"With the increased number of deliveries we make each year, we were faced with the challenge of ensuring our delivery times continue to decrease and that we strive to offer our customers new and progressive ways of ordering from us," he said. "Research into different delivery methods led us to Flirtey. Their success within the airborne delivery space has been impressive and it's something we have wanted to offer our customers."
The use of drones as a delivery method is designed to work alongside Domino's current delivery fleet and will be fully integrated into online ordering and GPS systems.
"Domino's is all about providing customers with choice and making customer's lives easier. Adding innovation such as drone deliveries means customers can experience cutting-edge technology and the convenience of having their Supreme pizza delivered via air to their door. This is the future. We have invested heavily to provide our stores with different delivery fleet options – such as electric scooters, e-bikes and even the Domino's Robotic Unit - DRU that we launched earlier this year.
"We've always said that it doesn't make sense to have a 2-tonne machine delivering a 2-kilogram order. DRU DRONE is the next stage of the company's expansion into the artificial intelligence space and gives us the ability to learn and adopt new technologies in the business."
The Flirtey delivery drone is constructed from carbon fibre, aluminium and 3D printed components. It is a lightweight, autonomous and electrically driven unmanned aerial vehicle. It lowers its cargo via tether and has built-in safety features such as low battery return to safe location and auto-return home in case of low GPS signal or communication loss.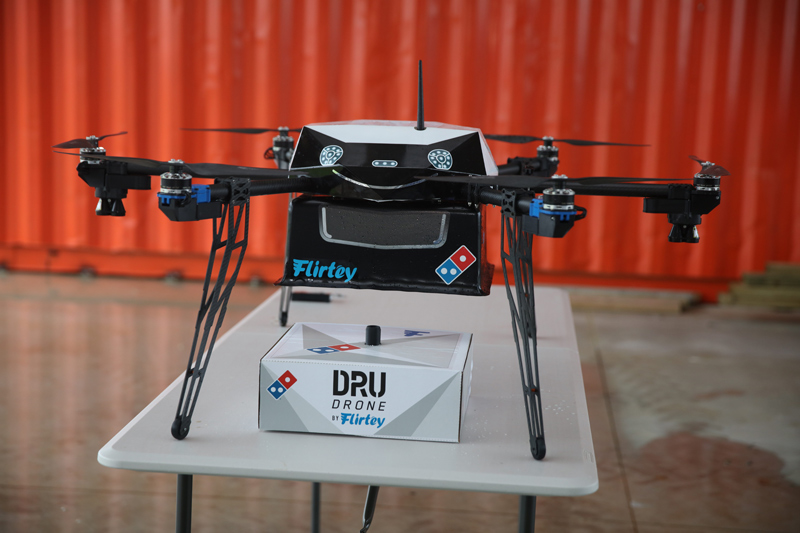 The reach that a drone offers is greater than other current options which are restricted by traffic, roads and distance. Domino's will look to the results of the trial to determine where drones are implemented further.
"What drones allow us to do is to extend that delivery area by removing barriers such as traffic and access, as well as offering a much faster, safer delivery option, which means we can deliver further afield than we currently do to our rural customers while reaching our urban customers in a much more efficient time."
The trial flights are set to commence later this year following the beginning of daylight savings in New Zealand. Domino's will offer Drone Delivery Specials at the launch of the trial with plans to extend the dimensions, weight and distance of deliveries, based on results and customer feedback.
"These trial deliveries will help provide the insight we need to extend the weight carried by the drone and distance travelled," said Meij. "It is this insight that we hope will lead to being able to consider a drone delivery option for the majority of our orders. We are planning a phased trial approach which is based on the CAA granting approval, as both Domino's and Flirtey are learning what is possible with the drone delivery for our products – but this isn't a pie in the sky idea. It's about working with the regulators and Flirtey to make this a reality."
Flirtey CEO Matt Sweeny said: "Launching the first commercial drone delivery service in the world is a landmark achievement for Flirtey and Domino's, heralding a new frontier of on-demand delivery for customers across New Zealand and around the globe. New Zealand has the most forward-thinking aviation regulations in the world, and with our new partnership, we are uniquely positioned to bring the same revolutionary drone delivery service to customers globally. We are getting closer to the time where you can push a button on your smartphone and have Domino's delivered by drone to your home."
Domino's is looking at opportunities for drone delivery trials in its six other markets – Australia, Belgium, France, The Netherlands, Japan and Germany.
---
• Follow us on Twitter
• Follow us on Facebook
25th August 2016
World's first public trial of self-driving taxi
A company in Singapore is conducting the world's first public trial of a self-driving taxi. If successful, the service will be launched in 2018.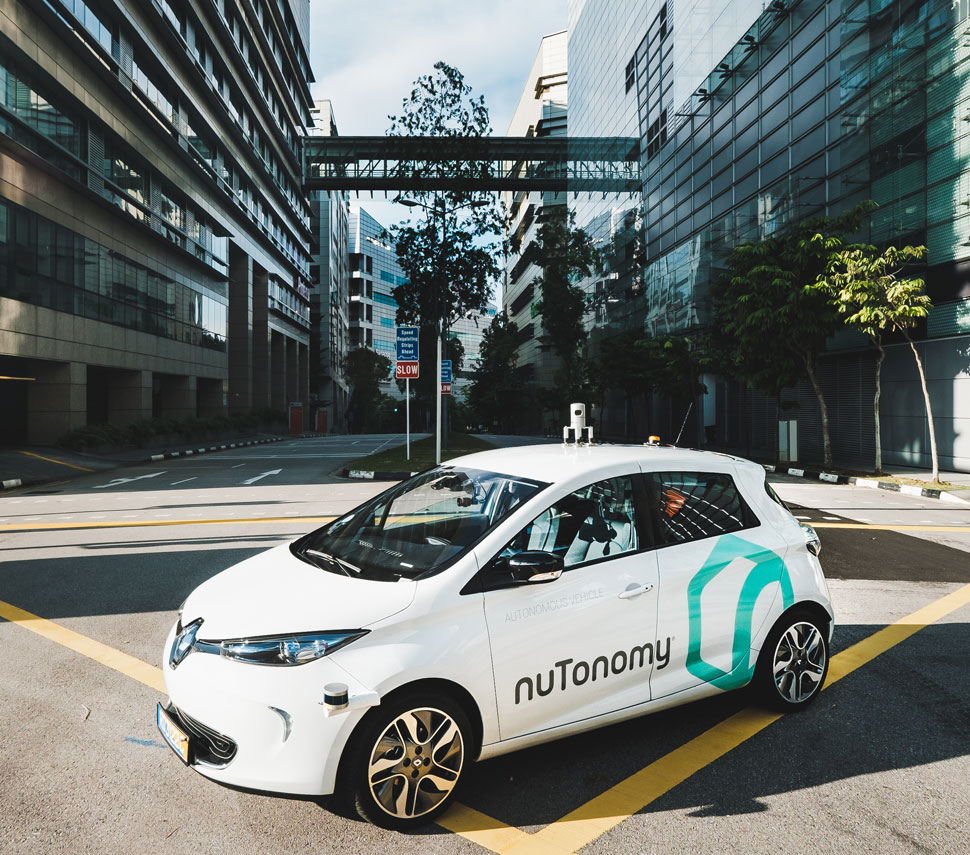 nuTonomy, a company developing state-of-the art software for self-driving cars, today launched the first-ever public trial of a robo-taxi service. The trial, which will continue on an on-going basis, is being held within Singapore's "one-north", a 2.5-square-mile business district where nuTonomy has been conducting daily autonomous vehicle (AV) testing since April.
Beginning today, select Singapore residents will be invited to use nuTonomy's ride-hailing smartphone app to book a no-cost ride in a nuTonomy self-driving car that employs the company's sophisticated software, which has been integrated with high-performance sensing and computing components. Rides will be provided in a Renault Zoe or Mitsubishi i-MiEV electric vehicle that nuTonomy has specially configured for autonomous driving. An engineer will ride in the vehicle to observe system performance and assume control if needed to ensure passenger comfort and safety.
Throughout the trial, nuTonomy will collect and evaluate valuable data related to software system performance, vehicle routing efficiency, the vehicle booking process, and the overall passenger experience. This data will enable nuTonomy to refine its software in preparation for the launch of a widely-available commercial robo-taxi service in Singapore from 2018.
Earlier this month, nuTonomy was selected by the Singapore Land Transport Authority (LTA) as an R&D partner, to support the development of a commercial AV service in Singapore. This trial represents the first, rapid result of that partnership. nuTonomy is the first, and to date only, private enterprise approved by the Singapore government to test AVs on public roads.
CEO and co-founder of nuTonomy, Karl Iagnemma, said: "nuTonomy's first-in-the-world public trial is a direct reflection of the level of maturity that we have achieved with our AV software system. The trial represents an extraordinary opportunity to collect feedback from riders in a real-world setting, and this feedback will give nuTonomy a unique advantage as we work toward deployment of a self-driving vehicle fleet in 2018."
Autonomous taxis could eventually reduce the number of cars on Singapore's roads from 900,000 to 300,000, according to Doug Parker, the firm's chief operating officer: "When you are able to take that many cars off the road, it creates a lot of possibilities. You can create smaller roads, you can create much smaller car parks. I think it will change how people interact with the city going forward."
In May of this year, nuTonomy completed a $16m Series A funding led by Highland Capital Partners that included participation from Fontinalis Partners, Signal Ventures, Samsung Ventures, and EDBI, the dedicated corporate investment arm of the Singapore Economic Development Board.
In addition to Singapore, nuTonomy is operating self-driving cars in Michigan and the United Kingdom, where it tests software in partnership with major automotive manufacturers such as Jaguar Land Rover.
---
• Follow us on Twitter
• Follow us on Facebook
27th July 2016
The first solar-powered aircraft to circumnavigate the Earth
Solar Impulse 2 has become the first solar-powered aircraft to circumnavigate the Earth – a journey of 43,000 kilometres (26,700 miles) – proving that clean technologies can achieve the impossible.
Taking turns at the controls of Solar Impulse 2 (Si2) – their zero-emission electric and solar airplane, capable of flying through day and night without fuel – Bertrand Piccard and André Borschberg have succeeded in their crazy dream of achieving the first ever round-the-world solar flight. By landing back in Abu Dhabi after 23 days of flight and 43,041 km travelled in a 17 leg journey, Si2 has proven that clean technologies can achieve the impossible.
Coming from Egypt, the aircraft landed back in Abu Dhabi yesterday morning at 4:05am local time (UTC+4) completing the final leg of an endeavour that began on 9th March 2015 when Si2 set off from Abu Dhabi with André Borschberg at the controls. Taking turns in the single-seater cockpit, Piccard and Borschberg flew across Asia, the Pacific Ocean, the USA, the Atlantic Ocean, the Mediterranean and the Middle East. A total of 19 world records were set or are still pending by the World Air Sports Federation (FAI). Of particular note were Borschberg's flying five consecutive days and nights over the Pacific from Japan to Hawaii in the longest duration a solo airplane of any kind has ever flown, and when Piccard achieved the historic first crossing of the Atlantic Ocean in a solar airplane.
For the two Swiss pioneers, it's the accomplishment of a dream that was considered impossible by many experts and demonstrates that clean energies and efficient technologies offer tangible solutions for sustainable air travel.
Bertrand Piccard had the vision of an airplane of perpetual endurance after his non-stop round the world balloon flight in 1999, when he made the promise to circumnavigate the Earth again, but this time without any fuel. In 2004, he began bringing together partners who provided funds and technology for this adventure and partnered with André Borschberg. An entrepreneur and skilled aviator, Borschberg took on the technical challenge of developing the solar airplane and making it fly. More than taking turns at the controls of Si2 in the air, the first ever round-the-world solar flight is also a tandem achievement on the ground: while Piccard developed the project outreach to promote clean technologies, Borschberg pulled together the team that designed and constructed Si2 as well as organised the flight missions.
"This is not only a first in the history of aviation – it's before all, a first in the history of energy. I'm sure that within 10 years, we'll see electric airplanes transporting 50 passengers on short to medium haul flights." said Piccard, addressing the crowds after exiting the cockpit of Si2. "But it's not enough. The same clean technologies used on Solar Impulse could be implemented on the ground, in our daily life."
"Flying one leg with a completely new type of airplane is difficult enough, but flying around the world is a real challenge," said his partner Borschberg. "More than a demonstration, it's the confirmation that these technologies are truly dependable and reliable. There is so much potential for the aeronautical world: while one hundred percent solar powered airplanes might take longer to materialise, electric planes will develop in the near future because of their tremendous advantages, such as energy efficiency."
UN Secretary-General Ban Ki-moon spoke to Bertrand Piccard, live from the Si2 cockpit, a few hours before the landing in Abu Dhabi: "Solar Impulse has flown more than 40,000 kilometres without fuel, but with an inexhaustible supply of energy and inspiration. This is a historic day for Captain Piccard and the Solar Impulse team, but it is also a historic day for humanity," said the UN leader. "You may be ending your around the world flight today – but the journey to a more sustainable world is just beginning. The Solar Impulse team is helping to pilot us to that future."
Looking forward, Bertrand Piccard and André Borschberg will continue to actively promote the use of modern clean technologies as a way to improve the quality of life on Earth. Firstly, through the already announced creation of the International Committee for Clean Technologies that will build on the #futureisclean initiative to bring independent and credible guidance on energy policy to governments and businesses. Secondly, by carrying on the work initiated by the engineering team on unmanned and high endurance electric aircrafts, which could fly at high altitude for months – offering services with exponential added value and complementing the work done by satellites today, in a flexible and sustainable way.
"Solar Impulse is very well positioned to contribute to the next generations of manned or unmanned electric aircrafts. By capitalising on the engineering skills and expertise gained over the past decade, we will continue to work to encourage concrete innovations and disruptive solutions," said Borschberg.
"We are pleased to welcome back Bertrand Piccard and Andre Borschberg after their outstanding success in circumnavigating the world using only the power of the Sun," said Sultan Ahmed Al Jaber, minister of state in the United Arab Emirates and chairman of Masdar, a company located in Abu Dhabi and specialising in clean technology, renewable energy, and sustainable development.
"As a leader in developing innovative renewable energy projects and technologies, Masdar is committed to supporting groundbreaking initiatives like Solar Impulse which will inspire and deliver a more sustainable future. Solar Impulse has proven just how practical the application of solar energy can be. It will also provide valuable data that will lead to critical improvements in two key areas, energy storage and efficiency. Masdar is truly excited about the endless possibilities of solar energy and we will be part of taking such technologies to the next level," Dr. Al Jaber concluded.
As stated in Bertrand Piccard's manifesto for clean technologies written in 2004, Solar Impulse's ambition is "for the worlds of exploration and innovation to make a contribution to the cause of renewable energies; to demonstrate the importance of clean technologies for sustainable development; and to place dreams and emotions back at the heart of scientific adventure." There is still much to be done to make the world we live in more energy efficient, but through innovation and pioneering spirit, the first ever round-the-world solar flight is credible proof that change is possible and that there is reason to hope for a more sustainable world.
---
• Follow us on Twitter
• Follow us on Facebook