7th March 2014
World's tallest vertical garden will rise to 46 storeys
With self-sustaining gardens, this new eco-friendly skyscraper in Sri Lanka will give residents a sensation of ground-level living. The 46-storey tower is planned for completion in 2016.
Pictured here is Clear Point Residences, a new high-rise apartment complex in Kotte, Sri Lanka. The $100 million project – the first of its kind in the country – features an innovative design that is highly sustainable. This includes solar panels for electricity generation, planted facades, automated drip irrigation and water recycling systems.
These self-sustaining gardens provide cool and shady terraces, ensuring that no windows are exposed to direct sunlight, which therefore reduces the need for air conditioning units. They offer enhanced privacy and a tranquil environment that absorbs CO2, air and noise pollution. All of the apartments are cross-ventilated to provide further cooling. In addition to lowering energy consumption, the utility systems cut water usage from the grid by 45% – thanks to harvested rainwater, recycled bathroom water and on-site sewage treatment. Moreover, steps have been taken to allow the building to evolve in time with necessary additions from advancements in technology.
As designer Milroy Perera states: "Ultimately, the aim is to create a living space where you can not only feel at one with the environment, but actively contribute towards safeguarding and sustainable use of its resources. We are working very closely with our contractors Maga Engineering to enable the first self-sustaining building in Sri Lanka. The main focus of the apartment will be to provide an atmosphere and sentiment of ground-level living."
The 186 m (610 ft) structure will consist of 164 three bedroom apartments, four apartments per level, each of 2,300 ft2 with all internal spaces opening into planted terraces. The apartments are designed in a sleek and sophisticated manner. Construction of the tower is now underway and due for completion in early 2016, at which point it will become the world's tallest vertical garden – surpassing the 33-storey, 117 m (384 ft) One Central Park in Sydney, Australia. Given the environmental challenges the world faces, eco-towers like these could be fairly commonplace by 2050.
19th February 2014
Supersonic jet will use hi-tech displays instead of windows
Spike Aerospace – designers of the world's first private supersonic jet – have just announced another innovation in aircraft design they plan to incorporate into their jet.

The S-512 Supersonic Jet will feature a revolutionary windowless passenger cabin, to prevent sun glare and negate the need for shades to be pulled down or pushed up. Instead, the interior walls will be covered by thin display screens embedded into the wall. Cameras surrounding the entire aircraft will construct breathtaking panoramic views displayed on these cabin screens. Passengers will be able to dim the screens to catch some sleep, or change them to one of the many scenic images stored in the system.
There are important reasons for removing the windows from the cabin. It has long been known that windows cause significant challenges in designing and constructing an aircraft fuselage. They require addition structural support, add to the parts count and add weight to the aircraft. But until recently, it has not been possible to do without them.
With the micro-cameras and flat displays now available, Spike Aerospace can eliminate these structural issues and reduce the aircraft weight. In addition, the very smooth exterior skin will reduce the drag normally caused by having windows.
The S-512 already incorporates the latest technologies including composite materials, advanced avionics and a hi-tech propulsion system. The interior design and windowless cabin is one more innovation that it will feature. The aircraft is scheduled for commercial launch in 2018.
4th January 2014
Ford unveils a solar-powered hybrid car
Ford Motor Company has announced the C-MAX Solar Energi Concept, a first-of-its-kind Sun-powered car with potential to deliver the best of what a plug-in hybrid offers – without depending on the electric grid for fuel.
Instead of powering its battery from an electrical outlet, the C-MAX Solar Energi harnesses power from the Sun by using a special concentrator that acts like a magnifying glass – directing intense rays to panels on the vehicle roof.
The result is a concept vehicle that takes a day's worth of sunlight to deliver the same performance as the conventional C-MAX Energi plug-in hybrid, which draws its power from the electric grid. Ford C-MAX Energi gets a combined best miles per gallon equivalent in its class, with 108 MPGe city and 92 MPGe highway, for a combined average 100 MPGe. By using renewable power, it reduces the annual greenhouse gas emissions a typical owner would produce by four metric tons.
"Ford C-MAX Solar Energi Concept shines a new light on electric transportation and renewable energy," said Mike Tinskey, Ford global director of vehicle electrification and infrastructure. "As an innovation leader, we want to further the public dialog about the art of the possible in moving the world toward a cleaner future."
C-MAX Solar Energi Concept, which will be shown at the 2014 Consumer Electronics Show (CES) in Las Vegas, is a collaborative project of Ford, SunPower Corp and the Georgia Institute of Technology.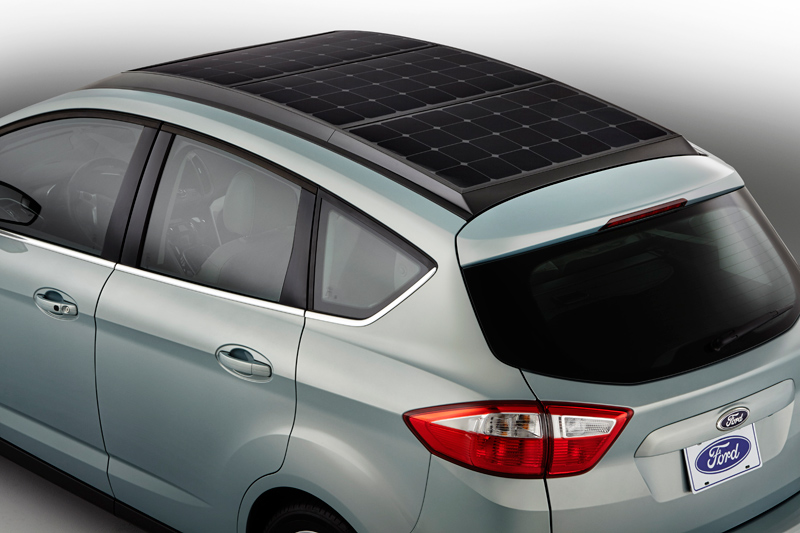 Strong electrified vehicle sales
The C-MAX Solar Energi Concept debuts as Ford caps a record year of electrified vehicle sales. The company expects to sell 85,000 hybrids, plug-in hybrids and all-electric vehicles for 2013 – the first full year its six new electrified vehicles were available in dealer showrooms.
Ford sold more plug-in vehicles in October and November than both Toyota and Tesla, and it outsold Toyota through the first 11 months of 2013. Plug-in hybrids continue to grow in sales as more customers discover the benefits of using electricity to extend their driving range.
Breakthrough clean technology

SunPower, which has been Ford's solar technology partner since 2011, is providing high-efficiency solar cells for the roof of this concept car. Because of the extended time it takes to absorb enough energy to fully charge, Ford turned to the Georgia Institute of Technology for a way to amplify sunlight, to make a solar-powered hybrid feasible for daily use.
Researchers developed an off-vehicle solar concentrator (pictured below) with a special Fresnel lens to direct sunlight to the solar cells while boosting the impact of sunlight by a factor of eight. A Fresnel is a compact lens originally developed for use in lighthouses. Similar in concept to a magnifying glass, this patent-pending system tracks the Sun as it moves from east to west, drawing enough power each day to equal a four-hour battery charge (8 kilowatts).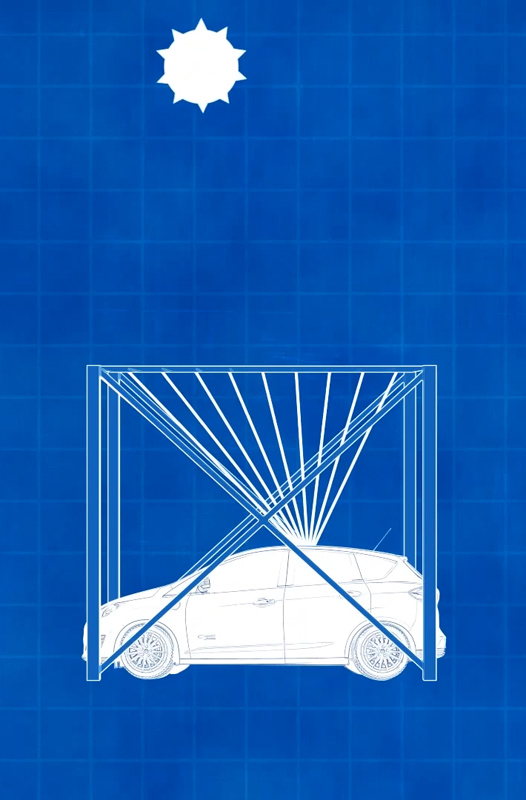 With a full charge, the C-MAX Solar Energi Concept will achieve the same range as a conventional C-MAX Energi hybrid – up to 620 miles, including 21 electric-only miles. Additionally, the vehicle still has a charge port, and can be charged by connecting to a station via cord and plug, so that drivers retain the option to power up via the grid, if desired.

After the C-MAX Solar Energi Concept is shown at CES, Ford and Georgia Tech will begin testing the vehicle in numerous real-world scenarios. The outcome of those tests will help to determine if the concept is feasible as a production car.

Off-the-grid car

By tapping renewable solar energy with a rooftop solar panel system, the C-MAX Solar Energi Concept is not dependent on the traditional electric grid for its battery power. Research by Ford suggests the Sun could power up to 75 percent of all trips made by an average driver in a solar hybrid car. This could be especially important in places where the electric grid is underdeveloped, unreliable or expensive to use.
The vehicle also reinforces MyEnergi Lifestyle, a concept revealed by Ford and several partners at 2013 CES. MyEnergi Lifestyle uses math, science and computer modelling to help homeowners understand how they can take advantage of energy-efficient home appliances, solar power systems and plug-in hybrid vehicles to significantly reduce monthly expenses while also reducing their overall carbon footprint.

The positive environmental impact from Ford C-MAX Solar Energi could be significant. It would reduce yearly CO2 and other greenhouse gas emissions from the average U.S. car owner by as much as four metric tons – the equivalent of what a U.S. house produces in four months.

If all light-duty vehicles in the United States were to adopt Ford C-MAX Solar Energi Concept technology, annual greenhouse gas emissions could be reduced by approximately 1 billion metric tons.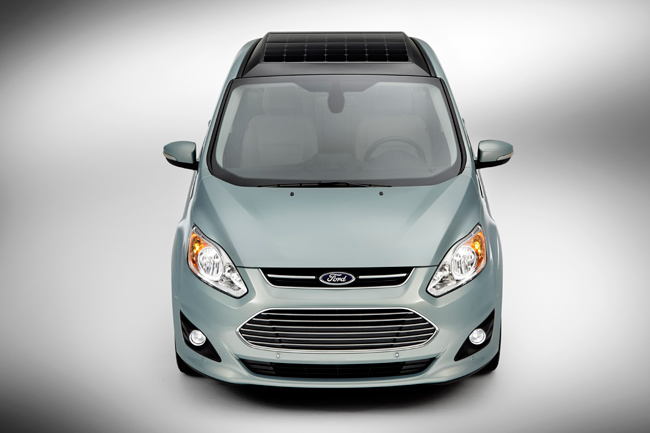 27th December 2013
London's first pure electric buses
Transport for London (TfL) and operator Go-Ahead London have begun a trial of the first 100% electric buses in the UK capital.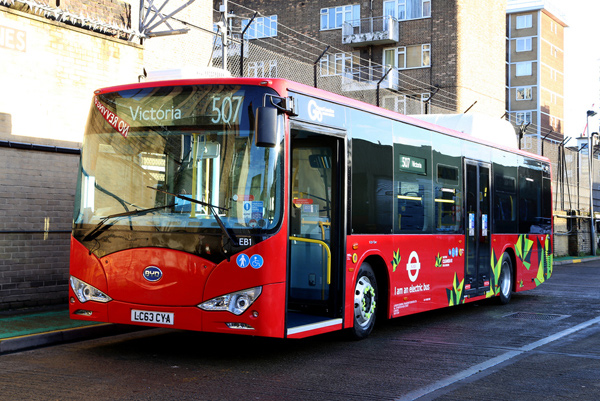 Two electric buses, built by Chinese manufacturer BYD Auto, were handed over in a ceremony involving the Mayor of London's Environment spokesman, operator Go-Ahead and BYD. The buses will operate on two central London routes – numbers 507 and 521 – the first in the city to be serviced by fully electric, emissions-free buses.
The 12 metre BYD ebus has already been tested worldwide in major global cities, including in Europe: Paris, Bremen, Bonn, Madrid, Barcelona, Salzburg, Warsaw, Amsterdam, Brussels and Budapest. These trials have demonstrated a range that comfortably exceeds 250 kilometres (156 miles) on a single charge in real world urban conditions – sufficient to operate for a full day without the need to recharge. This performance has also been proven in China, where 220 ebuses have been running in the southern city of Shenzhen since January 2011, covering a total of 13 million miles (21 million km).
While the vehicles offer environmental and health benefits, they also provide major cost savings. Energy consumption is around 130kWh/100 km in urban conditions. The battery takes 4-5 hours to recharge from totally exhausted at a cost of only £19.44 (US$32.14) using off-peak electricity (the buses will be recharged at night). This represents a fuel cost saving of up to 75% compared to a diesel bus.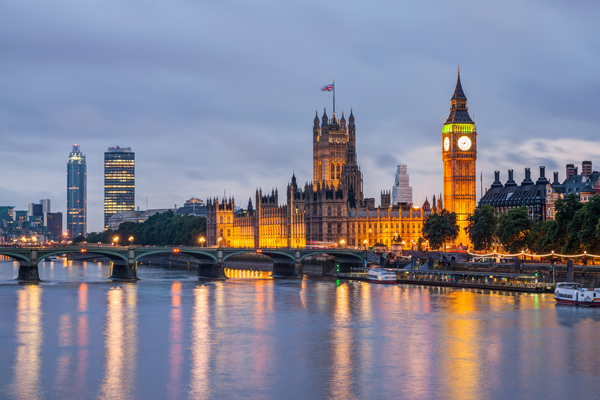 These trials will help TfL develop plans for greater use of electric buses in the future, supporting the Mayor's vision for an Ultra Low Emission Zone. In addition to the pair of buses in this test run, another six electric buses will be introduced into the fleet during early 2014.
London has recently come under fire over its air quality. Nitrogen dioxide (NO2) exceeds the recommended EU levels by over 50% in some areas, with the East End having the worst traffic pollution in Britain. This is a particular problem for the oldest and youngest members of society, who are more vulnerable to respiratory and heart diseases. It is estimated that more than 4,000 people die from air pollution each year in London.
Isbrand Ho, Managing Director of BYD Europe: "We are convinced that widespread adoption of the BYD ebus could have a dramatic effect on lowering pollution levels in major cities, so this development in London – one of the world's top cities – is of tremendous importance. We look forward to a long and positive relationship with TfL and Go-Ahead."
Hybrid buses (i.e. combining electric and petrol-driven motors) already feature heavily in London with 600 now operating, Europe's largest hybrid bus fleet. By 2016, that number will almost triple to more than 1,700 – representing 20 per cent of London's total bus fleet, which carries more than six million passengers each weekday.
Hydrogen fuel cell-powered buses have also begun appearing. In December 2010, they came into service on route RV1 between Covent Garden and Tower Gateway. During summer 2013, the final bus was added to that service – making it the first 100% hydrogen-powered bus route in London.
Hybrid, pure electric, and hydrogen vehicles are still rare on a global basis. However, they are expected to expand rapidly in the next few decades.
23rd December 2013
Designer Tad Orlowski has unveiled the "Willie Bus" – an eye-catching, futuristic concept with transparent LCD windows for displaying travel information, commercial advertising and other imagery. For more information, go to williebus.com.
26th October 2013
By 2017, New York City aims to have replaced all of its street lights with LEDs
Mayor Bloomberg and Transportation Commissioner Sadik-Khan have announced that all 250,000 street lights in New York City will be replaced with energy-efficient LEDs by 2017 – reducing power consumption and maintenance costs, while also lowering carbon emissions.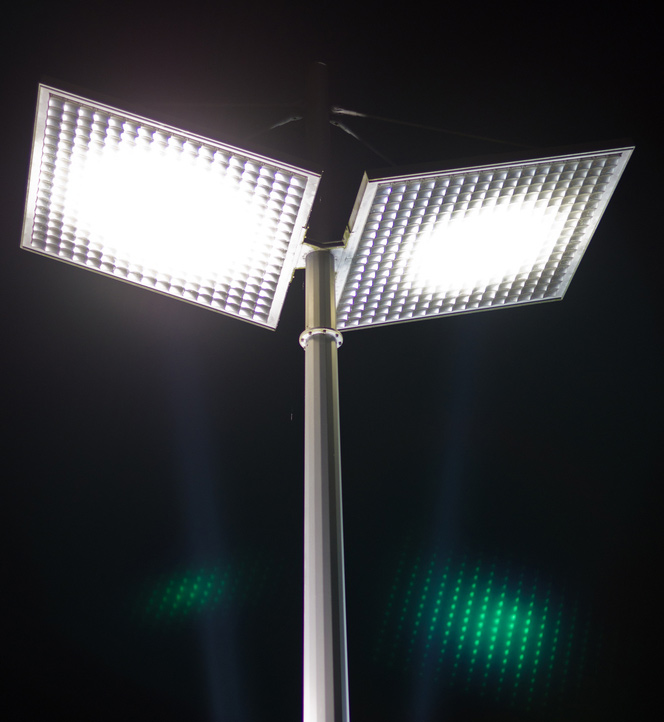 These plans will be the largest LED retrofit in the country, are expected to deliver at least $14 million in savings annually and will be another step towards the goal of reducing citywide greenhouse gas emissions by 30 percent by 2030.
Mayor Bloomberg: "With a quarter-million street lights in our City, upgrading to more energy efficient lights is a large and necessary feat. It will save taxpayers millions of dollars, move us closer to achieving our ambitious sustainability goals and help us to continue reducing City government's day-to-day costs and improving its operations."
"Using LEDs for street lighting is more than just a bright idea," said Commissioner Sadik-Khan. "It's a necessity for sustainable cities to operate more efficiently while also delivering clearer, better quality light for New Yorkers. From our parks to our bridges and to our streets and highways, these 250,000 lights will brighten New York City's streetscapes for generations to come."
In 2009, the Department of Transportation (DOT) partnered with the Climate Group, while the U.S. Department of Energy (DOE) conducted studies to collect data on the performance of LED fixtures, as part of a global study to quantify the benefits for cities with LED lights. The tests measured factors such as illumination, colour and energy consumption. Replacement trials in Central Park and on Manhattan's FDR Drive showed energy savings of up to 83%.
These LEDs have also been found to minimise light pollution, improve public safety and make outdoor areas feel more welcoming at night. The bulbs can last up to 20 years before needing replacement, compared to standard high-pressure sodium lights currently on streets, which last for only six years. LEDs don't contain mercury or lead, and therefore won't release toxic gases if damaged. Yet another benefit is that LEDs are less attractive to nocturnal insects, which are instead drawn to ultraviolet, blue and green lights emitted by conventional light sources.
More importantly, lighting accounts for nearly 6% of CO2 emissions – about 1,900 million tons globally each year – equivalent to emissions from 70% of the world's passenger vehicles. A considerable dent in our carbon footprint would be achieved simply by switching to more energy efficient lamps.
This announcement comes as more and more cities have begun adopting LED lights. Last year, for example, Los Angeles completed its own massive project, retrofitting 141,000 street lights with LED bulbs. The LED lighting market is expected to grow rapidly from 2015 onwards – accounting for 64 percent of general lighting by 2020, with prices falling by 80%.
5th October 2013
World's most fuel-efficient car makes U.S. debut
The Volkswagen XL1 – the most aerodynamic and fuel-efficient car ever built – made its U.S. debut this week at the 23rd Annual Society of Environmental Journalists (SEJ) Conference held in Chattanooga, Tennessee.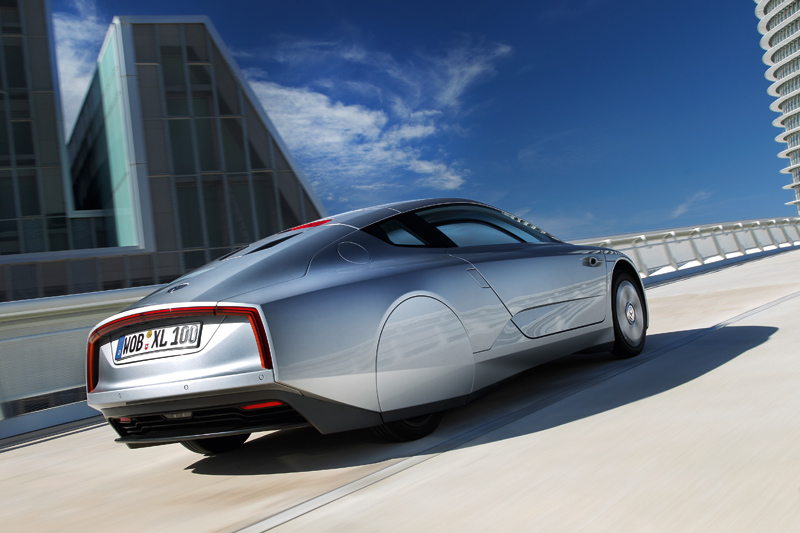 The XL1 offers a European combined fuel consumption rating of 261 miles per gallon (more than 200 mpg estimated in the U.S. cycle). By way of comparison, the U.S. average for new passenger vehicles is currently around 32 mpg and forecast to reach 54 mpg by 2025. The XL1 goes 32 miles in all-electric mode as a zero-emissions car, with top speed of 99 mph, accelerating from 0 to 62 mph in 12.7 seconds.
"The XL1 offers a glimpse into Volkswagen's present and future eco-mobility capabilities, and highlights the ultimate successes of 'Thinking Blue'," said Oliver Schmidt, General Manager of the Engineering and Environmental Office (EEO), Volkswagen Group of America. "Volkswagen is proud to debut this ultra-fuel-efficient vehicle before the Society of Environmental Journalists, a group that shares in our commitment to environmental stewardship."
The XL1 follows pure sports-car design principles: light weight (1753 pounds), exceptional aerodynamics (Cd 0.19), and a low centre of gravity. This super-efficient vehicle has the ability to cruise down the road at a constant 62 mph while using just 8.4 PS (6.2kW) horsepower. In all-electric mode, it requires less than 0.1 kWh to cover more than a kilometre.

The car emits just 21 g/km of CO2, thanks to its high-tech lightweight design, aerodynamic efficiency, and plug-in hybrid system consisting of a 48 PS (35kW) two-cylinder TDI engine, 27-hp electric motor, seven-speed DSG dual-clutch automatic transmission, and lithium-ion battery.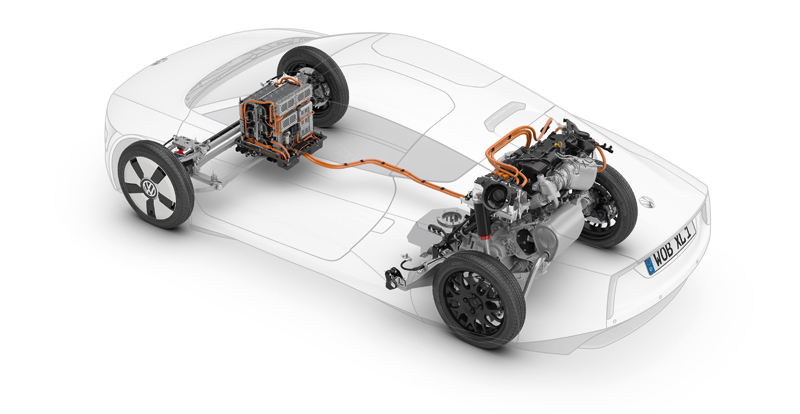 Conceptually, the XL1 is the third evolutionary stage of Volkswagen's 1-litre car strategy. When the new millennium was ushered in, Professor Ferdinand Piëch – now Chairman of the Supervisory Board of Volkswagen – formulated the visionary goal of putting into production a practical car with combined fuel consumption of one litre per 100 km (235 mpg). In the two-seat XL1, this vision has become a reality.
Despite the tremendous efficiency of the car, its engineers and designers successfully came up with a body design which delivers more everyday utility than the two previous prototypes. In the L1, shown in 2002 and 2009, driver and passenger sat in a "tandem" arrangement for optimal aerodynamics; in the XL1, the two occupants sit slightly offset, side by side, almost like a conventional vehicle.
The XL1 is 153.1 inches long, 65.6 inches wide, and just 45.4 inches tall. By comparison, a Volkswagen Polo is slightly longer (156.3 in) and wider (66.2 in), but is significantly taller (57.6 in). Even a purebred sports car like today's Porsche Boxster is 5.1 inches taller. The XL1 will look spectacular going down the highway – a car of the future, built for today.
This technology comes at a price, of course. The XL1 will be sold at $146,000 with only 250 being produced.
28th September 2013
How the Sagrada Família will look in 2026
The Sagrada Família is a massive, privately-funded Roman Catholic church that has been under construction in Barcelona since 1882. Considered the masterwork of renowned Spanish architect Antoni Gaudí (1852–1926), the project's vast scale and idiosyncratic design have made it one of Spain's top tourist attractions, visited by millions of people each year. Construction of the building is scheduled for completion in 2026, the 100th anniversary of Gaudí's death.
This week, a video was released showing a computer-rendered visualisation of how the finished project will look. This has been added to our timeline entry for 2026 (you might need to refresh the page), or you can view it below.
31st August 2013
Testing resumes on Japanese maglev planned for 2027
Last year, Japan unveiled its L0 Series train – intended for use on a maglev route planned between Tokyo and Nagoya. Following upgrades and extension of the Yamanashi line, it is now able to maintain top speed for longer periods. This week, a five-car prototype reached 504 km/h (313 mph) in a public test, travelling for a total of nine minutes. For comparison, the maximum operating speed of the Shanghai Maglev Train in neighbouring China – the world's current fastest train in regular commercial service – is 431 km/h (268 mph). Amtrak trains in the US, meanwhile, get up to 177 km/h (110 mph).
Based on the results of this trial run, researchers will now evaluate its environmental impact and look for ways to reduce costs in the future. The Yamanashi test track is 43 km (27 miles) in length, but the final completed route, known as the Chūō Shinkansen, will cover 286 km (178 miles). Running beneath the Japanese Alps, it aims to slash journey times between Tokyo and Nagoya, from the current 90 minutes to just 40 minutes. Completion is scheduled for 2027, with a further extension to Osaka by 2045.