15th July 2014
World's first climate-controlled city planned for Dubai
Dubai is already known for its luxury tourist experience, super-tall skyscrapers and extravagant megaprojects. Now developers have announced it will host the world's first temperature-controlled city – incorporating the largest mall, largest domed park, cultural theatres and wellness resorts. Known as the "Mall of the World", this gigantic $7bn project will encompass 50 million square feet of floorspace, taking 10 years to construct.
Intended as a year-round destination, its capacity will be large enough to accommodate 180 million visitors each year in 100 hotels and serviced apartment buildings. Glass-roofed streets, modelled on New York's Broadway and London's Oxford Street, will stretch for 7 km (4.6 miles). These will be air-conditioned in summer as temperatures soar above 40°C, but the mall and its glass dome will be open to the elements during cooler winter months. Cars will be redundant in this "integrated pedestrian city."
"The project will follow the green and environmentally friendly guidelines of the Smart Dubai model," explained Ahmad bin Byat, the chief executive of Dubai Holding. "It will be built using state-of-the-art technology to reduce energy consumption and carbon footprint, ensuring high levels of environmental sustainability and operational efficiency."
In response to concerns about another real estate bubble, he insisted there was demand for such a project: "The way things are growing I think we are barely coping with the demand ... tourism is growing in Dubai," he said in an interview with Reuters. "This is a long-term project and we are betting strongly on Dubai."
Speaking at the launch of the mall, Sheikh Mohammed said: "The growth in family and retail tourism underpins the need to enhance Dubai's tourism infrastructure as soon as possible. This project complements our plans to transform Dubai into a cultural, tourist and economic hub for the 2 billion people living in the region around us – and we are determined to achieve our vision."
Mall of the World is one of several hi-tech, futuristic cities that could set the standard for eco-city designs in the coming decades. Others include China's car-free "Great City" (planned to be finished by 2020) and the Masdar City arcology (due in 2025).
12th July 2014
Global building stock will expand by 24 percent
by 2023
Driven by accelerating urbanisation – particularly in the Asia Pacific region – the global building stock is expected to grow strongly over the next 10 years, putting further pressure on resource demands and the environment.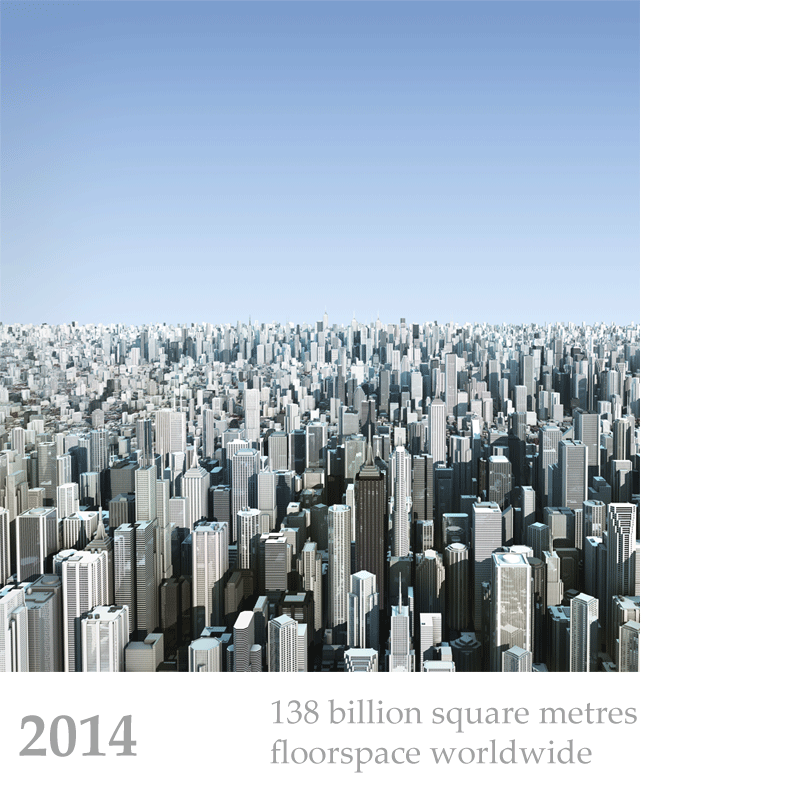 Construction markets, while still recovering from the 2009 recession, continue to add new commercial and residential floorspace to the world's buildings. According to a new report from Navigant Research, the global building stock will grow from 138 billion square metres today to over 171 billion by 2023 – an increase of 24 percent.
"Economic growth in developing countries like China and India is slowing, but remains robust, and the rising middle classes in these countries demand a higher quality of life, including improved working and living spaces," states Eric Bloom, lead research analyst. "The commercial and residential segments will experience compound annual growth rates over the next 10 years of 2.1 percent and 2.2 percent, respectively."
China's construction boom has fuelled extraordinary growth in that country's building stock, with nearly 2 billion square metres added every year. Although there is speculation today about the boom turning into a bubble, Navigant predicts growth continuing at a healthy rate of 4.2 percent annually. By 2023, China will have 58 billion square metres of building space – more than one-third of the world's total.
The report, "Global Building Stock Database", provides data on the size and growth of building stock from now to 2023, examining key drivers and trends covering eight commercial building types (office, retail, education, healthcare, hotels & restaurants, institutional/assembly, warehouse, and transport) and two residential building types (single-family detached and multi-unit residential). An Executive Summary is available on the Navigant website.
Commercial, residential, and industrial buildings are responsible for 47% of global greenhouse gas emissions and 49% of global energy consumption. Much of this energy is consumed needlessly and can be reduced through cost-effective measures. Thankfully, new and innovative technologies will soon become mainstream, such as LED lighting and smart grids. The "sprawl" effect of cities can also be reduced with self-sufficiency and taller skyscrapers.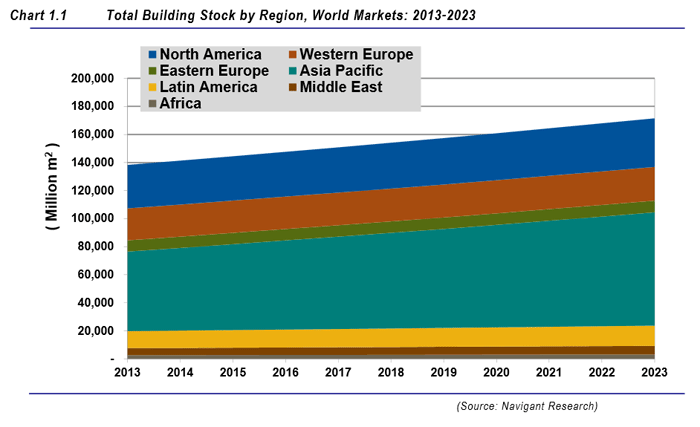 21st June 2014
Major victory for wildlife conservation in Africa as the Serengeti Highway is ruled unlawful
A highway cutting directly through the world famous Serengeti National Park has been ruled unlawful by the East African Court of Justice.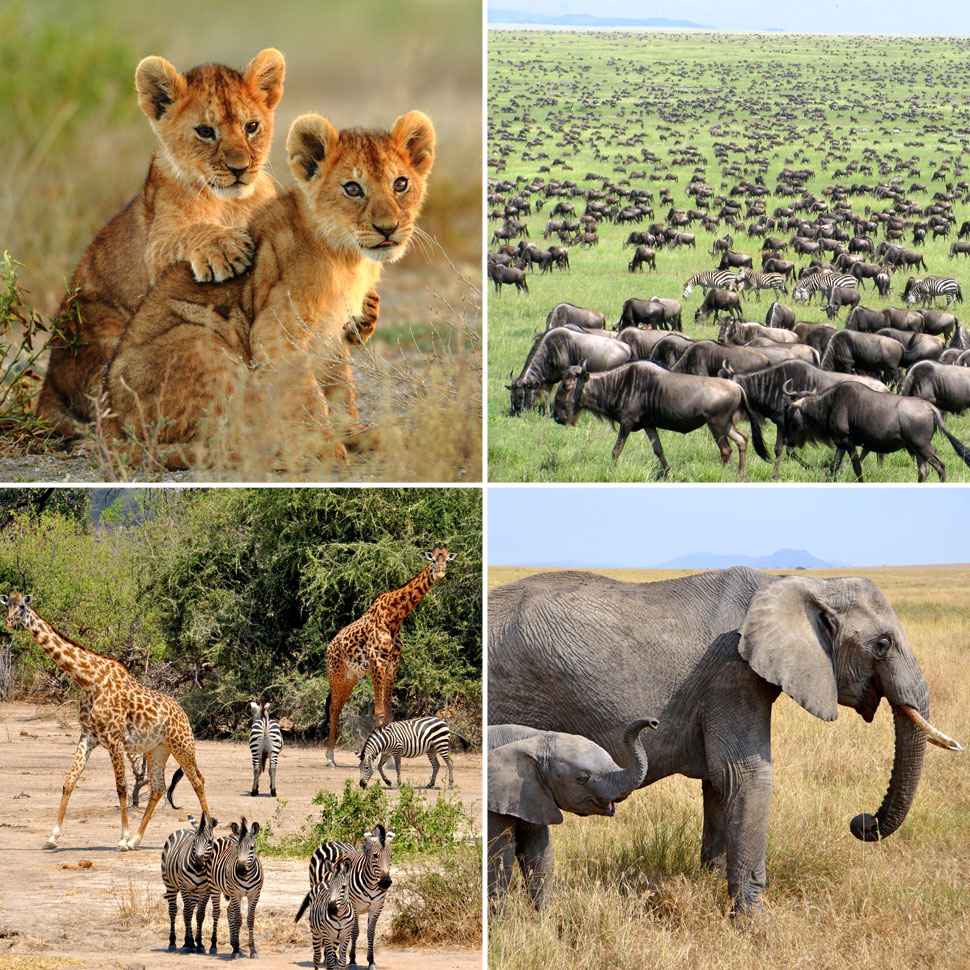 Long-time readers of this blog may remember an almost unbelievable story we reported in September 2012 about an asphalt highway planned to cut directly through the Serengeti National Park. This was proposed by the Tanzanian government to boost economic growth and improve transport links to neighbouring regions. The plans caused international outrage when first announced, with scientists warning of an "environmental disaster" that would severely degrade animal populations, diminish the quality of grazing, trigger more grass fires and turn the ecosystem into a net source of CO2.
While Tanzania's President Jakaya Kikwete vowed to proceed with the project, the African Network for Animal Welfare (ANAW) began a legal challenge. For months, the plans were in legal limbo and news remained sketchy. Yesterday, however, the East African Court of Justice (EACJ) – a treaty-based judicial body of the East African Community – ruled in favour of the Serengeti. It has officially banned the government of Tanzania from constructing a paved road across the northern Serengeti.
The ANAW, after winning its case, has issued the following statement: "In a milestone development, the East African Court of Justice has declared in its ruling today, 20th June 2014, that constructing a bitumen road across the world famous Serengeti National Park is unlawful. The Judges have restrained the Tanzanian Government from constructing the road. ANAW fully respects Tanzania's sovereignty and its need for national development. However, by taking up this matter, ANAW was in actual fact protecting a resource that would be of future benefit not only to Tanzanians or East Africans but also the entire humanity."
Josphat Ngonyo, Executive Director of ANAW, comments as follows: "This was not a win for ANAW, not for our lawyer, Saitabao Ole Kanchory, not for Serengeti Watch, not for our expert witness John Kuloba – but for the millions of animals in the Serengeti-Mara ecosystem. It is a win for nature and God's creation. Nature has won today. We send congratulatory messages to all our partners in Serengeti Watch and all who walked with us over the entire period that the case was in court."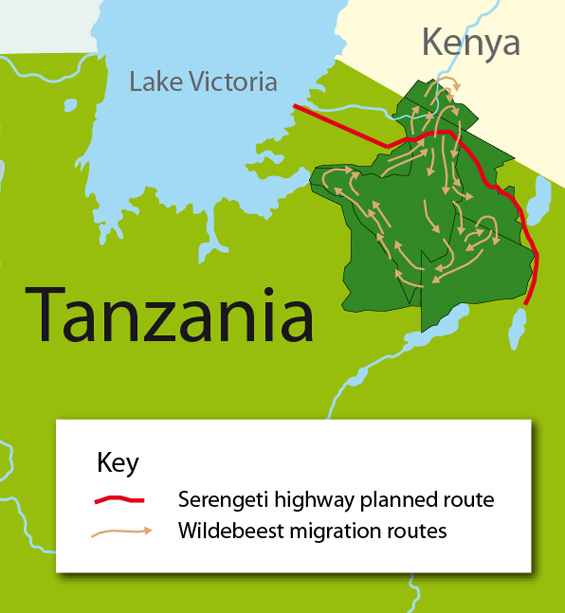 This news is a major victory for wildlife conservation. Sadly, the battle is not over yet. A longer term threat still exists, as reported by Serengeti Watch: "There are still plans for road construction in migration areas in the north, outside of the park boundary but well within the larger Serengeti ecosystem. While the court has barred Tanzania from building a paved road, the government still plans to upgrade the existing seasonal dirt track to gravel, even though it lies in a designated wilderness zone where public traffic is not allowed. There will be increased traffic and continued pressure to connect the paved roads with a commercial link through the park."
In addition, a pair of soda ash factories will be constructed in the Lake Natron area, bordering the Serengeti ecosystem. This is despite a new study showing that soda ash mining will wipe out almost the entire population of Africa's lesser flamingos and despite local opposition to it.
---
Meanwhile, two other developments causing major international concern right now are the dumping ground in the Great Barrier Reef and the oil drilling planned for Yasuni National Park. This week, UNESCO expressed alarm at the former, warning that the reef could be added to the World Heritage in Danger list at its next meeting in 2015.
"The world heritage committee has resisted intense pressure from the Australian and Queensland governments to water down its decision on the reef," said WWF campaigner Richard Leck. "Instead, the committee has put Australia firmly on notice to take stronger action to protect the Great Barrier Reef."
26th May 2014
Floating, self-sustaining city offers solution to overcrowding and ecological impacts
AT Design Office has unveiled its proposal for a hi-tech, floating metropolis. With self-sufficient energy, food and recycling systems, it could solve problems of overcrowding and environmental degradation on land.
As the world becomes ever more crowded, polluted and depleted of resources, there are often suggestions that we must explore space and colonise other planets to ensure our survival. However, perhaps we should look closer to home. Oceans cover more than 70% of the Earth's surface and represent a new, potentially massive opportunity for civilisation.
AT Design Office – a firm of architects and urban/interior/landscape designers – was commissioned by Chinese construction firm CCCC to investigate the possibility of self-sustaining, floating cities. They have now unveiled a proposal that is capable of housing many thousands of residents in a futuristic, hexagonal arrangement of modules with areas both above and below water.
This 10 km² (4 mi²) settlement would feature vertical farms and fish hatcheries to produce its own food, a garbage and recycling centre to sustainably handle waste, along with zero-carbon and energy efficient systems driven by tidal power. World class facilities would bring new opportunities for education, recreation, employment and business. According to AT, this would create a "vibrant, diverse and sustainable social and economic platform."
All living spaces in this floating city would have 360° views of the surrounding ocean scenery. Residents would enjoy close proximity to local facilities and public services, with fast and convenient transport provided in the form of electric vehicles and submarines, eliminating air pollution and congestion. Inhabitants could visit neighbouring cities or the mainland via submarines, cruise ships and ferries.
Trees and parks are designed to weave in a continuous public green belt, above and below water. The upper areas can provide public space usable for sports and recreation in a fresh air environment. A chimney in the central hub creates natural ventilation and lighting for the underwater sections and a gravity regulation system is located at the bottom.
While it may sound like science fiction, China Transport Investment Company is taking the project seriously and may begin a small-scale trial in 2015. Technologies featured in this design are already being used to build a 31 mile bridge connecting Hong Kong, Macau and Zhuhai. As the world adapts to rising sea levels, these types of amphibious settlements could be a fairly common sight by 2100.
28th April 2014
Nissan develops first 'self-cleaning' car prototype
Nissan has begun tests on innovative paint technology that repels mud, rain and everyday dirt, meaning that drivers may never have to clean their car again.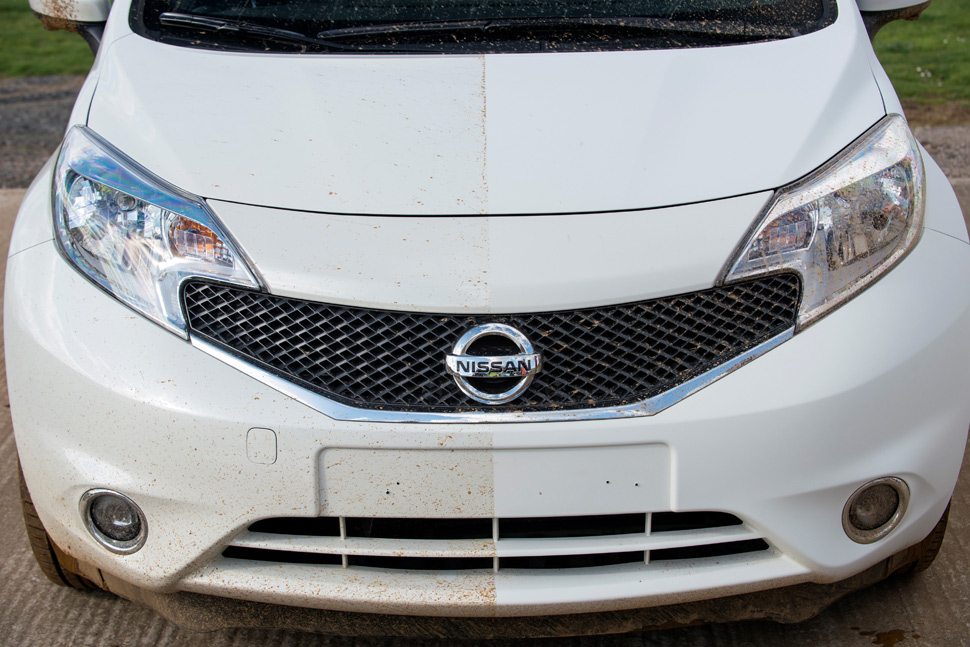 The specially engineered super-hydrophobic and oleophobic paint – which repels water and oils – has been applied to the all-new Nissan Note to create the world's first self-cleaning car.
To assess the real-world effectiveness of the super-hydrophobic as a potential aftermarket application, engineers at Nissan Technical Centre Europe will be testing the self-cleaning Note over the coming months in a variety of conditions.
Nissan is the first carmaker to apply the technology, called "Ultra-Ever Dry", on automotive bodywork. By creating a protective layer of air between the paint and environment, it effectively stops standing water and road spray from creating dirty marks on the car's surface.
It's not the first time 'self-cleaning' technology has been used on the Note. The car already features a 'wash and blow dry' function on its rear view camera. This uses water and compressed air to automatically keep the lens free of dirt and ensure the Notes' safety sensors work in all conditions.
So far, the coating, which is being marketed and sold by UltraTech International Inc, has responded well to common use cases including rain, spray, frost, sleet and standing water. Whilst there are currently no plans for the technology to be applied to the model as standard, Nissan will continue to consider the coating technology as a future option.
Geraldine Ingham, Chief Marketing Manager for Nissan Note, comments: "The Nissan Note has been carefully engineered to take the stress out of customer driving and Nissan's engineers are constantly thinking of new ways to make families' lives easier.
"We are committed to addressing everyday problems our customers face and will always consider testing exciting, cutting edge technology like this incredible coating application."
The all-new Nissan Note is already packed with innovative technology to make driving safer. Lane Departure Warning, Blind Spot Warning and Moving Object Detection combine to form the Nissan Safety Shield. This unique package is powered by 360° Around View Monitor technology which relies on the unique self-cleaning rear camera.