16th January 2016
U.S. government pledges $4bn for self-driving vehicles
The U.S. government this week revealed plans for a 10-year, nearly $4 billion investment to accelerate the development and adoption of safe vehicle automation, through real-world pilot projects.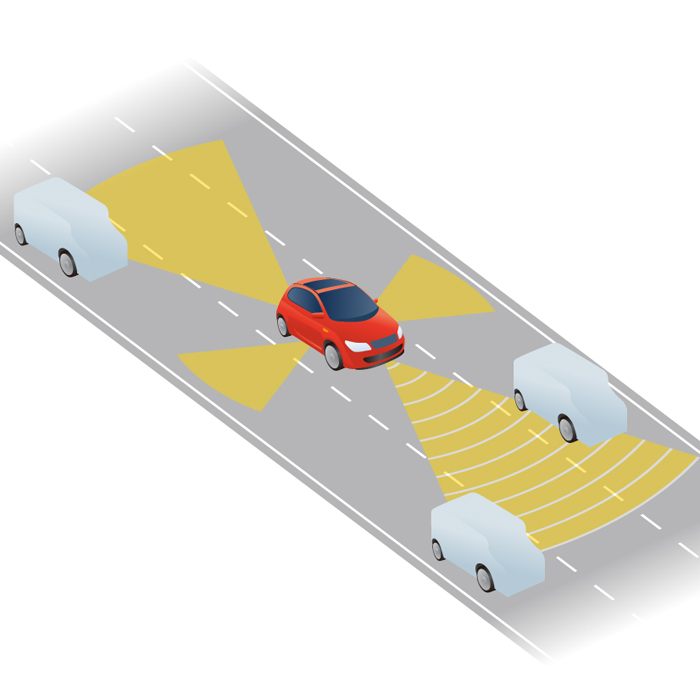 In his final State of the Union address, President Obama signalled his intent to invest in a 21st century transportation system. U.S. Transportation Secretary Anthony Foxx this week revealed part of the president's proposal: a 10-year, nearly $4 billion investment to accelerate the development and adoption of safe vehicle automation, through real-world pilot projects.
Secretary Foxx also announced the removal of potential roadblocks to the integration of innovative, transformational automotive technology that can significantly improve safety, mobility, and sustainability. Foxx made the announcement at the North American International Auto Show (NAIAS) in Detroit, where he was joined by leaders in technology, executives of traditional auto manufacturers, and newcomers to the industry.
"We are on the cusp of a new era in automotive technology with enormous potential to save lives, reduce greenhouse gas emissions, and transform mobility for the American people," said Foxx. "Today's actions and those we will pursue in the coming months will provide the foundation and the path forward for manufacturers, state officials, and consumers to use new technologies and achieve their full safety potential."
The President's 2017 budget proposal would provide nearly $4 billion over 10 years for pilot programs to test connected vehicle systems in designated corridors throughout the country, and work with industry leaders to ensure a common, multistate framework, for connected and autonomous vehicles.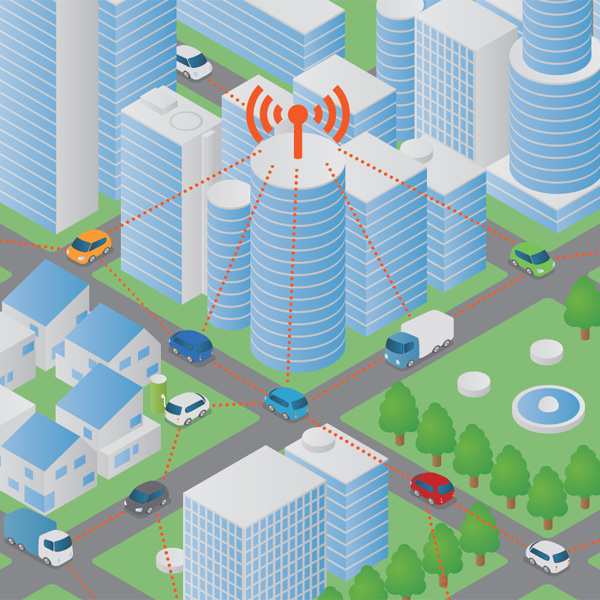 Secretary Foxx has also confirmed an update for the National Highway Traffic Safety Administration's (NHTSA) 2013 preliminary policy statement on autonomous vehicle technology. This new guidance reflects the reality that the widespread deployment of fully autonomous vehicles is now feasible.
Administrator Mark Rosekind said: "The NHTSA is using all of its available tools to accelerate the deployment of technologies that can eliminate 94% of fatal crashes involving human error. We will work with state partners toward creating a consistent national policy on these innovations, provide options now and into the future for manufacturers seeking to deploy autonomous vehicles, and keep our safety mission paramount at every stage."
Under Foxx's leadership, the Department of Transportation has been working to transform government for the 21st century, by harnessing technology and innovation that will improve people's lives. In 2015, he refocused the national dialogue about the future of America's transport system by releasing Beyond Traffic – a report examining the challenges facing the country's infrastructure between now and 2045. The draft framework has already influenced decisions by elected officials, planners, and stakeholders nationwide. He also launched the Smart City Challenge, a national competition to implement bold, data-driven ideas that make transportation safer, easier, and more reliable in cities. He also worked to accelerate the Department's efforts to incorporate vehicle-to-vehicle (V2V) communication technology into new vehicles.
Numerous forecasts by technology analysts point to a future dominated by intelligent, self-driving vehicles and smarter road systems. These new measures announced by the U.S. government will help to bring that futuristic vision closer to reality.
12th December 2015
Ford will invest $4.5 billion in electric vehicles by 2020
US car giant Ford has announced it will invest an additional $4.5 billion in electric vehicle technology by 2020, as well as changing how the company develops vehicle experiences for customers.
Ford is adding 13 new electrified vehicles to its portfolio by 2020 – by which time, more than 40 per cent of the company's global nameplates will come in electrified versions. This represents Ford's largest-ever electrified vehicle investment in a five-year period.
On the way next year is a new Focus Electric, which features all-new DC fast-charge capability, delivering an 80 per cent charge in just 30 minutes and a projected 160-kilometre (100‑mile) range – an estimated two hours faster than today's model.
The zero emissions Focus Electric is manufactured in an eco-conscious facility. Its production home, the Michigan Assembly Plant, has one of the largest solar energy generator systems in the state. The new version of the Focus Electric, which starts production in late 2016, will provide features including:
SmartGauge with EcoGuide LCD Instrument Cluster, which offers a multitude of customisable displays that can help the driver see real-time electric vehicle power usage to help maximise efficiency. At the end of each trip, a screen provides the distance driven, miles gained through regenerative braking, energy consumed and comparative gasoline information achieved by driving electric.


Brake Coach (pictured below), another smart feature that coaches the driver on how to use smooth braking, to maximise the energy captured through the Regenerative Braking System. The more energy a driver captures through braking, the more energy is returned to the battery.


"MyFord" mobile app, allowing owners to control and maintain contact with the car remotely, get instant vehicle status information, monitor the car's state of charge and current range, get alerts when the vehicle has finished charging, precondition the car (to be heated or cooled to a desired temperature, by a selected time), locate the vehicle with GPS, remotely start the vehicle, and remotely lock and unlock the car doors.


SYNC 3, an enhanced voice recognition communications and entertainment system.


Fun-to-drive character, with agile steering and handling engineered into the vehicle to give drivers a more connected feel to the road.


Eco-conscious materials, such as soy, bio-foam seat cushions and recycled fabrics.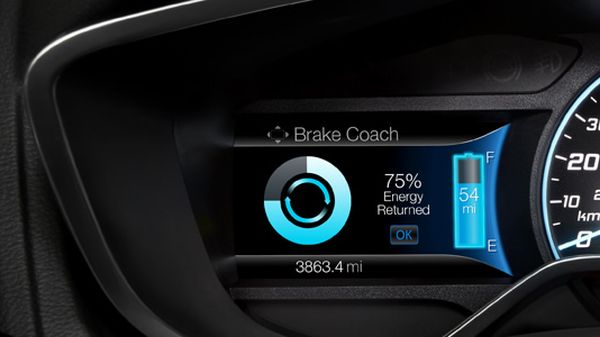 Ford's shift towards electrified vehicle technology is in response to the increasing global demand for cleaner, more efficient vehicles. Electric car ownership is expected to surpass one million this year, with continued rapid growth predicted in the years ahead. Ford is also expanding its research and development programme in Europe and Asia, creating a "hub and spoke" system allowing its global team to further accelerate battery technology and take advantage of market specific opportunities. Ford is also reimagining how to set itself apart in the marketplace by focusing on the customer experience and not just the vehicle itself. The company is changing its product development process to support that shift.
"The challenge going forward isn't who provides the most technology in a vehicle, but who best organises that technology in a way that most excites and delights people," said Raj Nair, executive vice president, Product Development and chief technical officer. "By observing consumers, we can better understand which features and strengths users truly use and value and create even better experiences for them going forward."
In addition to traditional market research, Ford is investing in social science-based research globally, observing how consumers interact with vehicles and gaining new insights into the cognitive, social, cultural, technological and economic nuances that affect product design.
"This new way of working brings together marketing, research, engineering and design in a new way to create meaningful user experiences, rather than individually developing technologies and features that need to be integrated into a final product," Nair said. "We are using new insights from anthropologists, sociologists, economists, journalists and designers, along with traditional business techniques, to reimagine our product development process, create new experiences and make life better for millions of people."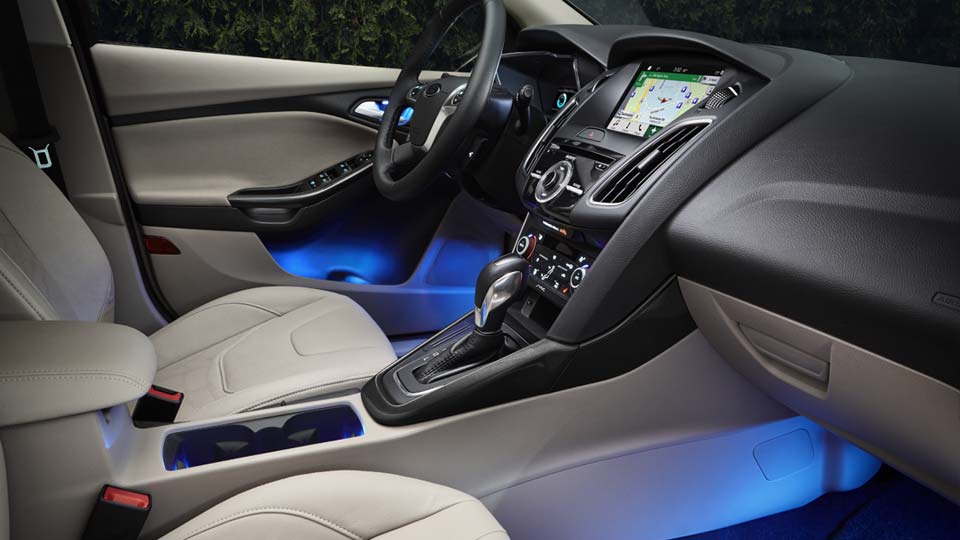 The global expansion of Ford's electric vehicle research and development programme allows the company's Electrified Powertrain Engineering teams to share common technologies and test batteries virtually, in real time, to develop new technology faster while reducing the need for costly prototypes.
Ford is expanding in Europe and China to accelerate battery technology development for new markets. By using an innovative hardware and software systems called HIL, or "Hardware in a Loop", the global team can test battery technology and control system hardware in a virtual environment to simulate how batteries and control modules would behave in different – often punishing – environments in any part of the world.
"Batteries are the life force of any electric vehicle – and we have been committed to growing our leadership in battery research and development for more than 15 years," said Kevin Layden, director of Ford Electrification Programs.
3rd November 2015
A shape-shifting, self-driving concept car by Nissan
A new futuristic concept car by Nissan has been unveiled at the 2015 Tokyo Motor Show.
At the Tokyo Motor Show 2015, Nissan Motor Company unveiled a concept vehicle that the company says embodies its vision for the future of autonomous driving and zero emission EVs: the Intelligent Driving System (IDS).
"Nissan's forthcoming technologies will revolutionise the relationship between car and driver, and future mobility," said Carlos Ghosn, Nissan president and CEO, presenting at the show. "Nissan Intelligent Driving improves a driver's ability to see, think and react. It compensates for human error, which causes more than 90% of all car accidents. As a result, time spent behind the wheel is safer, cleaner, more efficient and more fun."
After leading the development and expansion of EV technology, Nissan once again stands at the forefront of automotive technology. By integrating advanced vehicle control and safety technologies with cutting-edge artificial intelligence (AI), Nissan is among the leaders developing practical, real-world applications of autonomous driving. The company plans to include this technology on multiple vehicles by 2020, and progress is well on track to achieve this goal, said Ghosn.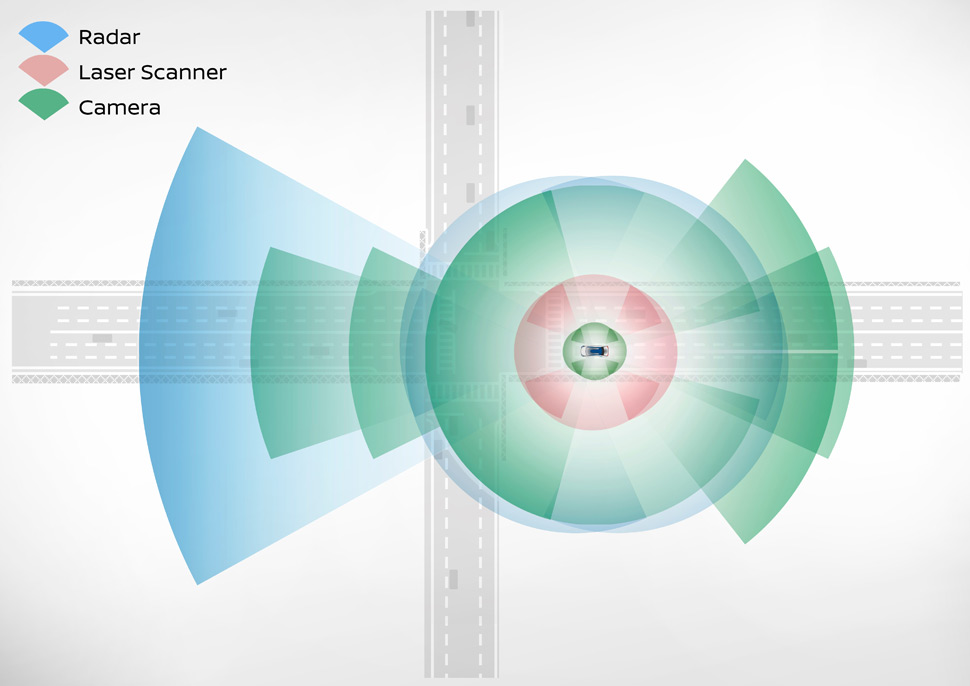 Some have compared a future with autonomous drive to living in a world of conveyer belts that simply ferry people from point A to B, but the Nissan IDS promises a very different vision. Even when a driver selects Piloted Drive and turns over driving to the vehicle, the car's performance – from accelerating to braking to cornering – imitates the driver's own style and preferences.
In Manual Drive mode, the driver has control. The linear acceleration and cornering are pure and exhilarating. Yet behind the scenes, the Nissan IDS continues to provide assistance. Sensors constantly monitor conditions and assistance is available even while the driver is in control. In the event of imminent danger, the Nissan IDS will assist the driver in taking evasive action.
In addition to learning, the IDS concept's AI communicates like an attentive partner. From information concerning traffic conditions, the driver's schedule to personal interests, it has what is needed to create a driving experience that is comfortable, enjoyable and safe.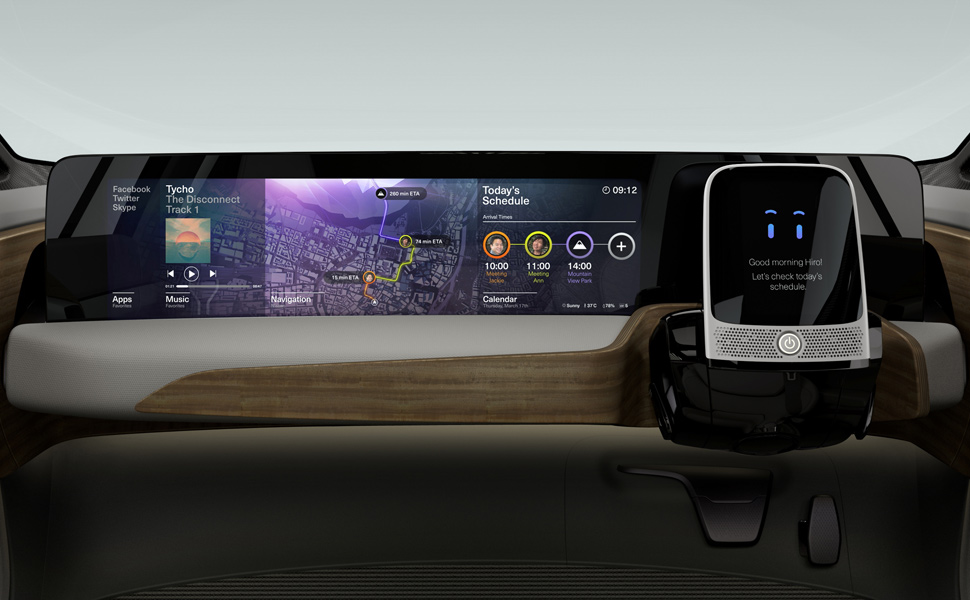 "A key point behind the Nissan IDS Concept is communication. For autonomous drive to become reality, as a society we have to consider not only communication between car and driver but also between cars and people. The Nissan IDS Concept's design embodies Nissan's vision of autonomous drive as expressed in the phrase together, we ride," says Mitsunori Morita, Design Director.
Together, we ride is demonstrated in the shape-shifting interior design: "The Nissan IDS Concept has different interiors, depending on whether the driver opts for Piloted Drive or Manual Drive. This was something that we thought was absolutely necessary to express our idea of autonomous drive," explains Morita.
In piloted self-driving mode, all four seats rotate inward, and the steering wheel recedes into the dashboard, giving the driver space to relax and making it easier to see and talk to other passengers. The interior, comprised of natural materials such as mesh leather, is illuminated by soft light, adding a further layer of comfort that feels almost like a home living room.
"In every situation, it is about giving the driver more choices and greater control," Ghosn said at the show. "And the driver will remain the focus of our technology development efforts."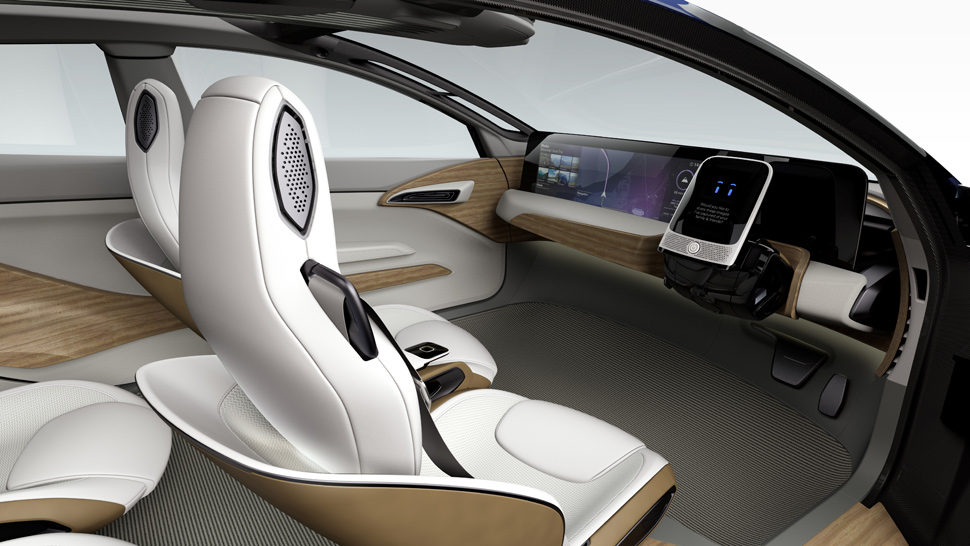 For autonomous drive to be widely accepted, people need to fully trust the technology. Through its innovative communication features, the Nissan IDS promotes confidence and a sense of harmony for those outside the car as well. Various exterior lights and displays convey to pedestrians and others the car's awareness of its surroundings and signals its intentions. The car's silver side body line, for example, is actually an LED that Nissan calls the Intention Indicator. If there are pedestrians or cyclists nearby, the strip shines red, signalling that the car is aware of them. Another electronic display, facing outside from the instrument panel, can flash messages such as "After you" to pedestrians.
Another feature of this electric vehicle is energy efficiency, with advanced aerodynamic performance for a greater driving range. The carbon fibre body is lightweight and constrained in height to sharply minimise aerodynamic drag, while the tires are designed to minimise air and roll resistance. The wheels have a layered form that creates tiny vortexes of air on their surface, which further contributes to smooth air flow. The Nissan IDS concept is fitted with a high-capacity 60 kWh battery.
"By the time Nissan Intelligent Driving technology is available on production cars, EVs will be able to go great distances on a single charge," says Mitsunori Morita, Design Director. "Getting to this point will, of course, require the further evolution of batteries – but aerodynamic performance is also very important. We incorporated our most advanced aerodynamic technology in the design of the Nissan IDS Concept."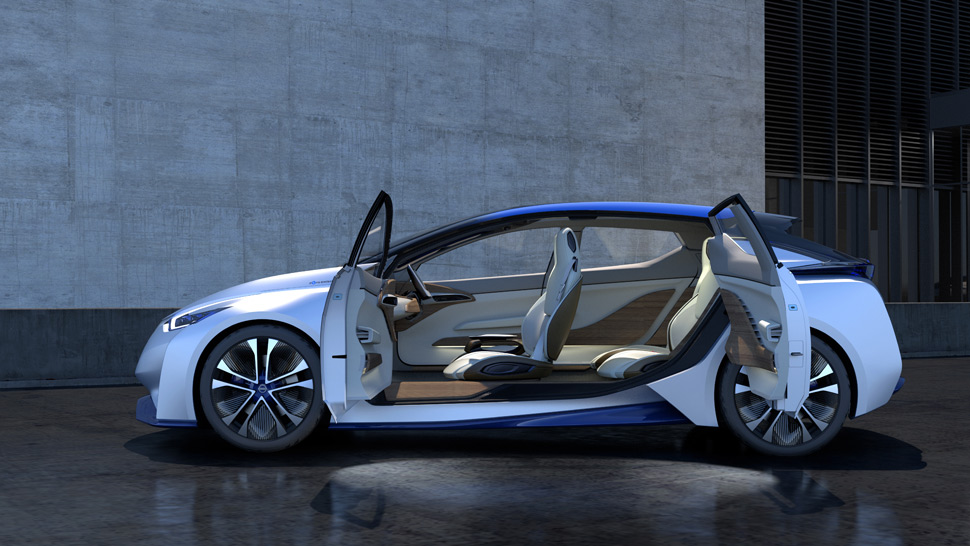 At Nissan's annual shareholder meeting in June, Executive Vice President Hideyuki Sakamoto said: "Our zero emission strategy centres on EVs. We are pursuing improved electric powertrain technologies – such as motors, batteries and inverters – which will enable us to mass produce and market EVs that equal or surpass the convenience of gasoline-powered cars."
Other technologies on the Nissan IDS concept include "Piloted Park" that can be operated by smartphone or tablet, and wireless charging technologies. Through these, the driver can leave parking and charging to the car.
Self-driving, zero emission cars are clearly the future, and Nissan appears to be well-positioned for delivering this vision. The Nissan LEAF is the world's most popular electric vehicle, with 96% of customers willing to recommend the car to friends. Yesterday, the firm posted a rise of 37.4% in net income for the six months ending in September.
"Nissan has delivered solid revenue growth and improved profitability in the first half of the fiscal year, driven by encouraging demand for our vehicles in North America and a rebound in western Europe," said chief executive Carlos Ghosn.