7th May 2015
The first licenced autonomous driving truck in the US
Vehicle manufacturer Daimler this week announced that its Freightliner Inspiration Truck has become the world's first autonomous truck to be granted a licence for road use in the State of Nevada.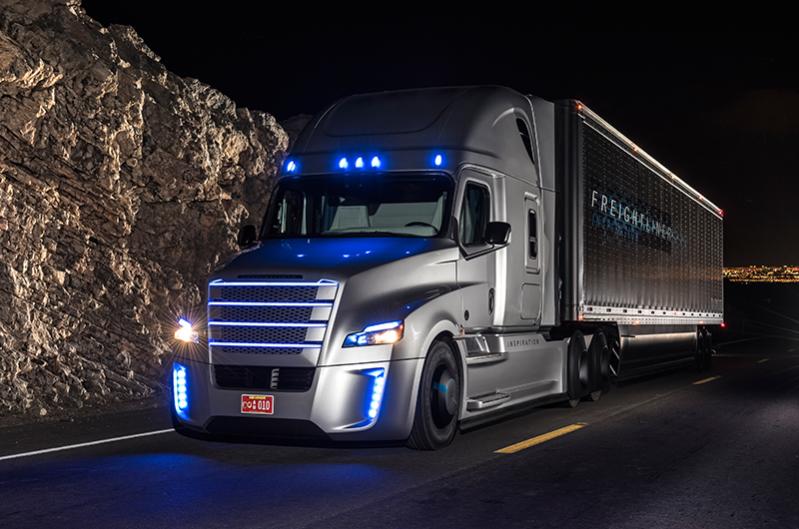 In July last year, Daimler provided the world's first demonstration of an autonomous truck in action, when the Mercedes-Benz Future Truck 2025 drove along a cordoned-off section of the A14 autobahn near Magdeburg, Germany. Engineers then transferred the system to the US brand Freightliner and created the Inspiration Truck – modified for use on American highways. The result: the State of Nevada has certified no less than two Freightliner Inspiration Trucks for regular operations on public roads. Governor Brian Sandoval handed over the official Nevada licence plates during a ceremony at the Las Vegas Motor Speed.
This futuristic vehicle is based on the existing Freightliner Cascadia model, but has the addition of "Highway Pilot" technology. The latter combines a sophisticated stereo camera and radar technology with systems providing lane stability, collision avoidance, speed control, braking, steering and an advanced dash display, allowing for safe autonomous operation on public highways. These components were extensively tested. As part of the truck's so-called Marathon Run, it covered over 10,000 miles (16,000 km) on a test circuit in Papenburg, Germany.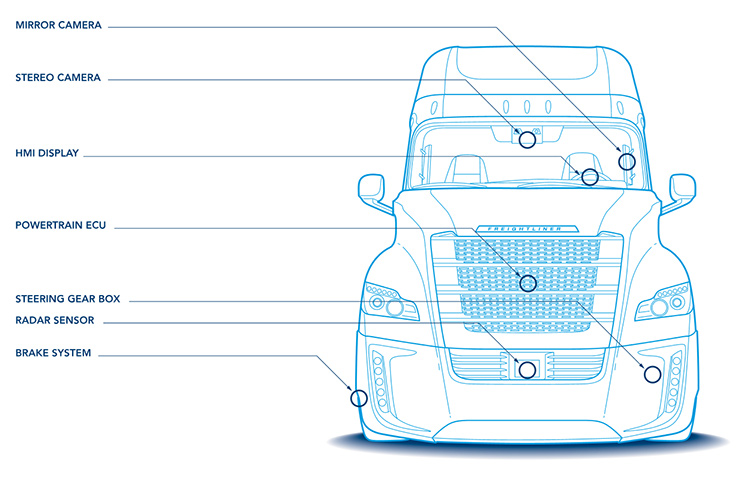 The radar unit in the front bumper scans the road ahead at both long and short range. The long-range radar, with a range of 820 feet and scanning an 18° segment, looks far and narrow to see vehicles ahead. The short-range radar, with a range of 230 feet and scanning a 130° segment, looks wider to see vehicles that might cut in front of the truck.
There is also a medium-range stereo camera, which is located behind the windscreen. The range of this camera is 328 feet, and it scans an area measuring 45° horizontal by 27° vertical. This camera is able to recognise lane markings and communicates to the Highway Pilot steering gear for autonomous lane guidance.
In addition, tiny cameras are located on the exterior of the truck. These reduce blind spots and are capable of replacing exterior mirrors, while creating a slight boost in fuel efficiency (1.5 percent).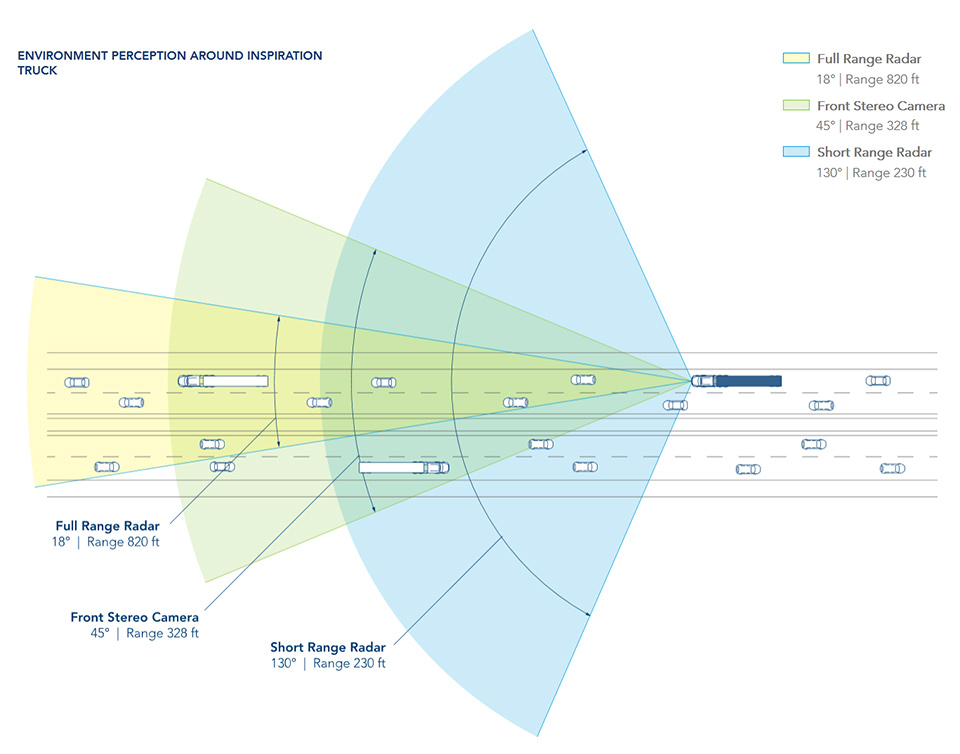 The vehicle operates safely under a wide range of conditions – it will automatically comply with posted speed limits, regulate the distance from the vehicle ahead and use the stop-and-go function during rush hour. The driver can deactivate the Highway Pilot manually and is able to override the system at any time. If the vehicle is no longer able to process crucial aspects of its environment, e.g. due to road construction or bad weather, the driver is prompted to retake control.
A large, state-of-the-art dash interface, combined with video displays from the various cameras, is designed to offer a great driver experience and to vastly improve the way data from the truck's performance is communicated to the driver. Highway Pilot informs the driver visually on its current status and also accepts commands from the driver.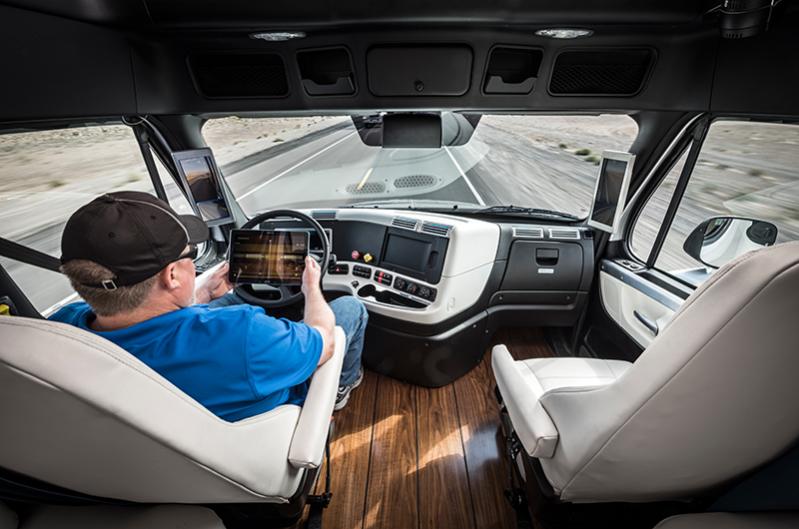 According to U.S. government data, 90 percent of truck crashes involve human error – much of that due to fatigue. Wolfgang Bernhard, a member of the Board of Management at Daimler, commented: "An autonomous system never gets tired, never gets distracted. It is always on 100 percent."
For now, the Inspiration Trucks will be limited to Nevada, one of the lowest density states in the country, but other states are likely to create similar regulations in the future, with California and Michigan expected to follow soon: "Ultimately, this has to be federally regulated to have a consistent basis across the country," says Martin Daum, president and CEO of Daimler Trucks North America.
The Inspiration Truck is only semi-autonomous, as it requires a human behind the wheel, who can take over in case of an emergency. The technology is advancing rapidly, however. Daimler and other manufacturers, including Nissan and Tesla, are planning to introduce fully autonomous vehicles (with no human driver on board) during the early 2020s. Worldwide, freight traffic shipped by road is predicted to triple by 2050, with self-driving vehicles expected to play an ever-increasing role in transportation.
Eventually, these autonomous vehicles will be intelligently connected – to their environment and other road users – to such an extent that they will be able to avoid areas with heavy traffic and contribute to reducing traffic jams. Traffic of the future will flow more smoothly and be far more predictable. Traffic systems will be more flexible and the infrastructure will be utilised better. Transport firms will operate more profitably, with fuel savings alongside lower maintenance costs as a result of less wear on the vehicle components, due to a more constant flow of traffic. Most importantly of all, road safety will be hugely improved – with many thousands of deaths prevented each year.
18th April 2015
World's first robotic kitchen to debut in 2017
Moley Robotics has unveiled an automated kitchen system, able to scan and replicate the movements of a human chef to produce recipes.
The world's first automated kitchen system was unveiled this week at Hanover Messe in Germany – the premier industrial robotics show. Developed by tech firm Moley Robotics, it features a dexterous robot integrated into a kitchen that cooks with the skill and flair of a master chef.
The company's goal is to produce a consumer version within two years, supported by an iTunes-style library of recipes that can be downloaded and created by the kitchen. The prototype at the exhibition is the result of two years development and the collaboration of an international team including Sebastian Conran who designed the cooking utensils and Mauro Izzo, DYSEGNO and the Yachtline company, who created the futuristic kitchen furniture.
Two complex, fully articulated hands, made by the Shadow Robot Company, comprise the kitchen's key enabling technology. The product of 18 years' research and development, Shadow's products are used in the nuclear industry and by NASA. Able to reproduce the movements of a human hand with astonishing accuracy, their utility underpins the unique capability of the automated kitchen.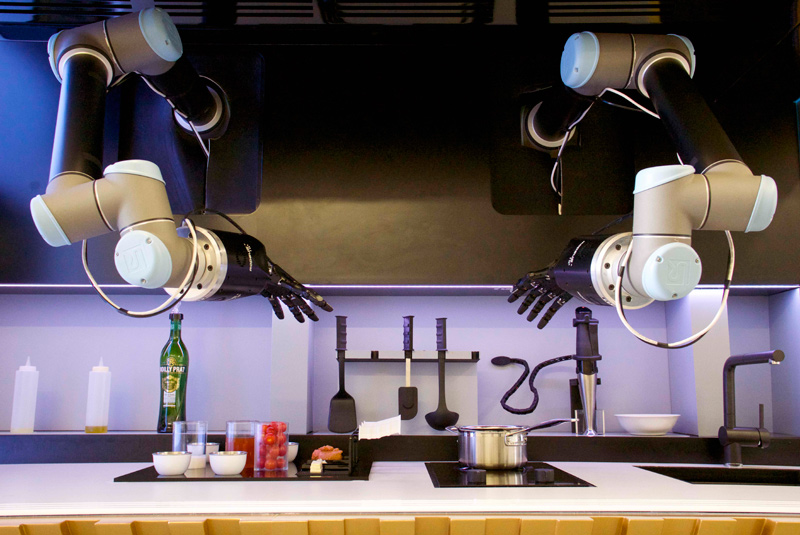 The Moley Robotics system works by capturing human skills in motion. Tim Anderson – culinary innovator and winner of the BBC Master Chef competition – played an integral role in the kitchen's development. He first developed a dish that would test the system's capabilities – a crab bisque – and was then 3D recorded at a special studio cooking it. Every motion and nuance was captured, from the way Tim stirred the liquids to the way he controlled the temperature of the hob. His actions were then translated into elegant digital movement, using bespoke algorithms. The robot doesn't just cook like Tim – in terms of skill, technique and execution it is Tim producing the dish. The kitchen even 'signs off' its work with an 'OK' gesture – just as the chef does.
"To be honest, I didn't think this was possible," he said. "I chose crab bisque as a dish because it's a real challenge for a human chef to make well – never mind a machine. Having seen – and tasted – the results for myself, I am stunned. This is the beginning of something really significant: a whole new opportunity for producing good food and for people to explore the world's cuisines. It's very exciting."
Moley Robotics, headquartered in the UK, is now working to scale the technology ready for mass production and installation in regular-sized kitchens. Future iterations will be more compact, with smaller control arms but with added functionality in the form of a built-in refrigerator and dishwasher to complement a professional-grade hob and oven.
The company is working with designers, homebuilders, kitchen installers and food suppliers to promote the system. The mass-market product will be supported by a digital library of over 2,000 dishes when it launches in 2017 and it is envisaged that celebrity chefs will embrace 3D cooking downloads as an appealing addition to the cook book market. Home chefs will be able to upload their favourite recipes too, and so help create the 'iTunes' for food.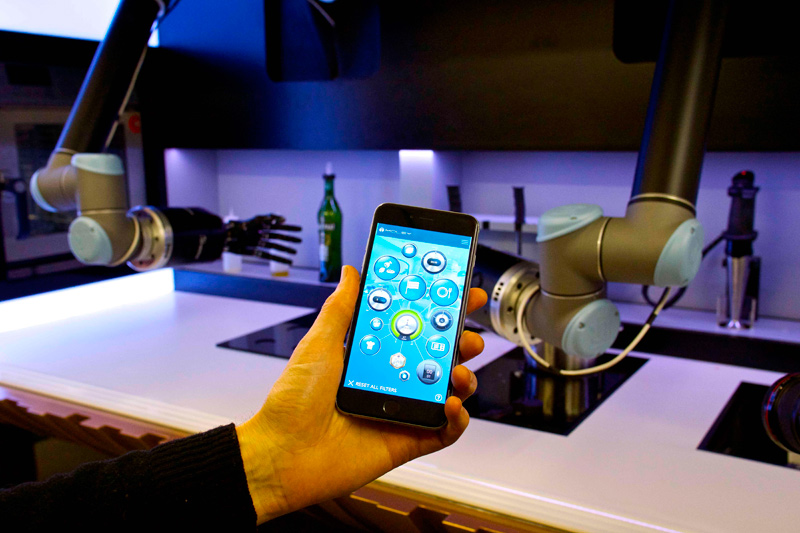 Moley Robotics was founded by London-based computer scientist, robotics and healthcare innovator Mark Oleynik. The company's aim is to produce technologies that address basic human needs and improve day-to-day quality of life.
"Whether you love food and want to explore different cuisines, or fancy saving a favourite family recipe for everyone to enjoy for years to come, the Automated Kitchen can do this," says Oleynik. "It is not just a labour saving device – it is a platform for our creativity. It can even teach us how to become better cooks!"
The robotic hands demonstrated this week offer a glimpse of the not-too-distant future, when even greater advances in movement, flexibility, touch and object recognition will have been achieved. Experts believe that near-perfect recreations of human hands, operating in a wide variety of environments, will be possible in just 10 years' time.