2nd December 2013
"Amazon Prime Air" will use drones for 30 minute delivery
Online retailer Amazon has revealed a new rapid delivery method that will use unmanned aerial vehicles to send packages to customers within 30 minutes. Assuming the Federal Aviation Administration (FAA) approves it, this futuristic service – "Amazon Prime Air" – could be introduced by 2015. Read more at the company's press release.
23rd November 2013
Driving economic growth into the Solar System
Planetary Resources, Inc. was co-founded in 2010 by Peter Diamandis and Eric C. Anderson. This new startup company hopes to address one of the paramount problems faced on Earth: resource scarcity. It will achieve this by developing a robotic asteroid mining industry, based on reduced fuel costs. As this video explains, prospecting and mining asteroids could drive economic growth into the Solar System, where potentially trillions of dollars' worth of metals and minerals lie. Planetary Resources has already signed an agreement with Virgin Galactic for payload services. In early 2014, they plan to launch "Arkyd-3", a testbed for the larger Arkyd-100 spacecraft that will hunt for asteroids.
10th November 2013
Bulletproof nanotechnology suit goes on sale
Luxury bespoke tailoring house, Garrison Bespoke, has launched the first fashion-forward bulletproof suit with a live ammo field-testing event in Toronto, Canada.
Michael Nguyen, co-owner of Garrison Bespoke: "After receiving requests from high-profile clients who travel to dangerous places for work, we set out to develop a lightweight, fashion-forward bulletproof suit as a more discreet and stylish alternative to wearing a bulky vest underneath."
The Garrison Bespoke bulletproof suit is made with carbon nanotubes created using nanotechnology and originally developed to protect the US 19th Special Forces in Iraq. The patented material is thinner, more flexible and 50 percent lighter than Kevlar, which is traditionally used for bulletproof gear. The suit also protects against stabbing – the carbon nanotubes harden on impact to prevent a knife from penetrating.
The live ammo field-testing event was held in the Ajax Rod and Gun Club, Ontario. It demonstrated the suit's ability to shield against 9mm bullets. Nguyen claims the suit can block .45 bullets as well. Garrison Bespoke's latest collection – Town & Country – features a range of new clothing, all of which can be made bulletproof by request, with prices starting from $20,000.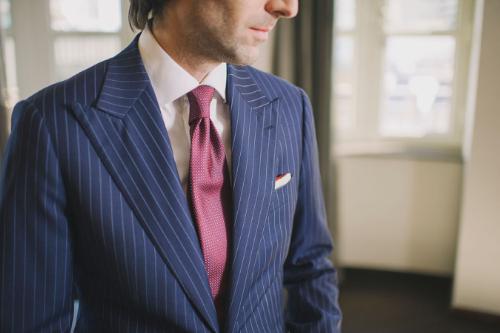 9th November 2013
Fossil fuels receive $500 billion a year in government subsidies
Just two years ahead of a crucial UN climate change summit, many of the world's richest countries continue to pour finance into fossil fuel subsidies. Average spending now runs at $112 per adult, according to a new report from the Overseas Development Institute.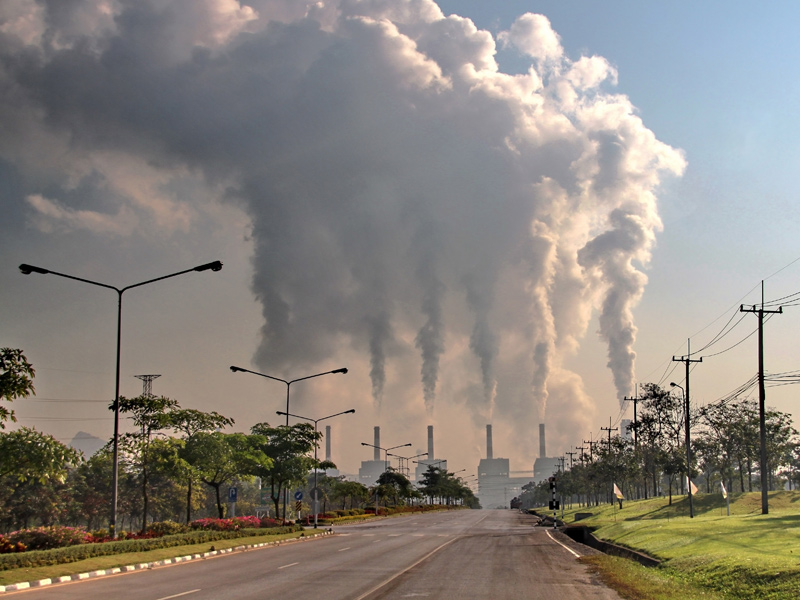 The report – Time to change the game – notes that fossil fuel subsidies cost half a trillion dollars globally every year. These subsidies create "perverse incentives" favouring investment in carbon-intensive energy. The author Shelagh Whitley calls for bold action to phase out these subsidies in the G20 by 2020, and globally by 2025, with rich countries making the deepest and earliest cuts.
"The rules of the game are currently biased in favour of fossil fuels," says Whitley. "The status quo encourages energy companies to continue burning high-carbon fossil fuels and offers no incentive to change. We're throwing money at policies that are only going to make the problem worse in the long run by locking us into dangerous climate change."
The report accuses governments of "shooting themselves in both feet" by failing to put a proper price on carbon and instead incentivising the use of high-carbon technologies. Fossil fuel subsidies include measures to reduce fossil fuel prices paid by consumers, as well as tax breaks for oil and gas companies.
According to the ODI report:
The average subsidy provided by rich governments for every tonne of carbon is $7. This is the same as the current cost of carbon in the EU carbon trading system – meaning the carbon price may as well not exist.


Domestic subsidies in rich countries outstrip international climate finance provided to help address climate change in developing countries by a ratio of 7:1.


In some countries – India, Pakistan and Bangladesh – fossil fuel subsidies are more than double the level of spending on health services.


In countries such as Egypt, Pakistan, Morocco and Bangladesh, fossil fuel subsidies outweigh the national fiscal deficit.
These facts add to research from the International Energy Agency (IEA), which revealed that subsidies to fossil fuels are six times higher than those for renewable energy – despite the popular perception that it is too expensive to go green. The Organisation for Economic Cooperation and Development (OECD) also recently stated that coal – the most polluting fuel of all – is subject to the lowest levels of taxation.

The report builds on earlier ODI research, showing that climate change will hit the developing world the hardest of all, posing a threat to poverty eradication.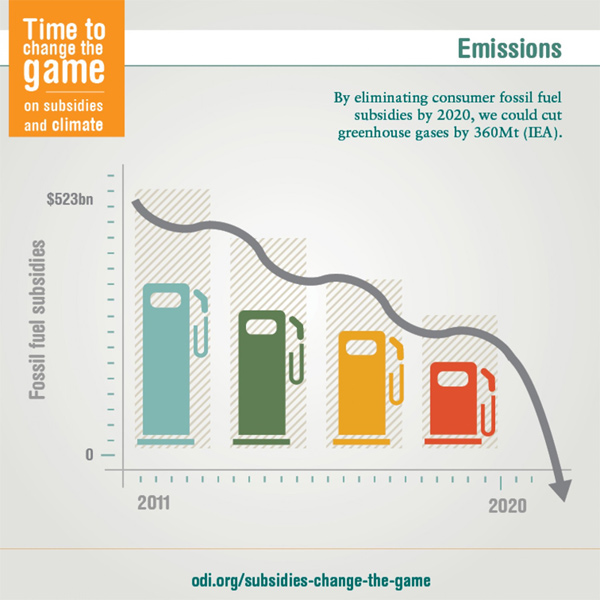 5th November 2013
Annual installations of wind power in Latin America will double by 2022
Although wind plant construction across Latin America is modest compared to more established markets like South and East Asia, North America, and Europe, the region's wind power industry is taking off at a rapid pace.
Latin America has become the hottest growth market for the wind energy industry, at a time when growth rates in other markets are flat due to a variety of policy and macroeconomic challenges. According to a report from Navigant Research, annual wind power installations across Latin America will roughly double, in terms of capacity, over the next 10 years – growing from nearly 2.2 gigawatts (GW) in 2013 to 4.3 GW by 2022.
"Latin America is expected to account for at least 5.5 percent of the world's new wind power installations in 2013," says Feng Zhao, research director with Navigant Research. "With the strong political support of most governments and rapid economic growth fueling rising electricity demand, wind markets in the region are expected to exhibit double-digit compound annual growth rates through the next 10 years."
The latest 2013 wind power contract auction round in Brazil resulted in prices stabilising at higher rates, and the signing on of 1,505 megawatts (MW) of new wind capacity, according to the report. This suggests that the unsustainable downward trend in prices bottomed out last year, and the Brazilian market appears to be poised for strong growth moving forward. This will provide a foundation for wind energy growth across Latin America, the study concludes. An Executive Summary is available for free download.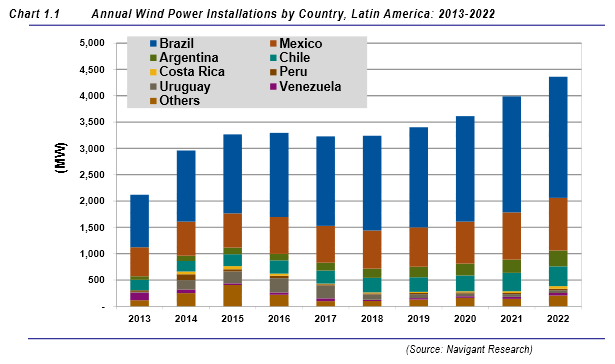 4th November 2013
Carbon budget to 2100 will be used by 2034 according to PwC analysis
According to analysis by PricewaterhouseCoopers (PwC), the world is on track to blow the 2°C carbon budget, estimated by the Intergovernmental Panel on Climate Change (IPCC) for the next 89 years, within 21 years.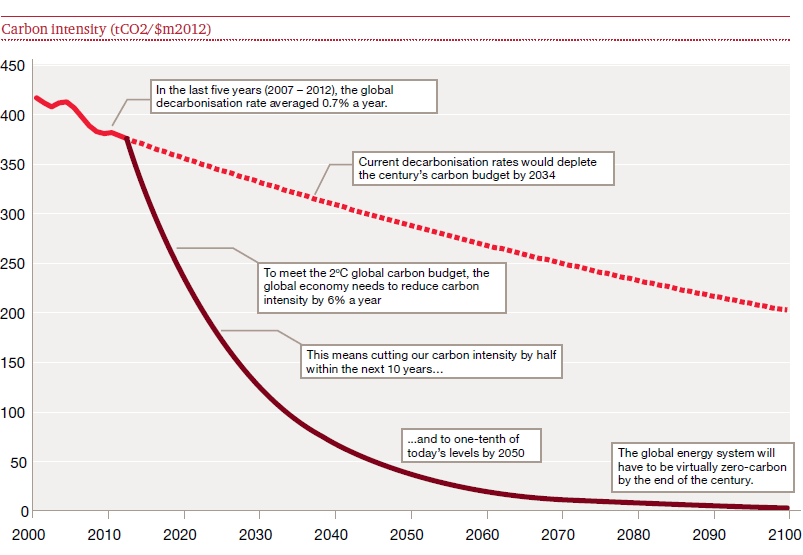 This puts the world on a path consistent with potential global warming of about 4°C by 2100, the most extreme scenario presented in the recent IPCC 5th Assessment Report on climate science.
The results, from the 5th annual PwC Low Carbon Economy Index, examine the amount of energy-related carbon emitted per unit of GDP needed to limit global warming to 2°C.
The report warns that this level of warming "will have serious and far reaching implications." Current investment planning cycles for major business and infrastructure investments now need to factor this into their decision making.
It finds that policies and low carbon technologies have failed to break the link between growth and carbon emissions in the global economy. The world's energy mix remains dominated by fossil fuels:
Reductions in carbon intensity globally have averaged 0.7% per year over the past five years – a fraction of the 6% reductions now required every year to 2100


The G7 averaged a 2.3% reduction while the E7 – which includes much of the manufacturing base of the global economy – managed only 0.4%


US, Australia and Indonesia achieved significant reductions in carbon intensity in 2012, but no country has sustained major reductions over several years


While the fracking revolution has helped lower emissions in the US, cheaper coal contributed to higher coal usage elsewhere, for example in the EU, raising concerns that decarbonisation in one country can just shift emissions elsewhere.
If the world continues at current rates of decarbonisation, the carbon budget outlined by the IPCC for the period 2012 to 2100 would be spent in less than a quarter of that time, and be used up by 2034. Emissions over and above that budget would be increasing the chances of dangerous climate change, with average warming of surface temperature projected to be beyond 2°C.
Jonathan Grant, director of PwC Sustainability & Climate Change: "G20 countries are still consuming fossil fuels like there's no tomorrow. Despite rapid growth in renewables, they still remain a small part of the energy mix and are overwhelmed by the increase in the use of coal. The results raise real questions about the viability of our vast fossil fuel reserves and the way we power our economy. The 2 degrees carbon budget is simply not big enough to cope with the unmitigated exploitation of these reserves."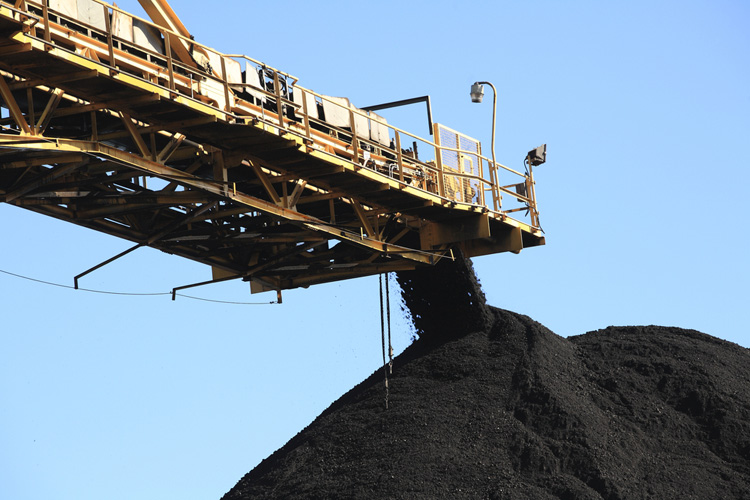 Energy efficiency progress was one bright spot in the analysis. 92% of the small reduction in carbon intensity achieved last year is down to improvements in energy efficiency with the remaining 8% through a shift towards a cleaner energy mix. Italy, the UK and Turkey rank as the most energy efficient economies in the G20, consuming less energy for every $m of GDP generated than their counterparts. But the report warns that there is a limit to which we can cut energy use per unit of GDP.

Five years ago, our global decarbonisation target was 3.5% per annum, now the challenge nearly doubles to 6%. This is more than eight times our current rate of decarbonisation, a level never achieved before, let alone sustained for decades. To achieve what the IPCC deems a 'safe' amount of CO2 in the atmosphere to limit the extreme effects of climate change would require halving carbon intensity within the next ten years, and reducing it to one-tenth of today's levels by 2050. By 2100, the global energy system would need to be virtually zero-carbon.
Jonathan Grant: "Our analysis assumes long term moderate economic growth in emerging economies, and slow steady growth in developed economies. But, failing to tackle climate change is unlikely to result in such a benign scenario of steady growth. Something's got to give, and potentially soon. This has implications for a raft of investments in carbon intensive technologies that are currently being planned and executed today."

Leo Johnson, partner, PwC sustainability & climate change said: "What we have yet to see is the quartet of CCS, nuclear, biofuels and energy efficiency decoupling growth from carbon. We've gone over the carbon cliff. It's time to figure out the steps that are going to get us back. We've also got to question now whether our assumptions of long term growth are reasonable and compatible with a future where we fail to limit climate change."

31st October 2013
The Climate Change Vulnerability Index 2014
The sixth annual release of Maplecroft's Climate Change and Environmental Risk Atlas has revealed that 31% of global economic output will be based in countries facing 'high' or 'extreme risks' from climate change by 2025 — a 50% increase on current levels and more than double since the company began researching the issue in 2008.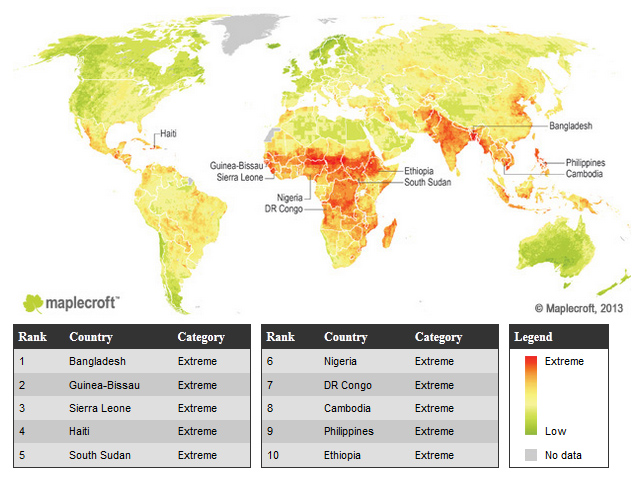 Global business exposed to climate change on multiple levels
Future estimates of the overall cost of climate change on the economy include a wide spectrum of opinions. What cannot be disputed is that the 'high' and 'extreme risk' countries in Maplecroft's CCVI include emerging and developing markets, whose importance to the world economy is ever increasing. By 2025, China's GDP is estimated to treble from current levels to $28 trillion, while India's is forecast to rise to $5 trillion – totalling nearly 23% of global economic output between them.
India's economic exposure to the impacts of extreme climate-related events was recently highlighted by Cyclone Phailin. The storm caused an estimated US$4.15 billion of damage to the agriculture and power sectors alone in the state of Odisha, which is also India's most important mining region. Up to 1 million tons of rice were destroyed, while key infrastructure, including roads, ports, railway and telecommunications were severely damaged, causing major disruption to company operations and the supply chains of industrial mineral users.
"With global brands investing heavily in vulnerable growth markets to take advantage of the spending power of rising middle class populations, we are seeing increased business exposure to extreme climate-related events on multiple levels, including their operations, supply chains and consumer base," states James Allan, Head of Environment at Maplecroft. "Cyclone Phailin demonstrates the critical need for business to monitor the changing frequency and intensity of climate-related events – especially where infrastructure and logistics are weak."
According to Maplecroft, the ability of highly vulnerable countries to manage the direct impact of extreme events on infrastructure will be a significant factor in mitigating the economic impacts of climate change and may present opportunities for investment. Adaptive measures, such as building flood defences and greater infrastructure resiliency, will, however, require the sustained commitment of governments.
Most at risk cities Dhaka, Mumbai, Manila, Kolkata, Bangkok – lowest risk in London, Paris
With commercial activity and the middle classes predominantly based in urban centres, Maplecroft has also calculated the risks to the world's largest cities to pinpoint where the economic exposure will be highest over the next 30 years.
According to the CCVI's sub-national calculations, of the 50 cities studied, five present an 'extreme risk' – Dhaka in Bangladesh; Mumbai and Kolkata in India; Manila in the Philippines and Thailand's Bangkok – while only London and Paris were classified as 'low risk.' Shenzhen and the Pearl River Delta, which encompasses the cities of Guangzhou, Dongguan and Foshan and make up China's manufacturing heartland, are among the most exposed to physical risks from extreme climate-related events.
West Africa sees greatest increase in risk
Meanwhile, the regions facing the most increased levels of risk are West Africa and the Sahel. Maplecroft's Exposure Index incorporates recently released UN IPCC climate projections for the period up to 2040, and identifies regions that are projected to undergo a significant shift in key climate parameters in that timeframe. Over this period a projected warming of 2°C will combine with substantial changes in rainfall and humidity, which will have a significant impact on communities and businesses located in West Africa and the Sahel.
The region's increased risk is reflected by the inclusion of West Africa's largest economy, Nigeria, as the world's sixth most at risk country in the CCVI. Nigeria's oil sector is left particularly exposed to the impacts of climate-related events. Flooding between July-November 2012 resulted in an estimated loss of 500,000 barrels-per-day in oil production, equivalent to over one-fifth of Nigeria's output. The oil-rich Niger delta is especially vulnerable, with rising sea levels already resulting in erosion and the loss of some oil wells in this area.
26th October 2013
A clear majority of Americans want marijuana to be legal
A new poll by Gallup has revealed that 58% of Americans now support the legalisation of marijuana. Only 39% are now against.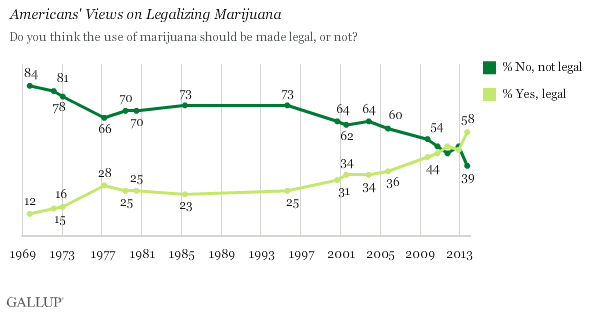 When Gallup first asked the question back in 1969, only 12% favoured legalisation of the drug. This figure had more than doubled by 1980. It then levelled off during the next two decades, before rising steadily again. In 2011, support reached a majority for the first time with 50% in favour and 46% against. The gap has now widened further – by a dramatic amount, in fact – as shown by the graph above.
Support for legalisation has risen across the political spectrum, but remains weakest among Republican voters, with only 35% in favour. For Democrats, the figure is 65%, up from 61% in 2012. The largest increase, by far, has occurred with independent voters, whose support has increased by a massive 12% – from 50% in 2012, to 62% now.

Perhaps unsurprisingly, age makes a difference too, with younger people more likely to be in favour. Among those aged between 18 and 29, over two-thirds believe marijuana should be legal. This decreases to 45% for those 65 and older.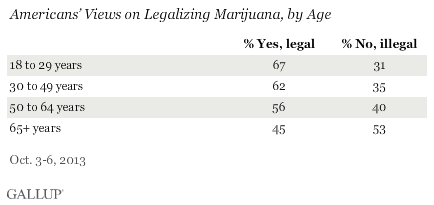 In the last year, recreational use of pot became legal in two states – Colorado and Washington. Over 20 states allow marijuana use for medical purposes. A sizable percentage of Americans (38%) this year admitted to having tried the drug, which may be a contributing factor to its greater acceptance.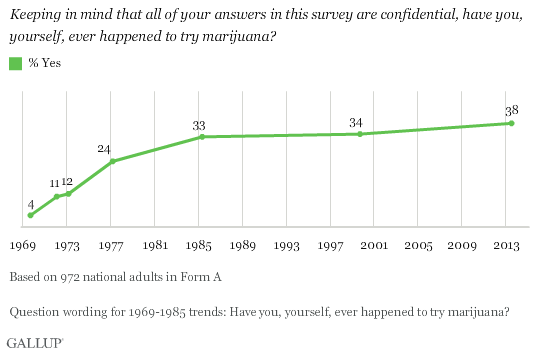 If these trends continue, and with Generation X playing a greater role in politics, there may come a tipping point in the not-too-distant future when marijuana is legal across many more states and – eventually – the entire nation. Taxing and regulating the drug could be financially beneficial, while freeing up police time, allowing officers to concentrate on more serious crimes.
26th October 2013
By 2017, New York City aims to have replaced all of its street lights with LEDs
Mayor Bloomberg and Transportation Commissioner Sadik-Khan have announced that all 250,000 street lights in New York City will be replaced with energy-efficient LEDs by 2017 – reducing power consumption and maintenance costs, while also lowering carbon emissions.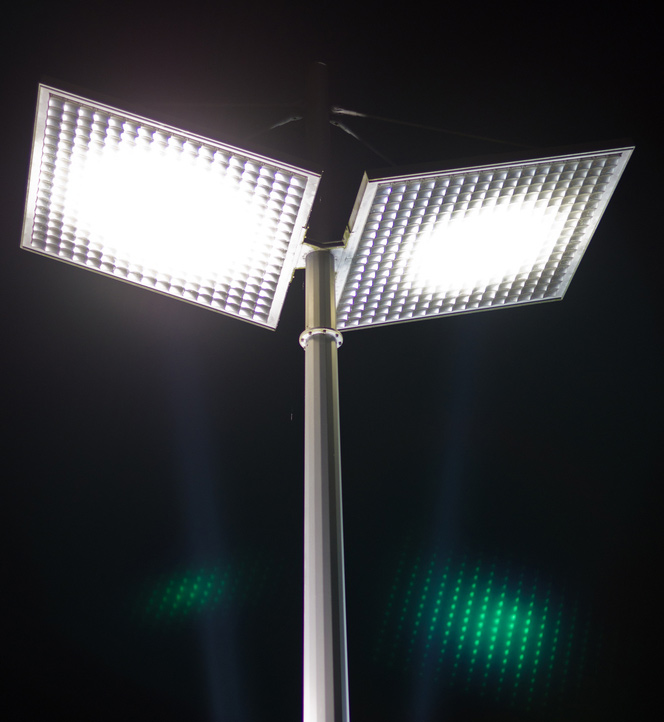 These plans will be the largest LED retrofit in the country, are expected to deliver at least $14 million in savings annually and will be another step towards the goal of reducing citywide greenhouse gas emissions by 30 percent by 2030.
Mayor Bloomberg: "With a quarter-million street lights in our City, upgrading to more energy efficient lights is a large and necessary feat. It will save taxpayers millions of dollars, move us closer to achieving our ambitious sustainability goals and help us to continue reducing City government's day-to-day costs and improving its operations."
"Using LEDs for street lighting is more than just a bright idea," said Commissioner Sadik-Khan. "It's a necessity for sustainable cities to operate more efficiently while also delivering clearer, better quality light for New Yorkers. From our parks to our bridges and to our streets and highways, these 250,000 lights will brighten New York City's streetscapes for generations to come."
In 2009, the Department of Transportation (DOT) partnered with the Climate Group, while the U.S. Department of Energy (DOE) conducted studies to collect data on the performance of LED fixtures, as part of a global study to quantify the benefits for cities with LED lights. The tests measured factors such as illumination, colour and energy consumption. Replacement trials in Central Park and on Manhattan's FDR Drive showed energy savings of up to 83%.
These LEDs have also been found to minimise light pollution, improve public safety and make outdoor areas feel more welcoming at night. The bulbs can last up to 20 years before needing replacement, compared to standard high-pressure sodium lights currently on streets, which last for only six years. LEDs don't contain mercury or lead, and therefore won't release toxic gases if damaged. Yet another benefit is that LEDs are less attractive to nocturnal insects, which are instead drawn to ultraviolet, blue and green lights emitted by conventional light sources.
More importantly, lighting accounts for nearly 6% of CO2 emissions – about 1,900 million tons globally each year – equivalent to emissions from 70% of the world's passenger vehicles. A considerable dent in our carbon footprint would be achieved simply by switching to more energy efficient lamps.
This announcement comes as more and more cities have begun adopting LED lights. Last year, for example, Los Angeles completed its own massive project, retrofitting 141,000 street lights with LED bulbs. The LED lighting market is expected to grow rapidly from 2015 onwards – accounting for 64 percent of general lighting by 2020, with prices falling by 80%.
17th October 2013
Nearly 30 million people are living in slavery, according to latest estimate
Slavery was banned globally by the UN Declaration of Human Rights in 1948. However, it continues to be a significant problem today. A new Global Slavery Index – the first of its kind – estimates that 29.8 million people are living as slaves in 2013.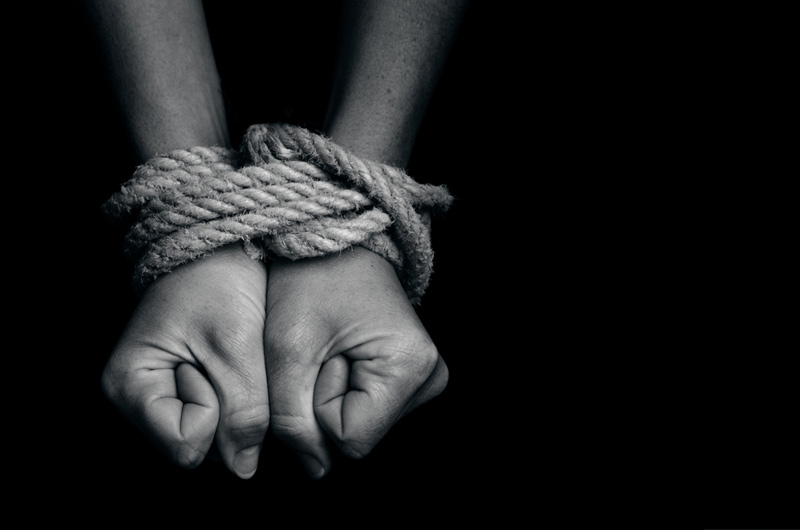 There is evidence of slavery that predates written records. It is thought to have first proliferated after the invention of agriculture during the Neolithic Revolution about 11,000 years ago. In today's world, there are various types of slavery. These include human trafficking, forced labour, forced marriage, debt bondage and child soldiers. In all cases, the victims are treated as property to be bought and sold, exploited and denied the freedom which others take for granted.
The Walk Free Foundation is a new global charity based in Perth, Australia, with a stated aim of ending modern slavery within a generation. It hopes to achieve this by mobilising a global activist movement, generating high quality research, enlisting businesses and raising unprecedented levels of capital, to drive change in those countries and industries bearing the greatest responsibility for slavery.
As part of this effort, Walk Free has just released the Global Slavery Index 2013 which it claims is the most accurate and comprehensive assessment of slavery that has ever been published. This survey has statistics for 162 countries, based on detailed consultations with an international panel of experts, think tanks, and academic institutions. It ranks each country using a combined measure of three factors — prevalence of modern slavery by population, the number of child marriages and the amount of human trafficking in and out of a country. The ranking is heavily weighted to reflect the first factor, prevalence.
In terms of the percentage of its population that is enslaved, Mauritania in West Africa is ranked first. It has an estimated 150,000 slaves — or about 4.47% in a total population of just 3,359,000. The Caribbean nation of Haiti is in second place (2.16%), with Pakistan ranked third (1.23%).
In terms of absolute numbers (as opposed to just percentages), India has by far the most slaves. As shown in this graph, there are nearly 14 million, almost half of the worldwide total. China follows, with an estimated 2.9 million enslaved, and Pakistan comes in third with slightly over two million. The top 10 countries together account for more than 22 million of the 29.8 million people enslaved. If the total number of slaves today was represented by a country, it would be equivalent to the entire population of Malaysia. If represented by a U.S. state, it would be second only to California in population.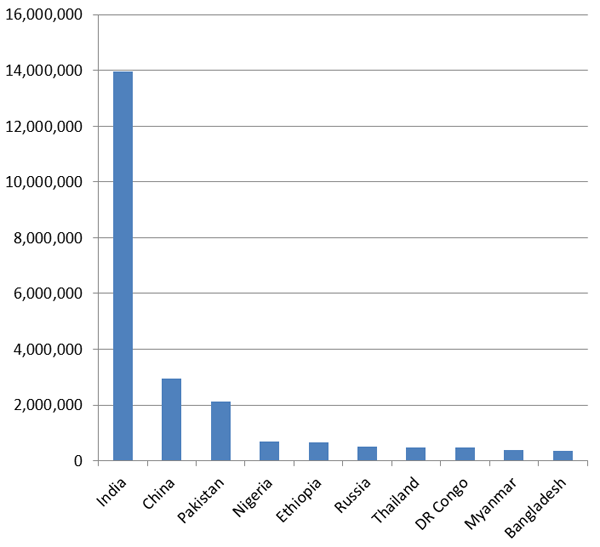 Iceland, Ireland and the United Kingdom are tied last, with a ranking of 160. This does not mean these countries are slavery-free. On the contrary, it is estimated that 4,200 – 4,600 people are in modern slavery in the UK alone.
Nick Grono, CEO of the Walk Free Foundation, says in a press release: "It would be comforting to think that slavery is a relic of history, but it remains a scar on humanity on every continent. This is the first slavery index, but it can already shape national and global efforts to root out modern slavery across the world. We now know that just ten countries are home to over three-quarters of those trapped in modern slavery. These nations must be the focus of global efforts."
Professor Kevin Bales, lead researcher on the Index: "Most governments don't dig deeply into slavery for a lot of bad reasons. There are exceptions, but many governments don't want to know about people who can't vote, who are hidden away, and are likely to be illegal anyway. The laws are in place, but the tools and resources and the political will are lacking. And since hidden slaves can't be counted it is easy to pretend they don't exist. The Index aims to change that."
The report is endorsed by individuals including former Secretary of State Hillary Clinton, former Prime Ministers Tony Blair, Gordon Brown and Julia Gillard; and leading philanthropists, Bill Gates, Sir Richard Branson and Mo Ibrahim, as well as academics, business leaders, and policy makers. It can be viewed at GlobalSlaveryIndex.org.
15th October 2013
US shutdown means one sad tale after another for scientists
By Alexis Webb, National Institute for Medical Research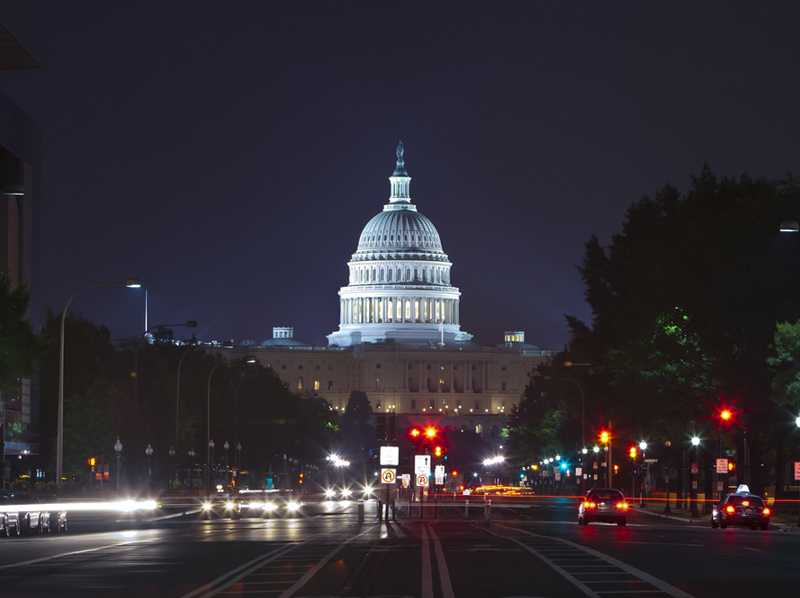 As a researcher funded by the US National Science Foundation (NSF), since October 1, I've known that I will be not be receiving my monthly fellowship. This has meant that my work — investigating genes' role in vertebrate development — has been put on hold.
Like many other scientists faced with the US government shutdown, I was not told how to prepare for this, or if any contingency plans would be offered. Because of furloughs, officials at the NSF are unreachable for help. National parks, museums and research institutes are all shut, with scientists and staff sent home. This means suspension of many critical aspects of research.
Now I have to continue my work without financial support, living and working in London with no salary until funding is restored. Because I'm in the UK, my host laboratory does not rely on US grant money to operate, and I continue to have access to equipment and supplies. Other researchers have not been as lucky: 73% of employees at the National Insitutes of Health (NIH) in Bethesda are unable to remain at the bench during the shutdown, stalling advances in biomedical research. The minimal staff allowed to stay are able to keep crucial materials like cell lines alive, but worries linger for what will happen when the limited supplies run out.
As the budget impasse enters its third week, the list of programs and facilities affected is growing. Researchers in health sciences worldwide have probably noticed the effects on critical tools such as PubMed, an online database of more than 23 million journal articles, currently being operated with minimal staff. Geologists and meteorologists must make do with limited resources, as only systems with a direct impact on health and safety remain accessible. If the shutdown isn't dealt with before October 18, astronomers will be unable to use telescopes at the National Optical Astronomy Observatory in Arizona to scan the skies.
Researchers submitting grants for funding find themselves in a holding pattern, uploading their proposals without acknowledgement. Alec Davidson, associate professor of neurobiology at Morehouse School of Medicine said, he is "not sure what will happen with the October 16 deadline for the R21 grant (a smaller, shorter-term grant than the standard R01)" and has received "no response from program officers" at the NIH.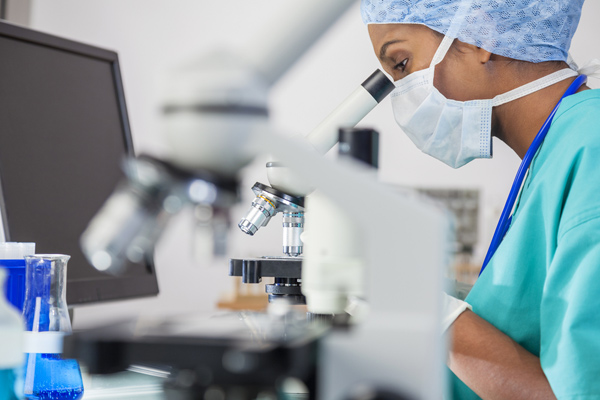 The grant review process is also suspended until further notice. Those who have already completed early stages of submission are seeing their assessment and scoring dates being postponed. Even researchers who secured funding before October 1 are not immune to the effects of the shutdown and are unable to activate their grants to receive funds. Again, those who could address these concerns have been furloughed and are inaccessible.
Outside the lab, the world of science publishing is also beginning to feel the negative effects of the shutdown. Peer-reviewed journals rely on volunteer scientists to evaluate the quality of the research submitted to be published. Journal editors now find that they are unable to reach their reviewers, as non-essential researchers are not allowed to reply to email or phone calls. As manuscripts are unable to be reviewed and have revisions addressed, there is a concern that science journals will face a delay in publishing. For the time being, it seems that there are enough papers and funded researchers that the system won't grind to a halt just yet.
The shutdown is having a real impact on scientists' lives. The entire US Antarctic research program was cancelled because of it. The story of chemical oceanographer Jamie Collins was widely covered in the media last week. A third-year graduate student, he had travelled from Boston to the Palmer Research Station in Antarctica, only to be told not to leave his ship. The field expedition he had been preparing for over the summer was cancelled because the NSF cannot support the research stations without a budget. He will be returning to Boston without collecting necessary data for his PhD project.
Graduate students, like Collins, and postdoctoral researchers, like me, the so-called work horses of academic science, rely on government granting bodies to support our training. Our future in science often depends on the quality of research we generate during this critical time. If we are unable to perform experiments and collect data that we need to publish our work, how can we be expected to advance our careers? Talented young researchers are taking note of the value that the US Congress is placing on science by failing to fund the government and may look elsewhere. We can only hope the disheartening message of "Science – Closed Until Further Notice" will change before it's too late.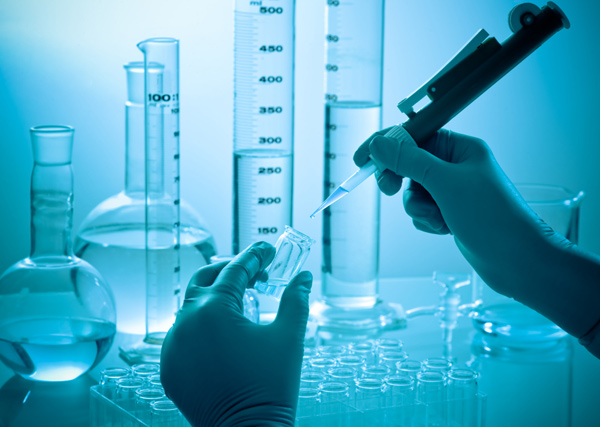 9th October 2013
Delayed aging is better investment than cancer or heart disease research
Following the recent announcement from Google that the company's next startup, Calico, will tackle the science of aging, a new study concludes that research to delay aging and the infirmities of old age would have better social and economic benefits than advances in individual fatal diseases like cancer or heart disease.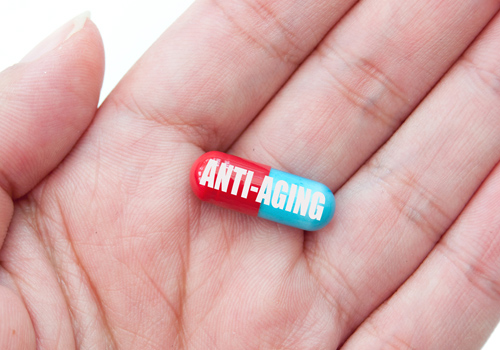 With even modest gains in our scientific understanding of how to slow the aging process, an additional 5 percent of adults in the U.S. over the age of 65 would be healthy rather than disabled every year from 2030 to 2060, revealed the study in the October issue of Health Affairs.
Put another way, an investment in delayed aging would mean 11.7 million more healthy adults over the age of 65 in 2060. The analysis, from top scientists at Harvard University, the University of Southern California, Columbia University, the University of Illinois at Chicago and other institutions, assumes research investment leading to a 1.25 percent reduction in the likelihood of age-related diseases. In contrast to treatments for fatal diseases, slowing aging would have no health returns initially, but would have significant benefits over the long term.
In the United States, the number of people aged 65 and over is expected to more than double in the next 50 years, from 43 million in 2010 to 106 million in 2060. About 28 percent of the current population over 65 is disabled.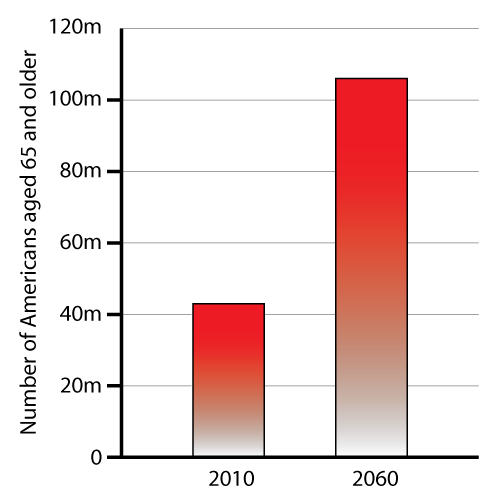 "In the last half-century, major life expectancy gains were driven by finding ways to reduce mortality from fatal diseases," said lead author Dana Goldman, holder of the Leonard D. Schaeffer Director's Chair at the USC Schaeffer Center for Health Policy and Economics. "But now disabled life expectancy is rising faster than total life expectancy, leaving the number of years that one can expect to live in good health unchanged or diminished. If we can age more slowly, we can delay the onset and progression of many disabling diseases simultaneously."
The study showed significantly lower and declining returns for continuing the current research "disease model," which seeks to treat fatal diseases independently, rather than tackling the shared, underlying cause of frailty and disability: aging itself.
Lowering the incidence of cancer by 25 percent in the next few decades — in line with the most favorable historical trends — would barely improve population health over not doing anything at all, the analysis showed. The same is true of heart disease, the leading cause of death worldwide: About the same number of older adults would be alive but disabled in 2060 whether we do nothing or continue to combat cancer and heart disease individually. The findings are in line with earlier research showing that curing cancer completely would only increase life expectancy by about three years.
"Even a marginal success in slowing aging is going to have a huge impact on health and quality of life. This is a fundamentally new approach to public health that would attack the underlying risk factors for all fatal and disabling diseases," said corresponding author S. Jay Olshansky of the School of Public Health at the University of Illinois-Chicago. "We need to begin the research now. We don't know which mechanisms are going to work to actually delay aging, and there are probably a variety of ways this could be accomplished, but we need to decide now that this is worth pursuing."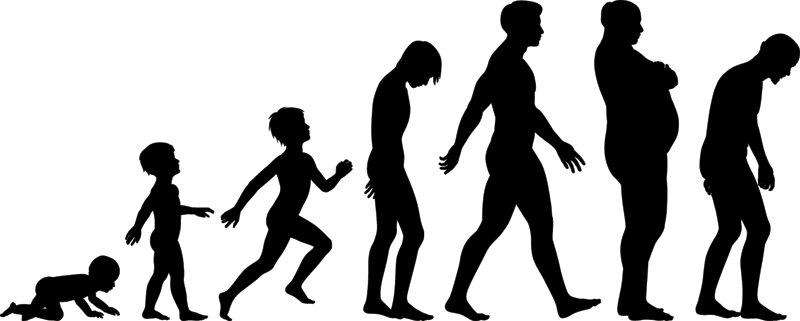 Several lines of scientific inquiry have already shown how we might age more slowly, including studies of the genetics of "centenarians" and other long-lived people. Slowing the signs of biological aging has also been achieved in animal models, using pharmaceuticals or interventions such as caloric restriction.
But until now, no assessment has been made of the costs and health returns on developing therapies for delayed aging.
"We would be affecting every generation," Olshansky said. "This study is a benchmark in the world of public health."
The study showed that, with major advances in cancer treatment or heart disease, a 51-year-old can expect to live about one more year. A modest improvement in delaying aging would double this to two additional years — and those years are much more likely to be spent in good health.
The increase in healthy years of life would have an economic benefit of approximately $7.1 trillion over the next five decades, the researchers find. Their analysis did not account for the potential cognitive benefits for older adults with research in delayed aging.
However, the results of the study also showed that improving the population of healthy, older adults will not lower overall health care spending. With research advances in delayed aging, more people would be alive past the age of 65, which means significantly higher outlays for Medicare and Medicaid despite less per-person spending on medical costs.
"Shifting the focus of medical investment to delayed aging instead of targeting diseases individually would lead to significant gains in physical health and social engagement," Goldman said. "We see extremely large population health benefits, and the benefits will extend to future generations. There are major fiscal challenges, but these are manageable with reasonable policy changes, and the economic value of such a shift is too large to ignore."
8th October 2013
First commercial-scale carbon capture and mineralisation plant in the U.S. begins construction
Skyonic Corporation has hosted a groundbreaking event at its Capitol SkyMine plant in San Antonio. The plant, which is the first of its kind in the United States, is expected to capture 300,000 tons of CO2 annually.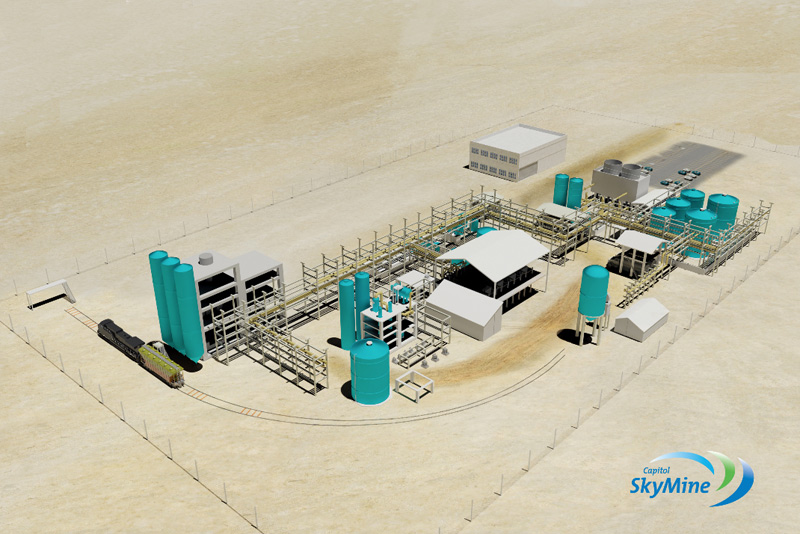 Although miniscule when compared to the nation's total CO2 output (which currently stands at 5.5 billion tons annually), Skyonic's new plant is a vital first step on the long road to decarbonisation. Once fully operational in 2014, it will capture around 75,000 tons directly, with an additional 225,000 tons being offset by the production of green products. The plant is expected to turn a profit within three years from the sale of products including sodium bicarbonate, hydrochloric acid (HCl), and bleach.
"The beginning of construction is a major milestone on the road to commercialisation," said Greg Hale, the President of Capitol Aggregates. "When Skyonic began operating its demonstration plant at Capitol Aggregates several years ago, we were excited about the prospect of producing more sustainable cement. Now that the project has reached a commercial scale, we couldn't be happier to have such a revolutionary process at our cement factory."
Skyonic has operated a demonstration-scale plant at the Capitol Aggregates site since 2010, with on-going support from the San Antonio community. The commercial-scale Capitol SkyMine plant will employ roughly 35 people and is expected to create more than 200 jobs through its construction and on-going operations.
"I applaud the Zachry Corporation and Skyonic for setting the standard with the first commercial carbon capture plant of its kind," Mayor Julián Castro said. "This project is another example of how San Antonio is becoming a leader in combining green technology and job creation."
Skyonic's electrolytic carbon capture technology – SkyMine – will selectively capture CO2, acid gases and heavy metals from the flue gas of the Capitol Aggregates Cement Plant, where the Capitol SkyMine plant will be retrofitted. The captured pollutants will be mineralised into products which are stored, transported and sold as safe, stable solids – eliminating many of the costs and concerns associated with other capture. The sodium bicarbonate, as well as the hydrochloric acid and bleach that is produced, can be sold at a profit. By producing valuable products using low cost chemical inputs and operating at energy efficient conditions, SkyMine captures CO2 at substantially lower operating cost than other technologies, allowing industrial emitters to turn a profit from reduced emissions.
"Industrial manufacturing is a cornerstone of the global economy and we're doing our part in making the process more lucrative for industries and cleaner for the environment," said Joe Jones, founder and CEO of Skyonic. "Our partners and investors have played an important role in getting to this commercialisation stage – and we're all looking forward to starting construction and making our first plant a stand out success."
5th October 2013
World's most fuel-efficient car makes U.S. debut
The Volkswagen XL1 – the most aerodynamic and fuel-efficient car ever built – made its U.S. debut this week at the 23rd Annual Society of Environmental Journalists (SEJ) Conference held in Chattanooga, Tennessee.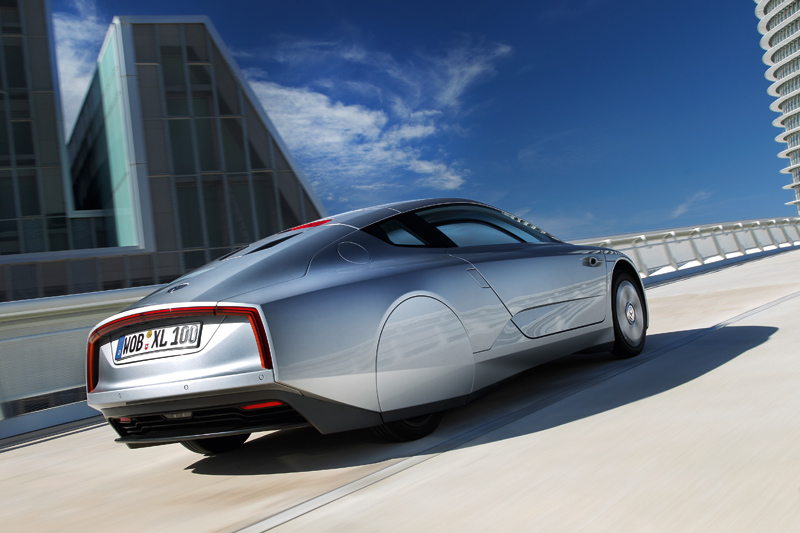 The XL1 offers a European combined fuel consumption rating of 261 miles per gallon (more than 200 mpg estimated in the U.S. cycle). By way of comparison, the U.S. average for new passenger vehicles is currently around 32 mpg and forecast to reach 54 mpg by 2025. The XL1 goes 32 miles in all-electric mode as a zero-emissions car, with top speed of 99 mph, accelerating from 0 to 62 mph in 12.7 seconds.
"The XL1 offers a glimpse into Volkswagen's present and future eco-mobility capabilities, and highlights the ultimate successes of 'Thinking Blue'," said Oliver Schmidt, General Manager of the Engineering and Environmental Office (EEO), Volkswagen Group of America. "Volkswagen is proud to debut this ultra-fuel-efficient vehicle before the Society of Environmental Journalists, a group that shares in our commitment to environmental stewardship."
The XL1 follows pure sports-car design principles: light weight (1753 pounds), exceptional aerodynamics (Cd 0.19), and a low centre of gravity. This super-efficient vehicle has the ability to cruise down the road at a constant 62 mph while using just 8.4 PS (6.2kW) horsepower. In all-electric mode, it requires less than 0.1 kWh to cover more than a kilometre.

The car emits just 21 g/km of CO2, thanks to its high-tech lightweight design, aerodynamic efficiency, and plug-in hybrid system consisting of a 48 PS (35kW) two-cylinder TDI engine, 27-hp electric motor, seven-speed DSG dual-clutch automatic transmission, and lithium-ion battery.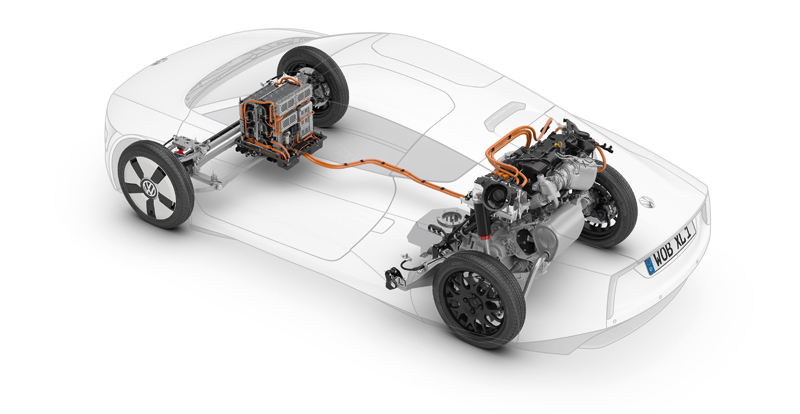 Conceptually, the XL1 is the third evolutionary stage of Volkswagen's 1-litre car strategy. When the new millennium was ushered in, Professor Ferdinand Piëch – now Chairman of the Supervisory Board of Volkswagen – formulated the visionary goal of putting into production a practical car with combined fuel consumption of one litre per 100 km (235 mpg). In the two-seat XL1, this vision has become a reality.
Despite the tremendous efficiency of the car, its engineers and designers successfully came up with a body design which delivers more everyday utility than the two previous prototypes. In the L1, shown in 2002 and 2009, driver and passenger sat in a "tandem" arrangement for optimal aerodynamics; in the XL1, the two occupants sit slightly offset, side by side, almost like a conventional vehicle.
The XL1 is 153.1 inches long, 65.6 inches wide, and just 45.4 inches tall. By comparison, a Volkswagen Polo is slightly longer (156.3 in) and wider (66.2 in), but is significantly taller (57.6 in). Even a purebred sports car like today's Porsche Boxster is 5.1 inches taller. The XL1 will look spectacular going down the highway – a car of the future, built for today.
This technology comes at a price, of course. The XL1 will be sold at $146,000 with only 250 being produced.
19th September 2013
Nearly half of US jobs could be at risk of computerisation within 20 years
A study by the Oxford Martin School shows that nearly half of US jobs could be at risk of computerisation within 20 years. Transport, logistics and office roles are most likely to come under threat.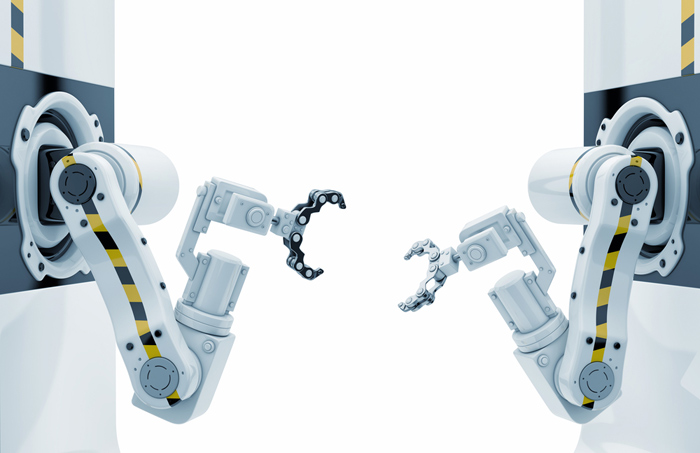 The new study, a collaboration between Dr Carl Benedikt Frey (Oxford Martin School) and Dr Michael A. Osborne (Department of Engineering Science, University of Oxford), found that jobs in transportation, logistics, as well as office and administrative support, are at "high risk" of automation. More surprisingly, occupations within the service industry are also highly susceptible, despite recent job growth in this sector.
"We identified several key bottlenecks currently preventing occupations being automated," says Dr. Osborne. "As big data helps to overcome these obstacles, a great number of jobs will be put at risk."
The study examined over 700 detailed occupation types, noting the types of tasks workers perform and the skills required. By weighting these factors, as well as the engineering obstacles currently preventing computerisation, the researchers assessed the degree to which these occupations may be automated in the coming decades.

"Our findings imply that as technology races ahead, low-skilled workers will move to tasks that are not susceptible to computerisation – i.e., tasks that require creative and social intelligence," the paper states. "For workers to win the race, however, they will have to acquire creative and social skills."
"While computerisation has been historically confined to routine tasks involving explicit rule-based activities, algorithms for big data are now rapidly entering domains reliant upon pattern recognition and can readily substitute for labour in a wide range of non-routine cognitive tasks. In addition, advanced robots are gaining enhanced senses and dexterity, allowing them to perform a broader scope of manual tasks. This is likely to change the nature of work across industries and occupations."
The low susceptibility of engineering and science occupations to computerisation, on the other hand, is largely due to the high degree of creative intelligence they require. However, even these occupations could be taken over by computers in the longer term.
Dr Frey said the United Kingdom is expected to face a similar challenge to the US. "While our analysis was based on detailed datasets relating to US occupations, the implications are likely to extend to employment in the UK and other developed countries," he said.
Full version of the paper:
http://www.futuretech.ox.ac.uk/files/The_Future_of_Employment_OMS_Working_Paper_1.pdf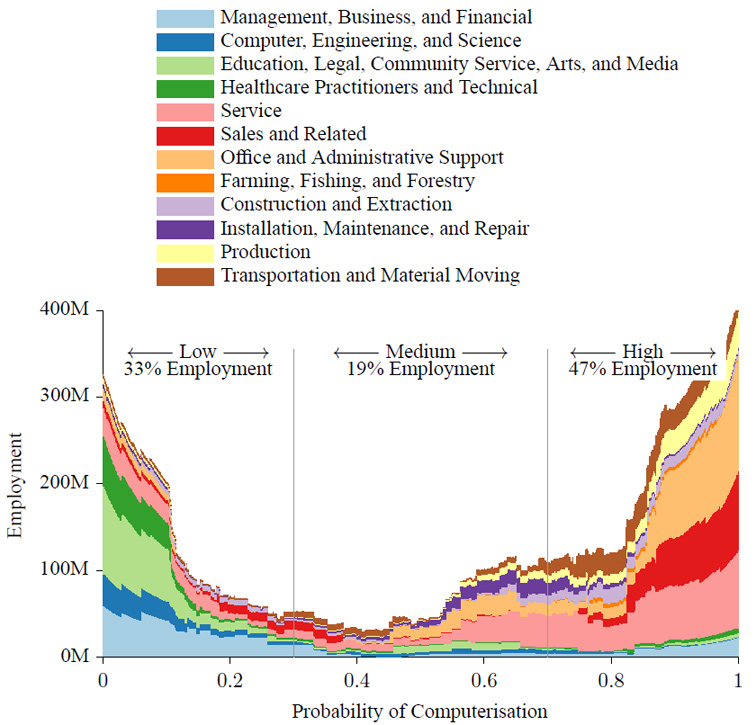 18th September 2013
Google launches new company with aim to defeat aging
Google today announced Calico, a new company that will focus on health and well-being – in particular the challenge of aging and associated diseases. Arthur D. Levinson, Chairman and former CEO of Genentech and Chairman of Apple, will be Chief Executive Officer and a founding investor.

Announcing this new investment, Larry Page, Google CEO said: "Illness and aging affect all our families. With longer term, moonshot thinking around healthcare and biotechnology, I believe we can improve millions of lives. It's impossible to imagine anyone better than Art — one of the leading scientists, entrepreneurs and CEOs of our generation — to take this new venture forward."
"I've devoted much of my life to science and technology, with the goal of improving human health," Levinson commented. "Larry's focus on outsized improvements has inspired me, and I'm tremendously excited about what's next."

Art Levinson will remain Chairman of Genentech and a director of Hoffmann-La Roche, as well as Chairman of Apple. Commenting on Art's new role, Franz Humer, Chairman of Hoffmann-La Roche, said: "Art's track record at Genentech has been exemplary, and we see an interesting potential for our companies to work together going forward. We're delighted he'll stay on our board."

Tim Cook, Chief Executive Officer of Apple, said: "For too many of our friends and family, life has been cut short or the quality of their life is too often lacking. Art is one of the crazy ones who thinks it doesn't have to be this way. There is no one better suited to lead this mission and I am excited to see the results."
16th September 2013
Europe's largest tidal energy project given go-ahead
MeyGen has been awarded consent by the Scottish Government for an 86 megawatt (MW) tidal energy project, following the completion of the statutory approval process with the regulator Marine Scotland.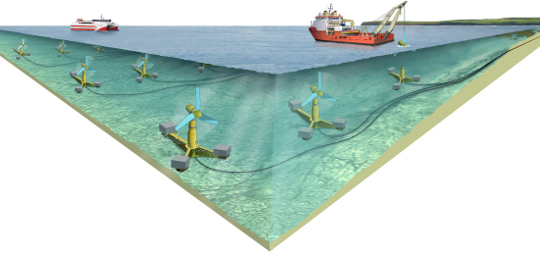 The project is located in the Inner Sound of the Pentland Firth off the north coast of Caithness, home to one of Europe's greatest tidal resources. It is the largest tidal stream energy project to be awarded consent in Europe and constitutes the first phase of a site that could yield almost 400MW by 2020.
MeyGen plans to build an initial demonstration array of up to 6 turbines, with construction starting in early 2014 and turbines commissioned in 2015. This initial array will provide valuable environmental data for the subsequent phases and the wider tidal energy industry. When fully operational, it could generate enough electricity to power around 40% of homes in the Scottish Highlands.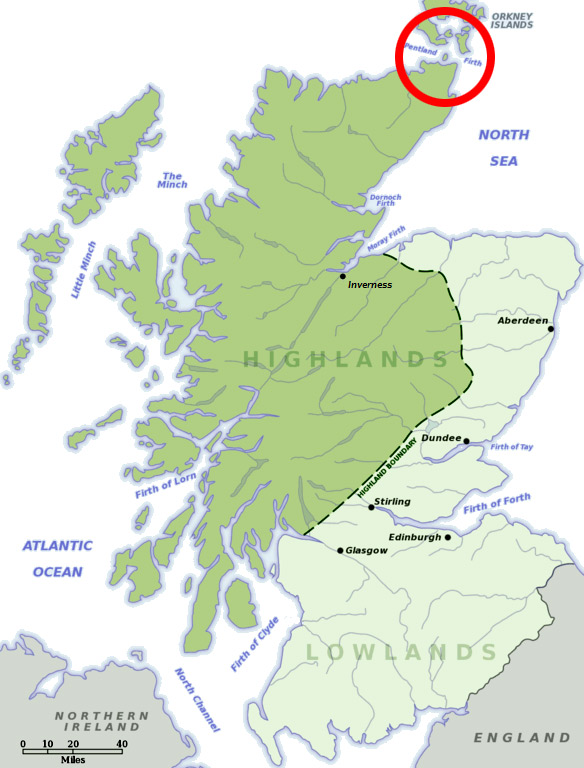 Ed Rollings, Environment & Consents Manager of MeyGen, commented: "The award of this consent is the culmination of over four years of environmental work and extensive consultation with stakeholders and the local community.
"The Pentland Firth and Orkney Waters region is an internationally important area for wildlife and we are committed to continuing research with interested parties to ensure that the exploitation of this clean, predictable and sustainable energy resource is done so in a manner that does not have a detrimental effect on the species and habitats in the area."
Fergus Ewing, the Scottish energy minister, added: "We must tackle climate change. We need to reduce our reliance on fossil fuels through better and more efficient uses of energy. Marine energy – a homegrown technology with huge potential – is part of the solution."
Another huge marine project – the world's largest wave farm – was recently approved by the Scottish government and will be constructed on the other side of the country. First Minister Alex Salmond has set the ambitious goal of generating 100% of electricity from renewables by 2020.
Seawater is 832 times denser than air, so a 5 knot ocean current has more kinetic energy than a 220 mph wind. Therefore, ocean currents have extremely high energy density and require smaller devices to harness than wind power. Since oceans cover 70% of Earth's surface, ocean energy (including wave power, tidal current power and ocean thermal energy conversion) is a vast untapped resource, estimated at between 2,000 and 4,000 TWh per year. The potential of marine energy is being explored by a number of other countries, including the USA, which last year granted a license for the nation's first wave power station.