19th October 2016
1 in 4 millennials would prefer a giant meteor strike to 2016 U.S. presidential candidates
Nearly a quarter of Americans aged 18 to 35 would rather see a giant meteor strike the Earth than see either Hillary Clinton or Donald Trump in the White House, according to the University of Massachusetts Lowell/Odyssey Millennials poll released yesterday.
The poll asked millennials to choose their preference between Hillary Clinton as president, Donald Trump as president, a random lottery to choose the president from all U.S. citizens, Barack Obama appointing himself to a life term as president, or a giant meteor striking the Earth and extinguishing all human life. Over a Clinton or Trump presidency, 39% of those surveyed said they preferred Obama serve a life term; 26% prefer a random lottery to choose the next president and 23% (nearly 1 in 4) prefer a giant meteor strike.
The national poll – conducted from 10th-13th October – asked millennials (1247 American adults aged 18-35; 966 registered voters; 680 likely voters) about their attitudes and opinions on the upcoming election, from irreverent options to the candidates to serious issues such as race relations, immigration and the legalisation of marijuana.
"We do not take our respondents at their word that they are earnestly interested in seeing the world end, but we do take their willingness to rank two constitutional crises and a giant meteor ahead of these two candidates with startling frequency as a sign of displeasure and disaffection with the candidates and the 2016 election," said Prof. Joshua Dyck, co-director of UMass Lowell's Center for Public Opinion, who wrote and analysed the independent, nonpartisan poll.
By a 3-to-1 margin, millennials who are "likely" voters prefer Democrat Hillary Clinton to Republican Donald Trump in a head-to-head race for president, 66% to 22%, with 12% undecided. When third-party candidates are included, Clinton gets 61% of likely voters' support, Trump stays at 22%, Libertarian Gary Johnson gets 9%, Jill Stein of the Green Party gets 5% and only 3% are undecided.

Hillary Clinton

Democratic Party

61%

Donald Trump

Republican Party

22%

Gary Johnson

Libertarian Party

9%

Jill Stein

Green Party

5%

Undecided

3%
The poll found that millennials dislike Trump and have reservations about Clinton. Trump is viewed favourably by only 25% of registered voters surveyed, compared to 72% who view him unfavourably. Only 19% view him as level-headed, 20% said he had the right experience to be president and 23% believe he cares about people like them. Majorities of respondents also said they view Trump as dishonest, lacking leadership and someone who would not bring the right kind of change to the country. 63% of likely voters said he should drop out of the presidential race.
When it came to Hillary Clinton, 56% of those surveyed said they view her favourably, far less than the approval rating for Bernie Sanders (73%) and Barack Obama (71%). Clinton's biggest liability, according to the millennials surveyed, is honesty (only 36% say she is honest) and 46% said she takes responsibility for her mistakes. 71% said they believe she is intelligent (compared to 35% for Trump), 67% said she has the right experience to be president (compared to 20% for Trump) and 60% said she is level-headed (compared to 19% for Trump). However, millennials are split on whether she cares about people like them (55% said yes, 45% said no) and whether she would bring the right kind of change to the country (51% yes to 49% no).
Millennials were also asked how they would vote if Bernie Sanders was the Democratic candidate instead of Hillary Clinton. In a head-to-head matchup between Trump and Sanders, 67% of millennials would choose Sanders compared to 23% for Trump and 10% were undecided, the same margin (44%) by which Clinton leads Trump in a head-to-head matchup of likely voters. However, among those surveyed who said they were "not likely" to vote, Sanders leads Trump 63% to 15%, with 22% undecided, compared to Clinton leading Trump 42% to 21% with 37% undecided among the same group. The results could be an indicator that Sanders supporters in the millennial age group are still unwilling to support Clinton, and may not plan to vote in the election as a result. However, among Sanders supporters who do intend to vote, they are choosing Clinton over Trump.
Survey respondents were also asked who they would vote for if it was Republican vice presidential candidate Mike Pence, rather than Trump, facing Clinton for the presidency. The poll found Clinton leads Pence among likely voters 63% to 21%, a margin that is almost identical to her lead over Trump.
These results could indicate that, regardless of who the candidates are, millennial voters' preferences are influenced by party identification. Millennials are identifying as Democrats by a nearly 3-to-1 margin. This trend may be a troubling one for the Republican Party if millennials continue on the same ideological path in the future.
"In the 2004 election, young voters were closely divided," said Prof. Dyck. "Democrat John Kerry won 18- to 29-year-olds by 11 points. But since 2008, we have seen a significant shift, with millennials abandoning the GOP in large numbers. The nomination of Donald Trump appears only to have made things worse for Republicans, with fewer than 1 in 4 likely voters 18 to 35 years old supporting the candidate. Since party identification is something that people tend to carry with them throughout their lives, the GOP is not just digging a hole in this election, but also setting the stage for future losses as millennials get older and become a bigger part of the electorate."
Michael Luciano, director of editorial innovation for Odyssey, echoed that opinion: "Among millennials, Hillary Clinton is beating Donald Trump by a significantly larger margin than we saw Barack Obama beat John McCain and Mitt Romney in 2008 and 2012, respectively. As the largest demographic in the country, millennials are going to play an increasingly bigger role in elections in the coming years. If Republicans want to be competitive in future presidential races, they need to reverse what they should consider a troubling trend among the millennial generation."
Other findings from the poll include:
• The only issue that a clear majority of 18-35 year olds agree on is supporting the legalisation and usage of recreational marijuana (58%).
• Trust in government institutions is low – except for teachers, universities, military, police and fire departments.
• Millennials do not believe you can be too careful in dealing with others (58%), think that people are mostly looking out for themselves (55%) and that most people would take advantage if they got the chance (70%).
• Racial disparities are evident throughout question responses, indicating very different perspective on racial discrimination between white and non-white millennials.
The full results of the UMass Lowell/Odyssey Millennials poll are available here: https://www.uml.edu/docs/TOPLINE-Millennials_tcm18-263895.pdf

---
• Follow us on Twitter
• Follow us on Facebook
16th October 2016
The world's first nation state in space
At a press conference in Paris this week, plans were announced for the creation of 'Asgardia' – the first nation state in outer space.
Named after the city of the skies in Norse mythology, Asgardia is a space-based nation proposed by Dr Igor Ashurbeyli, founder of the Aerospace International Research Centre (Vienna), and Chairman of UNESCO's Science of Space committee. The concept is aimed at creating a new framework for how space activities are regulated and owned, ensuring that "the future of space is peaceful and done for the benefit of humankind."
Dr Ashurbeyli, one of the Russian Federation's most distinguished scientists, has consulted globally renowned scientists, engineers, entrepreneurs and legal experts on the development of the concept. The project's official website is currently requesting people to register for "citizenship" with the aim of applying to the United Nations for official recognition as a nation state. Already, hundreds of thousands have signed up.
As a first step, the organisation plans to crowd-source a satellite for launch in 2017, sixty years after Sputnik 1, the first ever satellite. This will mark a new era in the space age, the organisation claims, as the satellite will be independent of any current nation state on Earth: the satellite will comprise the nation itself – creating its own legal system, flag and other symbols of nationhood.
"The project's concept comprises three parts – philosophical, legal and scientific/technological," Dr Ashburbeyli explained. "Asgardia is a fully-fledged and independent nation, and a future member of the United Nations – with all the attributes this status entails. The essence of Asgardia is 'Peace in Space', and the prevention of Earth's conflicts being transferred into space.
"Asgardia is also unique from a philosophical aspect: to serve entire humanity and each and everyone, regardless of his or her personal welfare and the prosperity of the country where they happened to be born. The scientific and technological component of the project can be explained in just three words – peace, access and protection. The scientific and technological envelope of Asgardia is a space arena for the scientific creativity of its citizens and companies in developing a broad range of future space technologies, products and services for humanity on Earth and humanity in space."
In recent years, access to space has been opening up, but the process remains slow and is tightly controlled by states on Earth, restricting commerce and scientific developments by private enterprise. Of the 196 nation states, just thirteen (China, France, India, Iran, Israel, Japan, North Korea, Russia/former USSR, South Korea, UK, Ukraine, USA) and one regional organisation (the European Space Agency, ESA) have independently launched satellites on their own indigenously developed launch vehicles.
Professor David Alexander, Director of the Rice Space Institute at Rice University in Texas: "As low-Earth orbit becomes more accessible, what's often called the 'democratisation' of space, a pathway is opening up to new ideas and approaches from a rich diversity of participants. The mission of Asgardia to create opportunities for broader access to space, enabling non-traditional space nations to realise their scientific aspirations is exciting."
Under current international space law, including the widely adopted Outer Space Treaty, states are required to authorise and supervise national space activities, including the activities of commercial and not-for-profit organisations. Objects launched into space are subject to their nation of belonging and if a nation launches an object into space, that nation is responsible for any damage that occurs internationally and in outer space.
Asgardia aims to create a new framework for ownership and nationhood in space, adapting current laws governing responsibility, private ownership and enterprise so they are fit for purpose in the new era of space exploration. By creating a new "space nation", private enterprise, innovation and the further development of space technology to support humanity could flourish, free from the tight restrictions of state control that currently exist.
Professor Ram Jakhu, Director, Institute of Air and Space Law at McGill University, Montreal, Canada: "An appropriate and unique global space legal regime is indispensable for governing outer space in order to ensure it is explored on a sustainable basis, for exclusively peaceful purposes and to the benefit of all humanity – including future generations living on planet Earth and in outer space. The development of foundational principles of such a legal regime ought to take place at the same time as technological progress is being made."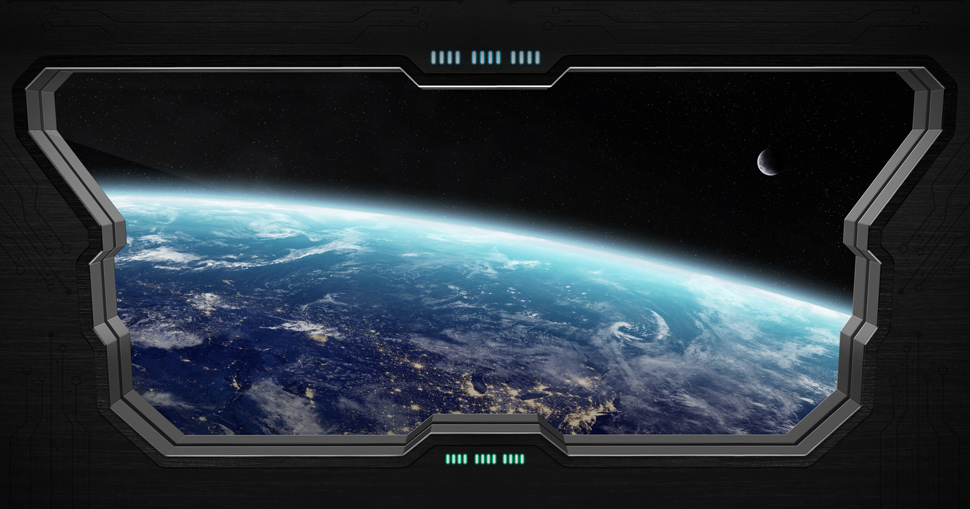 One of the early developments planned by Asgardia's team will be the creation of a state-of-the-art protective shield for all humankind from cosmic manmade and natural threats to life on Earth such as space debris, coronal mass ejections and asteroid collisions.
There are estimated to be more than 20,000 traceable objects of man-made space debris (MSD) including non-active spacecraft, upper-stage rockets and final stage vehicles, as well as fragments of craft that potentially pose a danger in near-Earth orbits. The impact of the Chelyabinsk meteorite which crashed over a Russian town as recently as 2013, injuring 1,100 people and damaging 4,000 buildings, is a reminder of the threat that natural objects pose to life on our planet.
Whilst steps have already been taken by the UN and the Space Mission Planning Advisory Group (SMPAG) to identify potentially hazardous scenarios, Asgardia will build on these developments to offer a more comprehensive mechanism.
Dr. Joseph N. Pelton, former Dean of the International Space University in Strasbourg, France: "The Asgardia project, among other things, may help prepare better answers to the future governance of outer space – a topic of major concern to the United Nations. The exciting aspect of this initiative is its three phase approach to providing broader access to space; promoting peace in outer space; and addressing cosmic hazards and planetary defence."
The Asgardia Project Team will comprise a collaborative, multi-disciplinary effort from leading experts around the globe which it is envisaged will grow over time as the project evolves. But as well as expert involvement in the project, Asgardia is looking to capture the wider public imagination by crowd-sourcing key aspects of the missions and involving members of the public in competitions – for example, to help design the nation's flag, insignia and other symbols of nationhood.
To coincide with the press conference, a website with further details was launched at www.asgardia.space. The project can also be followed on Twitter where updates will be provided, along with interaction between the Asgardia team and members of the public.
---
• Follow us on Twitter
• Follow us on Facebook
24th September 2016
UK: Gender pay gap to remain until 2069
The gender pay gap in the UK will not close until 2069 based on current salary progression, according to research by accountancy firm Deloitte.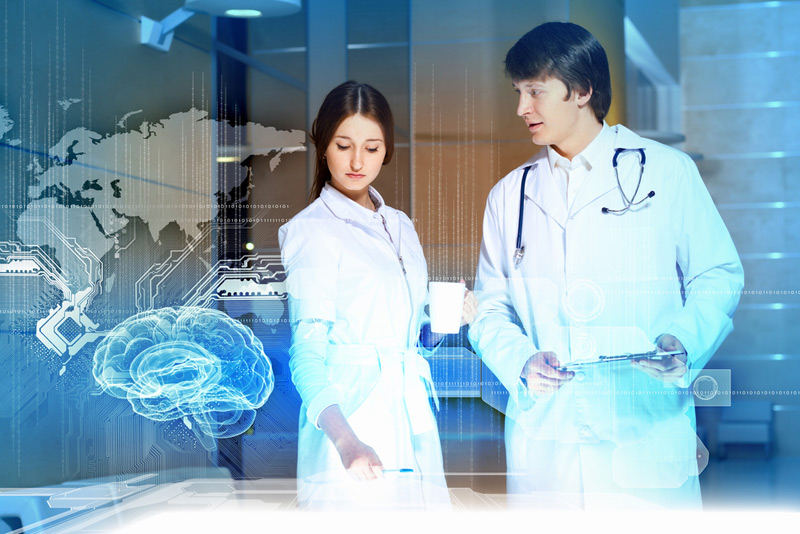 Deloitte's analysis shows that the difference in hourly pay gap between men and women is closing at a rate of just 2.5 pence per annum. For certain occupations such as skilled trades and education, the gap is actually widening. Even in female-dominated occupations – such as teaching and caring – men receive considerably higher average pay. At this rate, the gender pay gap will not close for another 53 years.
Significantly, however, the gap in starting salaries between men and women who have studied Science, Technology, Engineering and Mathematics (STEM) subjects, and who go on to take jobs in these sectors, is far smaller. There is no difference in the median starting salary between men and women who studied engineering, technology, medicine and dentistry.
Women currently make up just 14 percent of employees working in STEM occupations in the UK, and data from the Labour Market Survey shows that as many as 70 percent of women with STEM qualifications are not working in STEM-related industries. Raising this participation rate would give women a more balanced portfolio of skills and narrow the gender pay gap.
"There are many factors that contribute to the gender pay gap," said Emma Codd, Managing Partner for Talent at Deloitte. "One of these occurs before entering the workforce, when boys and girls decide what to study at school and university. Starting at GCSE level, where three times more boys than girls take computing and 50 percent more boys than girls study design and technology, these early decisions drive fundamental skill differences between the genders for those entering the workplace. The trend is likely to continue, unless it is addressed now."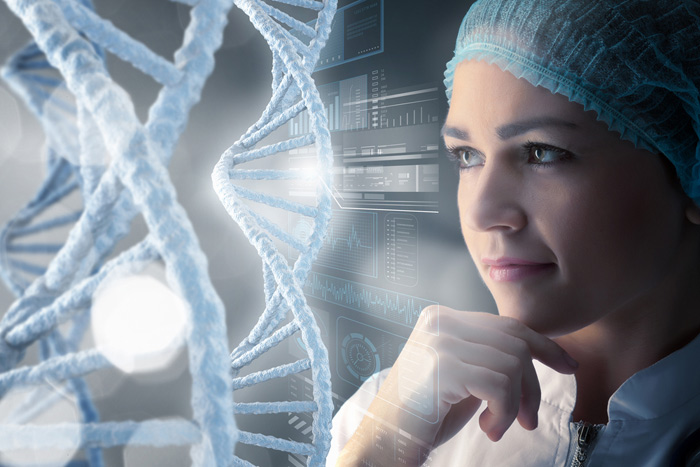 "We know that the pay gap is far smaller for those women starting their careers in STEM related roles," said Codd. "We also know that high-skilled jobs demanding a blend of cognitive, social and technical skills are typically among the most highly-paid. Therefore, if more women study STEM subjects and pursue related careers, they will increase their earnings potential in the early years of their working lives and – should they remain in their careers – the later ones. This in turn should serve to reduce the gender pay gap."
Emma Codd concludes: "More must be done to encourage girls from an early age to understand the impact that their choice of studies can have on their career options; girls must be encouraged to consider a full range of STEM career options and to have access to role models who can provide an insight into such careers. Similarly, with many of those women who study STEM subjects opting for careers in non-STEM professions, businesses in STEM related professions must show that they can offer attractive career options for women. Without these efforts, businesses – and the economy as a whole – will miss out on a hugely valuable pool of potential talent."
"While educators and policy makers will need to focus on tackling this challenge, the impact that employers can make should not be under-estimated. Whether it is providing educators and policymakers with practical insights into career requirements, giving students access to mentors in the STEM professions, or ensuring that the workplace is an environment where women can build successful careers, each business has a part to play. A great deal of progress has been made in the past half century, but we should not wait another 53 years for full parity."
---
• Follow us on Twitter
• Follow us on Facebook
26th August 2016
World's first commercial drone delivery service
Domino's Pizza Enterprises Limited has joined forces with a global leader in drone deliveries, Flirtey, to launch the first commercial drone delivery service in the world.
Domino's Pizza Enterprises Limited (Domino's) has joined forces with a global leader in drone deliveries, Flirtey to launch the first commercial drone delivery service in the world. The two companies exhibited the first stage of their partnership with a demonstration of pizza delivery by drone yesterday in Auckland, New Zealand. The successful demonstration was also attended by the Civil Aviation Authority (CAA) and Minister of Transport Simon Bridges.
The test was conducted under Civil Aviation Rules Part 101 and marks a final step in Flirtey's approval process – following which, the partnership will aim to connect people with pizza via CAA-approved trial store-to-door drone deliveries from a selected Domino's New Zealand store with flights to customer homes later this year.
New Zealand was selected as the launch market given that its current regulations allow for businesses to embrace unmanned aircraft opportunities, which enable the gradual testing of new and innovative technologies. Domino's Group CEO and Managing Director, Don Meij said the company's growth in recent years had led to a significant increase in the number of deliveries and that Domino's is constantly looking for innovative and futuristic ways to improve its service.
"With the increased number of deliveries we make each year, we were faced with the challenge of ensuring our delivery times continue to decrease and that we strive to offer our customers new and progressive ways of ordering from us," he said. "Research into different delivery methods led us to Flirtey. Their success within the airborne delivery space has been impressive and it's something we have wanted to offer our customers."
The use of drones as a delivery method is designed to work alongside Domino's current delivery fleet and will be fully integrated into online ordering and GPS systems.
"Domino's is all about providing customers with choice and making customer's lives easier. Adding innovation such as drone deliveries means customers can experience cutting-edge technology and the convenience of having their Supreme pizza delivered via air to their door. This is the future. We have invested heavily to provide our stores with different delivery fleet options – such as electric scooters, e-bikes and even the Domino's Robotic Unit - DRU that we launched earlier this year.
"We've always said that it doesn't make sense to have a 2-tonne machine delivering a 2-kilogram order. DRU DRONE is the next stage of the company's expansion into the artificial intelligence space and gives us the ability to learn and adopt new technologies in the business."
The Flirtey delivery drone is constructed from carbon fibre, aluminium and 3D printed components. It is a lightweight, autonomous and electrically driven unmanned aerial vehicle. It lowers its cargo via tether and has built-in safety features such as low battery return to safe location and auto-return home in case of low GPS signal or communication loss.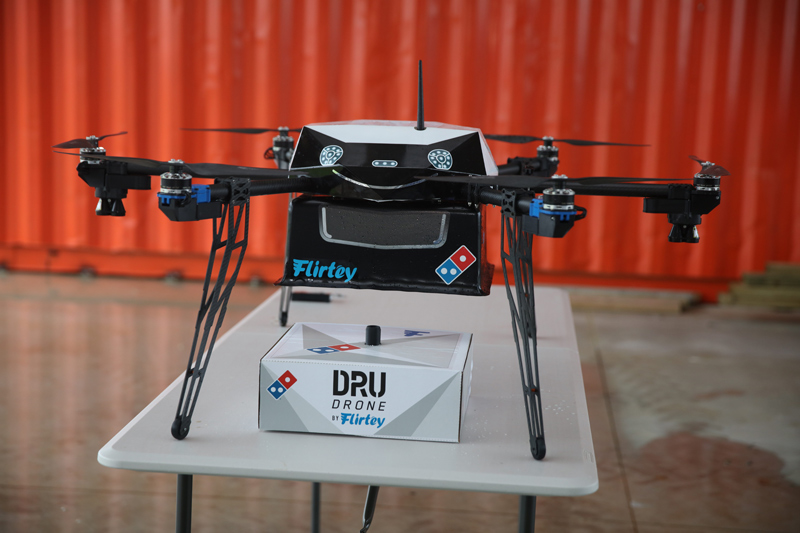 The reach that a drone offers is greater than other current options which are restricted by traffic, roads and distance. Domino's will look to the results of the trial to determine where drones are implemented further.
"What drones allow us to do is to extend that delivery area by removing barriers such as traffic and access, as well as offering a much faster, safer delivery option, which means we can deliver further afield than we currently do to our rural customers while reaching our urban customers in a much more efficient time."
The trial flights are set to commence later this year following the beginning of daylight savings in New Zealand. Domino's will offer Drone Delivery Specials at the launch of the trial with plans to extend the dimensions, weight and distance of deliveries, based on results and customer feedback.
"These trial deliveries will help provide the insight we need to extend the weight carried by the drone and distance travelled," said Meij. "It is this insight that we hope will lead to being able to consider a drone delivery option for the majority of our orders. We are planning a phased trial approach which is based on the CAA granting approval, as both Domino's and Flirtey are learning what is possible with the drone delivery for our products – but this isn't a pie in the sky idea. It's about working with the regulators and Flirtey to make this a reality."
Flirtey CEO Matt Sweeny said: "Launching the first commercial drone delivery service in the world is a landmark achievement for Flirtey and Domino's, heralding a new frontier of on-demand delivery for customers across New Zealand and around the globe. New Zealand has the most forward-thinking aviation regulations in the world, and with our new partnership, we are uniquely positioned to bring the same revolutionary drone delivery service to customers globally. We are getting closer to the time where you can push a button on your smartphone and have Domino's delivered by drone to your home."
Domino's is looking at opportunities for drone delivery trials in its six other markets – Australia, Belgium, France, The Netherlands, Japan and Germany.
---
• Follow us on Twitter
• Follow us on Facebook