22nd April 2015
World must aim to be fully decarbonised by 2050
Leading scientists have issued a statement as part of Earth Day 2015, highlighting the importance of action on climate change ahead of a UN conference later this year.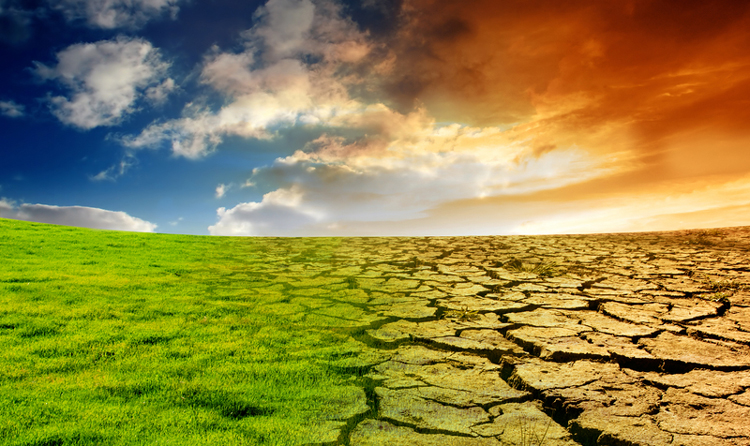 Today is Earth Day – an event coordinated globally as a way of honouring the Earth and demonstrating support for environmental protection. Held on 22nd April each year since 1970, it is now celebrated in 192 countries worldwide.
To coincide with Earth Day, a group of prominent scientists have issued a statement on behalf of the Earth League – an international alliance of world‐class research institutions, working to highlight some of the most pressing issues faced by humankind, as a result of climate change, depletion of natural resources, land degradation and water scarcity.
Bold action by decision-makers is required now, they claim, to pave the way for a successful agreement on carbon emissions at the UN Climate Change Conference (COP21), being held in Paris later this year. It is critically important to avoid a repeat of the disastrous Copenhagen summit of 2009.
Written by 17 world-leading scientists, the Earth Statement clarifies – in eight essential points – what the international agreement in Paris must aim to achieve to avoid dangerous tipping points of climate change. The first essential point is a commitment to limit global warming to below 2° Celsius, requiring a transition to zero-carbon societies by mid-century.
Johan Rockström, Chair of the Earth League and board member of the Global Challenges Foundation: "The window of opportunity is closing fast. We are on a trajectory that will leave our world irrevocably changed, far exceeding the 2°C mark. This gamble risks disaster for humanity with unmanageable sea-level rise, heat waves, droughts and floods. We would never consider this level of risk in any other walk of life – yet we seem prepared to take this risk with our planet. Conversely, the scientific evidence shows that we can create a positive future, but only with bold action now."
"The science, the economics and the moral imperative to protect our planet all demand this action. We are calling on policy-makers to show real leadership and commit the planet to a sustainable future," continued Rockström.
The Earth Statement warns of tipping points – thresholds in the Earth system that are difficult to reverse once crossed. It highlights recent research suggesting dramatic ice melt in parts of Antarctica may be irreversible, which provides evidence that societies need to take a precautionary approach to significantly altering the global climate.
"COP21 is the moment of truth: the last chance to stay within the 2° Celsius upper limit," says Professor Jeffrey Sachs, Director of the Earth Institute at Columbia University and an author of the Earth Statement. "The key to success is deep decarbonisation by mid-century. Our studies show that this can be accomplished, at modest cost, and with a significant improvement in the quality of life. Success will require a shared global vision, strong national commitments, and global cooperation on technology pathways."
The eight essential points of action are:
Governments must put into practice their commitment to limit global warming below 2° Celsius in order to limit unprecedented climate impact risks.


The agreement must be based on the remaining global carbon budget – the limit of what we can still emit in the future – which must be well below 1,000 gigatonnes (Gt) of carbon dioxide, to have a reasonable chance of holding the 2° Celsius line.


In the agreement, countries must commit to deep decarbonisation, starting immediately and leading to a zero-carbon society by 2050 or shortly thereafter. This will require a fundamental transformation of the economy.


Equity is critical. Every country must formulate an emissions pathway consistent with deep decarbonisation. For the sake of fairness, rich countries and progressive industries can and should take the lead and decarbonise well before mid-century.


Targeted research, development, demonstration and diffusion (RDD&D) of low-carbon energy systems and sustainable land use are prerequisites to unleash a wave of climate innovation.


The agreement should provide the starting point for a global strategy to reduce vulnerability, build resilience and deal with loss and damage of communities from climate impacts, including collective action and scaled-up support.


Countries must agree to safeguard carbon sinks and vital ecosystems, such as forests, which is as important for climate protection as the reduction of emissions.


Governments must urgently realise new scales and sources of climate finance for developing countries to enable our rapid transition to zero-carbon, climate-resilient societies.
Rockström and John Schellnhuber, fellow Earth League member and director of the Potsdam Institute for Climate Impact Research, will present the Earth Statement at the 4th Nobel Laureates Symposium on Global Sustainability in Hong Kong on Thursday 23 April. This will mark the beginning of outreach to leading decision-makers and thinkers.
28th March 2015
Costa Rica achieves 100 percent renewable energy for Q1 2015
The National Electric System (NES) in Costa Rica has announced that 100% of its electricity has been supplied from renewable sources during the first quarter of 2015.
Thanks to a combination of heavy rain and widespread deployment of renewables, Costa Rica's electric grid has operated without any fossil fuels throughout January, February and March (so far). Favourable rainy conditions have allowed the reservoirs Arenal, Cachí, La Angostura and Pirrís to reach levels higher than were previously estimated. The hydroelectric plants in this region – both pumped storage and run-of-the-river types – are supplying the majority (68%) of the country's electricity, while the rest of the 100% renewable matrix is covered by geothermal, wind, biomass and solar.
"The year 2015 has been one of electricity totally friendly to the environment for Costa Rica," says the state-owned power supplier Costa Rican Electricity Institute (ICE) in a press release.
According to latest figures, Costa Rica now ranks second in Latin America (behind only Uruguay), in terms of electricity service provision, with 99.4% of households able to receive power. Consumers' energy bills – already falling – are expected to drop by a further 15 percent, as the nation continues to run without burning fossil fuels into the second quarter of 2015. Costa Rica aims to be fully carbon neutral by 2021 – a goal that now appears to be a realistic possibility, following this landmark announcement.
Because of its heavy reliance on dams, however, Costa Rica is vulnerable to the effects of climate change. Towards the end of this century, the region could experience up to 30 percent less precipitation, according to a 2008 study by the University of Massachusetts. Heat waves, droughts and shifting rainfall patterns could severely disrupt its hydroelectric power supply in the future. To prepare for these potential impacts, the government last year budgeted nearly $1 billion for tapping volcanoes and expanding the use of geothermal power. Dams also have negative impacts on fish populations, another factor making geothermal preferable to hydroelectric power.
Costa Rica is consistently ranked among the most eco-friendly places worldwide – putting larger and supposedly more "advanced" nations to shame. Alongside its clean energy projects, major efforts have been made in conserving natural spaces, reducing deforestation, improving air and water quality, and biodiversity protection. This includes paying landowners to plant trees and stop cutting down old-growth forests, a policy that helped to increase forest cover in the country from 24 percent in 1985 to 46 percent in 2010.
Part of the reason that Costa Rica has been able to invest so much into renewable energy and other green initiatives is because there is no need to spend anything on defence. Its military was abolished in 1948.
Ambassador for Costa Rica, Mario Fernández Silva, stated in 2010 when his country won the Future Policy Award: "We are declaring peace with nature. We feel a strong sense of responsibility about looking after our wealth of biodiversity. Our attitude is not progressive, it is conservative. Our view is that until we know what we have, it is our duty to protect it."
21st March 2015
Consumer virtual reality will grow exponentially between 2015 and 2020
Several years ago, in the early days of this website, we predicted that virtual reality (VR) would see a major comeback during the second half of the 2010s. This prediction appears to be right on track.
BI Intelligence, a cutting-edge research service from Business Insider, this week announced its latest report on the global market for head-mounted VR. While the current level of adoption remains low, it is likely to explode from this year onwards, achieving a compound annual growth rate of nearly 100% – in other words, sales will roughly double each year, reaching 26.5 million by 2020.
Thanks to falling costs, exponential technology improvements, and a variety of well-known brands competing for market share, the industry will soon be a mainstream form of entertainment.
Just some of the companies involved now include Facebook (Oculus Rift), Google (Google Cardboard), Samsung (Gear VR), Sony (Project Morpheus) and HTC (Vive). Based on its recent patent activity and job postings, Apple is rumoured to be working on VR too. For those who enjoy being immersed in highly realistic virtual environments (and we strongly recommend Elite), the next several years look to be very exciting indeed.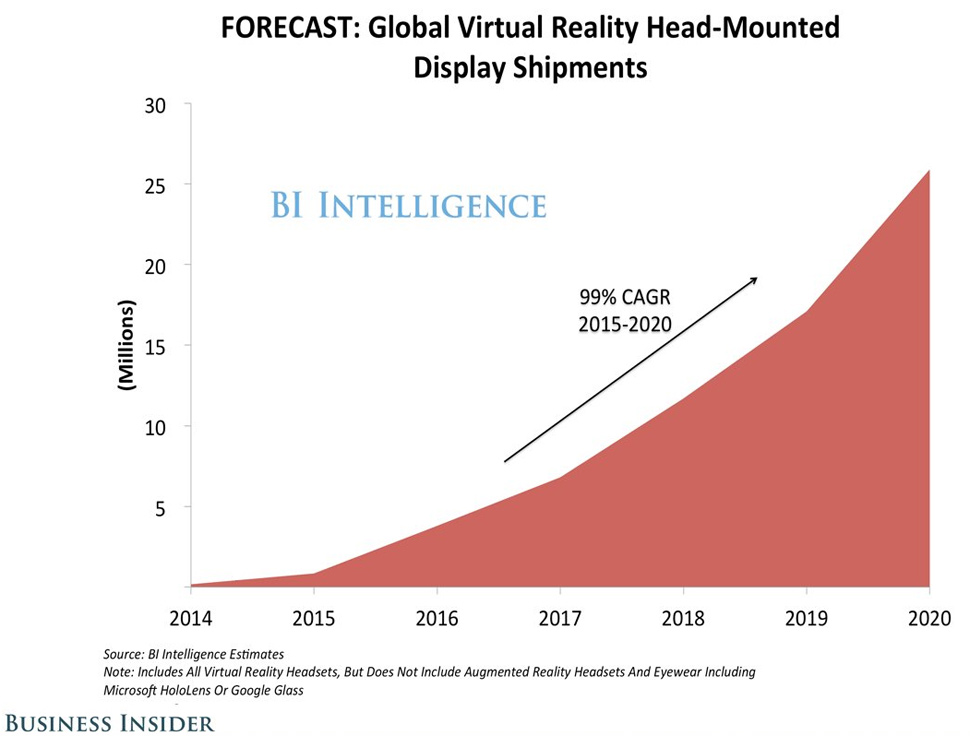 12th February 2015
UK will begin testing driverless car technology on public roads
The United Kingdom has joined a growing number of countries planning to allow driverless cars on roads. Yesterday, the government announced a review into highway regulations and maintenance checks in preparation for testing the new technology.
A major review has confirmed the UK is uniquely positioned to develop driverless car technology. Up to now, the scope for testing driverless cars had been limited, but yesterday the industry was given the green light for testing on public roads. The UK's regulatory environment now sets it apart as a premium location for developing the new technology, with tremendous potential for reducing accidents and making traffic flow more smoothly.
"Driverless cars are the future," said Transport Minister Claire Perry. "I want Britain to be at the forefront of this exciting new development, to embrace a technology that could transform our roads and open up a brand new route for global investment. These are still early days, but today is an important step. The trials present a fantastic opportunity for this country to take a lead internationally in the development of this new technology."
Business Secretary, Vince Cable: "The UK is at the cutting edge of automotive technology – from the all-electric cars built in Sunderland, to the formula 1 expertise in the Midlands. It's important for jobs, growth and society that we keep at the forefront of innovation, that's why I launched a competition to research and develop driverless cars. The projects we are now funding in Greenwich, Bristol, Milton Keynes and Coventry will help to ensure we are world-leaders in this field and able to benefit from what is expected to be a £900 billion industry by 2025.
"The government's industrial strategy is backing the automotive sector as it goes from strength to strength. We are giving business the confidence to invest over the long term and developing cutting-edge technology that will create high skilled jobs."
To mark the launch of the review, Vince Cable joined Claire Perry in Greenwich, home to one of the projects benefiting from £19 million of government funding for driverless car trials. They witnessed the first official testing of the fully autonomous Meridian shuttle in Greenwich and unveiled a prototype of a driverless pod that will be tested in public areas in Milton Keynes. They were also shown other autonomous vehicles involved in the trials, including a BAE wildcat vehicle that is the result of years of advanced research and development by BAE systems and will be tested in Bristol.
The Department for Transport review, conducted over the past 6 months, considered the best and safest ways to trial automated vehicles where an individual is ready to take control of the car if necessary. It also looked further ahead to the implications of testing fully automated vehicles. The review provides legal clarity to encourage UK and international industry to invest in this technology and encourages the largest global businesses to come to the UK to develop and test new models.
The next step is for the government to introduce a code of practice to provide industry with the framework they need to trial cars in real-life scenarios, and to create more sophisticated versions of the models that already exist. This code of practice is scheduled for publication in spring 2015, with the first driverless cars supported by the prize fund expected to be tested on roads by the summer.
8th February 2015
China will have the most robots in the world by 2017
China is driving explosive growth in the robotics industry that is likely to continue for many years to come, according to a new report.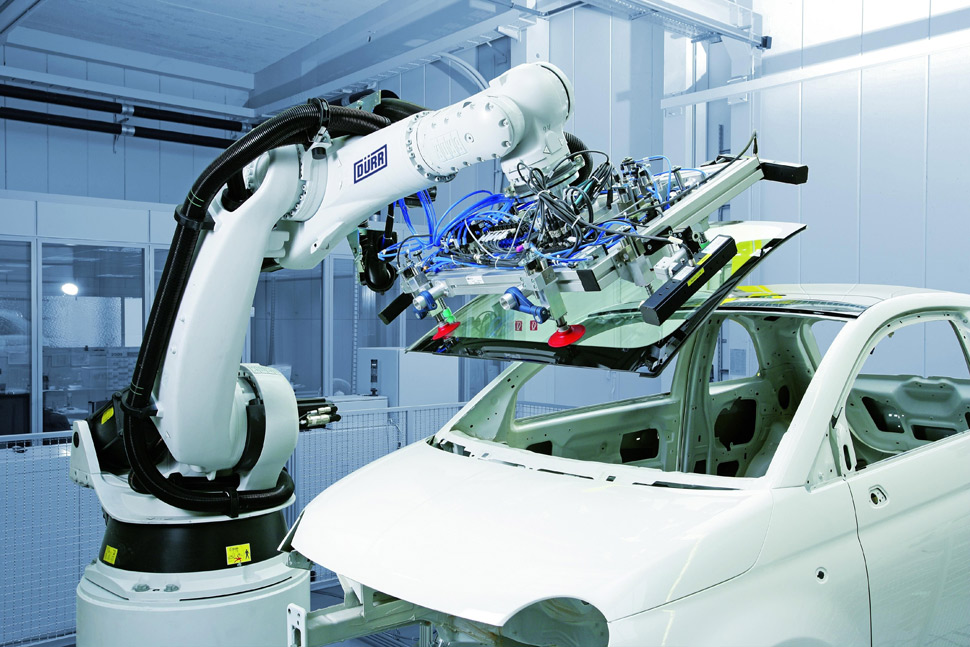 By 2017, more industrial robots will be operating in China's production plants than in the European Union or North America. Operating unit numbers there are forecast to more than double, from 182,000 to almost 428,000. For comparison, North America had 237,000 at the end of 2014, a number that will increase to about 291,000. That's according to the International Federation of Robotics (IFR) in their latest World Robot Statistics.
China is already the world's largest market for industrial robots when measured by annual sales, with 50,000 units shipped in 2014 – compared to 46,000 for the whole of Europe and 31,500 for North America. With vast numbers of robots being added to its factories each year, it will soon catch up in terms of operational stock numbers too.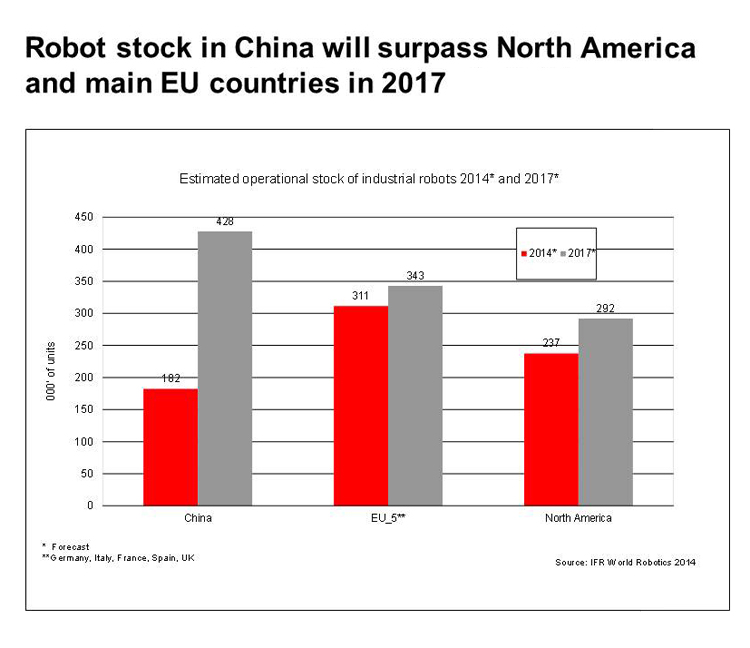 Given China's still very low robotic density, alongside its very high human population, the market's future growth potential is enormous. The nation currently has only 30 industrial robots per 10,000 employees in manufacturing industries. For comparison, Germany's robotic density is ten times greater and in Japan the figure is 11 times greater. In North America, robotic density is five times higher than in China, where the majority of industrial robots are used for handling operations and for welding. The automotive industry is by far the largest sector to use robotics (approx. 40%).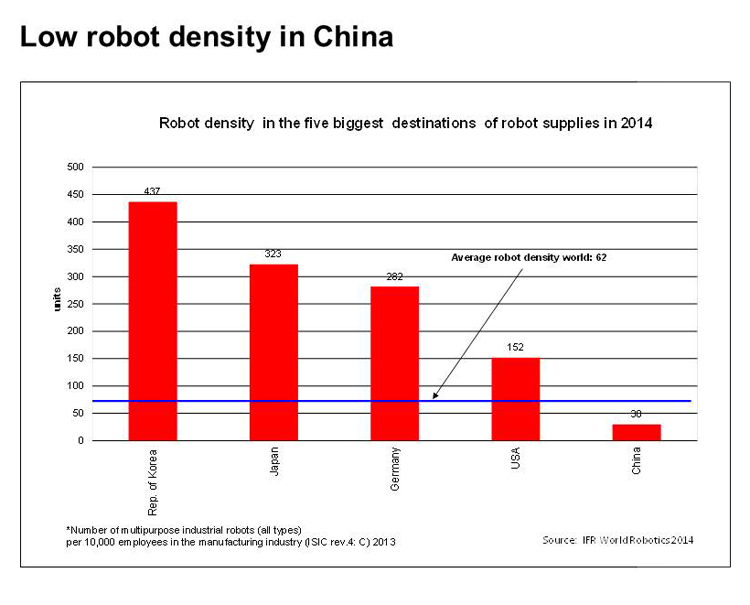 "The automation of China's production plants has just started", says Per Vegard Nerseth, Managing Director of ABB Robotics. "As the first foreign robot manufacturer to arrive here, we have observed the market and developments for years now. We have witnessed swift, almost explosive growth over the last two or three years, surpassing even our expectations."
The Chinese government is simultaneously pushing forward with robotic research, partnering with leading foreign robotic manufacturers.
"Companies are forced to invest ever more in robots to be more productive and raise quality," says Gudrun Litzenberger, general secretary of the Frankfurt-based IFR.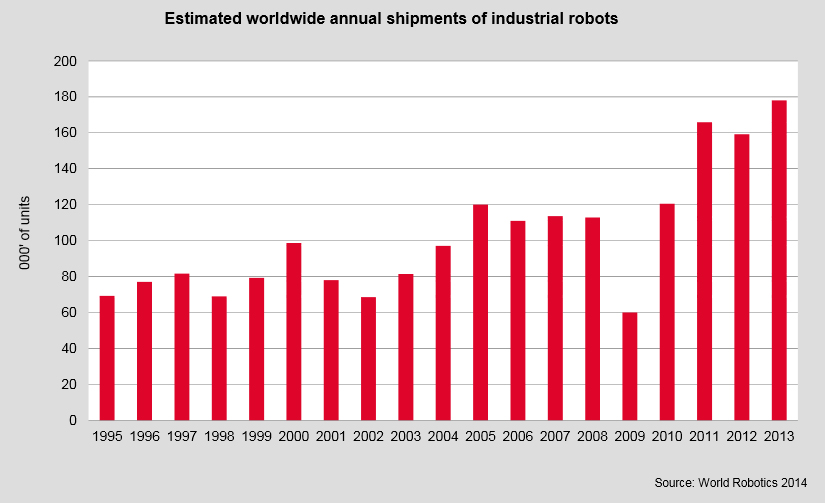 22nd January 2015
Tesco becomes first UK retailer to launch a Google Glass-enabled service
Tesco has become the first UK retailer to launch a customer Glass-enabled service with a basic version of its shopping app now available for users of the wearable device.
The Glassware has been developed by Tesco Labs, which experiments with disruptive technologies able to change the way customers shop. The Tesco Grocery Glassware lets you browse goods, view nutritional information and add items to your basket hands-free, via the voice search function or by scanning a product's barcode using the headset's built-in camera. In this, its first foray into providing services for wearable technology users, Tesco has intentionally kept the functionality of the app simple as it considers the consumer response to wearables and the likelihood of increased demand.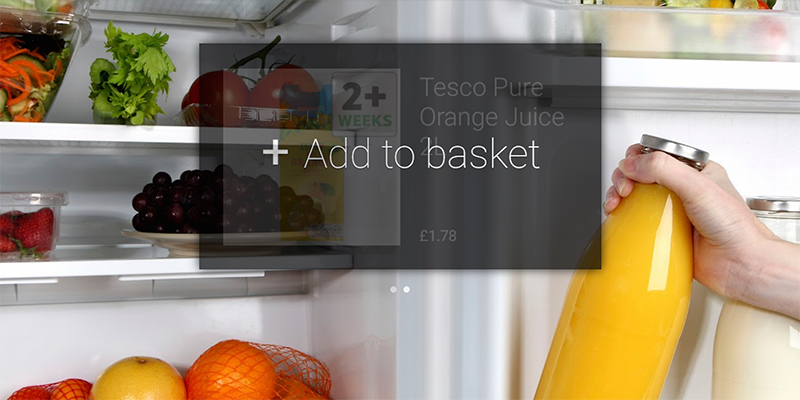 Pablo Coberly, Innovation Engineer at Tesco Labs comments, "At Tesco we want to ensure we have the means in place to allow customers to shop whenever, however they want which is why we're testing the possibilities of customers topping up their online basket with Glass."
The Tesco Grocery Glassware works alongside customers' Tesco.com grocery accounts, automatically adding products to their online basket for them to then review and order by computer, tablet or mobile. Pablo Coberly continues, "We don't envisage Glass becoming the new platform for shopping as its functionality is different and more immediate. Instead, it compliments other devices and integrates shopping into everyday life because products can be ordered or added as and when customers realise they need replacing."
As for the future of the Tesco Grocery Glassware, Tesco Labs says this will be driven by customer needs and demand. Pablo comments, "We've intentionally kept functionality very basic given the early stages of customer use of Glass. We're keen to see how customers react to shopping with Glassware and welcome feedback or suggestions from customers using Glass."
Last week, Google announced they would stop producing the Google Glass prototype, but remain committed to the product's development. In their eyes, Glass is ready to 'graduate' from Google Labs, the experimental phase of the project. The company will now focus on "future versions of Glass" with research and development handled by a different division to before.
22nd January 2015
Laying the foundations for 5G mobile
UK telecoms regulator, Ofcom, is calling on industry to help lay the foundations for the next generation of wireless communications.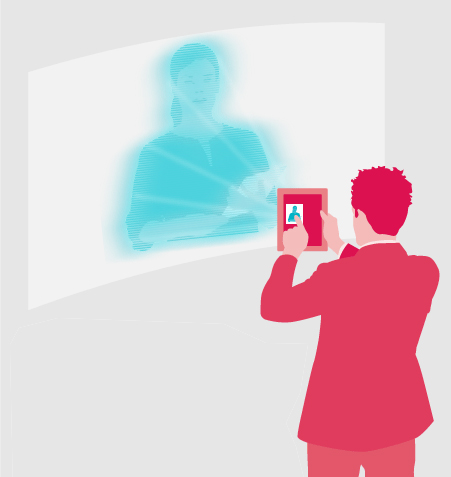 So-called '5G' mobile communications will use a very high frequency part of the spectrum above 6 GHz. This could support a variety of new uses including holographic projections and 3D medical imaging, with the potential to support very high demand users in busy areas, such as city centres. 5G mobile is expected to deliver extremely fast data speeds – perhaps 10 to 50 Gbit/s – compared with today's average 4G download speed of 15 Mbit/s. 5G services are likely to use large blocks of spectrum to achieve these speeds, which are difficult to find at lower frequencies.
The timeframe for the launch of 5G services is uncertain, although commercial applications could emerge by 2020, subject to research and development and international agreements for aligning frequency bands. Ofcom says it is important to do the groundwork now, to understand how these frequencies might be used to serve citizens and consumers in the future. The regulator is therefore asking industry to help plan for the spectrum and bandwidth requirements of 5G.
The spectrum above 6 GHz currently supports various uses – from scientific research, to satellite broadcasting and weather monitoring. One of Ofcom's core roles is to manage the limited supply of spectrum, taking into account the current and future demands to allow these different services to exist alongside each other.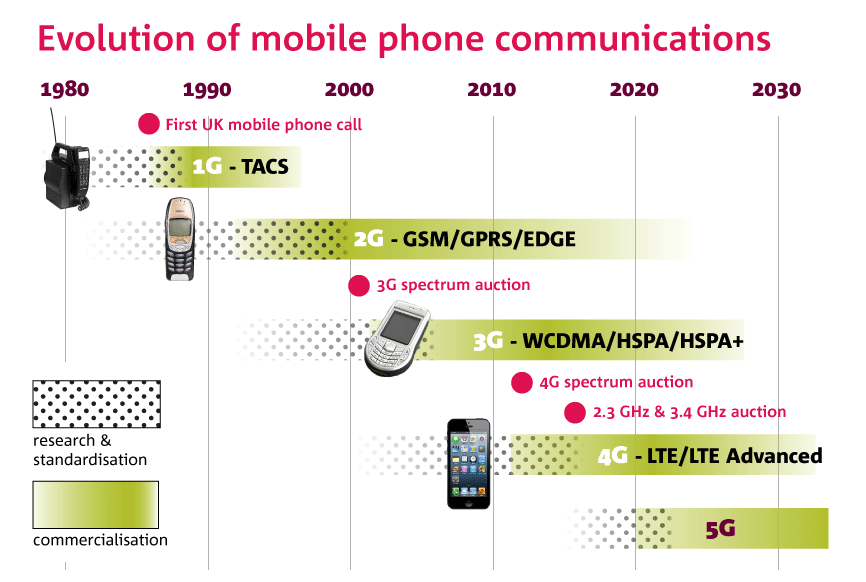 Steve Unger, Ofcom's Acting Chief Executive: "We want the UK to be a leader in the next generation of wireless communications. Working with industry, we want to lay the foundations for the UK's next generation of wireless communications.
"5G must deliver a further step change in the capacity of wireless networks – over and above that currently being delivered by 4G. No network has infinite capacity, but we need to move closer to the ideal of there always being sufficient capacity to meet consumers' needs."
Philip Marnick, Ofcom Spectrum Group Director, comments: "We want to explore how high frequency spectrum could potentially offer significant capacity for extremely fast 5G mobile data. This could pave the way for innovative new mobile services for UK consumers and businesses."
These innovations, according to Ofcom, might include real-time holographic technologies, allowing relatives to virtually attend family gatherings. Or they could enable specialist surgeons to oversee hospital operations while located on the other side of the world, using 3D medical imaging.
Ofcom is seeking views on the use of spectrum above 6 GHz that might be suitable for future mobile communication services. The closing date for responses is 27th February 2015.
21st January 2015
Richest 1% will own more than all the rest by 2016
The combined wealth of the richest 1 per cent will overtake that of the other 99 per cent of people next year, unless the current trend of rising inequality is checked, Oxfam has warned ahead of the annual World Economic Forum meeting in Davos.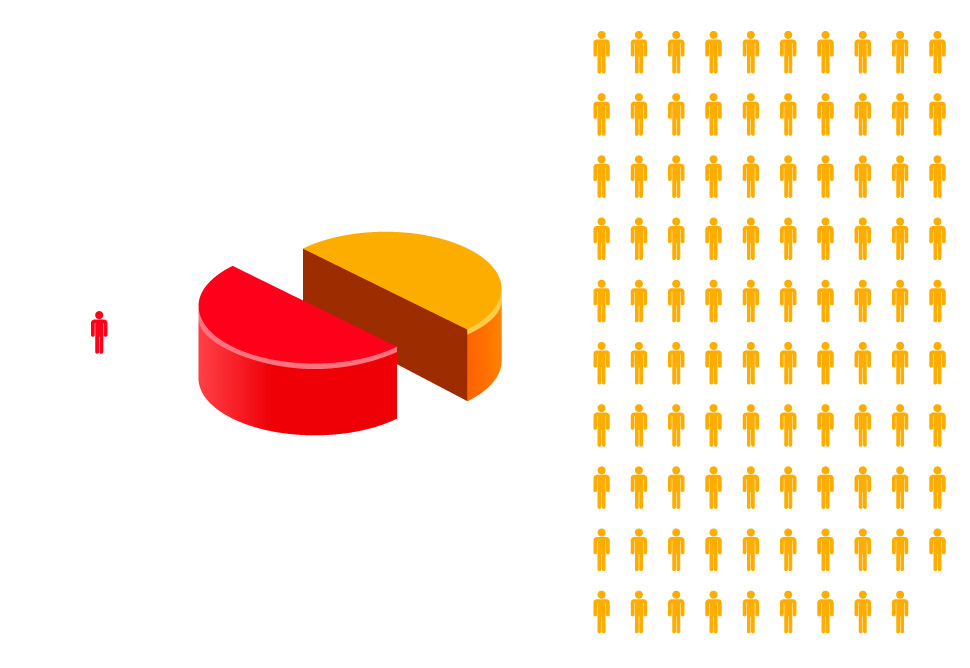 The international agency Oxfam, whose executive director Winnie Byanyima will co-chair the Davos event, warns that the explosion in inequality is holding back the fight against global poverty at a time when 1 in 9 people do not have enough to eat and more than a billion people still live on less than $1.25-a-day.
Byanyima will use her position at Davos to call for urgent action to stem this rising tide of inequality, starting with a crackdown on tax dodging by corporations, and to push for progress towards a global deal on climate change.
Wealth: Having it all and wanting more– a research paper published this week by Oxfam – shows that the richest 1 per cent have seen their share of global wealth increase from 44 per cent in 2009, to 48 per cent in 2014 and at this rate will surpass 50 per cent in 2016. Members of this global elite had an average wealth of $2.7m per adult in 2014.
Of the remaining 52 per cent of wealth, almost all (46 per cent) is owned by the rest of the richest fifth of the world's population. The other 80 per cent share just 5.5 per cent and had an average wealth of $3,851 per adult in 2014 – that's 1/700th of the average wealth of the 1 per cent.
"Do we really want to live in a world where the one per cent own more than the rest of us combined?" says Byanyima. "The scale of global inequality is quite simply staggering and despite the issues shooting up the global agenda, the gap between the richest and the rest is widening fast.
"In the past 12 months, we have seen world leaders from President Obama to Christine Lagarde talk more about tackling extreme inequality, but we are still waiting for many of them to walk the walk. It is time our leaders took on the powerful vested interests that stand in the way of a fairer and more prosperous world.
"Business as usual for the elite isn't a cost free option – failure to tackle inequality will set the fight against poverty back decades. The poor are hurt twice by rising inequality – they get a smaller share of the economic pie and because extreme inequality hurts growth, there is less pie to be shared around."
Lady Lynn Forester de Rothschild, CEO of EL Rothschild and chairman of the Coalition for Inclusive Capitalism, speaking at a joint Oxfam-University of Oxford event on inequality, called on business leaders meeting in Davos to play their part in tackling extreme inequality: "Oxfam's report is just the latest evidence that inequality has reached shocking extremes, and continues to grow. It is time for the global leaders of modern capitalism, in addition to our politicians, to work to change the system to make it more inclusive, more equitable and more sustainable.
"Extreme inequality isn't just a moral wrong. It undermines economic growth and threatens the private sector's bottom line. All those gathering at Davos who want a stable and prosperous world should make tackling inequality a top priority."
Oxfam made headlines at Davos in 2013, by highlighting that the 100 richest people on the planet had enough income to end poverty four times over, while in 2014, they revealed that the 85 richest individuals had the same wealth as the poorest 50 per cent (3.5 billion people). That number is now 80 – a dramatic fall from 388 people in 2010. The wealth of these richest 80 doubled in cash terms between 2009-14.
The international agency is calling on governments to adopt a seven point plan to tackle inequality:
Clamp down on tax dodging by corporations and rich individuals
Invest in universal, free public services such as health and education
Share the tax burden fairly, shifting taxation from labour and consumption towards capital and wealth
Introduce minimum wages and move towards a living wage for all workers
Introduce equal pay legislation and promote economic policies to give women a fair deal
Ensure adequate safety-nets for the poorest, including a minimum income guarantee
Agree a global goal to tackle inequality.
This week's new research paper, which follows the October launch of Oxfam's global Even It Up campaign, shines a light on the way extreme wealth is passed down the generations and how elite groups mobilise their vast resources to ensure global rules are favourable towards their interests. Over a third of the 1,645 billionaires listed by Forbes inherited some or all of their riches.
Twenty per cent of billionaires have interests in the financial and insurance sectors – a group which saw their cash wealth increase by 11 per cent in the 12 months to March 2014. These sectors spent $550m lobbying policy makers in Washington and Brussels during 2013. The 2012 US election cycle alone saw the financial sector providing $571m in campaign contributions. Billionaires listed as having interests in the pharmaceutical and healthcare sectors saw their collective net worth increase by 47 per cent. During 2013, they spent more than $500m lobbying policy makers in Washington and Brussels.
Oxfam is concerned that the lobbying power of these sectors is a major barrier in the way of reforming the global tax system and of ensuring intellectual property rules do not lead to the world's poorest being denied life-saving medicines.
There is increasing evidence from the International Monetary Fund, among others, that extreme inequality is not just bad news for those at the bottom but also damages economic growth. In an interview with the Guardian, Byanyima says: "We want to bring a message from the people in the poorest countries in the world to the forum of the most powerful business and political leaders.
"The message is that rising inequality is dangerous. It's bad for growth and it's bad for governance. We see a concentration of wealth capturing power and leaving ordinary people voiceless and their interests uncared for.
"Extreme inequality is not just an accident or a natural rule of economics. It is the result of policies, and with different policies it can be reduced. I am optimistic that there will be change. A few years ago, the idea that extreme poverty was harmful was on the fringes of the economic and political debate. But having made the case, we now see an emerging consensus among business leaders, economic leaders, political leaders and even faith leaders."
6th January 2015
2014 was hottest year on record globally
The Japan Meteorological Agency (JMA) has confirmed 2014 as the hottest year on record globally, surpassing the previous record of 1998.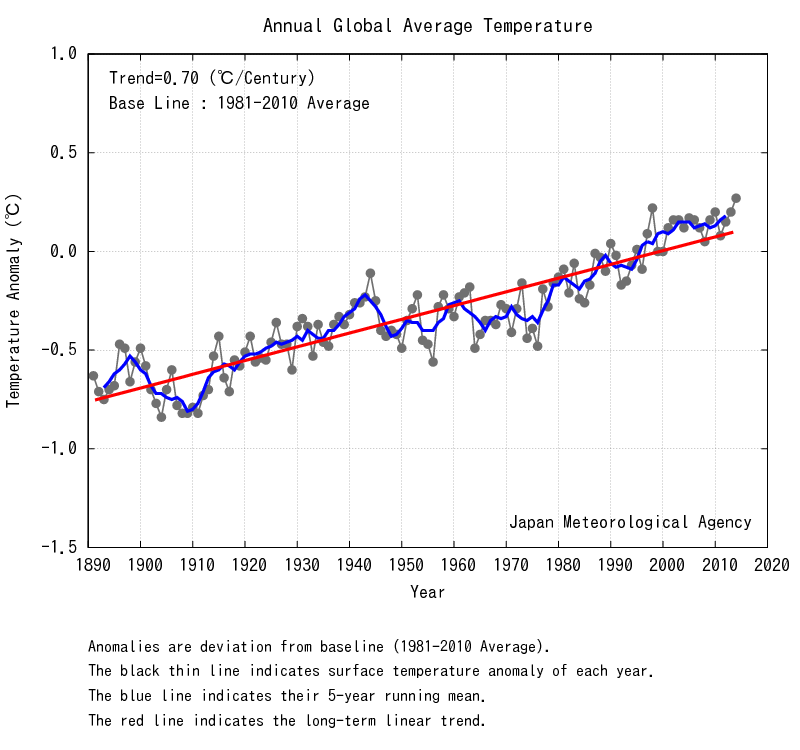 The Japan Meteorological Agency (JMA) has confirmed 2014 as the hottest year on record globally, surpassing the previous record of 1998. What makes last year especially notable is that a new highest temperature occurred even without a significant El Niño, the phenomenon largely responsible for the enormous spike witnessed in 1998. Two other agencies – NASA, and the National Oceanic and Atmospheric Administration (NOAA) – are expected to make similar announcements as their data is released later this month. NASA and NOAA (who use different datasets to JMA) both currently have 2010 tied with 2005 as the hottest year.
While much of the USA was unusually cold during 2014, almost everywhere else on land saw either warmer than average or record high temperatures. Particularly warm regions included Australia, Europe and Siberia. The Met Office announced yesterday that 2014 was the UK's hottest year. In Australia, heatwaves reached higher than 49°C (120°F) at the start of last year, with records broken across the continent for the second year running.
The overwhelming majority (99.9%) of published, peer-reviewed studies agree that human emissions of heat-trapping greenhouse gases such as CO2 are the main cause of recent warming. As of today, no scientific institute of national or international standing disputes this. The U.S. military is now deeply concerned about the geopolitical consequences of a warmer world. Meanwhile, the insurance industry has warned of the mounting costs, with a tripling in the overall number of climate-related disasters that have resulted in losses since 1980. A rise of 0.8°C (1.4°F) may sound like a small amount, but on a planetary scale it's a huge quantity of energy: equivalent to four Hiroshima atomic bombs detonating every second.
As seen in the video below (released by NOAA last month), the atmospheric level of CO2 now stands at 400ppm and is forecast to hit 450ppm by 2030 – compared to around 280ppm prior to the Industrial Revolution. This rate of increase is unprecedented on a geologic timescale and is especially apparent in the chemistry of our oceans, which are now acidifying faster than at any time during the last 300 million years. World leaders are expected to agree a treaty on carbon emissions at the UN Climate Change Conference in Paris later this year – though judging by previous attempts, it is unlikely to be anything substantial.
30th December 2014
Police body cameras can prevent excessive force
The first full scientific study into police body cameras has shown the technology can substantially reduce both excessive use-of-force by officers and complaints against officers by the public.
The first full scientific study of an experiment with body-worn police cameras has been published by the Journal of Quantitative Criminology. The trial was conducted in Rialto, California, during a 12-month period and shows highly promising results. Officers wearing the camera devices witnessed a 59% drop in their use-of-force, while complaints against them fell by a massive 87% compared to the previous year's figures. Police shifts were randomly assigned as experimental (with camera) or control (without camera), totalling over 50,000 hours of police-public interactions.
According to the researchers, when people are being recorded, it generates a "self-awareness" for everyone involved. Knowing a third party could later observe their actions – potentially a legal court, or the public – will cause them to change their behaviour and become less confrontational. This makes body-worn video a "preventative treatment" that could diffuse or even completely stop volatile situations from escalating. It applies to both abusive behaviour towards police and unnecessary use-of-force by police.
Dr Barak Ariel, from the University of Cambridge's Institute of Criminology (IoC): "With institutionalised body-worn-camera use, an officer is obliged to issue a warning from the start that an encounter is being filmed, impacting the psyche of all involved by conveying a straightforward, pragmatic message: we are all being watched, videotaped and expected to follow the rules."
"Police subcultures of illegitimate force responses are likely to be affected by the cameras, because misconduct cannot go undetected – an external set of behavioural norms is being applied and enforced through the cameras. Police-public encounters become more transparent and the curtain of silence that protects misconduct can more easily be unveiled, which makes misconduct less likely."
The trials are now being replicated by 30 forces worldwide – including the Metropolitan Police in London, forces in West Yorkshire, Northern Ireland, Uruguay and elsewhere in the United States. In the wake of several high-profile incidents, the White House earlier this month pledged $263 million in additional federal funding for police training and cameras, with $75 million allocated specifically for the purchase of 50,000 body cameras. New findings are due to be announced at the IoC's Conference for Evidence-Based Policing in July 2015. Early signs appear to match the Rialto success, showing that body-worn-video cameras have a major positive impact on interactions between officers and civilians.
However, the research team is keen to sound a note of caution. Just as with any revolutionary new technology, more needs to be known regarding the full effects and legal ramifications. Before departments are "steamrolled" into adopting them, vital questions need to be answered such as how these devices might influence prosecution outcomes.
"Historically, courtroom testimonies of response officers have carried tremendous weight," says Ariel. "But prevalence of video might lead to reluctance to prosecute when there is no evidence from body-worn-cameras to corroborate the testimony of an officer, or even a victim."
There are also the issues of storage, security, privacy and the vast amount of data captured. While the devices are highly cost-effective at present (analysis from Rialto showed every dollar spent on the technology saved about four dollars on complaint litigations), the sheer level of data storage has the potential to become crippling in the future.
"The velocity and volume of data accumulating in police departments – even if only a fraction of recorded events turn into 'downloadable' recordings for evidentiary purposes – will exponentially grow over time," says Ariel. "User licenses, storage space, 'security costs', maintenance and system upgrades can potentially translate into billions of dollars worldwide."
"Body-worn-video has the potential to improve police legitimacy and enhance democracy – not least by calming situations on the front line of policing to prevent the pain and damage caused by unnecessary escalations of volatile situations. But there are substantial effects of body-worn-video that can potentially offset the benefits which future research needs to explore."
15th November 2014
A new global temperature record for October has been set, according to data from the Japan Meteorological Agency (JMA).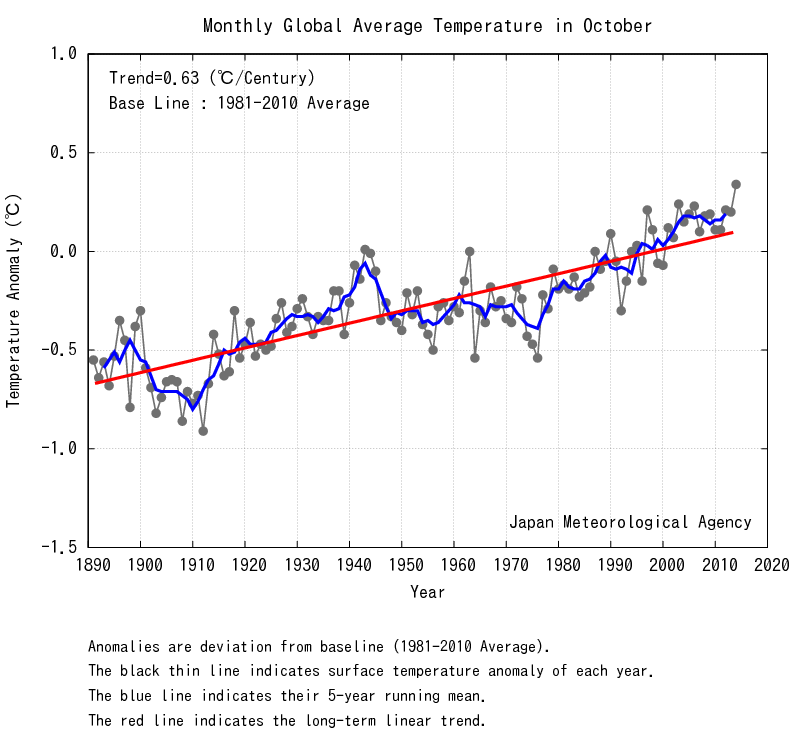 Globally, last month was the hottest October on record – by far – according to data just released by the Japan Meteorological Agency (JMA). This follows the hottest March–May, June, August and September, also recorded this year. Near-surface land and sea surface temperatures were 0.67°C (1.2°F) higher than the 20th century average. Despite oft-repeated claims of a "pause", it seems increasingly likely that 2014 is on course to be the all-time hottest year since the JMA began record-keeping in 1891. Data from the National Oceanic and Atmospheric Administration (NOAA) – the U.S. equivalent of Japan's agency – presents a similar trend, with October 2013 to September 2014 being the warmest 12-month period among all months since 1880. These records have occurred even without the latest El Niño, which has yet to begin, meaning that 2015 could be even hotter.
The Intergovernmental Panel on Climate Change (IPCC) has just released the final part of its Fifth Assessment Report. This further discusses the future impacts of climate change and – it is hoped – will pave the way for a global, legally binding treaty on carbon emissions at the UN Climate Change Conference in Paris during late 2015. This week in Beijing, Chinese President Xi Jinping met with Barack Obama to announce a "historic" agreement that would see U.S. emissions fall 26%-28% below 2005 levels by 2025, while China's would peak by 2030. By announcing these targets now, they hope to inject momentum into the global climate negotiations and inspire other countries to join in coming forward with ambitious actions as soon as possible, preferably before the first quarter of 2015. The two Presidents resolved to work closely together over the next year to address major impediments to reaching a successful treaty in Paris. UN climate chief, Christiana Figueres, said: "These two crucial countries have today announced important pathways towards a better and more secure future for humankind."
Unfortunately for Barack Obama, the U.S. midterm election was a disaster for the Democrats. They will now lose control of the Senate, for the first time since January 2007, with Republicans also increasing their majority in the House. The incoming Senate Majority Leader, Mitch McConnell, stated that his top priority is to "get the EPA reined in" and to dismantle the new emissions rules for coal power plants. In a related development, the controversial Keystone XL was approved yesterday with a 252-161 vote. This 875-mile (1,408 km) pipeline will carry tar sands oil from Alberta, Canada, to the US state of Nebraska where it joins pipes running down to Texas. While creating only 35 permanent jobs, it will transport 51 coal plants' worth of CO2 and do nothing to lower U.S. gas prices.
Meanwhile, the G20 summit now underway in Brisbane, Australia, has seen hundreds of people staging a "head in the sand" protest over the lack of discussions on climate change. Australian Prime Minister, Tony Abbott, recently declared that "coal is good for humanity" while opening a new coal plant and expressing his belief that "the trajectory should be up and up and up in the years and decades to come ... The future for coal is bright."
A new report from the Overseas Development Institute (ODI) and Oil Change International highlights the fact that G20 governments are now spending almost £56bn ($90bn) a year on finding new oil, gas and coal reserves. This is despite clear evidence that two-thirds of fossil fuels must be left in the ground to avoid tipping the world into a climate catastrophe. Phasing out these perverse subsidies may form a crucial part of the negotiations at the Paris conference in 2015.
The science of global warming is clearer than ever. Back in April, a report by McGill University concluded "with confidence levels greater than 99% and most likely greater than 99.9%" that recent warming is not caused by natural factors but is man-made. A new generation of supercomputers – able to crunch hundreds of terabytes' worth of data – has led to what one researcher calls "a golden age for high-resolution climate modelling" with accurate simulations of intense weather and climate events. These models will only get better in the years ahead. On current trends, it should be possible to achieve resolutions down to a square metre by 2030. And yet, even without these models or the IPCC, we know the problem is real.
3rd November 2014
3D printer is 10 times faster than current models
Hewlett-Packard (HP) has unveiled a 3D printer that it claims will be 10 times faster than current models.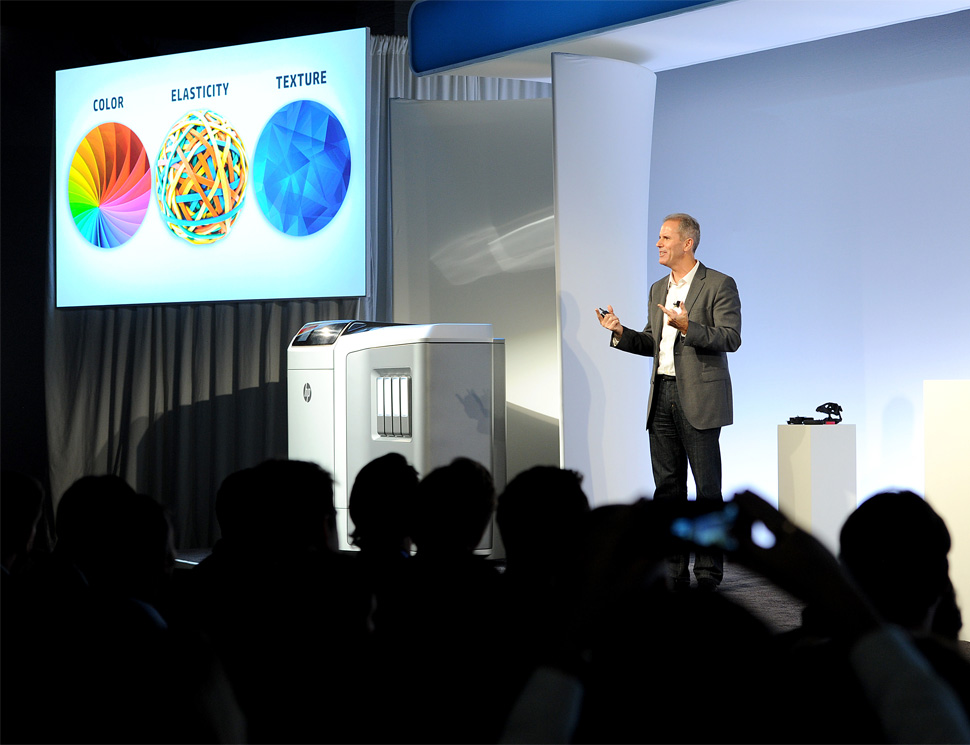 HP has introduced its vision for the future of computing and 3D printing by unveiling its new "Blended Reality" ecosystem. Designed to break down the barriers between the digital and physical worlds, this ecosystem is underpinned by two key advancements:
HP Multi Jet Fusion: A revolutionary technology engineered to resolve critical gaps in the combination of speed, quality and cost, and deliver on the potential of 3D printing.


Sprout by HP: A first-of-its-kind Immersive Computing platform that will redefine the user experience and that creates a foundation for future immersive technologies.
"We are on the cusp of a transformative era in computing and printing," said Dion Weisler, executive vice president, Printing & Personal Systems (PPS). "Our ability to deliver Blended Reality technologies will reduce the barriers between the digital and physical worlds, enabling us to express ourselves at the speed of thought – without filters, without limitations. This ecosystem opens up new market categories that can define the future, empowering people to create, interact and inspire like never before."
"As we examined the existing 3D print market, we saw a great deal of potential but also saw major gaps in the combination of speed, quality and cost," said Stephen Nigro, vice president of Inkjet and Graphic Solutions at HP. "HP Multi Jet Fusion is designed to transform manufacturing across industries by delivering on the full potential of 3D printing with better quality, increased productivity, and break-through economics."
Multi Jet Fusion is built on HP Thermal Inkjet technology and features a unique synchronous architecture that significantly improves the commercial viability of 3D printing and has the potential to change the way we think about manufacturing.
10 times faster: Images entire surface areas versus one point at a time to achieve breakthrough functional build speeds, 10 times faster than the fastest technology in the market today.


New levels of quality, strength and durability: Multi-agent printing process utilising HP Thermal Inkjet arrays that simultaneously apply multiple liquid agents to produce best-in-class quality that combines greater accuracy, resiliency and uniform part strength in all three axis directions.


Accuracy and detail: Capable of delivering fully functional parts with more accuracy, finer details and smooth surfaces, and able to manipulate part and material properties, including form, texture, friction, strength, elasticity, electrical, thermal properties and more.


Achieves breakthrough economics: Unifies and integrates various steps of the print process to reduce running time, cost, energy consumption and waste to significantly improve 3D printing economics.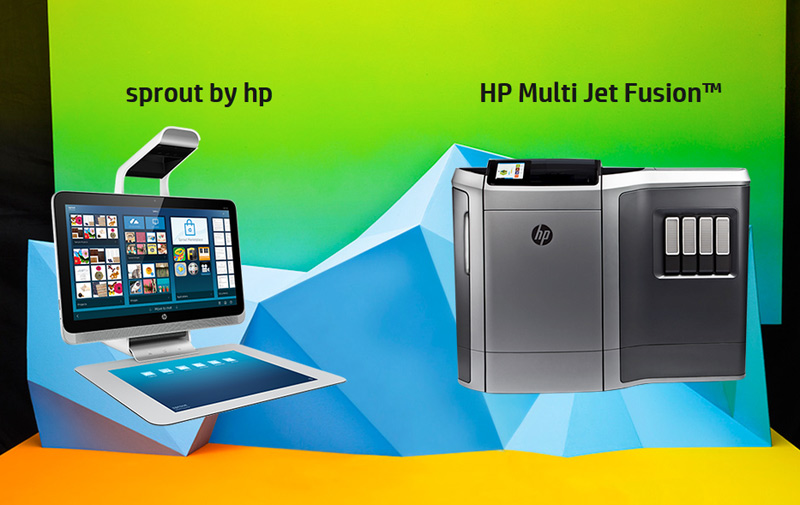 Sprout – the first product available in HP's Blended Reality ecosystem – combines the power of an advanced desktop computer with an immersive, natural user interface to create a new computing experience. As shown in the image above, this puts a scanner, depth sensor, hi-resolution camera and projector into a single device, allowing users to take physical items and seamlessly merge them into a digital workspace. The system also delivers an unmatched collaboration platform, allowing users in multiple locations to collaborate on and manipulate a single piece of digital content in real-time.
"We live in a 3D world, but today we create in a 2D world on existing devices," said Ron Coughlin, senior vice president, Consumer PC & Solutions, HP. "Sprout by HP is a big step forward in reimagining the boundaries of how we create and engage with technology to allow users to move seamlessly from thought to expression."
Together, HP says these advancements have the potential to revolutionise production and offer small businesses a new way to produce goods and parts for customers. HP aims to invite open collaboration and partnerships in 2015 to further develop its 3D print system, with general consumer availability in the second half of 2016.
30th October 2014
OSHbot – a new automated retail assistant
A new retail service robot can help customers shop smarter, navigate stores more efficiently, and instantly access information. OSHbot is being introduced by Orchard Supply Hardware at its flagship store in San Jose, California.
This holiday season, Lowe's Innovation Labs will introduce two autonomous retail service robots in a flagship Orchard Supply Hardware store in midtown San Jose, California to study how robotics technology can benefit customers and employees.
Called OSHbot, the robots will assist customers to quickly navigate stores by directing them to specific products and providing real-time information about product promotions and inventory. In the coming months, OSHbots will also be able to communicate with customers in multiple languages and remotely connect with expert employees at other Orchard stores.
"Using science fiction prototyping, we explored solutions to improve customer experiences by helping customers quickly find the products and information they came in looking for," said Kyle Nel, executive director of Lowe's Innovation Labs. "As a result we developed autonomous retail service robot technology to be an intuitive tool customers can use to ask for help, in their preferred language, and expect a consistent experience."
For store employees, OSHbot will provide an additional layer of support by helping customers with simple questions, enabling more time for them to focus on delivering project expertise. Applications designed to support employees also include real-time inventory management and connecting with employees in other locations to share know-how and answer customer questions.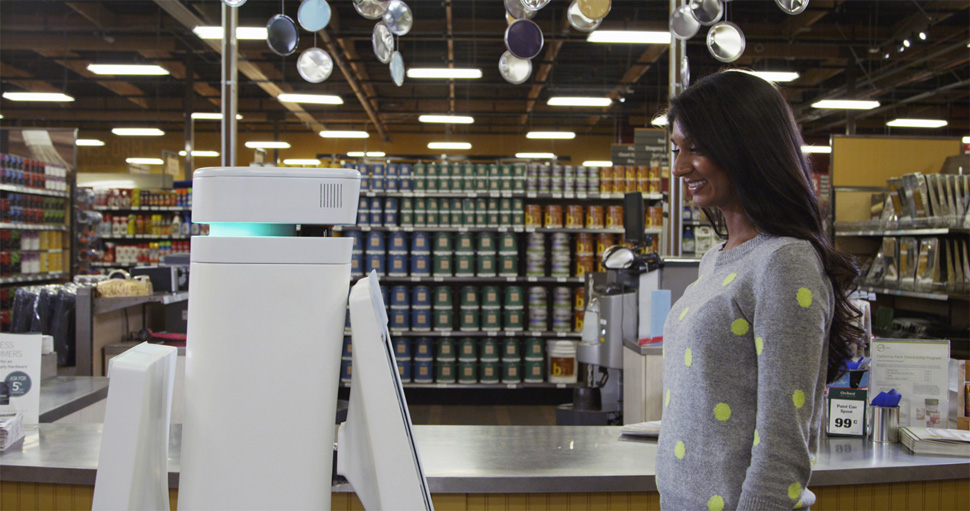 The OSHbot incorporates scanning technology first developed for the Lowe's Holoroom home improvement simulator. For example, a customer may bring in a spare part and scan the object using OSHbot's 3D sensing camera. After scanning and identifying the object, OSHbot will provide product information to the customer and help guide them to its location on store shelves.
The OSHbot was developed through a partnership between Lowe's Innovation Labs and Fellow Robots, a Silicon Valley company specialising in the design and development of autonomous service robots. The partnership was initiated through SU Labs – a Singularity University program that connects corporate innovation teams with startups and other organisations to explore exponentially accelerating technologies and create new sustainable business solutions.
"The last decade was one of rapid technological advancement and prototyping, especially in robotics," said Marco Mascorro, chief executive officer of Fellow Robots. "With OSHbot, we've worked closely with Lowe's Innovation Labs to take autonomous retail service robot technology out of the sandbox and into the consumer market – enhancing the in-store consumer experience and creating smarter shoppers."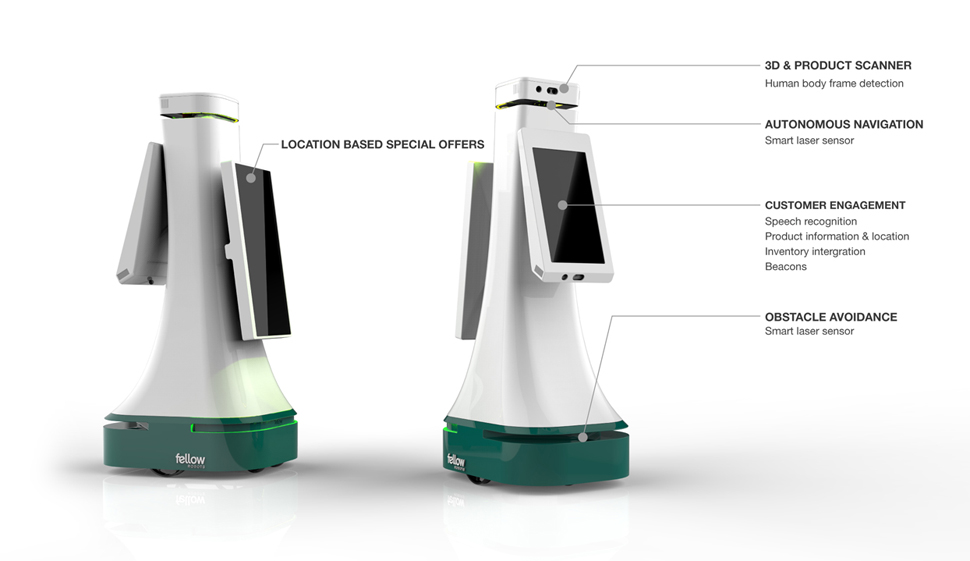 30th October 2014
China to invest £105 billion in UK infrastructure by 2025
According to a report published yesterday by global law firm Pinsent Masons and the Centre for Economics and Business Research, China is set to invest £105 billion (US$168 bn) into UK infrastructure by 2025.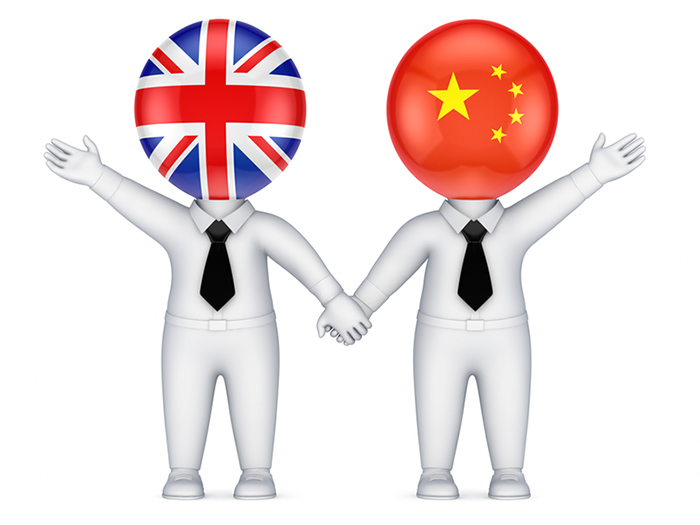 The report finds that of the £105 billion, the leading recipients will be the energy, real estate and transport sectors. The UK's energy sector will be the biggest target for Chinese capital, with investment in projects including nuclear, wind energy and solar power generation forecast to reach £43.5 billion (US$69.5 bn). The real estate and transport sectors could receive £36 billion (US$57.5 bn) and £19 billion (US$30 bn) respectively over the next decade.
Richard Laudy, head of infrastructure at Pinsent Masons: "As the need to modernise UK's major infrastructure gets greater by the day, the projected influx of Chinese investment into UK infrastructure is expected to be a welcome boost to the construction industry in particular and UK economy as a whole. As a foreign investor China is going to become increasingly important for UK infrastructure by 2025. This means UK-China partnerships need to grow over the next decade.
"Our report finds that this level of investment is going to be a game-changer for the UK infrastructure. Over the past few years, we have seen China's role as an investor evolve from making indirect investments through sovereign wealth funds – Chinese businesses are now becoming co-funders, co-developers and co-contractors in major UK infrastructure projects. We are already seeing this happen – for example, Beijing Construction Engineering Group making a major investment in Manchester Airport City."
UK and Chinese business leaders consulted for the report are already seeing a clear rise in the number of joint ventures between UK and Chinese firms, including one of the largest real estate developments in the UK – Royal Albert Docks in East London and the transformative developments at Nine Elms featuring one of the tallest residential skyscrapers in London.
Business leaders also believe that the energy sector will see a continued increase in Chinese investment in projects including offshore wind farms and other key renewable power networks. The report finds that this will pick up significant pace in the latter half of the forecast period.
As much as £19 billion will flow into transport such as roads, rail and airports. However – given the need to develop the current position in respect of policy on public ownership, planning policy and funding mechanisms – this investment is highly likely to come towards the end of the forecast period in the mid-2020s. Therefore, no immediate flow is expected into transport, according to the research.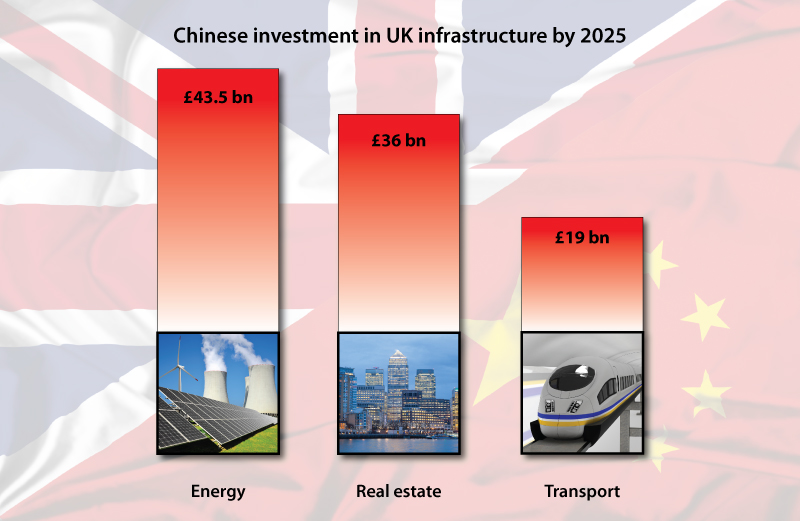 In addition to identifying the level of Chinese investment capital projected into UK infrastructure over the next ten years, the report expects China to use its vast domestic manufacturing capability and capacity to export equipment and materials for UK infrastructure and real estate projects where it is providing investment. This will change the landscape of the UK's infrastructure industry as China enters the supply chain over the next decade.
"Over the coming decade, we expect a significant increase in direct investment from the Chinese coming through in the shape of joint-ventures and strategic alliances," says Laudy. "Four out of five of the world's largest construction and engineering companies are now Chinese with a growing appetite for infrastructure investment and with the potential to invest vast amounts of capital in advanced economies in Europe.
"Entry by China into the UK market will create significant sector opportunities to provide expertise on how to operate in the UK market effectively – from labour market regulations, to the planning process and how to operate with the framework of EU regulations.
"However, with UK public finances still under pressure, uncertainty around government support for infrastructure is still a key concern for the infrastructure sector. If the UK wants to unlock Chinese investment to fill in the funding gap to modernise its aging infrastructure, the UK government will need to address issues around policy and further develop the pipeline for investment – delay and lack of clear commitment on policy will only create uncertainty for investors.
"Although, the flow of investment from China has already started, we expect this to be the beginning of a major trend, as a trickle of major Chinese investment turns into a wave over the coming decade."
The report – 'China Invests West: Can Chinese investment be a game-changer for UK infrastructure?' – can be viewed online or downloaded as a PDF.
Report highlights
Between 2014 and 2025, a total of £105 billion of Chinese money will flow into UK infrastructure and real estate investments, including a total of £43.5 billion into energy infrastructure, £19 billion into transport and other infrastructure, and £36 billion into real estate.
Joint ventures and strategic partnerships with China's massive construction and engineering corporations to play a catalytic role to make this reality, transforming UK construction sector
UK ranks third globally, out of 144 countries, in the Pinsent Masons and CEBR Infrastructure Investment Attractiveness Index
Chronic underinvestment has created an infrastructure need close to £500 billion in the UK, more than the £383 billion of projects set out in the UK's National Infrastructure Plan.
UK's strained public finances and pressured household incomes create problem of affordability for infrastructure
China's economy to become world's largest, approaching $30 trillion by 2030
Chinese savings to reach $12 trillion in coming decade, representing more than 30% of global savings
China to increasingly seek investments in advanced, innovative economies
20th October 2014
Gay marriage in the United States is progressing faster than expected
Back in 2011, we predicted that same-sex marriage would be allowed in every part of the United States by 2024. At the time, some of our readers claimed this was unrealistic and the process would take considerably longer. We chose that year based on the number of states where it had already become legal projected onto a future trend, combined with a reference from Des Moines Register that seemed to agree with our forecast.
Only six states (plus the District of Columbia) permitted same-sex marriages in 2011. Since then, another 25 have legalised it, bringing the total to 31, which is now a clear majority of the 50 states. This year alone has seen 14 states passing new laws. From 6th-12th October 2014, the Supreme Court declined to hear cases on same-sex marriage appeals – thus legalising gay marriage in Virginia, Utah, Indiana, Oklahoma and Wisconsin. This action was followed by legalisation of same-sex marriage in Nevada, Colorado, West Virginia, Idaho, North Carolina and Alaska.
There are even more cases to follow. The Sixth Circuit Court of Appeals is now expected to rule on challenges to the denial of same-sex marriage in Kentucky, Michigan, Ohio and Tennessee. Public support has grown at an increasing pace since the 1990s. According to a recent Gallup poll, it now stands at 52%, with 43% against and 5% with no opinion. Support tends to be higher among the younger generations, with 69% of 18-34 year olds in favour and only 38% of those aged 55 or above.
Below is a graph showing the number of states where gay marriage has been legalised (green) and the original trend we predicted back in 2011 (red). Half of the remaining states lie in the southern Bible Belt, a traditional conservative stronghold (see this excellent map and slider from Pew Research). Nevertheless, it seems our prediction will need revising.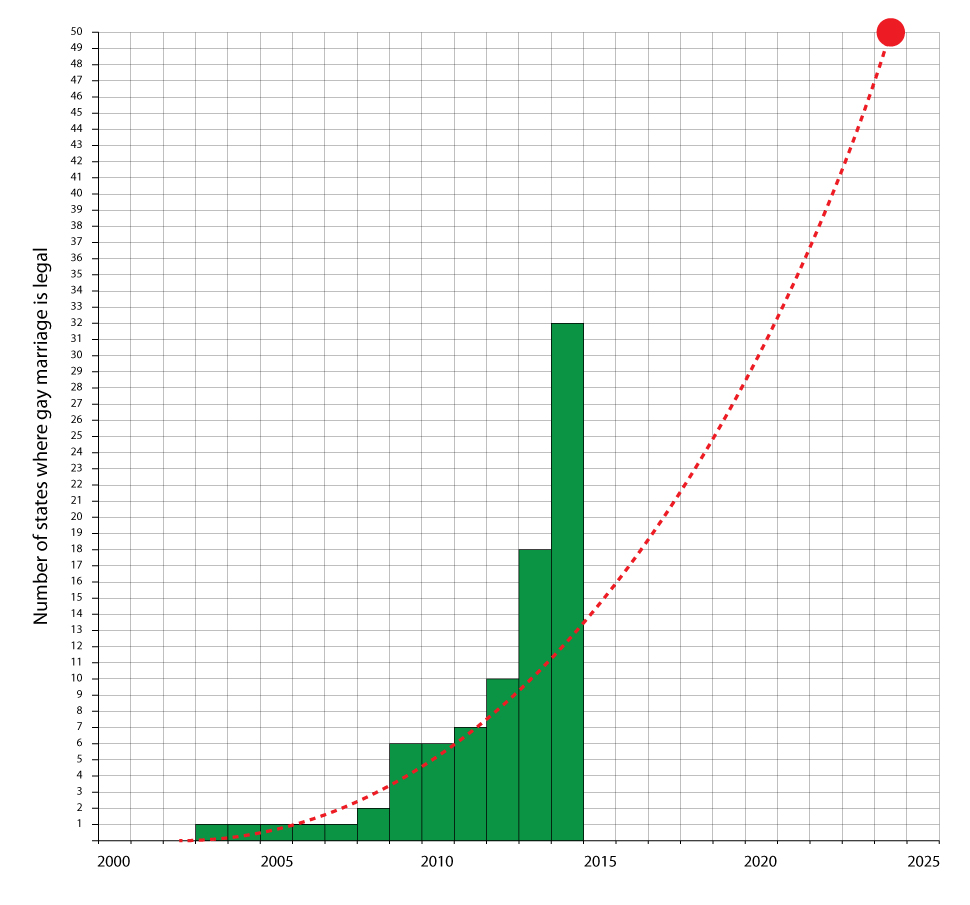 14th October 2014
Onshore wind is cheaper than coal, gas and nuclear
Generating electricity from onshore wind is cheaper than gas, coal and nuclear when externalities are stacked with the levelised cost of energy and subsidies, according to a new study ordered and endorsed by the European Commission.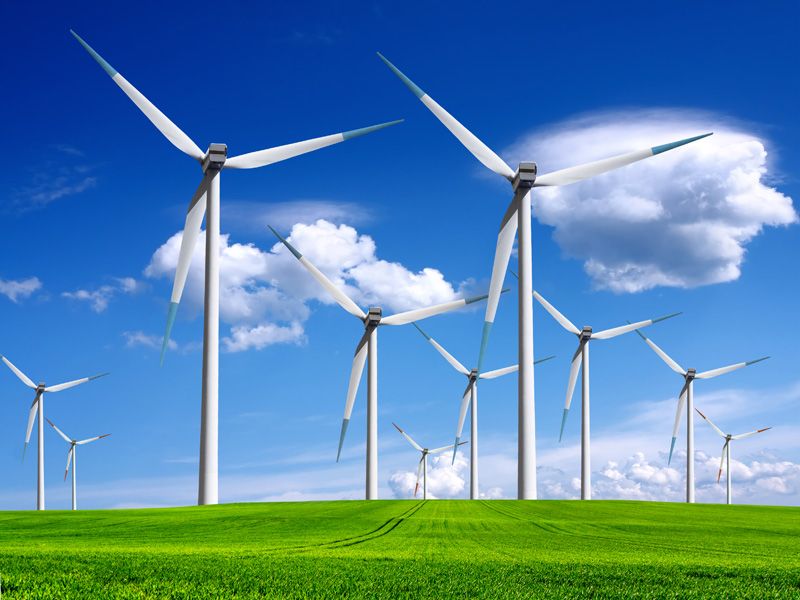 A new report by the energy consultancy firm Ecofys has been analysed by the European Wind Energy Association (EWEA). Data in the report shows that onshore wind now has an approximate cost of €105 per megawatt hour (MWh) which is cheaper than gas (up to €164), nuclear (€133) and coal (between €162-233). Offshore wind comes in at €186 and solar PV has a cost of around €217 per MWh.
The total cost of energy production – which factors in externalities such as air quality, climate change and human toxicity among others – shows that coal is more expensive than the highest retail electricity price in the EU. The report puts the figure of external costs of the EU's energy mix in 2012 at between €150 and €310 billion (US$190 and US$394 billion).
Justin Wilkes, deputy chief executive officer of the European Wind Energy Association, said: "This report highlights the true cost of Europe's dependence on fossil fuels. Renewables are regularly denigrated for being too expensive and a drain on the taxpayer. Not only does the Commission's report show the alarming cost of coal but it also presents onshore wind as both cheaper and more environmentally-friendly."
Onshore and offshore wind technologies also have room for significant cost reduction. Coal on the other hand is a fully mature technology and is unlikely to reduce costs any further.
He added: "We are heavily subsidising the dirtiest form of electricity generation while proponents use coal's supposed affordability as a justification for its continued use. The irony is that coal is the most expensive form of energy in the European Union. This report shows that we should use the 2030 climate and energy package as a foundation for increasing the use of wind energy in Europe to improve our competitiveness, security and environment."
6th October 2014
New AI program interacts like a human
Software company IPsoft has announced a new artificial intelligence platform named "Amelia" that makes it possible to automate knowledge distribution over a wide range of functions. Exposed to the same information as any new hire, she instantly applies information to solve queries. With Amelia able to shoulder the burden of tedious, often laborious tasks, she partners with human co-workers to achieve new levels of productivity and service quality.
Whereas most other technologies demand that humans adapt their behaviour in order to interact with 'smart machines', Amelia is intelligent enough to interact like a human herself. She learns using the same natural language manuals as her colleagues, but in a matter of seconds. She understands the full semantic meaning of what she reads – rather than simply recognising individual words – by applying context, logic and inferring implications. Independently, rather than through time-intensive programming, Amelia creates her own process map of the information she is given so that she can work out for herself exactly what actions to take, depending on the specific problem being solved. Like a human worker, she learns from her colleagues and by observing their work, is able to continually build up knowledge.
In a fraction of the time it takes traditionally to train someone in a new role, Amelia is able to perform at a high level. What is more, as she already speaks over 20 languages, she is able to support international operations with ease. Her core knowledge of a process needs only to be learned once for her to be able to communicate with customers in their language.
Much like machines transformed agriculture and manufacturing, cognitive technologies will drive the next evolution of the global workforce. In the future, companies will compete in the digital economy with a digital workforce that comprises a balance of human and virtual employees. Research firm Gartner predicts that by 2017, autonomics and cognitive platforms like Amelia will drive a 60 percent reduction in the cost of managed services. This technology is already being piloted within a number of Fortune 1000 companies and IPsoft expects to announce new customers and prominent industry partners before the end of this year.
"We want to make sure that human beings can dedicate their time to more valuable tasks. Taking out the more repetitive tasks is I think a noble aspiration for a company," said Frank Lansink, EU CEO of IPsoft, at a briefing in the firm's HQ at 30 St Mary Axe (the Gherkin). "Our purpose is to elevate human beings into a more meaningful role, adding value to society, or to enterprise, or the customer."
4th October 2014
Elon Musk: Tesla 90% autonomous in 2015
In this interview with CNN Money, Elon Musk says that a Tesla car able to self-drive up to 90% of the time will be launched in 2015. The company will also reveal its next electric vehicle – the model "D" – on 9th October, according to a tweet.