24th May 2015
Ireland votes to legalise gay marriage
Ireland has become the first country in the world to use a constitutional referendum for the legalisation of same-sex marriage.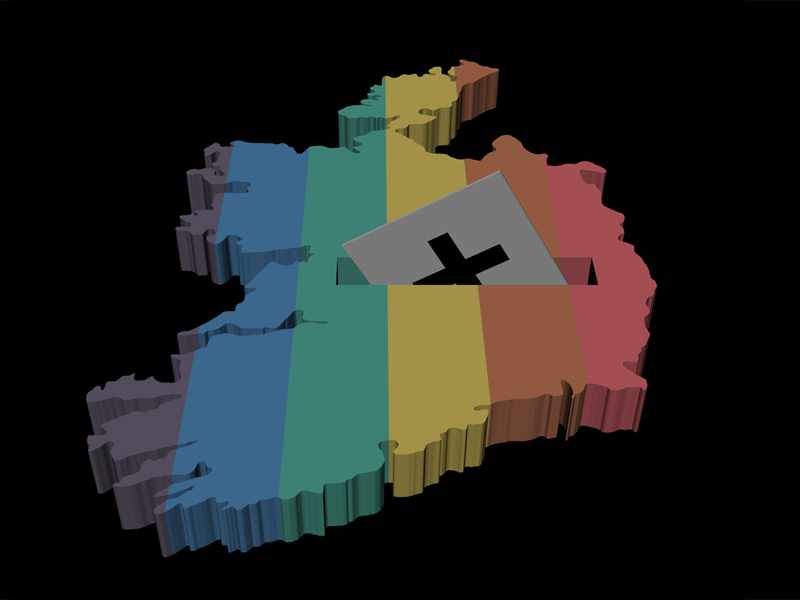 On Friday 22nd May, the Irish people voted in a historic referendum – the 34th Amendment of the Constitution (Marriage Equality) Bill 2015. This was a proposed amendment to the constitution of Ireland to mandate provision for gay and lesbian marriage. The result, announced yesterday, was a decisive victory for the "Yes" campaign, with 62% of the electorate in favour and 38% against. Voter turnout was 62%.
Prior to this week's vote, same-sex marriage had already become legal in neighbouring England, Wales and Scotland during 2013-14. Northern Ireland's Executive does not intend to introduce such legislation for Northern Ireland despite repeated votes on the issue, but in the world at large, acceptance of same-sex marriage is a rapidly emerging social trend. As we become ever more connected and globalised, attitudes are changing; openness and tolerance are increasing. In America, the U.S. Supreme Court is expected to make a nationwide, federal ruling on the issue in the next several weeks. Looking ahead to the longer term, FutureTimeline.net predicts over half the world's countries will allow same-sex marriage by 2045, while the vast majority will have decriminalised homosexuality.
Irish Prime Minister Enda Kenny, speaking at a press conference, commented: "Today Ireland made history. With today's Yes vote we have disclosed who we are – a generous, compassionate, bold and joyful people. Yes to inclusion. Yes to generosity. Yes to love, and yes to equal marriage. I know that for tens of thousands of couples and their families, the past 24 hours were almost like a vigil at the end of a long journey. Would their fragile and deeply personal hopes be realised? Would a majority of people, in this our Republic, stand with them and stand up for them so that they can live in our shelter and not in our shadow? That having come out to us we could now come out for them – and do it with a single word, a solitary syllable – Yes – marked with an X. Today they have their answer. The people have answered the call of families and friends, of neighbours and new acquaintances."
Deputy Prime Minister Joan Burton also commented: "Together, the people of Ireland have struck a massive blow against discrimination as we extend the right of marriage to all our citizens. We've done something incredible and proven that a compassionate, well-informed electorate can and will extend civil rights when asked in a popular ballot. Now I hope that spirit, that torch, is carried abroad. We're the latest country to pass marriage equality into law – but we will certainly not be the last."
British Prime Minister David Cameron, in a Downing Street press release, commented: "My heartfelt congratulations to the people of Ireland, who have voted today to introduce same-sex marriage. Just over a year ago, we introduced same-sex civil marriage and sent out a clear message – you are equal whether you are straight or gay."
7th May 2015
The first licenced autonomous driving truck in the US
Vehicle manufacturer Daimler this week announced that its Freightliner Inspiration Truck has become the world's first autonomous truck to be granted a licence for road use in the State of Nevada.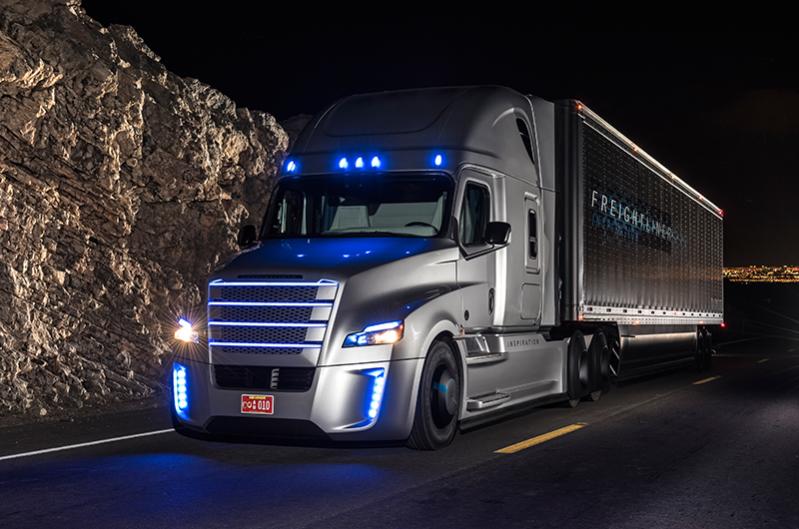 In July last year, Daimler provided the world's first demonstration of an autonomous truck in action, when the Mercedes-Benz Future Truck 2025 drove along a cordoned-off section of the A14 autobahn near Magdeburg, Germany. Engineers then transferred the system to the US brand Freightliner and created the Inspiration Truck – modified for use on American highways. The result: the State of Nevada has certified no less than two Freightliner Inspiration Trucks for regular operations on public roads. Governor Brian Sandoval handed over the official Nevada licence plates during a ceremony at the Las Vegas Motor Speed.
This futuristic vehicle is based on the existing Freightliner Cascadia model, but has the addition of "Highway Pilot" technology. The latter combines a sophisticated stereo camera and radar technology with systems providing lane stability, collision avoidance, speed control, braking, steering and an advanced dash display, allowing for safe autonomous operation on public highways. These components were extensively tested. As part of the truck's so-called Marathon Run, it covered over 10,000 miles (16,000 km) on a test circuit in Papenburg, Germany.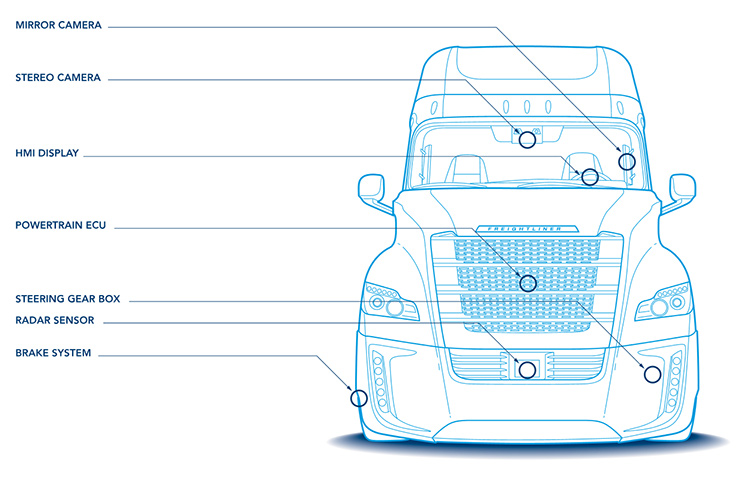 The radar unit in the front bumper scans the road ahead at both long and short range. The long-range radar, with a range of 820 feet and scanning an 18° segment, looks far and narrow to see vehicles ahead. The short-range radar, with a range of 230 feet and scanning a 130° segment, looks wider to see vehicles that might cut in front of the truck.
There is also a medium-range stereo camera, which is located behind the windscreen. The range of this camera is 328 feet, and it scans an area measuring 45° horizontal by 27° vertical. This camera is able to recognise lane markings and communicates to the Highway Pilot steering gear for autonomous lane guidance.
In addition, tiny cameras are located on the exterior of the truck. These reduce blind spots and are capable of replacing exterior mirrors, while creating a slight boost in fuel efficiency (1.5 percent).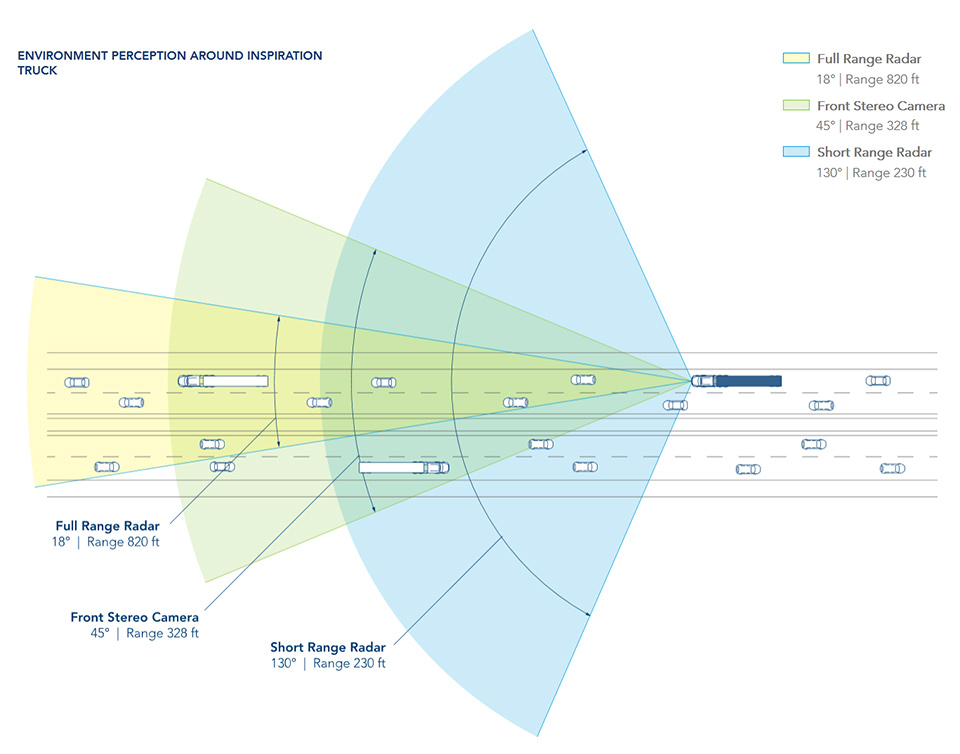 The vehicle operates safely under a wide range of conditions – it will automatically comply with posted speed limits, regulate the distance from the vehicle ahead and use the stop-and-go function during rush hour. The driver can deactivate the Highway Pilot manually and is able to override the system at any time. If the vehicle is no longer able to process crucial aspects of its environment, e.g. due to road construction or bad weather, the driver is prompted to retake control.
A large, state-of-the-art dash interface, combined with video displays from the various cameras, is designed to offer a great driver experience and to vastly improve the way data from the truck's performance is communicated to the driver. Highway Pilot informs the driver visually on its current status and also accepts commands from the driver.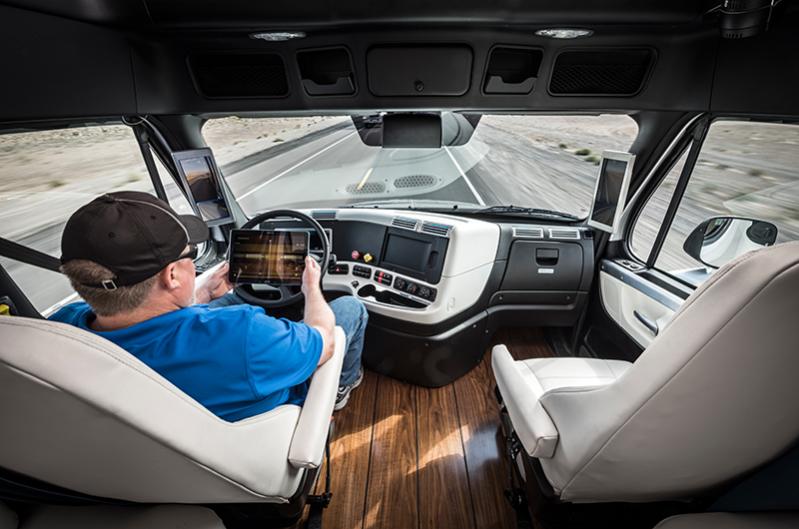 According to U.S. government data, 90 percent of truck crashes involve human error – much of that due to fatigue. Wolfgang Bernhard, a member of the Board of Management at Daimler, commented: "An autonomous system never gets tired, never gets distracted. It is always on 100 percent."
For now, the Inspiration Trucks will be limited to Nevada, one of the lowest density states in the country, but other states are likely to create similar regulations in the future, with California and Michigan expected to follow soon: "Ultimately, this has to be federally regulated to have a consistent basis across the country," says Martin Daum, president and CEO of Daimler Trucks North America.
The Inspiration Truck is only semi-autonomous, as it requires a human behind the wheel, who can take over in case of an emergency. The technology is advancing rapidly, however. Daimler and other manufacturers, including Nissan and Tesla, are planning to introduce fully autonomous vehicles (with no human driver on board) during the early 2020s. Worldwide, freight traffic shipped by road is predicted to triple by 2050, with self-driving vehicles expected to play an ever-increasing role in transportation.
Eventually, these autonomous vehicles will be intelligently connected – to their environment and other road users – to such an extent that they will be able to avoid areas with heavy traffic and contribute to reducing traffic jams. Traffic of the future will flow more smoothly and be far more predictable. Traffic systems will be more flexible and the infrastructure will be utilised better. Transport firms will operate more profitably, with fuel savings alongside lower maintenance costs as a result of less wear on the vehicle components, due to a more constant flow of traffic. Most importantly of all, road safety will be hugely improved – with many thousands of deaths prevented each year.
1st May 2015
Revolutionary new energy storage system announced by Tesla
Tesla has revealed a new battery technology for homes and businesses, which provides a way to store energy from localised renewables and can function as a backup system during power outages.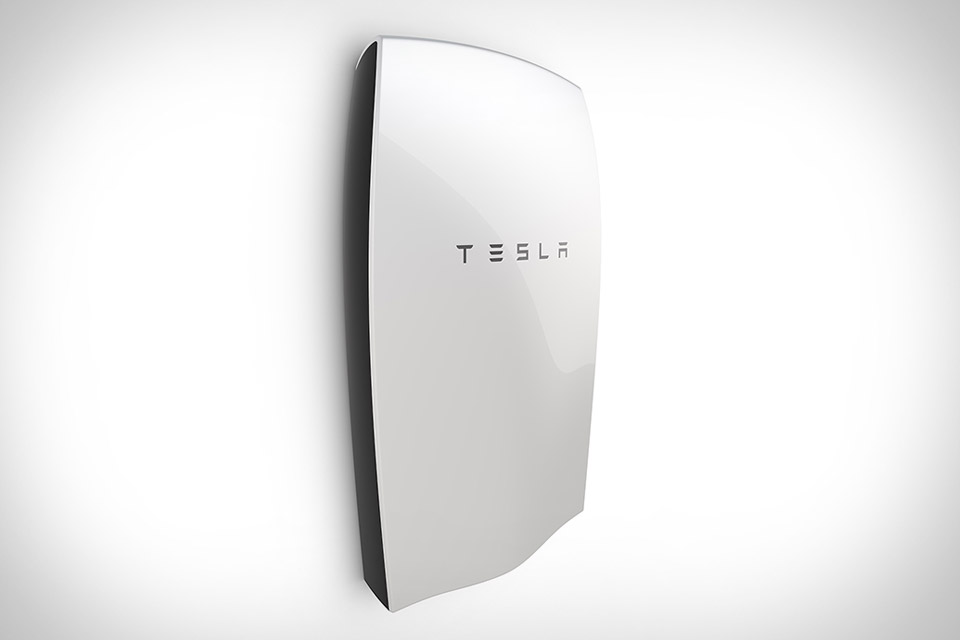 A major barrier to the widespread adoption of clean energy has been the intermittent nature of wind and solar. The Sun doesn't always shine, and the wind doesn't always blow – making it difficult or impossible to harness these resources on a 24-hour basis.
Elon Musk, CEO of electric vehicle firm Tesla Motors, yesterday unveiled a revolutionary new technology that can solve these issues. The Powerwall, pictured above, is a rechargeable lithium-ion battery product, intended primarily for home use. It stores electricity generated from rooftop solar panels, which can then be used for domestic consumption, load shifting, or backup power.
With a constant supply of renewable energy at a local scale, the Powerwall offers complete independence from the utility grid, meaning that customers no longer have to worry about expensive bills incurred during peak hours. If a utility company experiences a major outage, the Powerwall can serve as the home power supply instead, which is especially useful in areas prone to storms or unreliable grids. It also recharges electric vehicles more cheaply during night hours while surplus power can be flowed back to the grid when needed.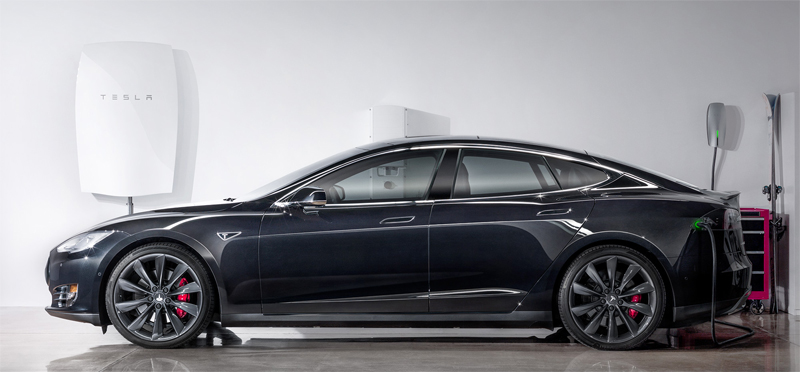 Tesla claims the Powerwall is fully automated, simple to install, and requires no maintenance. It is being marketed in two models: 10 kWh weekly cycle ($3,500) and 7 kWh daily cycle ($3,000) versions. Multiple batteries can be installed together for homes with greater energy needs; up to 90 kWh total for the 10 kWh battery and 63 kWh total for the 7 kWh battery. Both are rated for indoor and outdoor installation, and guaranteed for ten years.
The Powerwall begins shipping this summer. It will be sold to companies including SolarCity, which is running a pilot project in 500 California houses, using 10-kWh battery packs. Tesla is bullish about the prospects for batteries, electric vehicles and clean energy. The company is building a "gigafactory" to develop and expand these technologies at a large scale, with more factories to come in the future.
While the current price of the Powerwall may seem a little on the high side, analysts forecast a substantial decline in battery costs over the next decade and beyond, with a similar fall in solar panel costs. When combined with smart grids, the proliferation of this technology seems inevitable. As predicted on our future timeline, it is likely that home energy storage systems will be commonplace by 2030.
A much larger version of the Powerpack – described as an "infinitely scalable system" – will be made available for businesses and industrial applications. This will come in 100 kWh battery blocks, which can scale from 500 kWH, up to 1 GWh and even higher: "Our goal here is to change the way the world uses energy at an extreme scale," says Musk. You can watch his full keynote presentation (which was powered by solar energy) in the video below.