4th February 2016
Asteroid mining initiative announced by Luxembourg
The Luxembourg government yesterday announced a series of measures to position the country as a European hub in the exploration and use of space resources. Amongst the key steps undertaken will be the development of a legal and regulatory framework that provides certainty about the future ownership of minerals extracted from Near Earth Objects (NEO's), such as asteroids.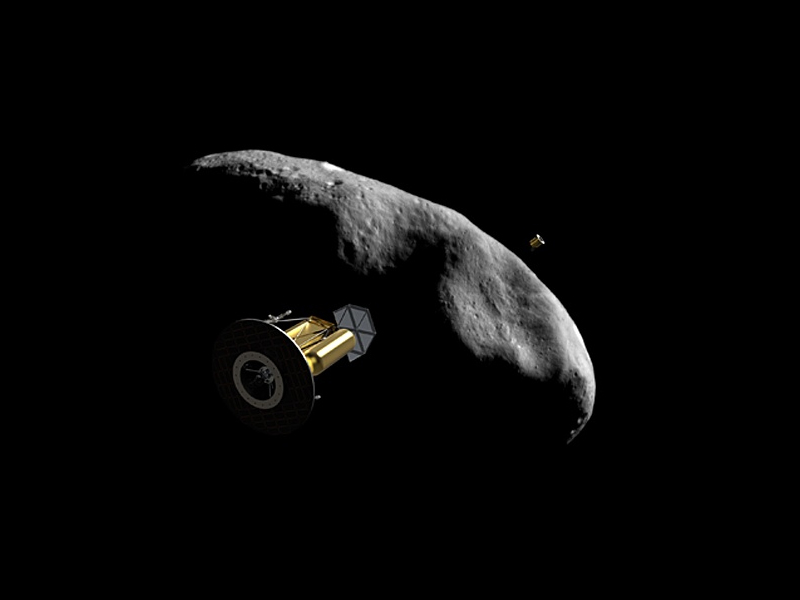 Luxembourg has become the first European country to announce its intention to establish a formal legal framework ensuring that private operators working in outer space can be confident about their rights to the resources they extract, i.e. rare minerals from asteroids. This legal framework will be designed in full consideration of international law. Luxembourg is eager to engage with other countries on this matter within a multilateral framework. Luxembourg will also invest in relevant R&D projects and consider direct capital investment in companies active in this field.
This initiative will nurture an exciting and entirely new space industry – offering unprecedented access to vast metal and mineral resources, for use in Earth orbit and beyond, stimulating economic growth and encouraging new horizons in space exploration.
Luxembourg already has a strong track record in related sectors, with satellite operator SES, established in Luxembourg 30 years ago and now a major global player in its field. The budget allocated to the space resources initiative will be part of the national space budget and will be defined in terms of Luxembourg's contribution to the next European Space Agency (ESA) multiannual budget, to be decided in December 2016.
Luxembourg's Deputy Prime Minister and Minister of the Economy, Étienne Schneider, commented: "Our aim is to open access to a wealth of previously unexplored mineral resources on lifeless rocks hurling through space, without damaging natural habitats. We will support the long-term economic development of new, innovative activities in the space and satellite industries as a key high-tech sector for Luxembourg. At first, our aim is to carry out research in this area, which at a later stage can lead to more concrete activities in space."
Former ESA boss, Jean-Jacques Dordain, will be an adviser. In a press conference, he said that asteroid mining was no longer science fiction; the basic technologies of landing and returning materials from space had essentially been proven: "Things are moving in the United States and it was high time there was an initiative in Europe, and I am glad the first initiative is coming from Luxembourg," he said. "It will give no excuse for European investors to go to California."
Yves Elsen, Chairperson of the Luxembourg Space Cluster stated: "Over the past three decades, Luxembourg has built up extensive know-how in world-class space related activities. Luxembourg can write history once again by further sustaining the attractiveness of the country for a host of next generation space activities."
Simon P. Worden, Chairman of the Breakthrough Prize Foundation said: "Humanity is on the verge of expansion into the solar system – and then beyond. Using the resources we find there is essential – not only for our expansion into space, but also to ensure continued prosperity here on Earth."
Chris Lewicki, President and CEO of Planetary Resources, commented: "We commend the Government of Luxembourg in leading the world by establishing this new resource industry, thereby enabling the economic development of near-Earth asteroid resources. Planetary Resources looks forward to working with Luxembourg."
Rick Tumlinson, Co-founder and Chair of the Board of Deep Space Industries, stated: "By opening up the resources of space, Luxembourg will help take the pressure off the Earth."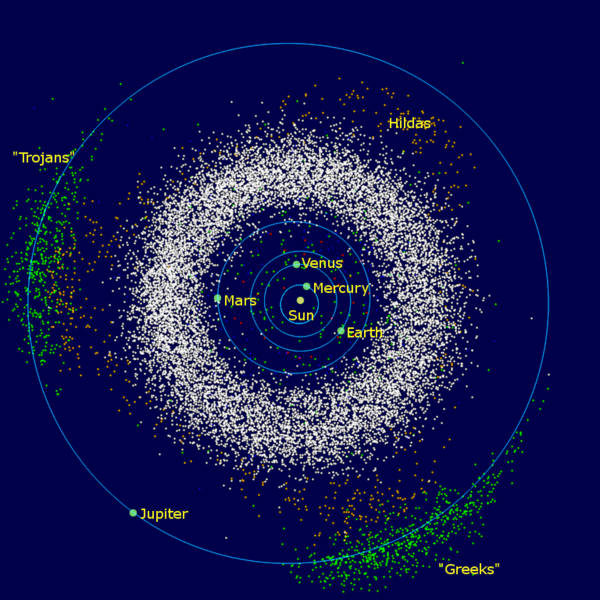 28th January 2016
Doomsday Clock stays at three minutes to midnight
The Bulletin of the Atomic Scientists Science and Security Board has announced that their closely monitored "Doomsday Clock" will remain at three minutes to midnight.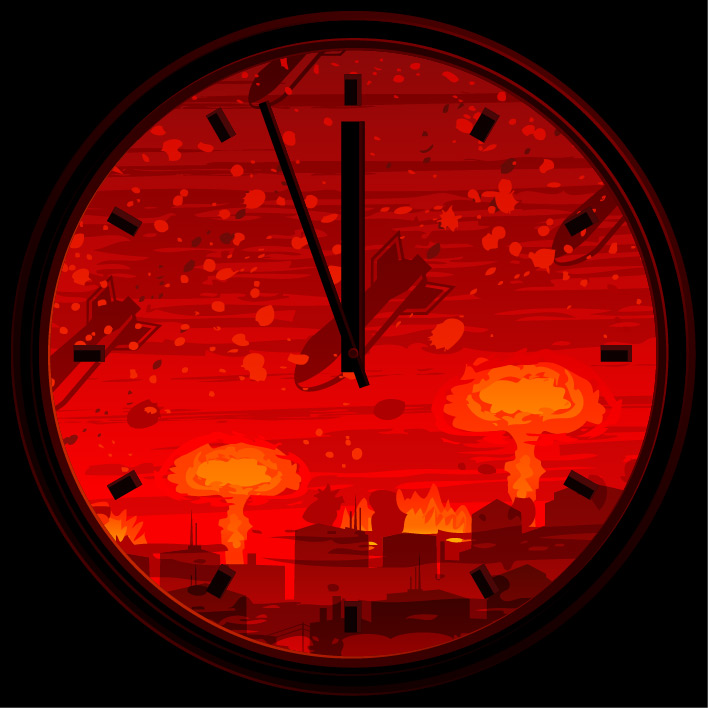 The Doomsday Clock is a symbolic clock face, representing a countdown to possible global catastrophe (e.g. nuclear war or climate change). It has been maintained since 1947 by the Science and Security Board of the Bulletin of the Atomic Scientists, which includes 18 Nobel Laureates. The closer they set the Clock to midnight, the closer the scientists believe the world is to global disaster.
The position of the Clock hands in the past has ranged from two minutes to midnight in 1953 (after the U.S. began testing hydrogen bombs, which was followed by Soviet tests shortly after), to 17 minutes to midnight in 1991 (when the Cold War ended and deep cuts were made to nuclear arsenals).
Last year, the Clock hands were moved from five to three minutes to midnight, with the Bulletin stating: "Unchecked climate change, global nuclear weapons modernisations, and outsized nuclear weapons arsenals pose extraordinary and undeniable threats to the continued existence of humanity, and world leaders have failed to act with the speed or on the scale required to protect citizens from potential catastrophe. These failures of political leadership endanger every person on Earth."
This week, it was announced that the Doomsday Clock will remain at three minutes to midnight, since recent progress in the Iran nuclear agreement and the Paris climate accord "constitute only small bright spots in a darker world situation full of potential for catastrophe."

The statement accompanying the Doomsday Clock decision opens with the following words: "Three minutes (to midnight) is too close. Far too close. We, the members of the Science and Security Board of the Bulletin of the Atomic Scientists, want to be clear about our decision not to move the hands of the Doomsday Clock in 2016: That decision is not good news, but an expression of dismay that world leaders continue to fail to focus their efforts and the world's attention on reducing the extreme danger posed by nuclear weapons and climate change. When we call these dangers existential, that is exactly what we mean: They threaten the very existence of civilization and therefore should be the first order of business for leaders who care about their constituents and their countries."
While recognising the important progress of the Iran nuclear deal and the Paris climate accord, the Bulletin cautions that these positive steps have been offset in large part by foreboding developments: "Even as the Iran agreement was hammered out, tensions between the United States and Russia rose to levels reminiscent of the worst periods of the Cold War. Conflict in Ukraine and Syria continued, accompanied by dangerous bluster and brinkmanship, with Turkey, a NATO member, shooting down a Russian warplane involved in Syria, the director of a state-run Russian news agency making statements about turning the United States to radioactive ash, and NATO and Russia repositioning military assets and conducting significant exercises with them. Washington and Moscow continue to adhere to most existing nuclear arms control agreements, but the United States, Russia, and other nuclear weapons countries are engaged in programs to modernise their nuclear arsenals, suggesting that they plan to keep and maintain the readiness of their nuclear weapons for decades, at least — despite their pledges, codified in the Nuclear Non-Proliferation Treaty, to pursue nuclear disarmament."
On the climate front, the Bulletin statement points out: "Promising though it may be, the Paris climate agreement came toward the end of Earth's warmest year on record, with the increase in global temperature over pre-industrial levels surpassing one degree Celsius."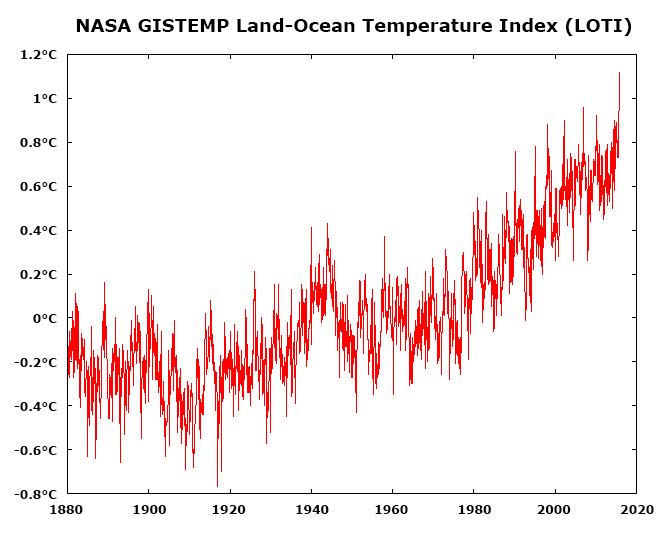 Other more positive climate developments cited in the statement include the Papal encyclical related to climate change, the movement among investors toward divestment of fossil fuels, new advances in sustainable energy systems, more climate-friendly governments in Canada and Australia. However, the statement cautions that even these developments must be seen "against the steady backtracking of the United Kingdom's present government on climate policies and the continued intransigence of the Republican Party in the U.S., which stands alone in the world in failing to acknowledge even that human-caused climate change is a problem."
The Bulletin also reflects concerns about "the nuclear power vacuum" around the globe: "The international community has not developed coordinated plans to meet cost, safety, radioactive waste management, and proliferation challenges that large-scale nuclear expansion poses ... Because of such problems, in the United States and in other countries, nuclear power's attractiveness as an alternative to fossil fuels has decreased, despite the clear need for carbon-emissions-free energy in the age of climate change."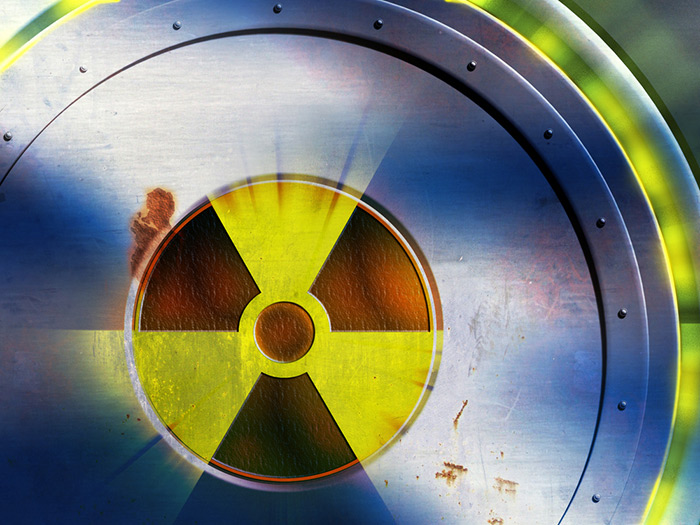 Rachel Bronson, executive director of the Bulletin, comments: "Last year, the Bulletin's Science and Security Board moved the Doomsday Clock forward to three minutes to midnight, noting: 'The probability of global catastrophe is very high, and the actions needed to reduce the risks of disaster must be taken very soon.' That probability has not been reduced. The Clock ticks. Global danger looms. Wise leaders should act — immediately."
Lawrence Krauss, chair of the Bulletin's Board of Sponsors: "Developments have been mixed since we moved the clock forward a year ago. In spite of some positive news, the major challenges the Bulletin laid out for governments then have not been addressed, even as the overall global challenges we need to face become more urgent. The clock reflects our estimate that the world is as close to the brink as it was in 1983 when US-Russian tensions were at their iciest in decades."
Sharon Squassoni, Bulletin Science and Security Board member, and a director of the Proliferation Prevention Program at the Centre for Strategic & International Studies (CSIS) in Washington, DC, said: "North Korea's recent nuclear test illustrates the very real danger of life in a proliferated world. Nuclear proliferation isn't a potential threat — we still have few controls over the kinds of capabilities that Iran succeeded in acquiring. In addition, regional tensions and conflict increase the risk of theft or use of these weapons."
Sivan Kartha, Bulletin Science and Security Board member, senior scientist and climate change expert, states: "The voluntary pledges made in Paris to limit greenhouse gas emissions are insufficient to the task of averting drastic climate change. These incremental steps must somehow evolve into the fundamental change in world energy systems needed if climate change is to ultimately be arrested."
So, what steps need to be taken?
The Bulletin statement accompanying the Doomsday Clock announcement identifies the following as the most urgently needed:
• Dramatically reduce proposed spending on nuclear weapons modernisation programs.
• Re-energise the disarmament process, with a focus on results.
• Engage North Korea to reduce nuclear risks.
• Follow up on the Paris accord with actions to sharply reduce greenhouse gas emissions and fulfil the global agreement to keep warming below 2°C.
• Deal now with the commercial nuclear waste problem.
• Create institutions specifically assigned to explore and address potentially catastrophic misuses of new technologies.
18th January 2016
62 people own same as half the world
Runaway inequality has created a world where 62 people own as much as the poorest half of the global population, according to an Oxfam report published today ahead of the annual gathering of the world's financial and political elites in Davos. This number has fallen dramatically from 388 as recently as 2010 and 80 last year.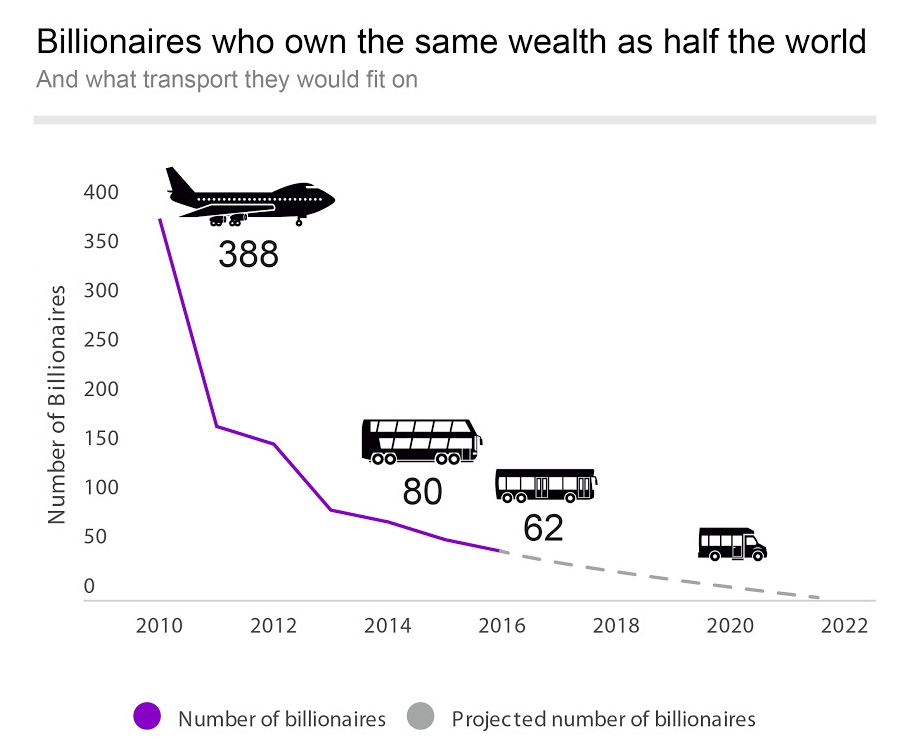 Oxfam's new report, An Economy for the 1%, shows that the wealth of the poorest half of the global population – 3.6 billion people – has fallen by a trillion dollars since 2010. This 41 per cent drop has occurred despite the world's population increasing by around 400 million people during that period. Meanwhile, the wealth of the richest 62 has increased by more than half a trillion dollars to $1.76tr. Just nine of the "62" are women.
Although world leaders have increasingly talked about the need to tackle inequality, the gap between the richest and the rest has widened dramatically in the past 12 months. Oxfam's prediction – made ahead of last year's Davos – that the 1% would soon own more than the rest of us by 2016, actually came true in 2015, earlier than expected.
Oxfam is calling for urgent action to tackle the inequality crisis and reverse the dramatic fall in wealth of the poorest half of the world. It is urging world leaders to adopt a three-pronged approach – cracking down on tax dodging; increased investment in public services; and action to boost the income of the lowest paid. As a main priority, it is calling for an end to the era of tax havens, which has seen increasing use of offshore centres by rich individuals and companies to avoid paying their fair share to society. This has denied governments valuable resources needed to tackle poverty and inequality.
It is three years since British PM David Cameron told Davos he would lead a global effort against aggressive avoidance in the UK and in poor countries. However, promised measures to increase transparency in British Overseas Territories and Crown Dependencies, such as the Cayman Islands and the British Virgin Islands, have not yet been implemented.
Mark Goldring, Oxfam Chief Executive, said: "It is simply unacceptable that the poorest half of the world population owns no more than a small group of the global super-rich – so few, you could fit them all on a single coach. World leaders' concern about the escalating inequality crisis has so far not translated into concrete action to ensure that those at the bottom get their fair share of economic growth. In a world where one in nine people go to bed hungry every night, we cannot afford to carry on giving the richest an ever bigger slice of the cake.
"We need to end the era of tax havens which has allowed rich individuals and multinational companies to avoid their responsibilities to society by hiding ever increasing amounts of money offshore. Tackling the veil of secrecy surrounding the network of tax havens would be a big step towards ending extreme inequality."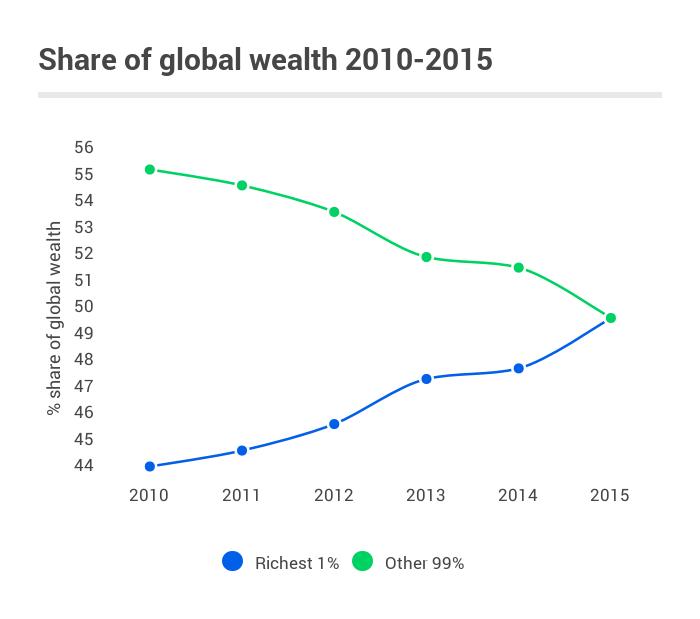 Globally, it is estimated that super-rich individuals have stashed a total of $7.6tr in offshore accounts. If tax were paid on the income that this wealth generates, an extra $190bn would be available to governments every year.
As much as 30 per cent of all African financial wealth is estimated to be held offshore, costing an estimated $14bn in lost tax revenue every year. This is enough to pay healthcare for mothers and children that could save four million children's lives a year and employ enough teachers to get every African child into school.
Allowing governments to collect the taxes they are owed from companies and rich individuals will be vital if world leaders are to meet the new UN Sustainable Development Goals (successor to the Millennium Development Goals), agreed last year, which aim to eliminate extreme poverty by 2030.
Although the number of people living in extreme poverty halved between 1990 and 2010, the average annual income of the poorest 10 per cent has risen by less than $3 a year in the past quarter of a century. That equates to an increase in daily income of less than a single cent a year. Had inequality within countries not grown between 1990 and 2010, an extra 200 million people would have escaped poverty.
One of the other key trends behind rising inequality, seen in Oxfam's report, is the falling share of national income going to workers in almost all developed and most developing countries and a widening gap between pay at the top and bottom of the income scale. This particularly affects women, who make up the majority of low paid workers around the world.
By contrast, the already wealthy have benefited from a rate of return on capital via interest payments, dividends, etc. that has been consistently higher than the rate of economic growth. This advantage has been compounded by the use of tax havens, which are perhaps the most glaring example set out in the report of how the rules of the economic game have been rigged in a manner that has supercharged the ability of the rich and powerful to entrench their wealth.
Action to recover the missing billions lost to tax havens needs to be accompanied by a commitment on the part of governments to invest in healthcare, schools and other vital public services that make such a big difference to the lives of the poorest people. Governments should also ensure that work delivers an acceptable standard of living for those at the bottom, by moving minimum wage rates towards a living wage and tackling the pay gap between men and women.
"Ending extreme poverty requires world leaders to tackle the growing gap between the richest and the rest, which has trapped hundreds of millions of people in a life of poverty, hunger and sickness," Goldring added. "It is no longer good enough for the richest to pretend that their wealth benefits the rest of us when the facts show that the recent explosion in the wealth of the super-rich has come at the expense of the poorest."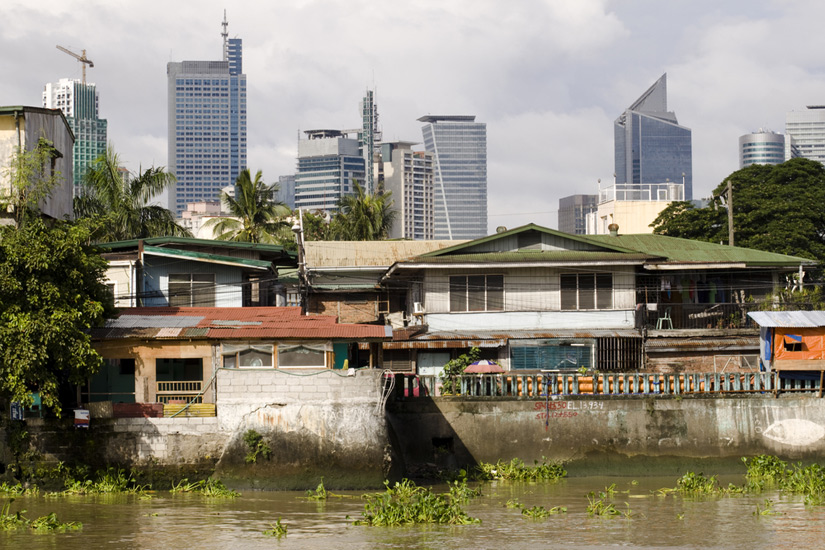 16th January 2016
U.S. government pledges $4bn for self-driving vehicles
The U.S. government this week revealed plans for a 10-year, nearly $4 billion investment to accelerate the development and adoption of safe vehicle automation, through real-world pilot projects.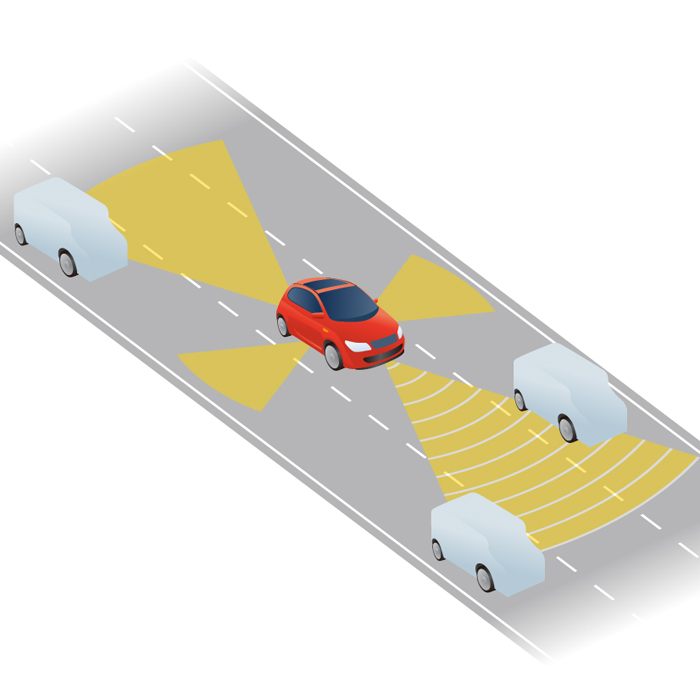 In his final State of the Union address, President Obama signalled his intent to invest in a 21st century transportation system. U.S. Transportation Secretary Anthony Foxx this week revealed part of the president's proposal: a 10-year, nearly $4 billion investment to accelerate the development and adoption of safe vehicle automation, through real-world pilot projects.
Secretary Foxx also announced the removal of potential roadblocks to the integration of innovative, transformational automotive technology that can significantly improve safety, mobility, and sustainability. Foxx made the announcement at the North American International Auto Show (NAIAS) in Detroit, where he was joined by leaders in technology, executives of traditional auto manufacturers, and newcomers to the industry.
"We are on the cusp of a new era in automotive technology with enormous potential to save lives, reduce greenhouse gas emissions, and transform mobility for the American people," said Foxx. "Today's actions and those we will pursue in the coming months will provide the foundation and the path forward for manufacturers, state officials, and consumers to use new technologies and achieve their full safety potential."
The President's 2017 budget proposal would provide nearly $4 billion over 10 years for pilot programs to test connected vehicle systems in designated corridors throughout the country, and work with industry leaders to ensure a common, multistate framework, for connected and autonomous vehicles.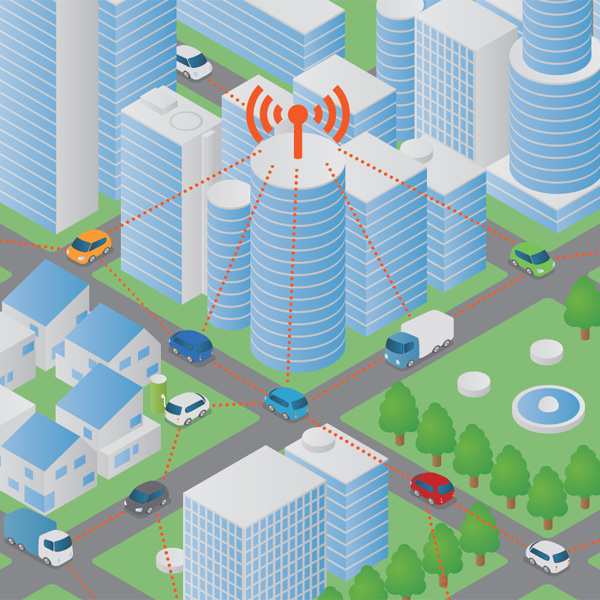 Secretary Foxx has also confirmed an update for the National Highway Traffic Safety Administration's (NHTSA) 2013 preliminary policy statement on autonomous vehicle technology. This new guidance reflects the reality that the widespread deployment of fully autonomous vehicles is now feasible.
Administrator Mark Rosekind said: "The NHTSA is using all of its available tools to accelerate the deployment of technologies that can eliminate 94% of fatal crashes involving human error. We will work with state partners toward creating a consistent national policy on these innovations, provide options now and into the future for manufacturers seeking to deploy autonomous vehicles, and keep our safety mission paramount at every stage."
Under Foxx's leadership, the Department of Transportation has been working to transform government for the 21st century, by harnessing technology and innovation that will improve people's lives. In 2015, he refocused the national dialogue about the future of America's transport system by releasing Beyond Traffic – a report examining the challenges facing the country's infrastructure between now and 2045. The draft framework has already influenced decisions by elected officials, planners, and stakeholders nationwide. He also launched the Smart City Challenge, a national competition to implement bold, data-driven ideas that make transportation safer, easier, and more reliable in cities. He also worked to accelerate the Department's efforts to incorporate vehicle-to-vehicle (V2V) communication technology into new vehicles.
Numerous forecasts by technology analysts point to a future dominated by intelligent, self-driving vehicles and smarter road systems. These new measures announced by the U.S. government will help to bring that futuristic vision closer to reality.
27th December 2015
Lions added to endangered species list
In response to the alarming decline of lion populations in the wild, the U.S. Fish and Wildlife Service has listed two lion subspecies as endangered and threatened. Without action to protect them, African lions could see their populations halved by 2035.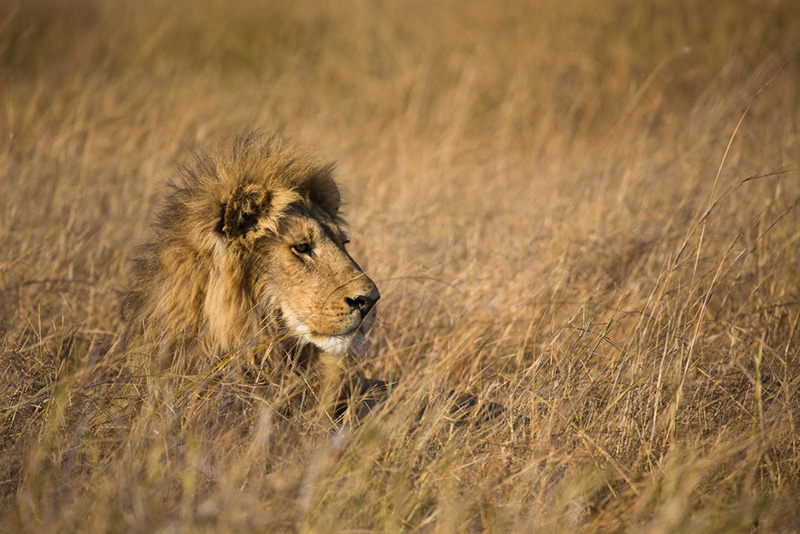 This week, the U.S. Fish and Wildlife Service (USFWS) announced it will list two lion subspecies under the Endangered Species Act (ESA). Panthera leo leo – located in India and western and central Africa – will be listed as endangered, while Panthera leo melanochaita – found in eastern and southern Africa – will be listed as threatened.
In the last 20 years, lion populations have declined by 43% due to a combination of habitat loss, loss of prey base, trophy hunting, poaching for skins and uses in Chinese traditional medicine, and retaliatory killing of lions by a growing human population. The killing of Cecil the lion in July of this year served to further highlight this issue. Coupled with inadequate financial and other resources for countries to effectively manage protected areas, the impact on lions in the wild has been substantial. Having once been present in south-eastern Europe and throughout much of the Middle East and India, the animals have now lost 85% of their historic range, as shown on the map below.
Their numbers could be halved again by 2035, according to a recent study in the journal PNAS: "Many lion populations are either now gone or expected to disappear within the next few decades, to the extent that the intensively managed populations in southern Africa may soon supersede the iconic savannah landscapes in East Africa as the most successful sites for lion conservation," the study said.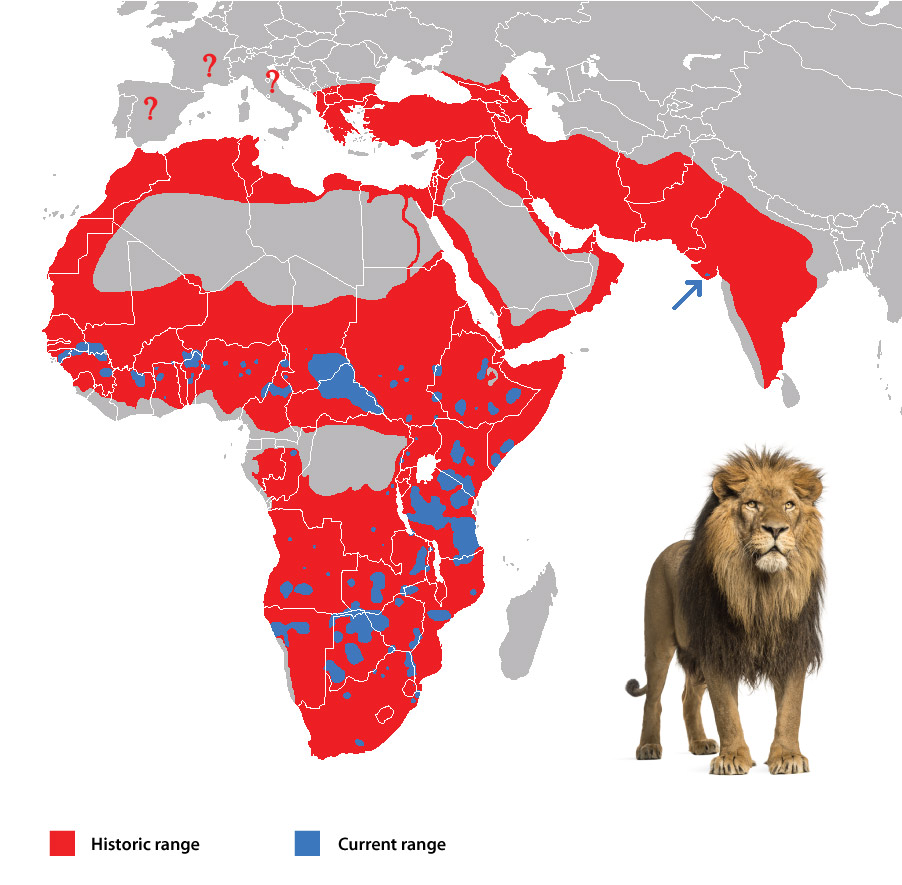 In 2011, the USFWS received a petition to list Panthera leo leo as endangered under the ESA. In 2014, the agency published a 12-month finding and agreed to list the subspecies as threatened with a special rule under section 4(d) of the ESA. Based on newly available scientific information on the genetics and taxonomy of lions, the agency assessed the status of the entire lion species and subsequently changed its earlier finding.
The new science resolved that the western and central populations of African lion are more genetically related to the Asiatic lion. These lions are now considered the same subspecies, P. l. leo. There are only about 1,400 of these lions remaining; 900 in Africa and just 523 in India. Considering the size and distribution of the populations, the current trends and the severity of the threats, the agency has found that this subspecies now meets the definition of "endangered" under the ESA.
The other subspecies – Panthera leo melanochaita – likely numbers between 17,000-19,000 and is found across southern and eastern Africa. The agency determined that this subspecies is less vulnerable and is not currently in danger of extinction. However, although lion numbers in southern Africa are increasing overall, they are declining significantly in some regions, due to various ongoing threats. As a result, the agency finds this subspecies meets the definition of a "threatened" species under the ESA.
With an endangered listing, imports of P. l. leo will now be prohibited – except in certain rare cases, such as when it can be found that the import will enhance the survival of the species. To strengthen conservation measures for the threatened subspecies P. l. melanochaita, a new permitting mechanism will regulate the import of all P. l. melanochaita parts and products into the USA. This process will ensure that any imported specimens are legally obtained in range countries as part of a scientifically sound management program that benefits the subspecies in the wild. A third and final rule will enable the agency to support changes that strengthen the governance and accountability of conservation programs in other nations.
Protected areas are vital to the future survival of lions; and the building of corridors or funnelling mechanisms between protected areas is equally critical so that lions can be directed to other suitable habitat, away from potential conflict areas. It takes around $2,000 per square kilometre per year to properly protect these animals in Africa. Scientists from both the USA and the UK have, in recent years, begun collaborating to better understand how lions move across the African landscape and to model ways to conserve genetic diversity and populations across the continent.
"The lion is one of the planet's most beloved species and an irreplaceable part of our shared global heritage," said USFWS Director Dan Ashe. "If we want to ensure that healthy lion populations continue to roam the African savannas and forests of India, then it's up to all of us – not just the people of Africa and India – to take action."
21st December 2015
Global coal demand stalls after more than a decade of relentless growth
The latest annual report from the International Energy Agency (IEA) shows the coal market under intense pressure, reflecting Chinese economic restructuring and global environmental policies.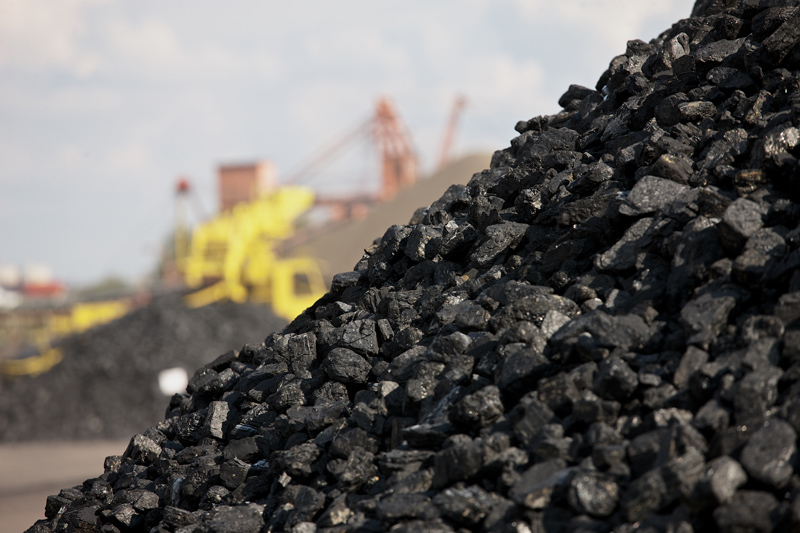 Following more than a decade of aggressive growth, global coal demand has stalled, the IEA has concluded in its annual coal market report. The report sharply lowers its five-year global coal demand growth forecast in reflection of economic restructuring in China, which represents around half of global coal consumption. Greater policy support for renewable energy and energy efficiency – the foundation of the COP21 agreement in Paris – is also expected to dent coal demand.
The IEA's Medium-Term Coal Market Report 2015 has slashed its five-year estimate of global coal demand growth by more than 500 million tonnes of coal equivalent (Mtce) in recognition of the tremendous pressures facing coal markets. This revision comes as official preliminary data indicate that a decline in Chinese coal demand occurred in 2014 and is set to accelerate in 2015. A decline in coal consumption in China for two consecutive years would be the first since 1982.
"The coal industry is facing huge pressures, and the main reason is China – but it is not the only reason," IEA Executive Director Fatih Birol said as he launched the report in Singapore at an event organised by the Energy Market Authority. "The economic transformation in China and environmental policies worldwide – including the recent climate agreement in Paris – will likely continue to constrain global coal demand."
| | |
| --- | --- |
| | Strong growth in coal use in India & Southeast Asia offset declines in the EU & the US, but does not match the rise seen over last decade in China. |
Coal demand in China is sputtering as the Chinese economy gradually shifts to one based more on services, and less on energy-intensive industries. New Chinese hydro, nuclear, wind and solar are also significantly curtailing coal power generation, driven not only by energy security and climate concerns but also by efforts to reduce local pollution.
Given the strong rebalancing of China's economy, the report also presents an alternate scenario in which Chinese coal demand has already peaked. In this so-called "peak coal scenario", infrastructure and energy-intensive industries represent a lower share of Chinese GDP than in the report's base case, while services and high-tech manufacturing gain momentum. In the peak case, Chinese coal demand in 2020 is 9.8% percent below the level in 2013 and more than 300 Mtce below the base-case forecast of nearly 2950 Mtce in 2020. Meanwhile, global coal demand in the peak case drops to around 5500 Mtce in 2020 – falling 0.1% per year on average, compared with growth of 0.8% per year in the report's main forecast.
The report sees coal demand outside China modestly increasing through 2020 as the structural decline in Europe and the United States is more than offset by growth in India and Southeast Asia. The Indian government's push for universal energy access and an expansion of manufacturing will drive electricity growth. In addition to India's ambitious renewable targets (175 GW of renewables by 2022, of which 100 GW are solar PV), coal will provide a significant share of additional power requirements – as much as 60% through 2020. Indeed, preliminary data show India overtaking China as the world's largest coal importer this year.
The region with the highest growth rate in coal use in the outlook period is in Southeast Asia, where Indonesia, Vietnam, Malaysia and the Philippines among others plan to underpin their power generation with new coal power plants. Unfortunately, around half of the new coal-fired generation capacity under development in the region still uses inefficient subcritical technologies.
Slowing economic growth and energy consumption in China as well as the restriction of coal use in its coastal regions will impact seaborne trade, especially Indonesian exports. In the IEA report's forecast, Australia takes a growing share of seaborne coal trade.
| | |
| --- | --- |
| | The four largest exporters represent more than 80% of seaborne coal trade; India overtakes China to become the world's largest importer. |
Prices continue to remain at low levels. In December 2015, prices of imported coal in Europe fell below USD 50/tonne – levels not seen in a decade. Persistent oversupply and shrinking imports in China and elsewhere suggest prices will remain under pressure through 2020.
With the recent COP21 agreement in Paris calling for the global increase in temperatures to be limited to "well below" 2 degrees Celsius, the IEA reiterated that carbon capture and storage (CCS) technology will be essential for enabling future use of coal without large CO2 emissions.
"Governments and industry must increase their focus on this technology if they are serious about long-term climate goals," said Fatih Birol. "CCS is not just a coal technology. It is not a technology just for power generation. It is an emissions reduction technology that will need to be widely deployed to achieve our low-carbon future."
12th December 2015
Ford will invest $4.5 billion in electric vehicles by 2020
US car giant Ford has announced it will invest an additional $4.5 billion in electric vehicle technology by 2020, as well as changing how the company develops vehicle experiences for customers.
Ford is adding 13 new electrified vehicles to its portfolio by 2020 – by which time, more than 40 per cent of the company's global nameplates will come in electrified versions. This represents Ford's largest-ever electrified vehicle investment in a five-year period.
On the way next year is a new Focus Electric, which features all-new DC fast-charge capability, delivering an 80 per cent charge in just 30 minutes and a projected 160-kilometre (100‑mile) range – an estimated two hours faster than today's model.
The zero emissions Focus Electric is manufactured in an eco-conscious facility. Its production home, the Michigan Assembly Plant, has one of the largest solar energy generator systems in the state. The new version of the Focus Electric, which starts production in late 2016, will provide features including:
SmartGauge with EcoGuide LCD Instrument Cluster, which offers a multitude of customisable displays that can help the driver see real-time electric vehicle power usage to help maximise efficiency. At the end of each trip, a screen provides the distance driven, miles gained through regenerative braking, energy consumed and comparative gasoline information achieved by driving electric.


Brake Coach (pictured below), another smart feature that coaches the driver on how to use smooth braking, to maximise the energy captured through the Regenerative Braking System. The more energy a driver captures through braking, the more energy is returned to the battery.


"MyFord" mobile app, allowing owners to control and maintain contact with the car remotely, get instant vehicle status information, monitor the car's state of charge and current range, get alerts when the vehicle has finished charging, precondition the car (to be heated or cooled to a desired temperature, by a selected time), locate the vehicle with GPS, remotely start the vehicle, and remotely lock and unlock the car doors.


SYNC 3, an enhanced voice recognition communications and entertainment system.


Fun-to-drive character, with agile steering and handling engineered into the vehicle to give drivers a more connected feel to the road.


Eco-conscious materials, such as soy, bio-foam seat cushions and recycled fabrics.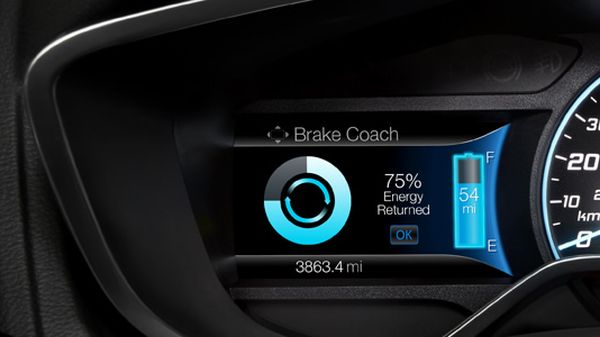 Ford's shift towards electrified vehicle technology is in response to the increasing global demand for cleaner, more efficient vehicles. Electric car ownership is expected to surpass one million this year, with continued rapid growth predicted in the years ahead. Ford is also expanding its research and development programme in Europe and Asia, creating a "hub and spoke" system allowing its global team to further accelerate battery technology and take advantage of market specific opportunities. Ford is also reimagining how to set itself apart in the marketplace by focusing on the customer experience and not just the vehicle itself. The company is changing its product development process to support that shift.
"The challenge going forward isn't who provides the most technology in a vehicle, but who best organises that technology in a way that most excites and delights people," said Raj Nair, executive vice president, Product Development and chief technical officer. "By observing consumers, we can better understand which features and strengths users truly use and value and create even better experiences for them going forward."
In addition to traditional market research, Ford is investing in social science-based research globally, observing how consumers interact with vehicles and gaining new insights into the cognitive, social, cultural, technological and economic nuances that affect product design.
"This new way of working brings together marketing, research, engineering and design in a new way to create meaningful user experiences, rather than individually developing technologies and features that need to be integrated into a final product," Nair said. "We are using new insights from anthropologists, sociologists, economists, journalists and designers, along with traditional business techniques, to reimagine our product development process, create new experiences and make life better for millions of people."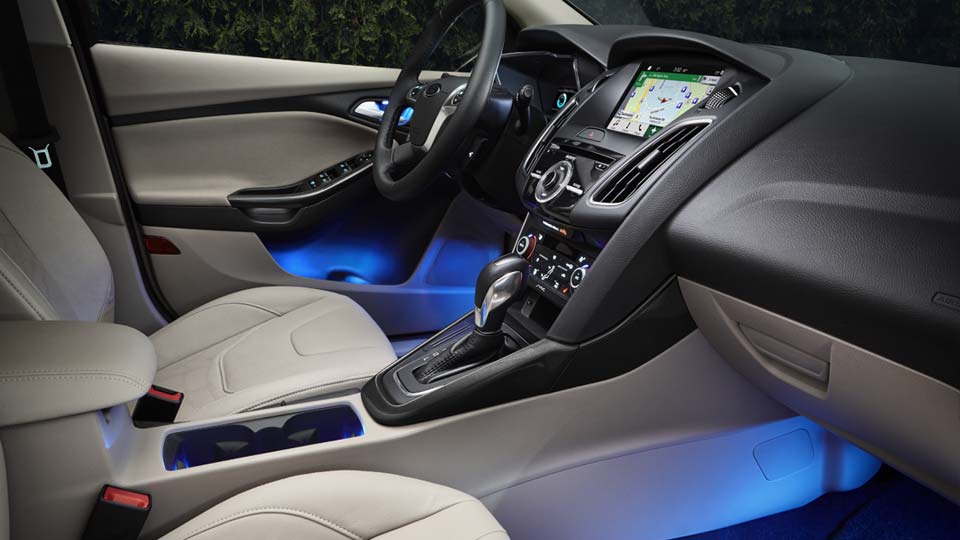 The global expansion of Ford's electric vehicle research and development programme allows the company's Electrified Powertrain Engineering teams to share common technologies and test batteries virtually, in real time, to develop new technology faster while reducing the need for costly prototypes.
Ford is expanding in Europe and China to accelerate battery technology development for new markets. By using an innovative hardware and software systems called HIL, or "Hardware in a Loop", the global team can test battery technology and control system hardware in a virtual environment to simulate how batteries and control modules would behave in different – often punishing – environments in any part of the world.
"Batteries are the life force of any electric vehicle – and we have been committed to growing our leadership in battery research and development for more than 15 years," said Kevin Layden, director of Ford Electrification Programs.
30th November 2015
Bitcoin debit card introduced in USA
Coinbase has unveiled the first US-issued Bitcoin debit card, accepted at over 38 million merchants worldwide. It is predicted that Bitcoin will become the world's sixth largest reserve currency by 2030.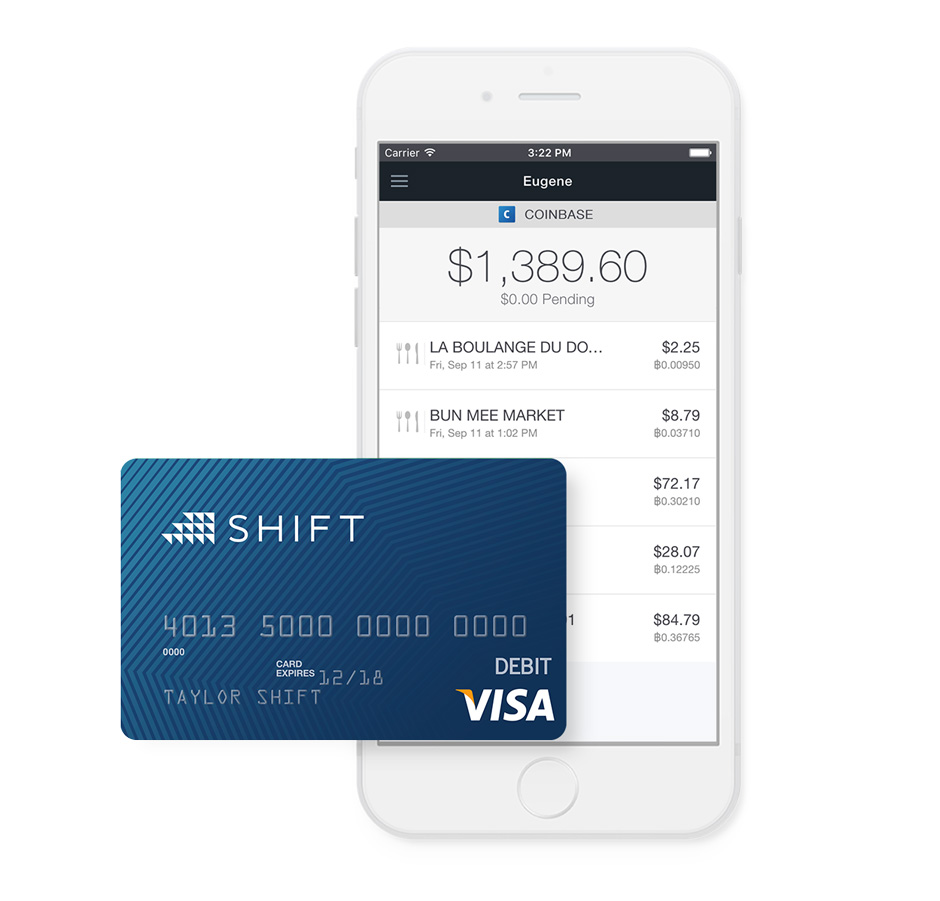 Bitcoin has been around for a while now. Launched worldwide in 2009, this form of digital money isn't controlled or issued by any bank or government and isn't pegged to the value of any other currency. Instead, it works as a decentralised virtual currency with an open network managed by its users. Fast, secure and reliable, Bitcoin is designed for the Internet age – allowing the transfer of any amount of money to anyone in the world, without needing a bank.
An increasing number of large online businesses now accept Bitcoin payments, including Dell, Expedia, Google, OkCupid, Paypal, Reddit and many others. It has drawn the support of some politicians, notably U.S. Presidential candidate Rand Paul, who accepts donations in Bitcoin.
Although growing in popularity, it's still difficult to make regular day-to-day purchases with Bitcoin in the USA, such as buying petrol from a station or groceries at a neighbourhood store, or a meal at a restaurant. That could be about to change, however, thanks to a new Bitcoin debit card. Known as the Shift Card, it can function like a normal VISA debit card – allowing users in 24 states across the USA to spend their virtual money both online and offline at over 38 million merchants around the world. It can also be used to withdraw cash from an ATM, with funds taken out of the person's online Bitcoin balance, not a bank account, although this requires a fee. An accompanying Shift mobile app enables you to check account balances and transaction details, or easily add and edit account information for quick selection at time of payment.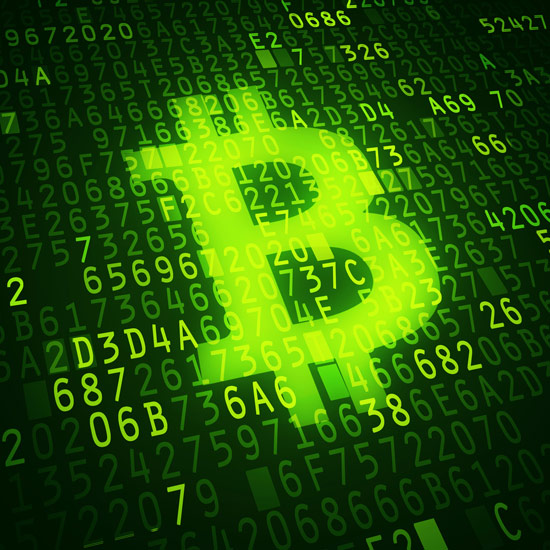 Shift Card has been developed by Coinbase, a Bitcoin wallet and exchange company founded in 2012 and headquartered in San Francisco. It operates exchanges between Bitcoin and fiat currencies in 32 countries, and Bitcoin transactions and storage in 190 countries worldwide. Coinbase and Shift are working through legal and regulatory issues to make the card available throughout all 50 states of the USA.
"At the end of the day, what we're trying to do is make Bitcoin easy to use," says Adam White, vice president at Coinbase. "We want to make it easy to buy and sell Bitcoin, and we want to make it easy to spend. A mainstream debit card based on Bitcoin is a key element."
"It's now possible to live on Bitcoin alone, through a combination of an employer paying the user in Bitcoin and the user spending Bitcoin for everyday items via their debit card," says White.
In a related story, UK-based Magister Advisors has predicted that Bitcoin will become the world's sixth largest reserve currency by 2030. According to their survey, banks and financial institutions are willing to spend around $1 billion on developing blockchain technology over the next two years.
"Blockchain technology will underpin a growing number of routine transactions globally as trust grows," said Jeremy Millar, a partner at Magister Advisors, in a statement released by the organisation. "Our interviews with 30 of the leading Bitcoin companies worldwide cement our view that the currency is gaining traction. Growing vendor acceptance and the adoption of Bitcoin in developing markets are creating a pincer movement that will lead to widespread business and consumer acceptance and adoption over time."
23rd November 2015
Global drug spending to increase 30% by 2020
Global spending on medicines is predicted to rise by 30% over the next five years – driven by expensive new drugs, price hikes, aging populations and increased generic drug use in developing countries, according to a new forecast by IMS Health.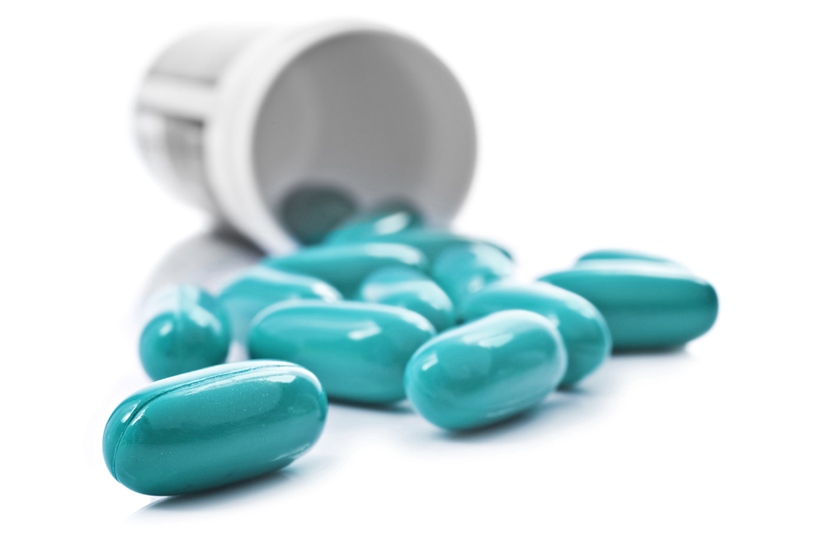 More than half of the world's population will live in countries where medicine use will exceed one dose per person per day by 2020 – up from 31 percent in 2005, as the medicine use gap between the developed and "pharmerging" markets narrows. According to new research by the IMS Institute for Healthcare Informatics, total spending on medicines will reach $1.4 trillion by 2020, due to greater patient access to chronic disease treatments and breakthrough innovations in drug therapies. Global spending is forecast to grow at a 4-7 percent compound annual rate over the next five years.
The report, Global Medicines Use in 2020: Outlook and Implications, found that total global spend for pharmaceuticals will increase by $349 billion on a constant-dollar basis, compared with $182 billion during the past five years. Spending is measured at the ex-manufacturer level before adjusting for rebates, discounts, taxes and other adjustments that affect net sales received by manufacturers. The impact of these factors is estimated to reduce growth by $90 billion or approximately 25 percent of the growth forecast through 2020.
"During the next five years, we expect to see a surge of innovative medicines emerging from R&D pipelines, as well as technology-enabled advances that will deliver measurable improvements to health outcomes," said Murray Aitken, IMS Health senior vice president and executive director of the IMS Institute for Healthcare Informatics. "With unprecedented treatment options, greater availability of low-cost drugs and better use of evidence to inform decision making, stakeholders around the world can expect to get more 'bang for their medicine buck' in 2020 than ever before."
In its latest study, the IMS Institute highlights the following findings:
• Global medicine use in 2020 will reach 4.5 trillion doses, up 24 percent from 2015. Most of the global increase in use of medicines will take place in pharmerging markets, with India, China, Brazil and Indonesia representing nearly half of that growth. Volumes in developed markets will remain relatively stable and trend toward original branded products, as use of specialty medicines becomes more widespread. Generics, non-original branded and over the counter (OTC) products will account for 88 percent of total medicine use in pharmerging markets by 2020, and provide the greatest contribution to increased access to medicines in those countries. Newer specialty medicines, which typically have low adoption rates in pharmerging countries lacking the necessary healthcare infrastructure, will represent less than one percent of the total volume in those markets.
• Global spending will grow by 29-32 percent through 2020, compared with an increase of 35 percent in the prior five years. Spending levels will be driven by branded drugs primarily in developed markets, along with the greater use of generics in pharmerging markets – offset by the impact of patent expiries. Brand spending in developed markets will rise by $298 billion as new products are launched and as price increases are applied in the U.S., most of which will be offset by off-invoice discounts and rebates. Patent expiries are expected to result in $178 billion in reduced spending on branded products, including $41 billion in savings on biologics as biosimilars become more widely adopted. Many of the newest treatments are specialty medicines used to address chronic, rare or genetic diseases and yielding significant clinical value. By 2020, global spending on these medicines is expected to reach 28 percent of the total.
• More than 90 percent of U.S. medicines will be dispensed as generics by 2020. Generic medicines will continue to provide the vast majority of the prescription drug usage in the U.S., rising from 88 percent to 91-92 percent of all prescriptions dispensed by 2020. Spending on medicines in the U.S. will reach $560-590 billion, a 34 percent increase in spending over 2015 on an invoice price basis. While invoice price growth – which does not reflect discounts and rebates received by payers – is expected to continue at historic levels during the next five years, net price trends for protected brands will remain constrained by payers and competition, resulting in 5-7 percent annual price increases. The impact of the Affordable Care Act (ACA) will continue to have an effect on medicine spending during the next five years largely due to expanded insurance coverage. By 2020, there will be broad adoption of ACA provisions that encourage greater care coordination and movement of at least one-third of spending to an outcomes or performance basis.
• More than 225 medicines will be introduced by 2020, with one-third focused on treating cancer. Disease treatments in 2020 will be transformed by the increased number and quality of new drugs in clusters of innovation around cancer, hepatitis C, autoimmune disorders, heart disease and an array of rare diseases. During the next five years, an additional 75 new orphan drugs are expected to be available for dozens of therapeutic areas that currently have limited or no treatment options. By 2020, technology will be enabling more rapid changes to treatment protocols, increasing patient engagement and accountability, shifting patient-provider interaction, and accelerating the adoption of behaviour changes that will improve patient adherence to treatments. Every patient with multiple chronic conditions will have the potential to use wearables, mobile apps and other technologies to manage their health, interact with providers, fellow patients and family members. The ubiquity of smartphones, tablets, apps and related wearable devices, as well as electronic medical records and exponentially increasing real-world data volumes, will open new avenues to connect healthcare while offering providers and payers new mechanisms to control costs.
The full report, including a detailed description of the methodology, is available at theimsinstitute.org. It can also be downloaded as an app via iTunes at https://itunes.apple.com. The study was produced independently as a public service, without industry or government funding.