15th July 2014
World's first climate-controlled city planned for Dubai
Dubai is already known for its luxury tourist experience, super-tall skyscrapers and extravagant megaprojects. Now developers have announced it will host the world's first temperature-controlled city – incorporating the largest mall, largest domed park, cultural theatres and wellness resorts. Known as the "Mall of the World", this gigantic $7bn project will encompass 50 million square feet of floorspace, taking 10 years to construct.
Intended as a year-round destination, its capacity will be large enough to accommodate 180 million visitors each year in 100 hotels and serviced apartment buildings. Glass-roofed streets, modelled on New York's Broadway and London's Oxford Street, will stretch for 7 km (4.6 miles). These will be air-conditioned in summer as temperatures soar above 40°C, but the mall and its glass dome will be open to the elements during cooler winter months. Cars will be redundant in this "integrated pedestrian city."
"The project will follow the green and environmentally friendly guidelines of the Smart Dubai model," explained Ahmad bin Byat, the chief executive of Dubai Holding. "It will be built using state-of-the-art technology to reduce energy consumption and carbon footprint, ensuring high levels of environmental sustainability and operational efficiency."
In response to concerns about another real estate bubble, he insisted there was demand for such a project: "The way things are growing I think we are barely coping with the demand ... tourism is growing in Dubai," he said in an interview with Reuters. "This is a long-term project and we are betting strongly on Dubai."
Speaking at the launch of the mall, Sheikh Mohammed said: "The growth in family and retail tourism underpins the need to enhance Dubai's tourism infrastructure as soon as possible. This project complements our plans to transform Dubai into a cultural, tourist and economic hub for the 2 billion people living in the region around us – and we are determined to achieve our vision."
Mall of the World is one of several hi-tech, futuristic cities that could set the standard for eco-city designs in the coming decades. Others include China's car-free "Great City" (planned to be finished by 2020) and the Masdar City arcology (due in 2025).
13th July 2014
The world's first dedicated launch service for nanosatellites
A new rocket design that incorporates methane fuel can provide a low-cost platform for launching clusters of tiny satellites, greatly improving broadband delivery and Earth observation missions.
Firefly Space Systems, a small satellite launch company, has officially announced its first launch vehicle, "Firefly Alpha." This efficient, brand new rocket, capable of carrying 400kg (882lb) into low earth orbit, will be the world's first dedicated light satellite launch vehicle in this mass class.
Following its launch and seed funding in January, the company – which includes highly experienced aerospace engineers from SpaceX and Virgin Galactic – has aggressively moved forward in its goal to reduce the prohibitively high costs of small satellite launches. Clusters of these micro and nanosatellites placed in low orbit could revolutionise broadband data delivery and Earth observation missions, among other uses. CubeSats like those pictured above are only a litre (10 cm cube) in volume, with masses of little more than a kilogram (2.2lb), typically using off-the-shelf components for their electronics.
"What used to cost hundreds of millions of dollars is rapidly becoming available in the single digit millions," said Firefly CEO Thomas Markusic. "We are offering small satellite customers the launch they need for a fraction of that, around $8 or 9 million – the lowest cost in the world. It's far cheaper than the alternatives, without the headaches of a multi manifest launch."
Simplified and optimised for least cost – and utilising innovations such as a more aerodynamic engine design – Firefly has positioned itself to be a technological and cost effective solution for traditional manufacturers of small satellites.
"To say that this is an exciting and significant technological milestone would be an understatement," said Michael Blum, co-founder of Firefly. "Until now, there existed virtually no dedicated launcher capacity in the small satellite industry to deliver their respective payloads to orbit. This announcement today just changed all that."
12th July 2014
Global building stock will expand by 24 percent
by 2023
Driven by accelerating urbanisation – particularly in the Asia Pacific region – the global building stock is expected to grow strongly over the next 10 years, putting further pressure on resource demands and the environment.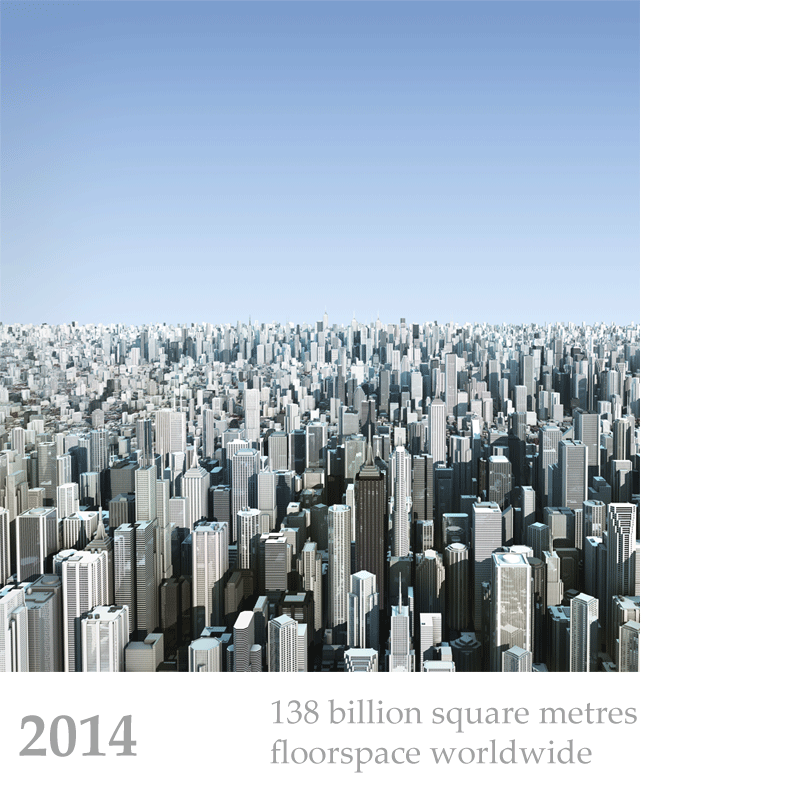 Construction markets, while still recovering from the 2009 recession, continue to add new commercial and residential floorspace to the world's buildings. According to a new report from Navigant Research, the global building stock will grow from 138 billion square metres today to over 171 billion by 2023 – an increase of 24 percent.
"Economic growth in developing countries like China and India is slowing, but remains robust, and the rising middle classes in these countries demand a higher quality of life, including improved working and living spaces," states Eric Bloom, lead research analyst. "The commercial and residential segments will experience compound annual growth rates over the next 10 years of 2.1 percent and 2.2 percent, respectively."
China's construction boom has fuelled extraordinary growth in that country's building stock, with nearly 2 billion square metres added every year. Although there is speculation today about the boom turning into a bubble, Navigant predicts growth continuing at a healthy rate of 4.2 percent annually. By 2023, China will have 58 billion square metres of building space – more than one-third of the world's total.
The report, "Global Building Stock Database", provides data on the size and growth of building stock from now to 2023, examining key drivers and trends covering eight commercial building types (office, retail, education, healthcare, hotels & restaurants, institutional/assembly, warehouse, and transport) and two residential building types (single-family detached and multi-unit residential). An Executive Summary is available on the Navigant website.
Commercial, residential, and industrial buildings are responsible for 47% of global greenhouse gas emissions and 49% of global energy consumption. Much of this energy is consumed needlessly and can be reduced through cost-effective measures. Thankfully, new and innovative technologies will soon become mainstream, such as LED lighting and smart grids. The "sprawl" effect of cities can also be reduced with self-sufficiency and taller skyscrapers.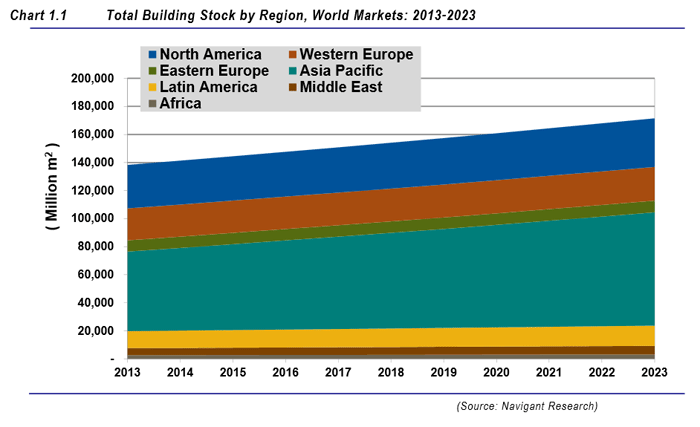 21st June 2014
Major victory for wildlife conservation in Africa as the Serengeti Highway is ruled unlawful
A highway cutting directly through the world famous Serengeti National Park has been ruled unlawful by the East African Court of Justice.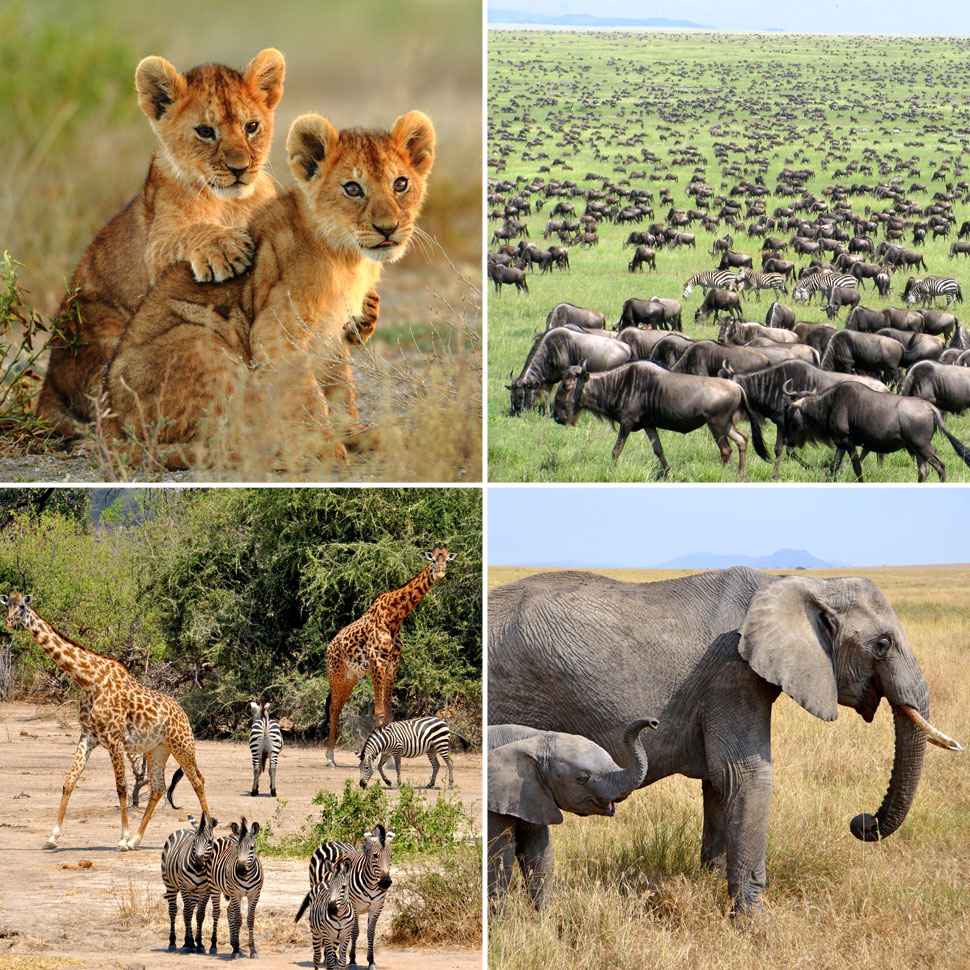 Long-time readers of this blog may remember an almost unbelievable story we reported in September 2012 about an asphalt highway planned to cut directly through the Serengeti National Park. This was proposed by the Tanzanian government to boost economic growth and improve transport links to neighbouring regions. The plans caused international outrage when first announced, with scientists warning of an "environmental disaster" that would severely degrade animal populations, diminish the quality of grazing, trigger more grass fires and turn the ecosystem into a net source of CO2.
While Tanzania's President Jakaya Kikwete vowed to proceed with the project, the African Network for Animal Welfare (ANAW) began a legal challenge. For months, the plans were in legal limbo and news remained sketchy. Yesterday, however, the East African Court of Justice (EACJ) – a treaty-based judicial body of the East African Community – ruled in favour of the Serengeti. It has officially banned the government of Tanzania from constructing a paved road across the northern Serengeti.
The ANAW, after winning its case, has issued the following statement: "In a milestone development, the East African Court of Justice has declared in its ruling today, 20th June 2014, that constructing a bitumen road across the world famous Serengeti National Park is unlawful. The Judges have restrained the Tanzanian Government from constructing the road. ANAW fully respects Tanzania's sovereignty and its need for national development. However, by taking up this matter, ANAW was in actual fact protecting a resource that would be of future benefit not only to Tanzanians or East Africans but also the entire humanity."
Josphat Ngonyo, Executive Director of ANAW, comments as follows: "This was not a win for ANAW, not for our lawyer, Saitabao Ole Kanchory, not for Serengeti Watch, not for our expert witness John Kuloba – but for the millions of animals in the Serengeti-Mara ecosystem. It is a win for nature and God's creation. Nature has won today. We send congratulatory messages to all our partners in Serengeti Watch and all who walked with us over the entire period that the case was in court."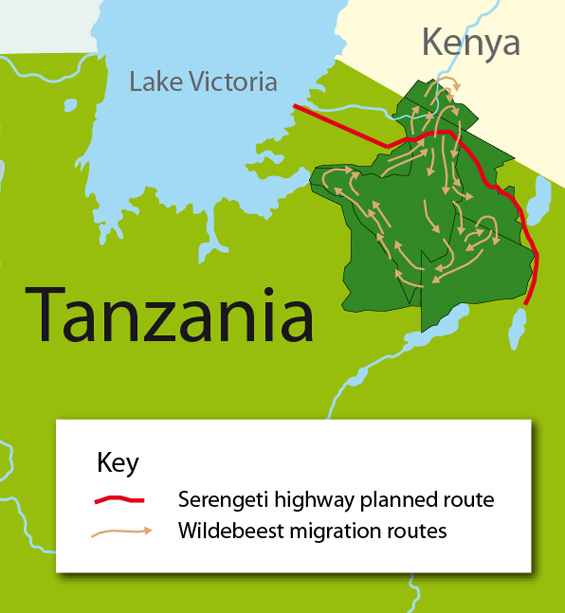 This news is a major victory for wildlife conservation. Sadly, the battle is not over yet. A longer term threat still exists, as reported by Serengeti Watch: "There are still plans for road construction in migration areas in the north, outside of the park boundary but well within the larger Serengeti ecosystem. While the court has barred Tanzania from building a paved road, the government still plans to upgrade the existing seasonal dirt track to gravel, even though it lies in a designated wilderness zone where public traffic is not allowed. There will be increased traffic and continued pressure to connect the paved roads with a commercial link through the park."
In addition, a pair of soda ash factories will be constructed in the Lake Natron area, bordering the Serengeti ecosystem. This is despite a new study showing that soda ash mining will wipe out almost the entire population of Africa's lesser flamingos and despite local opposition to it.
---
Meanwhile, two other developments causing major international concern right now are the dumping ground in the Great Barrier Reef and the oil drilling planned for Yasuni National Park. This week, UNESCO expressed alarm at the former, warning that the reef could be added to the World Heritage in Danger list at its next meeting in 2015.
"The world heritage committee has resisted intense pressure from the Australian and Queensland governments to water down its decision on the reef," said WWF campaigner Richard Leck. "Instead, the committee has put Australia firmly on notice to take stronger action to protect the Great Barrier Reef."
15th June 2014
The Collapse of Western Civilization:
A View from the Future
A new book written by Harvard historian Naomi Oreskes paints a chilling picture of our possible future.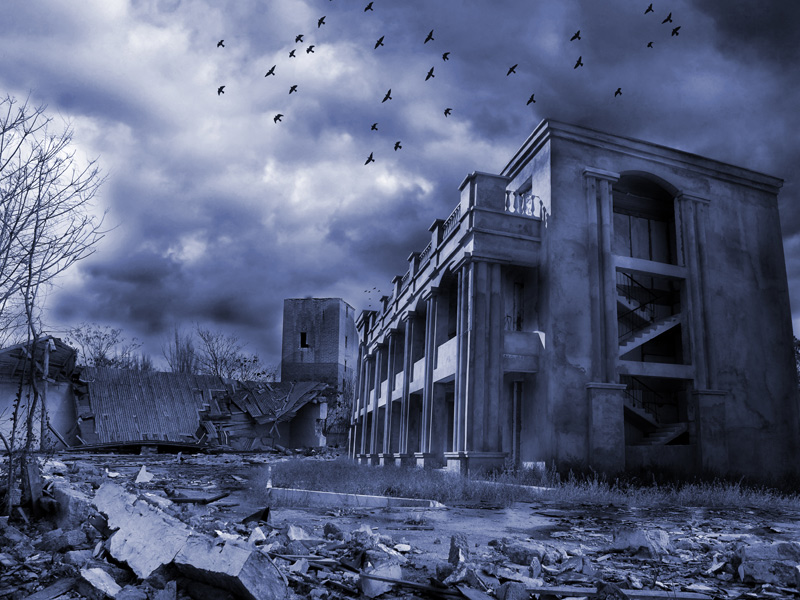 Naomi Oreskes is a historian of science at Harvard University who in 2010 co-authored Merchants of Doubt. This book highlighted parallels between the climate change debate and earlier controversies – such as the link between tobacco and lung cancer, the causes of acid rain, the ozone hole and the effects of DDT. The Christian Science Monitor called it "one of the most important books of the year" and praised its exhaustive level of research in uncovering the many organised attacks on science by a small group of lobbyists.
Now, Oreskes is back with her latest title, The Collapse of Western Civilization: A View from the Future, again co-authored with Erik M. Conway. This time, they have dramatised the science of climate change in ways traditional nonfiction cannot. Set in the year 2393, the book is presented in the form of a Chinese scholar who provides a historical analysis of the 21st century. This "future historian" delves through surviving electronic records to reconstruct the events leading up to a "Great Collapse" that occurred during the 2090s. It is revealed that – despite clear warnings of an impending catastrophe – political and economic elites of the so-called advanced industrial societies failed to act. This led to an insurmountable environmental crisis triggering the decline of modern civilisation and a new Dark Ages.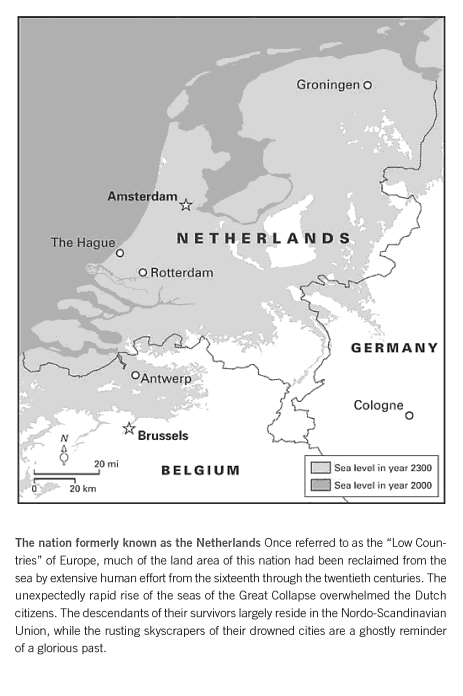 Much like Future Timeline, the story combines fact with fiction, using current trends and the latest available science to produce the most likely scenarios. The book reasserts the importance of scientists and the work they do and reveals the self-serving interests of a so-called "carbon combustion complex" turning the practice of science into political fodder.
"Merchants of Doubt tried to explain why so many people think that scientists are still arguing when the reality is quite different," Oreskes comments in an interview with the Guardian. "This time, we took thousands of pages of IPCC [Intergovernmental Panel on Climate Change] reports and distilled them into a parable about what climate change really means and what it would mean to ignore it, which is more or less what the world has been doing."
"It's not as if the fossil fuel industry is a free market. The subsidies for it are massive and have been documented by the World Bank. But it's important to realise this isn't an obvious conspiracy. And it's not the fact that they are coordinated that is nefarious, it's the ends to which they put that coordination: confusion, disinformation and potentially fraud, to stop action on a serious, real problem that potentially affects all of our lives."
The book has already garnered praise ahead of its launch next month.
Kim Stanley Robinson, author of 2312 and the Mars trilogy: "Oreskes and Conway's startling and all-too-plausible history of the century to come is in the spirit of George Orwell and Aldous Huxley and all the writers who have turned to prophecy in the attempt to ward off an oncoming disaster. Witty in its details and disturbing in its plausibility, this is an account of the Long Emergency we're entering that you will not soon forget."
Auden Schendler, Aspen Skiing Company: "Regret – Oreskes and Conway argue – is an equal-opportunity employer. Yes, climate change will be a nightmare for environmentalists. But global warming also threatens free marketeers – because unabated, it guarantees big government intervention. And that's the great service of this short but brilliant parable: it creates bipartisan empathy for our future selves. From that gift, perhaps we can summon the will to act today."
Timothy Wirth, United Nations: "A chilling view of what our history could be. Ignore it and it becomes more likely. Read this book, heed its warning, and perhaps we can avoid its dire predictions."
16th May 2014
The beginning of the end for imported coal in India
International coal projects relying on new import markets such as India face major financial risks, according to a new report from the Institute for Energy Economics and Financial Analysis (IEEFA).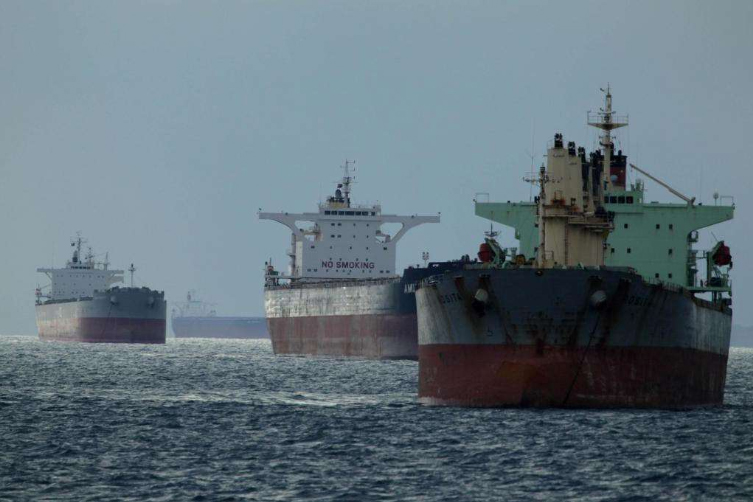 As Chinese coal demand growth continues to slow, attention is increasingly turning to India. The IEEFA's groundbreaking new report uses in-depth financial modelling to evaluate the prospect of India as the next big coal import market. The results demonstrate that fundamental financial problems facing the coal and coal-fired generation sector in India are made materially worse when imported coal is used.
"This report is a wake up call to global investors and industry, establishing the uneconomic basis of international coal projects which rely on India as a potential growth market," says Tim Buckley, Director of Energy Finance Studies at IEEFA.
Key findings of the report include:
Coal imported to India from the Galilee Basin in Australia would need a wholesale electricity price double India's current level to be viable, categorically discrediting the argument that it might alleviate India's energy poverty.


A key difference between coal-fired power generation and renewable energy is the issue of inflation: fossil fuels are inflationary while renewables are deflationary.


The cost of electricity generation from solar in India has fallen 65% in the last 3 years alone and double-digit declines are forecast to continue.


The financial modelling demonstrates that renewables not only start out cheaper than building new imported coal power capacity, but also get cheaper over time.


In contrast, the average price escalation for imported coal in India equates to 4% pa in Rupee terms because it requires purchasing this US$ denominated fuel.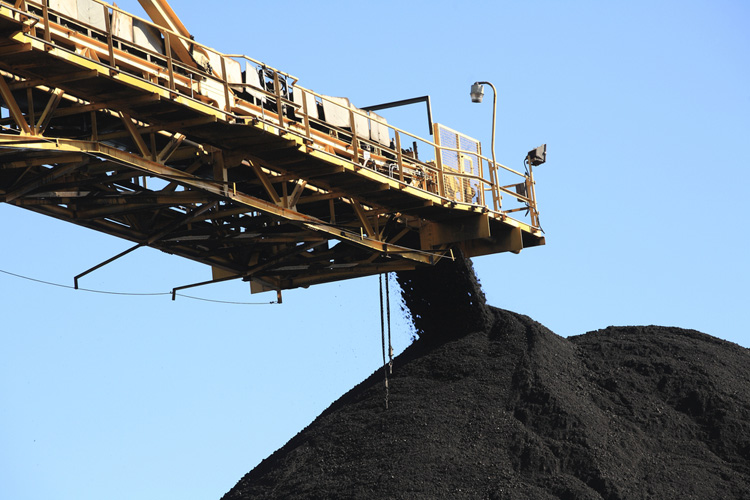 "India's perilous economic and financial situation creates further uncertainty for companies relying on its ability and willingness to import coal, with its negative implications for inflation, current account deficits, economic instability and energy security," Buckley said. "The good news is that renewables are increasingly affordable and effective: wind, solar and hydro can be built faster and cheaper, in addition to acting as a deflationary driver."
"The global coal industry's economic models are flawed, the world's poor won't be helped and the demand that is used to justify ruining the environment is an illusion. Savvy operators are getting out of coal."
The report contributes to mounting industry unease about the financial viability of Australian export coal. In September 2011, Gina Rinehart sold most of her coal assets in Queensland's Galilee Basin to Indian company, GVK.
Earlier this year, the Indian government unveiled plans to build a 4 gigawatt (GW) solar power plant – by far the world's largest – and there are plans for over 100 GW to be installed by 2030.
6th May 2014
The third National Climate Assessment is released
The U.S. government has today unveiled the third National Climate Assessment — the most comprehensive scientific review ever published of climate change and its impacts across the United States.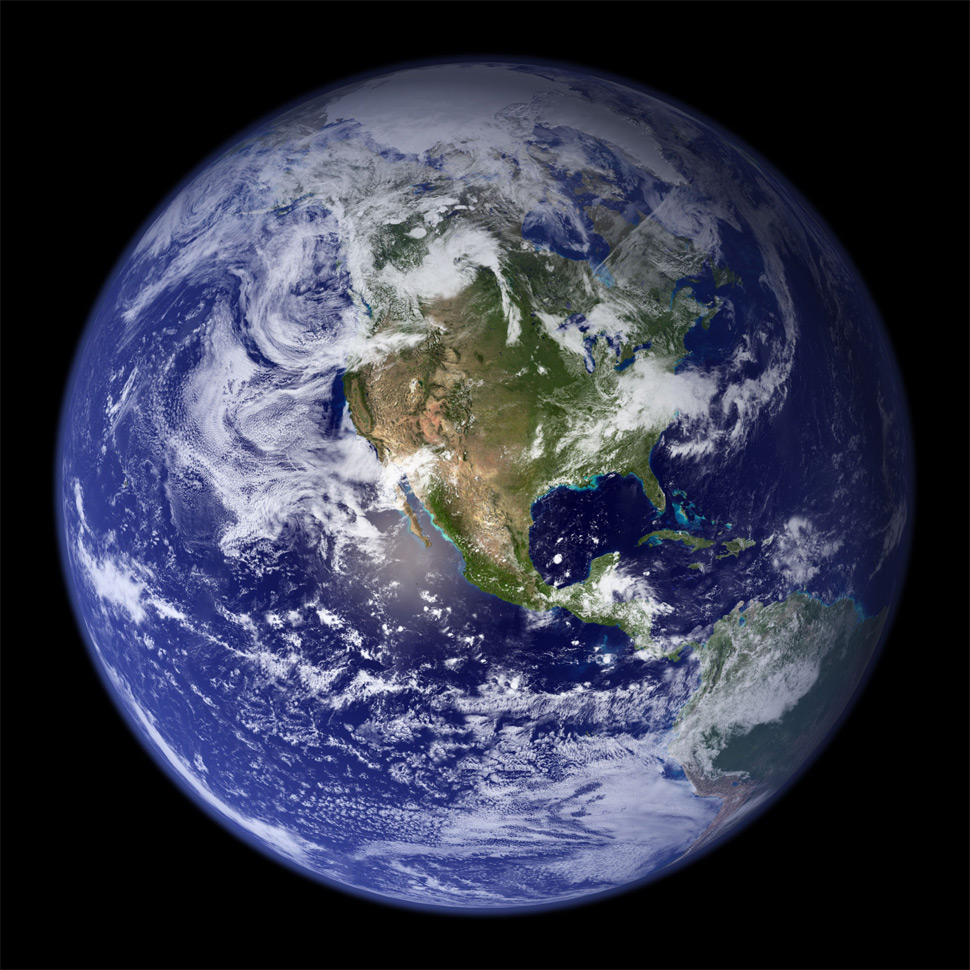 The findings in this National Climate Assessment underscore the need for urgent action to combat the threats from climate change, protect citizens and communities today, and build a sustainable future for tomorrow. It was developed over four years by hundreds of the nation's top climate scientists and technical experts – with input from the public and outside organisations gathered through town hall meetings, public-comment opportunities and technical workshops across the country. The third National Climate Assessment is the most authoritative and comprehensive knowledge base about how climate change is affecting America now, and what's likely to come over the next century.
To ensure that people, communities, businesses and decision makers have easy access to information about climate change, the report has been made available on a new website at www.globalchange.gov. Today's announcement delivers on a major commitment of the Climate Action Plan launched by President Obama last June – which lays out concrete steps to cut greenhouse gases, prepare America for climate change impacts, and lead international efforts to address what is arguably the 21st century's greatest challenge.
Among the key points in the National Climate Assessment:
• Temperatures are rising across the entire U.S.
Temperatures from 2001 to 2012 were hotter than any previous decade in every region of the United States. For the country as a whole, 2012 was the hottest individual year on record. One-third of the population experienced 100° temperatures for ten or more days.
• In 2012 alone, climate and weather disasters cost the American economy more than $100 billion.
Droughts, wildfires and floods are becoming more frequent and intense. Sea levels and storm surges are harming coastal areas. Public health threats associated with heat stress, air pollution and diseases carried by food, water and insects are increasing. The most vulnerable are children, the elderly and the poor.
• Global temperatures and CO2 levels continue to rise.
The global average temperature increased by over 0.8°C (1.5°F) between 1880 and 2012. On a geological timescale, this is spectacularly rapid. It is now believed that we need to avert an additional 2°C (3.6°F) temperature rise to avoid the most catastrophic impacts. Carbon is the biggest component of greenhouse gas pollution (82%), followed by methane (9%), nitrous oxide (6%) and fluorinated gases (3%). Power plants are the largest major source of emissions in the U.S., together accounting for roughly one-third of all domestic greenhouse gas pollution.
• Ocean acidification is worsening.
The oceans are currently absorbing about a quarter of the carbon dioxide emitted to the atmosphere annually and are becoming more acidic as a result, impacting marine ecosystems.
• We're making progress...
... thanks to stronger fuel economy standards (set to double the efficiency of cars and trucks by 2025); exponential growth of clean energy (including a ten-fold increase in solar generation and tripling of wind power since Obama took office); decreased carbon pollution (in 2012, greenhouse gas pollution in the U.S. fell to its lowest level in nearly 20 years); and targets for renewable energy and efficiency (35 states have renewable energy targets in place, and over 25 have set energy efficiency targets). The Environmental Protection Agency has proposed carbon pollution standards for new power plants.
• There is still much work to do.
While progress is now being made, resolving climate change will require long-term commitments and global cooperation between nations.
For more information, visit the official website at GlobalChange.gov
24th April 2014
Food shortages could be most critical world issue by mid-century
The world is only a few decades away from a major food crisis, according to a top scientist at the U.S. Agency for International Development.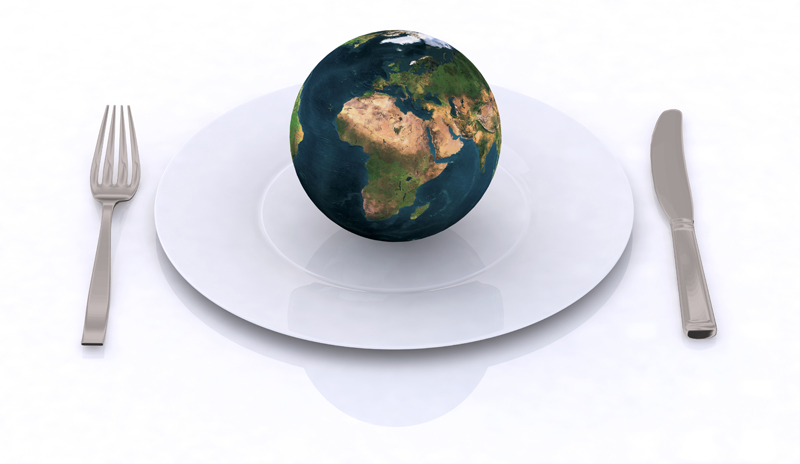 "For the first time in human history, food production will be limited on a global scale by the availability of land, water and energy," said Dr. Fred Davies, senior adviser for the agency's bureau of food security. "Food issues could become as politically destabilising by 2050 as energy issues are today."
Davies, who is also a Texas A&M AgriLife Regents Professor of Horticultural Sciences, addressed the North American Agricultural Journalists meeting in Washington, D.C. on the "monumental challenge of feeding the world."
Global population will increase 30 percent to 9 billion people by mid-century. However, that would require a 70 percent increase in food production to meet demand from the rising middle classes, he said.
"But resource limitations will constrain global food systems," Davies explained. "The increases currently projected for crop production from biotechnology, genetics, agronomics and horticulture will not be sufficient to meet food demand."
The ability to discover new ways to keep pace with food demand has been curtailed by cutbacks in spending on research, he added.
"U.S. agricultural productivity has averaged less than 1.2 percent per year between 1990 and 2007," he said. "More efficient technologies and crops will need to be developed — and equally important, better ways for applying these technologies locally for farmers — to address this challenge."
When new technologies are developed, they often do not reach the small-scale farmer worldwide.
"A greater emphasis is needed in high-value horticultural crops," he continued. "Those create jobs and economic opportunities for rural communities and enable more profitable, intense farming."
Horticultural crops, Davies noted, are 50 percent of the farm-gate value of all crops produced in the U.S. He also made the connection between the consumption of fruits and vegetables and chronic disease prevention and pointed to research centres in the U.S. that are making links between farmers, biologists and chemists, grocers, health care practitioners and consumers. That connection, he suggested, will also be vital in the push to grow enough food to feed people in the coming decades.
"Agricultural productivity, food security, food safety, the environment, health, nutrition and obesity – they are all interconnected," Davies said. One in eight people worldwide, he said, already suffers from chronic undernourishment and 75 percent of the world's chronically poor are in mid-income nations such as China, India, Brazil and the Philippines.
"The perfect storm for horticulture and agriculture is also an opportunity," Davies added. "Consumer trends – such as views on quality, nutrition, production origin and safety – impact what foods we consume. Also, urban agriculture favours horticulture." For example, he said, the fastest growing segment of new farmers in California is female, non-Anglos, who are "intensively growing horticultural crops on small acreages."
18th April 2014
World's first marijuana vending machines are unveiled in Colorado
In a sign of the changing times, marijuana is now publicly available from vending machines in Colorado. American Green, part of Tranzbyte Corporation, has begun distributing "Zazzz Machines" containing the drug. These utilise radio-frequency identification tags (RFID) to track the products, along with biometrics to verify a customer's age. They even accept Bitcoin, a new digital currency. The first machine was unveiled on 12th April and is located at the Herbal Elements store in Avon, Colorado. A recent Gallup poll showed a clear majority of Americans (58%) in favour of marijuana being made fully legal, with growing numbers admitting to have tried it. Colorado expects to collect nearly $100 million in tax revenue from recreational marijuana use this year – about 40% more than originally forecast.