23rd November 2015
Global drug spending to increase 30% by 2020
Global spending on medicines is predicted to rise by 30% over the next five years – driven by expensive new drugs, price hikes, aging populations and increased generic drug use in developing countries, according to a new forecast by IMS Health.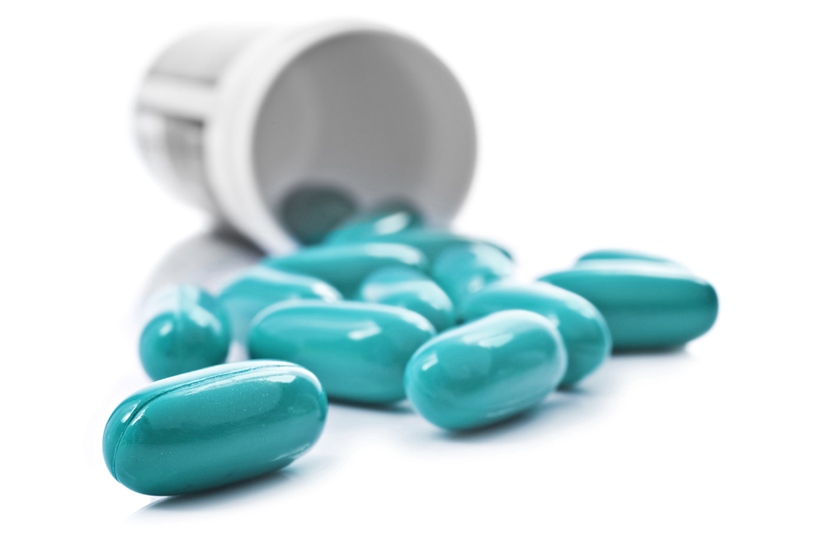 More than half of the world's population will live in countries where medicine use will exceed one dose per person per day by 2020 – up from 31 percent in 2005, as the medicine use gap between the developed and "pharmerging" markets narrows. According to new research by the IMS Institute for Healthcare Informatics, total spending on medicines will reach $1.4 trillion by 2020, due to greater patient access to chronic disease treatments and breakthrough innovations in drug therapies. Global spending is forecast to grow at a 4-7 percent compound annual rate over the next five years.
The report, Global Medicines Use in 2020: Outlook and Implications, found that total global spend for pharmaceuticals will increase by $349 billion on a constant-dollar basis, compared with $182 billion during the past five years. Spending is measured at the ex-manufacturer level before adjusting for rebates, discounts, taxes and other adjustments that affect net sales received by manufacturers. The impact of these factors is estimated to reduce growth by $90 billion or approximately 25 percent of the growth forecast through 2020.
"During the next five years, we expect to see a surge of innovative medicines emerging from R&D pipelines, as well as technology-enabled advances that will deliver measurable improvements to health outcomes," said Murray Aitken, IMS Health senior vice president and executive director of the IMS Institute for Healthcare Informatics. "With unprecedented treatment options, greater availability of low-cost drugs and better use of evidence to inform decision making, stakeholders around the world can expect to get more 'bang for their medicine buck' in 2020 than ever before."
In its latest study, the IMS Institute highlights the following findings:
• Global medicine use in 2020 will reach 4.5 trillion doses, up 24 percent from 2015. Most of the global increase in use of medicines will take place in pharmerging markets, with India, China, Brazil and Indonesia representing nearly half of that growth. Volumes in developed markets will remain relatively stable and trend toward original branded products, as use of specialty medicines becomes more widespread. Generics, non-original branded and over the counter (OTC) products will account for 88 percent of total medicine use in pharmerging markets by 2020, and provide the greatest contribution to increased access to medicines in those countries. Newer specialty medicines, which typically have low adoption rates in pharmerging countries lacking the necessary healthcare infrastructure, will represent less than one percent of the total volume in those markets.
• Global spending will grow by 29-32 percent through 2020, compared with an increase of 35 percent in the prior five years. Spending levels will be driven by branded drugs primarily in developed markets, along with the greater use of generics in pharmerging markets – offset by the impact of patent expiries. Brand spending in developed markets will rise by $298 billion as new products are launched and as price increases are applied in the U.S., most of which will be offset by off-invoice discounts and rebates. Patent expiries are expected to result in $178 billion in reduced spending on branded products, including $41 billion in savings on biologics as biosimilars become more widely adopted. Many of the newest treatments are specialty medicines used to address chronic, rare or genetic diseases and yielding significant clinical value. By 2020, global spending on these medicines is expected to reach 28 percent of the total.
• More than 90 percent of U.S. medicines will be dispensed as generics by 2020. Generic medicines will continue to provide the vast majority of the prescription drug usage in the U.S., rising from 88 percent to 91-92 percent of all prescriptions dispensed by 2020. Spending on medicines in the U.S. will reach $560-590 billion, a 34 percent increase in spending over 2015 on an invoice price basis. While invoice price growth – which does not reflect discounts and rebates received by payers – is expected to continue at historic levels during the next five years, net price trends for protected brands will remain constrained by payers and competition, resulting in 5-7 percent annual price increases. The impact of the Affordable Care Act (ACA) will continue to have an effect on medicine spending during the next five years largely due to expanded insurance coverage. By 2020, there will be broad adoption of ACA provisions that encourage greater care coordination and movement of at least one-third of spending to an outcomes or performance basis.
• More than 225 medicines will be introduced by 2020, with one-third focused on treating cancer. Disease treatments in 2020 will be transformed by the increased number and quality of new drugs in clusters of innovation around cancer, hepatitis C, autoimmune disorders, heart disease and an array of rare diseases. During the next five years, an additional 75 new orphan drugs are expected to be available for dozens of therapeutic areas that currently have limited or no treatment options. By 2020, technology will be enabling more rapid changes to treatment protocols, increasing patient engagement and accountability, shifting patient-provider interaction, and accelerating the adoption of behaviour changes that will improve patient adherence to treatments. Every patient with multiple chronic conditions will have the potential to use wearables, mobile apps and other technologies to manage their health, interact with providers, fellow patients and family members. The ubiquity of smartphones, tablets, apps and related wearable devices, as well as electronic medical records and exponentially increasing real-world data volumes, will open new avenues to connect healthcare while offering providers and payers new mechanisms to control costs.
The full report, including a detailed description of the methodology, is available at theimsinstitute.org. It can also be downloaded as an app via iTunes at https://itunes.apple.com. The study was produced independently as a public service, without industry or government funding.
22nd November 2015
Genetically modified salmon approved by FDA
For the first time, the U.S. Food and Drug Administration (FDA) has approved genetically modified fish for human consumption.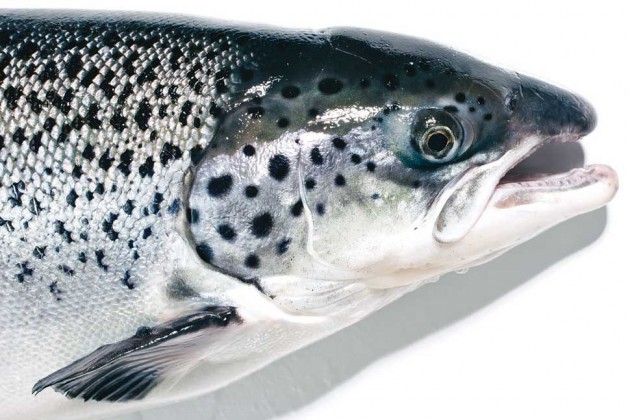 AquaBounty Technologies, Inc., a biotechnology company focused on enhancing productivity in aquaculture, announced this week that the FDA has approved its application for the production, sale and consumption of "AquAdvantage Salmon". This Atlantic salmon has been genetically enhanced to reach market size in less time than conventional farmed Atlantic salmon.
Ronald Stotish, Ph.D., CEO of AquaBounty, commented: "AquAdvantage Salmon is a game-changer that brings healthy and nutritious food to consumers in an environmentally responsible manner without damaging the ocean and other marine habitats. Using land-based aquaculture systems, this rich source of protein and other nutrients can be farmed close to major consumer markets in a more sustainable manner."
The U.S. currently imports over 90% of its seafood – and more specifically, over 95% of the Atlantic salmon it consumes. AquAdvantage Salmon will create the opportunity to grow an economically viable, domestic aquaculture industry. Through greater efficiency and localised production, AquaBounty claims it can increase productivity while reducing the costs and environmental impacts of current salmon farming operations. Land-based aquaculture systems can provide a continuous supply of fresh, safe, traceable and sustainable GM salmon to communities across the U.S. and do so with a lower carbon footprint. This offers an alternative approach to fish farming that does not exploit the oceans.
Jack Bobo, Senior Vice President and Chief Communications Officer at parent company Intrexon, stated: "The U.S. Dietary Guidelines Advisory Committee encourages Americans to eat a wide variety of seafood, including wild caught and farmed, as part of a healthy diet rich in healthy fatty acids. However, this must occur in an environmentally friendly and sustainable manner. FDA's approval of the AquAdvantage Salmon is an important step in this direction."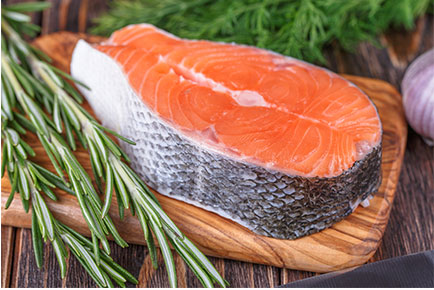 The AquAdvantage fish program is based on a molecular modification that results in more rapid growth during early development. A gene responsible for growth hormone regulation is taken from a Pacific Chinook salmon, combined with a promoter from an ocean pout, then added to the Atlantic salmon's 40,000 genes. This makes it grow year-round, instead of only during spring and summer, without affecting its ultimate size or other qualities. The GM fish grows to market size in 16 to 18 months, rather than three years.
The AquaAdvantage program has other qualities that improve its sustainability credentials. The fish require 25% less feed than other Atlantic salmon on the market today. When farmed in land-based facilities close to major metropolitan areas, they will travel only a short distance to the consumer. Not only will this make them the freshest fish on the market, it will significantly cut the transportation distance from farm to table. Unlike salmon imported from Norway and Chile that travel thousands of miles by airfreight and are then trucked to markets, AquaBounty's salmon will have a carbon footprint that is 23-25 times less.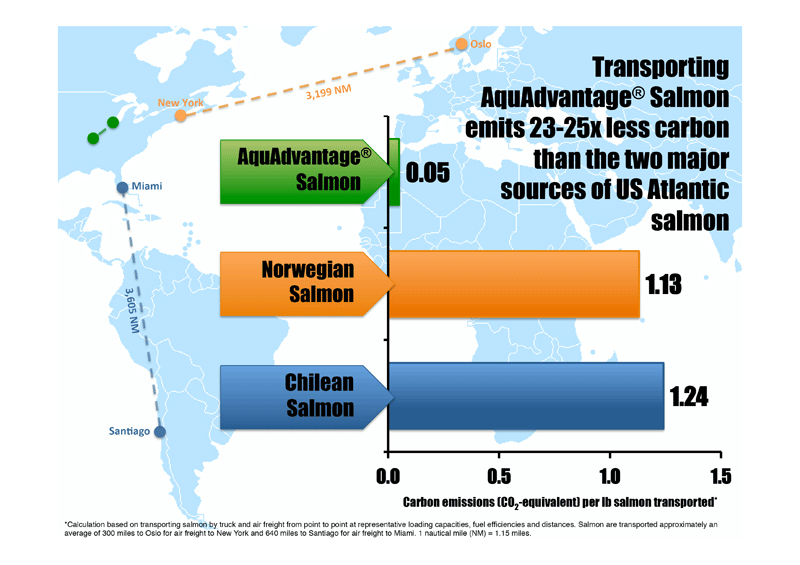 The FDA determined that the approval of the GM technology would not have a significant environmental impact, because of multiple and redundant measures taken to contain the fish and prevent their escape into the wild. These measures include a series of physical barriers placed in the tanks and in the plumbing that carries water out of the facilities to block the eggs and fish. Furthermore, the AquAdvantage Salmon are reproductively sterile, so that even in the highly unlikely event of an escape, they would be unable to interbreed or establish populations in the wild. The FDA will maintain regulatory oversight of the production and facilities and will conduct inspections to confirm these containment measures remain adequate.
Despite a lengthy and detailed review process, however, the FDA's approval has provoked an angry response from some, who have questioned the safety aspects and object to the fact that no labelling will be required to indicate the fish were genetically engineered. The Centre for Food Safety (CFS), a non-profit organisation working to protect human health and promote organic food methods, has already announced plans to sue the FDA and prevent the modified salmon being sold in the U.S.
"The review process by FDA was inadequate, failed to fully examine the likely impacts of the salmon's introduction and lacked a comprehensive analysis," said executive director Andrew Kimbrell in a press statement, citing the 2 million people who filed public comments in opposition, the largest number of comments the FDA has ever received on any issue. "This decision sets a dangerous precedent, lowering the standards of safety in this country. CFS will hold FDA to their obligations to the American people."
Globally, traditional "capture" fisheries have been on a plateau since the late 1980s due to unsustainable yields. Aquaculture is now among the fastest growing industries in the agricultural sector and is projected to supply the majority of the world's seafood by the mid-2020s, overtaking wild catch harvests by weight. With fisheries collapsing from over-exploitation, pollution, climate change and other problems, aquaculture is likely to become a sustainable and vitally important industry of the 21st century.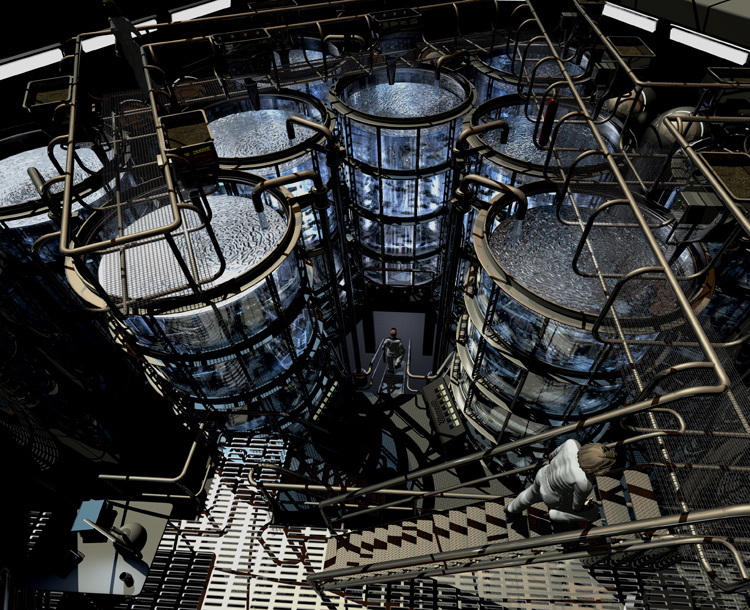 20th November 2015
Self-healing sensor brings 'electronic skin' closer to reality
Scientists have developed a self-healing, flexible sensor that mimics the self-healing properties of human skin. Cuts or scratches to the sensors "heal" themselves in less than one day.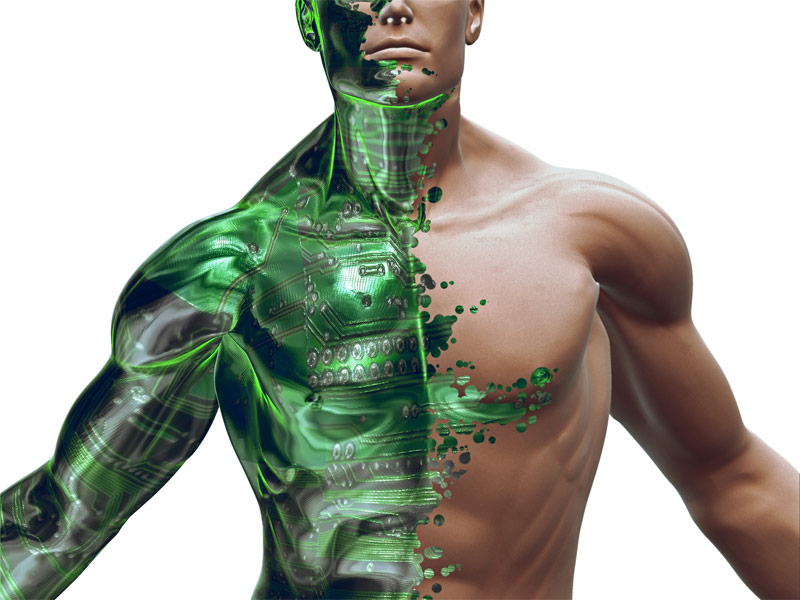 Flexible sensors have been developed for use in consumer electronics, robotics, health care, and space flight. Future possible applications could include the creation of 'electronic skin' and prosthetic limbs that allow wearers to 'feel' changes in their environments.
One problem with current flexible sensors, however, is that they can be easily scratched and otherwise damaged, potentially destroying their functionality. Researchers in the Department of Chemical Engineering at the Technion – Israel Institute of Technology in Haifa (Israel), who were inspired by the healing properties in human skin, have developed materials that can be integrated into flexible devices to "heal" incidental scratches or damaging cuts that might compromise device functionality. The advancement, using a new kind of synthetic polymer (a polymer is a large molecule composed of many repeated smaller molecules) has self-healing properties that mimic human skin, which means that e-skin "wounds" can quickly "heal" themselves in remarkably short time – less than a day.
A paper outlining the characteristics and applications of the unique, self-healing sensor has been published in the current issue of Advanced Materials.
"The vulnerability of flexible sensors used in real-world applications calls for the development of self-healing properties similar to how human skin heals," said self-healing sensor co-developer Professor Hossam Haick. "Accordingly, we have developed a complete, self-healing device in the form of a bendable and stretchable chemiresistor where every part – no matter where the device is cut or scratched – is self-healing."
The new sensor is comprised of a self-healing substrate, high conductivity electrodes, and molecularly modified gold nanoparticles. "The gold particles on top of the substrate and between the self-healing electrodes are able to "heal" cracks that could completely disconnect electrical connectivity," explains Prof. Haick.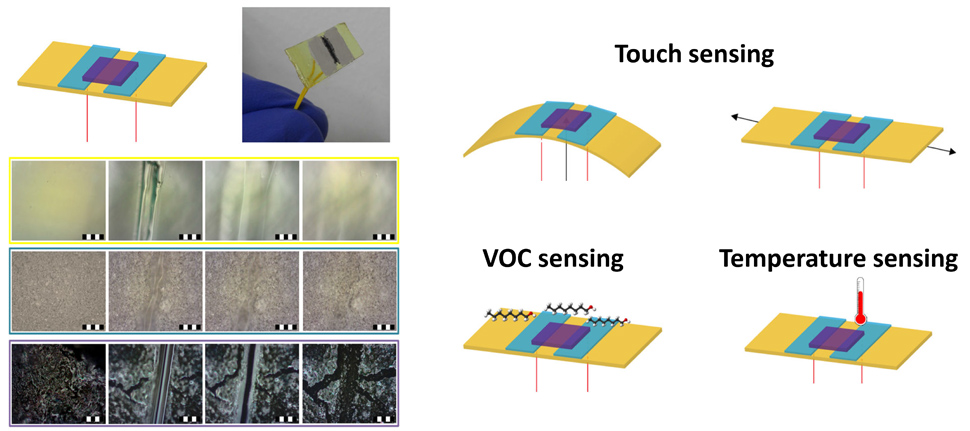 Once healed, the polymer substrate of the self-healing sensor demonstrates sensitivity to volatile organic compounds (VOCs), with detection capability down to tens of parts per billion. It also demonstrates superior healability at the extreme temperatures of -20 degrees C to 40 degrees C. This property, said the researchers, can extend applications of the self-healing sensor to areas of the world with extreme climates. From sub-freezing cold to equatorial heat, the self-healing sensor is environment-stable.
The healing polymer works quickest, said the researchers, when the temperature is between 0 degrees C and 10 degrees C, when moisture condenses and is then absorbed by the substrate. Condensation makes the substrate swell, allowing the polymer chains to begin to flow freely and, in effect, begin "healing." Once healed, the nonbiological, chemiresistor still has high sensitivity to touch, pressure and strain, which the researchers tested in demanding stretching and bending tests.
Another unique feature is that the electrode resistance increases after healing and can survive 20 times or more cutting/healing cycles than prior to healing. Essentially, healing makes the self-healing sensor even stronger. The researchers noted in their paper that "the healing efficiency of this chemiresistor is so high that the sensor survived several cuttings at random positions."
The researchers are currently experimenting with carbon-based self-healing composites and self-healing transistors.
"The self-healing sensor raises expectations that flexible devices might someday be self-administered, which increases their reliability," explained co-developer Dr. Tan-Phat Huynh, also of the Technion, whose work focuses on the development of self-healing electronic skin. "One day, the self-healing sensor could serve as a platform for biosensors that monitor human health using electronic skin."
9th November 2015
Fastest ever brain-computer interface for spelling
Researchers in China have achieved high-speed spelling with a noninvasive brain-computer interface.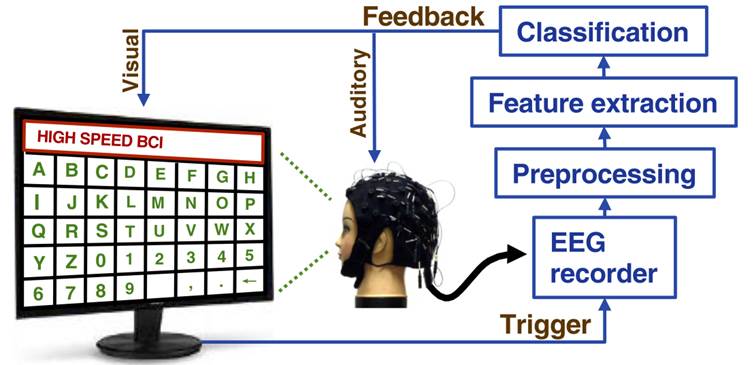 Brain–computer interfaces (BCI) are a relatively new and emerging technology allowing direct communication between the brain and an external device. They are used for assisting, augmenting, or repairing cognitive or sensory-motor functions. Research on BCIs began in the 1970s and the first neuroprosthetic devices implanted in humans appeared in the mid-1990s.
The past 20 years have seen major progress in BCIs. However, they are still limited by low communication rates, caused by interference from spontaneous electroencephalography (EEG) signals. Now, a team of researchers from Tsinghua University in China, State Key Laboratory Integrated Optoelectronics, Institute of Semiconductors (IOS), and the Chinese Academy of Sciences have developed a greatly improved system. Their EEG-based BCI speller can achieve information transfer rates (ITRs) of 60 characters (∼12 words) per minute, by far the highest ever reported in BCI spellers for either noninvasive or invasive methods. In some of the tests, they reached up to 5.32 bits per second. For comparison, most other systems in recent years have been at 1 or 2 ITRs.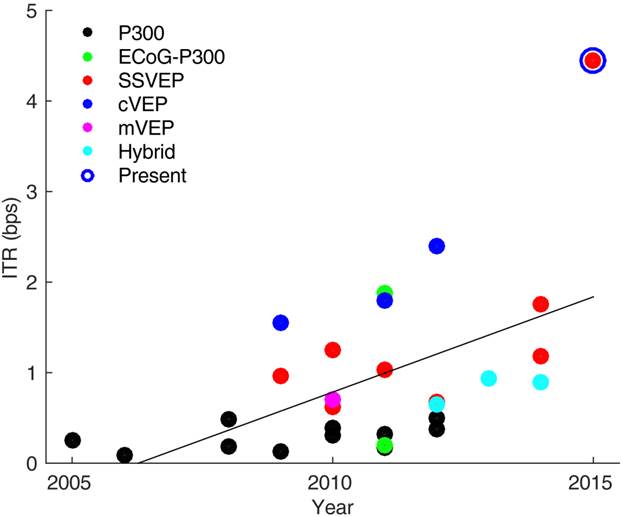 According to the researchers, they achieved this via an extremely high consistency of frequency and phase between the visual flickering signals and the elicited single-trial steady-state visual evoked potentials. Specifically, they developed a new joint frequency-phase modulation (JFPM) method to tag 40 characters with 0.5-seconds-long flickering signals, and created a user-specific target identification algorithm using individual calibration data. A paper describing this breakthrough appears in the 3rd November edition of the journal Proceedings of the National Academy of Sciences (PNAS).
In the not-too-distant future, this kind of technology could be applied to other uses, besides medicine. For example, it could be incorporated into smartphones and other consumer electronics to allow texting, typing or other on-screen actions by thought power alone. A partnership between the Japanese government and private sector aims to achieve this by 2020. With continued progress in the speed of BCIs, a new form of "virtual telepathy" could emerge within a few decades.
26th October 2015
Gene therapy prevents muscular dystrophy in dogs
Following 10 years of research, a new gene therapy has been developed at the University of Missouri that successfully treats all muscles in dogs affected by muscular dystrophy. Human clinical trials are planned in the next few years.
Muscular dystrophy, which affects about 250,000 people in the U.S., occurs when damaged muscle tissue is replaced with fibrous, fatty or bony tissue and loses function. For years, scientists have searched for a way to successfully treat the most common form of the disease, Duchenne Muscular Dystrophy (DMD), which primarily affects boys. Now, a team of University of Missouri researchers have successfully treated dogs with DMD and say that human clinical trials are planned in the next few years.
"This is the most common muscle disease in boys, and there is currently no effective therapy," said Dongsheng Duan, the study leader. "This discovery took our research team more than 10 years, but we believe we are on the cusp of having a treatment for the disease."
Patients with DMD have a gene mutation that disrupts the production of a protein known as "dystrophin." Absence of dystrophin starts a chain reaction that eventually leads to muscle cell degeneration and death. Affected boys lose their ability to walk and breathe as they get older. This places significant limitations on individuals afflicted with the disease. Dystrophin also is one of the largest genes in the human body.
"Due to its size, it is impossible to deliver the entire gene with a gene therapy vector, which is the vehicle that carries the therapeutic gene to the correct site in the body," Duan said. "Through previous research, we were able to develop a miniature version of this gene, called a microgene. This protected all muscles in the body of diseased mice."
However, it took the team more than 10 years to develop a strategy that can safely send the micro-dystrophin to every muscle in a dog that is afflicted by the disease. The dog has a body size similar to that of an affected boy. Success in the dog will set the foundation for human tests.
In this latest study – published in Human Molecular Genetics – the team demonstrated for the first time that a common virus could deliver the microgene to all muscles in the body of a diseased dog. The dogs were injected with the virus when they were two to three months old and just starting to show signs of DMD. The dogs are now six to seven months old and continue to develop normally.
"The virus we are using is one of the most common viruses; it is also a virus that produces no symptoms in the human body, making this a safe way to spread the dystrophin gene throughout the body," Duan said. "These dogs develop DMD naturally in a similar manner as humans."
26th October 2015
Blocking enzymes in hair follicles promotes hair growth
Inhibiting a family of enzymes inside hair follicles that are suspended in a resting state restores hair growth, a new study from researchers at Columbia University Medical Centre has found.
| | |
| --- | --- |
| | Within 3 weeks, mice receiving tofacitinib or ruxolitinib had regrown nearly all their hair (middle and right photos; drug was applied only to the right side of the mouse). Little to no hair growth occurred in control mice during the same timeframe (left photo). Credit: From S. Harel et al. |
In experiments with mouse and human hair follicles, Angela Christiano, PhD, and colleagues found drugs that inhibit the Janus kinase (JAK) family of enzymes promote rapid and robust hair growth when applied to the skin. Their research is published in the journal Science Advances.
The study raises the possibility that JAK inhibitors could be used to restore hair growth in forms of hair loss induced by male pattern baldness, and other types of hair loss that occur when hair follicles are trapped in a resting state.
"What we've found is promising, though we haven't yet shown it's a cure for pattern baldness," said Dr. Christiano. "More work needs to be done to test if JAK inhibitors can induce hair growth in humans using formulations specially made for the scalp."
Christiano and her team discovered the effect of JAK inhibitors on hair follicles by accident, when they were studying alopecia areata, a form of hair loss that's caused by an autoimmune attack on the hair follicles. Christiano and colleagues reported last year that JAK inhibitors shut off the signal that provokes the autoimmune attack, and that oral forms of the drug restore hair growth in some people with the disorder.
In the course of those experiments, Dr. Christiano noticed that mice grew more hair when the drug was applied to the skin than when the drug was provided systemically. This suggested JAK inhibitors might be doing something to the hair follicles in addition to stopping the immune attack.
Hair follicles do not produce hair steadily, but cycle between dormant and active phases. Looking more closely at normal mouse hair follicles, it was found that JAK inhibitors rapidly awakened resting follicles out of dormancy, triggering the normal reawakening process. Mice treated for five days with one of two JAK inhibitors sprouted new hair within 10 days – greatly accelerating the onset of hair growth. No hair grew on control mice within the same amount of time.
"There aren't many compounds that can push hair follicles into their growth cycle so quickly," said Dr. Christiano. "Some topical agents induce tufts of hair here and there after a few weeks, but very few compounds have this potent an effect so quickly."
It's likely that the drugs act on the same pathways in human follicles as they do in mice, suggesting they could induce new hair growth and extend the growth of existing hairs in humans. However, whether JAK inhibitors can reawaken hair follicles that have been frozen in a resting state because of androgenetic alopecia (which causes male and female pattern baldness) or other forms of hair loss is still unknown. So far, all the experiments have been conducted in normal mice and human follicles. Experiments to address hair follicles affected by hair loss disorders are now underway.
25th October 2015
Biotech firm 23andMe to resume DNA health tests
Following two years of dialogue and review, the US Food and Drug Administration (FDA) has allowed 23andMe to begin offering personal DNA health tests again.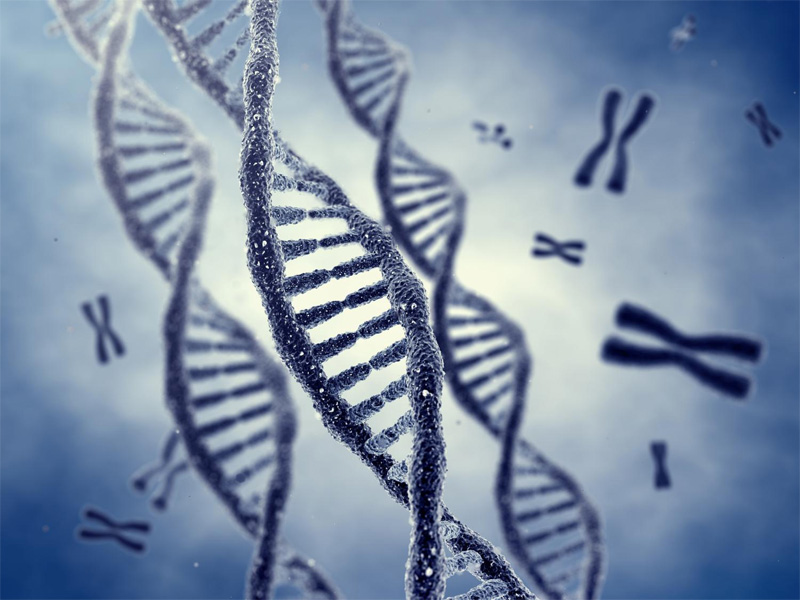 23andMe – a leading personal genetics company – this week announced the relaunch of their Personal Genome Service (PGS). Following two years of work with the FDA, extensive user comprehension testing and a complete redesign, 23andMe is launching an entirely new experience that includes carrier status, wellness, trait and ancestry reports.
In 2013, the FDA ordered 23andMe to discontinue marketing its service, because it lacked the required legal regulatory approval, resulting in concerns about the potential consequences of customers receiving inaccurate health results. 23andMe continued to sell a personal genome test without health-related results in the USA (but including ancestry reports) – until this week, when a completely revised service was announced with FDA approval.
"We've worked with the FDA for nearly two years to establish a regulatory path for direct-to-consumer genetic testing. We are a better company with a better product as a result of our work with the FDA," said 23andMe co-founder and CEO Anne Wojcicki. "This is an incredibly dynamic time in genetics and we're excited to be at the leading edge of bringing genetics directly to individuals as they begin to learn about their 23 pairs of chromosomes."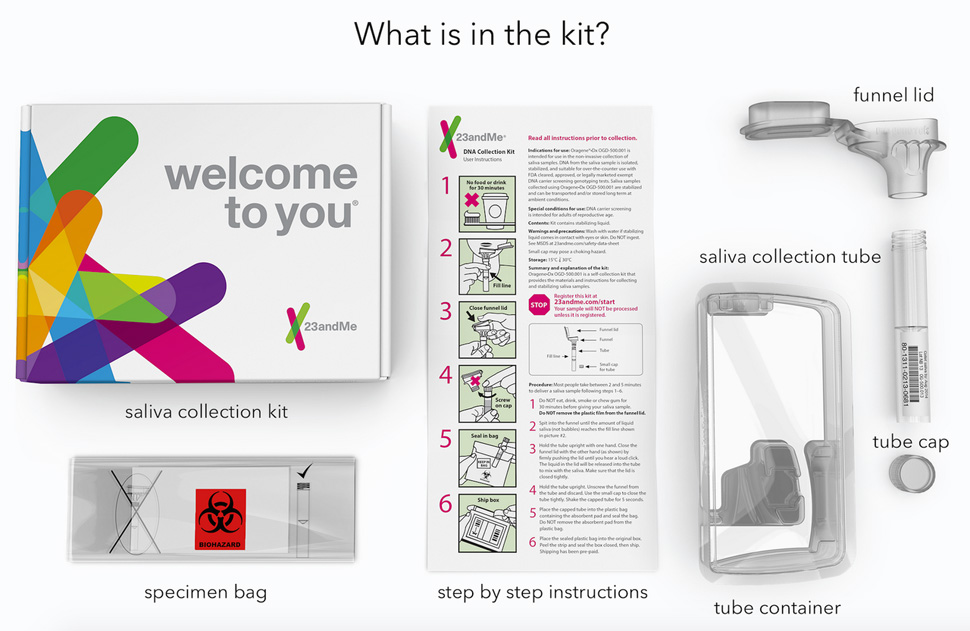 The service now delivers more tools, more insights and better functionality. For $199, customers receive a detailed, but easy to understand genetic information service validated by user testing:
• More than 60 health, ancestry, wellness, and personal trait reports
• Reports on genetic research and new genetic discoveries
• Personalised insights based on analysis of 650,000 genetic variations
• Only service available direct-to-consumer with reports that meet FDA standards
• Tools and features unique to 23andMe, such as segment level data for advanced genetic genealogy research and other patented features
• The chance to find and connect with DNA relatives in a database of more than 1 million customers
• New and updated reports, at no additional cost, as breakthrough genetic discoveries are made
"23andMe is more than a test or series of reports – it's a platform that offers individuals a new way to look at themselves through their genetics," comments Andy Page, the President of 23andMe. "We have worked closely with scientists, leaders in the medical community and regulators to develop a product that provides personalised, highly relevant information to individuals."
In addition to the new reports, features and tools, 23andMe's Personal Genome Service provides customers with the opportunity to participate in research that holds the promise of accelerating the pace of discovery and improving the understanding of how genetics influences our lives. Those who consent to participate can easily contribute from anywhere, by answering survey questions online and, in turn, receive insights along the way to help learn more about their genetics, see early findings from 23andMe research and learn how they compare to others. A new 23andMe Research mobile app will also be available.
At present, 23andMe only provides a partial reading of a customer's DNA, because a complete reading would be too expensive for most people. However, as seen in the graph below, whole genome sequencing costs have seen a big drop in 2015 and are now rapidly nearing the $1,000 mark. Soon, a much fuller and clearer picture of your genetic identity will be available at relatively low cost, as predicted on our timeline.
19th October 2015
Malaria protein that kills cancers to begin human trials by 2019
Scientists have identified a protein in malaria that can bind to cancer cells and attack more than 95% of tumour types. Human clinical trials are expected to begin within four years.
Scientists at the University of British Columbia (UBC), Vancouver Coastal Health and the BC Cancer Agency have discovered a protein from malaria that could one day help stop cancer in its tracks. This new approach, which halted the growth of various tumours in mice, was based on a discovery by collaborators at the University of Copenhagen. While exploring why pregnant women are particularly susceptible to malaria, they found that the mosquito-borne parasite produces a protein that binds to a particular type of sugar molecule in the placenta.
That discovery led to another: that same sugar molecule is also found in most cancers. This commonality is understandable, because both cancers and placentas grow rapidly, often pushing aside other tissues in the process. The researchers realised that this sugar molecule could be a target for anti-cancer drugs, and that the malarial protein – called VAR2CSA – may provide the tool for carrying such drugs to tumours.
"Scientists have spent decades trying to find the biochemical similarities between placenta tissue and cancer, but we just didn't have the technology to find it," said project leader Mads Daugaard, an assistant professor at UBC. "When my colleagues discovered how malaria uses VAR2CSA to embed itself in the placenta, we immediately saw its potential to deliver cancer drugs in a precise, controlled way to tumours."
To test that theory, Daugaard and colleagues enlisted the expertise of John Babcook and his team at the Centre for Drug Research and Development (CDRD). They attached a novel toxin to VAR2CSA and treated hundreds of normal and cancer cell lines. The drug compound specifically targeted and killed more than 95% of the cancer cell lines.
The drug was then tested on mice that were implanted with three types of human tumours. With non-Hodgkin's lymphoma, the treated mice's tumours were about a quarter the size of the tumours in the control group. With prostate cancer, the tumours completely disappeared in two of the six treated mice a month after receiving the first dose. With metastatic breast cancer, five out of six treated mice were cured from metastatic disease. The mice showed no adverse side-effects, and their organs were unharmed by the therapy.
"This is an extraordinary finding that paves the way for targeting sugar molecules in pediatric and adulthood human cancer, and our groups are vigorously pursuing this possibility together," said UBC professor Poul Sorensen, co-senior investigator on the study.
"There is some irony that a disease as destructive as malaria might be exploited to treat another dreaded disease," said Ali Salanti, a professor of immunology and microbiology at the University of Copenhagen. "The biggest questions are whether it'll work in the human body, and if the human body can tolerate the doses needed without developing side effects. But we're optimistic, because the protein appears to only attach itself to a carbohydrate that is only found in the placenta and in cancer tumours in humans."
Two companies – Vancouver-based Kairos Therapeutics and Copenhagen-based VAR2 Pharmaceuticals – are developing the compound for clinical trials in humans by 2019. The study results are published in the journal Cancer Cell.
6th October 2015
New test detects all viruses that infect people, animals
Researchers have developed a new test, ViroCap, which can detect nearly any virus known to infect humans and animals. They are making the technology publicly available worldwide, for the benefit of patients and research.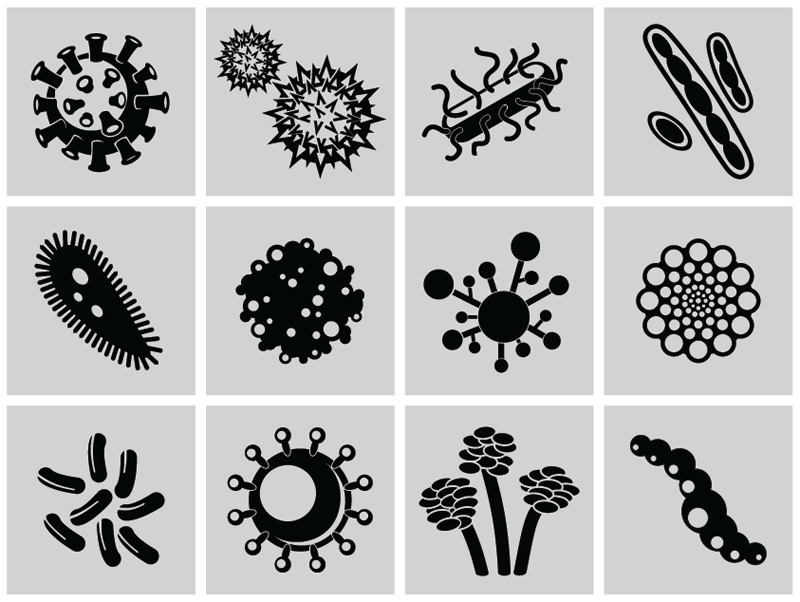 A new test detects virtually any virus that infects people and animals, according to research at Washington University School of Medicine in St. Louis, where the technology was developed.
Many thousands of viruses are known to cause illness in people and animals, and making a diagnosis can be an exhaustive exercise, at times requiring a battery of different tests. That's because current tests aren't sensitive enough to detect low levels of viral bugs or are limited to detecting only those viruses suspected of being responsible for a patient's illness.
"With this test, you don't have to know what you're looking for," says the study's senior author, Gregory Storch, MD. "It casts a broad net and can efficiently detect viruses that are present at very low levels. We think the test will be especially useful in situations where a diagnosis remains elusive after standard testing or in situations in which the cause of a disease outbreak is unknown."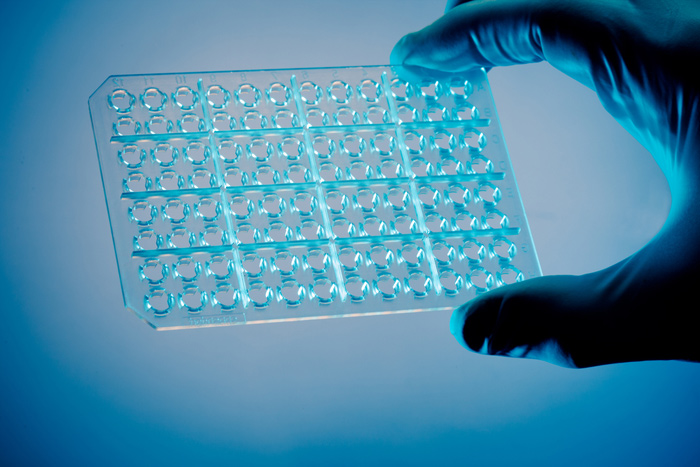 The test, known as ViroCap, examines two million sequences of genetic data from viruses in humans and animals, ranging from common viruses to the more exotic ones. It is so sensitive that it can even detect variant strains of viruses, as well as multiple viruses at the same time – something no other current diagnostic test is capable of. Alongside this, ViroCap is 52% more accurate than polymerase chain reaction (PCR) tests, which are currently used for diagnoses.
"It also may be possible to modify the test so that it could be used to detect pathogens other than viruses, including bacteria, fungi and other microbes, as well as genes that would indicate the pathogen is resistant to treatment with antibiotics or other drugs," said co-author Kristine Wylie, PhD.
The researchers plan to launch an online service for the test. However, it will not be available for clinical use until validation studies are done, which may take several years. In the meantime, the technology can be used by scientists to study viruses in a research setting. Their latest work is published in the online journal Genome Research.
3rd October 2015
Self-assembling material could lead to artificial veins
Researchers at Queen Mary University London (QMUL) have demonstrated a self-assembling organic material that grows and changes shape and which could lead to artificial veins.
Researchers at Queen Mary University of London have developed a way of assembling organic molecules into complex, tubular, tissue-like structures, without the use of moulds or techniques like 3D printing.
The study, published this week in the journal Nature Chemistry, describes how peptides and proteins can be used to create materials that exhibit dynamic behaviours found in biological tissues – like growth, morphogenesis, and healing.
The method uses solutions of peptide and protein molecules that, upon touching each other, self-assemble to form a dynamic tissue at the point at which they meet. As the material assembles itself, it can be easily guided to grow into complex shapes.
This discovery could lead to the engineering of tissues like veins, arteries, or even the blood-brain barrier, which would allow scientists to study diseases such as Alzheimer's with a high level of similarity to the real tissue, which is currently impossible. The technique could also contribute to the creation of better implants, complex tissues, or more effective drug screening methods.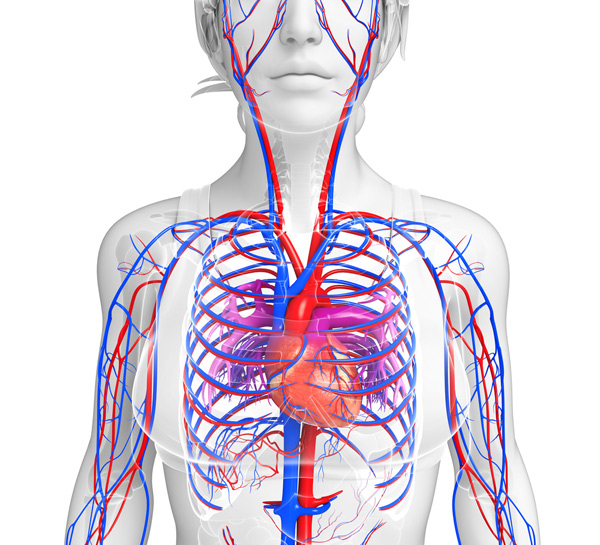 Alvaro Mata, Director of the Institute of Bioengineering at QMUL, said: "What is most exciting about this discovery is the possibility for us to use peptides and proteins as building-blocks of materials with the capacity to controllably grow or change shape, solely by self-assembly."
Karla Inostroza-Brito, PhD student and first author of the paper, said: "The system is dynamic, so it can be triggered on demand to enable self-assembly with a high degree of control, which allows the creation of complex shapes with a structure that resembles elements of native tissue."
14th September 2015
DARPA prosthetic hand can "feel" physical sensations
Through DARPA, a 28-year-old paralysed man has become the first person to feel physical sensations through a prosthetic hand directly connected to his brain.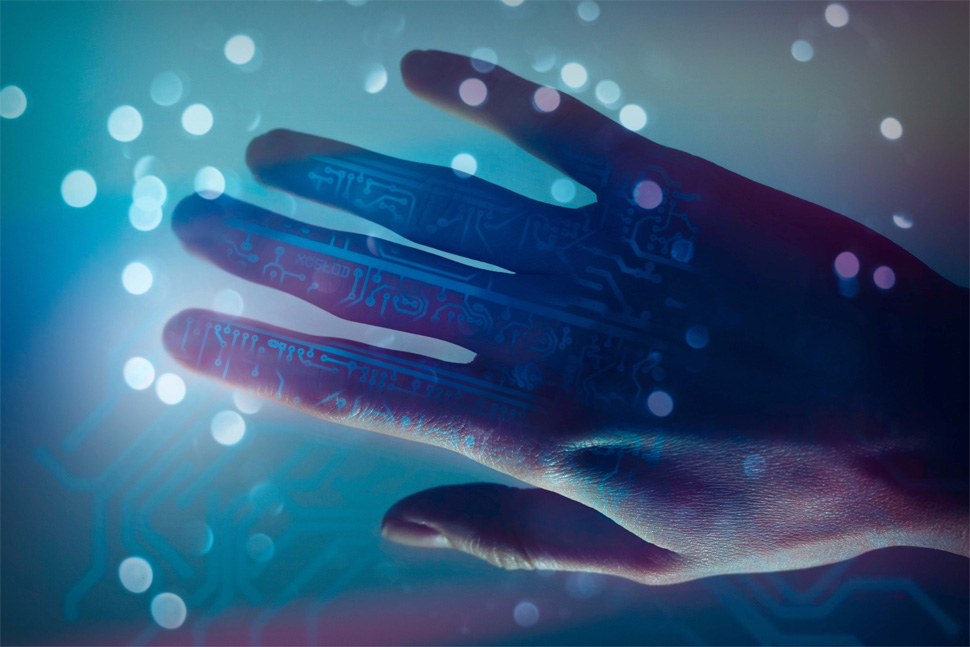 A 28-year-old man, paralysed for more than a decade as a result of a spinal cord injury, has become the first person to be able to "feel" physical sensations through a prosthetic hand directly connected to his brain. He can even identify which mechanical finger is being gently touched.
This advance, made possible by sophisticated neural technologies, has been developed under U.S. military agency DARPA's Revolutionising Prosthetics program that was first launched in 2006. It could lead to a future in which people living with paralysed or missing limbs will not only be able to manipulate objects by sending signals from their brain to robotic devices, but also be able to sense precisely what those devices are touching.
"We've completed the circuit," says DARPA program manager Justin Sanchez. "Prosthetic limbs that can be controlled by thoughts are showing great promise, but without feedback from signals travelling back to the brain it can be difficult to achieve the level of control needed to perform precise movements. By wiring a sense of touch from a mechanical hand directly into the brain, this work shows the potential for seamless bio-technological restoration of near-natural function."
The clinical work involved placing electrode arrays onto the paralysed volunteer's sensory cortex, the brain region responsible for identifying tactile sensations such as pressure. In addition, the team placed arrays on the volunteer's motor cortex, the part of the brain that directs body movements.
Wires were run from the arrays on the motor cortex to a mechanical hand developed by the Applied Physics Laboratory (APL) at Johns Hopkins University. That gave the volunteer – whose identity is withheld to protect his privacy – the capacity to control the hand's movements with his thoughts, a feat previously accomplished under the DARPA program by another person with similar injuries.
Then, breaking new technological ground, the researchers went on to provide the volunteer a sense of touch. The APL hand contains sophisticated torque sensors that can detect when pressure is being applied to any of its fingers, and can convert those physical "sensations" into electrical signals. The team used wires to route those signals to the arrays on the volunteer's brain.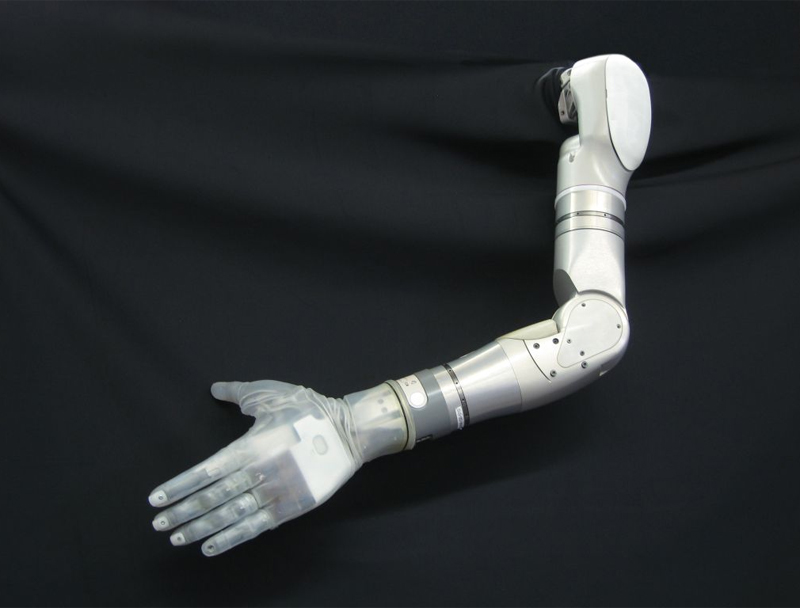 In the very first set of tests, during which the researchers gently touched each of the hand's fingers while the volunteer was blindfolded, he was able to report with nearly 100% accuracy which mechanical finger was being touched. The feeling, he reported, was as if his own hand were being touched.
"At one point, instead of pressing one finger, the team decided to press two without telling him," said Sanchez. "He responded in jest asking whether somebody was trying to play a trick on him. That is when we knew that the feelings he was perceiving through the robotic hand were near-natural."
Sanchez described the basic findings at Wait, What? A Future Technology Forum, hosted by DARPA in St. Louis. Further details about the work are being withheld pending peer review and acceptance for publication in a scientific journal.
The restoration of sensation with implanted neural arrays is one of several neurotechnology-based advances emerging from DARPA's Biological Technologies Office, Sanchez said. Another major program is Restoring Active Memory (RAM), which seeks to develop brain interfaces to restore function to individuals living with memory loss from traumatic brain injury or complex neuropsychiatric illness.
"DARPA's investments in neurotechnologies are helping to open entirely new worlds of function and experience for individuals living with paralysis and have the potential to benefit people with similarly debilitating brain injuries or diseases," Sanchez added.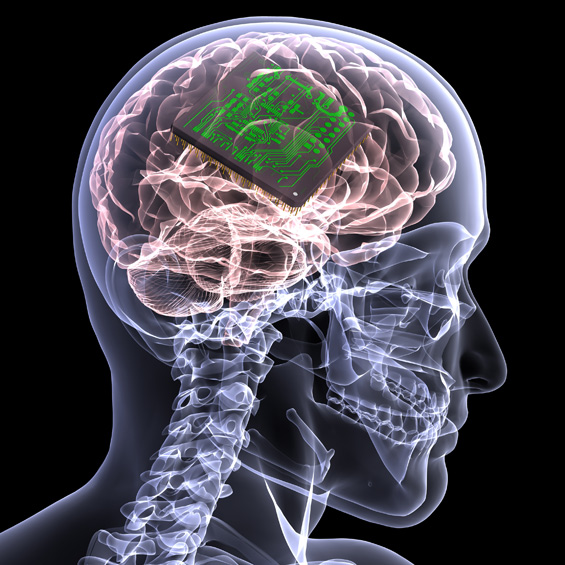 11th September 2015
GM babies could be "morally acceptable" in the future
A group of scientists, ethicists and policy experts have released a report in which they state that research into GM human embryos is "essential" and should be permitted. While the birth of complete GM babies should not be allowed at present, they believe it may become morally acceptable in the future.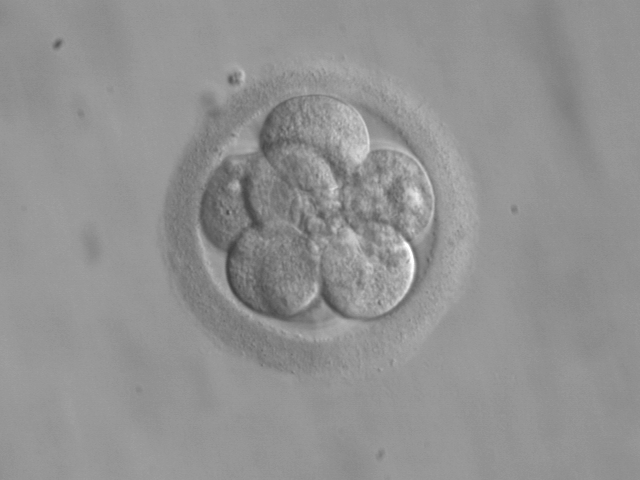 Research that involves editing of the human genome – including research with human embryos – is essential to gain basic understanding of biology and germ cells and should be permitted, according to one of the first global meetings to debate the controversial new techniques. This bold statement is published by the Hinxton Group, a global network of stem cell researchers, bioethicists, and experts on policy and scientific publishing, who met in Manchester, UK.
Earlier this year, scientists in China edited the genome of live human embryos using a revolutionary new technique known as CRISPR/Cas9, to prevent a fatal blood disorder. This type of research is currently banned in Europe and the United States. While firmly backing the need for gene editing research, the Hinxton Group makes a clear distinction between laboratory research and clinical applications: "We believe that while this technology has tremendous value to basic research and enormous potential for somatic clinical uses, it is not sufficiently developed to consider human genome editing for clinical reproductive purposes at this time," the report states.
Nevertheless, the consensus statement adds, "when all safety, efficacy and governance needs are met, there may be morally acceptable uses of this technology in human reproduction, though further substantial discussion and debate will be required."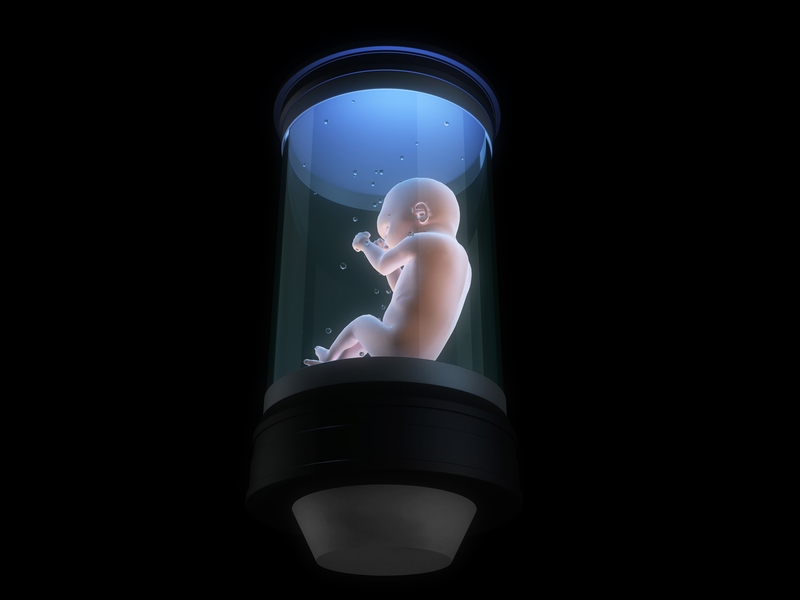 According to Debra Mathews, a member of the Hinxton Group steering committee, discussions at the meeting focused on the use of gene editing in research and the most contentious aspects of these new technologies – primarily the implications for any children born with engineered genetic modifications, and also successive generations who would inherit those genetic changes; that is, the inheritable, or germline, nature of modifications.
"While there is controversy and deep moral disagreement about human germline genetic modification," says Mathews, "what is needed is not to stop all discussion, debate and research – but rather to engage with the public, policymakers and the broader scientific community, and to weigh together the potential benefits and harms of human genome editing for research and human health."
In the future, parents could have the option of genetic treatments to prevent their children being born with cystic fibrosis, for example, or genes that increase the risk of cancer. Eventually, it might even be possible to create "designer babies" with height, skin, hair, eye colour and other characteristics programmed into the embryo prior to birth. However, in addition to concerns about the technical and safety aspects of these procedures, ethical issues would arise over people with built-in genetic advantages and the two-tier society this could lead to, reminiscent of the sci-fi movie Gattaca.
Such technology is likely decades away, but in the meantime, knowledge gained through basic science research is essential to human understanding of both ourselves and other life, the group concludes. While genetic modification has been used successfully for over 30 years to alter genes in animals, these methods have been inefficient, often lacking specificity or otherwise relying on a series of steps that made them both inappropriate and unsafe to use in humans. More recent advances in genome editing technology, however, make it possible to insert, delete, or modify DNA with greatly increased precision and efficiency.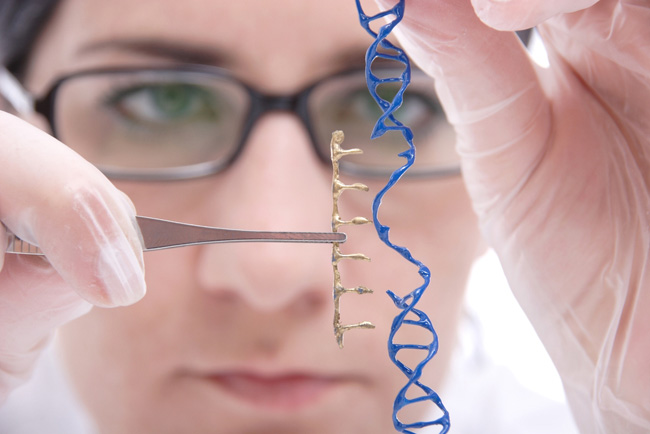 "Much of our knowledge of early development comes from studies of mouse embryos, yet it is becoming clear that gene activity and even some cell types are very different in human embryos. Genome editing techniques could be used to ask how cell types are specified in the early embryo and the nature and importance of the genes involved," says Robin Lovell-Badge, another member of the Hinxton Group steering committee and head of the Laboratory of Stem Cell Biology and Developmental Genetics at the Francis Crick Institute.
The group statement emphasises the importance of "meaningful and substantial public engagement" to decision-making about genome editing. Policymakers are specifically addressed, stating that policy restraints on science should have justification "that reaches beyond disagreements based solely on divergent moral convictions."
"The relevant regulatory distinction should be not between using genome editing in somatic cells and using it in embryos, but between research and reproduction: whether those embryos are ever destined to be implanted," says Sarah Chan, another steering committee member. "Restricting research because of concerns that reproductive application is premature and dangerous will ensure that it remains forever premature and dangerous, for want of better knowledge."
29th August 2015
Scientists find possible "off switch" for cancer
A new way of "switching off" cancer cell growth, based on adhesion proteins, is reported by the Mayo Clinic.
Researchers at the Mayo Clinic in Florida have discovered a way to potentially reprogram cancer cells back to normal cells. This finding, published in the journal Nature Cell Biology, represents "an unexpected new biology that provides the code, the software for turning off cancer," says the study's senior investigator, Panos Anastasiadis, Ph.D., chair of the Department of Cancer Biology. His team experimented with human cells in the laboratory that were affected with breast, lung and bladder cancer.
Normal cells are prevented from uncontrolled growth by adhesion proteins – a special "glue" that keeps cells together. The Mayo team discovered that this glue – which consists primarily of E-cadherin and p120 catenin – is controlled by biological microprocessors known as microRNAs that in turn use another protein called PLEKHA7 for regulation. In other words: when normal cells come into contact with each other, genes that promote cell growth are suppressed by this specific subset of microRNAs. Cancer cells, on the other hand, were shown to be missing PLEKHA7. Restoring either its level or increasing the level of microRNAs within these cells turned them back into a benign state.
"We believe that loss of the apical PLEKHA7-microprocessor complex is an early and somewhat universal event in cancer," says Dr. Anastasiadis. "In the vast majority of human tumour samples we examined, this apical structure is absent, although E-cadherin and p120 are still present. This produces the equivalent of a speeding car that has a lot of gas (the bad p120) and no brakes (the PLEKHA7-microprocessor complex).
"By administering the affected microRNAs in cancer cells to restore their normal levels, we should be able to re-establish the brakes and restore normal cell function," he adds. "Initial experiments in some aggressive types of cancer are indeed very promising."
| | |
| --- | --- |
| | Lead authors Panos Anastasiadis, Ph.D., and Antonis Kourtidis, Ph.D. |
"The study brings together two so-far unrelated research fields – cell-to-cell adhesion and miRNA biology – to resolve a long-standing problem about the role of adhesion proteins in cell behaviour that was baffling scientists," says Antonis Kourtidis, Ph.D., an associate of Dr. Anastasiadis. "Most significantly, it uncovers a new strategy for cancer therapy."
"When this apical adhesion complex was disrupted after loss of PLEKHA7, this set of microRNAs was misregulated – and the E-cadherin and p120 switched sides to become oncogenic," he adds.
The team is now working on better options for delivering the molecules. In the future, an injection could be developed that sends the microRNA directly into cells or tumours, without the need for harsh chemotherapy or additional surgery methods. Experts not involved in the research note its importance, but appear sceptical about its possible effectiveness in treatments.
"This important study solves a long-standing biological mystery – but we mustn't get ahead of ourselves," said Henry Scowcroft, the senior science information manager at Cancer Research UK. "There's a long way to go before we know whether these findings, in cells grown in a laboratory, will help treat people with cancer. But it's a significant step forward in understanding how certain cells in our body know when to grow, and when to stop. Understanding these key concepts is crucial to help continue the encouraging progress against cancer we've seen in recent years."
"I think in reality, it is unlikely that you could reverse tumours by reversing just one mechanism, but it's a very interesting finding," concluded Dr. Chris Bakal from the Institute for Cancer Research in London.
17th August 2015
Single gene alteration boosts intelligence in mice and reduces anxiety
Genetically engineered "brainy" mice with better resilience to fear and anxiety could raise hopes of better treatments for cognitive disorders in the future.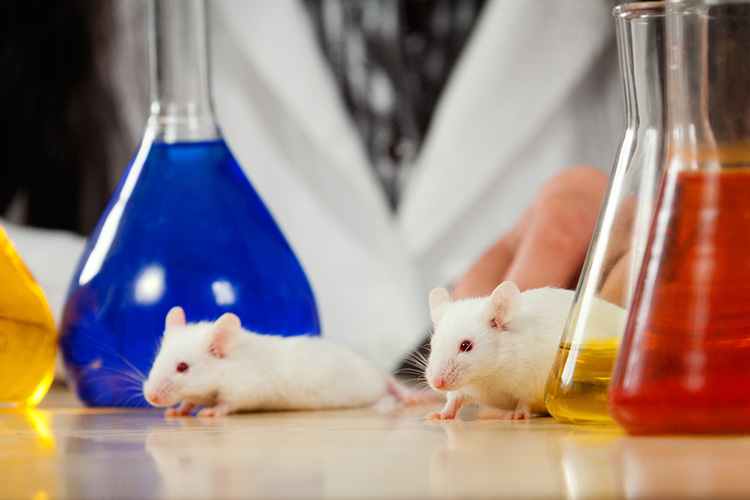 Researchers have created unusually intelligent mice by altering a single gene. As a result, the mice were also less likely to feel anxiety or fear. The study, led by the University of Leeds and Mount Sinai Hospital in Toronto, was published on Friday in the journal Neuropsychopharmacology. It sheds light on the molecular underpinnings of learning and memory and could form the basis for research into new treatments for age-related cognitive decline, cognitive disorders such as Alzheimer's disease and schizophrenia, and other conditions.
The researchers altered a gene in mice to inhibit the activity of an enzyme called phosphodiesterase-4B (PDE4B), which is present in many organs of the vertebrate body, including the brain. In behavioural tests, the PDE4B-inhibited mice showed enhanced cognitive abilities. They tended to learn faster, remember events longer and solve complex exercises better than ordinary mice. For example, the "brainy mice" showed a better ability to recognise another mouse they had been introduced to the day before. They were also quicker at learning the location of a hidden escape platform in a test called the Morris water maze. However, the PDE4B-inhibited mice also showed less recall of a fearful event after several days than ordinary mice.
The published findings are limited to mice and have not been tested in humans, but PDE4B is present in humans. The diminished memory of fear among mice with inhibited PDE4B could be of interest to researchers looking for treatments for pathological fear, typified by Post-Traumatic Stress Disorder (PTSD). The PDE4B-inhibited mice also showed less anxiety. They spent more time in open, brightly-lit spaces than ordinary mice, which preferred dark, enclosed spaces. Ordinary mice are naturally very fearful of cats, but the PDE4B-inhibited mice showed a decreased fear response to cat urine, suggesting that one effect of inhibiting PDE4B could be an increase in risk-taking behaviour. So, while the PDE4B-inhibited mice excelled at solving complex exercises, their low levels of anxiety could be counterproductive for a wild mouse.
Dr Steve Clapcote from the University of Leeds' School of Biomedical Sciences, who led the study: "Cognitive impairments are currently poorly treated – so I'm excited that our work using mice has identified phosphodiesterase-4B as a promising target for potential new treatments."
The researchers are now working on developing drugs that will specifically inhibit PDE4B. These drugs will be tested in animals to see whether any would be suitable for clinical trials in humans.
Dr Alexander McGirr, a psychiatrist in training at the University of British Columbia, who co-led the study, said: "In the future, medicines targeting PDE4B may potentially improve the lives of individuals with neurocognitive disorders and life-impairing anxiety, and they may have a time-limited role after traumatic events."
17th August 2015
Spicy foods may be linked to increased longevity
Spicy foods may be linked to increased longevity, according to a study published in the British Medical Journal (BMJ).

Eating spicy food more frequently as part of a daily diet is associated with a lower risk of death, suggests a new study published in the BMJ this week. The association was also found for deaths from certain conditions such as cancer, and ischaemic heart and respiratory diseases.
This is an observational study so no definitive conclusions can be drawn about cause and effect, but the authors call for more research that may "lead to updated dietary recommendations and development of functional foods."
Previous research has suggested that beneficial effects of spices and their bioactive ingredient, capsaicin, include anti-obesity, antioxidant, anti-inflammation and anticancer properties. So an international team led by researchers at the Chinese Academy of Medical Sciences examined the association between consumption of spicy foods as part of a daily diet and the total risk and causes of death.
The researchers undertook a prospective study of 487,375 participants, aged 30-79 years, from the China Kadoorie Biobank. Participants were enrolled between 2004-2008 and followed up for morbidities and mortality. All participants completed a questionnaire about their general health, physical measurements, and consumption of spicy foods, and red meat, vegetables and alcohol. Participants with a history of cancer, heart disease, and stroke were excluded from the study, and factors such as age, marital status, level of education, and physical activity were accounted for.
During a median follow-up of 7.2 years, there were 20,224 deaths. Compared with participants who ate spicy foods less than once a week, those who consumed spicy foods 1 or 2 days a week were at a 10% reduced risk of death (hazard ratios for death was 0.90). And those who ate spicy foods 3 to 5 and 6 or 7 days a week were at a 14% reduced risk of death (hazard ratios for death 0.86, and 0.86 respectively).
In other words, participants who ate spicy foods almost every day had a relative 14% lower risk of death compared to those who consumed spicy foods less than once a week. The association was similar in both men and women, and was stronger in those who did not consume alcohol. Frequent consumption of spicy foods was also linked to a lower risk of death from cancer, and ischaemic heart and respiratory system diseases, and this was more evident in women than men.
Fresh and dried chilli peppers were the most commonly used spices in those who reported eating spicy foods weekly, and further analysis showed those who consumed fresh chilli tended to have a lower risk of death from cancer, ischaemic heart disease, and diabetes. Some of the bioactive ingredients are likely to drive this association, the authors explain, adding that fresh chilli is richer in capsaicin, vitamin C, and other nutrients. But they caution against linking any of these with lowering the risk of death.
Should people eat spicy food to improve health? In an accompanying editorial, Nita Forouhi from the University of Cambridge says it is too early to tell, and calls for more research to test whether these associations are the direct result of spicy food intake or whether this is a marker for other dietary or lifestyle factors.
5th August 2015
An interview with aging and longevity expert Aubrey de Grey
Aubrey de Grey is Chief Science Officer of the SENS Research Foundation, which is working to find a solution to aging. He believes that the first humans who will live to be 1,000 years old could already be alive today. Yesterday, he appeared on a Reddit AMA (Ask Me Anything) session to answer questions posed by futurology enthusiasts. Some of the responses are reproduced below.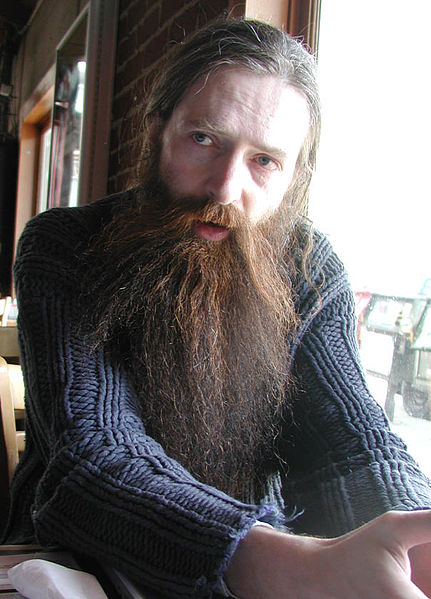 Reddit: I'm curious about how the advent of CRISPR affects the development of SENS therapies?
Aubrey de Grey: It's huge. It will be central to the delivery of the many SENS components that involve somatic gene therapy.
Reddit: Does it speed up the development timeline at all?
Aubrey de Grey: A lot, yes.
Reddit: Are you familiar with the current and/or potential scalability of CRISPR, i.e. it's one thing to edit a single cell in vitro, and a whole other to be able to reprogram every cellular gene expression of Huntington's disease in vivo? I'm really curious where we are on that scale because of the massive ramifications this technology has and it looks like a lot of progress is being made on the error rate.
Aubrey de Grey: It's going extremely well. Fidelity is key – i.e., minimising off-target modifications – and as you say, progress is rapid.
Reddit: What is the likelihood that someone who is 40 today will have their life significantly extended to the point of practical immortality? 30? 20? 10?
Is it a slow, but rapidly rising collusion of things that are going to cause this, or is it something that is going to kind of snap into effect one day?
Will the technology be accessible to everyone, or will it be reserved for the rich?
What are your thoughts on cryonics?
What is your personal preferred method of achieving practical immortality? Nanotechnology? Cyborgs? Something else?
Aubrey de Grey: I'd put it at 60, 70, 80, 90% respectively.
Kind of snap, in that we will reach longevity escape velocity.
For everyone, absolutely for certain.
Cryonics (not cryogenics) is a totally reasonable and valid research area and I am signed up with Alcor.
Anything that works! – but I expect SENS to get there first.
Reddit: Is it fair for me to be telling my friends and others I tell about this stuff, that considering the $25 a month I donate to SENS and the many dozens of people I have educated about SENS and curing aging in general, many quite successfully educated, that I may have personally saved the lives of 100,000 people at this point?
Along that line is this something it would be good for you and your people to really emphasize during talks? To tell people that they can feel good about themselves for going out and advocating and donating even a meagre amount of money because doing so means they are very truthfully saving the lives of tens or hundreds of thousands of people?
Aubrey de Grey: This is by far the best question yet on this AMA. Thank you!
First: I think you can say something like that (depending on how long it's been that you've been sending us $25). I believe that $1B right now would hasten the achievement of LEV by about 10 years; you can do the rest of the maths, but it comes out to about $2 per life – and of course "saving" means a great deal more in terms of extra years than it does for other ways of saving lives, so arguably it's more like a few cents per life.
And yes, I think I should emphasise this more. I probably will.
Reddit: On the topic of money, why do you think so much of the super rich, do so little with their hordes of money, when they could put it towards research of various types, including longevity? That's one thing I have trouble understanding it, my brain defaults towards conspiracy theory type theories. E.g. they are hoarding the money to keep others poorer, to keep themselves more powerful.
Aubrey de Grey: The super-rich are just as afraid of getting their hopes up as anyone else.
Reddit: What do you think of the efforts like Human Longevity Inc. that seem to be focused on DNA/genetic markers of aging, rather than the damage focus of SENS? Is their work helpful do you think?
Aubrey de Grey: It's definitely helpful in the short term, as a way to optimise what we can already do. It has very little longer-term relevance, because once SENS works, it will work the same for everyone.
Reddit: I watched a video from you back in 2013 where you commented on the announcement from Larry Page about Calico. You mentioned that Calico – if they're focused on early stage research – might highly benefit the battle against aging. What is your comment regarding Calico's research now that a couple of years have passed? More/less excited about their potential?
Aubrey de Grey: Cautious. They are structured perfectly: they are doing a bunch of highly lucrative irrelevant short-term stuff that lets them get on with unlucrative critical long-term stuff without distraction. But the latter may be getting too curiosity-driven and insufficiently translational. We'll see.
Reddit: Care to elaborate? "Highly lucrative irrelevant stuff" seems contradictory, likewise "unlucrative critical stuff" :)
Aubrey de Grey:
"Highly lucrative irrelevant stuff" = drugs for specific diseases of aging
"Unlucrative critical stuff" = work leading to actual LEV
Reddit: How difficult would it be maintaining/repairing the brain itself? While we can reasonably access almost every other part of the body, the brain always seems like this elusive bastion that we can't quite reach into for one reason or another.
Aubrey de Grey: With SENS, there's not so much difference between the brain and the rest of the body. It's the same seven types of damage.
Reddit: There has been a lot of noise lately about alternative models for mitochondrial aging and therapies for them. Do you still stand for the hypotheses your book defended, or has SENS changed the way it views mitochondrial aging?
Aubrey de Grey: No change.
Reddit: How much of SENS research involves experimentation on animals, if any? If this does happen, is the sacrifice of animal lives necessary to achieve the foundation's goals, or does it just make things easier or faster? Are there pathways to achieving LEV that don't involve experimentation on animals?
Aubrey de Grey: Quite a bit involves animals, like all biomedical research, but you jump too quickly to the word "sacrifice". How is it a sacrifice if we do things to animals that let them stay healthy longer?
Reddit: Do you think the regulatory pipeline for new therapies in the US and/or EU is adequate? What changes would you make to speed up/slow down/otherwise streamline the process from discovery research to clinical implementation and commercialization?
Aubrey de Grey: There's a lot happening to streamline it. The editorial in the next issue of Rejuvenation Research will discuss the 21st Century Cures Act from our angle. Bottom line: things are improving.
Reddit: Back in the days, what motivated you to decide to cure aging? Like, what was your motivation in the first place?
Aubrey de Grey: The correct question is, what the hell is wrong with everyone else that stops them from being motivated to cure aging? It's responsible for the overwhelming majority of global suffering. WTF?
Reddit: Any tips on not being afraid of death? Even though I'm at the moment 21 years old and my odds of reaching longevity escape velocity are decent, sometimes thinking about not-existing keeps me awake at night. The anti-aging research is kinda the only reason I'm not struggling with it so much anymore, but I don't think that's the correct way of coping with it.
Aubrey de Grey: I hear you. I have a close friend who is so scared of this that she is clinically depressed, and she's only 22. Actually I think getting involved in the anti-aging crusade is indeed the best way.
Reddit: I'm wondering how much time you spend thinking about what a post-death future would look like – is the day-to-day life of an immortal something you spend much time considering, or are you exclusively focused on making it happen at this point? Are there any people you'd recommend who are seriously considering the question?
If you have spent time considering it, what do you think are some major problems an immortal society would face that people DON'T typically talk about? (Rather than normal fears of overpopulation, lack of resources, etc.)
Aubrey de Grey: See the paper from Denver arising from work we funded:
http://www.sciencedirect.com/science/article/pii/S0040162515001985
The abstract sounds a bit pessimistic but only as a wake-up call.
Reddit: What do you think about the singularity in general? I think that if we achieved a singularity, it could help us achieve negligible senescence and potentially even immortality in a significantly shorter timeframe, and of course also all other technological wonders that it could bring.
Aubrey de Grey: Some people are working on AI for just that reason. I think we'll reach the Methuselarity first, but I could be wrong.
3rd August 2015
Ebola vaccine is 100% successful
An Ebola vaccine has shown 100% success in an initial trial, the World Health Organisation reports.
Results from an interim analysis of the Guinea Phase III efficacy vaccine trial show that VSV-EBOV (Merck, Sharp & Dohme) is highly effective against Ebola. The independent body of international experts – the Data and Safety Monitoring Board – that conducted the review, advised that the trial should continue. Preliminary results from analyses of these interim data are published in British journal The Lancet.
"This is an extremely promising development," said Dr Margaret Chan, Director-General of the World Health Organisation (WHO). "The credit goes to the Guinean Government, the people living in the communities and our partners in this project. An effective vaccine will be another very important tool for both current and future Ebola outbreaks."
While the vaccine up to now shows 100% efficacy in individuals, more conclusive evidence is needed on its capacity to protect populations through what is called "herd immunity". To that end, the Guinean national regulatory authority and ethics review committee have approved continuation of the trial.
"This is Guinea's gift to West Africa and the world," said Dr Sakoba Keita, Guinea's national coordinator for the Ebola response. "The thousands of volunteers from Conakry and other areas of Lower Guinea, but also the many Guinean doctors, data managers and community mobilisers have contributed to finding a line of defence against a terrible disease."
"The 'ring' vaccination method adopted for the vaccine trial is based on the smallpox eradication strategy," said John-Arne Røttingen, Director of the Division of Infectious Disease Control at the Norwegian Institute of Public Health and Chair of the Study Steering Group. "The premise is that by vaccinating all people who have come into contact with an infected person you create a protective 'ring' and stop the virus from spreading further. This strategy has helped us to follow the dispersed epidemic in Guinea, and will provide a way to continue this as a public health intervention in trial mode."
The vaccination trial began in late March and ended in late July 2015. The study compared two groups – given a single dose either immediately or delayed for 21 days. In the 90 clusters who received either immediate vaccination (48; 4123 adults vaccinated) or delayed vaccination (42; 3528 adults vaccinated on day 21), a single intramuscular injection of VSV-ZEBOV gave complete (100%) protection against Ebola 10 days after randomisation.
"Before the trial started, in most clusters there had been a series of Ebola cases over the weeks prior to randomisation. However, since the trial started, we have seen no new cases in vaccinated volunteers within 10 days of vaccination, regardless of whether vaccination was immediate or delayed," explains co-author Dr Marie Paule Kieny, from the World Health Organisation (WHO) in Geneva, Switzerland.
"This is a remarkable result which shows the power of equitable international partnerships and flexibility," said Jeremy Farrar, Director of the UK's Wellcome Trust, one of the funders of the trial. "This partnership also shows that such critical work is possible in the midst of a terrible epidemic. It should change how the world responds to such emerging infectious disease threats. We, and all our partners, remain fully committed to giving the world a safe and effective vaccine."
"Ebola has claimed thousands of lives and devastated communities across West Africa," said UK international development secretary, Justine Greening. "The results of these UK-backed vaccine trials are hugely promising and represent a significant breakthrough in our battle against this deadly disease. The vaccine offers hope for a future where we never have to face an Ebola epidemic like this again."
"This record-breaking work marks a turning point in the history of health R&D," said Assistant Director-General Marie-Paule Kieny, who leads the Ebola Research and Development effort at WHO. "We now know that the urgency of saving lives can accelerate R&D. We will harness this positive experience to develop a global R&D preparedness framework so that if another major disease outbreak ever happens again, for any disease, the world can act quickly and efficiently to develop and use medical tools and prevent a large-scale tragedy."
The trial design was developed by a group of experts from Canada, France, Guinea, Norway, Switzerland, the UK, USA, and WHO. The group included Professor Donald A. Henderson of John Hopkins University, who led the WHO smallpox eradication effort by using the ring vaccination strategy.
3rd August 2015
New technique for nanoscale images of the brain
A new technique for obtaining nanoscale images of the brain at higher resolution than ever before is announced by Boston scientists.
A new imaging tool developed by Boston scientists could do for the brain what the Hubble Space Telescope did for astronomy. In the first demonstration of how the technology works, published in the journal Cell, the researchers look inside the brain of an adult mouse at a scale previously unachievable, generating images at 3 nanometre (nm) pixel resolution. The inventors' long-term goal is to make the resource available to the scientific community in the form of a national brain observatory.
"I'm a strong believer in bottom up-science, which is a way of saying that I would prefer to generate a hypothesis from the data and test it," says senior study author Jeff Lichtman, of Harvard University. "For people who are imagers, being able to see all of these details is wonderful and we're getting an opportunity to peer into something that has remained somewhat intractable for so long. It's about time we did this, and it is what people should be doing about things we don't understand."
The researchers have begun the process of mining their imaging data by looking first at an area of the brain that receives sensory information from mouse whiskers, which help the animals orient themselves and are even more sensitive than human fingertips. The scientists used a program called VAST, developed by co-author Daniel Berger of Harvard and the Massachusetts Institute of Technology, to assign different colours and piece apart each individual "object" (e.g., neuron, glial cell, blood vessel cell, etc.).
"The complexity of the brain is much more than what we had ever imagined," says study first author Narayanan "Bobby" Kasthuri, of the Boston University School of Medicine. "We had this clean idea of how there's a really nice order to how neurons connect with each other, but if you actually look at the material it's not like that. The connections are so messy that it's hard to imagine a plan to it, but we checked and there's clearly a pattern that cannot be explained by randomness."
The researchers see great potential in the tool's ability to answer questions about what a neurological disorder actually looks like in the brain, as well as what makes the human brain different from other animals and different between individuals. Who we become is very much a product of the connections our neurons make in response to various life experiences. To be able to compare the physical neuron-to-neuron connections in an infant, a mathematical genius, and someone with schizophrenia would be a leap in our understanding of how our brains shape who we are (or vice versa).
The cost and data storage demands for this type of research are still high, but the researchers expect expenses to drop over time (as has been the case with genome sequencing). To facilitate data sharing, the scientists are now partnering with Argonne National Laboratory with the hopes of creating a national brain laboratory that neuroscientists around the world can access within the next few years.
"It's bittersweet that there are many scientists who think this is a total waste of time as well as a big investment in money and effort that could be better spent answering questions that are more proximal," Lichtman says. "As long as data is showing you things that are unexpected, then you're definitely doing the right thing. And we are certainly far from being out of the surprise element. There's never a time when we look at this data that we don't see something that we've never seen before."
31st July 2015
A potential new class of antibiotics based on modified sugar molecules is reported by scientists in Australia.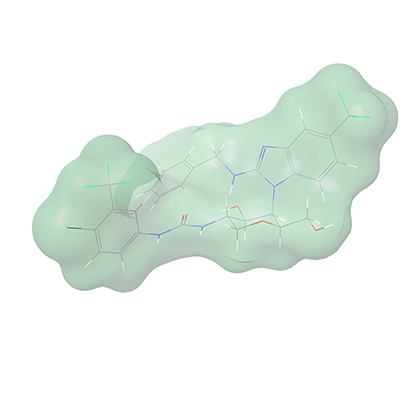 A special type of synthetic sugar could be the latest weapon in the fight against superbugs. Researchers from the University of Queensland and Queensland biotechnology company Alchemia have discovered a potential new class of antibiotics inspired by sugar molecules produced by bacteria.
New antibiotics to which bacteria are unlikely to develop resistance are urgently needed to combat the rise of drug-resistant "superbugs". Last year the World Health Organisation (WHO) issued a report warning that antimicrobial resistance is a major global threat to public health. It is no longer a prediction for the future, but is happening right now, in every region of the world.
This new research, led by Professor Matt Cooper and Dr Johannes Zuegg from UQ's Institute for Molecular Bioscience (IMB) in partnership with Alchemia, was published in scientific journal Nature Communications. Professor Cooper, Director of the IMB Centre for Superbug Solutions, said bacteria are less likely to become resistant to an antibiotic based on a modified version of their own sugar.
"Bacteria have cell walls similar to the walls of a brick house – except instead of mortar, the walls are held together by sugar polymers," he comments. "But if you add one of our modified sugar molecules, they stop the linking process, destroying the cell wall and killing the bacteria. The cell wall has been a target for antibiotics such as penicillin and vancomycin before, but the difference here is that we are stopping a centrally important part of the cell wall linking process."
His colleague, Dr Zuegg said the team examined hundreds of versions of Alchemia's modified sugar molecules to find those that will kill bacteria and are non-toxic to human cells:
"Most molecules screened to become drugs have a flat, planar shape, whereas these molecules are three dimensional," Dr Zuegg said. "This means we can build on the sugar core in a variety of ways, to make thousands of different combinations in three-dimensional space."
The team included researchers from the University of Warwick in the UK, Academia Sinica in Taiwan and Ghent University in Belgium. The work was supported by Australian and overseas organisations including Alchemia, the National Health and Medical Research Council, Bayer Animal Health and the Wellcome Trust.
23rd July 2015
World's first bionic eye implant for a patient with macular degeneration
U.S. firm Second Sight has announced that the first age-related macular degeneration patient has received its Argus II bionic eye at Manchester Royal Eye Hospital in the UK, as part of a ground-breaking study.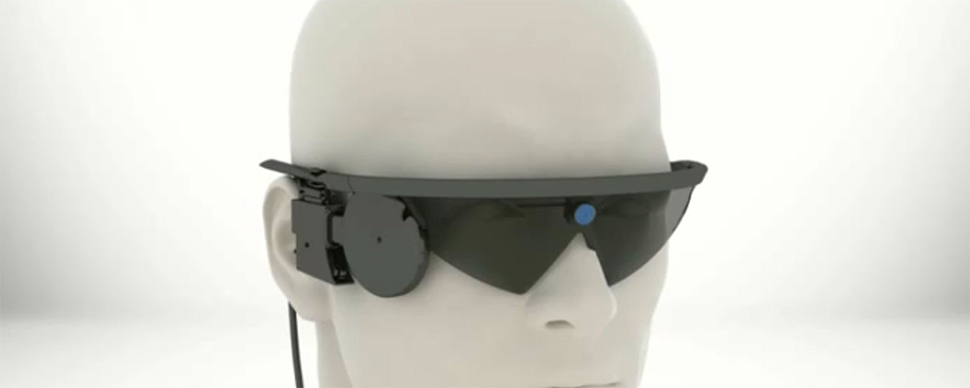 Second Sight – a developer of visual prosthetics – yesterday announced the first implant and successful activation of the Argus II Retinal Prosthesis System (Argus II) in a dry age-related macular degeneration (AMD) patient. Ray Flynn, 80, who has total loss of his central vision, can now make out the direction of white lines on a computer screen using the retinal implant. In an interview with the BBC, Mr Flynn said he was "delighted" with the implant and hoped in time it would improve his vision sufficiently to help him with day-to-day tasks like gardening and shopping.
The implant is part of a feasibility study aiming to evaluate the safety and utility of the Argus II System in individuals with late-stage Dry AMD, a condition that severely affects central vision. The implant was performed at the Manchester Royal Eye Hospital in the United Kingdom by Dr. Paulo Stanga MD, Consultant Ophthalmologist & Vitreoretinal Surgeon. The device was activated approximately two weeks after implantation, and initial reports confirm that Flynn is receiving some useful vision. The Argus II has already been tested and approved in the United States and Europe for individuals with Retinitis Pigmentosa (RP) and Outer Retinal Degeneration, respectively.
"The difference between RP and Dry AMD is that RP primarily affects the peripheral vision, whereas AMD primarily affects the central vision. Retinal implants for individuals with AMD may restore some useful vision in their central visual field, which is non-functional due to degeneration of the photoreceptors. The goal in restoring this central vision is to provide individuals with AMD more natural vision and ultimately improve their independence and quality of life," says Dr. Stanga. "This is totally ground-breaking research, where positive results from the study could provide advanced Dry AMD patients with a new alternative treatment."
The Argus II works by using a video camera mounted on sunglasses worn by the patient. This transmits images to a chip inside the eye, which shares the signals with an array of 60 electrodes (in a 6 × 10 grid). These electrodes convey electric fields to neural impulses, which are sent to the brain and interpreted as vision, restoring the ability to discern light, movement and shapes.

Eligibility for this study includes patients 25 to 85 years of age with advanced dry AMD, some residual light perception, and a previous history of useful form vision. Study subjects will be followed for three years to evaluate safety and utility of the Argus II system on visual function. Pending positive study results, the company plans to conduct a larger study to support market approvals. It is estimated that two million individuals worldwide are legally blind due to AMD and 375,000 people are blinded by RP.
Second Sight Chief Executive Officer, Dr. Robert Greenberg, comments: "We are very excited to begin such an important study for this patient population and to have the opportunity to help a great deal more people living with blindness. Though it is obviously still early in this clinical trial, we are very encouraged by these initial results."
The launch of this study is another step toward Second Sight's mission to enable blind people to achieve greater independence. Earlier this year, the first Orion I Visual Cortical Prostheses were implanted in animals to evaluate fit, form, stability, and biocompatibility. Human trials for the Orion I are planned to commence by Q1 2017. If successful, the Orion I has the potential to address nearly all forms of blindness.
4th July 2015
The first comprehensive analysis of the woolly mammoth genome
The first comprehensive analysis of the mammoth genome has been completed – revealing a number of traits that enabled the animals to survive the Arctic cold.
2015 is turning out to be a significant year for research on mammoths. In March, DNA from an ancient specimen was spliced into that of an elephant and shown to be functional for the first time. In April, a team sequenced the entire genome of the extinct animal. Following those breakthroughs, it is now reported that scientists have completed the first detailed analysis of the genome, revealing extensive genetic changes that helped mammoths adapt to life during the Ice Age.
The research was published this week in the peer-reviewed journal Cell Reports. It concludes that mammoths possessed genes with striking differences to those found in elephants. These genes played roles in skin and hair development, fat metabolism, insulin signalling and numerous other traits for adaptation in extreme cold environments. Genes linked to physical traits such as skull shape, small ears and short tails were also identified. As a test of their function, a mammoth gene involved in temperature sensation was "resurrected" in the laboratory and its protein product characterised.
"This is by far the most comprehensive study to look at the genetic changes that make a woolly mammoth a woolly mammoth," says Vincent Lynch, PhD, assistant professor of human genetics at the University of Chicago. "They are an excellent model to understand how morphological evolution works, because mammoths are so closely related to living elephants, which have none of the traits they had."
Well-studied due to the abundance of skeletons, frozen carcasses and depictions in prehistoric art, these animals possessed long, coarse fur, a thick layer of subcutaneous fat, small ears and tails and a brown-fat deposit behind the neck which may have functioned similar to a camel hump. They last roamed the frigid tundra steppes of northern Asia, Europe and North America roughly 10,000 years ago.
Previous efforts to sequence preserved mammoth DNA were error-prone, or yielded insights into only a limited number of genes. Lynch and his team performed deep sequencing of two specimens to identify 1.4 million genetic variants unique to woolly mammoths. These are now known to have caused changes to the proteins produced by around 1,600 genes.
Of particular interest was a group of genes responsible for temperature sensation, which also play roles in hair growth and fat storage. The team used ancestral reconstruction techniques to "resurrect" the mammoth version of one of these genes, TRPV3. When transplanted into human cells in the lab, the mammoth TRPV3 gene produced a protein that was less responsive to heat than an ancestral elephant version of the gene. This result is supported by experiments with TRPV3 on mice, which prefer colder environments and have wavier hair than normal mice.
However, although the functions of these genes match well with the environment in which woolly mammoths were known to live, Lynch warns that it is not direct proof of their effects in live mammoths. Regulation of gene expression, for example, is extremely difficult to study through the genome alone.
"We can't know with absolute certainty the effects of these genes unless someone resurrects a complete woolly mammoth, but we can try to infer by doing experiments in the laboratory," he says. Lynch and his colleagues are now identifying candidates for other mammoth genes to functionally test, alongside planning experiments to study mammoth proteins in elephant cells.
High-quality sequencing and detailed analysis of genomes can serve as a blueprint for efforts to "de-extinct" the woolly mammoth, according to Lynch: "Eventually, we'll be technically able to do it," he states. "But the question is: if you're technically able to do something, should you do it? I personally think no. Mammoths are extinct and the environment in which they lived has changed. There are many animals on the edge of extinction we should be helping instead."
27th June 2015
Two important breakthroughs in pancreatic cancer
Pancreatic cancer is among the deadliest known cancers, with a very low survival rate. Two separate but related studies were recently published that offer new hope for both detecting and treating the disease.
In the USA, the five-year survival rate for pancreatic cancer is only around 7 per cent. Progress towards finding a cure has been very slow compared to other types of cancer with only small, incremental advances over the last few decades. At the current rate of progress, it will take almost two centuries for the survival figure to reach 100 per cent (see "When will cancer be cured?"). As death rates from other cancers begin to fall, the Pancreatic Cancer Action Network predicts that pancreatic cancer will rise from the 4th to the 2nd leading cause of cancer death by 2020.
Part of what makes pancreatic cancer so deadly is the fact that it tends to be detected at a very late stage. By the time a patient knows they have it, options for treatment are very limited and in many cases it is already terminal. Improving the early detection and diagnosis of the illness to expose hidden tumours has been a major focus of research.
This week, a new study by the M.D. Anderson Cancer Centre, part of the University of Texas, was published in the journal Nature. The paper describes a protein that is found on exosomes (tiny particles released by cancer cells). This protein results in "cancer exomes" that are known as GPC1+ crExos. Researchers were able to distinguish – with 100% accuracy – between healthier patients with a benign pancreatitic disease, and those with early stage pancreatic cancer itself – based on the presence of this protein. Levels of the protein were much lower after surgical removal of tumours. This finding could lead to a blood test that would allow doctors to screen for pancreatic cancer much more effectively.
"GPC1+ crExos were detected in small amounts of serum from about 250 patients with pancreatic cancer with absolute specificity and sensitivity, importantly distinguishing patients with [non-cancerous] pancreatitis from those with early- and late-stage pancreatic cancer," says Dr. Raghu Kalluri, chair of Cancer Biology, in an accompanying press release. "This presents an unprecedented opportunity for informative early detection of pancreatic cancer and in designing potential curative surgical options."
In addition, he says: "GPC1+ crExos can be detected and isolated in blood samples that were stored in freezers almost 30 years ago, unlike circulating tumour cells (CTCs) that require large amounts of fresh blood. DNA, RNA and proteins can be isolated from cancer exosomes isolated from stored specimens for further genetic and biological analyses. Therefore, cancer exosomes are not just a biomarker – but isolating them provides a trove of cancer-specific information."
The study found that GPC1+ crExos detected the possibility of pancreatic cancer in mouse models, at a time when the mice showed no signs of pancreatic disease from MRI scans.
"Routine screening of the general population for pancreatic cancer using MRIs or CTs would be prohibitively expensive with the likelihood for many false positives," says David Piwnica-Worms, Ph.D., chair of Cancer Systems Imaging. "Our study suggests the potential for GPC1+ crExos as a detection and monitoring tool for pancreatic cancer in combination with imaging – with an emphasis on its application in early detection."
A second, separate paper was published this month in the journal Scientific Reports. This study explains how scientists from University College London (UCL) designed a new chemical compound, able to reduce the growth of pancreatic cancer tumours in mice by 80%. This compound – known as MM41 – can block faulty genes by targeting little knots in their DNA, called quadruplexes, which are very different from normal DNA and are especially found in faulty genes. It is confirmed that MM41 has a strong inhibiting effect on two genes – k-RAS and BCL-2 – both of which are found in the majority of pancreatic cancers.
The UCL team, led by Professor Stephen Neidle, conducted a small-scale trial involving two groups of eight mice with pancreatic tumours using different doses of the compound, twice a week for 40 days. A further control group received no treatment. The tumours in the group given the larger dose decreased by an average of 80% during the treatment period, and after 30 days, regrowth stopped in all the mice. For two of the mice in this group, the tumour disappeared completely with no signs of regrowth at all following the end of treatment, for a further 239 days (equivalent to the rest of their average natural life span).
Analysis of the mice tumours showed that the MM41 compound had been taken up into the nucleus of the cancer cells, showing that it was able to effectively target the pancreatic cancer tumour. No significant side effects were observed on the mice during the study: there was no damage to other tissue or organs and none of the mice showed any significant weight loss.
Discussing the results, Neidle explained: "This research provides a potentially very powerful alternative approach to the way that conventional drugs tackle pancreatic cancer, by targeting a very specific area of the DNA of faulty genes. One of the genes that MM41 blocks – the BCL-2 gene – is involved in regulating apoptosis, the body's natural process which forces cells to die if they become too damaged or unhealthy to be repaired. BCL-2 is present in high amounts in many tumours and helps cancer cells to survive, but when the BCL-2 gene is blocked by MM41 in mice, the cancer cells succumb to apoptosis and die."
Neidle stresses that although these results are exciting, MM41 is not ideal for trialling in humans and further refinements are needed: "We are now working to optimise this class of compounds, but it's clearly worthy of further investigation for potential use in treating pancreatic cancer in people."
19th June 2015
First full genome of a living organism sequenced and assembled using technology the size of smartphone
Researchers in Canada and the U.K. have for the first time sequenced and assembled de novo the full genome of a living organism, the bacteria Escherichia Coli, using Oxford Nanopore's MinION device – a genome sequencer that can fit in the palm of your hand.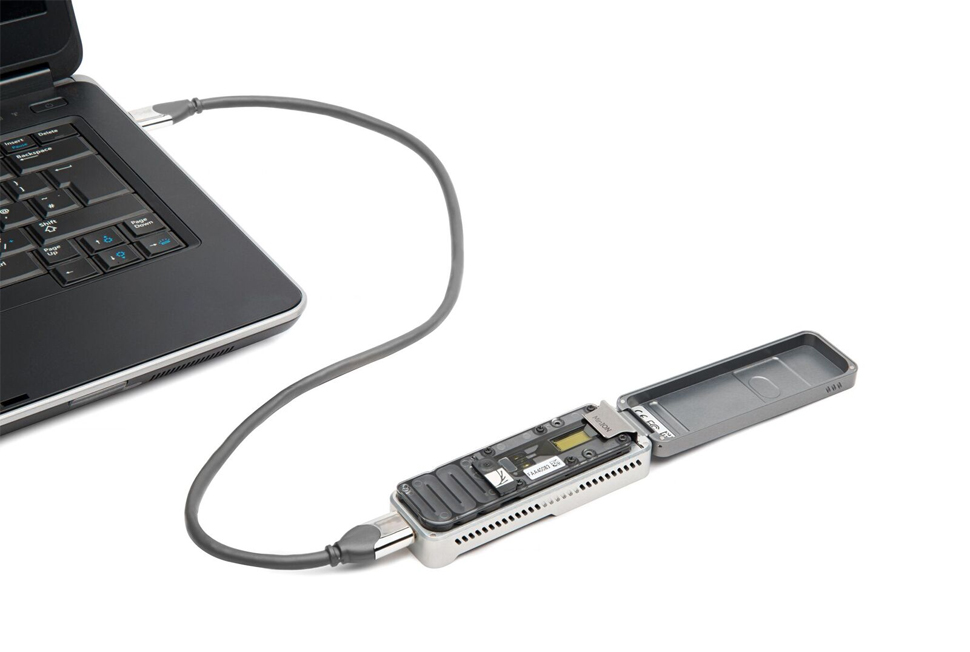 The findings, published this week in the journal Nature Methods, provide proof of concept for the technology and the methods lay the groundwork for using it to sequence full (as opposed to partial) genomes in increasingly more complex organisms – eventually including humans – said Jared Simpson, Principal Investigator at the Ontario Institute for Cancer Research and a lead author on the study.
"The amazing thing about this device is that it is many times smaller than a normal sequencer – you just attach it to a laptop using a USB cable," said Simpson. "And while our work is a demonstration of the capabilities of the technology, the most significant advance is in the methods. We were able to mathematically model nanopore sequencing and develop ways to reconstruct complete genomes off this tiny sequencer."
While standard sequencing platforms can either generate vast amounts of data, or read long enough stretches of the genome to allow complete reconstruction, the Nanopore device has the potential to achieve both goals, according to Simpson: "Long reads are necessary to assemble the most repetitive parts of genomes but we need a lot of reads if we want to sequence human genomes. The small size of the MinION suggests there is room to scale up and sequence larger and more complex samples," Simpson said.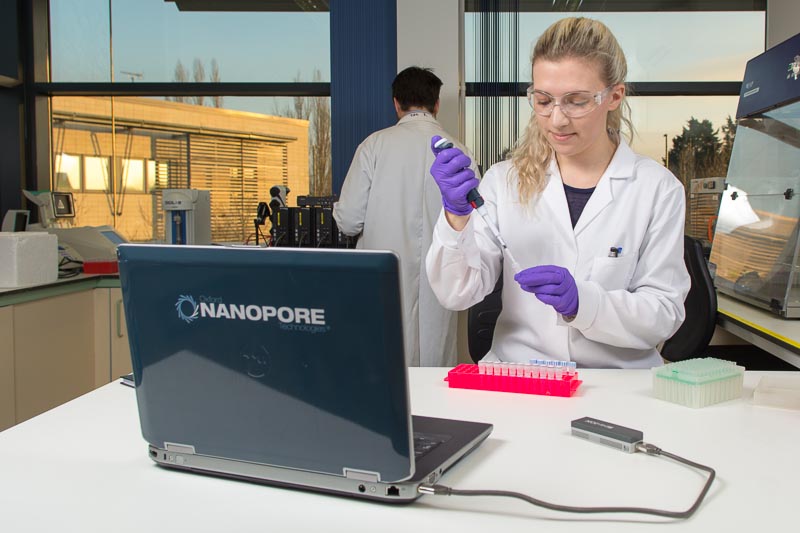 A drawback of the technology is that the single reads it produces are currently less accurate than the reads produced by larger devices. Strong bioinformatics tools are needed to correct errors. The methods Simpson and colleagues developed are able to overcome the error rate and compute a more accurate final sequence.
"This was a fantastic example of a successful long distance research collaboration between Canada and the U.K.," said Dr. Nicholas Loman, a co-lead author on the paper and an Independent Research Fellow from the Institute of Microbiology and Infection at University of Birmingham. "We explored new ways of working, including hosting a hackathon to explore new algorithm development and using shared computing resources on the Medical Research Council funded Cloud Infrastructure for Microbial Bioinformatics (CLIMB) based in the U.K. Midlands and Wales."
The method of assembly the authors devised had three stages. First, overlaps between sequence reads are detected and corrected using a multiple alignment process. Then the corrected reads are assembled using the Celera assembler and finally the assembly is refined using a probabilistic model of the electric signals caused by DNA moving through the nanopore.
"This work has incredible potential," said Dr. Tom Hudson, President and Scientific Director of the Ontario Institute for Cancer Research. "Scaled up, this technology could one day be used to sequence tumour genomes. The device's portable nature would allow for sequencing to become far more accessible, bringing the option of more personalised diagnosis and treatment to more patients."
As the speed, accuracy and cost of whole genome sequencing continues to improve, a wide range of practical applications will become possible. Investigators at crime scenes, for example, could analyse biological evidence without having to return to the laboratory. Foreign aid workers in developing nations could identify viruses and verify water quality. Food inspectors could check for harmful pathogens in restaurants. Wildlife biologists could study genes in the field.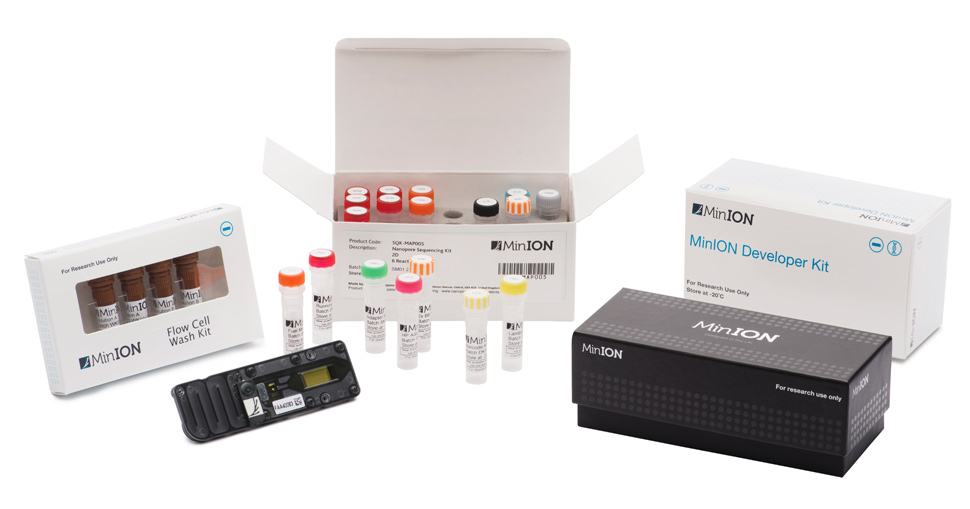 18th June 2015
World's most lifelike bionic hand will transform the lives of amputees
A congenital amputee from London has become the first user in the UK to be fitted with a new prosthetic hand that launches this week and sets a new benchmark in small myoelectric hands.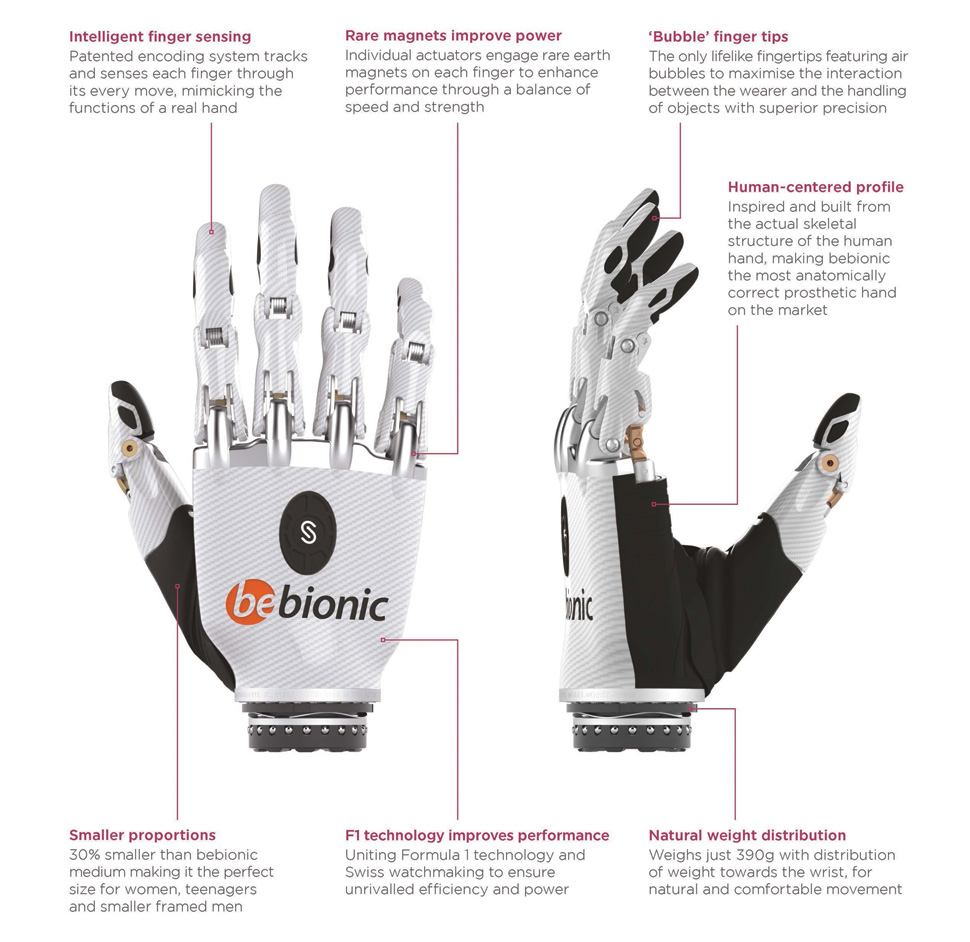 Developed using Formula 1 technology and specifically in scale for women and teenagers, the bebionic small hand is built around an accurate skeletal structure with miniaturised components designed to provide the most true-to-life movements.
The bebionic small hand, developed by prosthetic experts Steeper, will enable fundamental improvements in the lives of thousands of amputees across the world. The hand marks a turning point in the world of prosthetics as it perfectly mimics the functions of a real hand via 14 different precision grips. A bionic extension of the arm that enables the utmost dexterity will enable amputees to engage in a range of activities that would have previously been complex and unmanageable.
Nicky Ashwell, 29, born without a right hand, received Steeper's latest innovation at a fitting by London Prosthetics Centre, a private facility providing expert services in cutting-edge prosthetics. Before being fitted with the bebionic small hand, Nicky would use a cosmetic hand without movement; as a result, Nicky learned to carry out tasks with one hand. The bebionic small hand has been a major improvement to Nicky's life, enabling her to do things previously impossible with one hand such as riding a bike, gripping weights with both hands, using cutlery and opening her purse.
Nicky, who is a Product Manager at an online fashion forecasting and trend service, said: "When I first tried the bebionic small hand it was an exciting and strange feeling; it immediately opened up so many more possibilities for me. I realised that I had been making life challenging for myself when I didn't need to. The movements now come easily and look natural; I keep finding myself being surprised by the little things, like being able to carry my purse while holding my boyfriend's hand. I've also been able to do things never before possible like riding a bike and lifting weights."
Bebionic small hand works using sensors triggered by the user's muscle movements that connect to individual motors in each finger and powerful microprocessors. The technology comprises a unique system which tracks and senses each finger through its every move – mimicking the functions of a real hand. Development follows seven years of research and manufacturing, including the use of Formula 1 techniques and military technology along with advanced materials including aerograde aluminium and rare Earth magnets.
Ted Varley, Technical Director at Steeper said, "Looking to the future, there's a trend of technology getting more intricate; Steeper has embraced this and created a smaller hand with advanced technology that is suitable for women and teenagers. An accurate skeletal structure was firstly developed, with the complex technology then specifically developed to fit within this in order to maintain anatomical accuracy. In other myoelectric hands the technology is developed first, at the expense of the lifelikeness."
Bebionic small hand at a glance:
• Contains 337 mechanical parts
• 14 grip patterns and hand positions to allow a range of precision movements
• Weighs approximately 390g – the same as a large bar of Galaxy chocolate
• 165mm from base to middle fingertip – the size of an average woman's hand
• Strong enough to handle up to 45kg – around the same as 25 bricks
• The only multi-articulated hand with patented finger control system using rare Earth magnets
• Specifically designed with women, teenagers and smaller-framed men in mind
21st May 2015
Brain plasticity restored in older mice
Scientists have reactivated neuroplasticity in older mice, restoring their brains to a more youthful state. In the future, this treatment could be replicated in human patients.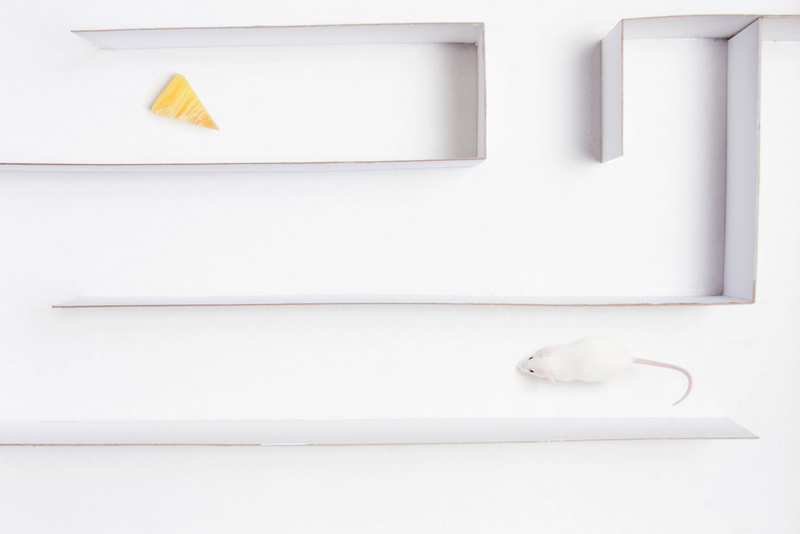 In the adult brain, connections are difficult to change – while in children, novel experiences rapidly mould new connections during critical periods of their brain development.
At the University of California, Irvine, neurobiologist Sunil Gandhi and colleagues wanted to know whether the flexibility of the juvenile brain could be restored to the adult brain. Apparently, it can: they've successfully re-created a critical juvenile period in the brains of adult mice. In other words, the researchers have reactivated "brain plasticity" – the rapid and robust changes in neural pathways and synapses as a result of learning and experience. Their breakthrough could lead to new treatments for developmental brain disorders such as autism and schizophrenia.
The scientists achieved this by transplanting a certain type of embryonic neuron into the brains of adult mice. The transplanted neurons express GABA – a chief inhibitory neurotransmitter that aids in motor control, vision and other cortical functions. Just as older muscles lose youthful flexibility, older brains lose plasticity. But in the Gandhi study, the transplanted GABA neurons created a new period of heightened plasticity that allowed for vigorous rewiring of the adult brain. In a sense, old brain processes became young again.
In early life, normal visual experience is crucial to properly wire connections in the visual system. Impaired vision during this time leads to a long-lasting visual deficit known as amblyopia. In an attempt to restore normal sight, the researchers transplanted GABA neurons into the visual cortex of adult amblyopic mice.
"Several weeks after transplantation, when the donor animal's visual system would be going through its critical period, the amblyopic mice started to see with normal visual acuity," said Melissa Davis, a postdoctoral fellow and lead author of the study.
These results raise hopes that GABA neuron transplantation might have future clinical applications. This line of research is also likely to shed light on the basic brain mechanisms that create critical periods.
"These experiments make clear that developmental mechanisms located within these GABA cells control the timing of the critical period," said Gandhi.
He added that the findings point to the use of GABA cell transplantation to enhance retraining of the adult brain after injury. Furthermore, this work sparks new questions as to how these transplanted GABA neurons reactivate plasticity – the answers to which might lead to therapies for currently incurable brain disorders.
10th May 2015
3-D technology detects 40 percent more breast cancers than mammography
A new 3-D technology known as tomosynthesis has been shown to detect 40 percent more breast cancers than mammography, while also lowering the radiation dose.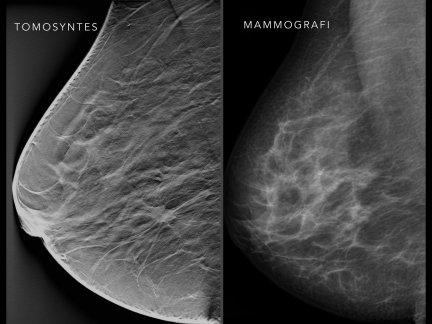 Breast cancer is the most common type of cancer in women worldwide. More than 1.7 million cases were diagnosed in 2012, with half a million deaths in the same year. Tomosynthesis detects 40% more breast cancers than traditional mammography does, according to a major screening study from Lund University, Sweden. This is the first large-scale study to compare the screening method with regular mammograms. The new 3-D X-ray technique is also more comfortable for women, as breast compression is halved. A total of 7,500 women aged 40–74 took part in the first half of the study, which formed the basis for the findings.
"We see a change as inevitable. Breast tomosynthesis will be introduced, it is just a question of when and on what scale," explains Sophia Zackrisson and Kristina Lång, radiologists at Skåne University Hospital in Malmö and researchers at Lund University.
Breast tomosynthesis works on the same principle as tomography. This means that X-ray images of the breast are acquired from different angles, which can then show multiple thin layers of the breast. This is compared with a traditional mammography, where all the breast tissue is reproduced in a single 2-D image, which can hinder the early detection of tumours.
The new technique also reduces discomfort and pain, because the breast does not have to be compressed as firmly as in the current examination technique. This could lead to higher levels of participation in future screening programmes. Among the other advantages are lower radiation doses than in traditional mammography, and the ready availability of the equipment on the market, which would facilitate a transition.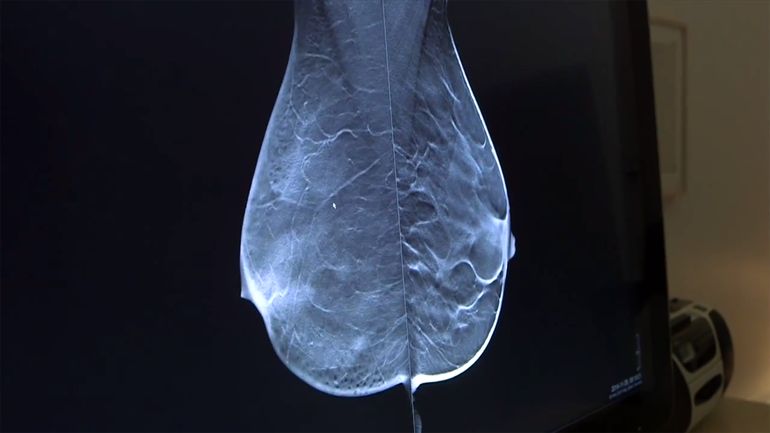 However, there are a few challenges remaining before the method can be introduced on a large scale. As with other screening methods, there is a risk of overdiagnosis (in mammography screening, the figure is 10–20 per cent). The researchers do not know what that number is for tomosynthesis, and further studies are needed to investigate the rate of overdiagnosis with tomosynthesis.
The study found that there was an increase in the recall rate, meaning more healthy women with benign lesions were recalled for further testing. This is a major drawback in screening, says Kristina Lång, as it can cause unnecessary psychological stress.
The ongoing research will also look at costs. Breast tomosynthesis is a somewhat more expensive technique.
"We see five to ten years from now as a possible timeframe for the large-scale introduction of the technique. There is also an aspiration for more personalised screening, and breast tomosynthesis could therefore be one of several methods used", concludes Sophia Zackrisson.
30th April 2015
Rubella has been eradicated from the Americas
The World Health Organisation (WHO) has officially declared that rubella – also known as the German measles – has been eradicated from the Western Hemisphere.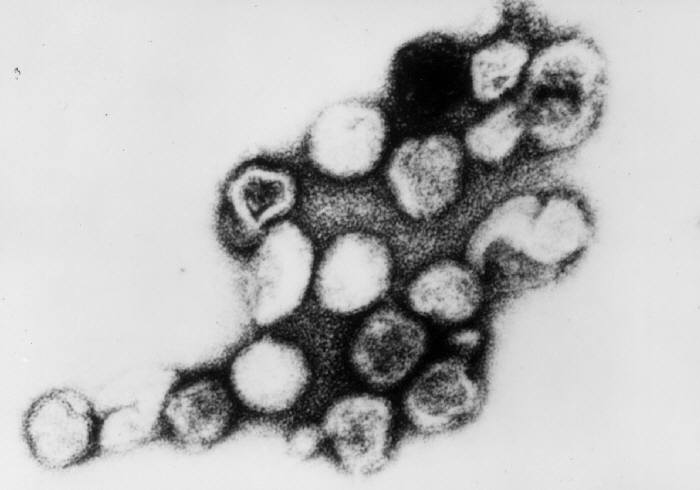 The Americas region has become the first in the world to be declared free of endemic transmission of rubella, a contagious viral disease that can cause multiple birth defects, as well as foetal death when contracted by women during pregnancy. This achievement culminates a 15-year effort that involved widespread administration of the measles, mumps and rubella (MMR) vaccine throughout the Western Hemisphere.
The declaration, made by an international expert committee during a meeting at the Pan American Health Organisation/World Health Organisation (PAHO/WHO), makes rubella the third disease to be eliminated from the Americas – following the regional eradication of smallpox in 1971 and the elimination of polio in 1994. Congenital rubella syndrome (CRS) becomes the fourth.
"The elimination of rubella from the Americas is a historic achievement that reflects the collective will of our region's countries to work together to achieve ambitious public health milestones," said PAHO/WHO Director, Carissa Etienne. "Ours was the first region to eradicate smallpox, first to eliminate polio, and now the first to eliminate rubella. All four achievements prove the value of immunisation and how important it is to make vaccines available even to the remotest corners of our hemisphere."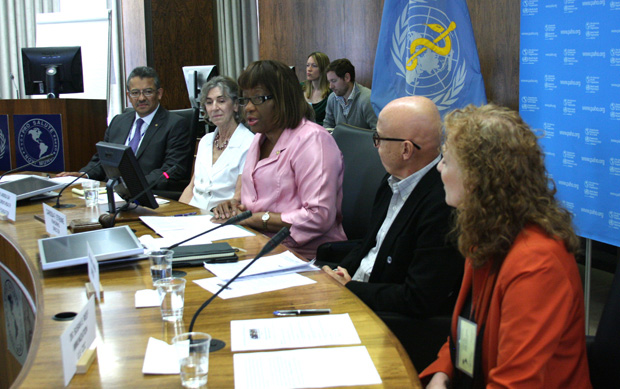 "Three years ago, governments agreed a Global Vaccine Action Plan. One of the plan's targets is to eliminate rubella from two WHO regions by end-2015. I congratulate the Americas Region for being the first region to achieve this," said Dr Margaret Chan, director general of the World Health Organisation.
Rubella, also known as German measles, caused widespread outbreaks throughout the Americas before the introduction of the MMR vaccine. Although the virus usually causes mild or asymptomatic infections in children and adults, when contracted by women early in pregnancy it can trigger miscarriage or CRS, an array of birth defects that includes blindness, deafness, and congenital heart defects. Before mass-scale rubella vaccination up to 20,000 or more children were born with CRS each year in Latin America and the Caribbean, while over 158,000 rubella cases were reported in 1997 alone. In the United States, 20,000 infants were born with CRS during the last major rubella outbreak (1964-65).
The last endemic (local origin) cases of rubella and CRS were reported in the Americas during 2009. Because the virus continues to circulate in other parts of the world, imported cases from outside the Americas have continued to be reported. Experts reviewed evidence provided by PAHO/WHO and concluded there was no endemic transmission of rubella or CRS for five consecutive years – exceeding the three-year requirement for declaring the disease eliminated. Other regions hoping to follow next include Eastern Europe, Russia and Central Asia.
"The fight against rubella has taken more than 15 years, but it has paid off with what I believe will be one of the most important Pan-American public health achievements of the 21st century," said Etienne. "Now it's time to roll up our sleeves and finish the job of eliminating measles as well."
24th April 2015
Human embryos genetically modified by Chinese scientists
In a world first, researchers at Sun Yat-sen University in Guangzhou, China, admit to having edited the genome of live human embryos to see the effect on a fatal blood disorder, thalassaemia.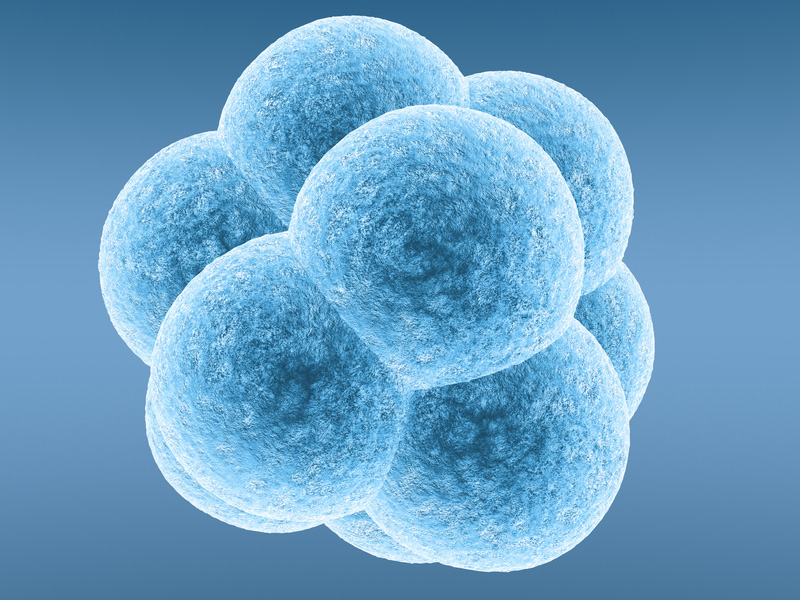 The research is banned in Europe – but Chinese scientists have confirmed that they recently edited the DNA of human embryos for the very first time. Researchers at Sun Yat-sen University, led by Junjiu Huang, have tried to ease concerns by explaining that they used non-viable embryos, which cannot result in a successful live birth, that were obtained from local fertility clinics. Huang's team used a revolutionary new technique known as CRISPR/Cas9, discovered by scientists at MIT.
A total of 86 embryos were injected with the Cas9 protein and left for two days while the gene-editing process took place. Of these, 71 survived and subsequent tests revealed that 28 were successfully spliced, but only a fraction contained the genetic material needed to prevent the fatal blood disorder thalassaemia. Unexpected mutations were also noticed in the genes.
"I think that this is a significant departure from currently accepted research practice," said Shirley Hodgson, Professor of Cancer Genetics, St George's University of London. "Can we be certain that the embryos that the researchers were working on were indeed non-viable? Any proposal to do germline genetic manipulation should be very carefully considered by international regulatory bodies before it should be considered a serious research prospect."
"This news emphasises the need for an immediate global ban on the creation of GM designer babies," comments Dr David King, director of UK watchdog Human Genetics Alert. "It is critical that we avoid a eugenic future in which the rich can buy themselves a baby with built-in genetic advantages. It is entirely unnecessary since there are already many ethical ways to avoid thalassaemia. This research is a classic example of scientific careerism – assuring one's place in the history books even though the research is unnecessary and unethical."
"The study is a landmark, as well as a cautionary tale," says George Daley, a stem-cell biologist at Harvard Medical School in Boston. "Their study should be a stern warning to any practitioner who thinks the technology is ready for testing to eradicate disease genes."
The research appears in the journal Protein and Cell after the prestigious journals Nature and Science refused to publish it on ethical grounds.