28th October 2014
Blood vessels grown from stem cells in just seven days
Using stem cells from only 25 millilitres of blood, researchers have grown new blood vessels in just seven days – compared to a month for the same process using bone marrow.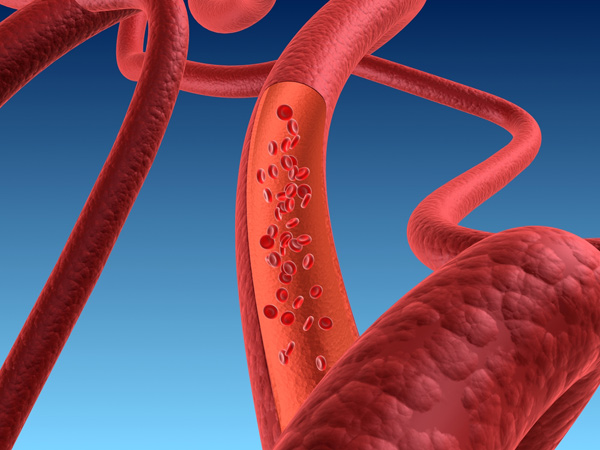 Technology for making new tissues from stem cells has taken a huge leap forward. Two tablespoons of blood are all that is needed to grow a brand new blood vessel in just seven days. This breakthrough is reported from Sahlgrenska Academy and Sahlgrenska University Hospital in Gothenburg, Sweden and published in the journal EBioMedicine.
Three patients, all young children, were missing a vein that goes from the gastrointestinal tract to the liver. The procedure was planned and carried out by Suchitra Sumitran-Holgersson (Professor of Transplantation Biology at Sahlgrenska Academy), and Michael Olausson (Surgeon/Medical Director of the Transplant Centre and Professor at Sahlgrenska Academy).
"We used the stem cells of the patients to grow a new blood vessel that would permit the two organs to collaborate properly," says Michael Olausson.
In developing their new technique, however, they found a way to extract stem cells without taking them from the bone marrow.
"Drilling in the bone marrow is very painful," explains Professor Sumitran-Holgersson. "It occurred to me that there must be a way to obtain the cells from the blood instead."
The fact that the patients were so young fuelled her passion to look for a new approach. The method involved taking 25 millilitres (about 2 tablespoons) of blood, the minimum quantity needed to obtain enough stem cells. Sumitran-Holgersson's idea turned out to surpass her wildest expectations – the extraction procedure worked perfectly the very first time.
"Not only that, but the blood itself accelerated growth of the new vein," she says. "The entire process took only a week, as opposed to a month in the [case of bone marrow]. The blood contains substances that naturally promote growth."
Perhaps in the future, these substances might be exploited more fully, to reduce growth times even further.
So far, the team has treated three patients. Two of the three are still doing well and have veins that are functioning as they should. In the third case, the child is under medical surveillance and the outcome is more uncertain. The team is confident they can make further progress.
"We believe that this technological progress can lead to dissemination of the method for the benefit of additional groups of patients, such as those with varicose veins or myocardial infarction, who need new blood vessels," says Professor Holgersson. "Our dream is to be able to grow complete organs as a way of overcoming the current shortage from donors."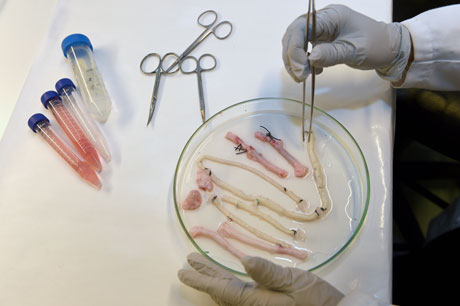 27th October 2014
Toxic stem cells to fight brain tumours
Scientists at Harvard have announced a new method of using toxic stem cells to fight brain tumours, without killing normal cells or themselves. This procedure could be ready for human clinical trials within five years.
Brain cancer has a five-year survival rate of only 35% (see "When will cancer be cured?"). Harvard Stem Cell Institute scientists at Massachusetts General Hospital have devised a new way to use stem cells in the fight against this disease. A team led by neuroscientist Khalid Shah, PhD, now has a way to genetically engineer stem cells able to produce tumour-killing toxins.
In the AlphaMed Press journal STEM CELLS, Shah's team shows how the toxin-secreting stem cells can be used to eradicate cancer cells remaining in mouse brains after their main tumour has been removed. The stem cells are placed at the site encapsulated in a biodegradable gel. This method solves the delivery issue that probably led to the failure of recent clinical trials aimed at delivering purified cancer-killing toxins into patients' brains. Shah and his team are currently pursuing FDA approval to bring this and other stem cell approaches developed by them to clinical trials.
"Cancer-killing toxins have been used with great success in a variety of blood cancers – but they don't work as well in solid tumours, because the cancers aren't as accessible and the toxins have a short half-life," explains Shah. "A few years ago, we recognised that stem cells could be used to continuously deliver these therapeutic toxins to tumours in the brain, but first we needed to genetically engineer stem cells that could resist being killed themselves by the toxins. Now, we have toxin-resistant stem cells that can make and release cancer-killing drugs."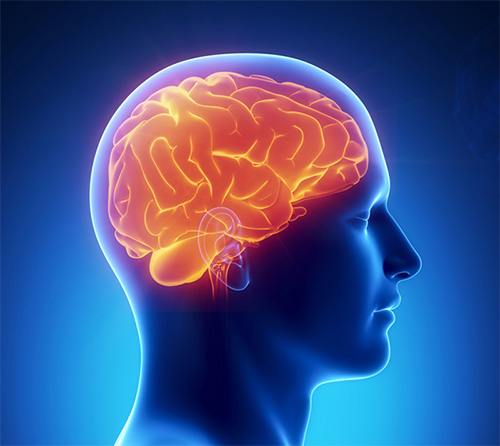 Cytotoxins are deadly to all cells – but since the late 1990s, researchers have been able to "tag" toxins in such a way that they only enter cancer cells with specific surface molecules; making it possible to get a toxin into a cancer cell without posing a risk to normal cells. Once inside of a cell, the toxin disrupts the cell's ability to make proteins and, within days, the cell starts to die.
Shah's stem cells escape this fate because they are made with a mutation that doesn't allow the toxin to act inside the cell. The toxin-resistant stem cells also have an extra bit of genetic code that allows them to make and secrete the toxins. Any cancer cells that these toxins encounter do not have this natural defense and therefore die. Shah and his team induced toxin resistance in human neural stem cells and subsequently engineered them to produce targeted toxins.
"We tested these stem cells in a clinically relevant mouse model of brain cancer, where you resect the tumours and then implant the stem cells encapsulated in a gel into the resection cavity," he said. "After doing all of the molecular analysis and imaging to track the inhibition of protein synthesis within brain tumours, we do see the toxins kill the cancer cells and eventually prolonging the survival in animal models of resected brain tumours."
Chris Mason, professor of regenerative medicine at University College London, says: "This is a clever study, which signals the beginning of the next wave of therapies. It shows you can attack solid tumours by putting 'mini pharmacies' inside the patient, which deliver the toxic payload direct to the tumour. Cells can do so much. This is the way the future is going to be."
Shah next plans to rationally combine the toxin-secreting stem cells with a number of different therapeutic stem cells developed by his team to further enhance their positive results in mouse models of glioblastoma, the most common brain tumour in human adults. Shah predicts that he will bring these therapies into clinical trials within the next five years.
23rd October 2014
Three cups of coffee a day can reduce the risk of abnormal liver enzyme levels by 25 percent, regardless of how much caffeine it contains.
If you're looking for ways to extend your lifespan, then coffee might be a good choice. Researchers at the National Cancer Institute report that it may significantly benefit liver health. Their study, published this month in Hepatology, shows that higher coffee consumption – regardless of how much caffeine it contains – results in lower levels of abnormal liver enzymes. This suggests that chemical compounds in coffee other than caffeine may help to protect the liver.
Coffee consumption is highly prevalent, with more than half of all Americans over 18 drinking on average three cups per day, according to a 2010 report from the National Coffee Association. Moreover, consumption has increased by between 1-2% each year since the 1980s. Previous studies have found that coffee may lower the risk of developing diabetes, cardiovascular disease, non-alcoholic fatty liver disease, cirrhosis and liver cancer.
"Prior research found that drinking coffee may have a possible protective effect on the liver," said lead author Dr. Qian Xiao. "However, the evidence is not clear if that benefit may extend to decaffeinated coffee."
For this study, researchers examined the coffee-drinking habits of 28,000 people, using data from a national health survey conducted from 1999-2010. 14,000 of the subjects drank coffee. Several markers were compared to determine liver function, including blood levels of four enzymes. After adjusting for age, sex, race, education, smoking, alcohol consumption and other factors, the researchers found that compared with people who drank no coffee, those who drank three cups a day were about 25 percent less likely to have abnormal liver enzyme levels. Among the 2,000 or so who drank only decaffeinated coffee, the results were similar.
Dr. Xiao concludes: "Our findings link total and decaffeinated coffee intake to lower liver enzyme levels. These data suggest that ingredients in coffee, other than caffeine, may promote liver health. Further studies are needed to identify these components."
In a related development, researchers last month sequenced the coffee genome.
10th October 2014
A cure for type 1 diabetes may be imminent
Researchers at Harvard University have turned human embryonic stem cells into cells that produce insulin, a potentially major advance for sufferers of diabetes.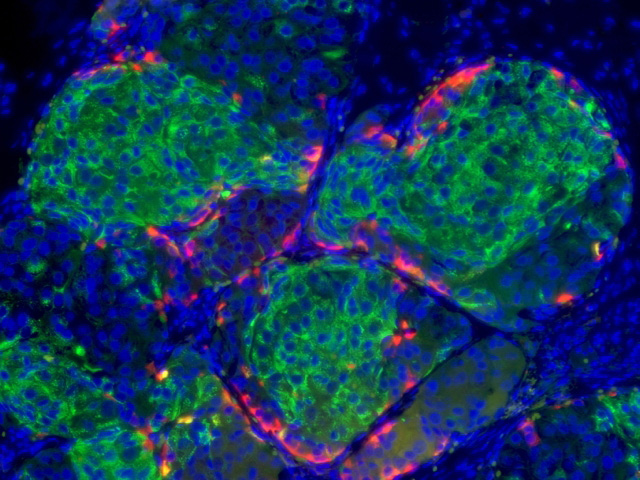 Harvard researchers have made a giant leap forward in the quest to find a truly effective treatment for type 1 diabetes, a condition that affects an estimated 22 million people worldwide. With human embryonic stem cells as a starting point, the scientists produced for the first time – in the kind of massive quantities needed for cell transplantation and pharmaceutical uses – human insulin-producing beta cells equivalent in most every way to normally functioning beta cells.
"We are now just one pre-clinical step away from the finish line," says Prof. Douglas Melton, who led the work and has been researching the disease for nearly 25 years. "You never know for sure that something like this is going to work until you've tested it numerous ways. We've given these cells three separate challenges with glucose in mice and they've responded appropriately; that was really exciting. It was gratifying to know that we could do something that we always thought was possible, but many people felt it wouldn't work. If we had shown this was not possible, then I would have had to give up on this whole approach. Now I'm really energised."
Elaine Fuchs, a Professor at Rockefeller University, who is not involved in the research, hailed it as "one of the most important advances to date in the stem cell field, and I join the many people throughout the world in applauding my colleague for this remarkable achievement."
"For decades, researchers have tried to generate human pancreatic beta cells that could be cultured and passaged long term under conditions where they produce insulin." Fuchs continued. "Melton and his colleagues have now overcome this hurdle and opened the door for drug discovery and transplantation therapy in diabetes."
Jose Oberholzer, Associate Professor at the University of Illinois at Chicago, said the work "will leave a dent in the history of diabetes. Doug Melton has put in a life-time of hard work in finding a way of generating human islet cells in vitro. He made it. This is a phenomenal accomplishment."
Type 1 diabetes is an autoimmune metabolic condition in which the body kills off all the pancreatic beta cells that produce the insulin needed for glucose regulation in the body. Thus, the final pre-clinical step in the development of a treatment involves protecting from immune system attack the approximately 150 million cells that would have to be transplanted into each patient being treated. Melton is collaborating with colleagues on the development of an implantation device to protect the cells. The device currently being tested has thus far protected beta cells implanted in mice from immune attack for many months. "They are still producing insulin," Melton said.
Cell transplantation as a treatment for diabetes is still essentially experimental, uses cells from cadavers, requires the use of powerful immunosuppressive drugs, and has been available to only a very small number of patients.
Daniel G. Anderson from MIT, who is working with Melton on the implantation device, said the new work by Melton's lab is "an incredibly important advance for diabetes. There is no question that ability to generate glucose-responsive, human beta cells through controlled differentiation of stem cells will accelerate the development of new therapeutics. In particular, this advance opens the doors to an essentially limitless supply of tissue for diabetic patients awaiting cell therapy."
"There have been previous reports of other labs deriving beta cell types from stem cells," said Melton. "No other group has produced mature beta cells as suitable for use in patients. The biggest hurdle has been to get to glucose sensing, insulin-secreting beta cells, and that's what our group has done."
Human transplantation trials using the cells are expected to start in the next few years. Melton's work was published yesterday in the journal Cell.
7th October 2014
Premature deaths could be reduced by 40% over next 20 years
New research published in The Lancet suggests that, with sustained international efforts, the number of premature deaths could be reduced by 40% over the next two decades (2010-2030), halving under–50 mortality and preventing a third of the deaths at ages 50–69 years.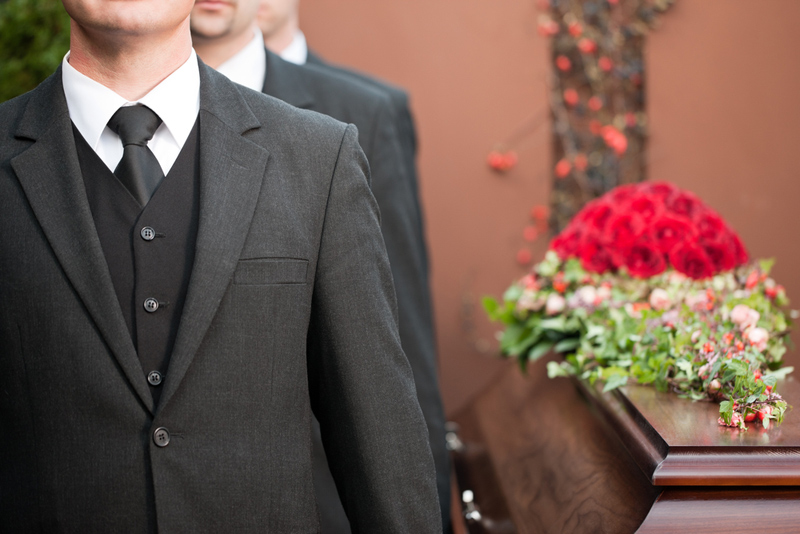 The Lancet reveals that, between 2000 and 2010, child deaths fell by one-third worldwide, helped by the fourth Millennium Development Goal (MDG) to reduce child deaths by two-thirds; and premature deaths among adults fell by one-sixth, helped by MDG 5 to reduce maternal mortality and MDG 6 to fight AIDS, malaria and other diseases. With expanded international efforts against a wider range of causes, these rates of decrease could accelerate, say the study authors.
The most striking change during 2000–2010 was a two-thirds reduction in childhood deaths from the diseases now controlled by vaccination (diphtheria, pertussis, tetanus, polio, and measles), highlighting what targeted international efforts can achieve.
"Death in old age is inevitable, but death before old age is not", said co-author Richard Peto, Professor of medical statistics at the University of Oxford, UK. "In all major countries, except where the effects of HIV or political disturbances predominated, the risk of premature death has been decreasing in recent decades, and it will fall even faster over the next few decades if the new UN Sustainable Development Goals get the big causes of death taken even more seriously."
The United Nations General Assembly has been discussing 17 Sustainable Development Goals for 2016–2030 to replace the MDGs that expire at the end of 2015. The new health goal is "Ensure healthy lives and promote well-being for all at all ages". The group of 16 authors, writing in The Lancet, call for this new health goal to be accompanied by a specific target to avoid in each country 40% of all premature deaths (of the deaths that would occur in the 2030 population of that country, if its 2010 death rates continued).
The 40% reduction from 2010 to 2030 in deaths before age 70 would involve reductions of two-thirds in the causes already being targeted by the MDGs, and a one-third reduction in other causes of premature death, such as non-communicable diseases and injuries.
Lead author Ole Norheim, Professor of global public health at the University of Bergen, Norway, explained, "Based on realistically moderate improvements in current trends, our proposed targets are a two-thirds reduction in child and maternal deaths and in HIV, tuberculosis, and malaria, and a one-third reduction in deaths from non-communicable diseases and injuries. For this, we are going to need improved healthcare, intensified international efforts to control communicable diseases, and more effective prevention and treatment of non-communicable diseases and injuries."
"The most important cause of non-communicable disease is tobacco use – and one of the key determinants of smoking is the price of cigarettes", says co-author Prabhat Jha, Director of the Centre for Global Health Research in St Michael's Hospital, Toronto. "WHO is calling for a 30% reduction in smoking by 2025, and in many countries major increases in excise taxes that double the price of cigarettes are still possible. Such an increase would reduce smoking by about a third, but would increase the total Government tax yield from smoking by about a third."
With political commitment and sustained efforts to improve health, the current rate of decline in premature death can be further accelerated. "We conclude that a 40% reduction in premature deaths is realistic in each country where mortality in 2030 is not dominated by new epidemics, political disturbances or disasters", adds Professor Norheim.
Writing in a linked Comment, the Norwegian Ministers of Foreign Affairs and of Health and Care say, "[This] study shows what an important part science could play in the negotiations at the 69th Session of the UN General Assembly. We strongly urge the medical community to develop a common position that can enable the international community to arrive at a single health SDG with a limited number of simple, understandable and measurable targets."
In another linked Comment, Professor Sir George Alleyne, Director Emeritus of the Pan American Health Organization (PAHO), Washington, DC, USA, and colleagues, write that, "The significant advance in this paper is to introduce quantification to the target-setting process, based on rigorous analysis of mortality trends by age as well as by disease category. The proposed targets focus on premature mortality and avoid more complex metrics which are much harder to measure and track over time. The authors stress the importance of countries adapting the targets to their own circumstances."
This study was funded by the UK Medical Research Council, Norwegian Agency for Development Co-operation, University of Toronto Centre for Global Health Research, and Bill and Melinda Gates Foundation.
4th October 2014
The first baby born from a womb transplant
Doctors in Sweden have announced the first baby born to a mother with a womb transplant. This pioneering operation offers hope to thousands of couples who are unable to conceive children.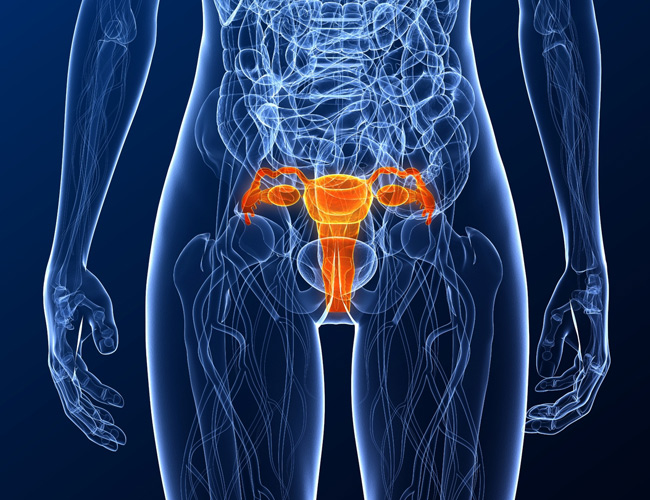 In 2013, researchers at the University of Gothenburg completed a series of nine womb transplants on women in Sweden. Among the patients was an unnamed 36-year-old with Mayer-Rokitansky-Küster-Hauser syndrome (MRKH), a rare condition that prevents the uterus from developing. Her ovaries were intact, however, so she could ovulate. This female became the recipient of a uterus donation from her 61-year-old family friend, the latter having gone through the menopause around seven years earlier.
Drugs were needed to suppress the immune system, which otherwise would have resulted in the organ being rejected. Alongside this, IVF was used to produce 11 embryos, frozen and stored for later use. In January 2014, a year after the transplant, doctors successfully implanted one of these embryos into the patient, transferring it to her new womb. There were concerns over how well a transplanted uterus would cope with the strains of pregnancy, during which it swells greatly in size. The procedure had been attempted by scientists in the past – but in each case, it led to either a miscarriage or organ failure caused by disease.
On this occasion, however, the operation was successful. There were problems in the 31st week of pregnancy – as the mother developed a condition known as pre-eclampsia (characterised by high blood pressure) – but a caesarean section delivered a healthy baby boy weighing 3.9 pounds (1.8 kg); normal for that stage of pregnancy. British medical journal The Lancet has released a photo below and is due to publish a report on the case shortly.
This milestone in reproductive medicine – the culmination of more than 10 years' research and surgical training – offers hope to thousands of couples who are unable to conceive children. The doctor who led the work, Prof. Mats Brännström, has issued a note of caution, however. In an interview he stated it will be "many, many years" before this operation becomes routine. This is partly because of the extremely high cost, but also because it remains a new and somewhat experimental procedure, only performed by certain specialist surgeons in select centres and requiring various further studies.
Dr Allan Pacey, of the British Fertility Society says: "I think it is brilliant and revolutionary, and opens the door to many infertile women. The scale of it feels a bit like IVF. It feels like a step change. The question is can it be done repeatedly, reliably and safely."
"He's no different from any other child – but he will have a good story to tell," the father says. "One day, he can look at the newspaper articles about how he was born and know that he was the first in the world to be born this way."
29th September 2014
Breast cancer treatment breakthrough
A new drug for advanced breast cancer extends patients' lives by nearly 16 months, a 38 per cent improvement on current therapies.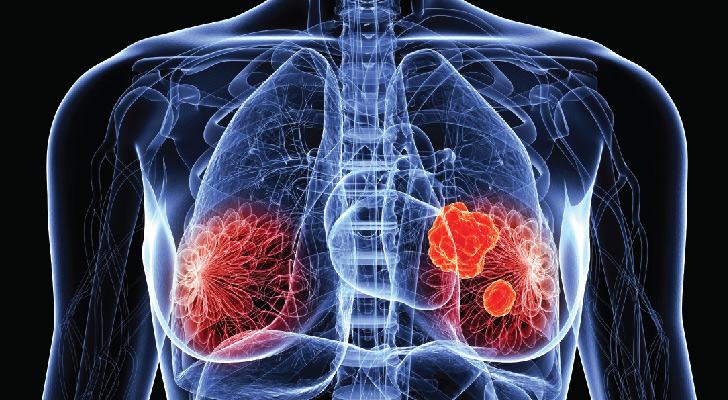 Pharmaceutical giant Roche has announced the final results of its Phase III clinical trials on Perjeta. This drug – when combined with existing treatments – offers "unprecedented" improvements in survival rates, according to the study of 808 people. Those patients with previously untreated HER2-positive metastatic breast cancer (an advanced form of the disease) who received Perjeta, Herceptin and docetaxel chemotherapy lived a median of 56.5 months compared to 40.8 months for patients who received only Herceptin and chemotherapy.
Breast cancer cells produce a gene known as HER2. This makes a protein called the HER2 receptor, which acts like a broadcast antenna, promoting the growth and spread of more cancer cells. Perjeta is designed to prevent these receptors from pairing with each other on cell surfaces, a mechanism that is complementary to Herceptin. Used together, they can provide a more comprehensive blockade of HER signalling pathways.
"Adding Perjeta to treatment with Herceptin and chemotherapy resulted in the longest survival observed to date in a clinical study of people with HER2-positive metastatic breast cancer," said Sandra Horning, M.D., Roche's Chief Medical Officer and Head of Global Product Development.
"These results are impressive," said Professor David Miles, who led the study for Roche. "They show a magnitude of survival benefit which we have never seen before in advanced breast cancer, let alone this particular type, previously regarded as having a poor prognosis and being difficult to treat."
In the US, approximately 230,000 people are diagnosed with breast cancer each year and 30% of those will eventually develop advanced (metastatic) forms of the disease. Perjeta in combination with Herceptin and chemotherapy is approved in the United States and the EU. It has also been granted accelerated approval as a neoadjuvant treatment (use before surgery) for early breast cancer by the U.S. Food and Drug Administration (FDA).
17th September 2014
Ebola outbreak "out of all proportion" and severity cannot be predicted
A mathematical model that replicates Ebola outbreaks can no longer be used to ascertain the eventual scale of the current epidemic, finds a study conducted by the University of Warwick.
Dr Thomas House, of the University's Warwick Mathematics Institute, developed a model that incorporated data from past outbreaks that successfully replicated their eventual scale. The research, titled Epidemiological Dynamics of Ebola Outbreaks and published by eLife, shows that when applying the available data from the ongoing 2014 outbreak to the model that it is, according to Dr House, "out of all proportion and on an unprecedented scale when compared to previous outbreaks".
Dr House commented: "If we analyse the data from past outbreaks, we are able to design a model that works for the recorded cases of the virus spreading and can successfully replicate their eventual size. The current outbreak does not fit this previous pattern and, as a result, we are not in a position to provide an accurate prediction of the current outbreak".
Chance events, he argues, are an essential factor in the spread of Ebola and many other contagious diseases: "If we look at past Ebola outbreaks, there is an identifiable way of predicting their overall size based on modelling chance events that are known to be important when the numbers of cases of infection are small and the spread is close to being controlled".
Chance events can include a person's location when they are most infectious, whether they are alone when ill, the travel patterns of those with whom they come into contact or whether they are close to adequate medical assistance. The Warwick model successfully replicated the eventual scale of these past outbreaks by analysing two key chance events: the initial number of people and the level of infectiousness once an epidemic is underway.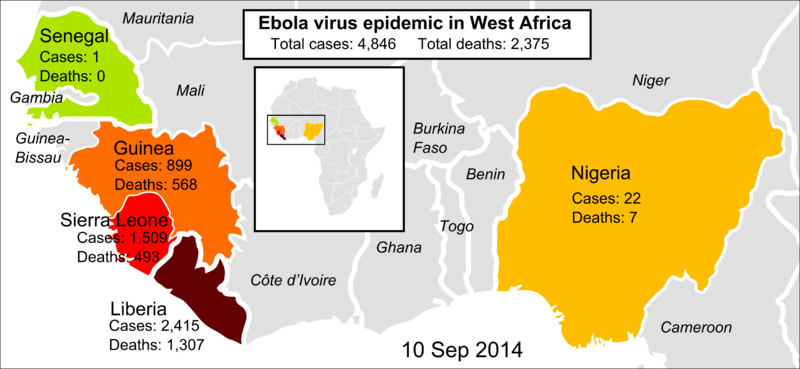 "With the current situation, we are seeing something that defies this previous pattern of outbreak severity," says Dr House. "As the current outbreak becomes more severe, it is less and less likely that it is a chance event – and more likely that something more fundamental has changed".
Discussing possible causes for the unprecedented nature of the current outbreak, Dr House argues that there could be a range of factors that lead it to be on a different scale to previous cases: "This could be as a result of a number of different factors: mutation of virus, changes in social contact patterns or some combination of these with other factors. It is implausible to explain the current situation solely through a particularly severe outbreak within the previously observed pattern".
In light of the research findings and the United Nations calling for a further $1bn USD to tackle the current outbreak, Dr House says that "Since we are not in a position to quantify the eventful scale of this unprecedented outbreak, the conclusion from this study is not to be complacent but to mobilise resources to combat the disease."
13th September 2014
The coffee genome is sequenced
The coffee genome has been published, with more than 25,000 genes identified. This reveals that coffee plants make caffeine using a different set of genes from those found in tea, cacao and other such plants. The new findings could help to improve coffee production in the future.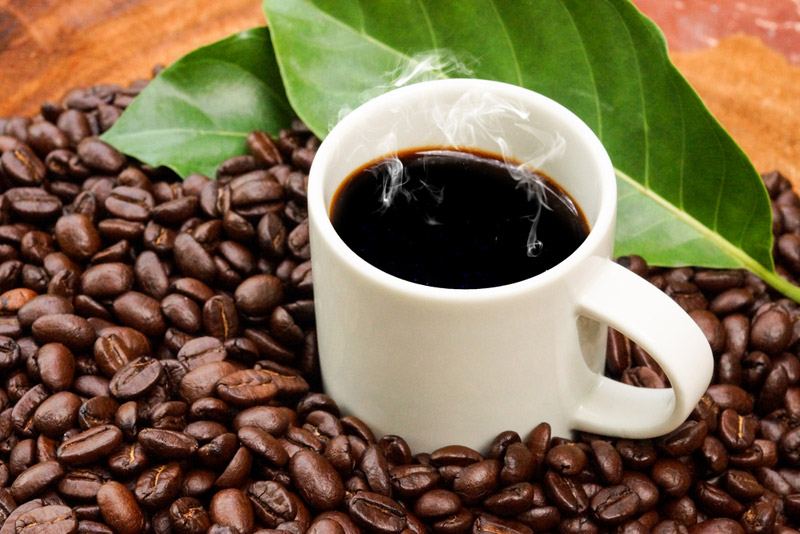 Researchers have published the genome of Coffea canephora, a plant which accounts for about 30 percent of the world's coffee production. By comparing the sequences and positions of genes in coffee, tea and cacao (chocolate) plants, they have shown how enzymes involved in producing caffeine likely evolved independently in each of these three organisms. In other words, coffee did not inherit caffeine-linked genes from a shared common ancestor – but instead developed the genes on its own.
Compared to several other plant species – including the grape and tomato – coffee has larger families of genes that relate to the production of alkaloid and flavonoid compounds, which contribute to qualities such as aroma and bitterness. Coffee also has an expanded collection of N-methyltransferases, enzymes that are involved in making caffeine.
Upon taking a closer look, the researchers found that coffee's caffeine enzymes are more closely related to other genes within the coffee plant than to caffeine enzymes in tea and chocolate. This provides evidence that caffeine production emerged independently in coffee. If this trait had been inherited from a shared common ancestor, the enzymes would have been more similar between species.
There are several possible reasons why caffeine is so important in nature. The chemical may help to deter pests, as well as nearby competitors by stunting their growth when coffee leaves fall on the soil. It may also facilitate pollination. One recent paper showed that – like humans – certain insects can develop caffeine addiction. Bees visiting caffeine-producing plants often returned to get another taste.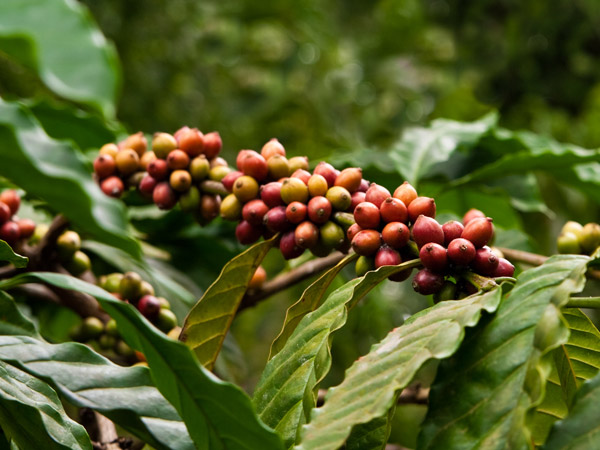 Worldwide, over 2.2 billion cups of coffee are consumed daily. It is the principal agricultural product of many tropical countries. According to estimates by the International Coffee Organisation, more than 8.7 million tons of coffee is produced each year from 110,000 sq km (42,500 sq mi) of land – an area equivalent in size to the U.S. state of Pennsylvania. Annual export revenue is $15.4 billion and the sector employs 26 million people in 52 countries.
Philippe Lashermes, at the French Institute of Research for Development: "Coffee is as important to everyday early risers as it is to the global economy. Accordingly, a genome sequence could be a significant step toward improving coffee."
In addition to new and exotic flavours, these improvements may include better resistance to drought and disease. Leaf rust, for example, is currently affecting about half the plants in Central America, in the worst outbreak since 1976. Scientists could also engineer the plants to grow faster and increase their output of coffee beans. Such genetic enhancements may prove vital in the future – a study in 2012 estimated that climate change alone will lead to the extinction of wild Arabica coffee (Coffea arabica) by the 2080s.
9th September 2014
Lifespan of fruit flies extended by 30 percent
Biologists have identified a gene that can slow the aging process throughout the entire body when activated "remotely" in key organ systems.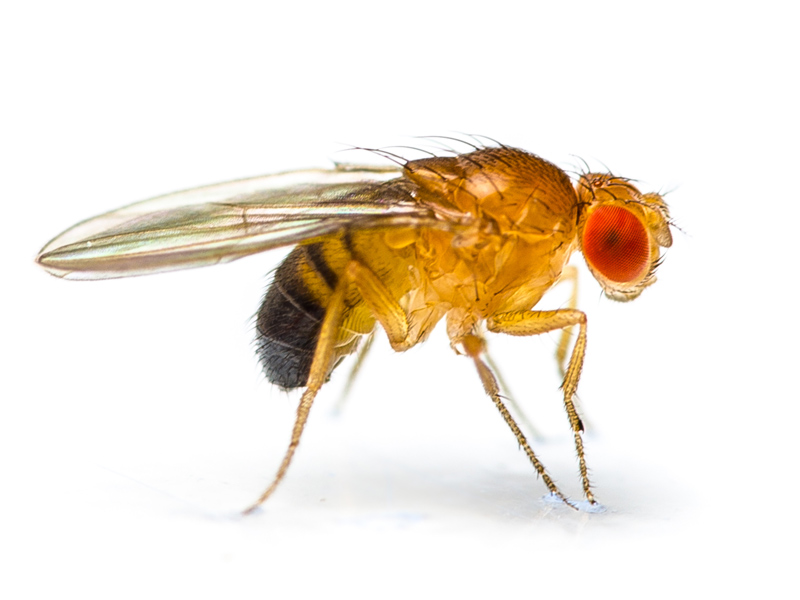 Working with fruit flies, scientists at the University of California, Los Angeles (UCLA), activated a gene known as AMPK. This gene is a key energy sensor within cells; it gets activated when cellular energy levels are low. Increasing the amount of AMPK in fruit flies' intestines boosted their lifespans by 30% – to eight weeks from the typical six – and the flies stayed healthier for longer as well. This is equivalent to extending the average human lifespan for OECD countries from 80 to 104.
The research, published in the journal Cell Reports, could have important implications for delaying aging and disease in humans, explains David Walker, associate professor of integrative biology and physiology at UCLA and senior author of the study.
"We have shown that when we activate the gene in the intestine or the nervous system, we see the aging process is slowed beyond the organ system in which the gene is activated," Walker said.
These findings are important because extending the healthy life of humans would presumably require protecting many of the body's organ systems from the ravages of aging – but delivering anti-aging treatments to the brain or other key organs could prove technically difficult. This study suggests that activating AMPK in a more accessible organ such as the intestine, for example, could ultimately slow the aging process throughout the entire body, including the brain.
Humans have AMPK, but it is usually not activated at a high level, Walker explained: "Instead of studying the diseases of aging – Parkinson's disease, Alzheimer's disease, cancer, stroke, cardiovascular disease, diabetes – one by one, we believe it may be possible to intervene in the aging process and delay the onset of many of these diseases. We are not there yet, and it could, of course, take many years, but that is our goal and we think it is realistic. The ultimate aim of our research is to promote healthy aging in people."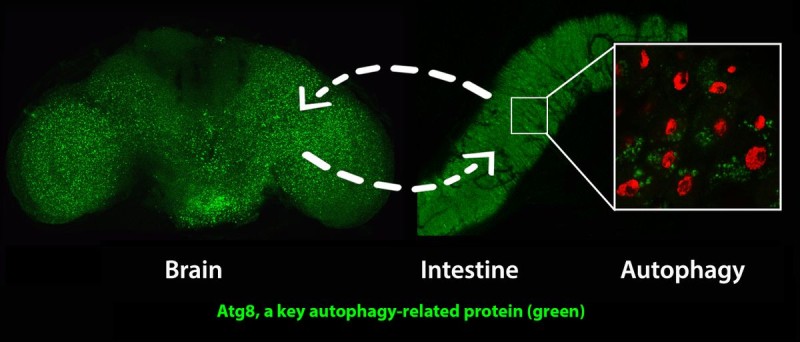 The fruit fly, Drosophila melanogaster, is an excellent model for studying aging in humans, because scientists have identified all of the fruit fly's genes and know how to switch individual genes on and off. The biologists studied approximately 100,000 of them over the course of the study.
Co-author Matthew Ulgherait, who conducted the research in Walker's laboratory as a doctoral student, focused on a cellular process called autophagy, which enables cells to degrade and discard old, damaged cellular components. By getting rid of that "cellular garbage" before it damages cells, autophagy protects against aging, and AMPK has been shown previously to activate this process. Ulgherait studied whether activating AMPK in the flies led to autophagy occurring at a greater rate than usual.
"A really interesting finding was when Matt activated AMPK in the nervous system," said Walker. "He saw evidence of increased levels of autophagy in not only the brain – but also in the intestine. And vice versa: activating AMPK in the intestine produced increased levels of autophagy in the brain and perhaps elsewhere, too."
Many neurodegenerative diseases, including both Alzheimer's and Parkinson's, are associated with the accumulation of protein aggregates, a type of cellular garbage, in the brain, Walker noted.
"Matt moved beyond correlation and established causality," he said. "He showed that the activation of autophagy was both necessary to see the anti-aging effects and sufficient; that he could bypass AMPK and directly target autophagy."
AMPK is thought to be a key target of metformin – a drug used to treat Type 2 diabetes – and metformin is believed to activate AMPK. In research published in May 2013, Walker and his colleagues identified another gene, called parkin, which delayed the onset of aging and extended the life span of fruit flies by 28%.
4th September 2014
Google's health company spin-off Calico announces massive investment into anti-aging research
Last year, Google announced Calico, a spin-off company with the specific aim of developing treatments for age-related diseases. In its first major step since that launch, Calico has now formed a partnership with AbbVie, another biotech firm. Together, they will collaborate to accelerate the discovery, development and commercialisation of new therapies.
The companies will co-invest up to $1.5 billion to create a world-class R&D facility in the San Francisco Bay Area. This will combine Calico's discovery and early development capabilities with AbbVie's broad research, development and commercial expertise, with a focus on aging and age-related diseases including neurodegeneration and cancer.
Art Levinson, CEO and founder of Calico, says in a press release: "Our relationship with AbbVie is a pivotal event for Calico, whose mission is to develop life-enhancing therapies for people with age-related diseases. It will greatly accelerate our efforts to understand the science of aging, advance our clinical work, and help bring important therapies to patients everywhere."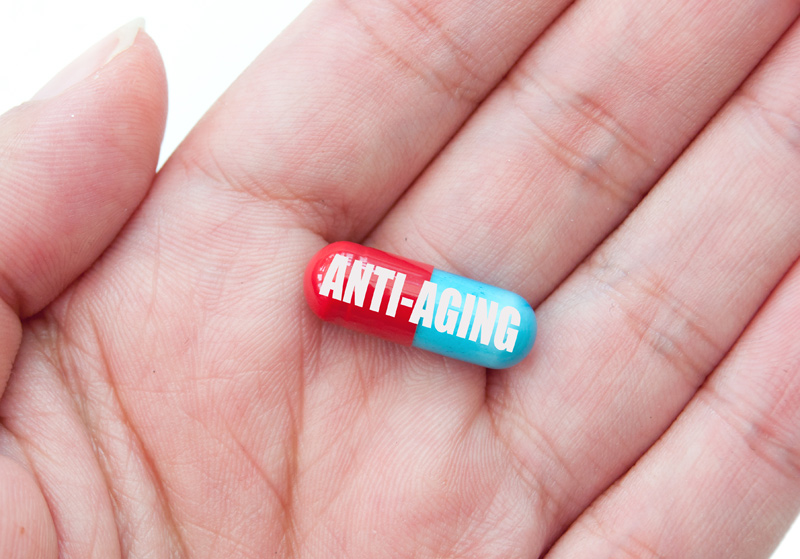 30th August 2014
Scientists discover area of brain responsible for exercise motivation
Scientists have discovered an area of the brain that could control a person's motivation to exercise and participate in other rewarding activities – potentially leading to improved treatments for depression.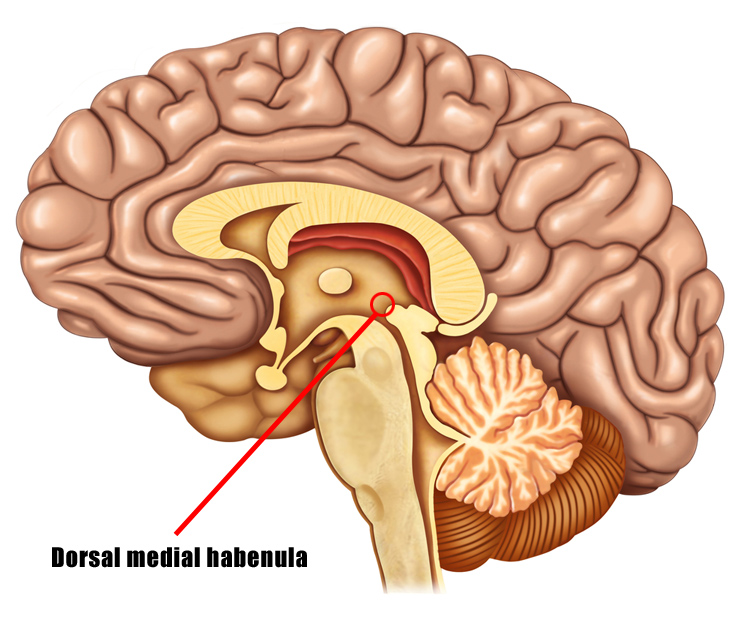 Professor Eric Turner at Seattle Children's Research Institute's Center for Integrative Brain Research, together with lead author Dr. Yun-Wei (Toni) Hsu, have discovered that a tiny region of the brain – the dorsal medial habenula – controls the desire to exercise in mice. The structure of the habenula is similar in humans and rodents and these basic functions in mood regulation and motivation are likely to be the same across species.
Exercise is one of the most effective non-pharmacological therapies for depression. Determining that such a specific area of the brain may be responsible for motivation to exercise could help researchers develop more targeted, effective treatments for depression.
"Changes in physical activity and the inability to enjoy rewarding or pleasurable experiences are two hallmarks of major depression," Prof. Turner said. "But the brain pathways responsible for exercise motivation have not been well understood. Now, we can seek ways to manipulate activity within this specific area of the brain without impacting the rest of the brain's activity."
Turner's study – "Role of the Dorsal Medial Habenula in the Regulation of Voluntary Activity, Motor Function, Hedonic State, and Primary Reinforcement" – used mouse models that were genetically engineered to block signals from the dorsal medial habenula. Compared to typical mice, who love to run in exercise wheels, the genetically engineered mice were lethargic and ran far less. These mice also lost their preference for sweetened drinking water.
"Without a functioning dorsal medial habenula, the mice became couch potatoes," Turner said. "They were physically capable of running, but appeared unmotivated to do it."
In a second group of mice, Dr. Turner's team activated the dorsal medial habenula using optogenetics – a new and rapidly emerging laser technology – developed in collaboration with the Allen Institute for Brain Science. The mice could "choose" to activate this area of the brain, by turning one of two response wheels with their paws. The mice strongly preferred turning the wheel that stimulated the dorsal medial habenula, demonstrating that this area of the brain is tied to rewarding behaviour.
Past studies have attributed many different functions to the habenula, but technology was not advanced enough to determine roles of the various subsections of this brain region, including the dorsal medial habenula.
"Traditional methods of stimulation could not isolate this part of the brain," Turner said. "But cutting-edge technology at Seattle Children's Research Institute makes discoveries like this possible."
As a professor in the University of Washington Department of Psychiatry and Behavioral Sciences, Dr. Turner treats depression and hopes this research will make a difference in the lives of future patients. Depression is expected to be the number one global disease burden by 2030.
"Working in mental health can be frustrating," Turner said. "We have not made a lot of progress in developing new treatments. I hope the more we can learn about how the brain functions, the more we can help people with all kinds of mental illness."
26th August 2014
Fully-functional organ grown from scratch inside a living animal for the first time
A whole functioning organ – a thymus – has been grown inside a mouse. The treatment could be available to humans within 10 years.
Lab-grown replacement organs have moved a step closer, thanks to a major breakthrough by researchers at the University of Edinburgh, Scotland. Scientists have for the first time grown a complex, fully-functional organ from scratch in a living animal by transplanting cells that were originally created in a laboratory. The researchers created a thymus – an organ next to the heart that produces immune cells known as T cells that are vital for guarding against disease. With further research, this discovery could lead to new treatments for elderly patients and others with a weakened immune system.
The team from the MRC Centre for Regenerative Medicine at the University of Edinburgh took cells called fibroblasts from a mouse embryo. They turned the fibroblasts into a completely different type of cell called thymus cells, using a technique called reprogramming. The new cells changed shape to look like thymus cells and were also capable of supporting development of T cells in the lab – a specialised function that only thymus cells can perform.
When the researchers mixed reprogrammed cells with other key thymus cell types and transplanted them into a live mouse, the cells formed a replacement organ. This new organ had the same structure, complexity and function as a healthy adult thymus. It is the first time that scientists have made an entire living organ from cells that were created outside of the body by reprogramming.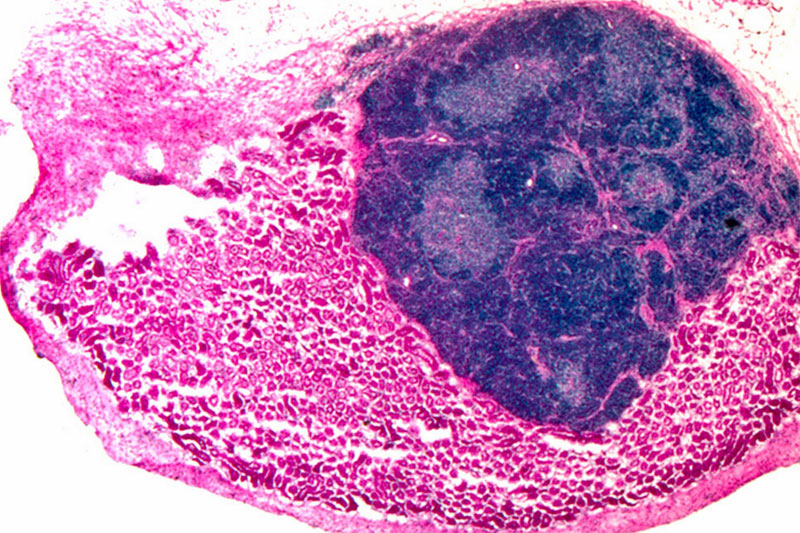 Doctors have already shown that patients with thymus disorders can be treated with infusions of extra immune cells or transplantation of a thymus shortly after birth. The problem is that both are limited by a lack of organ donors and problems matching tissue to the recipient. Within the next decade, lab-grown cells could form the basis of a thymus transplant treatment for people with a weakened immune system.
The technique may also offer a way of making patient-matched T cells in the laboratory that could be used in cell therapies. Such treatments may benefit bone marrow transplant patients, by helping speed up the rate at which they rebuild their immune system after transplant. The discovery offers hope to babies born with genetic conditions that prevent the thymus from developing properly. Older people could also be helped as the thymus is the first organ to deteriorate with age. The results of this study are published in the journal Nature Cell Biology.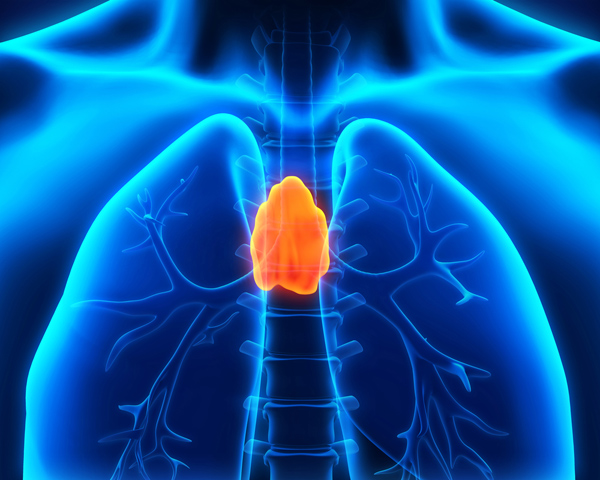 24th August 2014
Human Longevity, Inc. signs agreement to develop and commercialise new stem cell therapies
Human Longevity Inc. (HLI) has signed an agreement with Celgene Cellular Therapeutics (CCT) to license, develop, and co-promote Celgene's proprietary placental cell population, PSC-100.

Human Longevity Inc. (HLI) was co-founded in March 2014 by Peter Diamandis, Craig Venter and Robert Hariri, with a specific purpose: extending the healthy, high performance human lifespan. This new company intends to achieve innovations in two main areas – genomics and stem cell sciences.
Over the next decade, HLI has the objective of sequencing the human genomes of 1 million individuals, while also collecting phenotypic, microbiome, imaging and metabalomic data. All of this information will be crunched using artificial intelligence and machine learning to provide extraordinary insights into human aging. In the arena of stem cells, they will begin harnessing stem cells as the regenerative engine of the body. Peter Diamandis has stated that it should be possible to extend healthy human life by 30-40 years if these treatments are successfully developed.
HLI has now made a significant step towards its eventual goals by signing an agreement with Celgene Cellular Therapeutics (CCT) to license, develop, and co-promote Celgene's proprietary placental cell population, PSC-100. A variety of applications will be explored for this unique cell population – including for sarcopenia, an age-related condition resulting in degenerative loss of skeletal muscle mass, quality and strength. HLI will use its expertise and technology to model PSC-100 at the molecular level, complementing the data Celgene has gleaned from PSC-100 in Phase 1 human studies.
"We think that cellular-based therapeutics combined with our genomics-based discovery systems offer exciting potential for age-related diseases," said Craig Venter, PhD, HLI CEO and co-founder. PSC-100 provides an "advanced basis" for testing cell therapy on diseases, he concluded.
HLI itself will be licensing access to its database, and developing new diagnostics and therapeutics as part of their product offerings.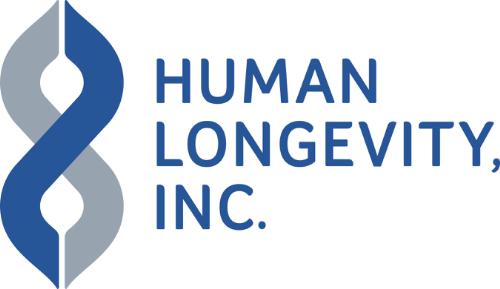 12th August 2014
Stem cells show promise for stroke in pilot study
Worldwide, stroke is among the leading causes of death, killing over 6.2 million people each year. A new therapy using stem cells extracted from bone marrow has shown promising results in the first trial of its kind in humans.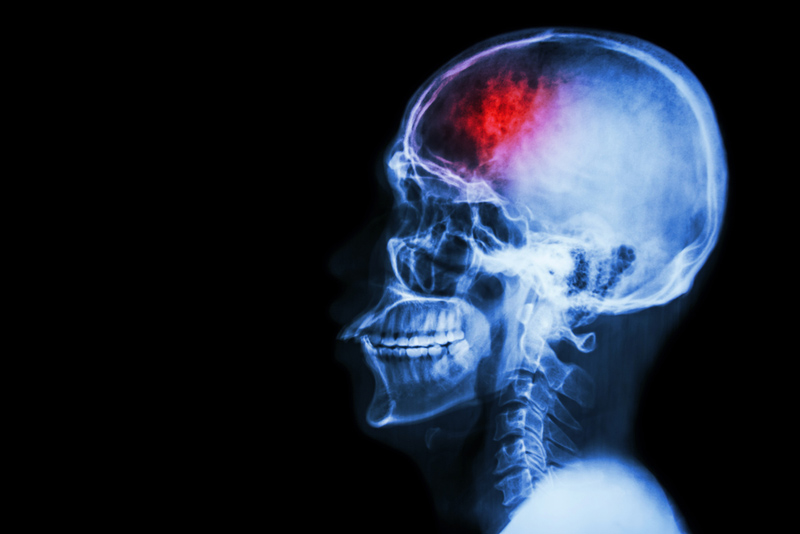 Five patients received stem cell treatment in a pilot study conducted by Imperial College Healthcare NHS Trust and scientists at Imperial College London. The therapy was found to be safe, with all patients showing improvements in clinical measures of disability. These findings are published in the journal Stem Cells Translational Medicine. It is the first UK human trial of a stem cell treatment for acute stroke to be published.
The therapy uses a type of cell called CD34+ cells, a set of stem cells in the bone marrow that give rise to blood cells and blood vessel lining cells. Previous research has demonstrated that treatment using these cells can significantly improve recovery from stroke in animals. Rather than developing into brain cells themselves, the cells are thought to release chemicals that trigger the growth of new brain tissue and new blood vessels in the area damaged by stroke.
The patients were treated within seven days of a severe stroke – in contrast to several other stem cell trials, most of which have treated patients after six months or later. The Imperial researchers believe early treatment may improve the chances of a better recovery. A bone marrow sample was taken from each patient. The CD34+ cells were isolated from the sample and then infused into an artery that supplies the brain. No previous trial has selectively used CD34+ cells, so early after the stroke, until now.
Although the trial was mainly designed to assess the safety and tolerability of the treatment, the patients all showed improvements in their condition in clinical tests over a six-month follow-up period. Four out of five patients had the most severe type of stroke: only four per cent of people who experience this kind of stroke are expected to be alive and independent six months later. In the trial, all four of these patients were alive and three were independent after six months.
Dr Soma Banerjee, a lead author and Consultant in Stroke Medicine at Imperial College Healthcare NHS Trust, said: "This study showed that the treatment appears to be safe and that it's feasible to treat patients early when they might be more likely to benefit. The improvements we saw in these patients are very encouraging, but it's too early to draw definitive conclusions about the effectiveness of the therapy. We need to do more tests to work out the best dose and timescale for treatment before starting larger trials."
Worldwide, stroke was the second most frequent cause of death in 2011, accounting for 6.2 million deaths (~11% of the total). The incidence of stroke increases exponentially from 30 years of age. Advanced age is among the most significant risk factors, with two-thirds of strokes occurring in those over the age of 65. However, stroke can occur at any age, including in childhood. Survivors can be affected by a wide range of mental and physical symptoms, and many never recover their independence. Stem cell therapy is seen as an exciting new potential avenue of treatment for stroke, but its exact role is yet to be clearly defined.
Dr Paul Bentley, also a lead author of the study, from the Department of Medicine at Imperial College London: "This is the first trial to isolate stem cells from human bone marrow and inject them directly into the damaged brain area using keyhole techniques. Our group are currently looking at new brain scanning techniques to monitor the effects of cells once they have been injected."
Professor Nagy Habib, Principal Investigator of the study, from the Department of Surgery and Cancer at Imperial College London: "These are early but exciting data worth pursuing. Scientific evidence from our lab further supports the clinical findings and our aim is to develop a drug, based on the factors secreted by stem cells, that could be stored in the hospital pharmacy so that it is administered to the patient immediately following the diagnosis of stroke in the emergency room. This may diminish the minimum time to therapy and therefore optimise outcome. Now the hard work starts to raise funds for this exciting research."
7th August 2014
Implanted neurons could lead to Parkinson's cure
Scientists at the Luxembourg Centre for Systems Biomedicine (LCSB) have grafted neurons reprogrammed from skin cells into the brains of mice for the first time with long-term stability. Six months after implantation, the neurons had become fully functional and integrated into the brain. This successful demonstration of lastingly stable neuron implantation raises hope for future therapies in humans that could replace sick neurons with healthy ones in the brains of Parkinson's disease patients, for example.
The LCSB research group led by Prof. Jens Schwamborn and Kathrin Hemmer is working continuously to bring cell replacement therapy to maturity as a treatment for neurodegenerative diseases. The path towards successful therapy in humans, however, is long. "Successes in human therapy are still a long way off, but I am sure successful cell replacement therapies will exist in future. Our research results have taken us a step further in this direction," claims Prof. Schwamborn.
In their latest tests, the research group succeeded in creating stable nerve tissue in the brain from neurons that had been reprogrammed from skin cells. The stem cell researchers' technique of producing neurons – or more specifically, induced neuronal stem cells (iNSC) – in a petri dish from the host's own skin cells greatly improves the compatibility of the implanted cells. The treated mice showed no adverse side effects, even six months after implantation into the hippocampus and cortex regions of the brain. In fact it was quite the opposite – the implanted neurons were fully integrated into the complex network of the brain. The neurons exhibited normal activity and were connected to the original brain cells via newly formed synapses, the contact points between nerve cells.
These tests demonstrate that the scientists are continually gaining a better understanding of how to treat such cells in order to successfully replace damaged or dead tissue. "Building upon the current insights, we will now be looking specifically at the type of neurons that die off in the brain of Parkinson's patients – namely the dopamine-producing neurons," Schwamborn reports.
In the future, implanted neurons could produce the lacking dopamine directly in the patient's brain and transport it to the appropriate sites. This could result in an actual cure, as has so far been impossible. The researchers have published their results in the current issue of Stem Cell Reports.
4th August 2014
Five daily portions of fruit and vegetables may be enough to lower risk of early death
Eating five daily portions of fruit and vegetables is associated with a lower risk of death from any cause, particularly from cardiovascular disease – but beyond five portions appears to have no further effect, finds a new study.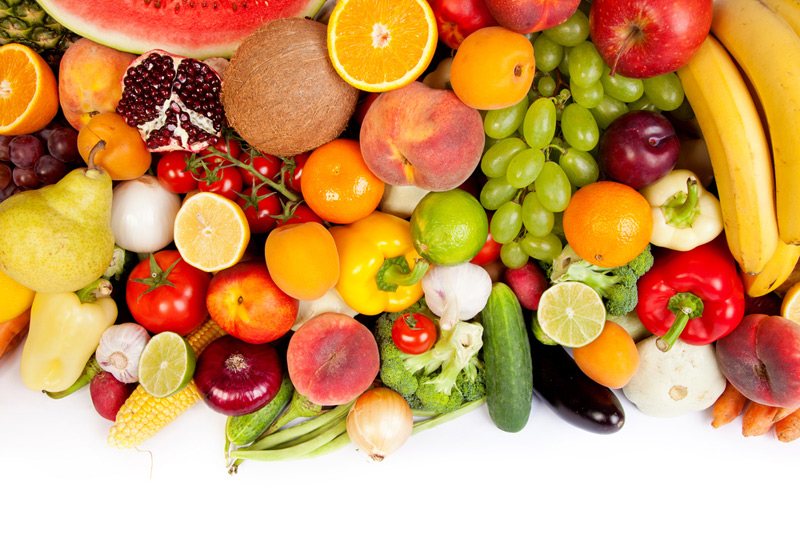 These results conflict with a recent study published in BMJ's Journal of Epidemiology and Community Health suggesting that seven or more daily portions of fruits and vegetables were linked to lowest risk of death.
There is growing evidence that increasing fruit and vegetable consumption is related to a lower risk of death from cardiovascular disease and cancer. However, the results are not entirely consistent. So a team of researchers based in China and the United States decided to examine the association between fruit and vegetable intake and risk of all-cause, cardiovascular, and cancer deaths.
They analysed the results of sixteen studies involving a total of 833,000 participants and 56,000 deaths. Differences in study design and quality were taken into account to minimise bias. Higher consumption of fruit and vegetables was significantly associated with a lower risk of death from all causes, particularly from cardiovascular diseases.
Average risk of death from all causes was reduced by 5% for each additional daily serving of fruit and vegetables, while risk of cardiovascular death was reduced by 4 percent for each additional daily serving of fruit and vegetables. But the researchers identified a threshold around five servings per day, after which the risk of death did not reduce further.
In contrast, a higher consumption of fruit and vegetables was not appreciably associated with risk of death from cancer. The researchers suggest that — as well as advice to eat adequate amounts of fruit and vegetables — the adverse effects of obesity, physical inactivity, smoking and high alcohol intake on cancer risk should be further emphasised.
Although a threshold of five servings was identified, the team reiterates the importance of regular fruit and vegetable intake, concluding that their study "provides further evidence that a higher consumption of fruits and vegetables is associated with a lower risk of mortality from all causes, particularly from cardiovascular diseases. The results support current recommendations to increase consumption of fruits and vegetables to promote health and longevity."
29th July 2014
Potential 'universal' blood test for cancer discovered
Researchers from the University of Bradford have devised a simple blood test that can be used to diagnose whether people have cancer or not.
The test will enable doctors to rule out cancer in patients presenting with certain symptoms – saving time, and preventing costly and unnecessary invasive procedures such as colonoscopies and biopsies being carried out. Alternatively, it could be a useful aid for investigating patients who are suspected of having a cancer that is currently hard to diagnose.
Early results have shown the method gives a high degree of accuracy diagnosing cancer and pre-cancerous conditions from the blood of patients with melanoma, colon cancer and lung cancer. The Lymphocyte Genome Sensitivity (LGS) test looks at white blood cells and measures the damage caused to their DNA when subjected to different intensities of ultraviolet light (UVA), which is known to damage DNA. The results of the empirical study show a clear distinction between the damage to the white blood cells from patients with cancer, with pre-cancerous conditions and from healthy patients.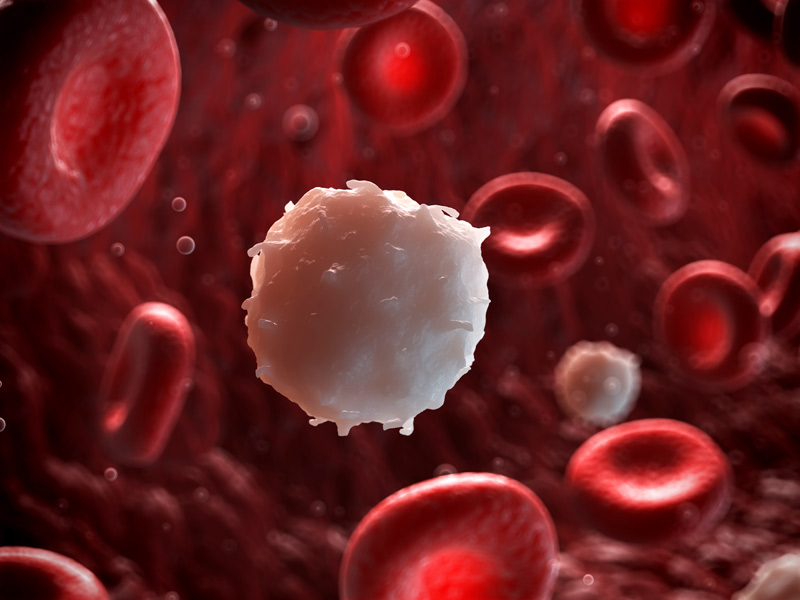 The research was led by Professor Diana Anderson, from the University's School of Life Sciences, who says: "White blood cells are part of the body's natural defence system. We know that they are under stress when they are fighting cancer or other diseases, so I wondered whether anything measureable could be seen if we put them under further stress with UVA light. We found that people with cancer have DNA which is more easily damaged by ultraviolet light than other people, so the test shows the sensitivity to damage of all the DNA – the genome – in a cell."
The study looked at blood samples taken from 208 individuals. Ninety-four healthy individuals were recruited from staff and students at the University and 114 blood samples were collected from patients referred to specialist clinics within Bradford Royal Infirmary prior to their diagnosis and treatment. The samples were coded, anonymised, randomised and then exposed to UVA light through five different depths of agar.
UVA damage was observed in the form of DNA fragments being pulled in an electric field towards the positive end of the field, causing a comet-like tail. During the LGS test, the longer the tail the more DNA damage, and the measurements correlated to those patients who were ultimately diagnosed with cancer (58), those with pre-cancerous conditions (56) and those who were healthy (94).
"These are early results completed on three different types of cancer and we accept that more research needs to be done; but these results so far are remarkable," said Prof. Anderson. "Whilst the numbers of people we tested are, in epidemiological terms, quite small, in molecular epidemiological terms, the results are powerful. We've identified significant differences between the healthy volunteers, suspected cancer patients and confirmed cancer patients of mixed ages at a statistically significant level of P<0.001. This means that the possibility of these results happening by chance is 1 in 1000. We believe that this confirms the test's potential as a diagnostic tool."
Professor Anderson believes that if the LGS proves to be a useful cancer diagnostic test, it would be a highly valuable addition to the more traditional investigative procedures for detecting cancer. A clinical trial is currently underway at Bradford Royal Infirmary. This will investigate the effectiveness of the LGS test in correctly predicting which patients referred by their GPs with suspected colorectal cancer would, or would not, benefit from a colonoscopy – currently the preferred investigation method. The University of Bradford has filed patents for the technology and a spin-out company, Oncascan, has been established to commercialise the research.
22nd July 2014
HIV eliminated from human cell cultures
For the first time, researchers have demonstrated proof-of-concept that the HIV virus can be eliminated from the DNA of human cell cultures. Although years away from clinical application, this breakthrough has been described as an important step forward in the search for a cure.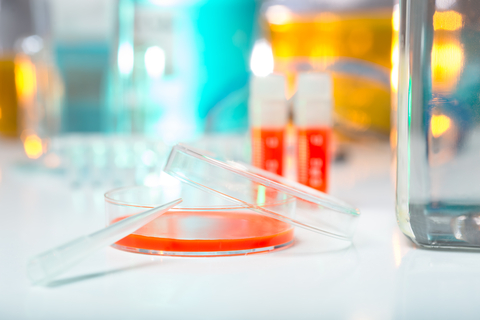 The HIV-1 virus has proved to be tenacious – inserting its genome permanently into victims' DNA, forcing patients to take a lifelong drug regimen to control the virus and prevent a fresh attack. Now, a team of Temple University School of Medicine researchers has designed a way to "snip out" the integrated HIV-1 genes for good.
"This is one important step on the path toward a permanent cure for AIDS," says Kamel Khalili, PhD. He and colleague, Wenhui Hu, led the work which marks the first successful attempt to eliminate latent HIV-1 virus from human cells. "It's an exciting discovery – but it's not yet ready to go into the clinic. It's a proof-of-concept that we're moving in the right direction," added Dr. Khalili.
In a study published yesterday by the Proceedings of the National Academy of Sciences (PNAS), Dr. Khalili and colleagues detail how they created molecular tools to delete the HIV-1 proviral DNA. When deployed, a combination of DNA-snipping enzyme called a nuclease and targeting strand of RNA called a guide RNA (gRNA) hunt down the viral genome and excise the HIV-1 DNA. From there, the cell's own gene repair machinery takes over – soldering the loose ends of the genome back together – resulting in virus-free cells.
"Since HIV-1 is never cleared by the immune system, removal of the virus is required in order to cure the disease," said Khalili, whose work focuses on the neuropathogenesis of viral infections. The same technique could theoretically be used against a variety of viruses, he said. The research shows that these molecular tools also hold promise as a therapeutic vaccine; cells armed with the nuclease-RNA combination proved impervious to HIV infection.
Worldwide, over 35 million people have HIV, including more than 1 million in the United States. Every year, another 50,000 Americans contract the virus, according to the U.S. Centers for Disease Control and Prevention.
Although highly active antiretroviral therapy (HAART) has controlled HIV-1 for infected people in the developed world for the last 15 years, the virus can rage again with any interruption in treatment. Even when HIV-1 replication is well controlled with HAART, the lingering HIV-1 presence has longer-term health consequences. "The low level replication of HIV-1 makes patients more likely to suffer from diseases usually associated with aging," Khalili said. These include cardiomyopathy – a weakening of the heart muscle – bone disease, kidney disease, and neurocognitive disorders. "These problems are often exacerbated by the toxic drugs that must be taken to control the virus," he added.
His team based the two-part HIV-1 editor on a system that evolved as a bacterial defence mechanism to protect against infection, Khalili said. His lab engineered a 20-nucleotide strand of guide RNA to target the HIV-1 DNA and paired it with Cas9 (to induce strand breaks in DNA). The gRNA targets the control region of the gene called the long terminal repeat (LTR). LTRs are present on both ends of the HIV-1 genome. By targeting both LTRs, the Cas9 snips out the 9,709-nucleotides that comprise the HIV-1 genome. To avoid any risk of the gRNA accidentally binding with part of the patient's genome, the researchers selected nucleotide sequences that do not appear in any coding sequences of human DNA, thereby avoiding off-target effects and subsequent cellular DNA damage.
The editing process was successful in a number of cell types that can harbour HIV-1 – including microglia and macrophages, as well as in T-lymphocytes. "T-cells and monocytic cells are the main cell types infected by HIV-1, so they are the most important targets for this technology," Dr. Khalili said.
The HIV-1 eradication approach faces several significant challenges before the technique is ready for patients, Dr. Khalili said. The researchers must devise a method to deliver the therapeutic agent to every single infected cell. Finally, because HIV-1 is prone to mutations, treatment may need to be individualised for each patient's unique viral sequences.
"We are working on a number of strategies so we can take the construct into preclinical studies," Dr. Khalili said. "We want to eradicate every single copy of HIV-1 from the patient. That will cure AIDS. I think this technology is the way we can do it."
Last week, a report by the United Nations claimed that AIDS could be brought under control by 2030.
21st July 2014
Scientists have mapped one of the most important proteins in life – and cancer
New research has uncovered the structure of one of the most important and complicated proteins in cell division – a fundamental process in life and the development of cancer.
A team from The Institute of Cancer Research in London and the Medical Research Council Laboratory of Molecular Biology in Cambridge has produced the first detailed 3D images of the anaphase-promoting complex (APC/C). Mapping this gigantic protein in unprecedented detail will transform scientists' understanding of exactly how cells copy their chromosomes and divide, and could reveal binding sites for future cancer drugs.
The APC/C performs a wide range of vital tasks associated with mitosis, the process during which a cell copies its chromosomes and pulls them apart into two separate cells. Mitosis is used in cell division by all animals and plants. Discovering its structure could ultimately lead to new treatments for cancer, which hijacks the normal process of cell division to make thousands of copies of harmful cancer cells.
In the study, which was funded by Cancer Research UK, the researchers reconstituted human APC/C, using a combination of electron microscopy and imaging software to visualise it at a resolution of less than a nanometre (one billionth of a metre). The resolution was so fine that it allowed them to see the secondary structure – the set of basic building blocks which combine to form every protein. Alpha-helix rods and folded beta-sheet constructions were clearly visible within the 20 subunits of the APC/C, defining the overall architecture of the complex.
Previous studies led by the same research team had shown a globular structure for APC/C in much lower resolution, but the secondary structure had not been mapped at all, until now. Each of the APC/C's subunits bond and mesh with other units at different points in the cell cycle, allowing it to control a range of mitotic processes – including the initiation of DNA replication, the segregation of chromosomes along protein 'rails' called spindles, and the ultimate splitting of one cell into two, called cytokinesis. Disrupting each of these processes could selectively kill cancer cells, or stop them dividing.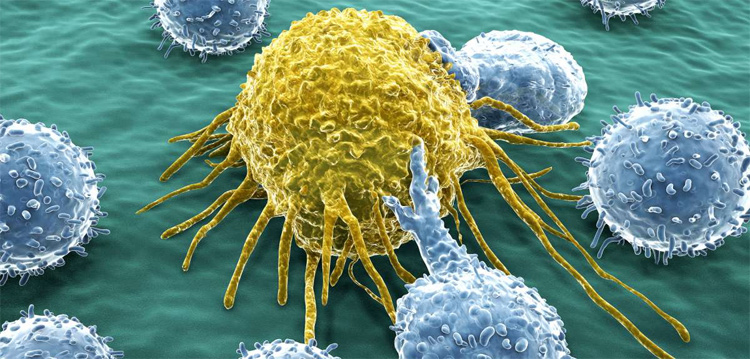 Professor David Barford, who led the study as Professor of Molecular Biology at The Institute of Cancer Research, London: "It's very rewarding to finally tie down the detailed structure of this important protein, which is both one of the most important and most complicated found in all of nature. We hope our discovery will open up whole new avenues of research that increase our understanding of the process of mitosis, and ultimately lead to the discovery of new cancer drugs."
Professor Paul Workman, Interim Chief Executive of The Institute of Cancer Research, London: "The fantastic insights into molecular structure provided by this study are a vivid illustration of the critical role played by fundamental cell biology in cancer research. The new study is a major step forward in our understanding of cell division. When this process goes awry, it is a critical difference that separates cancer cells from their healthy counterparts. Understanding exactly how cancer cells divide inappropriately is crucial to the discovery of innovative cancer treatments to improve outcomes for cancer patients."
Dr Kat Arney, Science Information Manager at Cancer Research UK: "Figuring out how the fundamental molecular 'nuts and bolts' of cells work is vital if we're to make progress understanding what goes wrong in cancer cells and how to tackle them more effectively. Revealing the intricate details of biological shapes is a hugely important step towards identifying targets for future cancer drugs."
The findings were published yesterday in Nature.
14th July 2014
Largest ever study of its kind finds significant differences between organic and non-organic food
The largest ever study of its kind has found significant differences between organic food and conventionally-grown crops. Organic food contains almost 70% more antioxidants and significantly lower levels of toxic heavy metals.
Analysing 343 studies into the differences between organic and conventional crops, an international team of experts led by Newcastle University, UK, found that a switch to eating organic fruit, vegetable and cereals – and food made from them – would provide additional antioxidants equivalent to eating between 1-2 extra portions of fruit and vegetables a day.
The study, published in the British Journal of Nutrition, also shows significantly lower levels of toxic heavy metals in organic crops. Cadmium – one of only three metal contaminants along with lead and mercury for which the European Commission has set maximum permitted contamination levels in food – was found to be almost 50% lower in organic crops than conventionally-grown ones.
Professor Carlo Leifert, who led the study, says: "This study demonstrates that choosing food produced according to organic standards can lead to increased intake of nutritionally desirable antioxidants and reduced exposure to toxic heavy metals. This constitutes an important addition to the information currently available to consumers which until now has been confusing and in many cases is conflicting."
New methods used to analyse the data
This is the most extensive analysis of the nutrient content in organic vs conventionally-produced foods ever undertaken and is the result of a groundbreaking new systematic literature review and meta-analysis by the international team.

The findings contradict those of a 2009 UK Food Standards Agency (FSA) commissioned study, which found there were no substantial differences or significant nutritional benefits from organic food. The FSA study based its conclusions on just 46 publications covering crops, meat and dairy, while Newcastle led meta-analysis is based on data from 343 peer-reviewed publications on composition difference between organic and conventional crops now available.

"The main difference between the two studies is time," explains Professor Leifert, who is Professor of Ecological Agriculture at Newcastle University. "Research in this area has been slow to take off the ground and we have far more data available to us now than five years ago."
Dr Gavin Stewart, a Lecturer in Evidence Synthesis and the meta-analysis expert in the Newcastle team, added: "The much larger evidence base available in this synthesis allowed us to use more appropriate statistical methods to draw more definitive conclusions regarding the differences between organic and conventional crops."
What the findings mean
The study, funded jointly by the European Framework 6 programme and the Sheepdrove Trust, found that concentrations of antioxidants such as polyphenolics were between 18-69% higher in organically-grown crops. Numerous studies have linked antioxidants to a reduced risk of chronic diseases, including cardiovascular and neurodegenerative diseases and certain cancers. Substantially lower concentrations of a range of the toxic heavy metal cadmium were also detected in organic crops (on average 48% lower).
Nitrogen concentrations were found to be significantly lower in organic crops. Concentrations of total nitrogen were 10%, nitrate 30% and nitrite 87% lower in organic compared to conventional crops. The study also found that pesticide residues were four times more likely to be found in conventional crops than organic ones.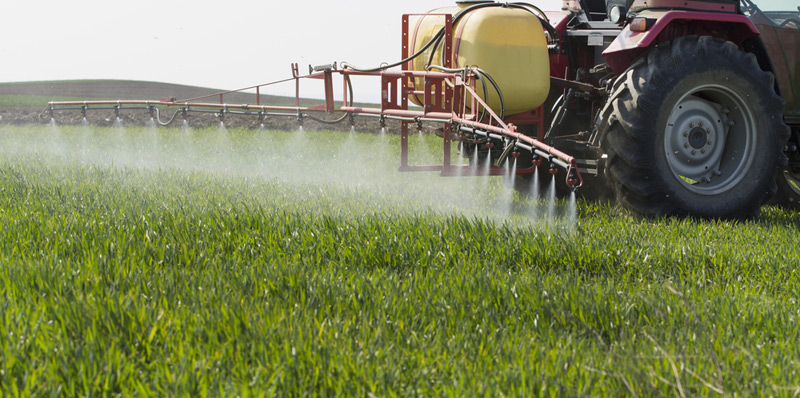 Professor Charles Benbrook, one of the authors of the study and a leading scientist based at Washington State University, explains: "Our results are highly relevant and significant and will help both scientists and consumers sort through the often conflicting information currently available on the nutrient density of organic and conventional plant-based foods."
Professor Leifert added: "The organic vs non-organic debate has rumbled on for decades now, but the evidence from this study is overwhelming – organic food is high in antioxidants and lower in toxic metals and pesticides.
"But this study should just be a starting point. We have shown without doubt there are composition differences between organic and conventional crops, now there is an urgent need to carry out well-controlled human dietary intervention and cohort studies specifically designed to identify and quantify the health impacts of switching to organic food."
The authors of this study welcome the continued public and scientific debate on this important subject. The entire database generated and used for this analysis is freely available on the Newcastle University website for the benefit of other experts and interested members of the public.
6th July 2014
Scientists prevent aging... in flowers
"Morning Glory" (pictured below) is the common name for over 1,000 species of flowering plants, noted for their short-lived blooms that normally unfold in the morning and wither by nightfall. A team of scientists at the National Agriculture and Food Research Organisation near Tokyo have reportedly slowed the aging process in one particular Japanese variety of this flower. Their breakthrough could allow bouquets to remain fresh for much longer.
In the study – carried out jointly with Kagoshima University in southern Japan – a gene named "EPHEMERAL1" was suppressed. This resulted in the lifespan of each flower almost doubling, from 13 hours to 24 hours. The finding could lead to developing methods to extend the life of cut flowers.
Kenichi Shibuya, one of the lead researchers, told AFP by telephone: "We have concluded that the gene is linked to petal aging. It would be unrealistic to modify genes of all kinds of flowers – but we can look for other ways to suppress the (target) gene... such as making cut flowers absorb a solution that prevents the gene from becoming active."
A similar breakthrough in plant aging was made by German researchers in January 2013. That study identified a "genetic switch" able to maintain a youthful state in tobacco plants.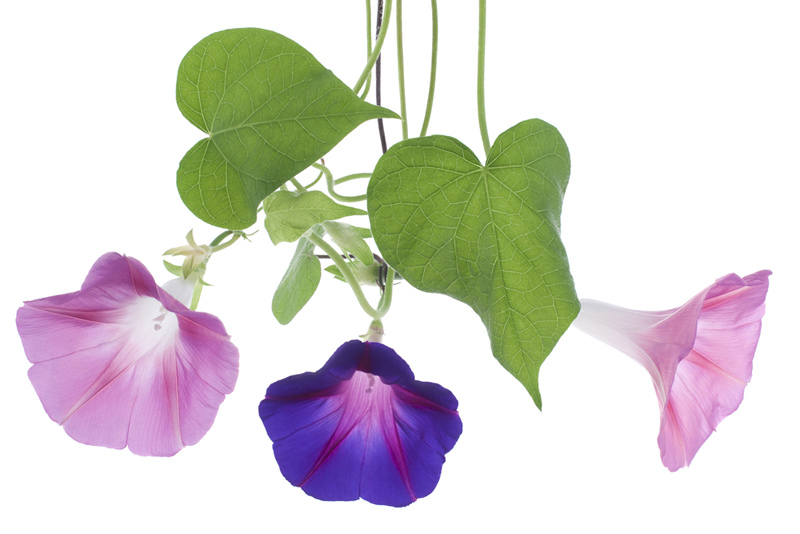 2nd July 2014
Increases in life expectancy are likely to be even greater than current estimates
By failing to consider future trends in smoking, most projections for life expectancy in low-mortality nations have been underestimated.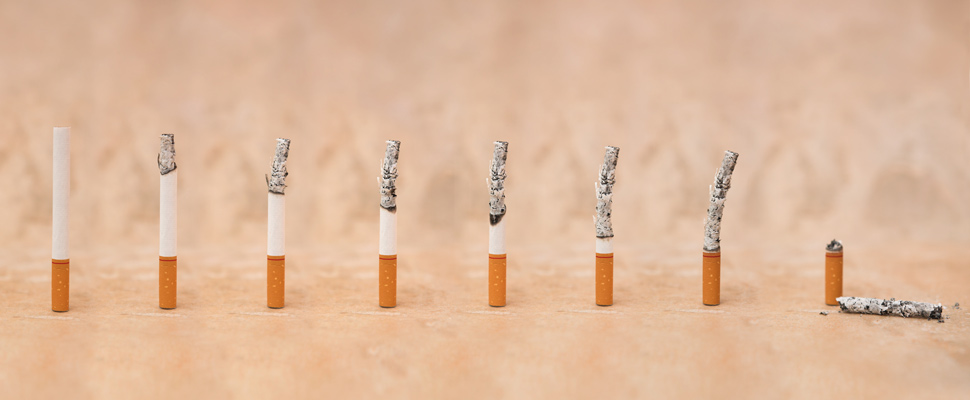 A new study by demographer John Bongaarts – Population Council Vice President and Distinguished Scholar – finds that mortality projections from most low-mortality countries are more pessimistic than they should be. The reason for this flaw is that existing projections fail to recognise that fewer people smoke today than used to. Indeed, less than 5% of the world's population may smoke by the year 2040. As a result, there will be a future decline in smoking-related mortality. This also suggests that with more people living longer, pension and health care costs in coming decades will likely be higher than previously estimated.
A country's future mortality trajectory has important implications for health and social policy, especially in countries with aging populations where pension and health care costs are rising steeply.
Developed countries – such as the United States, Japan, and most nations of Europe – often have government agencies that make mortality projections (e.g. Actuaries of the Social Security Administration in the United States) and the UN Population Division makes projections for 238 countries and regions. All current mortality projections foresee substantial increases in future life expectancy. However, Bongaarts finds that the increases in life expectancy are likely to be even greater than current estimates suggest.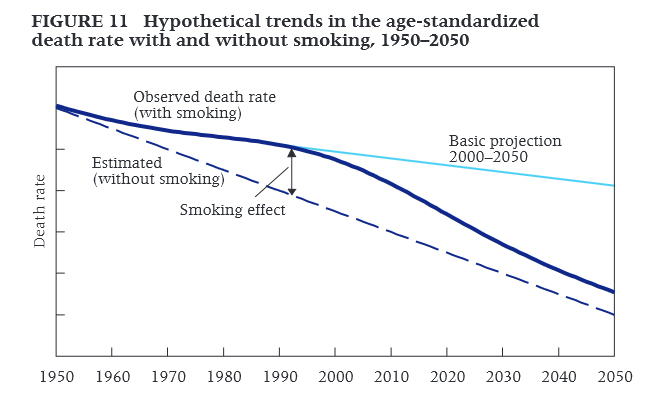 Nearly all methods for projecting mortality ignore trends in causes of death. Rather, they rely wholly or in part on the extrapolation of past trends in mortality rates, longevity measures, or mortality models. Bongaarts examined whether mortality projections could be improved by taking into account smoking trends. He focused on trends in death rates and causes of death in 15 countries with high life expectancy and reliable data on causes of death: Australia, Austria, Canada, Denmark, Finland, France, Italy, Japan, the Netherlands, Norway, Spain, Sweden, Switzerland, the United Kingdom, and the United States. Bongaarts studied mortality data gathered between 1955 and 2010.
A problem arises because most mortality projection methods ignore the past rise and the likely future decline in smoking-related deaths. "Making explicit adjustments for the distorting effects of smoking is likely to improve the accuracy of projections," says Bongaarts. It would not be possible to improve mortality projections by making adjustments for other causes of death, he found. Unlike other causes of death, future trends in smoking mortality can be predicted with a high degree of certainty.
"Worldwide, we are making notable progress in reducing the number of people who smoke," he says. "This not only has immediate health benefits, but also long-term public policy implications. To adequately prepare for longer-living older populations, countries must take smoking trends into account."
The study, "Trends in Causes of Death in Low-Mortality Countries: Implications for Mortality Projections," is published in the journal Population and Development Review.
1st July 2014
"Molecular movie" technology will enable huge gains in bioimaging and health research
Researchers have announced the creation of an imaging technology more powerful than anything that has existed before, and is fast enough to observe life processes as they actually happen at the molecular level.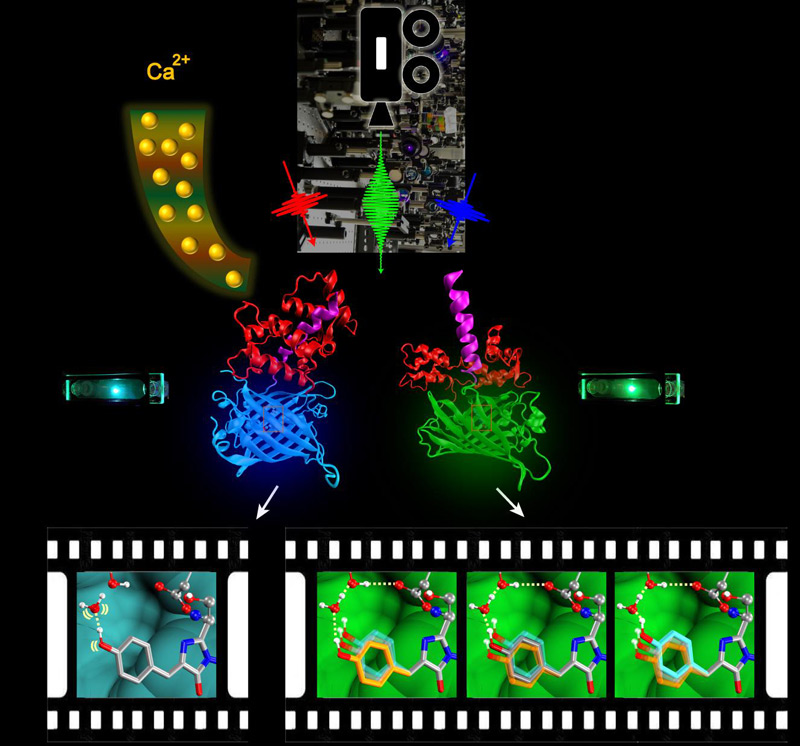 Researchers today announced the creation of an imaging technology more powerful than anything that has existed before, and is fast enough to observe life processes as they actually happen at the molecular level.
Chemical and biological actions can now be measured as they are occurring or, in old-fashioned movie parlance, one frame at a time. This will allow creation of improved biosensors to study everything from nerve impulses to cancer metastasis as it occurs.
The measurements, created by short pulse lasers and bioluminescent proteins, are made in femtoseconds, which is one-millionth of one-billionth of a second. A femtosecond, compared to one second, is about the same as one second compared to 32 million years. That's a pretty fast shutter speed and will change the way biological research and physical chemistry are being done, scientists say.
"With this technology we're going to be able to slow down the observation of living processes and understand the exact sequences of biochemical reactions," said Chong Fang, assistant professor of chemistry in OSU College of Science, and lead author. "We believe this is the first time ever that you can really see chemistry in action inside a biosensor," he said. "This is a much more powerful tool to study, understand and tune biological processes."
The system uses advanced pulse laser technology that is fairly new and builds upon the use of "green fluorescent proteins" that are popular in bioimaging and biomedicine. These remarkable proteins glow when light is shined upon them. Their discovery in 1962, and the applications that followed, were the basis for a Nobel Prize in 2008.
Existing biosensor systems, however, are created largely by random chance or trial and error. By comparison, the speed of the new approach will allow scientists to "see" what is happening at the molecular level and create whatever kind of sensor they want by rational design. This will improve the study of everything from cell metabolism to nerve impulses, how a flu virus infects a person, or how a malignant tumor spreads.
"For decades, to create the sensors we have now, people have been largely shooting in the dark," Fang said. "This is a fundamental breakthrough in how to create biosensors for medical research from the bottom up. It's like daylight has finally come."
The technology, for instance, can follow the proton transfer associated with the movement of calcium ions – one of the most basic aspects of almost all living systems, and also one of the fastest. This movement of protons is integral to everything from respiration to cell metabolism and even plant photosynthesis. Scientists will now be able to identify what is going on, one step at a time, and then use that knowledge to create customised biosensors for improved imaging of life processes.
"If you think of this in photographic terms," Fang said, "we now have a camera fast enough to capture the molecular dance of life. We're making molecular movies. And with this, we're going to be able to create sensors that answer some important, new questions in biophysics, biochemistry, materials science and biomedical problems."
Findings on the new technology were published yesterday in Proceedings of the National Academy of Sciences (PNAS).
22nd June 2014
Achilles' heel in antibiotic-resistant bacteria discovered
Scientists at the University of East Anglia have made a breakthrough in the race to solve antibiotic resistance.
New research published this week in Nature reveals an Achilles' heel in the defensive barrier which surrounds drug-resistant bacterial cells. The findings pave the way for a new generation of drugs that could kill superbugs by bringing down their defensive walls, rather than attacking the bacteria itself. This means that in the future, bacteria may not develop drug-resistance at all.

The discovery doesn't come a moment too soon. The World Health Organization (WHO) recently warned that antibiotic-resistance in bacteria is already a major global threat, causing severe consequences. Even common infections which have been treatable for decades can once again kill.

Researchers investigated a class of bacteria called "Gram-negative bacteria" which is particularly resistant to antibiotics because of the cells' impermeable lipid-based outer membrane. This outer membrane acts as a defensive barrier against attacks, both from the human immune system and antibiotic drugs. It allows the pathogenic bacteria to survive – but removing this barrier causes the bacteria to become more vulnerable and die.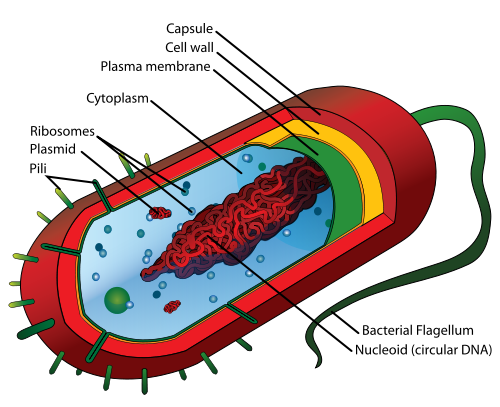 Until now, little was known of exactly how the defensive barrier is built. The new findings reveal how bacterial cells transport the barrier building blocks (called lipopolysaccharides) to the outer surface. Group leader Prof Changjiang Dong, from UEA's Norwich Medical School, said: "We have identified the path and gate used by the bacteria to transport the barrier building blocks to the outer surface. Importantly, we have demonstrated that the bacteria would die if the gate is locked. This is really important, because drug-resistant bacteria is now a global health problem. Many current antibiotics are becoming useless, causing hundreds of thousands of deaths each year. The number of super-bugs are increasing at an unexpected rate. This research provides the platform for urgently-needed new generation drugs."

Co-author, PhD student Haohao Dong said: "The really exciting thing about this research is that new drugs will specifically target the protective barrier around the bacteria, rather than the bacteria itself. Because new drugs will not need to enter the bacteria itself, we hope that the bacteria will not be able to develop drug resistance in future."
20th June 2014
New technique allows decayed tooth to repair itself
Reminova Ltd, a new spin-out company from King's College London, has developed a new dental technique that allows a decayed tooth to effectively repair and heal itself without the need for drills, needles or fillings. This breakthrough procedure, which uses electrical stimulation to help teeth "remineralise", could be available as early as 2017.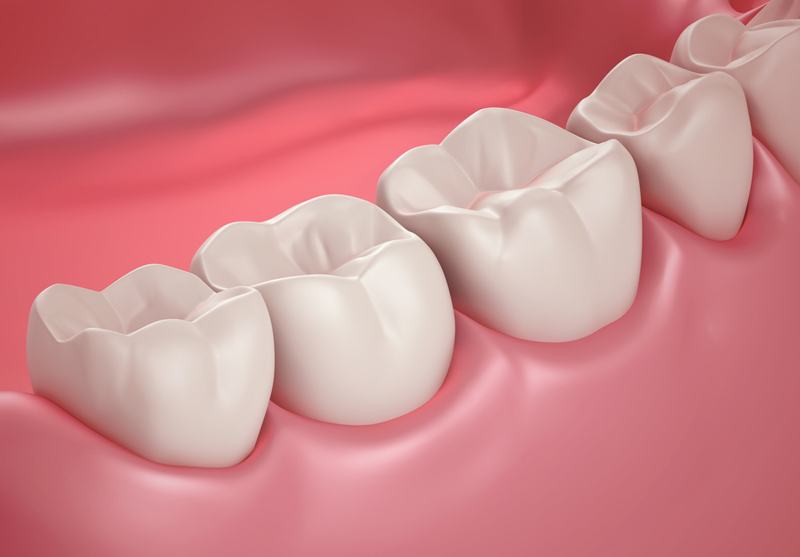 With 2.3 billion sufferers annually, dental caries is one of the most common preventable diseases globally. Tooth decay normally develops in stages – starting as a microscopic defect where minerals leach out of a tooth. Minerals continue to move in and out of the tooth in a natural cycle, but when too much mineral is lost, the enamel is undermined and the tooth is said to have developed a caries lesion (which can later become a physical cavity). Dentists normally treat caries in a tooth by drilling to remove the decay and then filling the tooth with a material such as amalgam or composite resin.
Reminova Ltd takes a different approach – one that re-builds the tooth and heals it without the need for drills, needles or amalgam. By accelerating the natural process by which calcium and phosphate minerals re-enter the tooth to repair a defect, the device boosts the tooth's natural repair process. Dentistry has been trying to harness this process for the last few decades, but the new breakthrough by King's means the method could soon be in use at the dentist's chair.
The two-step method developed by Reminova first prepares the damaged part of the enamel outer layer of the tooth. It then uses a tiny electric current to "push" minerals (such as calcium and phosphate) into the tooth to repair the damaged site. The defect is remineralised in a painless process that requires no drills, no injections and no filling materials. Electric currents are already used by dentists to check pulp or nerves in a tooth; the new device uses a far smaller current than that currently used on patients and which cannot be felt by the patient. This technique, known as Electrically Accelerated and Enhanced Remineralisation (EAER), could be brought to market by 2017.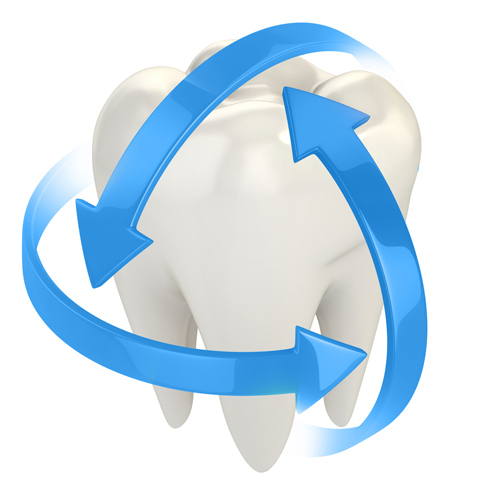 Professor Nigel Pitts from the Dental Institute at King's College London said: "The way we treat teeth today is not ideal – when we repair a tooth by putting in a filling, that tooth enters a cycle of drilling and re-filling as, ultimately, each 'repair' fails. Not only is our device kinder to the patient and better for their teeth, it's expected to be at least as cost-effective as current dental treatments. Along with fighting tooth decay, our device can also be used to whiten teeth."
Kit Malthouse, Chair of MedCity and London's Deputy Mayor for Business and Enterprise: "It's brilliant to see the really creative research taking place at King's making its way out of the lab so quickly and being turned into a new device that has the potential to make a real difference to the dental health and patient experience of people with tooth decay.
"Increasing the rate at which we can turn great ideas into successful medical and healthcare companies is one of the key aims of MedCity, and will have huge benefits for the UK's health and well-being, as well as its economy."
11th June 2014
Light-sensitive retina created from stem cells
Using a type of human stem cell, Johns Hopkins researchers have created a 3D complement of human retinal tissue, which includes functioning photoreceptor cells capable of responding to light – the first step in the process of converting it to visual images.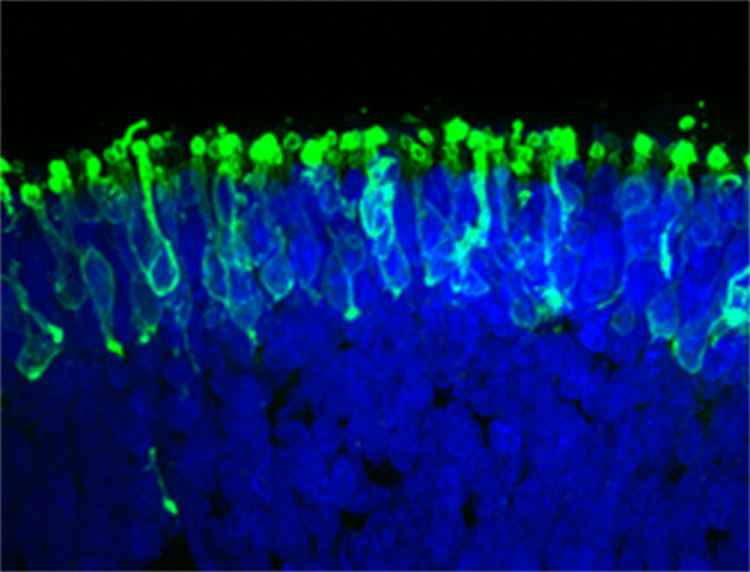 "We have basically created a miniature human retina in a dish, that not only has the architectural organisation of the retina, but also has the ability to sense light," says study leader M. Valeria Canto-Soler, Ph.D., assistant professor of ophthalmology. She says the work, reported yesterday in the journal Nature Communications, "advances opportunities for vision-saving research and may ultimately lead to technologies that restore vision in people with retinal diseases."
Like many processes in the body, vision depends on various different types of cells working in concert, in this case to turn light into something that can be recognised by the brain as an image. Canto-Soler cautions that photoreceptors are only part of the story in the complex eye-brain process of vision, and her lab hasn't yet recreated all of the functions of the human eye and its links to the visual cortex of the brain. "Is our lab retina capable of producing a visual signal that the brain can interpret into an image? Probably not – but this is a good start," she says.
The achievement emerged from experiments with human induced pluripotent stem cells (iPS) and could, eventually, enable genetically engineered retinal cell transplants that halt or even reverse a patient's march toward blindness, the researchers say.
The iPS cells are adult cells that have been genetically reprogrammed to their most primitive state. Under the right circumstances, they can develop into most or all of the 200 cell types in the human body. In this case, the Johns Hopkins team turned them into retinal progenitor cells destined to form light-sensitive retinal tissue that lines the back of the eye.
Using a simple, straightforward technique they developed to foster the growth of the retinal progenitors, Canto-Soler and her team saw retinal cells and then tissue grow in their petri dishes, says Xiufeng Zhong, Ph.D., a postdoctoral researcher in Canto-Soler's lab. The growth, she says, corresponded in timing and duration to retinal development in a human fetus in the womb. Moreover, the photoreceptors were mature enough to develop outer segments, a structure essential for photoreceptors to function.
Retinal tissue is complex, comprising seven major cell types, including six kinds of neurons, which are all organised into specific cell layers that absorb and process light, "see," and transmit those visual signals to the brain for interpretation. The lab-grown retinas recreate the three-dimensional architecture of the human retina. "We knew that a 3-D cellular structure was necessary if we wanted to reproduce functional characteristics of the retina," says Canto-Soler, "but when we began this work, we didn't think stem cells would be able to build up a retina almost on their own. In our system, somehow the cells knew what to do."
When the retinal tissue was at a stage equivalent to 28 weeks of development in the womb, with fairly mature photoreceptors, the researchers tested these mini-retinas to see if the photoreceptors could in fact sense and transform light into visual signals.

They did so by placing an electrode into a single photoreceptor cell and then giving a pulse of light to the cell, which reacted in a biochemical pattern similar to the behavior of photoreceptors in people exposed to light.
Specifically, she says, the lab-grown photoreceptors responded to light the way retinal rods do. Human retinas contain two major photoreceptor cell types called rods and cones. The vast majority of photoreceptors in humans are rods, which enable vision in low light. The retinas grown by the Johns Hopkins team were also dominated by rods.
Canto-Soler says that the newly developed system gives them the ability to generate hundreds of mini-retinas at a time directly from a person affected by a particular retinal disease such as retinitis pigmentosa. This provides a unique biological system to study the cause of retinal diseases directly in human tissue, instead of relying on animal models.
The system also opens an array of possibilities for personalised medicine such as testing drugs to treat these diseases in a patient-specific way. In the long term, the potential is also there to replace diseased or dead retinal tissue with lab-grown material to restore vision.
6th June 2014
Three-person babies possible by 2016
Scientists in the UK are backing three-way fertilization, a new process that could prevent the passing of devastating genetic disorders. This technique – using eggs from two women and one man's sperm – could be available within two years. Similar methods could emerge by the 2050s allowing parents to create perfect "designer babies". Video provided by Newsy Science.
30th May 2014
A draft map of the "Proteome" – for cataloging every protein in the human body
Striving for the protein equivalent of the Human Genome Project, researchers have created an initial catalogue of the human "proteome" – or all of the proteins in the human body. In total, using 30 different human tissues, the team identified proteins encoded by 17,294 genes, which is about 84 percent of all of the genes in the human genome predicted to encode proteins.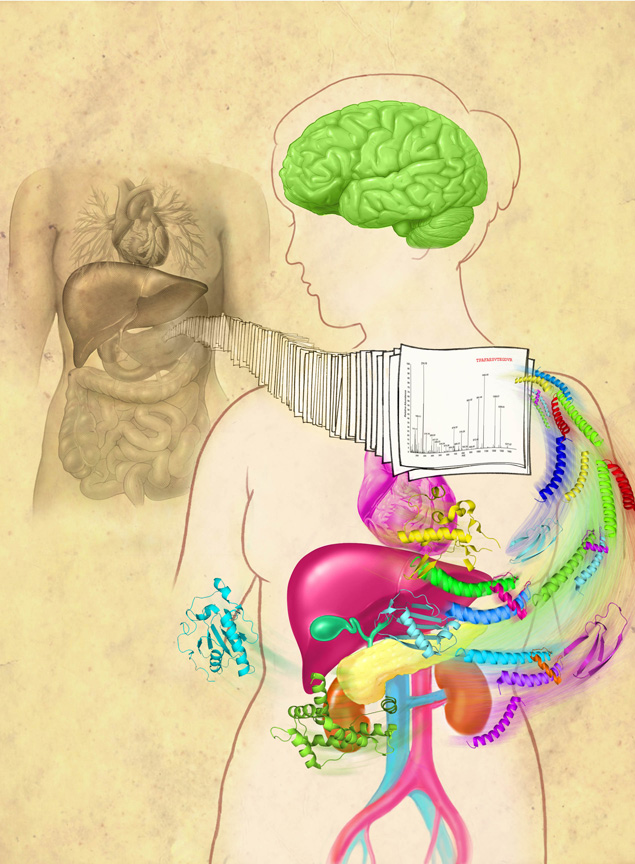 In a summary published this week in the journal Nature, the team also reports the identification of 193 novel proteins from regions of the genome not predicted to code for proteins – suggesting that the human genome is more complex than previously thought. The project, led by researchers at the Johns Hopkins University and Institute of Bioinformatics in Bangalore, will prove an important resource for biological research and medical diagnostics, according to the team's leaders.
"You can think of the human body as a huge library, where each protein is a book," says Professor Akhilesh Pandey, Ph.D., founder and director of the Institute of Bioinformatics. "The difficulty is that we don't have a comprehensive catalogue that gives us the titles of the available books and where to find them. We think we now have a good first draft of that comprehensive catalogue."
While genes determine many of the characteristics of an organism, they do so by providing instructions for making proteins, the building blocks and workhorses of cells, and therefore of tissues and organs. For this reason, many investigators consider a catalogue of human proteins – and their location within the body – to be even more instructive and useful than the catalogue of genes in the human genome.
Studying proteins is far more technically challenging than studying genes, Pandey notes, because the structures and functions of proteins are complex and diverse. And a mere list of existing proteins would not be very helpful without accompanying information about where in the body those proteins are to be found. Therefore, most protein studies to date have focused on individual tissues, often in the context of specific diseases.
To achieve a more comprehensive survey of the proteome, the research team began by taking samples of 30 tissues, extracting their proteins and using enzymes like chemical scissors to cut them into smaller pieces, called peptides. They then ran the peptides through a series of instruments designed to deduce their identity and measure their relative abundance.
"By generating a comprehensive human protein dataset, we have made it easier for other researchers to identify the proteins in their experiments," comments Pandey. "We believe our data will become the gold standard in the field, especially because they were all generated using uniform methods and analysis, and state-of-the-art machines."
Among the proteins whose data patterns have been characterised for the first time are many that were never predicted to exist. Within the genome, in addition to the DNA sequences that encode proteins, there are stretches of DNA whose sequences do not follow a conventional protein-coding gene pattern and have therefore been labeled "non-coding." The team's most unexpected finding was that 193 of the proteins they identified could be traced back to these supposedly non-coding regions of DNA.
"This was the most exciting part of this study, finding further complexities in the genome," says Pandey. "The fact that 193 of the proteins came from DNA sequences predicted to be non-coding means that we don't fully understand how cells read DNA, because clearly those sequences do code for proteins."
Pandey believes that the human proteome is so extensive and complex that researchers' catalogue of it will never be fully complete, but this work provides a solid foundation that others can reliably build upon.
28th May 2014
Gene mutation found for aggressive form of
pancreatic cancer
Researchers at the University of California, San Diego School of Medicine have identified a mutated gene common to adenosquamous carcinoma (ASC) tumours – the first known unique molecular signature for this rare, but particularly virulent, form of pancreatic cancer.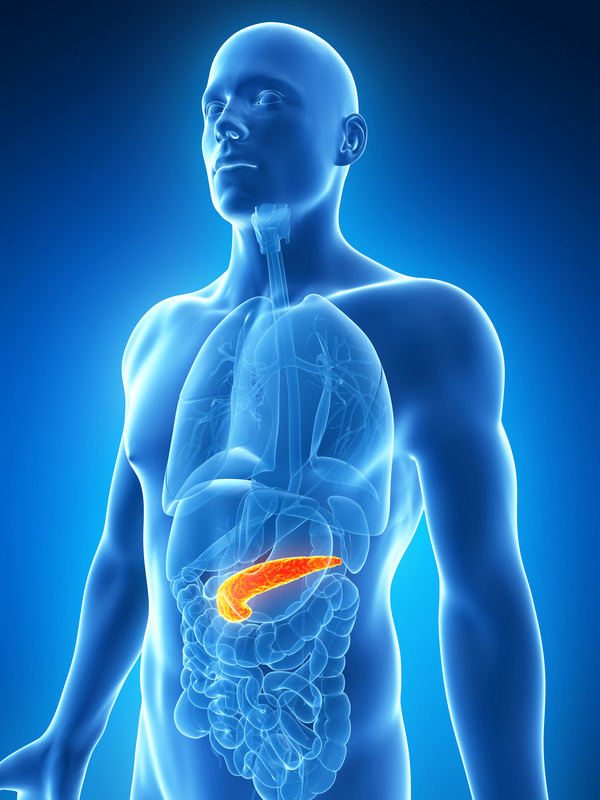 Pancreatic cancer is the fourth leading cause of cancer-related death in the United States, with more than 45,000 new cases diagnosed and 38,000 deaths annually. It has the lowest survival rate of any cancer, with just 6% of patients living beyond five years. ASC cases are infrequent, but typically have an even worse prognosis than more common types of pancreatic cancer.
"There has been little progress in understanding pancreatic ASC since these aggressive tumours were first described more than a century ago," said co-senior author Miles F. Wilkinson, PhD, professor in the Department of Reproductive Medicine and a member of the UC San Diego Institute for Genomic Medicine. "One problem has been identifying mutations unique to this class of tumours."
In their paper, Wilkinson and colleagues report that ASC pancreatic tumours have somatic or non-heritable mutations in the UPF1 gene, which is involved in a highly conserved RNA degradation pathway called "nonsense-mediated RNA decay", or NMD. It is the first known example of genetic alterations in an NMD gene in human tumours.
NMD has two major roles. First, it is a quality control mechanism used by cells to eliminate faulty messenger RNA (mRNA) – molecules that help transcribe genetic information into the construction of proteins essential to life. Second, it degrades a specific group of normal mRNAs, including those encoding proteins promoting cell growth, cell migration and cell survival. Loss of NMD in these tumours may "release the brakes on these molecules, and thereby driving tumour growth and spread," says Wilkinson.
Co-first author Rachid Karam, PhD, a postdoctoral fellow in Wilkinson's laboratory, said the findings will create new opportunities for the development of novel diagnostic approaches and therapeutic strategies for pancreatic cancer. "Currently, pancreatic cancer is detected far too late in most cases for effective treatment, and therapeutic options are limited," Karam said.
The findings are published this week in Nature Medicine.
21st May 2014
Engineers build world's smallest, fastest nanomotor
Researchers at the University of Texas in Austin have built the smallest, fastest and longest-running tiny synthetic motor to date.
The team's nanomotor is an important step toward developing miniature machines that could one day move through the body to administer insulin for diabetics when needed, or target and treat cancer cells without harming good cells.
With the goal of powering these yet-to-be invented devices, UT Austin engineers focused on building a reliable, ultra-high-speed nanomotor that can convert electrical energy into mechanical motion, on a scale 500 times smaller than a grain of salt. The researchers' three-part device can rapidly mix and pump biochemicals and move through liquids, which is important for future applications.
With all its dimensions under 1 micrometre in size, the nanomotor could fit inside a human cell and is capable of rotating for 15 continuous hours at a speed of 18,000 RPMs, the same as a motor in a jet airplane engine. Previous nanomotors run significantly slower, from 14 RPMs to 500 RPMs, and have only rotated for a few seconds up to a few minutes.
Looking forward, nanomotors could advance the field of nanoelectromechanical systems (NEMS), an area focused on developing miniature machines that are more energy efficient and less expensive to produce. In the near future, the UT Austin researchers believe their work may provide a new approach to controlled biochemical drug delivery to live cells.
20th May 2014
A way to beam power to medical chips deep inside the body
Researchers have invented a way to wirelessly beam power to programmable devices deep inside the body. These medical chips could be as small as a grain of rice. They would sit alongside nerves, muscles and other tissues and could be tailored for a range of new medical uses. The wireless power recharging would enable them to be implanted once and repowered as need be. This is a platform technology to enable a new therapeutic category – "electroceutical" devices. Perhaps eventually, these devices could be miniaturised further and shrunk down to the nanoscale, reaching places in the human body that were previously inaccessible.
19th May 2014
Genetic tracking identifies cancer stem cells in patients
For the first time, the gene mutations driving cancer have been tracked in patients back to a distinct set of cells that lie at the root of cancer – cancer stem cells.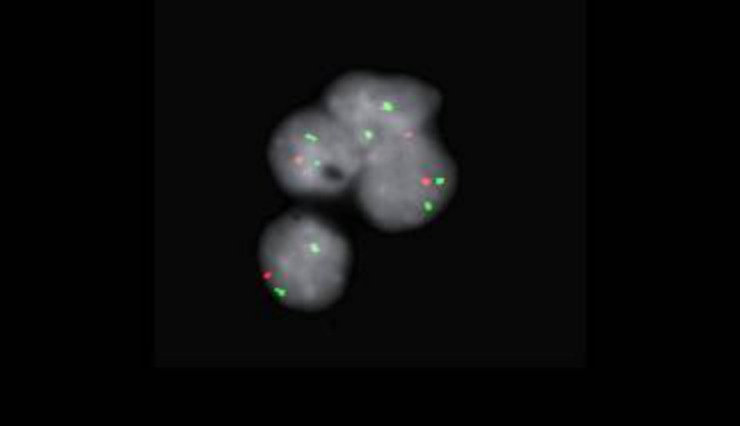 An international research team, led by scientists at the University of Oxford and the Karolinska Institutet in Sweden, studied a group of patients with myelodysplastic syndromes – a malignant blood condition which frequently develops into acute myeloid leukaemia. The researchers say their findings, reported in the journal Cancer Cell, offer conclusive evidence for the existence of cancer stem cells.
The concept of cancer stem cells has been a compelling but controversial idea for many years. It suggests that at the root of any cancer there is a small subset of cancer cells that are solely responsible for driving the growth and evolution of a patient's cancer. These cancer stem cells replenish themselves and produce the other types of cancer cells, as normal stem cells produce other normal tissues.
The concept is important, as it suggests that only by developing treatments that get rid of the cancer stem cells will you be able to eradicate the cancer. Likewise, if you could selectively eliminate these cancer stem cells, the other remaining cancer cells would not be able to sustain the cancer.
"It's like having dandelions in your lawn. You can pull out as many as you want – but if you don't get the roots, they'll come back," explains lead author, Dr Petter Woll from the University of Oxford.
The team investigated malignant cells in the bone marrow of patients with myelodysplastic syndrome (MDS) and followed them over time. Using genetic tools to establish in which cells the cancer-driving mutations originated and then propagated into other cancer cells, they demonstrated that a distinct and rare subset of MDS cells showed all the hallmarks of cancer stem cells, and that no other malignant MDS cells were able to propagate the tumour. These MDS stem cells were rare, sat at the top of a hierarchy of MDS cells, could sustain themselves, replenish the other MDS cells, and were the origin of all stable DNA changes and mutations that drove the progression of the disease.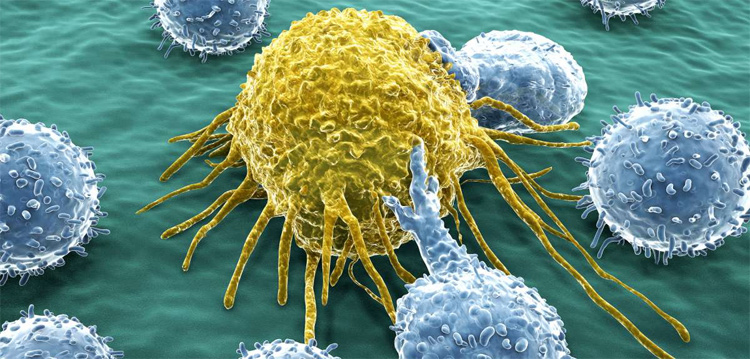 "This is conclusive evidence for the existence of cancer stem cells in myelodysplastic syndromes," says Woll. "We have identified a subset of cancer cells, shown that these rare cells are invariably the cells in which the cancer originates, and also are the only cancer-propagating cells in the patients. It is a vitally important step because it suggests that if you want to cure patients, you would need to target and remove these cells at the root of the cancer – but that would be sufficient, that would do it."
The existence of cancer stem cells has already been reported in a number of human cancers, explains Professor Sten Eirik W Jacobsen, also from the University of Oxford. But previous findings have remained controversial since the lab tests used to establish the identity of cancer stem cells have been shown to be unreliable and, in any case, do not reflect the "real situation" in an intact tumour within a patient.
"In our studies, we avoided the problem of unreliable lab tests by tracking the origin and development of cancer-driving mutations in MDS patients," comments Professor Jacobsen.
Dr Woll adds: "We can't offer patients today new treatments with this knowledge. What it does is give us a target for development of more efficient and cancer stem cell specific therapies to eliminate the cancer.
"We need to understand more about what makes these cancer stem cells unique, what makes them different to all the other cancer cells. If we can find biological pathways that are specifically dysregulated in cancer stem cells, we might be able to target them with new drugs."
Dr Woll cautions: "It is important to emphasize that our studies only investigated cancer stem cells in MDS, and that the identity, number and function of stem cells in other cancers are likely to differ from that of MDS."
15th May 2014
Microchip-like technology allows single-cell analysis
Using components similar to those that control electrons in microchips, researchers have designed a new device that can sort, store, and retrieve individual cells for study.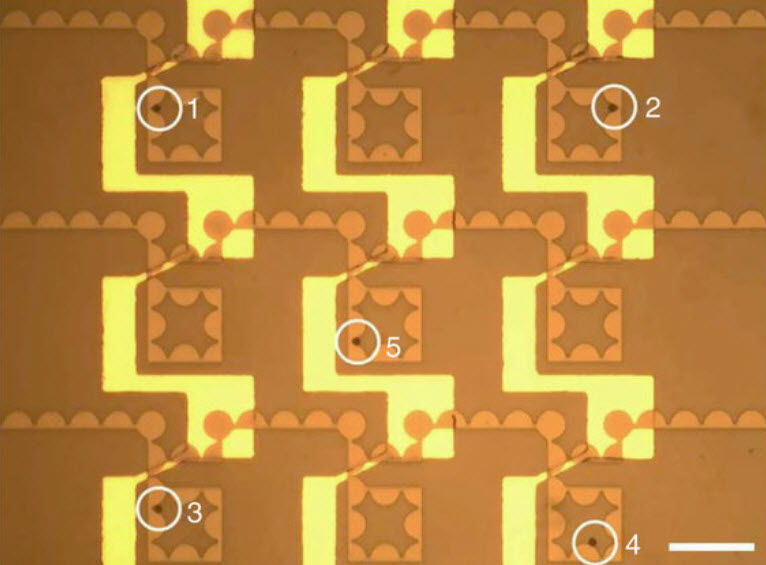 An international research team has developed a chip-like device that could be scaled up to sort and store hundreds of thousands of individual living cells in a matter of minutes. The chip is similar to random-access memory (RAM), but moves cells rather than electrons. It is hoped the cell-sorting system will revolutionise medical research by allowing the fast, efficient control and separation of individual cells, which could then be studied in vast numbers.
"Most experiments grind up a bunch of cells and analyse genetic activity by averaging the population of an entire tissue rather than looking at the differences between single cells within that population," says Benjamin Yellen, associate professor at Duke University's Pratt School of Engineering. "That's like taking the eye colour of everyone in a room and finding that the average colour is grey, when not a single person in the room has grey eyes. You need to be able to study individual cells to understand and appreciate small but significant differences in a similar population."
Yellen and his collaborator – Cheol Gi Kim, from the Daegu Gyeongbuk Institute of Science and Technology (DGIST) in South Korea – printed thin electromagnetic components like those found on microchips onto a slide. These patterns create magnetic tracks and elements like switches, transistors and diodes to guide magnetic beads and single cells tagged with magnetic nanoparticles through a thin liquid film.
Like a series of small conveyer belts, localised rotating magnetic fields move the beads and cells along specific directions etched on a track, while built-in switches direct traffic to storage sites on the chip. The result is an integrated circuit that controls small magnetic objects much like the way electrons are controlled on computer chips.
In their study, the engineers demonstrate a 3-by-3 grid of compartments that allow magnetic beads to enter but not leave. By tagging cells with magnetic particles and directing them to different compartments, the cells can be separated, sorted, stored, studied and retrieved.
In a random-access memory chip, similar logic circuits manipulate electrons on a nanometre scale, controlling billions of compartments in a square inch. Cells are much larger than electrons, however, which would limit the new devices to hundreds of thousands of storage spaces per square inch.
But Yellen and Kim say that's still plenty small for their purposes.
"You need to analyse thousands of cells to get the statistics necessary to understand which genes are being turned on and off in response to pharmaceuticals or other stimuli," said Yellen. "And if you're looking for cells exhibiting rare behavior, which might be one cell out of a thousand, then you need arrays that can control hundreds of thousands of cells."
"Our technology can offer new tools to improve our basic understanding of cancer metastasis at the single cell level, how cancer cells respond to chemical and physical stimuli, and to test new concepts for gene delivery and metabolite transfer during cell division and growth," said Kim.
They now plan to demonstrate a larger grid of 8-by-8 or 16-by-16, then scale it up to hundreds of thousands of compartments with cells. If successful, their technology would lend itself well to manufacturing, giving scientists around the world access to single-cell experimentation.
"Our idea is a simple one," said Kim. "Because it is a system similar to electronics and is based on the same technology, it would be easy to fabricate. That makes the system relevant to commercialisation."
The study was published online yesterday in Nature Communications.
14th May 2014
Having a sense of purpose in life increases longevity
Feeling that you have a sense of purpose in life may help you live longer, no matter what your age, according to research published in the journal Psychological Science.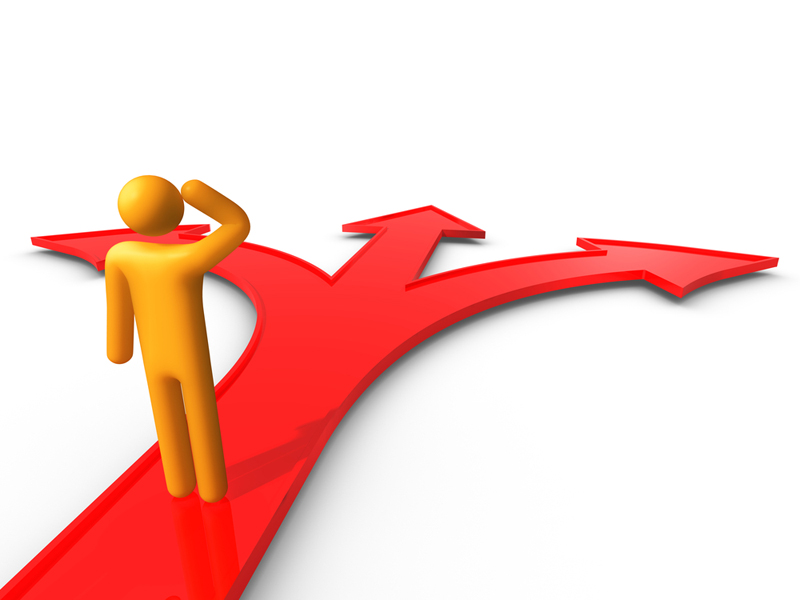 The research has clear implications for promoting positive aging and adult development, says lead researcher Patrick Hill of Carleton University, Canada: "Our findings point to the fact that finding a direction for life, and setting overarching goals for what you want to achieve can help you actually live longer, regardless of when you find your purpose. So the earlier someone comes to a direction for life, the earlier these protective effects may be able to occur."
Previous studies have suggested that finding a purpose in life can lower risk of mortality above and beyond other factors known to predict longevity. But, Hill points out, almost no research examined whether the benefits of purpose vary over time – such as across different developmental periods or after important life transitions.
Hill and colleague Nicholas Turiano of the University of Rochester Medical Center decided to explore this question, taking advantage of the nationally representative data available from the Midlife in the United States (MIDUS) study. The researchers looked at data from over 6000 participants, focusing on their self-reported purpose in life (e.g., "Some people wander aimlessly through life, but I am not one of them") and other psychosocial variables that gauged positive relations with others and their experience of positive and negative emotions.
Over the 14-year follow-up period represented in the MIDUS data, 569 of the participants had died (about 9% of the sample). Those who had died had reported lower purpose in life and fewer positive relations than did survivors. Greater purpose in life consistently predicted lower mortality risk across the entire lifespan – showing the same benefit for younger, middle-aged, and older participants across the follow-up period. This consistency came as a surprise to the researchers:
"There are a lot of reasons to believe that being purposeful might help protect older adults more so than younger ones," comments Hill. "For instance, adults might need a sense of direction more, after they have left the workplace and lost that source for organising their daily events. In addition, older adults are more likely to face mortality risks than younger adults. To show that purpose predicts longer lives for younger and older adults alike is pretty interesting, and underscores the power of the construct."
Purpose had similar benefits for adults regardless of retirement status, a known mortality risk factor. And the longevity benefits of purpose in life held even after other indicators of psychological well-being, such as positive relations and positive emotions, were taken into account.
"These findings suggest that there's something unique about finding a purpose that seems to be leading to greater longevity," says Hill.
The researchers are currently investigating whether having a purpose might lead people to adopt healthier lifestyles, thereby boosting longevity. Hill and Turiano are also interested in examining whether their findings hold for outcomes other than mortality: "In so doing, we can better understand the value of finding a purpose throughout the lifespan, and whether it provides different benefits for different people," Hill concludes.
11th May 2014
FDA approves the first prosthetic arm controlled by muscle electrical signals
After eight years of development, a new hi-tech bionic arm has become the first of its kind to gain regulatory approval for mass production.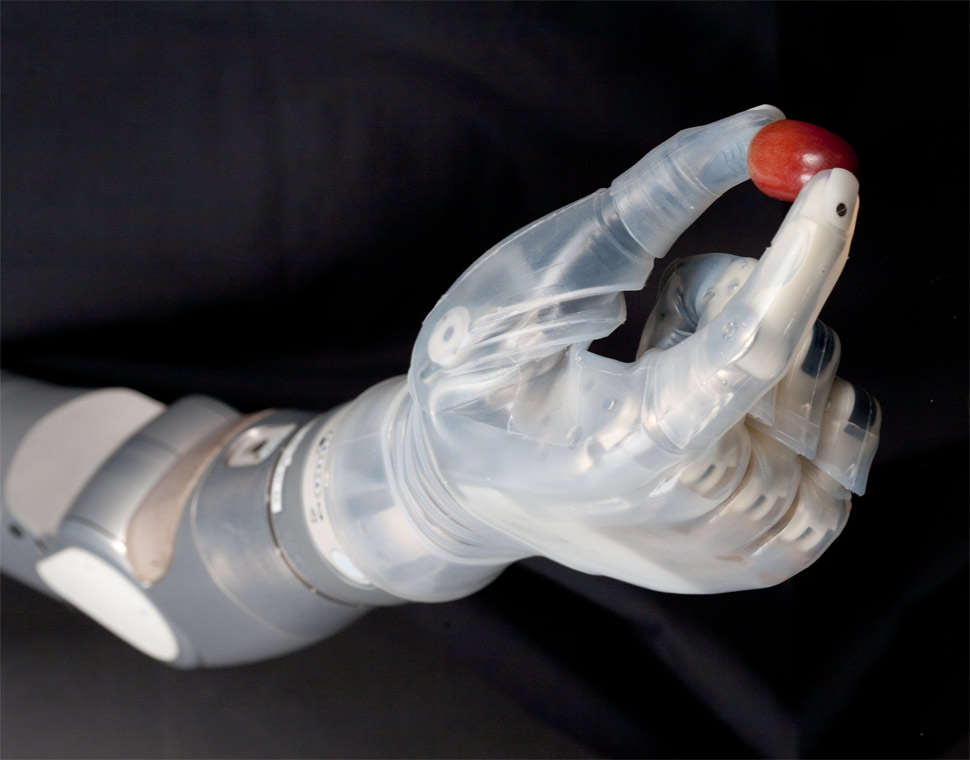 The DEKA Arm System is part of the $100m Revolutionising Prosthetics program launched by the Defense Advanced Research Projects Agency (DARPA). Upper-limb prosthetic technology had for many years lagged behind lower-limb technology and the program sought to address this issue. The DEKA was made possible through a combination of breakthroughs in both engineering and biology, resulting in a bionic arm that offers near-natural control. It is nicknamed "The Luke", after Star Wars' Luke Skywalker who received a robotic replacement for the hand he lost in a fight with Darth Vader.
Simultaneous control of multiple joints is enabled by miniature motors and a variety of input devices, including wireless signals generated by sensors on the user's feet. Constructed from lightweight but strong materials, the battery-powered arm system is of similar size and weight to a real limb and has six user-selectable grips.
During eight years of testing and development, 36 volunteers took part in studies to refine the arm's design. Their feedback helped engineers to create a mind-controlled device enabling amputees to perform a wide range of tasks – preparing food, using locks and keys, opening envelopes, brushing hair, using zippers and feeding themselves, all of which greatly enhances their independence and quality of life.
Similar devices are being developed around the world, but this is the first of its kind to gain approval from the U.S. Food and Drug Administration (FDA). Dr. Geoffrey Ling, Director of DARPA's Biological Technologies Office, comments in a press release: "DARPA is a place where we can bring dreams to life."
9th May 2014
Single gene boosts IQ by six points
A variant of the gene KLOTHO is known for its anti-aging effects in people fortunate enough to carry a copy. Now researchers have found that it also has benefits when it comes to brain function.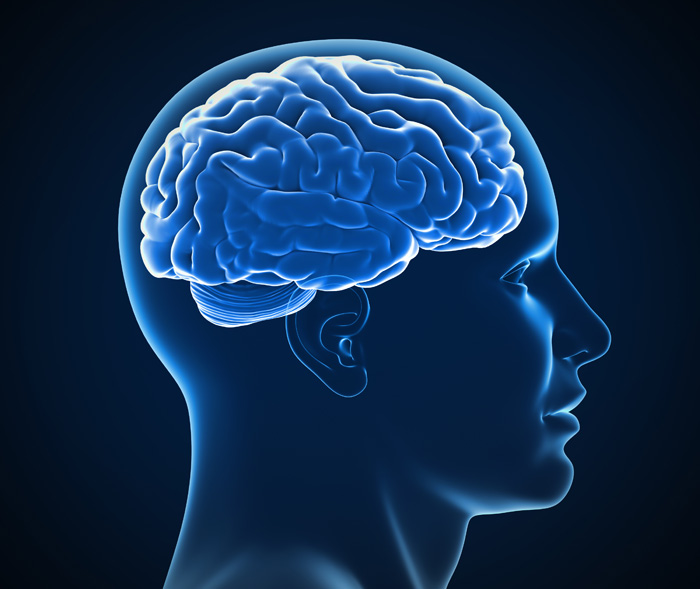 A team led by the Gladstone Institutes and UC San Francisco has discovered that a common form of KLOTHO – a gene already associated with long life – also improves learning and memory. This finding could lead to new treatments for age-related diseases like Alzheimer's.

A variant of this gene is KL-VS, which appears to increase overall levels of KLOTHO in the bloodstream and brain. The researchers found that people who carry a single copy of the variant – roughly one-fifth of the population – perform better on a wide variety of cognitive tests, equivalent to a six point higher IQ. A total of 718 adults between ages 52-85 were tested for memory, attention, visuo-spatial awareness and language. Based on the results, variation in the KL gene may account for as much as 3% of variation in IQ of the general population. For comparison, the previous record-holding genes – HMGA2 and NPTN – each account for just 0.5%. KL-VS could therefore be the most important genetic agent of non-pathological variation in intelligence ever discovered.
When the researchers modelled the effects in mice, they found it strengthened the connections between neurons that make learning possible (what is known as synaptic plasticity), boosting the action of cell receptors vital to forming memories. Mice with elevated KLOTHO performed twice as well as controls in some cognitive tests – such as remembering where a hidden platform was located in a water maze.
Surprisingly, the effects of KLOTHO were evident in mice young and old. They didn't correlate with age in humans, either. In other words, KLOTHO works in a manner independent of aging and seems to boost cognitive reserve at different life stages. The researchers state that in healthy, aging humans, positive cognitive effects of carrying the KLOTHO variant may even exceed the harmful effect of carrying the notorious ε4 variant of the APOE gene – known for its contributions to Alzheimer's. Since elevated levels of KLOTHO appear to improve cognition throughout the lifespan, raising its level could build cognitive reserve as a buffer against the disease.
"Because cognition is a highly valued aspect of brain function that diminishes with aging and disease, the potential to enhance it even slightly is of great potential relevance to the human condition," said Dena Dubal, PhD, assistant professor of neurology and lead author of the study. "As the world's population ages, cognitive frailty is our biggest biomedical challenge. If we can understand how to enhance brain function, it would have a huge impact on people's lives."
The research was published yesterday in Cell Reports.
1st May 2014
Antibiotic resistance – a major global threat
Antibiotic resistance is now a "major global threat" to public health, according to a report by the World Health Organisation (WHO).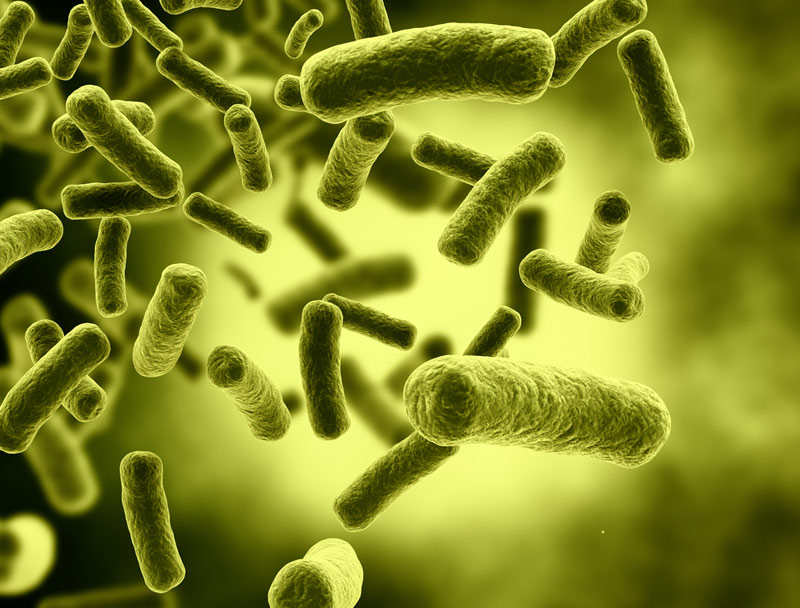 A new study by WHO – its first global report on antimicrobial resistance – reveals that this serious threat is no longer a prediction for the future, but is happening right now, in every region of the world and has the potential to affect anyone, of any age, in any country. Antibiotic resistance occurs when bacteria evolve so that antibiotics no longer work in people who need them to treat infections. Over the last 30 years, no major new types of antibiotics have been developed.
"Without urgent, coordinated action by many stakeholders, the world is headed for a post-antibiotic era, in which common infections and minor injuries which have been treatable for decades can once again kill," says Dr Keiji Fukuda, Assistant Director-General for Health Security. "Effective antibiotics have been one of the pillars allowing us to live longer, live healthier, and benefit from modern medicine. Unless we take significant actions to improve efforts to prevent infections and also change how we produce, prescribe and use antibiotics, the world will lose more and more of these global public health goods and the implications will be devastating."
Key findings of the report
The report, "Antimicrobial resistance: global report on surveillance", notes that resistance is occurring across many different infectious agents, but it focuses on antibiotic resistance in seven different bacteria responsible for common, serious diseases. These include bloodstream infections (sepsis), diarrhoea, pneumonia, urinary tract infections and gonorrhoea. The results are grave cause for concern, documenting resistance to antibiotics – especially "last resort" antibiotics – in all regions of the world.
Key findings include:
Resistance to "last resort" treatment for life-threatening infections caused by a common intestinal bacteria – K. pneumoniae – has spread to all regions of the world. K. pneumoniae is a major cause of hospital-acquired infections. In some countries, antibiotics no longer work in over half of people treated.


Resistance to a widely used medicine for treatment of urinary tract infections caused by E. coli is very widespread. In the 1980s, resistance was virtually zero. Today, there are countries around the world where drugs are now ineffective in more than half of patients.


"Last resort" treatment failure for gonorrhoea has been confirmed in Austria, Australia, Canada, France, Japan, Norway, Slovenia, South Africa, Sweden and the United Kingdom. More than 1 million people are infected with gonorrhoea around the world every day.


Antibiotic resistance causes people to be sick for longer and increases the risk of death. For example, people with MRSA (methicillin-resistant Staphylococcus aureus) are estimated to be 64% more likely to die than people with a non-resistant form of the infection. Resistance also increases the cost of healthcare with longer stays in hospital and more intensive care required.
Ways to fight antibiotic resistance
The report shows that basic systems to track and monitor the problem have gaps or do not exist in many countries. While some countries have taken important steps in dealing with antibiotic resistance, every country and individual needs to do more. Actions to prevent infections from happening in the first place include better hygiene, access to clean water, infection control in healthcare facilities, and vaccination. Individuals can help tackle resistance by taking antibiotics only when prescribed by a doctor; completing the full prescription, even if they feel better; and never sharing antibiotics with others or using leftover prescriptions.
The report is kick-starting a global effort led by WHO to address drug resistance. This will involve the development of new tools and standards and improved collaboration around the world to track resistance, measure its health and economic impacts, and design targeted solutions. The report also covers other infections such as HIV, malaria, tuberculosis and influenza. It provides the most comprehensive picture of drug resistance to date, incorporating data from 114 countries.
Despite the apparent doom and gloom in this report, some recent developments offer hope. Last year, for example, it was discovered that adding small amounts of silver can make antibiotics up to 1,000 times more effective. Researchers also made progress in identifying the molecular events that occur when antibiotics are ejected from a bacterial cell. Phage therapy is another possibility – and somewhat later down the line, the use of nano-robotics.